Experience the fun and western charm of a local rodeo in Steamboat Springs, which has been held in town for over one hundred years. ​Events are part of the Pro Rodeo Series and are held weekend nights from mid-June to mid-August.
The Steamboat Pro Rodeo Series kicks off June 25th and runs until August 28th, 2021, every Friday and Saturday evening. It's held in the Brent Romick Arena Howelsen Park, next to Ice Arena. Parking is available at the rodeo or in downtown Steamboat, which is a short walk.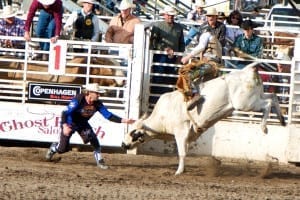 The rodeo typically lasts two hours. Food, concessions, beer, and wine are sold inside. A BBQ begins at 6 pm and runs until 9:30 pm. Pre-rodeo entertainment takes the stage from 6:15 pm until 7:15 pm. Gates open at 5:30 pm. All seating is general admission.
Kids, ages 6-12, can participate in the Calf Scramble, while kids 5 and under, can try the Ram Scramble. Announcements will be made before the event, no registration is necessary. The object is to grab the ribbon off the animal's tail.
Rodeo Events: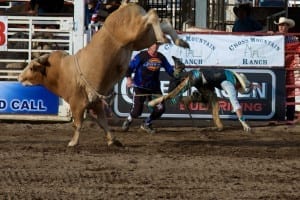 Opening Ceremonies
Bareback Riding
Sponsor Flags
Team Roping
Calf Scramble
Tie-Down Roping
Ram Scramble
Steer Wrestling
Clown Act
Saddle Bronc Riding
#11 Team Roping
Cowgirls' Barrel Racing
Pee Wee Barrel Racing
Bull Riding
Pre-sale tickets are sold downtown at F.M. Light & Sons and All That Jazz, and on the mountain at Sheraton Steamboat and Gondola General. You can also buy tickets online. Pets are not welcome on the fairgrounds.
Steamboat Springs Accommodations
Details
Address: 401 Howelsen Pkwy, Steamboat Springs, CO 80487
Phone: 970-879-1818
Dates: Fridays and Saturdays, June 25-August 28, 2021
Website: steamboatprorodeo.com