Zipping is fun activity that's sure to get your adrenaline flowing. It's offered at many locations around the state, from ski resorts to the Royal Gorge. Many tours run year round, while some just during the spring, summer and fall.
Zip Line Tours in Colorado
Zip lining is a safe, thrilling attraction for people of all ages. It's something you can do with your family and remember for the rest of your lives. Tours vary in length, from short one-time zips, to multi-canopy zip lines, and all day inclusive adventures.
Guide to Zip Lining in Colorado
Zip lining makes for a fun, action-packed day in the Colorado countryside. Mostly all ages can enjoy this high-flying activity. Zip line tours can be found everywhere, from deep in the mountains to the urban Front Range.
A zip line is an aerial rope-slide, consisting of a pulley suspended on a metal cable, usually made of stainless steel. Some are built naturally on tree tops or use cliffs to launch from an incline, gaining speeds of around 35-50 miles per hour. Others have man-made launch platforms that use an incline to zip to the next platform.
It's a breathtaking adventure that the whole family can try. It's available year round at many venues, and seasonal at a few of them. There are some size and age limits, so check ahead before you go.
Various zip lines have different requirements, usually a minimum and maximum weight limit. Some require guests to be at least 50 pounds and a maximum of 270 pounds. It's always best to check with the individual place.
Many of the Colorado zip line courses are open year round, so you can enjoy them even when there's snow on the ground. Dress appropriately and always being an extra layer. You can always leave it in the car.
Popular ziplining posts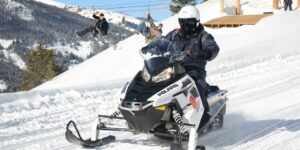 White Mountain Tours: Get Your Zip On! – White Mountain Tours has been guiding guests through thrilling, unique adventures since 1990 on their 2,500-acre piece of private heaven. Located seven miles north of Leadville and fifteen miles south of Copper…
Related activities
Keep the adrenaline going by riding a roller coaster, splattering some paint or rafting the wicked Colorado whitewater.