Since 1973, Adventures Out West has been delighting adventurers in the shadow of Pikes Peak. They offer a myriad of recreation from zip lines and sightseeing tours, to hot air balloon rides.
Zip Line Tour in Manitou Springs
There are five zip lines open year-round that vary from 225 ft to over 650 ft in length. Tours last two hours and lead you over Manitou Springs. It's a natural zip line course, which uses cliffs and steep wooded forest to launch and land, so there are no artificial platforms.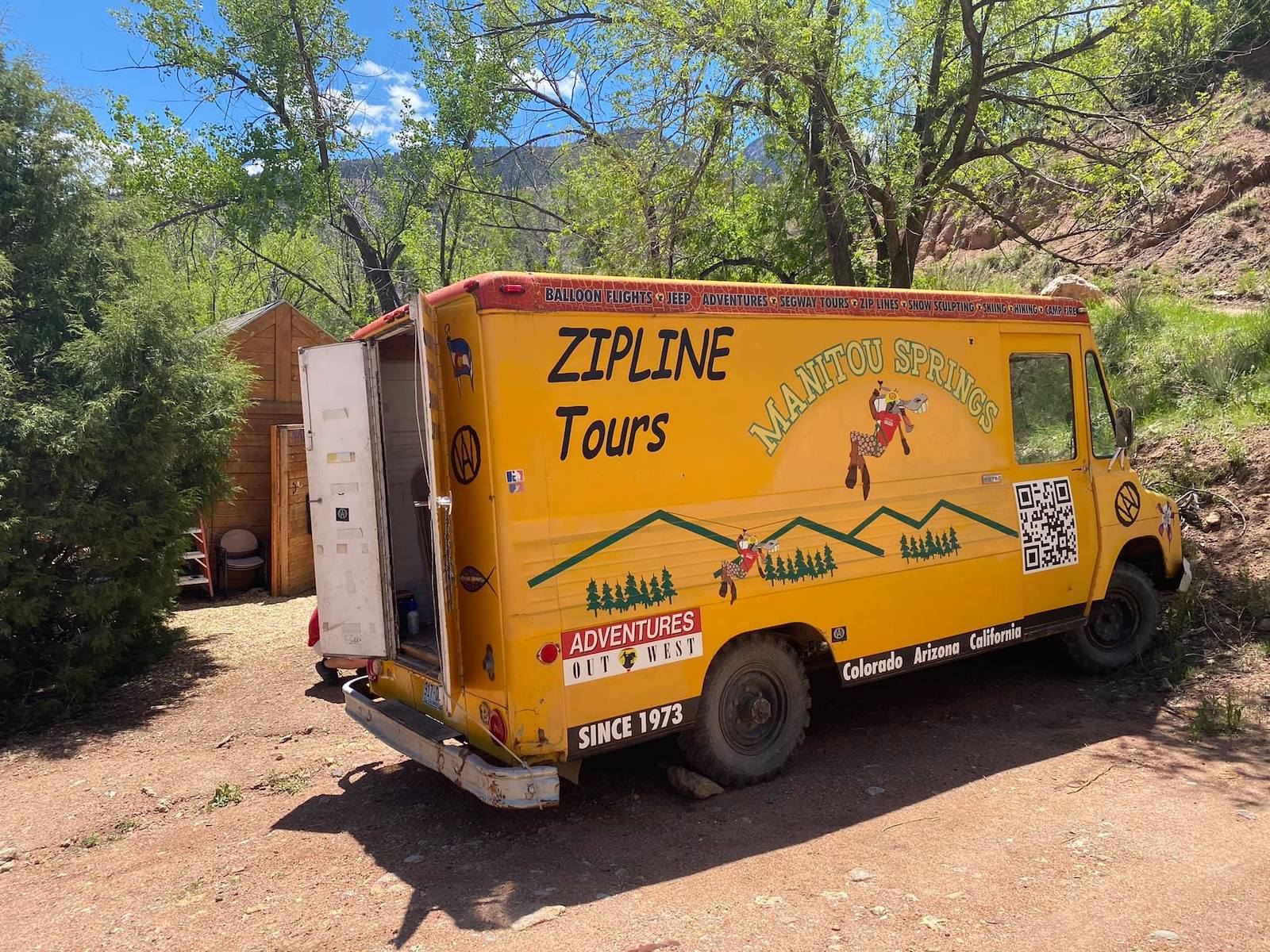 Guests must be able to walk and talk at near 7000′ feet above sea level. The hike between lines is about a half-mile, with some vertical climbing. Riders must be at least 6 years old, over 50lbs, and no more than 250lbs.
Hot Air Balloon Ride in Colorado Springs
They've been offering hot air balloon rides since 1973, so you can rest assured you're flying high with a top-notch program. Flights run every day at dawn, weather permitting. The minimum age is 6 years old. The 3-4 hours of activity time covers approximately 1 hour in the air. Complimentary van transportation is provided from certain Colorado Springs hotels.
The Colorado Springs Sunrise Flight soars high over El Paso County, offering one-of-a-kind views of Pikes Peak and the Springs. Due to the nature of hot air ballooning, no two flights are ever the same. Four to ten people will share a basket. The post-flight celebration includes a champagne toast, orange juice, and breakfast in the field.
There's a Private Flight option as well for two people. Pick between an adventurous or romantic flight high over the Great Plains. A post-flight celebration is included.
Segway Tours in Colorado Springs
AOW also offers two exciting Segway tours, both available year-round. The Juniper Loop Tour is an adventure-level Segway tour, which includes Kissing Camels, Praying Hands, and Park Overlook areas of the Garden of the Gods. It runs 1.5-2 hours, including 30 minutes of cone zone training.
The Balance Rock Tour is for expert-level riders. This advanced tour prefers previous experience and is by reservation only. It runs 2-2.5 hours with 30 minutes of cone zone training. They also have open-air Jeep tours, hiking tours, and van tours of Colorado Springs. The hiking tours take place at Pikes Peak.
Details
Address: 1335 Manitou Ave, Manitou Springs, CO
Phone: 719-578-0935
Season: Year-round
Website: advoutwest.com