Open annually from March to November, the AVA Cliffside Zipline is a heart-racing, family-friendly attraction in Clear Creek County, Colorado. Located by the start of the Mt. Evans Scenic Byway just south of Interstate 70 and downtown Idaho Springs, access to the zipline is extremely easy, roughly a half-hour drive from Denver.
Idaho Springs Zip Line Tours
Offering options to satisfy both beginners and adrenaline junkies, the AVA Cliffside Zipline facility in Idaho Springs features 2,360 feet of breathtaking courses over six individual lines. With approximately 3 hours included in a ½ day tour, visitors can enjoy the Jungle Bridge, Surf Zip, Bridge of Doom, a 600-foot Dual Race Line, and a 50-foot cliffside free-fall.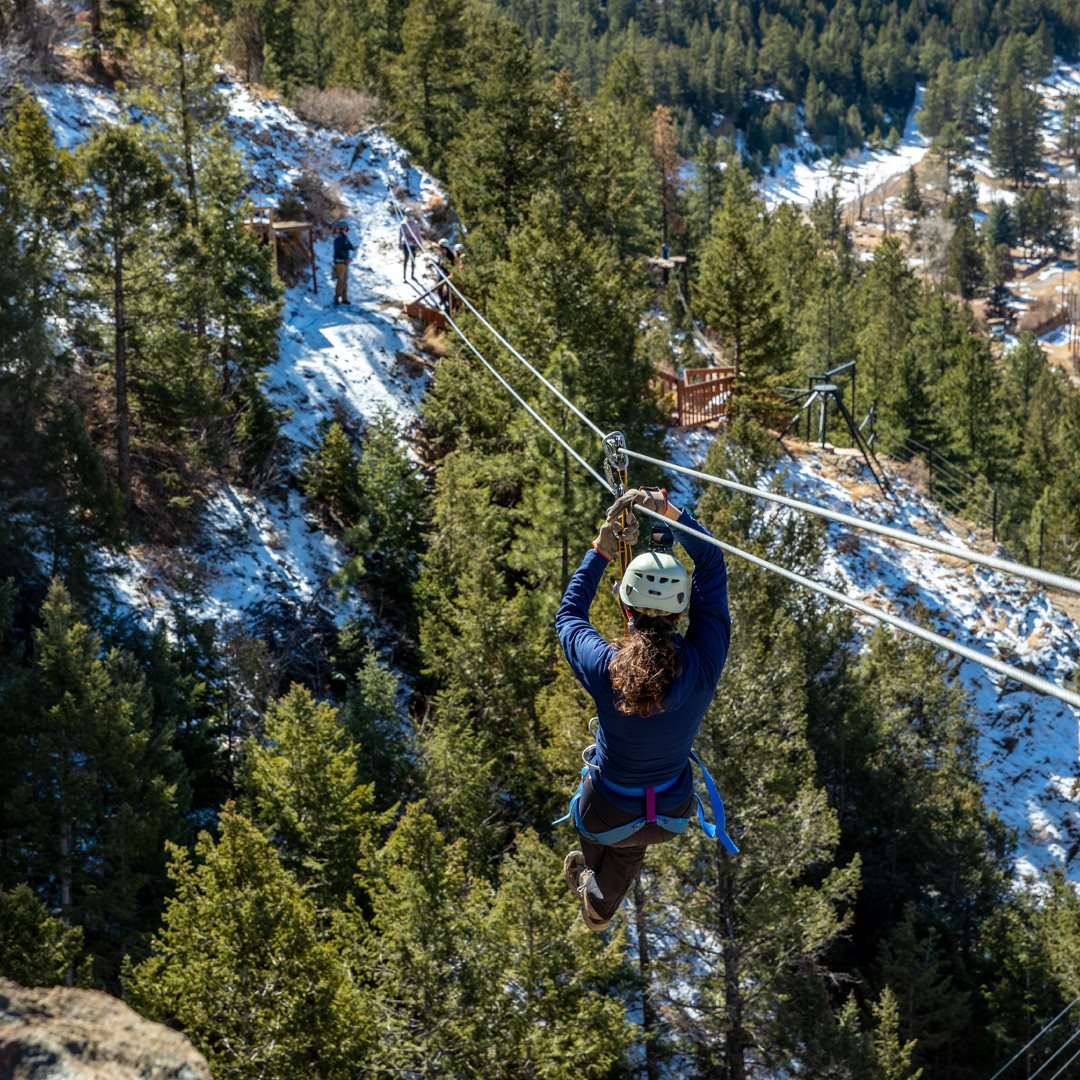 Combining picturesque Rocky Mountain scenery and fast-paced adventure, the AVA Cliffside Zipline is a popular summer attraction that is very well-reviewed by most participants. And while the rides themselves are often enough excitement for most zipliners, additional obstacles can be added to the routes to make the course even more challenging and fun.
At every point throughout the adventure, participants are assisted by a professional tour guide, and tipping is strongly encouraged. On-site, AVA also offers tours and full-day packages for visitors to participate in white water rafting, via Ferrata climbing, horseback riding, ATVing, and more.
What to Know Before You Go
As a true "cliffside" zipline, AVA's Idaho Springs outpost is not a recommended destination for those with a fear of heights, back problems, or pregnancies. Of course, riders are always strapped and harnessed to each line, and safety is the outfitter's top priority.
Ziplines are open for participants aged 6 and up, with a minimum weight of 40 lbs and a maximum weight of 250 lbs. Before the day begins, riders are required to sign a release of liability waiver, which can be completed online prior to arrival.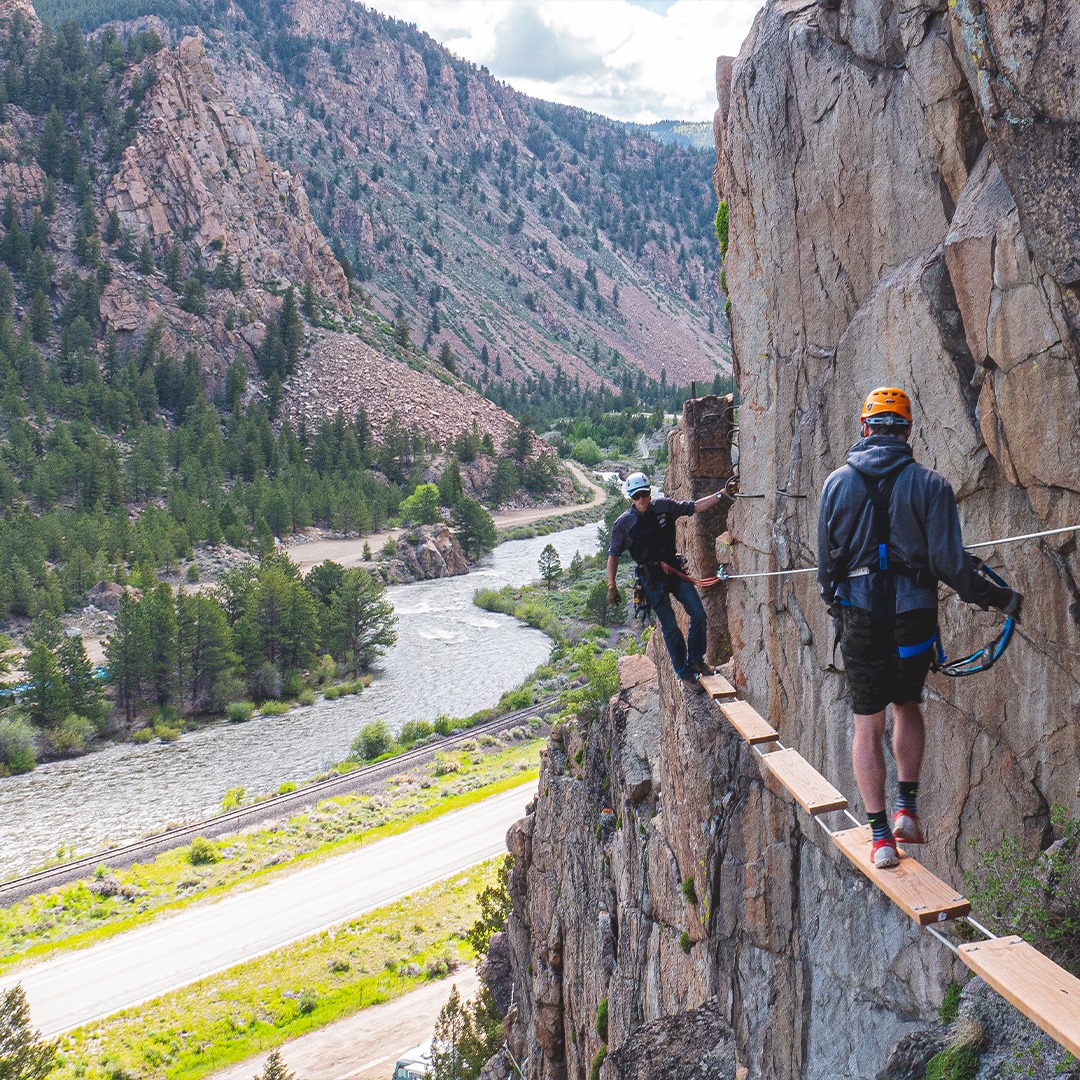 As a popular attraction that is so close to Denver, AVA Cliffside Zipline reservations are strongly encouraged. Weather dependent, operations typically continue rain or shine, but tours may be canceled or postponed due to lightning or heavy winds in the area.
The Cliffside Zipline is not wheelchair accessible, as a short walk is required to reach the first route. From the base area, participants are shuttled up to the top of the mountain to reach the course, which eventually returns riders to the AVA facility at the bottom of the canyon, near Chicago Creek.
Depending on the season, tours typically depart from AVA at 9 AM, noon, 3 PM, and 6 PM, and prices vary between youth, adult, and group rates.
Afterward, consider venturing up the Mt Evans Byways, which opens seasonally From around June through September, sometimes earlier/later. The drive takes you up over 14,000 feet so it's considerably thrilling as well, at least for the driver.
Details
Address: 431 Chicago Creek Rd (CO-103), Idaho Springs, CO 80452, USA
County: Clear Creek
Phone: 855-947-7464
Season: March to November
Hours: 8 AM–6 PM
Cost: Variable for adults, children, and groups
Website: https://www.coloradozipline.net/