Colorado has fascinating caves and caverns located throughout the Rockies. A few of them are open for public tours year-round. And others are open to the public by exploring it themselves. There is always a risk and some difficulty spelunking.
List of Caves and Caverns in CO
Explore dark and slightly spooky caves in Colorado year-round. Some of these caves are open for everyone, while others are difficult and reserved for experienced spelunkers. Both Manitou Springs and Glenwood Springs offer guided tours of their vast caverns, including a lantern-led tour. Rifle Falls is simply a state park with some smaller caves that are open for self-exploration.
Map of Caves and Caverns in CO
Featured Caves
Guides to Caves and Spelunking in Colorado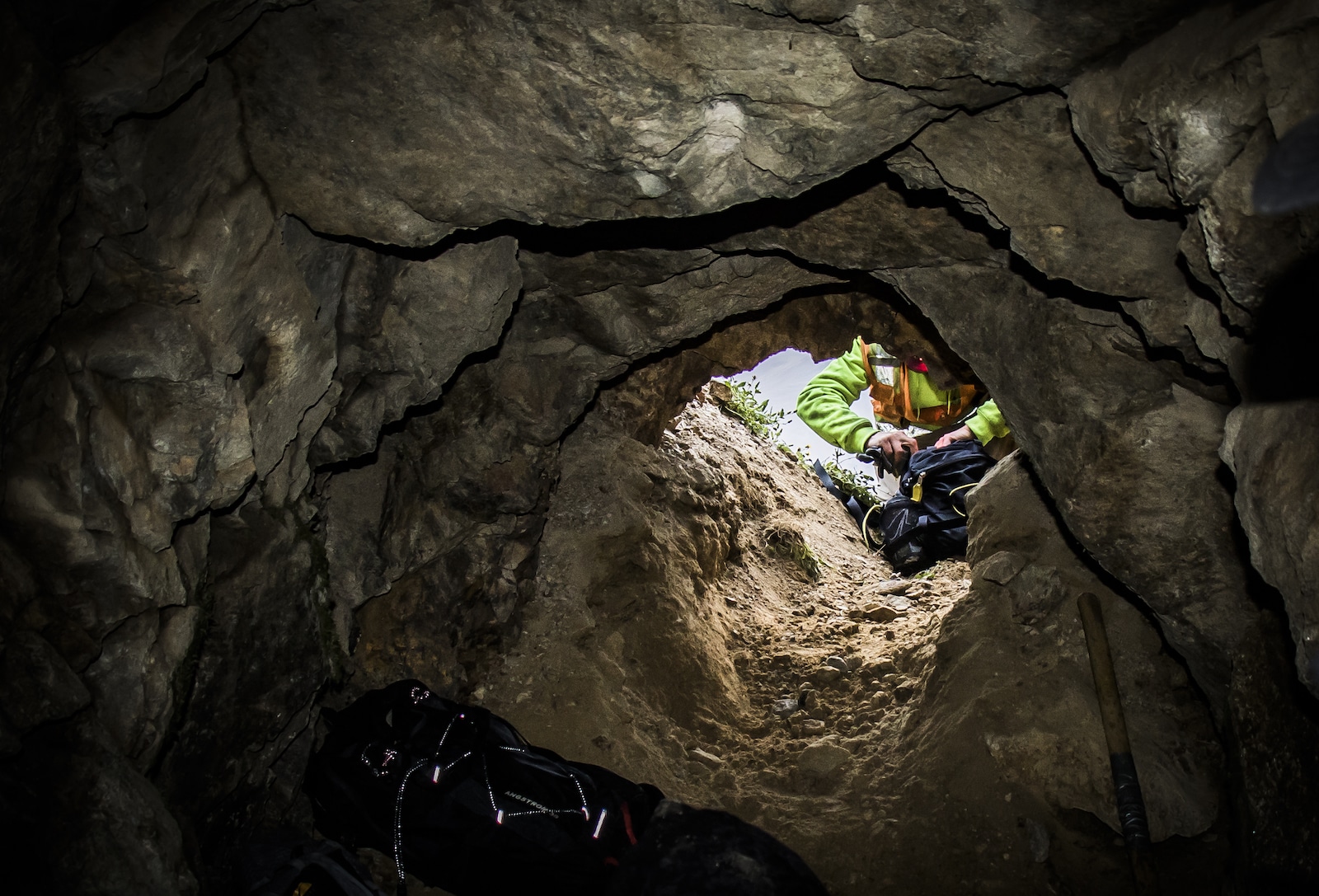 With hundreds of caves in Colorado, there is plenty to explore beneath the surface. While some of them are developed and frequently visited by locals and tourists, many others are kept secret to protect the ecosystems inside them. Several of the state's caves are still being surveyed today, and who knows how many are still yet to be discovered.
Caves come in all shapes and sizes. When traveling through Colorado and looking for something unique to see, there are caves to visit in all seasons. Experienced spelunkers have their fair share of dark caverns to explore.
It's important to note that caving alone is extremely dangerous, especially if you're new to the activity. If you're interested in going inside a wild cave, contact a grotto or caving club to find out how to get a guide and permits.
Here are the state's top caves, organized by type.
Caves at Parks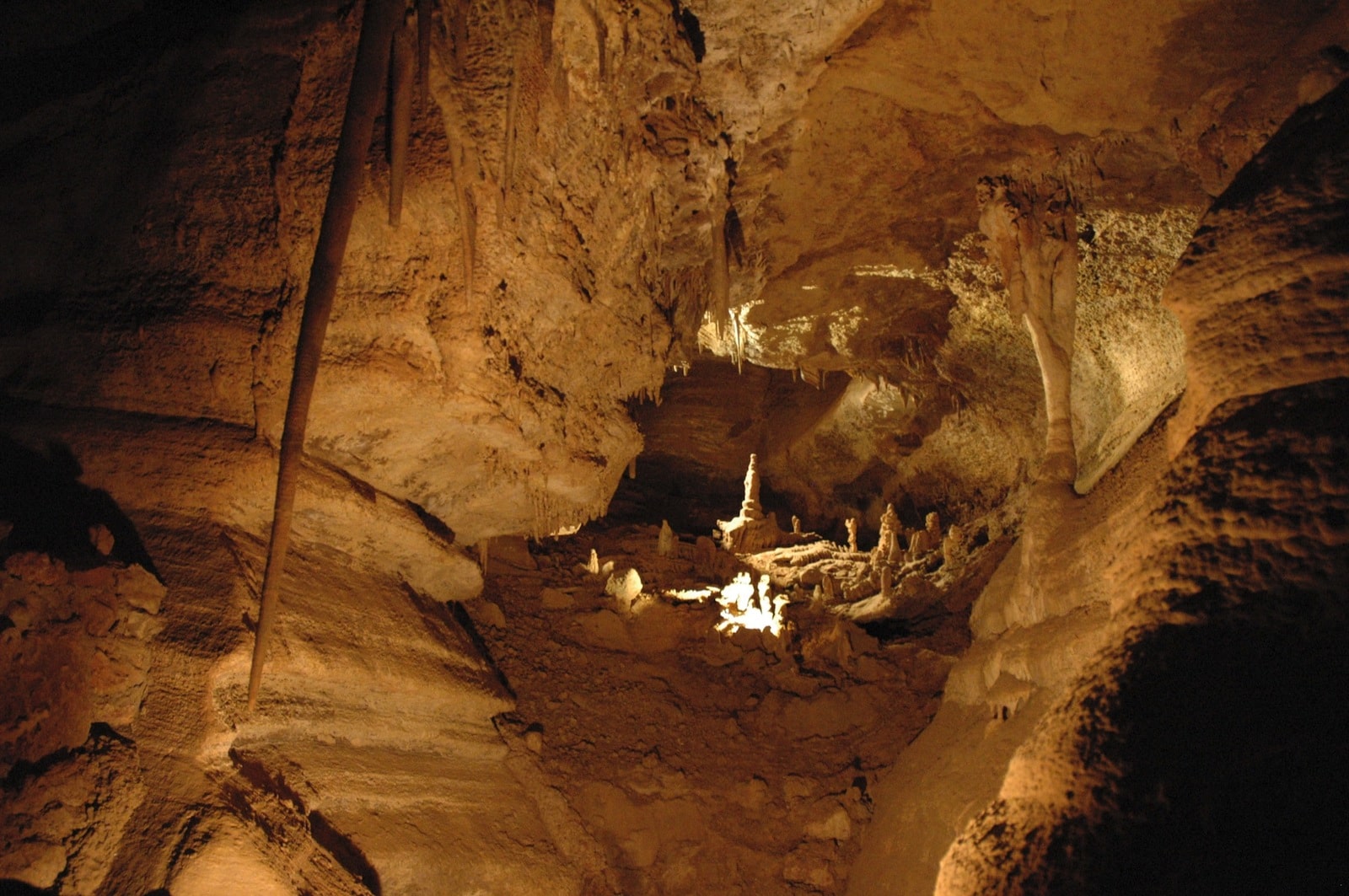 Some caves in Colorado have been developed and can handle many visitors. Even though they are considered attractions, they are still taken care of and preserved.
These caves also include non-touristy ones, like those explored at the Rifle Falls State Park. Visit the area during the winter to witness the ice cave formations at Rifle Mountain Park.
Cave of the Winds Mountain Park
Manitou's Cave of the Winds is a top-rated tourist destination featuring the underground caverns discovered in 1881 by brothers George and John Pickett. Visitors can choose from two tours that best suit their party.
The Discovery Tour is appropriate for all ages, 45-60 minutes long, and the guide discusses the cave's history and geology. Even though this activity is family-friendly, babies are recommended to be hand-carried or in a front carrier due to low ceilings and narrow pathways. The tour runs daily, departing every 20-30 minutes.
The Haunted Lantern Tour is a 90-minute guided tour in a much darker setting and only for visitors aged eight and up. The guide shares the history of the caves and the spooky lore, ghost stories, and other unexplained happenings of the Manitou Grands. During the summertime, these tours operate daily on the hour, and during winter, they occur once daily.
Aside from going underground, the park also offers a via Ferrata, zip lines, and the Terror-dactyl ride experience. There are also many other mountain activities on-site like axe-throwing, panning for gemstones, the Bat-A-Pult, and a visitor's center with a gift shop to browse.
Glenwood Caverns Adventure Park
Glenwood Caverns in Glenwood Springs is home to Colorado's most extensive show cave and is nationally recognized for being a fun underground attraction. Two tours are offered here that run year-round, but keep in mind that the cave is usually chilly, around 52℉, no matter the weather outside.
The Walking Cave Tour is 40 minutes long and doesn't require any strenuous activity, whereas the Wild Tour is two hours long and involves crawling on hands and knees through tight spaces.
No outside food or drink is allowed inside the caves to prevent contamination of the delicate environment. Strollers and backpacks are also prohibited. The Lookout Grille Restaurant on-site serves classic American dishes, a kids' menu, and alcoholic drinks like beer or wine.
This adventure park has many other activities on the property, many of which are seasonal. These include laser tag, the climbing wall, Wild West Express Coaster, Soaring Eagle Zip Ride, and Colorado's first Alpine Coaster.
Rifle Falls State Park Coyote Trail
Coyote Trail is a 0.6-mile loop that connects to other short trails and numerous caves along the way. The largest cave is 50 feet deep and has multiple rooms, and most of them are dark enough to bring a flashlight.
This trail and the caverns are appropriate for all ages and open all year long, but the best time to visit Rifle Falls State Park is around March to October. As its name implies, it also boasts a wonderful set of waterfalls.
Caves at Hot Springs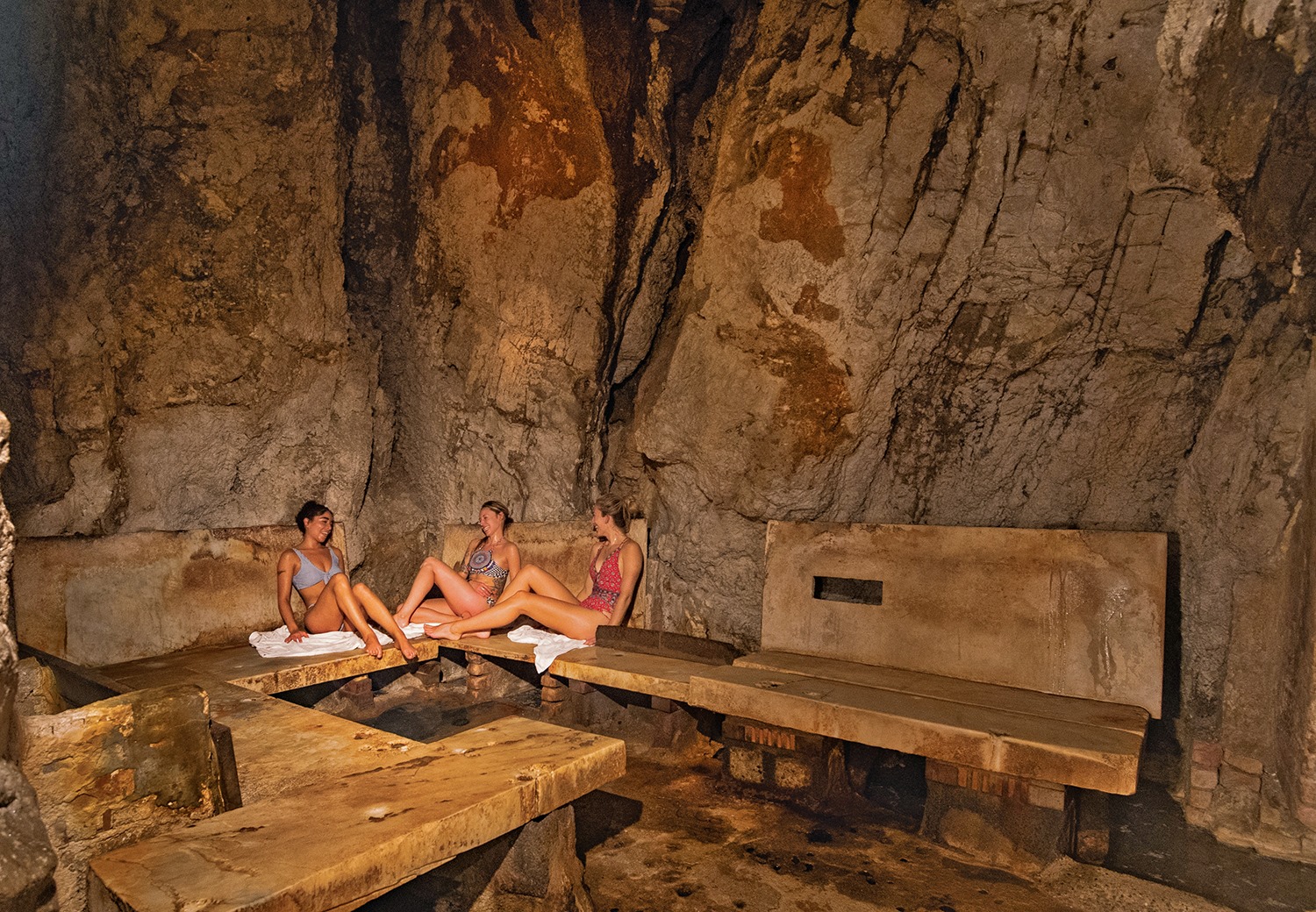 Combining the two natural wonders of hot springs and caves creates a relaxing, exciting atmosphere. Discover these underground spas to melt away stress.
Indian Hot Springs
Idaho Springs' Indian Hot Springs is a great place to stop after some time in the mountains or busy metro Denver area. This area was an attraction even in the early 1900s, but even before that, native tribal people used the warm geothermal waters as a place to rejuvenate and relax.
One of the unique features of Indian Hot Springs is its underground hot springs caves, which were carved out at the start of the 20th century to be used for soaking. These caves still operate today and are clothing optional, so no one under the age of 18 can use them.
People looking to extend their stay on the property can use the on-site lodging. Other facilities at the resort include a swimming pool, private jacuzzi, indoor private baths, and spa treatments.
Yampah Vapor Caves
Located in Glenwood Springs, the Yampah Vapor Caves are the only known of their kind in North America. These sizzling caverns have hot springs water flowing through their floors at a temperature of 125℉, which results in the steam rising inside and making the overall atmosphere around 110-112℉.
The Ute Indians used this site as a place to revive themselves many years ago, and today it attracts visitors from all around the country to experience complete relaxation.
Visitors to the facility spend about 10 to 12 minutes in the caves, with cooling tubs if needed. After leaving underground, people can get wellness treatments at The Yampah Spa, refresh in the cooling area, or use the property's solarium.
Ice Caves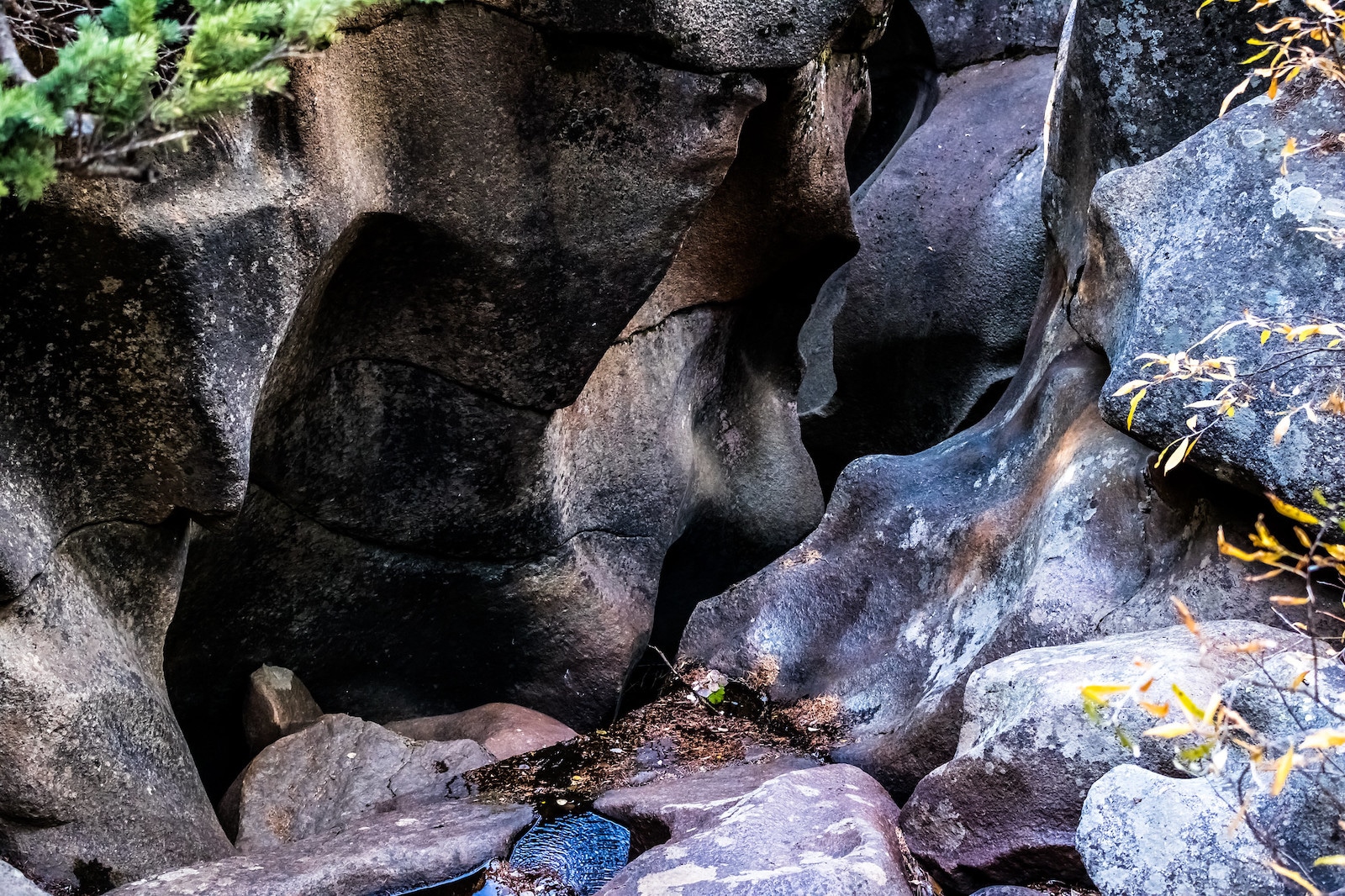 Is there anything more beautiful than ice glimmering in the sunlight? Get your snowshoes or hiking boots and head out to these winter wonderlands.
Rifle Mountain Park Ice Caves
Located about 30 minutes out of the town of Rifle, the Rifle Mountain Park Ice Caves can be accessed from Kopers Trail. Even though these caves are also located in public parks, they only exist in the winter.
There are four caves in total, and if you make the entire four-mile trip, you can see all of them. However, if you don't want to hike out that far, the first cave is less than a mile from the trailhead.
The best time to see the ice caves is December through February, and the trek is rated as easy to moderate. Don't forget to wear cold-weather-appropriate clothing, as the path can get snowy or slushy. There is a parking fee, but the caves are free to see beyond that.
Grottos Trail to Ice Caves
The ice caves in White River National Forest near Aspen are heavily visited and accessible by taking the Grottos Trail, a half-mile route to see these natural beauties. Thanks to its wide, maintained path, this trail is suitable for families and walkers of all skill levels.
When visiting in the winter, be prepared for snow-covered grounds and have either snowshoes or boots with traction for easier trekking. Seeing the ice caves is intriguing and a perfect spot to practice taking some photography shots.
Ice Cave Creek Trail
The Ice Cave Creek Trail is a one-mile trek situated near Palmer Lake, and during the colder months, it has a few small ice caves to explore along the way. Large boulders are on the path, so some scrambling is necessary to discover these winter caverns. However, the frosty light blue views on the trail are a spectacle worthy of the hassle.
The Spiral Staircase
Not for the faint of heart, the Spiral Staircase in Vail is a challenge to reach, but one of the most exciting ice caves in the state. Seasoned outdoor adventurers in top fitness shape are the people who are most likely able to reach this cave.
To start, it involves climbing up an 80-foot frozen waterfall. It is vital to have all the proper safety and climbing gear to reach The Spiral Staircase, but the grueling trek is said to come with a great, scenic reward.
Caves for Experienced Spelunkers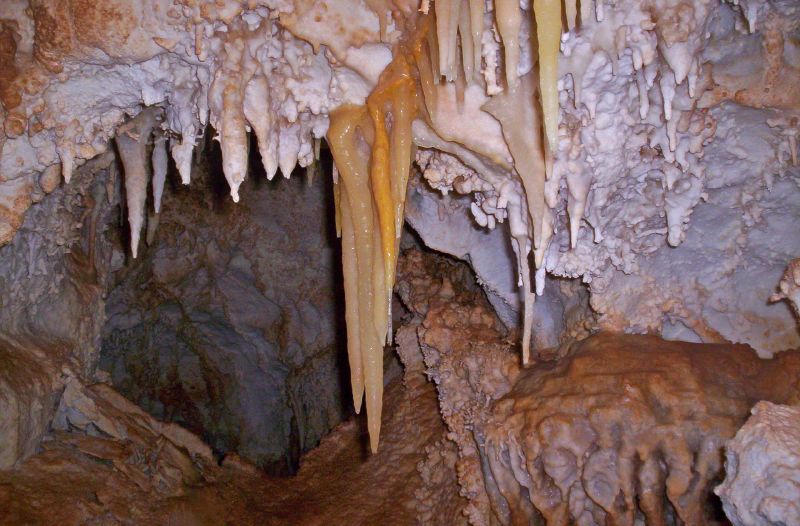 If you have all the proper equipment and aren't scared of the dark, these natural caves for adventurers with experience in spelunking can get their next thrill at one of these locations. Never go caving alone and follow permit rules where they apply.
Groaning Cave
Set in White River National Forest, this is Colorado's longest discovered cave. First found in 1968, it reaches about 15 miles in length and is home to incredible sights like crystals and gypsum flowers.
Due to the rural conditions of this cave, anyone who wishes to explore it needs a permit, caving experience, and the right equipment. People can only go inside from April through August, so the local bats living there aren't disturbed.
(South Fork) Spring Cave
Set in South Fork River Valley by the town of Meeker, Spring Cave is open to adventurers with caving experience. An underground river created this cave system, and parts are still unexplored.
Cavers can go inside from mid-April to mid-August with a permit and by signing a waiver to acknowledge the safety and environmental rules of going inside. During the closed season, the cave is home to hibernating bats, so visitors are prohibited from going in to protect the species.
Spelunkers need to know that Spring Cave can still get pretty wet during hard rains and flash floods, as the river can rise to its entry level. Going exploring during a storm can be unsafe. You may run into water in certain parts of the cave anyway, so suitable waterproof footwear is essential.
Fault Cave
Located in Clear Creek Canyon by Golden, Fault Cave is an exciting place for caving enthusiasts with experience exploring. This rural cave is dark and has no natural light, and specific pathways are narrow and not for the claustrophobic.
Getting lost is a possibility, so this is more of a place for spelunkers with experience, and it's wise to buddy up. Fault Cave is unique from others in Colorado due to its formation caused by faults in the rock around it and not an underground river.
The cave is available year-round but does require rock scrambling and good directions to find.
Fulford Cave
Fulford Cave is about 15 miles out of Eagle and is an ideal spelunking spot for experienced cavers. It was first discovered in 1874 by Ferdinand Hayden, a geologist, but the entire cavern hasn't been mapped out and still has some untouched areas.
Explorers are welcome to go inside the cave from April through October, and the rest of the year is closed down to allow native bats to hibernate without human interaction.
The nearby Fulford Cave Campground is open from early summer to October and is available on a first-come, first-serve basis. The cave entrance is only about 0.7 miles away from the campsite, making this area a heavily frequented place to stay.
Anyone that wants to go to Fulford Cave needs to know about the proper decontamination processes of their gear because the bats inside are susceptible to the human-transferred disease, White Nose Syndrome.
More Wild Rural Caves
Here are even more notable Colorado caves that are wild, rural, and require special instructions or permits to enter, if allowed at all.
Spanish Cave – With an entrance at 12,100 feet elevation, this cave is the highest of significance in the country. It is over a mile long and cold, wet, and technical inside. They are also known as Marble Caves and La Caverna del Oro.
Premonition Cave – This is a primitive underground area in White River National Forest that extends for over a mile and has many walkways and tight passages. However, it is now closed to the public to prevent the spread of White Nose Syndrome to the fragile bat population.
Fixin'-to-Die Cave – located near Glenwood Canyon and the second-longest mapped cave in Colorado at over six miles in depth. This cave is still being explored and requires ropework and going through narrow passages to enter.
LaSunder Cave – set near Dotsero, this cave is on BLM land, managed by the Colorado Cave Survey, and has a restricted allowance for several people to enter it each year. Special permits are required.
Salt Caves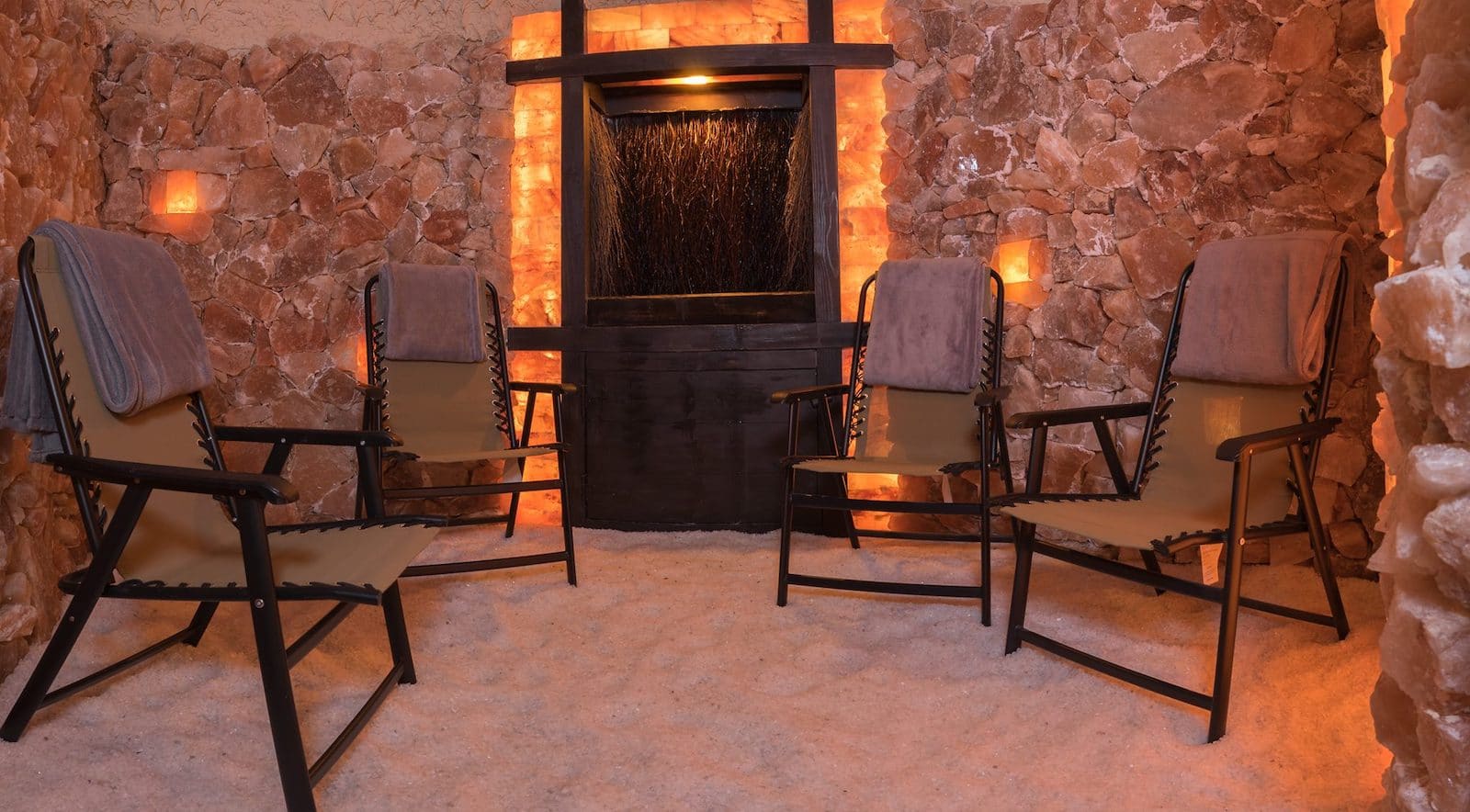 Colorado has a couple of salt caves. Halotherapy also called "salt therapy," has been around for centuries and is noted for being an all-natural treatment method to help with respiratory, skin, stress, and allergy conditions.
Man-made salt caves were developed after witnessing positive effects on miners who spent a lot of time working in salt caverns. These facilities are often visited in the same manner that someone would go to a spa.
While many spa and wellness centers have similar "salt rooms," there are two popular places in Colorado that are actual caves.
5 Star Salt Caves
5 Star Salt Caves Wellness Center has a cave made entirely from Himalayan rock salt. Visitors can book a 50-minute session, a multiple-session package, or a private session for up to seven people. Aside from the atmospheric Salt Cave, the property also has a spa and a variety of other treatments.
PURE Beauty & Wellness Spa / Telluride Salt Cave
Telluride's Salt Cave is the first in Southwest Colorado and resembles an authentic salt cavern in Poland, complete with the pink glow in the room. Guests can book 45-minute communal or private sessions and help cure various ailments of stress, respiratory issues, immunity, inflammation, poor moods, and more.
Private yoga classes for up to two people are also offered in the salt cave. In addition to Salt Cave experiences, visitors can arrange some other treatments at the spa facility.
Caves are mysterious, exciting, and one of the world's last frontiers of potentially unexplored areas. Whether you're a casual tourist, interested in caves, or an avid spelunker, this list will have something for you.
Latest in Caves
View more Caves articles
Related Activities