Rifle Falls is a true gem among the Colorado state parks, offering unmatched scenery and plenty of recreation. It's a must-visit if you're traveling in the area and like waterfalls and caves.
A unique combination, Rifle Falls offers exciting three waterfalls and a small, but complex set of caves. The park is open year-round for a variety of activities and requires an entrance fee or annual pass.
Camping, Fishing, Hiking, and Waterfalls
There are twenty camping sites that run along Rifle Creek. More camping and a massive lake can be found down the road at Rifle Gap. Harvey Gap State Park is also close by, but it's day-use only. The main attraction, Rifle Falls, can be heard from the parking area. The water thumps down against Rifle Creek and continues on through the park and down to Rifle Gap Reservoir.
Many caves and caverns exist near the waterfalls. There is one main cave to explore and several other smaller ones. Definitely bring a flashlight so you can see inside. If you're up for it, be prepared to crawl on your hands and knees at one point. The caves are calcium-rich, so your jeans will get dusty!
Activities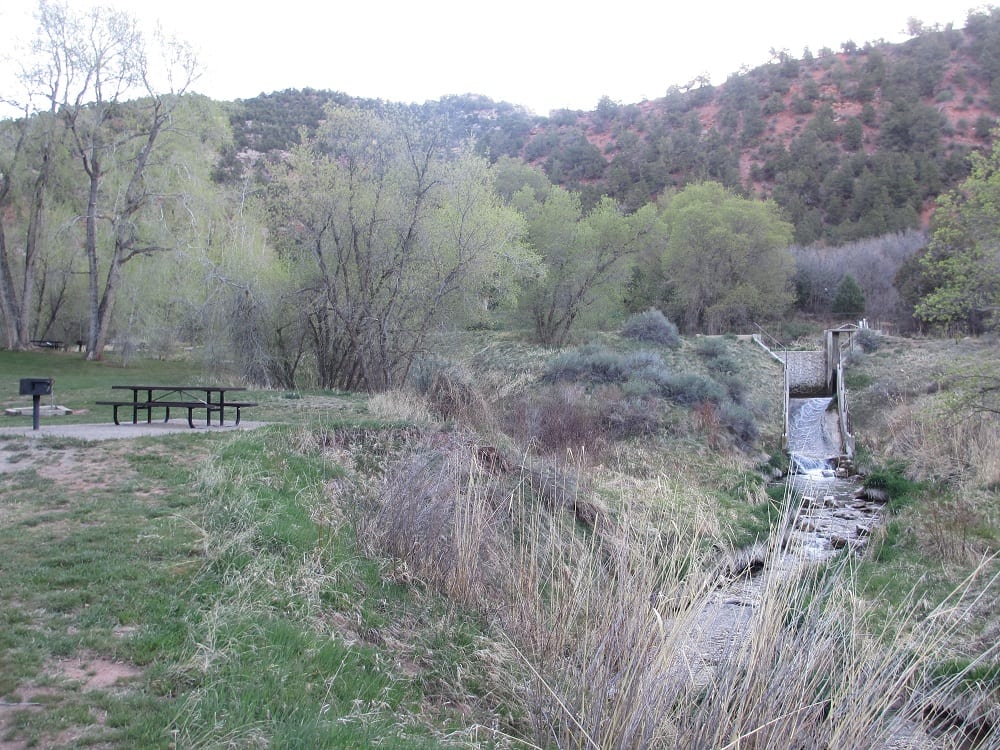 Camping: Yes, open year-round. Campsites run along Rifle Creek. Woods and mountains surround the sites.
13 drive-in RV/tent sites, 7 walk-in tent sites
Fees for Basic and Electric
Aspen Leaf discounts Sunday-Thursday
Fishing: Rifle Falls State Hatchery is a one-mile hike from the waterfalls. There's great fishing here. Another closer option are some ponds above the 'falls. Take Coyote Trail to the top of the waterfalls where the ponds exist upstream of the falls
Hiking: 3 main hiking trails within the park.
Coyote Trail – Most popular | 1.5 mile total, winds past the base of the falls and caves before looping back above the falls.
Bobcat Trail – 1 mile | One-way, connects with the Rifle Falls State Fish Hatchery.
Squirrel Trail – 1.5 mile total | Runs along Rifle Creek near camping.
​Outside Park: Big game hunting is available in the White River National Forest adjacent to the park. Snowmobiling and cross country skiers can access trails in Rifle Mountain Park by taking the Rifle Creek Trailhead, 5 miles from Rifle Falls.
Details
Address: 5775 Highway 325, Rifle, CO 81650
Phone: 970-625-1607
Season: Year-round
Hours: 7am-10pm, unless fishing/camping
Fees: Yes, daily vehicle fee or annual pass
Pets: Yes, on leash
Rifle Falls Campground: Reservations
Website: cpw.state.co.us…
Latest in Rifle Falls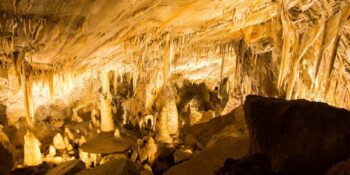 Some of the most stunning landscapes on Earth are found in Colorado, and for good reason.…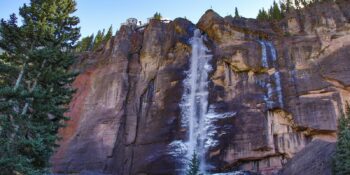 When the summer reaches its zenith and the snowfall becomes snow melt, many winter sports fans…