With a valid fishing license, anglers can cast a line nearly anywhere in Colorado. With thousands of lakes, creeks and rivers to choose, great fishing is never far away. Read our fishing blog.
Where to Fish in Colorado
Public Lands
Some local city and county parks have lakes available. Lots of rivers and lakes are on federally owned public land. A majority of state parks offer a place to fish. Most towns show nearby lakes and rivers to fish.
Fishing Guides in Colorado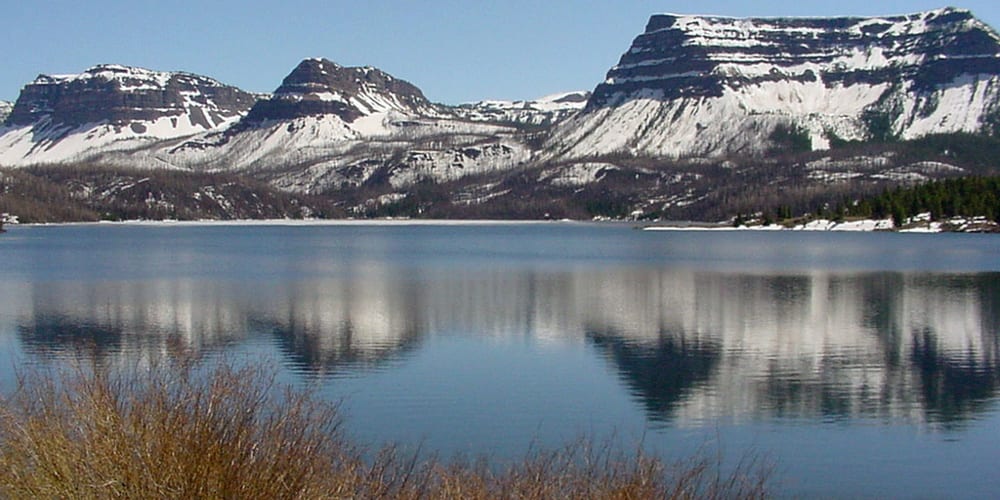 Head out fishing with the pros on a guided trip. Both fly and traditional fishing trips are offered, as well as ice fishing. Several guest ranches offer organized fishing trips as well.
Address: 60880 County Road 129 Clark (near Steamboat Springs)
About: Four hour and eight hour ice fishing trips. License, equipment, lunch provided. Courtesy shuttle from Steamboat Springs available.
Address: 39020 Country Rd 8, Meeker
About: Day and overnight fishing trips, hunts, log cabin rentals, horseback riding. Lodge is located about in the middle of the Flat Tops Scenic Byway.
Address: Antero Reservoir, Blue Mesa Reservoir, 11 Mile Reservoir
About: Ice fishing guides take care of everything you need for a fun and comfortable day on the ice. They provide all the equipment necessary: augers, fish finders, heaters, rods & reels, tack & bait, top-of-the-line ice huts, and even knee pads. Full day lasts 6 hours.
Address: 7700 Trappers Lake Rd, Meeker
About: Lodge is situated on the Flat Tops Scenic Byway, open May 26 – Oct 31, 2013. They offer day and overnight fishing and hunting trips, as well a horse and cabin rentals. There is also a restaurant with a bar.
Guide to Fishing in Colorado
It doesn't matter what region of Colorado you happen to find yourself, there's always a river or reservoir for fishing nearby. Generally, unless the body of water lies on private land or is otherwise noted, fishing is usually fair game.
Colorado Fishing Tips
There are rules to follow, depending on the location. Some lakes allow bait, while others are fly fishing only, or a combination of fly fishing and artificial lures only. Fish can generally be kept, unless otherwise noted. If traditional fishing, it's always wise to bring along a few artificial lures.
The best times for fishing are morning and in the evening, when fish naturally feed. The best places to fish include overhangs and deeper areas. Fish are not evenly spread out across a river or lake, there's always places where the fish like to hide. Find them! If it's not biting in one area, try another.
Some anglers use fish finders to locate fish. These are often used by boaters, trying to best cover an entire lake. Because sometimes the fish just don't seem to be there. Fishing Lab reviews its picks for the top ten fish finders in 2017. It covers how to choose one, how to use it, along with what's a good price to pay for a fish finder.
Colorado Fishing License
The fishing season runs from April 1 to March 31 annually. Everyone over the age of fifteen needs to have a Colorado fishing license. You can buy them for a year or a day at most sporting good stores and marinas, or some general stores. Walmart sells a lot of them.
A fishing license cost $26 for an adult CO resident (16+), and $56 for a non-resident. You can also get a combo small game hunting and fishing license for $41 for resident.
A 2nd rod stamp is available for $5 for residents and non-residents.
Seniors (64+) is $1 for a year for residents only.
Anyone over 18 and under 65, is required to get a $10 Habitat Stamp.
1 day passes are $9 for residents and non-residents.
5 day passes are $21 for non-residents.
On the first full weekend of June, each year, you can fish without a fishing license.
Learn more on fishing at Colorado Parks & Wildlife.
Featured fishing blog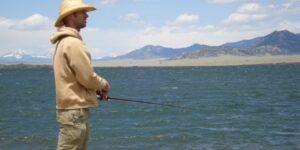 10 Fantastic Fishing Spots in Colorado – Colorado is increasingly popular as a fishing destination in the world. Its many rivers, lakes, and mountain stream teem with cutthroats, rainbows, and browns. The state is loaded with lakes and rivers open for public fishing…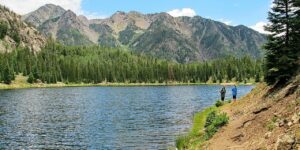 7 Tips for Colorado Fishing with the Kids – Fishing is one of the best ways to introduce your kids to the natural world and most – even those who've never fished before – end up loving the sport. And fortunately for residents of the Centennial State…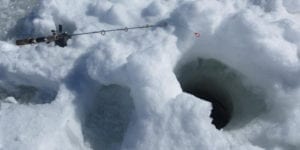 2018 Ice Fishing Tournaments in Colorado
– Get together with some friends and head out for an ice fishing adventure. Tournaments are held almost weekly from late December through the beginning of March. There are both team and individual tournaments…
Some fishing related activities
Fortunately most great fishing areas have campsites nearby. Sometimes you need more than a hike to and from the lake.