[North Pike catch fly-fishing in Colorado. Photo: Bugeater] With a valid fishing license, anglers can cast a line nearly anywhere in Colorado. With thousands of lakes, creeks and rivers to choose, great fishing is never far away. Regulations vary between fly-fishing only, fly and artificial lures, to live bait. Read our fishing blog.
Fishing & Fly-Fishing Rivers and Lakes in Colorado
Some city, county and state parks have access to a lake or river for fishing. Often rivers and lakes are located on federally owned public land, which you can access year round, conditions permitting. Many towns show local fishing, at both lakes and rivers.
Colorado City Parks Fishing
Most city and county parks provide a beautiful slice of nature, close to home and free to use. Some have lakes, ponds and rivers prime for fishing. Reference local rules and regulations to see what kind of fishing is allowed.
Colorado National Forests Fishing
Eleven national forests cover millions of acres throughout the Rocky Mountains. They are spread across the state, west of the plains. Year round outdoor recreation can be found in these free, federal lands, from fishing and camping, to snowmobiling and Nordic skiing.
Colorado National Monuments Fishing
These eight monuments preserve natural and man-made landmarks. Generally, national monuments have less restrictions than national parks, they are therefore much more pet friendly. Most offer camping opportunities and various other chances for outdoor recreation.
Colorado National Parks Fishing
Four of Colorado's biggest gems are preserved in national parks. These signature sites have to be on your local bucket list, as they all offer something unique, from high alpine tundra and steep canyons, to cliff dwellings and sand dunes.
Colorado National Recreation Areas Fishing
The two national recreation areas are home to the largest bodies of water in the state, Blue Mesa Reservoir and Lake Granby. Both are a haven for water sports, permitting all types of boating and fishing. Each park has more than one marina for boat rentals.
Colorado National Wildlife Refuges Fishing
Colorado State Parks Fishing
Thirty-seven of the state parks provide a chance for fishing. Bring your valid Colorado fishing license with you and catch that trophy trout. You can cast a line year round at many the parks, sometimes into a frozen lake if that's your thing.
Guided Fishing and Fly-Fishing Trips in Colorado
Head out fishing with the pros on a guided trip. Both fly and traditional fishing trips are offered, as well as ice fishing. Several dude ranches offer organized fishing trips as well.
Address: 60880 County Road 129 Clark (near Steamboat Springs)
About: Four hour and eight hour ice fishing trips. License, equipment, lunch provided. Courtesy shuttle from Steamboat Springs available.
Address: 39020 Country Rd 8, Meeker
About: Day and overnight fishing trips, hunts, log cabin rentals, horseback riding. Lodge is located about in the middle of the Flat Tops Scenic Byway.
Address: Antero Reservoir, Blue Mesa Reservoir, 11 Mile Reservoir
About: Ice fishing guides take care of everything you need for a fun and comfortable day on the ice. They provide all the equipment necessary: augers, fish finders, heaters, rods & reels, tack & bait, top-of-the-line ice huts, and even knee pads. Full day lasts 6 hours.
Address: 7700 Trappers Lake Rd, Meeker
About: Lodge is situated on the Flat Tops Scenic Byway, open May 26 – Oct 31, 2013. They offer day and overnight fishing and hunting trips, as well a horse and cabin rentals. There is also a restaurant with a bar.
Guide to Fishing and Fly-fishing in Colorado
Everyone knows Colorado is a sportsman paradise, home to world class fishing all year round. It doesn't matter what region you happen to find yourself, there's always a river or reservoir open to fishing nearby.
Since Colorado's a hot bed for fishing, it's an activity that's easy to get into. With some fairly basic equipment you can try you luck at public bodies of water around the state. Not only are there fishing spots all over, there are incredible fishing spots all over.
Generally, unless the body of water lies on private land or is otherwise noted, fishing is usually fair game. If you're boating on a river that crosses through private property, you can still fish on the private property as long as you stay on your boat, and do not anchor, wade, or touch land in any way, even the ground beneath the river.
The charm of fishing is that it is the pursuit of what is elusive but attainable, a perpetual series of occasions for hope -John Buchan
All you need to get started fishing is a working rod, some bait and a valid fishing license. In Colorado everyone over the age of fifteen needs one. The new season requiring a new license begins in April each year.
Bait can come in the form of live worms and crickets, or random editable food, such as hot dogs and candy. Lures are artificial bait designed to entice the fish to bite. You should always carry a few in case the area you are fishing in does not allow live bait, and only artificial lures or flies. Fly fishing uses artificial flies to stimulate the behavior of flies hitting the water.
Using fishing and fly-fishing guides
Using an experienced guide for your next fishing trip is sure to leave you with lasting memories. Fish with the locals who know the ins and outs of each nearby river and lake. You can find chartered trips year round, though it's most popular from May through September.
There's a fine line between fishing and just standing on the shore like an idiot – Steven Wright
What's the difference between spin fishing vs fly fishing?
There are two main types of fishing: using a spin reel and fly-fishing. You can also fish with just a line and hook, and even go archer or spear fishing.
Spin Reel – A basic spin rod set is the easiest to get started with. Many come pre-lined, otherwise you just purchase line (generally the thinner the better, so fish have trouble seeing it), and have it professionally lined for you at the store. You combine your spin reel with a hook and bait or artificial lure, a sinker for casting weight, and possibly a bobber.
Fly Fishing – A bit more intricate of an art is fly fishing. It uses a special type of fly rod, long, thick colorful line ideal for whipping against the water, and a fly. There are a variety of flies to choose from, each suited for certain environments. The goal is to pick the one the fish are biting on there.
Tips for fishing with bait, lure and flies
Depending on the location, there are certain rules to follow fishing. Some lakes allow bait, while others are fly fishing only, or a combination of fly fishing and artificial lures only. Fish can generally be kept, unless otherwise noted. If traditional fishing, it's always wise to bring along a few artificial lures.
The best times for fishing are morning and in the evening, when fish naturally feed. The best places to fish include overhangs and deeper areas. Fish are not evenly spread out across a river or lake, there's always places where the fish like to hide. Find them! If it's not biting in one area, try another.
Some anglers use fish finders to locate fish. These are often used by boaters, trying to best cover an entire lake. Because sometimes the fish just don't seem to be there.
Required gear for fishing and fly-fishing
You only need a few basic things to successfully fish. Just a string, hook and worm is really all you need to catch a fish, of course you also need a valid fishing license to do it legally in Colorado.
Here are is most common fishing gear: (affiliate links)
Fishing rod – spin or fly-fishing
Bait, lures, flies – both live and artificial
Waders – knee high, thigh high or chest high waterproof shoes for entering water
Net – help catch the fish when bringing him
Sun hat – protect from sun
Polarized sunglasses – allow you to see under the water better
Fishing license – valid for one year from April through March
16+ needs a Colorado fishing license
The fishing season runs from April 1 to March 31 annually. Everyone over the age of fifteen needs to have a Colorado fishing license. You can buy them for a year or a day at most sporting good stores and marinas, or some general stores. Walmart sells a lot of them.
A fishing license cost $26 for an adult CO resident (16+), and $56 for a non-resident. You can also get a combo small game hunting and fishing license for $41 for resident.
A 2nd rod stamp is available for $5 for residents and non-residents.
Seniors (64+) is $1 for a year for residents only.
Anyone over 18 and under 65, is required to get a $10 Habitat Stamp.
1 day passes are $9 for residents and non-residents.
5 day passes are $21 for non-residents.
On the first full weekend of June, each year, you can fish without a fishing license.
Learn more about local fishing at Colorado Parks & Wildlife. They share the latest updates and rules for fishing in Colorado. Best of luck catching that trophy trout!
Popular Posts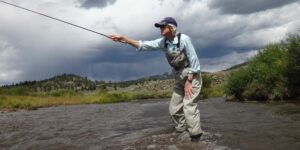 Have Faith Anglers: The Trout Are There – When fly fishing a well-known river venue for trout, you might be surprised at how many fish are just hanging out nearby waiting for you to leave. Trout at popular venues become acclimated to the presence of people and…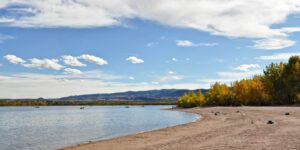 Cast a Line at the Best Fishing Spots Around Denver Metro – While the Colorado Rockies are notorious for their trophy trout, you don't have to travel west of the Front Range to find a top fishing spot. You can find some of the best places to fish in and around the Denver…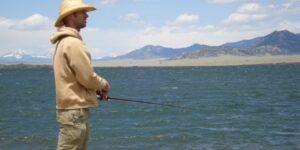 10 Fantastic Fishing Spots in Colorado – Colorado is increasingly popular as a fishing destination in the world. Its many rivers, lakes, and mountain stream teem with cutthroats, rainbows, and browns. The state is loaded with lakes and rivers open for public fishing…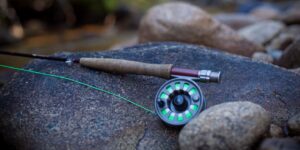 How to Get Started Fly Fishing in Colorado – With thousands of miles of rivers and streams and millions оf surface асrеѕ of lаkеѕ, the Centennial State is angling nirvana. Approximately 340,000 flу-fishermen еасh уеаr аrе captivated bу the rhythmic action…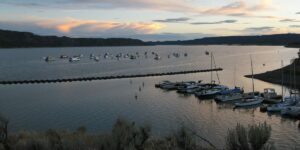 Boating on 6 of Colorado's Biggest Lakes – Have you ever taken the pleasure to do some quality trout fishing in any of those mesmerizing lakes in Colorado? Just imagine renting a cool boat with a trolling motor boat and some trendy fishing gear, along with…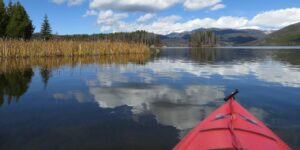 11 Best Places to Kayak in Colorado – While Colorado is best known for its mountains, there are plenty of beautiful lakes and rivers where you can go kayaking. If you're looking for more than just views, and also a little excitement, then you'll be able to find that in the…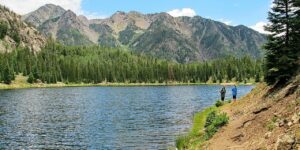 7 Tips for Colorado Fishing with the Kids – Fishing is one of the best ways to introduce your kids to the natural world and most – even those who've never fished before – end up loving the sport. And fortunately for residents of the Centennial State…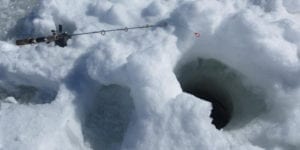 2018 Ice Fishing Tournaments in Colorado
– Get together with some friends and head out for an ice fishing adventure. Tournaments are held almost weekly from late December through the beginning of March. There are both team and individual tournaments…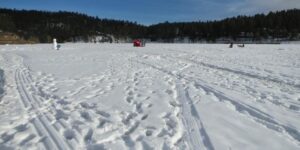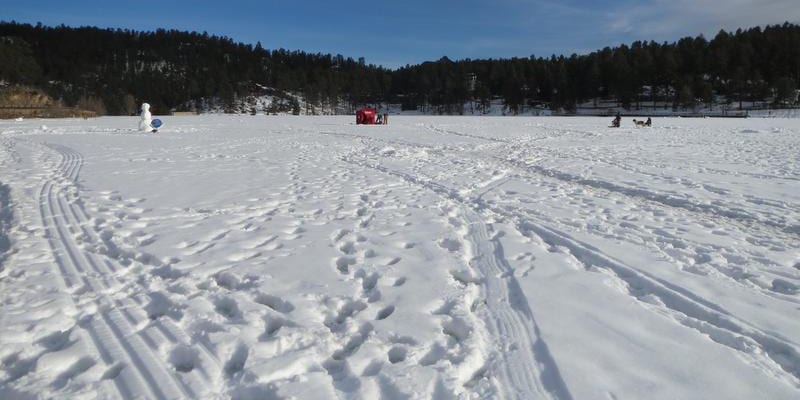 Frozen Fishing on Evergreen Lake – Once Evergreen Lake freezes over for the season, usually in December, ice fishing and skating take over the lake. There's no fee to fish the lake, as long as you have a fishing license, and parking is free. Evergreen features a large..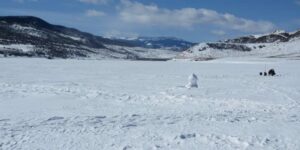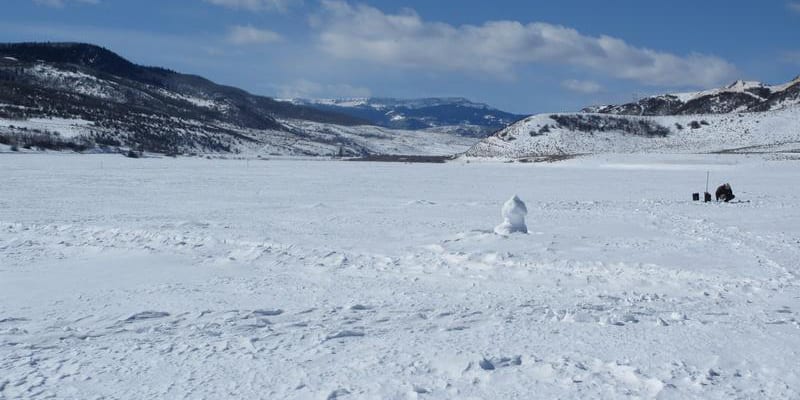 Winter Ice Fishing by Steamboat Springs – In the winter Stagecoach Reservoir freezes over and traditional fishing turns into ice fishing. The reservoir is large and there are usually ice fishers out there everyday during the season. The park is located…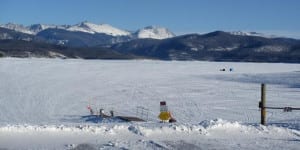 Ice Fishing the Great Lakes of Colorado – Grand Lake is Colorado's largest, deepest natural lake, secluded next to a sleepy resort town by the same name. It sits next to five other alpine lakes: Lake Granby, Shadow Mountain Lake, Monarch Lake, Willow…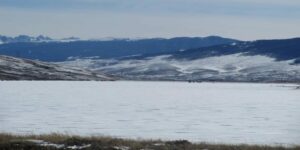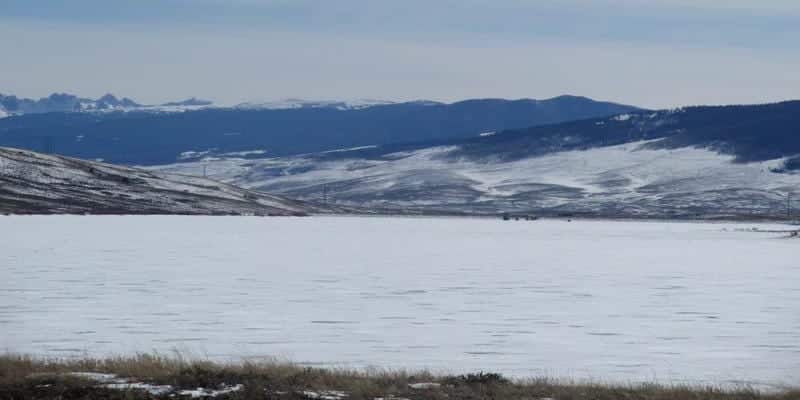 Ice Fishing at Kremmling's Wolford Reservoir – Wolford Mountain Reservoir tends to be a quiet lake without many people. The season tends to run from December to March, weather permitting.The Kremmling Area Chamber of Commerce hosts an annual…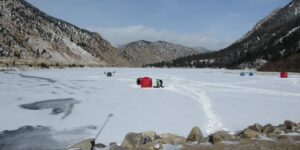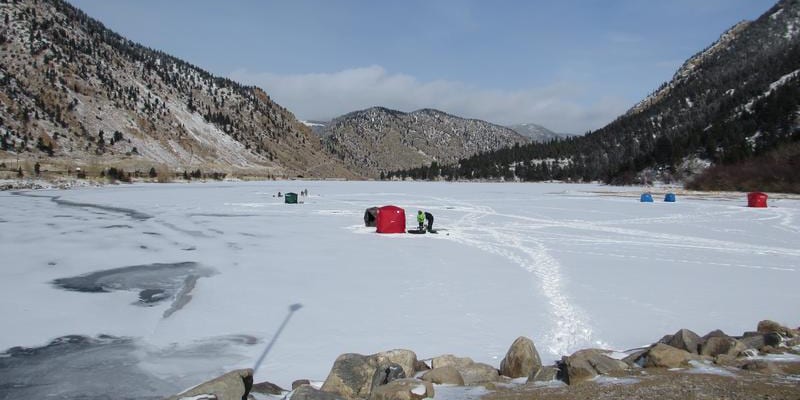 Ice Fishing beside I-70 in Georgetown – Georgetown Lake is visible from I-70 and one of the main attractions in Clear Creek County. Year round the lake gets use, especially for fishing. The lake begins to freeze over around November and ice fishing commences…
Related Activities
Fortunately most great fishing areas have campsites nearby. Sometimes you need more than a hike to and from the lake.