Colorado is increasingly popular as a fishing destination in the western world. Its many rivers, lakes, and mountain streams teem with cutthroats, rainbows, and browns.
The state is loaded with lakes and rivers open for public fishing. Watch for signs, dictating private property or not, otherwise with a valid fishing license you're usually good to go. Rules are generally posted and are either open to all types of fishing, including live bait, or limited to fly fishing only or fly fishing and artificial lures
(affiliate link) only.
Best lakes and rivers for fishing in Colorado
Therefore, when you ask for the best fishing in Colorado, you are likely to get a wide range of answers. However, some of the fishing spots in Colorado are generally more popular than others.
Here are some of the top fishing destinations in Colorado, in no particular order.
1. Rio Grande River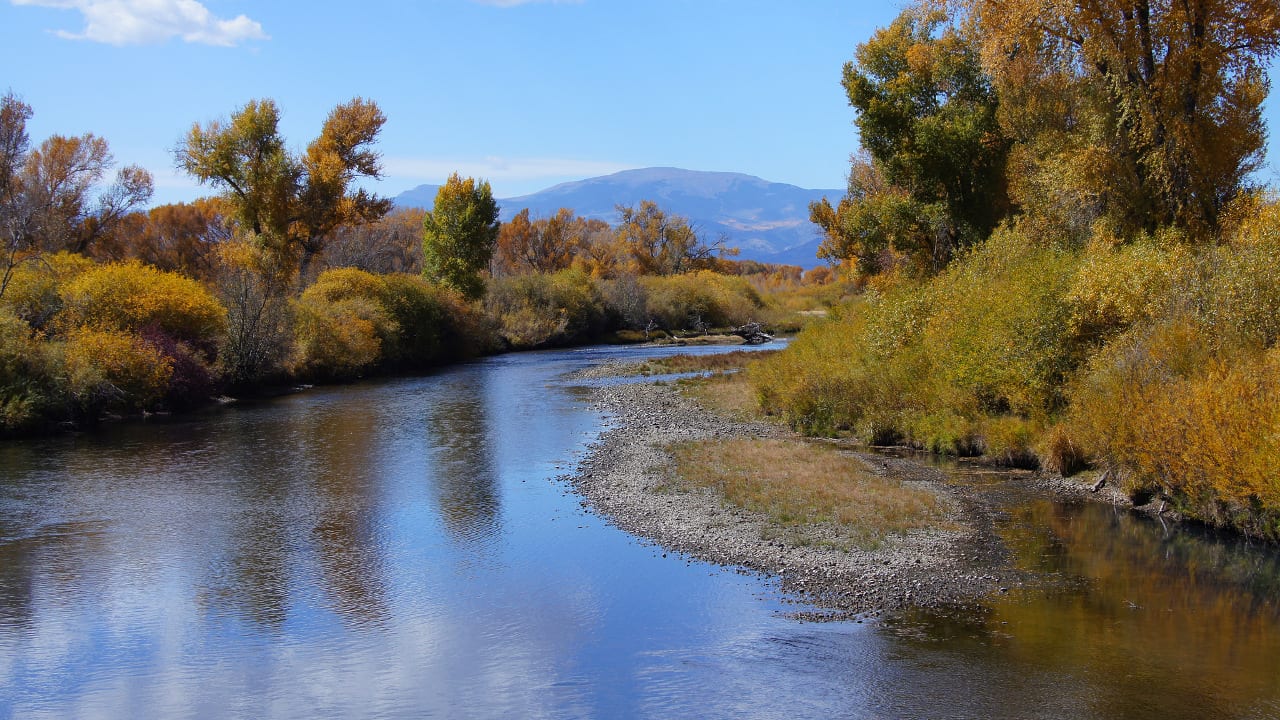 This is a windy river that begins in the San Juan Mountains in Southwest Colorado and ends in the Gulf of Mexico. The best fishing section of the river lies in the San Juans between the towns of Del Norte and South Fork.
This section offers up some of the best catches of the Rio Grande River. The best time to fish in the river is from June to July when fish hatches are in full swing.
2. Gore Creek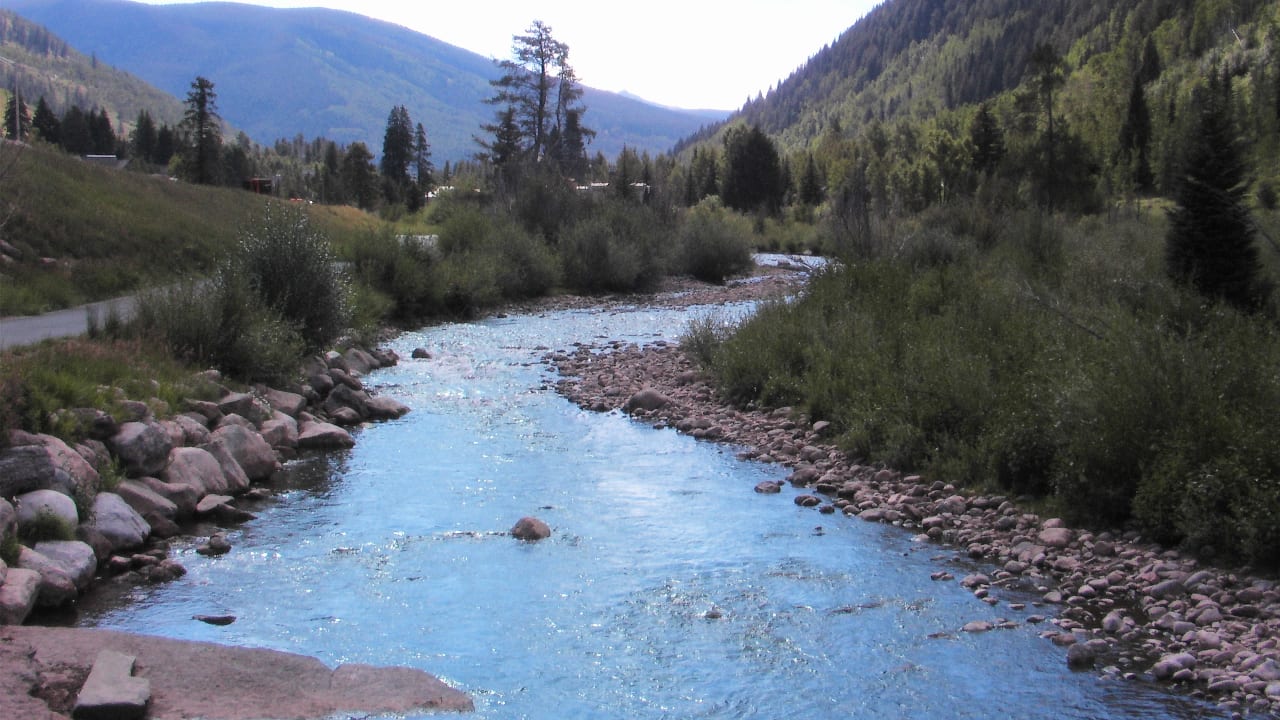 Although this stream is relatively small, it is one of the best fishing destinations in Colorado. You can find lots of cutthroats, brooks, browns, and rainbows in Gore Creek.
It's a fairly small creek teeming with large trout. You can fish at any section of the creek beginning from the mountains at Gore lake and going down to the confluence with the Eagle River. However, there are two main fishing locations in the creek: the Upper Gore Creek and the Lower Gore Creek.
3. Spinney Mountain Reservoir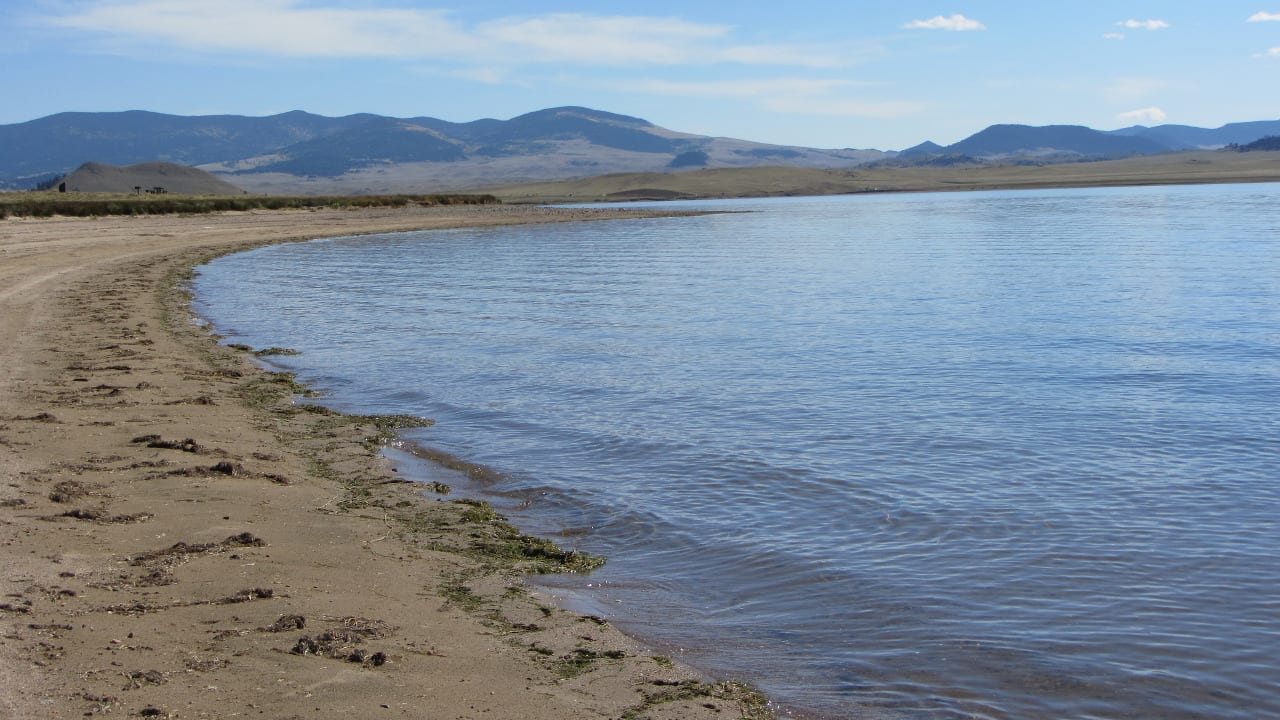 This fishing destination does not just provide great fishing opportunities, but it also has beautiful shorelines and scenic views of the lake and surrounding landscapes. Anglers troop towards Spinney Mountain Reservoir because of its fly-fishing, belly boating, and trolling opportunities.
It consistently offers up trophy trout, walleyes, and salmon. Although the reservoir provides great fishing opportunities throughout the year, the best time to fish is during summer in June.
4. North Platte River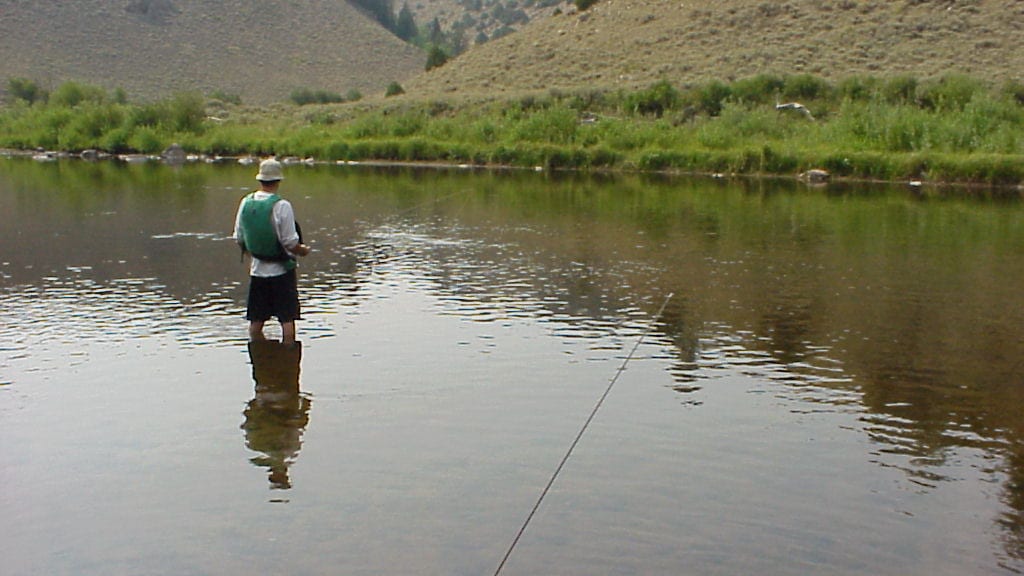 This is considered a legendary fishing destination in Colorado. The North Platte River begins in the grassy meadowlands of North Park and flows to Wyoming.
However, the Colorado section of the North Platte River is a more popular fishing destination than the Wyoming section. It is important to know that some sections of the river can only be accessed by raft or kayak adding to the adventure of fishing at this destination. This river has some of the best trout in the West.
5. Upper Arkansas River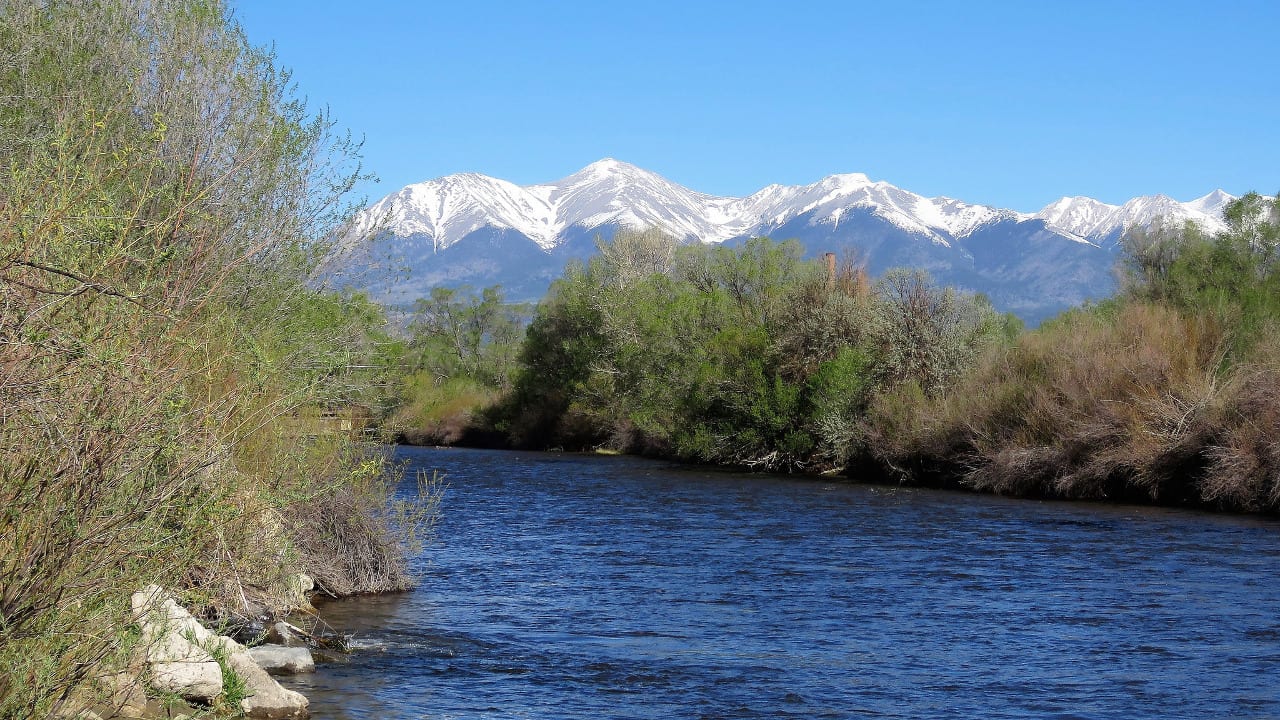 This river is located 102 miles from the confluence with Lake Fork near Leadville. The river flows through sub-alpine meadows, bouldered canyons, irrigated hayfields, and deserts.
The upper section is one of the most popular fishing spots on the Arkansas River and is quite popular with brown and rainbow trout.
6. Fryingpan River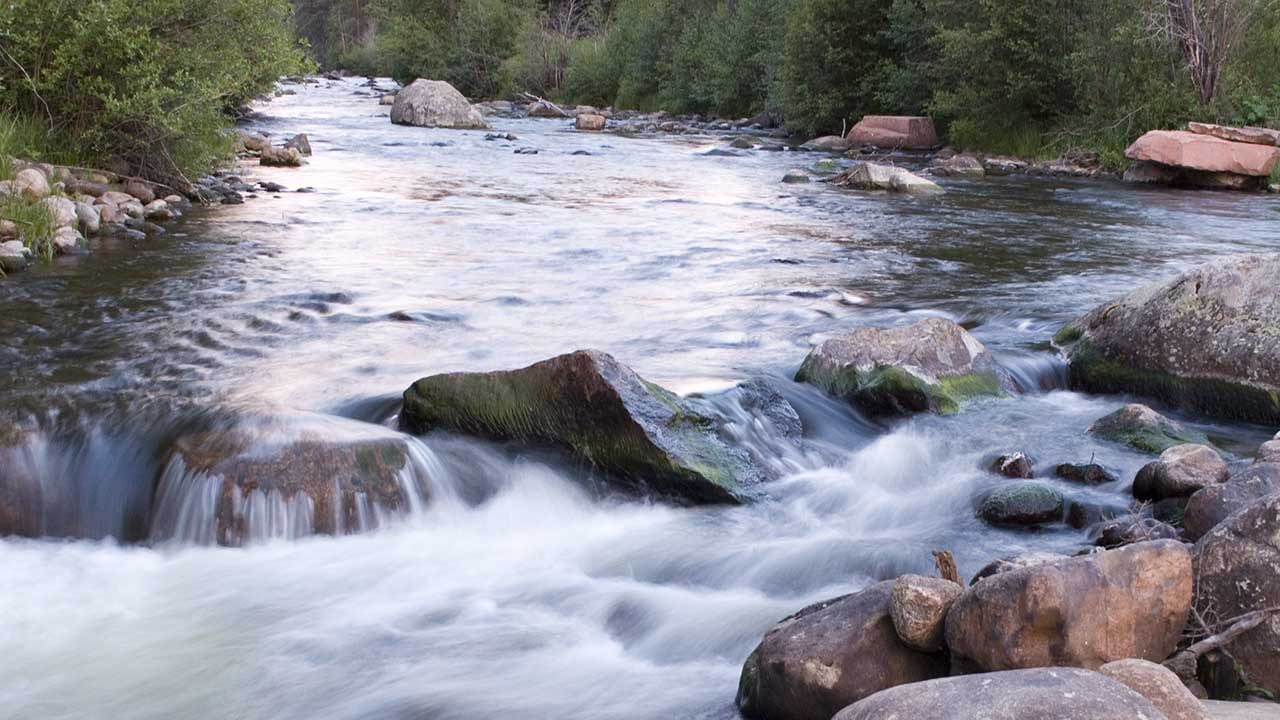 This fishing destination has gained an international reputation for fly and lure fishing. The state of Colorado has aptly managed this fishing habitat. You can easily catch 10-pound rainbows in some sections of the Fryingpan River.
The best fishing location in this river is between Ruedi Reservoir and the confluence with the Roaring Fork River. This section has clear waters, and a lot of fish, plus provides views of the beautiful mountain vistas surrounding the river.
7. North Delaney Butte Lake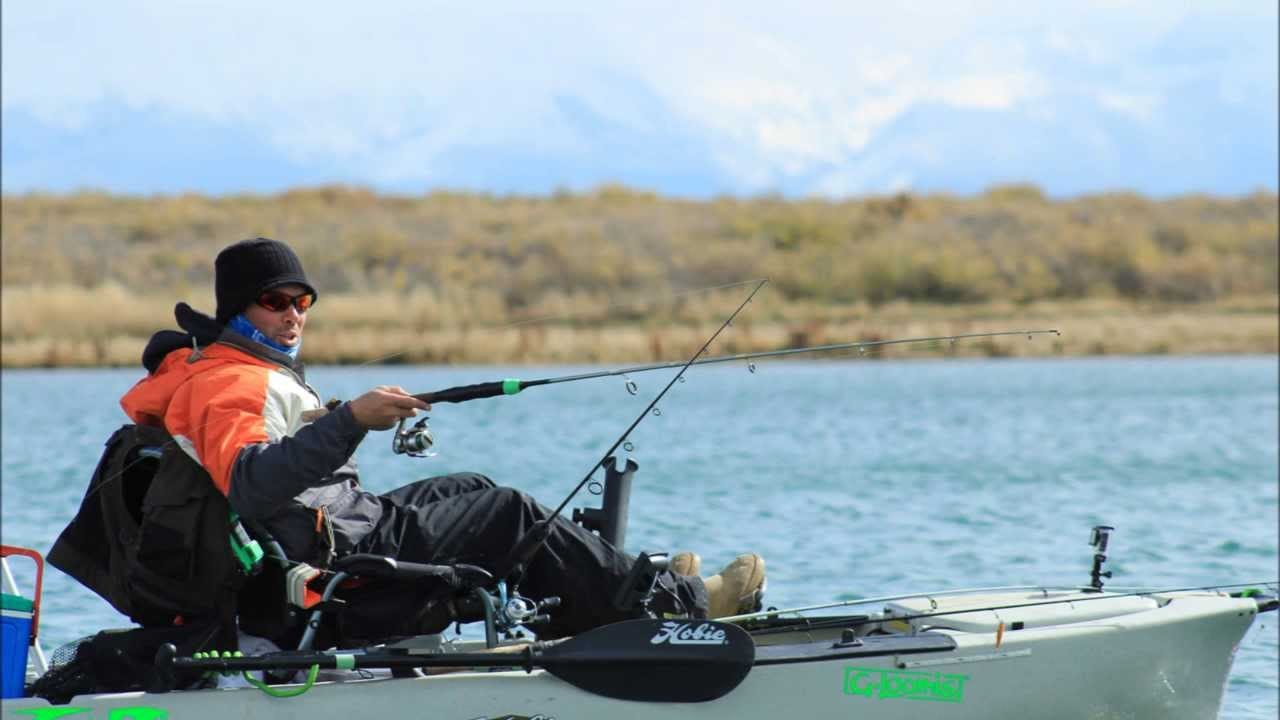 This is one of the three high mountain lakes located in Delaney Buttes near Walden, Colorado. The lake is quite popular because of its healthy trout population.
In fact, the state Division of Wildlife collects trout eggs to boost the trout stock of the state. North Delaney Lake easily makes it into the top fishing destinations in Colorado.
8. South Platte River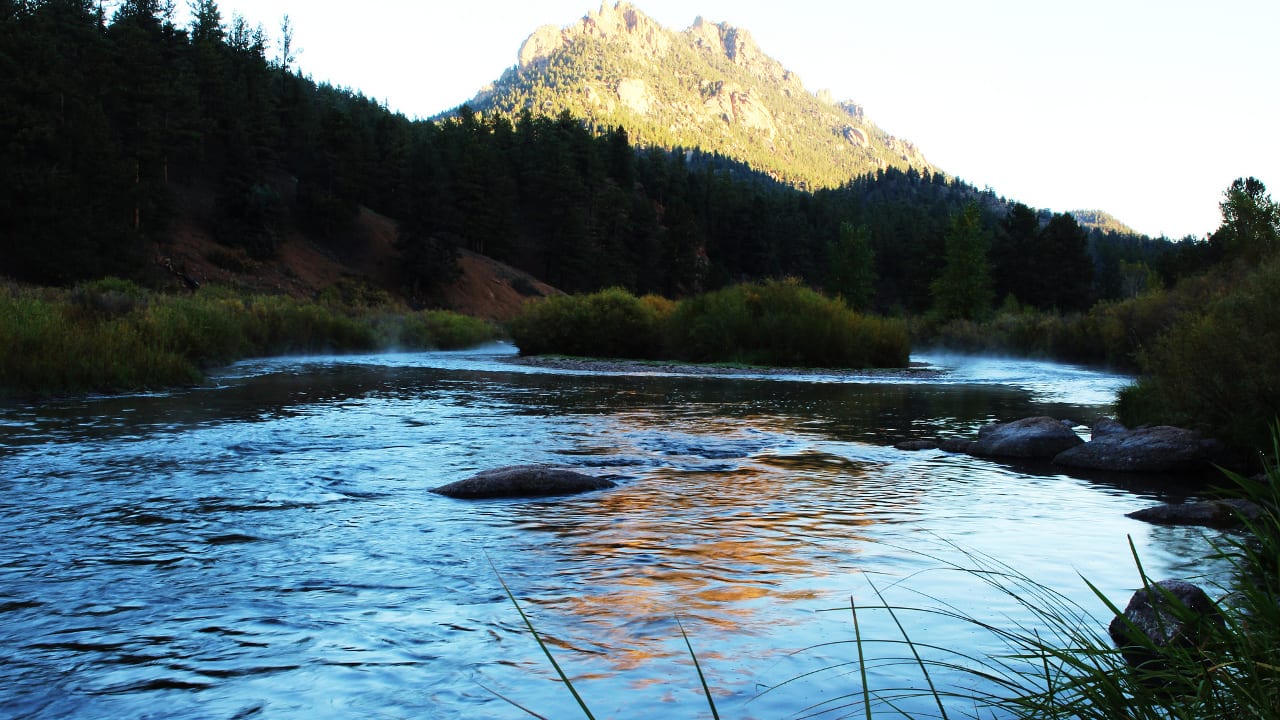 The South Platte River makes its way from South Park into downtown Denver. The dream stream is the best section of the river. This section begins in the mountain meadows next to the Spinney Mountain Area and flows down to the Elevenmile Canyon Reservoir.
The dream section teems with fish, especially during the spring migration. It is one of the best fishing places near Denver and accommodates large groups of anglers who come to the river to fish each year.
9. Gunnison River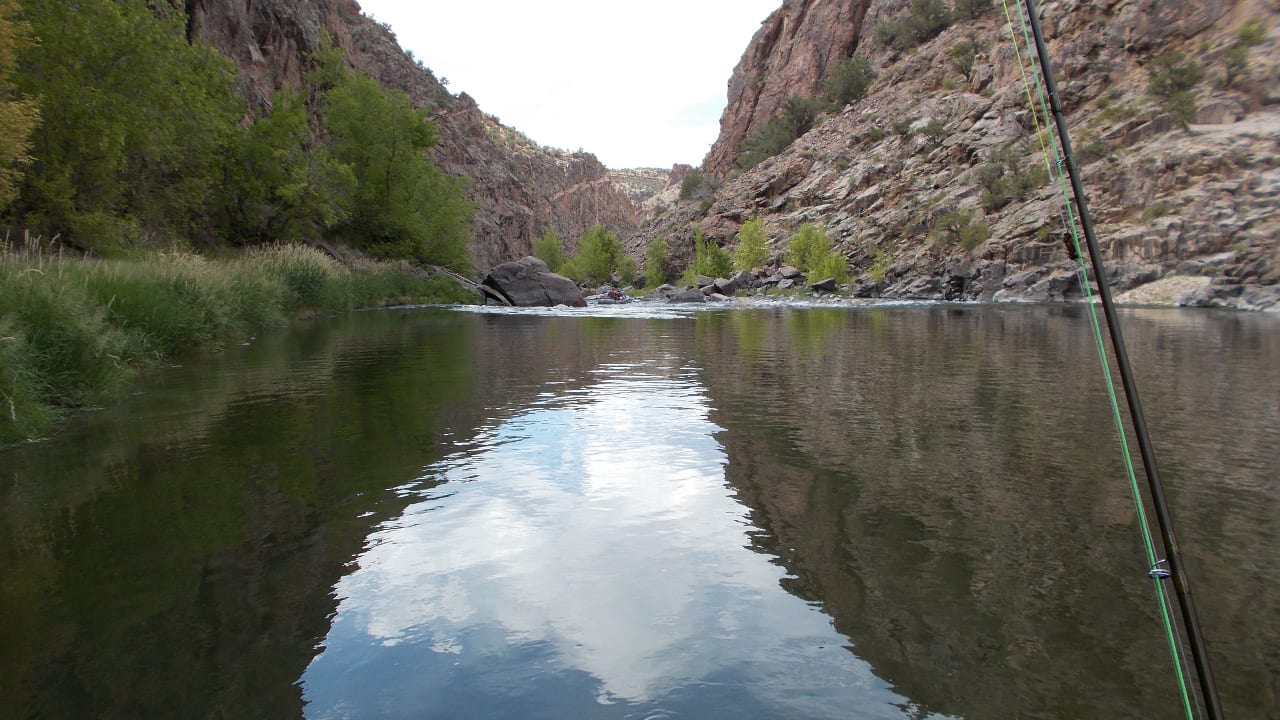 This river provides some of the best fishing opportunities in Colorado. Among the best fishing sections are in the Black Canyon in Gunnison National Park, though it's fly fishing and artificial lures only.
However, be prepared to drive through the steep and windy roads leading up to the canyon. Despite the arduous journey you will have to make to reach the Gunnison River, the fishing is totally worth it. You may also get to the river by hiking on one of the inner canyon routes. However, you will be required to get a backcountry permit to go for the hike.
10. Animas River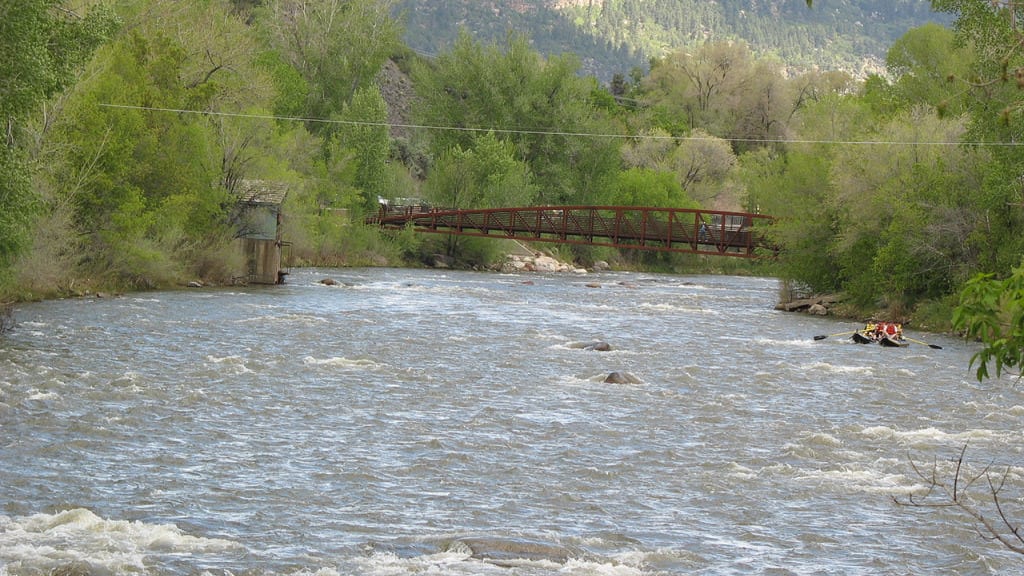 The name of this river was coined by the Spanish explorer Juan Rivera who named it El Rio de las Animas Perdidas en Purgatorio, which is Spanish for the river of lost souls in hell. However, many people often wonder what exactly he was referring to when he coined the name because the Animas River is a beautiful fishery surrounded by beautiful landscapes.
The best way for the public to access the river is through the city of Durango. The river is wide measuring 100 feet at some sections.
Colorado fishing tips
Worst fishing locations in Colorado
Although Colorado has some of the best fishing locations in the U.S., some of its streams, lakes, and reservoirs have been overfished throughout the years. Therefore, it is important to check the conditions of various fishing locations before traveling to a favorite fishing spot.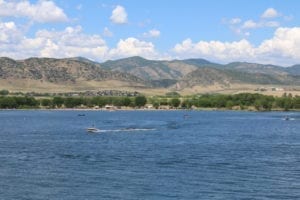 Fishing conditions in a lake, river, or reservoir vary; a fishing location could hardly have fish one day and abounding with fish the next day. If you would like to escape the crowds, consider staying away from popular fishing locations like Chatfield State Park, Cherry Creek Reservoir, and Boulder Reservoir. Popular fishing destinations in Colorado can be quite crowded and trash could become a problem.
Every fishing location has its good and bad days. Therefore, the location you choose to fish in is determined by what you are looking for from your day out on the water.
Types of fish found in Colorado
There are many types of fish species in the rivers and lakes in Colorado. However, some fish species are more popular than others. The official state fish of Colorado is the cutthroat trout and rightfully so because it is an indigenous variety of the trout.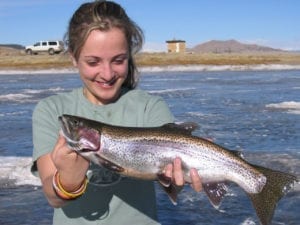 Trout, including brown, brook, and lake trout abound in the state's rivers and lakes. There are many fish species depending on the region. Trout is one of the most common fish species in the Front Range and throughout the Rockies. Walleyes are quite popular in reservoirs located on the plains.
Each region of Colorado has rivers, lakes, and reservoirs that provide great fishing opportunities for anglers. Finding the right trout lures is not easy, you should take the time to read some articles to get an idea from an expert and choose the trout lures that are suitable for your place.
When to fish in Colorado
You can fish throughout the year in Colorado, though at high elevation it might be ice fishing. However, there are advantages and disadvantages of fishing in each season. Summer is a busy season for anglers and the best fishing spots usually are crowded with anglers.
The crowds often thin out during fall. In addition, autumn is one of the best times to go for fly-fishing when waters are at their lowest. Ice fishing is quite popular during winter.
What you need for a fishing trip
The amount of fishing gear that exists is quite amazing. Fortunately, you don't need to pack up all types of things when going out to fish in Colorado, unless you want to. A basic rod and reel is a great starting point. You'll spend a lot of time with it, so choose from recommended baitcasting fishing rods, and find an ideal model to suit your needs.
There are Amazon Affiliate links below – Uncover Colorado is a participant in the Amazon Services LLC Associates Program, an affiliate advertising program designed to provide a means for sites to earn advertising fees by advertising and linking to Amazon.com.
Consider working with all-purpose rods and reels that work with different types of fish to enhance versatility. Next, get yourself a simple tackle box
 that includes different types of lures and bait. Once you finish setting up your tackle box, select live bait hooks
, and a fishing line
. Finish off by throwing in a pocketknife
and you are good to go.
When it comes to clothing, waders
 are ideal for fishing in Colorado, especially in sections that do not provide shore access. A padded cushion can come in handy when you have to sit for prolonged periods waiting for that prized catch.
That's a roundup of some of the top fishing spots in Colorado. Please share it with fellow anglers on social media and perhaps your experiences fishing in your favorite fishing destinations in Colorado.