Fairplay's convenient location makes it a popular stopping point for those exploring the Central Rockies. It's most known for housing South Park City, an Old West museum town.
The town lies at the junction of U.S. 285 and Highway 9, about an hour and a half from Denver. Heading north on Highway 9, brings you to Breckenridge and heading south on 285 takes you to the Buena Vista.
Main Attractions
South Park City – A restored 19th century mining camp and museum. There are some original buildings and others were imported from South Park, a 900 square mile basin in the Rockies.
Accommodations
Things To Do near Fairplay, CO
Amusement:
Federal Lands:
Museums:
Scenic Drives:
Ski Areas:
Towns:
Transportation:
Popular Posts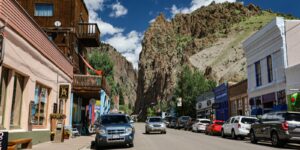 Visit These Ten Small Town Gems in Colorado – They may be small, but these Colorado towns have plenty to offer. From epic mountain landscapes to historic landmarks, each one of them offers a bit of something special. All of these Colorado towns are…