Frisco and the surrounding area of Summit County are loaded with things to see and do, making it the perfect central hub for your next adventure. Only 90 minutes from Denver via I-70, the town has been nicknamed "Main Street to the Rockies" because of its picturesque downtown and proximity to the mountains.
Copper Mountain, Keystone, Arapahoe Basin, and Breckenridge are a few of the popular skiing and snowboarding destinations near Frisco. The town has about 2,913 permanent residents as of 2020, but Frisco is always bustling with people enjoying easy access to top-notch recreation.
Skiing, snowshoeing, and tubing are all within a stone's throw of downtown during the colder months. Once it warms up, Lake Dillon serves as a focal point for fishing, boating, and even kayaking.
History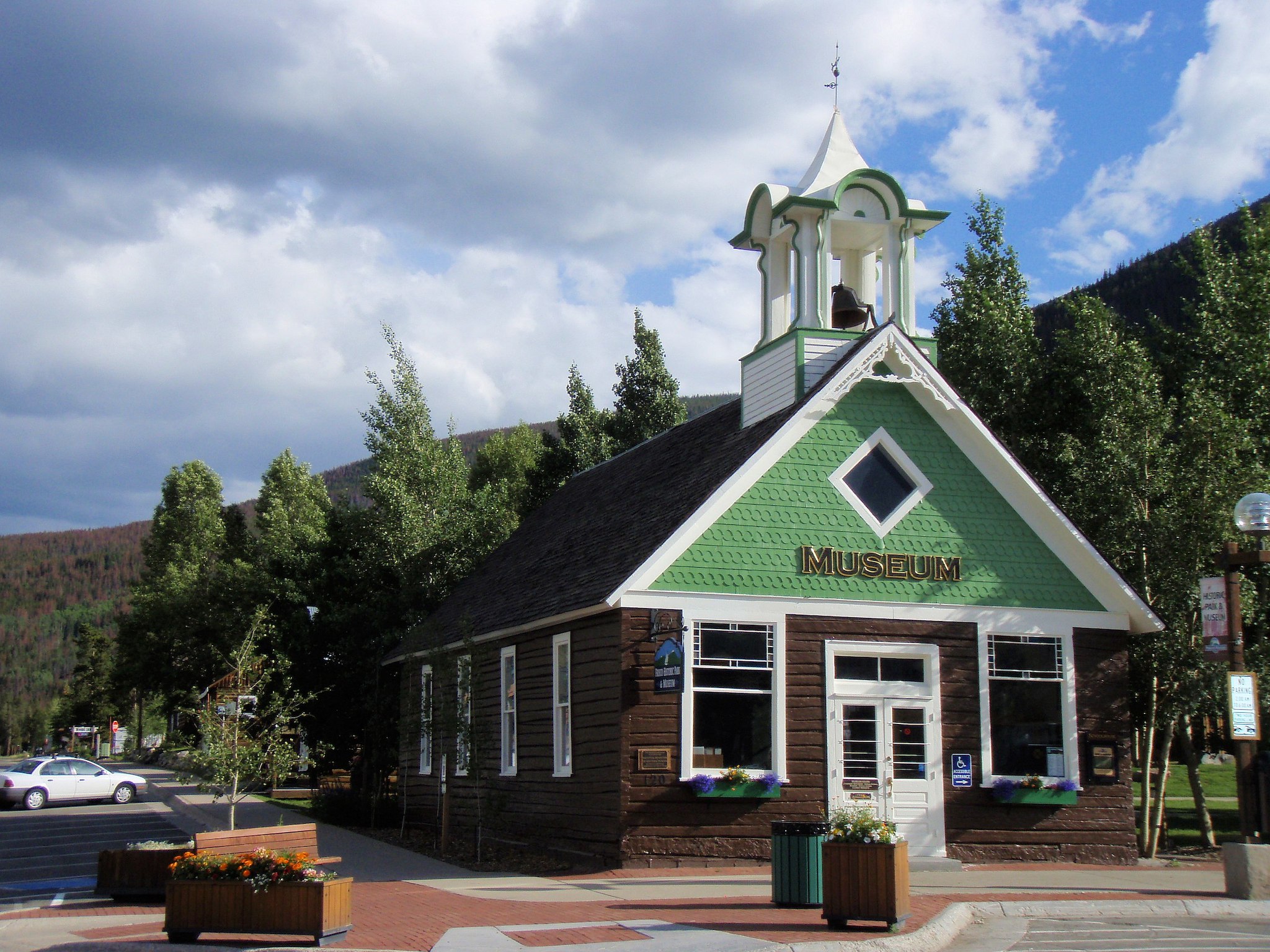 Summit County was first inhabited by the Ute people, who lived on the land now known as Frisco. Once the mining boom started in the 1870s, Frisco became a bustling hub because of its centrality to many large mines in the area. The town was chartered in 1879 by Harry Recen, and Frisco continued to grow with businesses and permanent residents settling in.
It was one of the few mining towns to survive the Great Depression, but was ultimately left with a population of only 18. It slowly regrew in the following decades and the population exploded once again when the ski industry started attracting millions to the area in the 1960s.
Main Attractions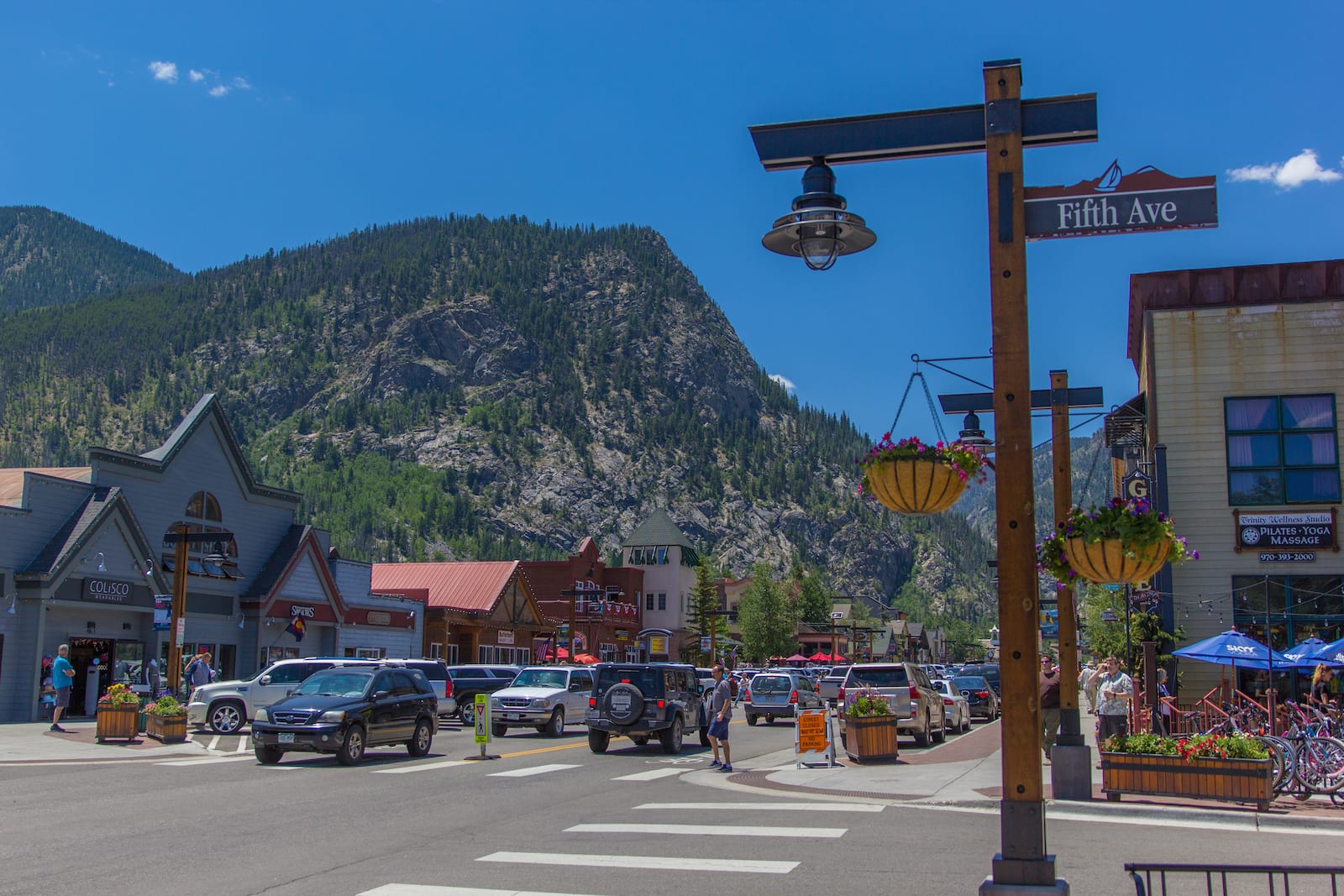 Main Street of the Rockies – Downtown Frisco is lined with colorful shops and restaurants, making it the perfect place to stroll after a summer day on the lake or winter day on the slopes.
Check out the Frisco Historic Park and Museum while you wander. The museum itself is filled with artifacts, interactive exhibits, and information about the history of Frisco. The historic park is free to enter and features 11 historic buildings, including a teepee, schoolhouse, and even a jailhouse!
Dillon Reservoir – In the summer, Frisco is best known for its buzzing Dillon marina. With over 25 miles of shoreline bordering Frisco and Dillon and an endless amount of water to explore, the reservoir is the perfect place to cool off.
At the Frisco Marina, you can rent boats, kayaks, canoes, and stand-up paddle boards for fun in the water. Although swimming is not allowed due to frigid water temperatures year-round, there are plenty of other activities to keep you entertained.
Frisco Nordic Center – If skiing and snowboarding downhill aren't your thing, Frisco Nordic Center has you covered. With over 27 miles of snowshoeing trails and areas for both skate and cross country skiing, you won't regret spending a day exploring the park.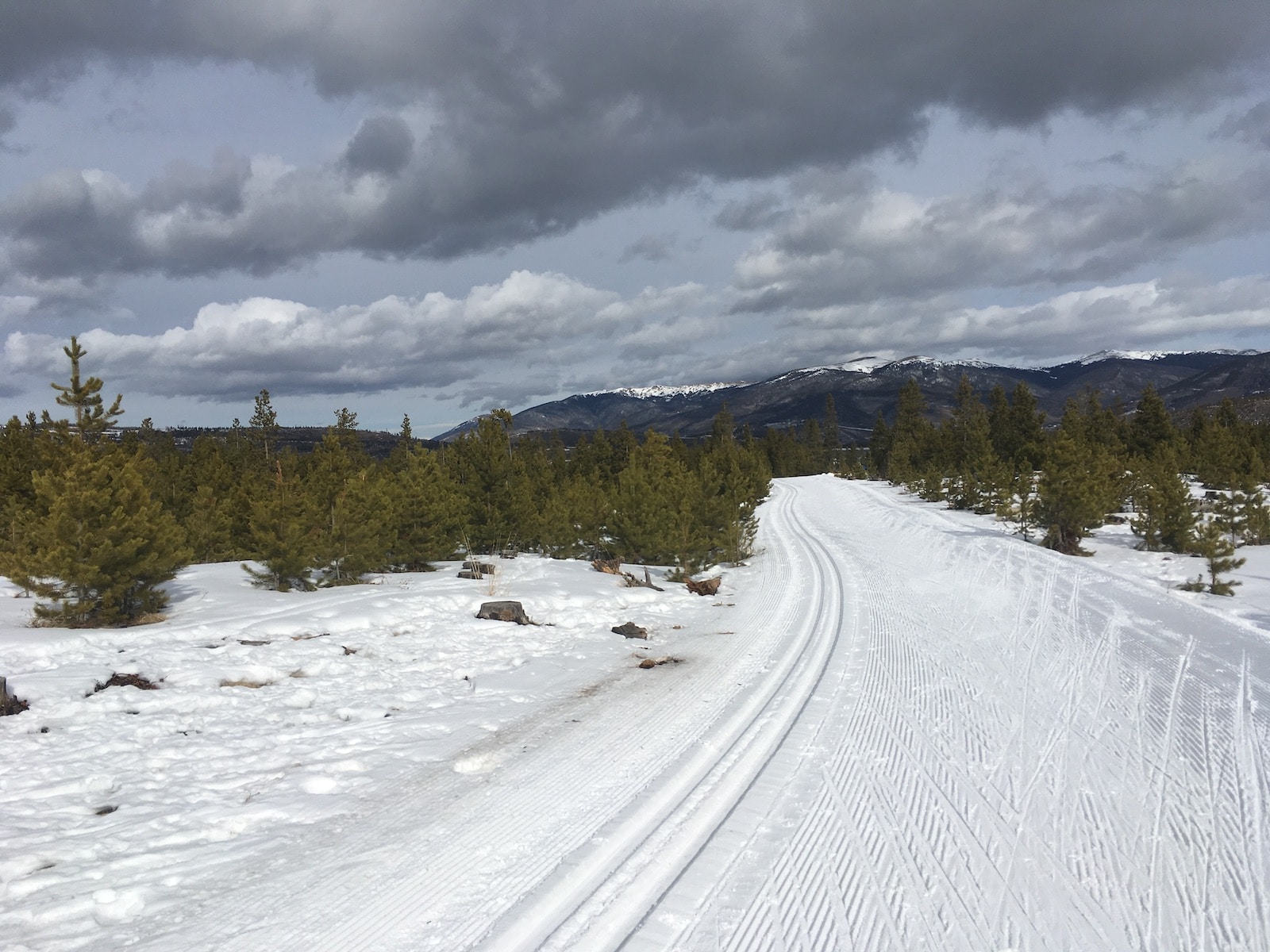 Frisco Adventure Park – Featuring a 1200 foot tubing hill, lessons for beginner snowboarders and skiers, and even a small terrain park, this adventure park is sure to have something fun for everyone.
For a more complete rundown of the many activities you can find in Frisco, check out the top things to do in Frisco.
Recreation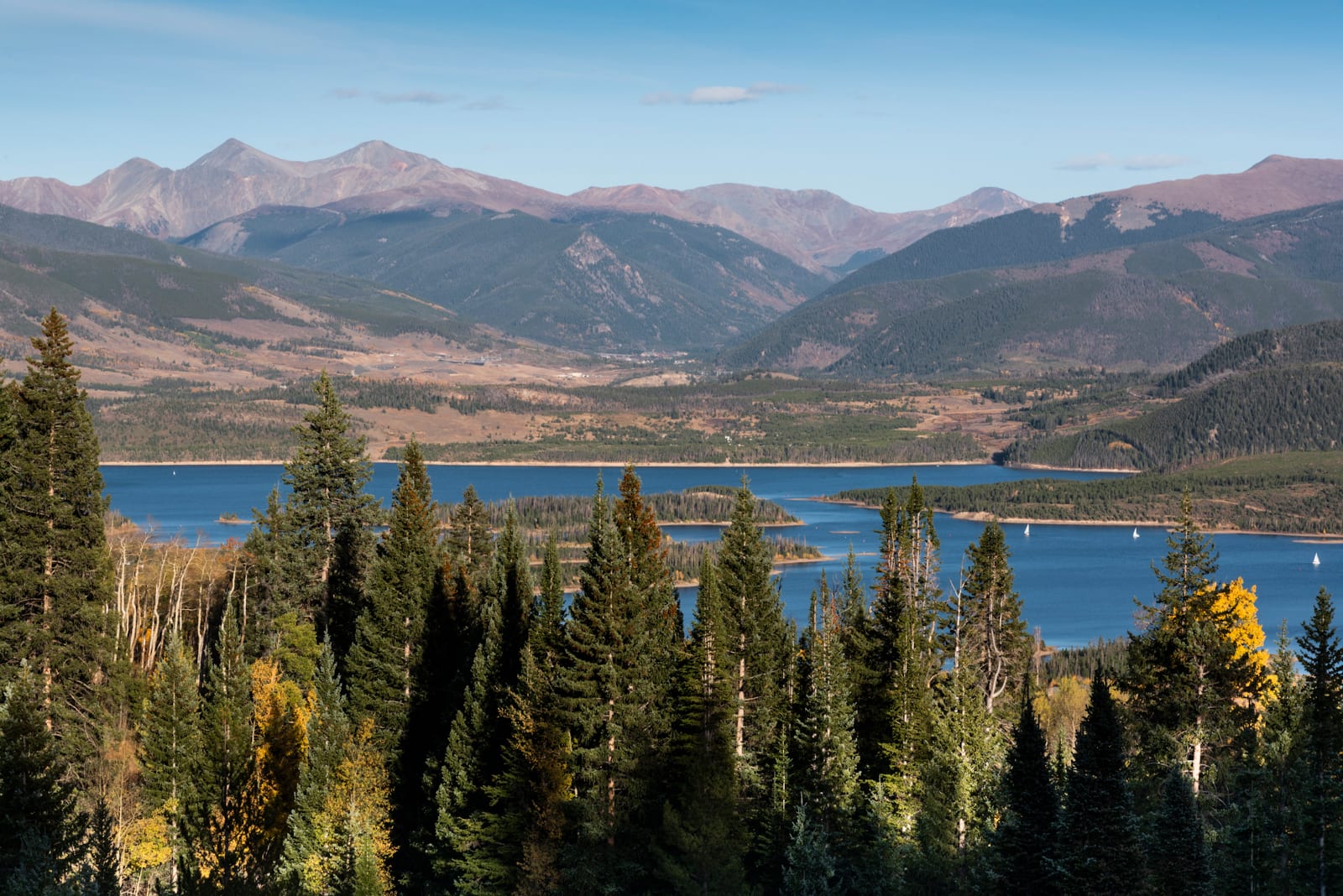 Biking/Hiking – The Dillon Reservoir Recpath Loop is an 18 mile paved path that encompasses all of Dillon Reservoir, guaranteeing beautiful views no matter which way you go. You can walk, run, in-line skate, roller ski, or bike this path for the perfect way to spend a warm afternoon in Frisco.
Camping – There are a handful of local campgrounds that provide access to Dillon Reservoir. The Dillon lakeside camping sites are:
Lowery Campground
Prospector Campground
Windy Point Campground
Peak One Campground
Heaton Bay Campground.
Swan Lake Road passes by several of these, making it a good route to take while you find your ideal spot on the lake. Read more about camping near Frisco and Summit County here.
Fishing – Both shore and boat fishing are allowed on the Dillon Reservoir year-round, with ice fishing in the winter. Colorado Parks and Wildlife stocks the lake with rainbow trout annually, in addition to the brown trout, freshwater shrimp, salmon, and arctic char.

Skiing and snowboarding – There are six major ski areas within a thirty-minute drive of Frisco: Arapahoe Basin, Breckenridge, Copper Mountain, Keystone, Loveland, and Vail. Located right beside I-70, Frisco makes a great basecamp for hitting multiple mountains in one trip.
Whitewater Rafting – If the Dillon Reservoir is too calm for you, then there is plenty of whitewater to be found nearby. Rafting trips depart daily from May through September, depending on water levels. The neighboring town of Silverthorne has trips on the Blue River, Idaho Springs on Clear Creek, and Vail on Eagle River.
Accommodations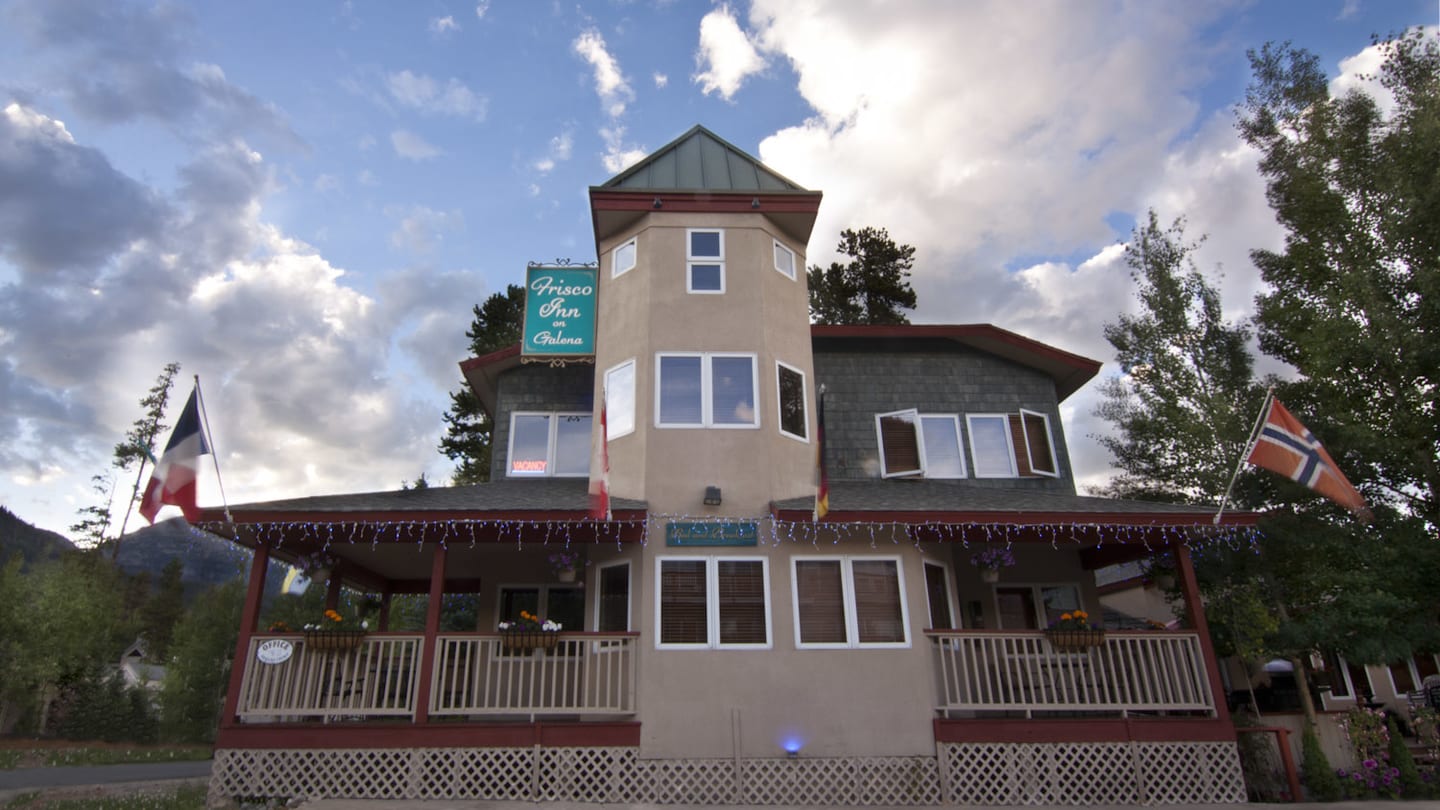 This section contains referral links. If you click through and take action, we may receive a commission, at no additional cost to you. 
Frisco Inn on Galena – A beautiful mountain stay complete with top-notch amenities such as a sauna, expansive sundeck, outdoor hot tub on the patio with the Rocky Mountain view, and freshly roasted coffee each morning.
Frisco Lodge – Located on the bustling Main Street, this lodge is the perfect place to crash after a day of adventures. Cozy reading nooks, a hot tub, and even BBQ pits make this Bed & Breakfast feel like home.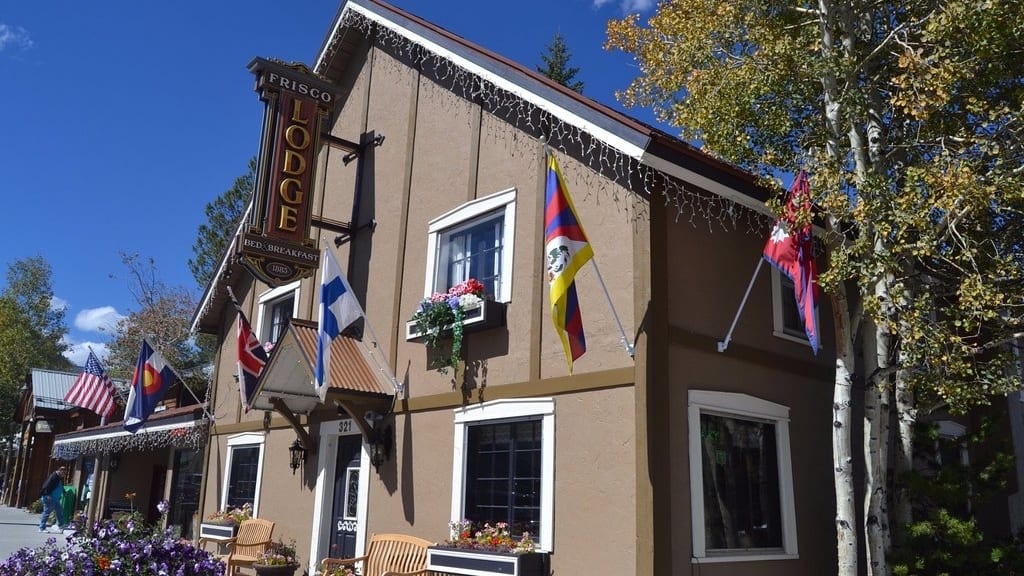 These are just a few of the over 35 mountain cabins, bed & breakfasts, and other local accommodations you can find within Frisco. Read more about the best hotels in Frisco.
Dining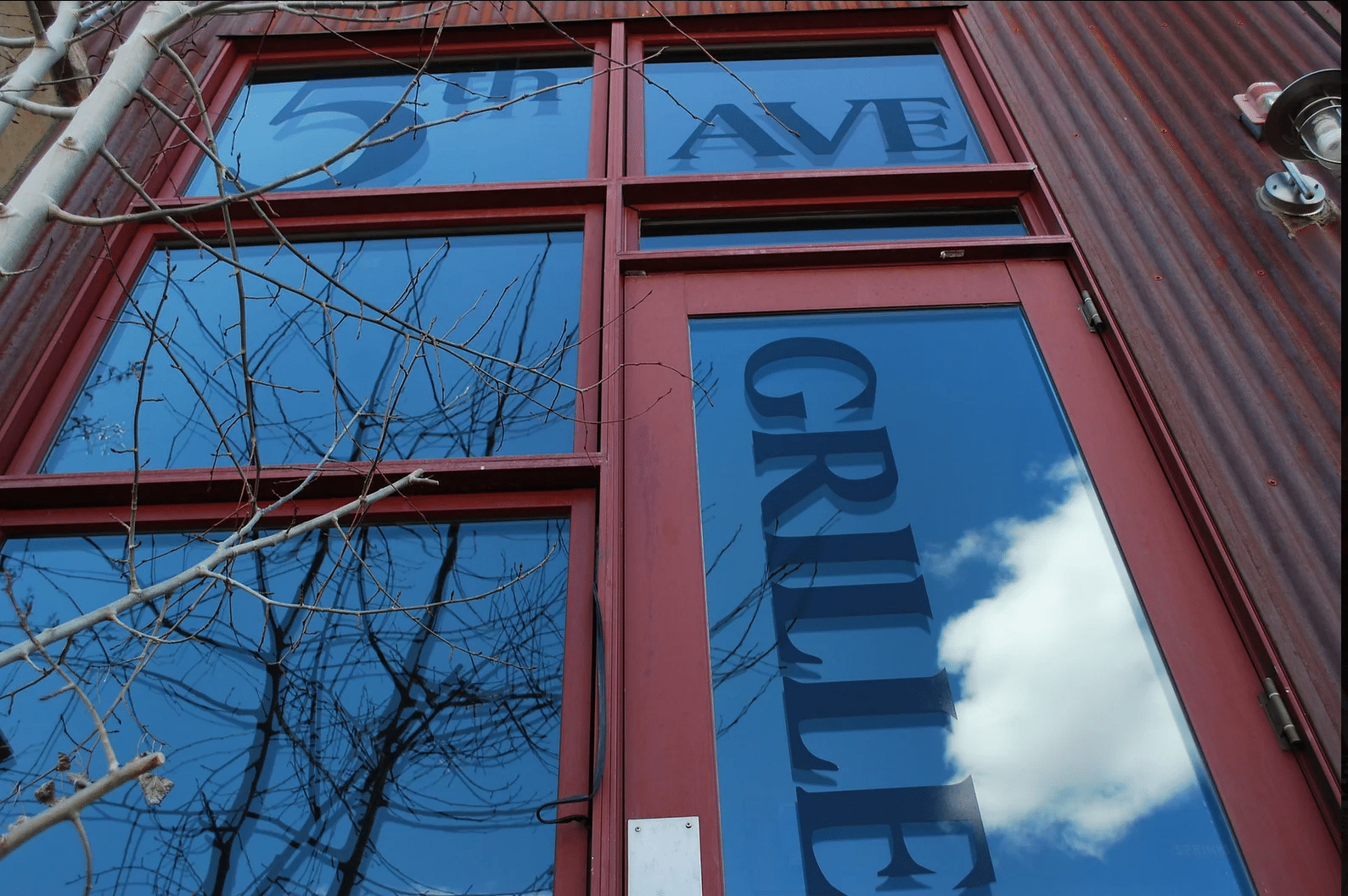 5th Avenue Grill – This grill is complete with a great happy hour and unique twists on classic dishes. They also offer a large selection of wine and beer, so there's something for everyone.
The Lost Cajun – If you're looking for a switch-up from classic American fare, the Lost Cajun is the place for you. Sit on the large outdoor patio while you enjoy an assortment of Cajun-Creole dishes and Louisiana beers.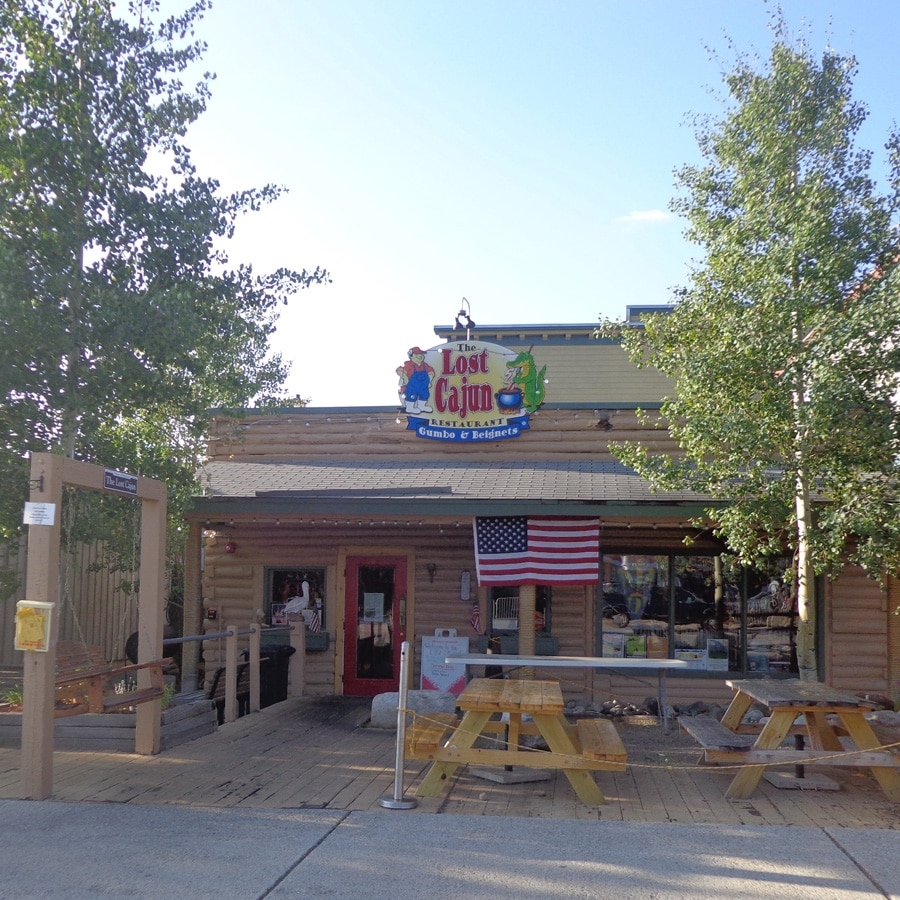 Vinny's Restaurant – Serving up farm fresh Euro American food with an ever-changing menu, Vinny's is the perfect cozy place to go after a long day on the mountains.
You can read about the best bars in Frisco if you're in the mood for a spot to chill out at in the evenings.
Special Events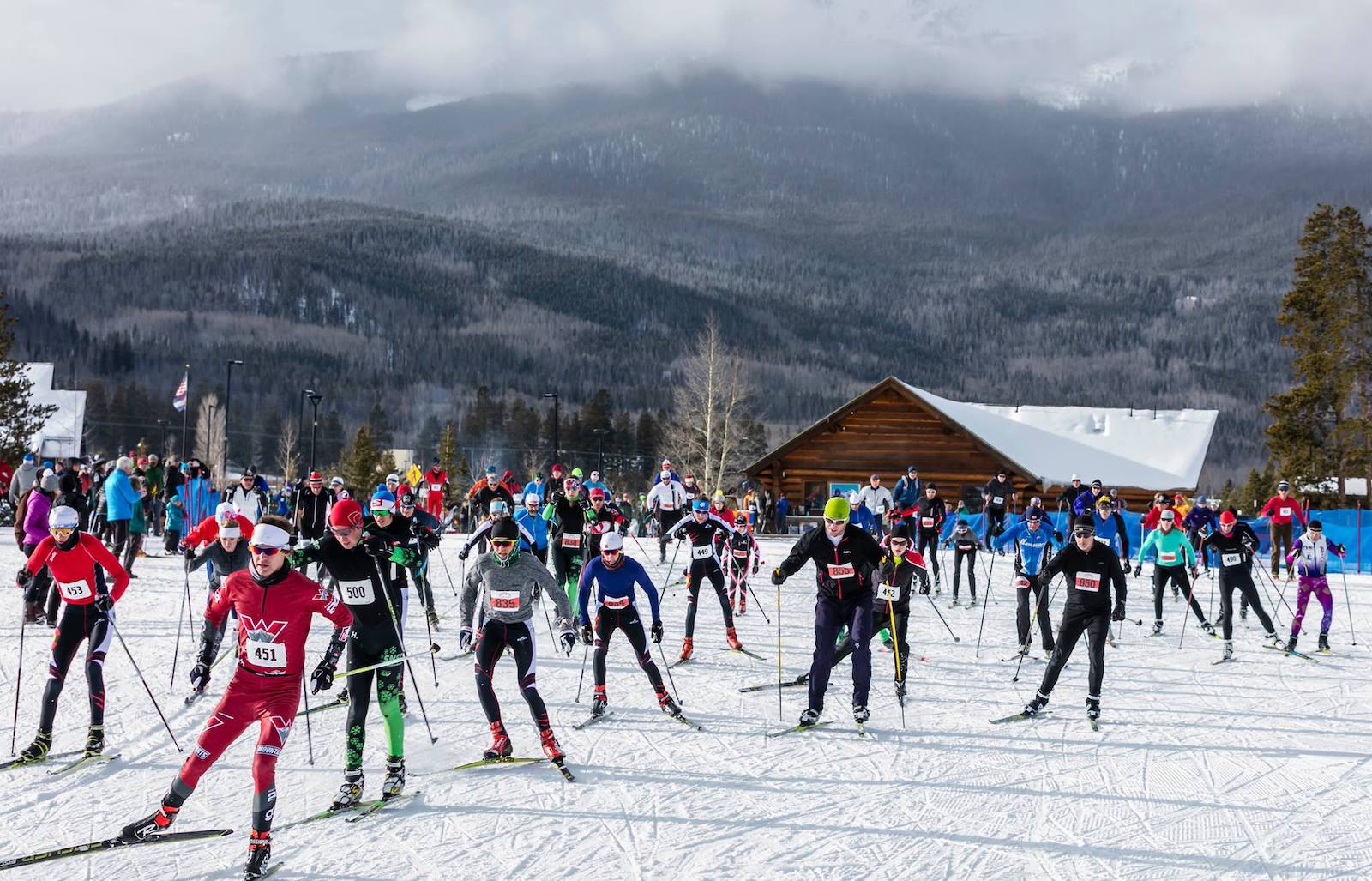 Jan – Gold Rush Nordic Races – Combining Colorado's mining legacy with a riveting display of winter athleticism, these races are the longest running nordic event in the whole state.
Feb – Frisco Freeze Winter Fat Bike Race – Grab your winter fat bike for this race that covers a total distance of 14k with stellar views of Buffalo Mountain and the Ten Mile Range.
Mar – BrewSki – A super fun combination of fun costumes, skiing, and locally brewed beer.
Jun – Colorado BBQ Challenge – Including free concerts, a 6K race, street performers, and even a whiskey tour in addition to a multi-category BBQ cook-off, this weekend event is perfect for everyone.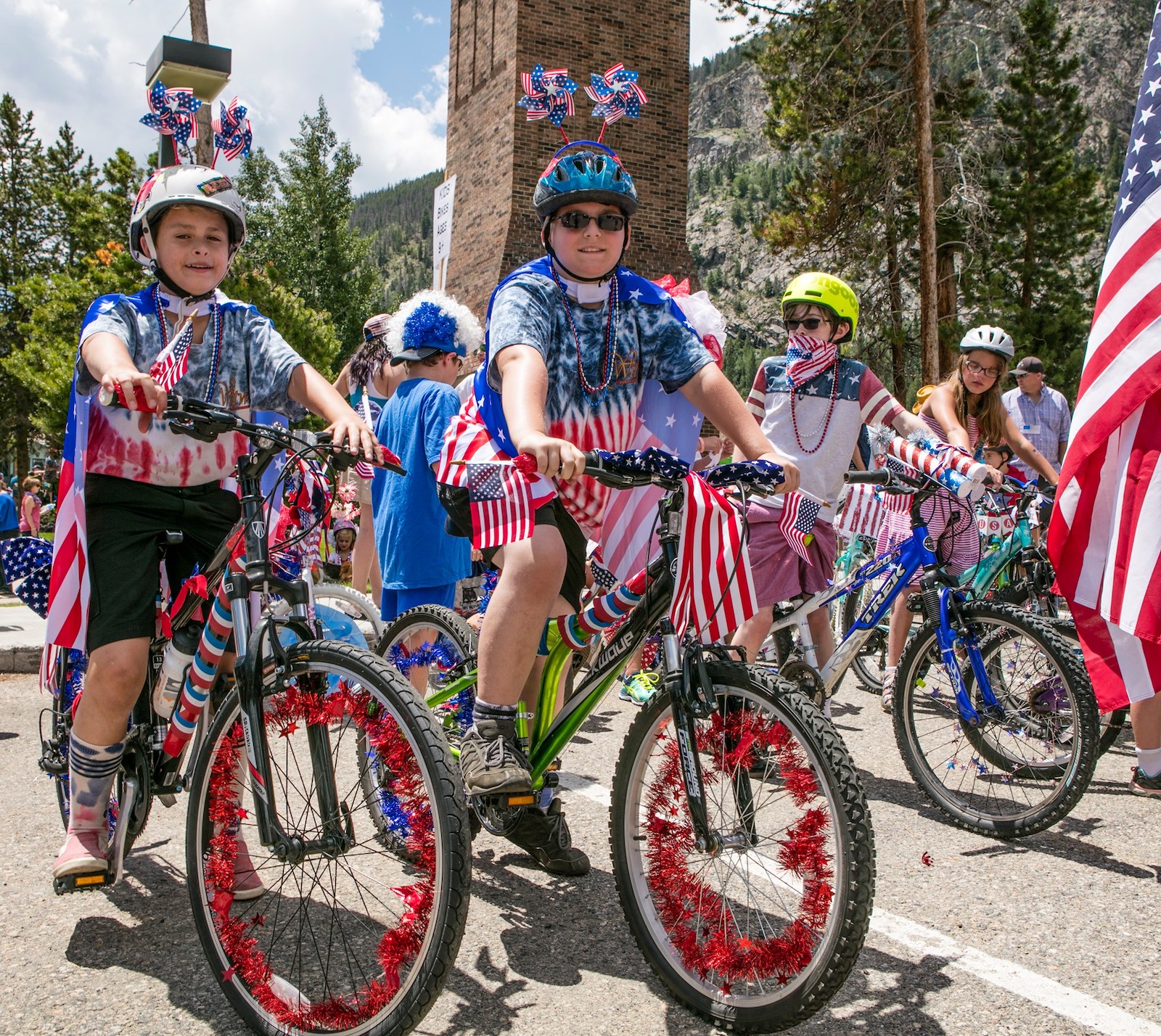 Jul – Frisco's Fabulous 4th of July – The perfect way to spend this summer holiday, Frisco hosts a variety of events all weekend including a fishing derby, doggy parade, marching band, and other live music experiences.
Sep – Fall Fest – This festival is a can't miss weekend filled with German beer, live music, and the most breathtaking alpine views.
Nov – Wassail Days – Named after a traditional spiced cider served during the holidays, this multi-day celebration of winter offers snow tubing, soup tasting, and of course, 12 different types of wassail.
For a comprehensive list of all the fun events you can catch in Frisco throughout the year, make sure to read about the top events in Frisco.
Activities near Frisco
Biking/Hiking:
Cross Country Skiing:
Escape Rooms:
Federal Lands:
Hot Springs:
Museums:
Scenic Drives:
Ski Areas:
Snow Tubing:
Towns:
Transportation:
Whitewater Rafting:
Latest in Frisco
Frisco is undeniably one of the most visually stunning destinations in Colorado and is home to…
View more Frisco articles