[Dillon Reservoir and town in distance.] Dillon is a famous town in both the summer and winter for those exploring the Summit County area. It's most known for the giant Lake Dillon, which sits between Dillon and Frisco.
From outdoors adventure to local breweries, museums, unique cuisines, and festivals, your stay will be filled with fun and excitement. There are endless activities you can do while visiting town.
History
The town of Dillon used to be located at the very center, the deepest spot of Lake Dillon. Back in the late 1800s, whenever new communities are built, they would usually find a place where rivers are near, and this spot is where the three rivers intersect. The first few constructed properties in Dillon was a stop and trading post. They built a couple of cabins, but very few.
The town was named after prospector Tom Dillon who incorporated it in 1883. However, because of the reservoir filling up, they had to relocate twice, and both times, they aimed to be closer to railroads around the area. Historic townsites that used to be close to the Blue River Valley, Snake River, and Tenmile Creek, had then been known as the "Old Dillon."
The Great Depression came in during 1956, and the Denver Water flowed into town. The townsfolk were notified that they had to sell their properties and leave town. Denver Water was very aggressive in beginning construction for the dam at that time.
However, Dillon wasn't entirely eradicated. They just moved the town, and the community continued to nurture the ski industry in the area. By the 1960s they were able to get back on their feet as recreational skiing started to become popular.
Ski resorts in the Summit County started to rise, and with the completion of the Eisenhower Tunnel, more commercial business started pouring into Dillon. Now, this lovely town is one of the most amazing skiing spots in Colorado.
Main Attractions
Lake Dillon – Dillon is a fantastic town with 26 miles of shoreline covered by the mountain backdrop. This large reservoir is popular in the warmer seasons for fishing and boating.
Recreation
During winter, people staying in Dillon have access to 5 ski areas within a thirty-minute drive: Arapahoe Basin, Breckenridge, Copper Mountain, Keystone, and Loveland. The surrounding area offers countless winter activities.
In the summer, people flock to the Dillon Reservoir area. The Dillon Marina rents boats, canoes and more things to take you out on the lake. On the opposite side of the pond, the Frisco Marina rents out boats as well.
Camping:
Numerous campgrounds exist around Lake Dillon.
Fishing:
Rent a boat or fish from the shore at Lake Dillon.
Blue River runs from out of the lake north to Green Mountain Reservoir. It's open to fly fishing and artificial lures on most of this stretch of US 9.
Accommodations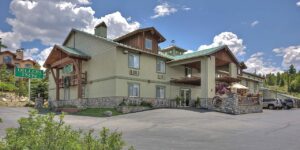 Top 3 Cool Hotels in Dillon – Explore the town in the valley! Being situated in the middle of Summit County, Dillon offers extraordinary convenience with so much to do and see within minutes drive. It also has slightly longer sunny days than Lake Dillon neighbor Fraser…
Things To Do near Dillon, CO
Amusement:
Federal Lands:
Ghost Towns:
Ice Skating:
Made in Colorado:
Museums:
Ski Areas:
Snow Tubing:
Towns:
Transportation:
Popular posts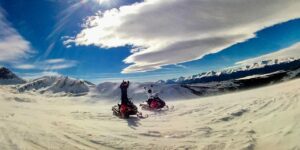 Colorado's Hidden Snowmobiling Gem: Summit County – Located in the heart of the Colorado Rockies, Summit County is the self-proclaimed "Playground of Colorado." Summit County encompasses the inviting towns of Keystone, Dillon, Frisco, Silverthorne…