Below the Dillon Reservoir in Summit County, Colorado, whitewater rafting opportunities await on the Blue River. The river offers a few great options for whitewater rafting in close proximity to some of Colorado's most spectacular mountain towns.
With the dam slowly releasing water north to the Colorado River, rafting trips along the Blue River are usually possible until as late as August. However, the best conditions typically last until early July.
Rafting Trips on the Blue River
Thanks to its proximity to Summit County's tourist attractions, access to Blue River whitewater rafting is relatively easy. Local outfitters offer quarter, third, and half day tours on the two most popular sections of the river.
Whitewater Rafting Difficulty: Trips along the Blue River are not very strenuous in comparison to some of Colorado's other whitewater rafting destinations. If you're looking for a nice float or are more interested in fishing than rafting, then the Lower Blue River is perfect for you.
Of course for those looking for a little more adventure, the Blue River also has sections of Class II – IV rapids for a quick, fun and challenging ride. Depending on your skill level, you will want to either raft the Lower or Upper Blue River.
Here are the most popular sections of the Blue River to raft:
Upper Blue River
The Upper Blue River is a short, but intense set up of Class III to IV rapids. The route begins at the Blue River Campground and is over 2.5 miles later at the Columbine Landing access point. If you are visiting Summit County in the summer and are looking for some quick, fast-paced whitewater action, the Upper Blue River is a perfect trip. Although the journey only lasts for a small portion of the day, the views of the Gore Range alone are worth the experience.
Lower Blue River
On the other hand, the Lower Blue River is a casual class II – III float through some spectacular central Colorado scenery. For floating and fishing trips, there are few better options than the Lower Blue River. 13.8 miles of mild rapids await at the Green Mountain Dam Access. For a slightly shorter trip, many rafters also use the Spring Creek Road access to float the 10 miles to Kremmling. The Lower Blue River ends at the confluence with the Colorado River.
Blue River Rafting Guides
Activities near the Blue River
More than anything, the Blue River is really known for its exceptional Gold Medal fishing, with most of the access falling between the Dillon and Green Mountain reservoirs.
The river passes through some of the most quintessential Rocky Mountain territory, with plenty of great opportunities for hiking, skiing, and other mountain activities in the surrounding Eagles Nest Wilderness. The area is home to the iconic Gore Range above the Green Mountain Reservoir.
Read about the Camping in Summit County.
Details
Nearby Towns (following river south to north):
Season: May to August
Class: II – IV
Latest in Blue River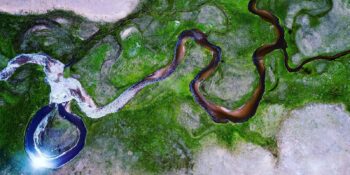 When all of Colorado's famous snow melts in the spring, it becomes the state's gorgeous rivers.…