As a popular tourist destination in both the summer and winter, Dillon has plenty of hip breweries, delicious restaurants, and of course, the massive Lake Dillon. Located within the Tenmile Mountain Range, it offers a small-town vibe built against the majestic landscape of the Rockies.
Tucked between Keystone and Silverthorne, Summit County's attractions are at your fingertips too. Discover your next vacation with these things to do in Dillon, Colo.
Year-round activities
No matter what time of year, the town of Dillon offers plenty of outdoor recreation from kayaking and boating to skiing. Plus, you can end the day with a cold one at one of the local breweries. Start planning your getaway today with these year-round activities in Dillon.
Dillon microbreweries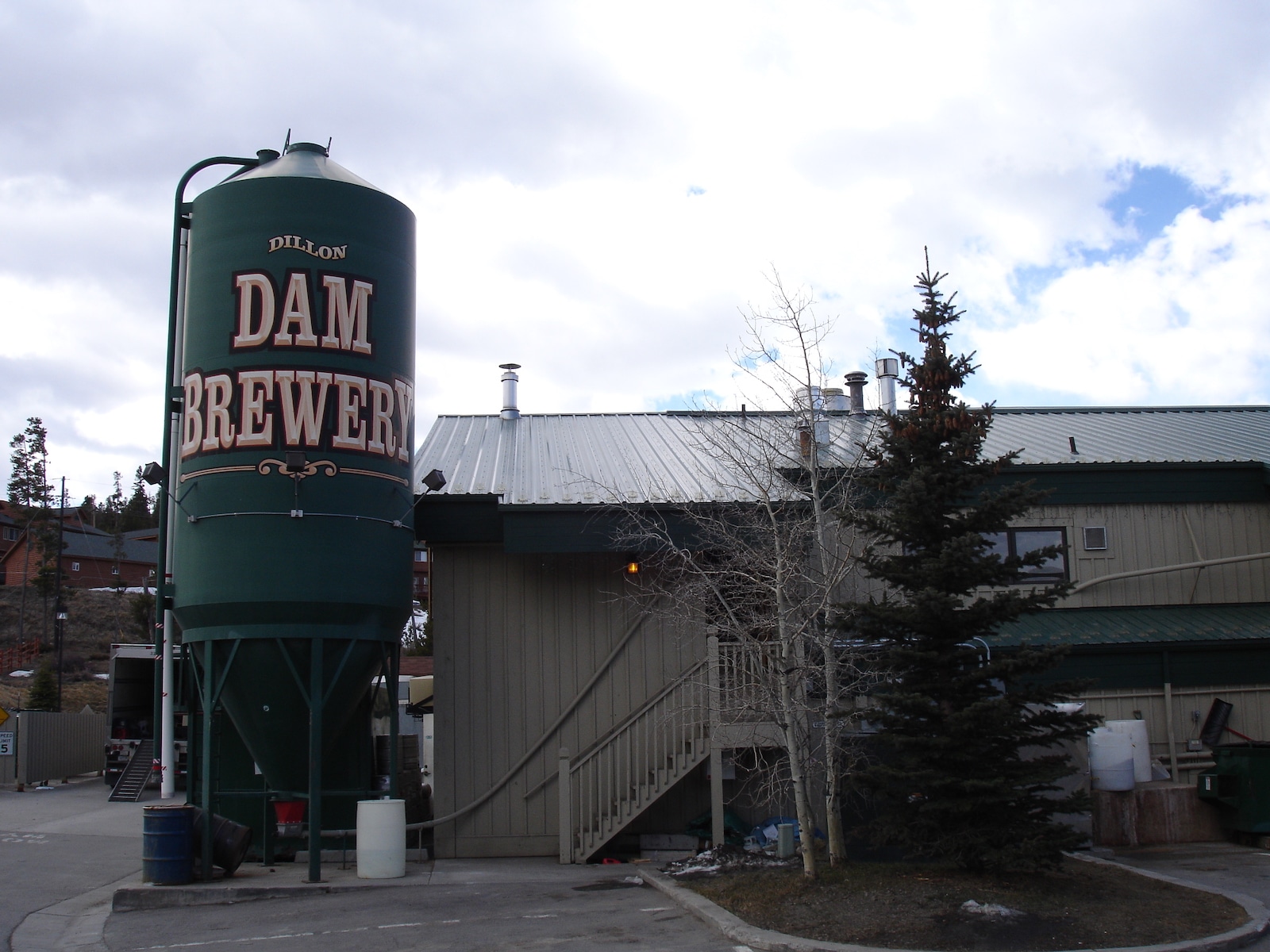 What's better than grabbing a cold one after a long day outdoors? Luckily for those who like to play hard and for those who want to chill, Dillon is home to two local breweries.
The Dillon Dam Brewery is an American-style restaurant located close to Lake Dillon. Featuring regionally sourced meats and produce, their menu is full of fresh and delicious food. Known for its massive portions and a long list of beer and cider options, this is the go-to eatery for a quick lunch or a filling dinner.
Fortunately, they can seat up to 220 people inside and up to 60 within their outdoor "beer garden," so the wait is never too long. They have over 15 beers on tap that are brewed on-site and have won numerous awards for their craft beer.
In walking distance to Dillon Reservoir, Pug Ryan's is the local's favorite for a pint. In addition to the beers on tap, they offer a full menu of food with everything from fries and wings to burgers and sandwiches. Enjoy indoor and outdoor dining on their patio or deck.
Summer activities
Dillon is bursting at the seams with outdoor activities in the summer. From fun on the lake to hiking in the mountains, here are the top summer activities in Dillon.
Dillon Reservoir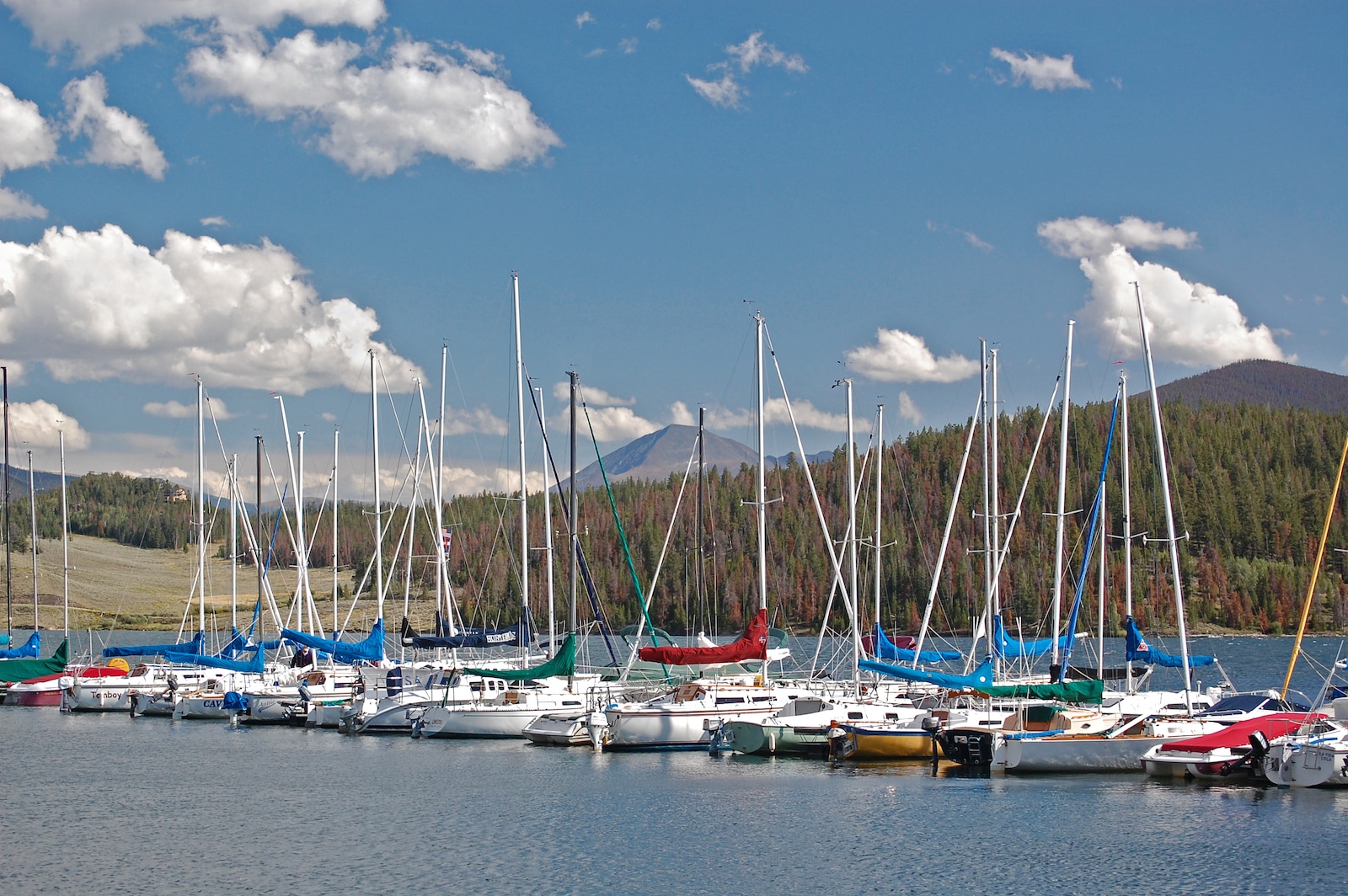 Built in 1963 to store water for Denver, the Dillon Reservoir is now a top spot for summer recreation. With 27 miles of shoreline and the Rocky Mountains as its backdrop, sailing, kayaking, swimming, or paddleboarding on these waters is a great way to spend the afternoon.
Hit the water with sailing, kayaking, paddleboarding, and more. There are several classes and group tours that you can take part in, whether it be kayak excursions or stand-up paddleboard yoga classes. Take lessons and tours on the 22′ Catalina monohull, rent pontoon boats, runabout motorboats, kayaks, and paddleboards. It just depends on what speed you're looking for!
The reservoir features two full-service marinas, one located in Frisco and the other in Dillon, so you have plenty of options for boat rentals.
Or stick to dry land and spend the day at the beach. The beach sand surrounding Dillon Lake is surprisingly soft, and it's easy to forget that you are in the middle of Colorado and the mountains.
If you love to fish, Lake Dillon is the spot to be and has many diverse species swimming around, including rainbow trout, koho salmon char, and catfish.  Shore fishing offers easy access and for those wanting a more significant catch, renting a boat and getting out onto the water is your best bet. A fishing license is required for those 16 and older, but these can be easily picked up at many locations throughout Breckenridge and Summit County, as well as online.
There are several campsites located around the lake if you want an authentic rustic experience. These have picnic tables, restrooms, and cooking areas. Because this is a reservoir, health department guidelines discourage body contact with the drinking water supply, so swimming is not allowed.
Overlooking Lake Dillon is the Lakeside Tiki Bar, which has delicious specialty drinks and "beach food," like hot dogs, hamburgers, and chicken tenders. In addition, they host specials most nights of the week, which include discounts on food and drink combos.
Concerts at Dillon Amphitheatre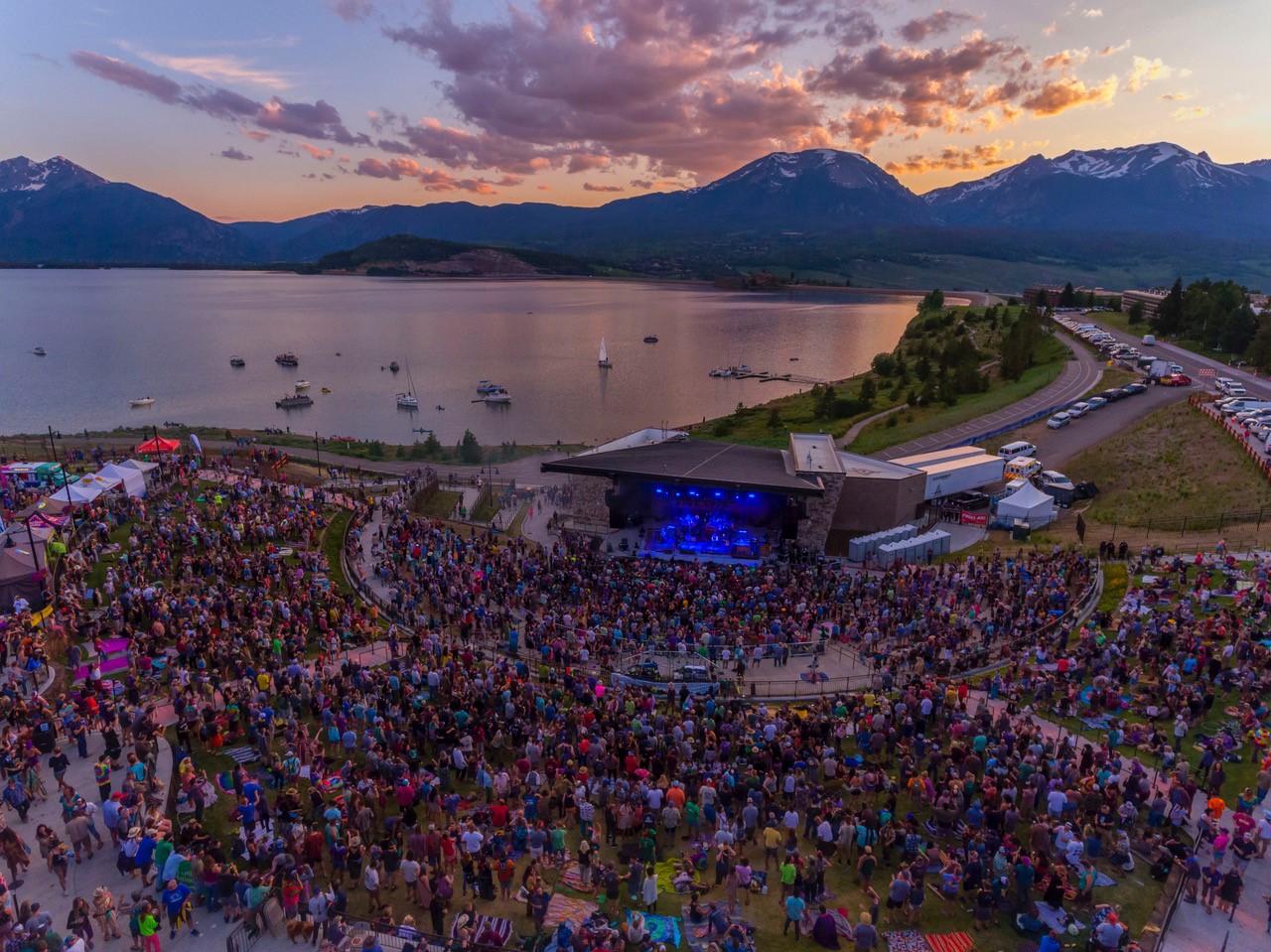 Throughout the summer, the Dillon Amphitheater shares its stage with several different rock, blues, jazz, folk, and orchestral groups. With its massive stage and beautiful architecture, many famous bands have played here, such as the String Cheese Incident, Melissa Etheridge, and the National Repertory Orchestra.
Or join them for one of their multi-day music festivals, like the wildly popular American Music Legacy Festival, a three-day weekend event. With seating for 3,656, any occasion here is a fun and exciting moment to remember!
Fortunately, not all shows cost money! They also host a variety of free concerts and local artist showcases, which highlight the creative talents of local residents. A large field surrounds the stage, picnicking is encouraged, and the sound system reaches every far-off nook and cranny. With the lake and mountain views in the background, this is a unique place to see a concert.
Dillon Farmers Market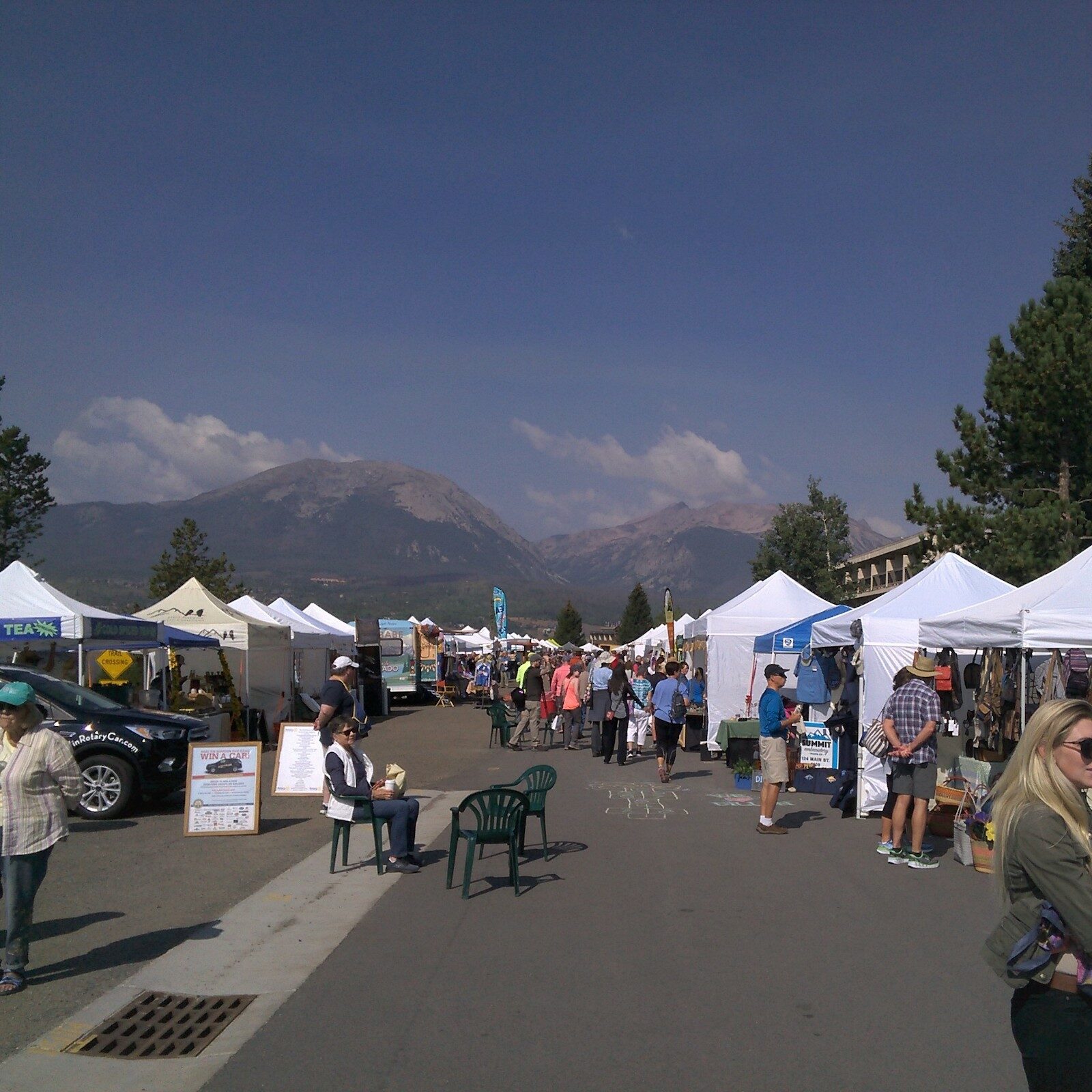 From June through September you can wander the Dillon Farmers Market, tasting the treats of local vendors and shopping for homemade gifts. The Farmers Market is located next to the Dillon Amphitheater and is packed with produce, cheese, meats, desserts, and other delicious treats. Here you will find freshly picked peaches, sour pickles, recently harvested honey, and handmade bath bombs.
The Dillon Farmers Market occurs every Friday from 9:00 am to 2:00 pm, with live music from 10:30 to 1:00 pm.
Biking around Dillon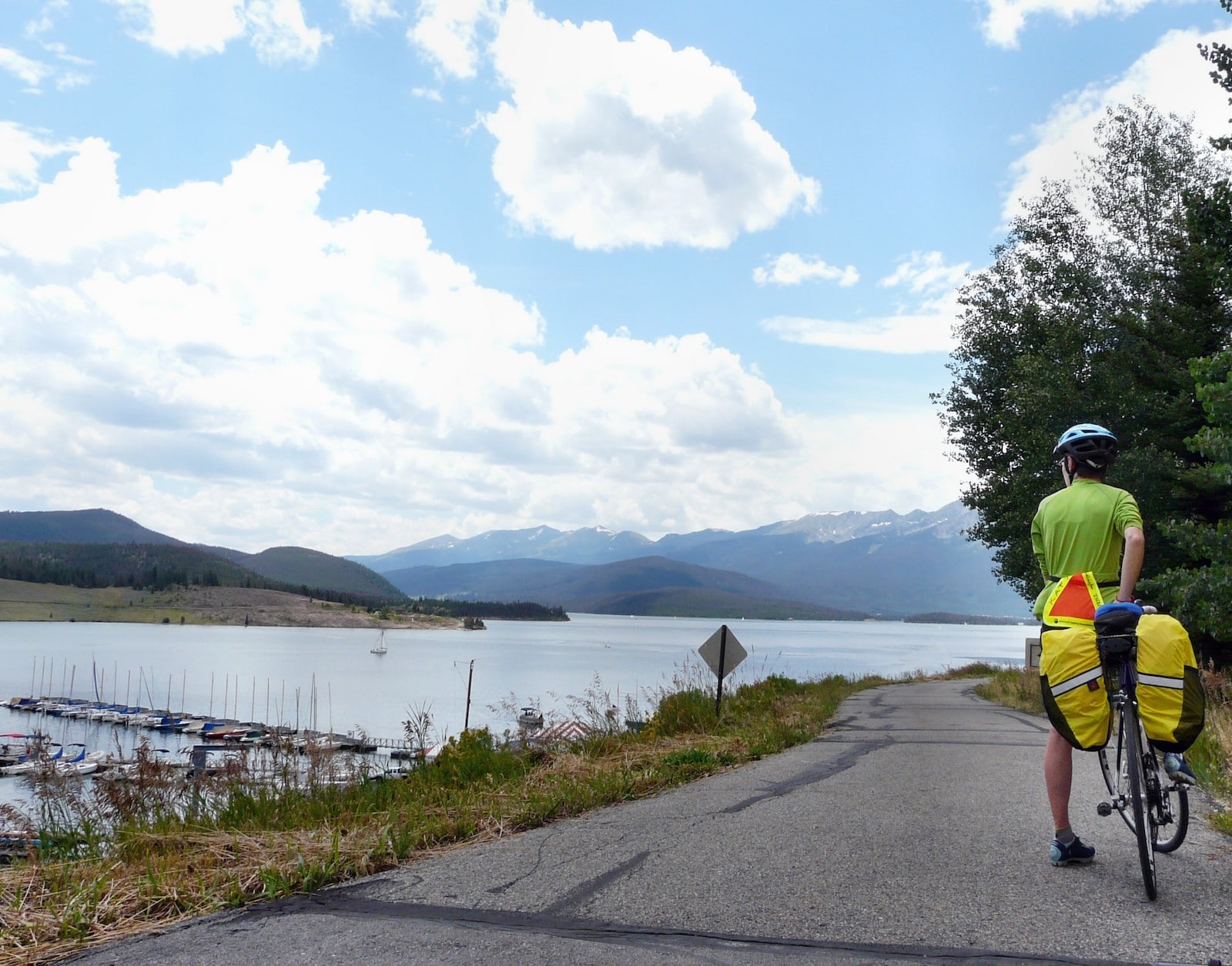 Summit County, where Dillon is located, features an extensive Recreational Pathway System, known as the Recpath, used by dog walkers, runners, skateboarders, bikers, and many others. Whether you want to enjoy a leisurely ride along with Lake Dillon, or a challenging trek to the top of Vail Pass, the Recpath has many routes and difficulty levels to choose from.
The Dillon Reservoir Recpath trail is the most popular bike trail and can be ridden in either direction. This takes you through rolling hills and alongside the reservoir, offering fantastic views before the gradual climb becomes more strenuous and you are pumping your legs through switchbacks on your way to Sapphire Point.
Once there, you can either head back downhill to your starting point or continue onward and finish the loop, turning this into a challenging 18.5 miles excursion that is not for the weak of heart!
Another popular ride is the Lenawee Trail, which is a moderate 6.6 mile out and back trail. Located near Snake River, this path has fantastic views all the way up and is very quiet during the week. Ride through the woods and then above the treeline, with an elevation gain of 2,280 feet. It's less arduous than the Dillon Reservoir trail and great for beginners.
Hiking trails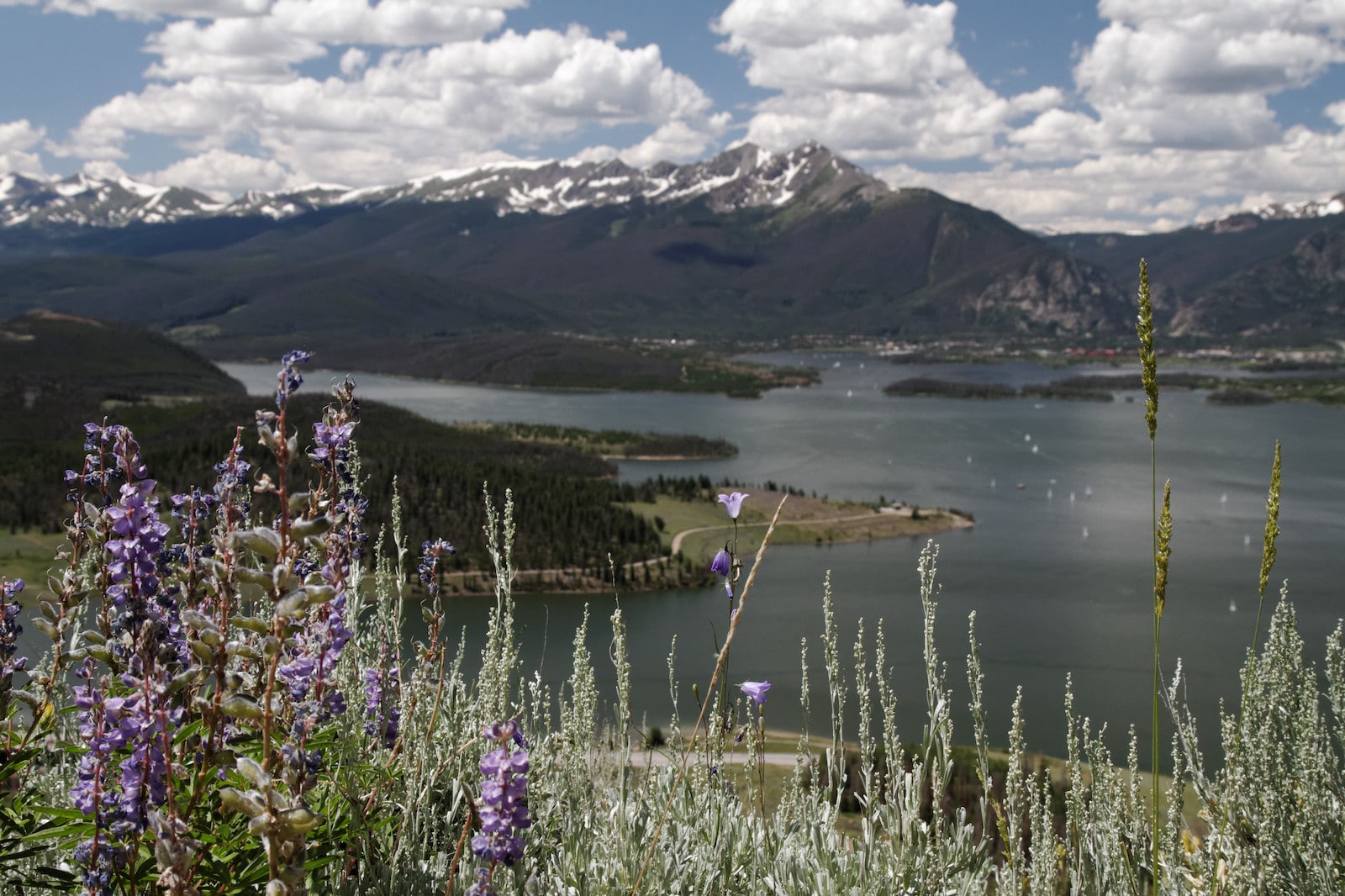 It goes without saying that if there are biking trails, there will be hiking trails! For those that prefer to keep their feet on the ground, hiking around Dillon is superb.
The Tenderfoot Mountain Trail is a 9 mile out and back trail that follows alongside beautiful wildflower patches and offers fantastic views throughout the first half. It is about 2 hours to the top, with many switchbacks along the way and clear views to Lake Dillon to your left and mountain peaks to your right. Rated as moderate, the last third of the hike is the most challenging part, but you will be rewarded with great views, even if you can make it to the top.
The Mesa Cortina Trail is another popular trail that takes you through aspen groves and across open meadows. You will walk alongside the forest from the trailhead, with views of the Silverthorne and Ptarmigan Mountains, before heading into the trees.
Crossing over some small creeks, continue straight and you will meet up with the Gore Range Trail. At only 2.9 miles long and an elevation of 500 feet, this is a quick and easy trail that will give you a taste of the natural splendor that surrounds Dillon.
Winter activities
Similar to the summer, winter in Dillon offers an abundance of outdoor activities and events. From ice fishing to cross-country skiing, here are the top winter activities in Dillon.
Ice Castles – cancelled for 2021 due to space constraints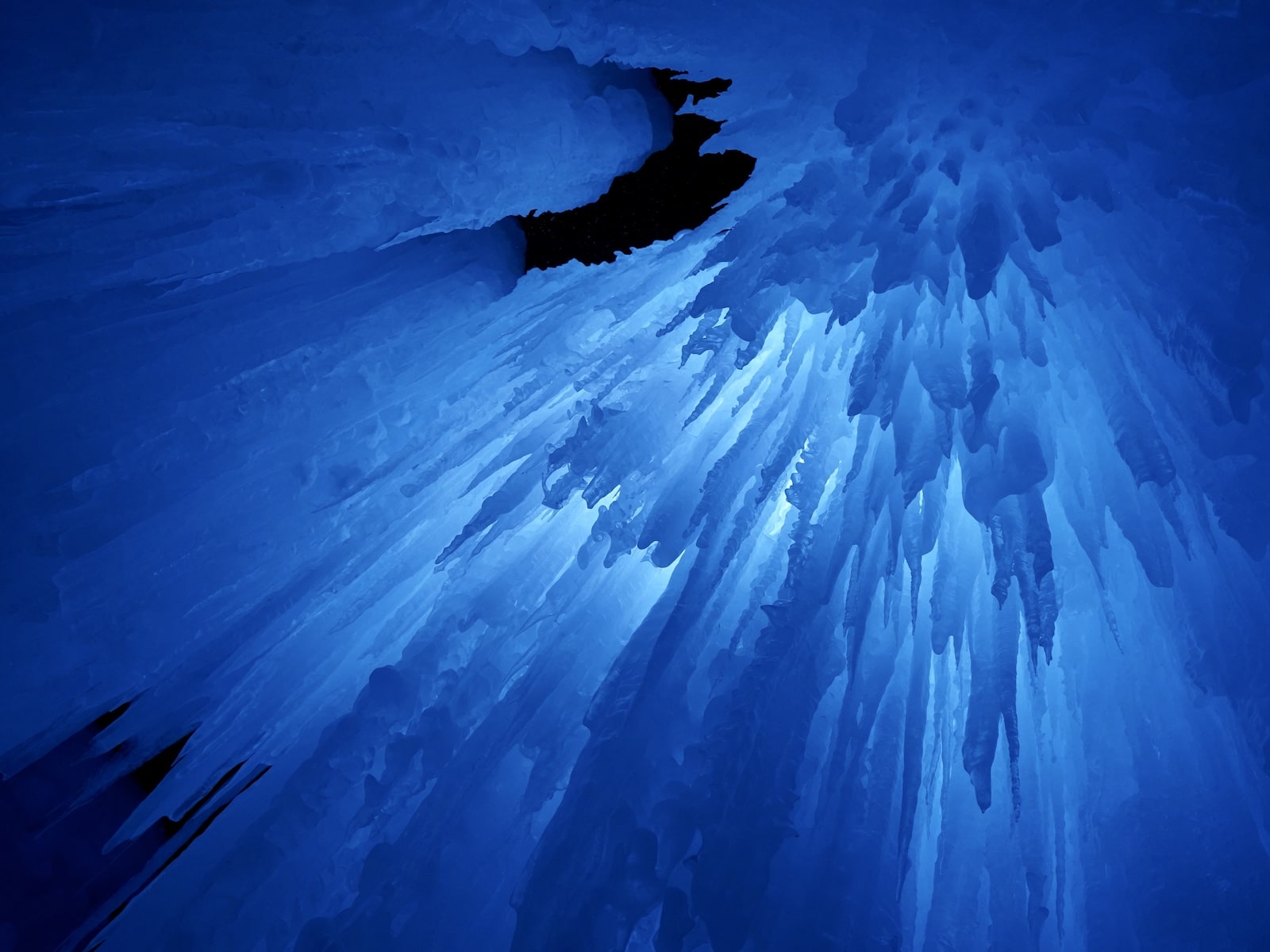 A trip to Dillon in the winter isn't complete without a visit to the Ice Castles.  Unfortunately, you'll have to make do this winter without them…as they have been cancelled for 2021-22. Have you ever wondered what it would be like to walk through frozen pathways with towering ice walls on either side of you, illuminated from within in a dazzling rainbow of color?
For the last decade, this award-winning frozen attraction showcased hundreds of thousands of icicles are hand-placed by professional ice artists. They are surrounded by LED-illuminated ice sculptures, and winding through ice-carved tunnels. With ice slides to slip down, ice fountains to marvel at, and so many more surprises, this is fun for the whole family.
Note: Reservations must be made in advance, as visitation is organized by time slots.
Ice fishing, cross country skiing at Dillon Reservoir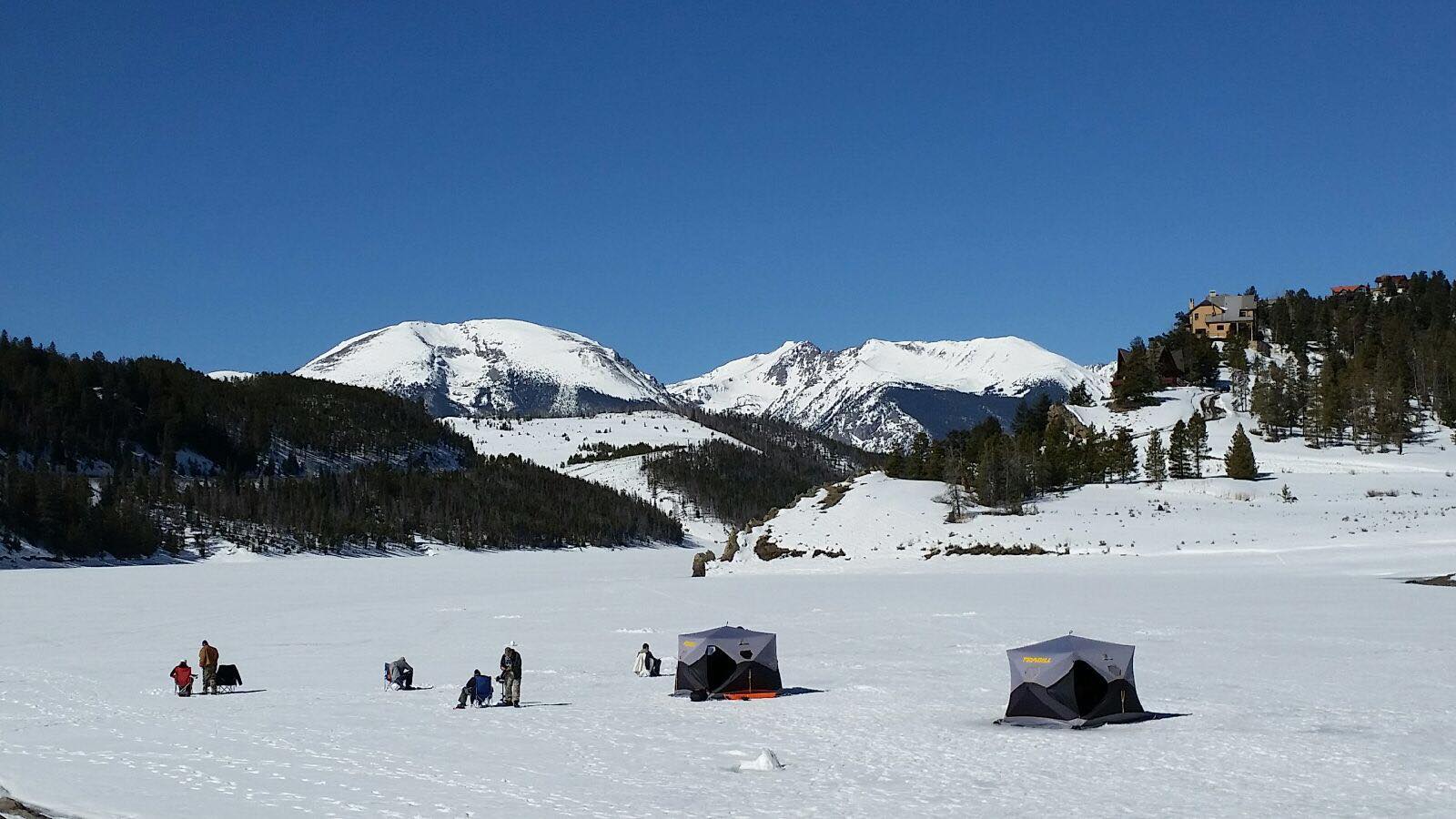 Ice fishing is available at Lake Dillon during the winter, and you can go at it yourself or on guided half-day tours. A great way to experience another side of lake life, the views of the shoreline while out on the frozen, snow-covered water are fantastic.
Filled with rainbow and brown trout, salmon, and many other species, you will need to get your fishing license before heading out on the ice. The best way to enjoy this experience is by hiring a guide, such as Big Ed's Fishing Adventure, who will take you out and do all the hard work for you to get you set up.
Then it's as simple as dropping your line, leaning back in your chair, and sipping on hot cocoa while you wait for a tug! If you want a more modern experience, you can also enjoy the perks of ice finishing from within a heated tent. For that, reach out to SilverflaskFishing.
Cross country skiing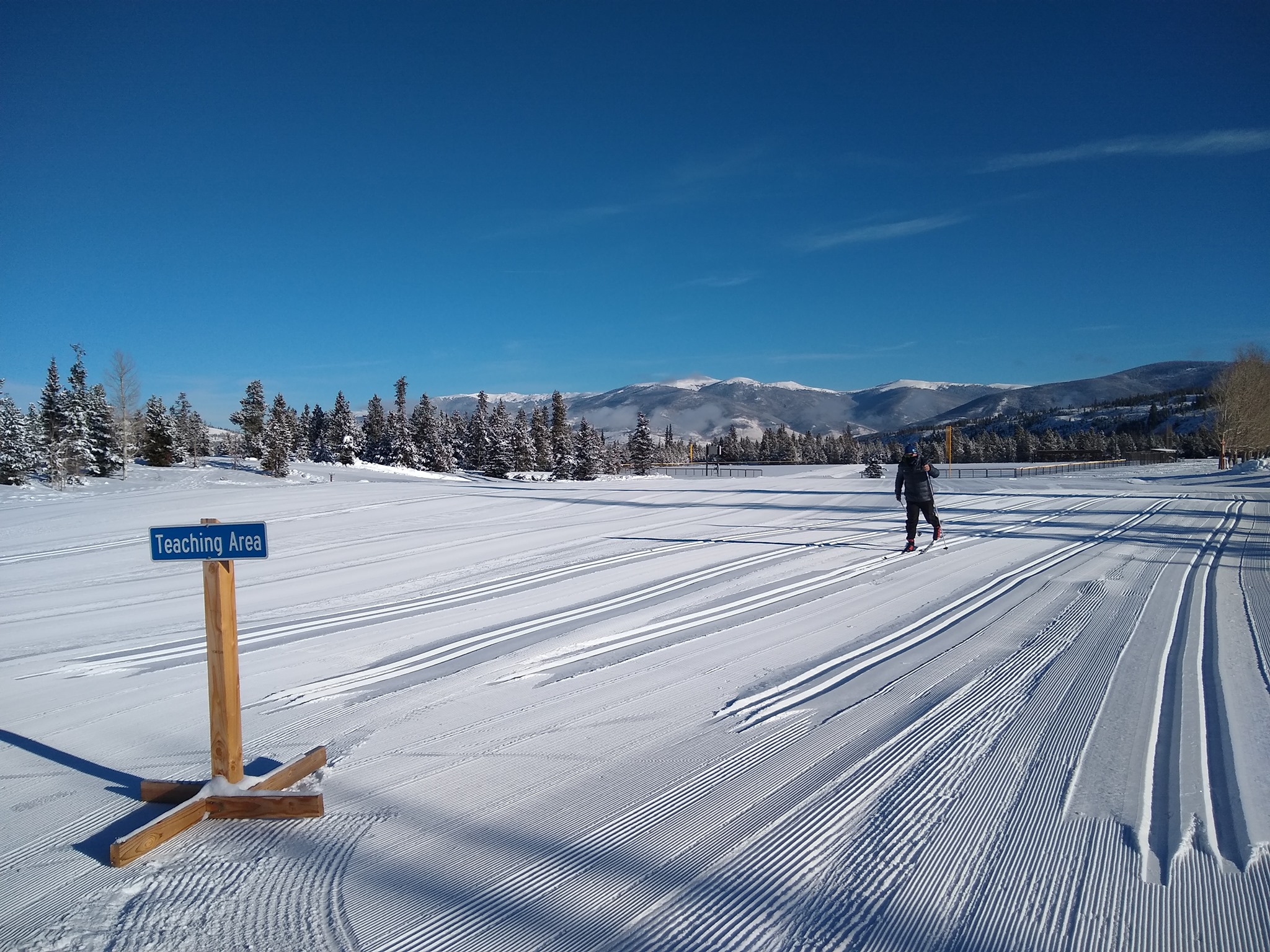 Cross country skiing is an excellent way to get exercise and enjoy the great outdoors. There are many trails around Dillon, so every time you head out could be a unique and exciting adventure!
Although Dillon does not have a Nordic Center, nearby Frisco does, and from there, you can find all your cross-country skiing gear and trail information. They also have lessons and clinics for both groups and individuals who want to learn more about cross-country skiing and improve their skill level.
There are 17 miles of ski trails and 12 miles of trails around Dillon, all groomed by a state-of-the-art Prinoth snow groomer. Dillon Lake has even started a new project that involves creating trails across the frozen reservoir, providing cross-country skiers with even more room to play! These expertly groomed trails will be marked with bamboo poles and loop skiers around the reservoir, with two different trail options.
Snowmobiling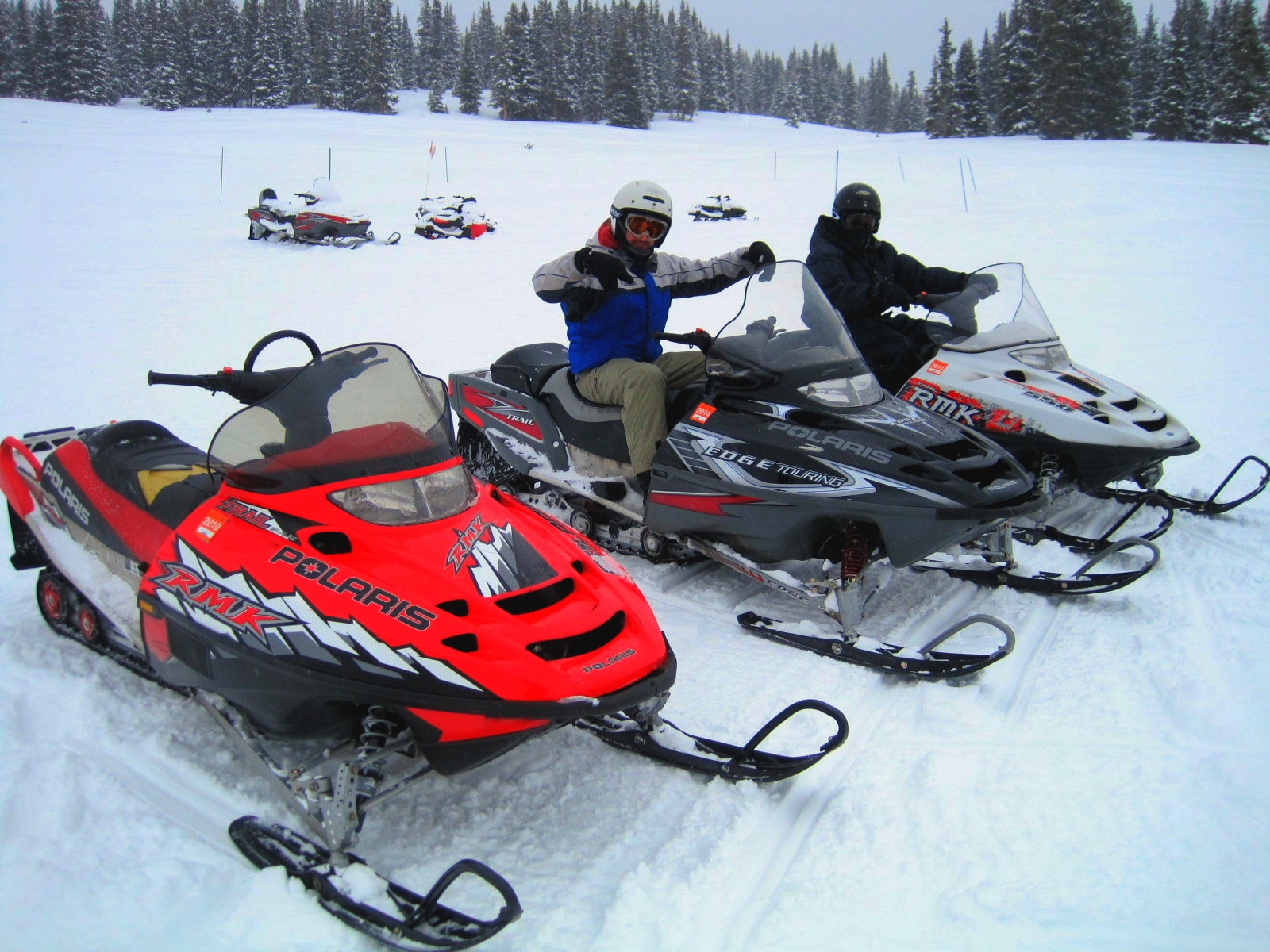 With so much open terrain around Dillon, snowmobiling is a very popular way to spend an afternoon. Summit County has many snowmobile rental companies who will give you operating lessons, take you out on a half-day or full-day tour, and tailor their guided expeditions to your skill level.
So, whether you want to go out on a sight-seeing adventure, rush up the side of a mountain as fast as possible, or meander around with a large group, there's plenty of options.
High Country Activities offers a variety of snowmobile tours and machines for your enjoyment. From 2 hour guided tours that are perfect for families to 6-hour high-speed journeys for adrenaline junkies, they will take you all around Dillon, Frisco, and Silverthorne.
Ski nearby Keystone, Breckenridge, A Basin, and Copper Mountain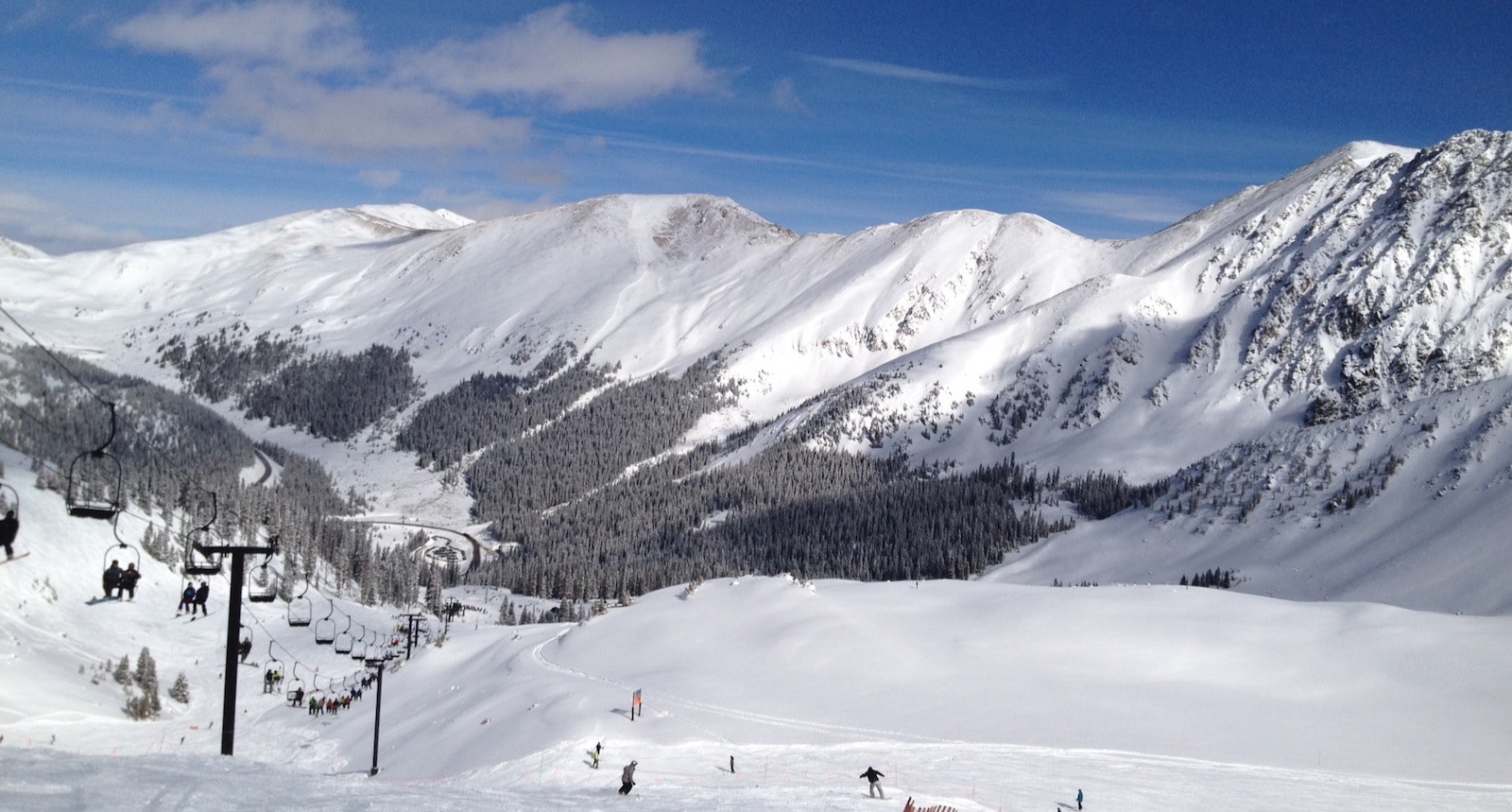 If you're staying in Dillon, you have a lot of options when it comes to skiing. The hardest part of your trip may be deciding on which mountain to ski at, with Keystone, Breckenridge, Arapahoe Basin, and Copper Mountain so close by.
Keystone offers the most skiable terrain in Summit County, covering three distinct mountains – Dercum Mountain, North Peak, and the Outback. It also has five bowls, so there is plenty to do here on any given day!
Along with plenty of trails and terrain for skiing and snowboarding, there are also areas carved out for kids to enjoy. Kidtopia has youth-friendly activities like face painting, crafts, and a massive snow fort. There's also tubing at Adventure Point and a variety of different music, art, and beer+food festivals throughout the year.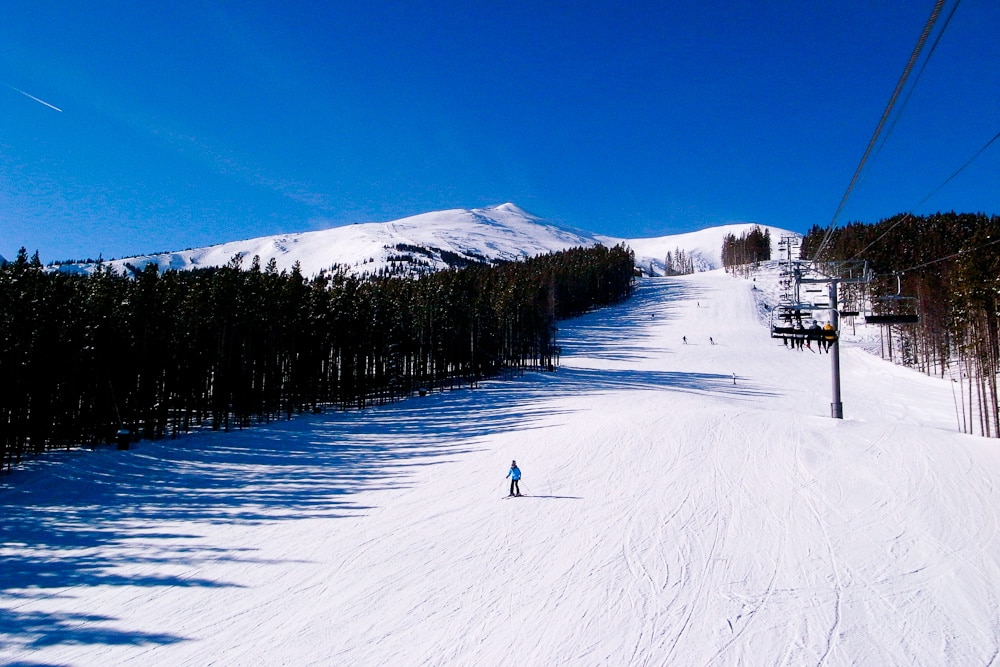 Breckenridge sits at an elevation of 9600 feet with 34 lifts that will take you to the top. As one of the most visited ski resorts in Colorado, it has 2,908 skiable acres with 155 trails that are divided among five peaks. They offer plenty of trails for all ski levels and do not favor one over another.
Beginners can enjoy peaks 8 and 9, with a variety of green and blue runs. While experts head to peak 10 for steep, fast groomers, tree runs, and bumps.
Arapahoe Basin has one of the most extended ski seasons in the US, typically from October to June! With an elevation of over 13,000 feet, there are 100+ carved trails, bowls, and deep powder areas. Because of the north-facing aspect of many slopes, the snow quality is top-notch, and atop its peak sits the highest restaurant in the US.
Copper Mountain is usually the first resort open, as it experiences early-season snow and fantastic skiing conditions. There is a place for you here with 2,456 acres of trails and village space, no matter what your skill level is. There are three bowls to enjoy: the Copper Bowl, Spaulding Bowl, and Resolution Bowl, for those who like tree skiing, and Woodward Mountain Parks is a famous area with freestyle jumps, rails, and boxes.
So, what are you waiting for? Start planning your trip with these things to do in Dillon, Colorado!