Evergreen is one of Denver's closest mountain towns, and one of the few that are basically considered a suburb. With easy access to reach it, Denverites take full advantage of the year-round things to do in this alpine getaway.
Depending on whether you're visiting North Evergreen or the heart of town by Evergreen Lake, it'll take anywhere from 30 to 45 minutes to get there, respectively, depending on traffic. Luckily, there are a few routes to travel, including US-285 to the south, I-70 to the north, and heading up right between those two via CO-74 (also dubbed Bear Creek Ave/Morrison Rd), past Morrison and Kittredge.
However you get to Evergreen, be sure to try these fun activities available throughout the seasons.
Year-round
This relatively large mountain town of 9,307 residents (at the time of the 2020 US census) resides at a comfortable 7,165 feet above sea level. This gives you cooler weather to escape to in summer and better snowy and icy conditions come winter. And given its ample population, there are plenty of businesses and things to do to accommodate visitors all year long.
Stroll Downtown Evergreen and Evergreen Lake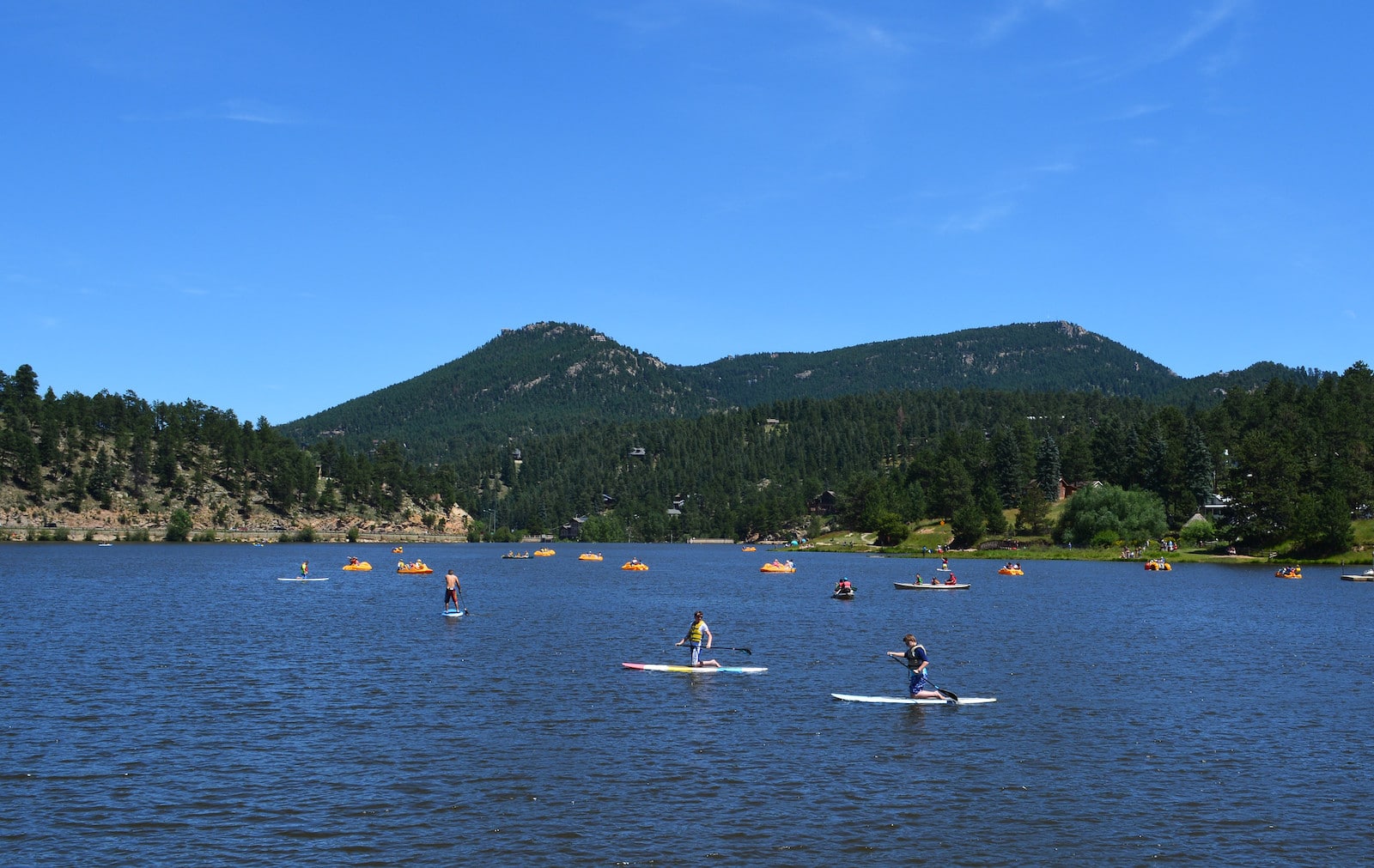 Located along Colorado Highway 74, downtown Evergreen is a quaint area full of shopping, dining, and more, and it's within easy walking distance of beautiful Evergreen Lake. For food and drinks, stop by any number of restaurants including Maya's Cantina & Grill or the Bait Shack Tavern. For a cup of coffee and a place to sit or work, visit Java Groove.
Downtown is also home to two art galleries, a florist, antique shops, and even a Baskin Robbins. To best see this part of town, consider parking at the large downtown parking lot and explore by foot.
Visitors looking for trinkets, souvenirs, and sweets should stop at Evergreen Clothing & Mercantile or Seasonally Yours, two gift shops offering a wide variety of items. After exploring downtown, be sure to follow the path along Bear Creek towards picturesque Evergreen Lake.
Lariat Loop Scenic Byway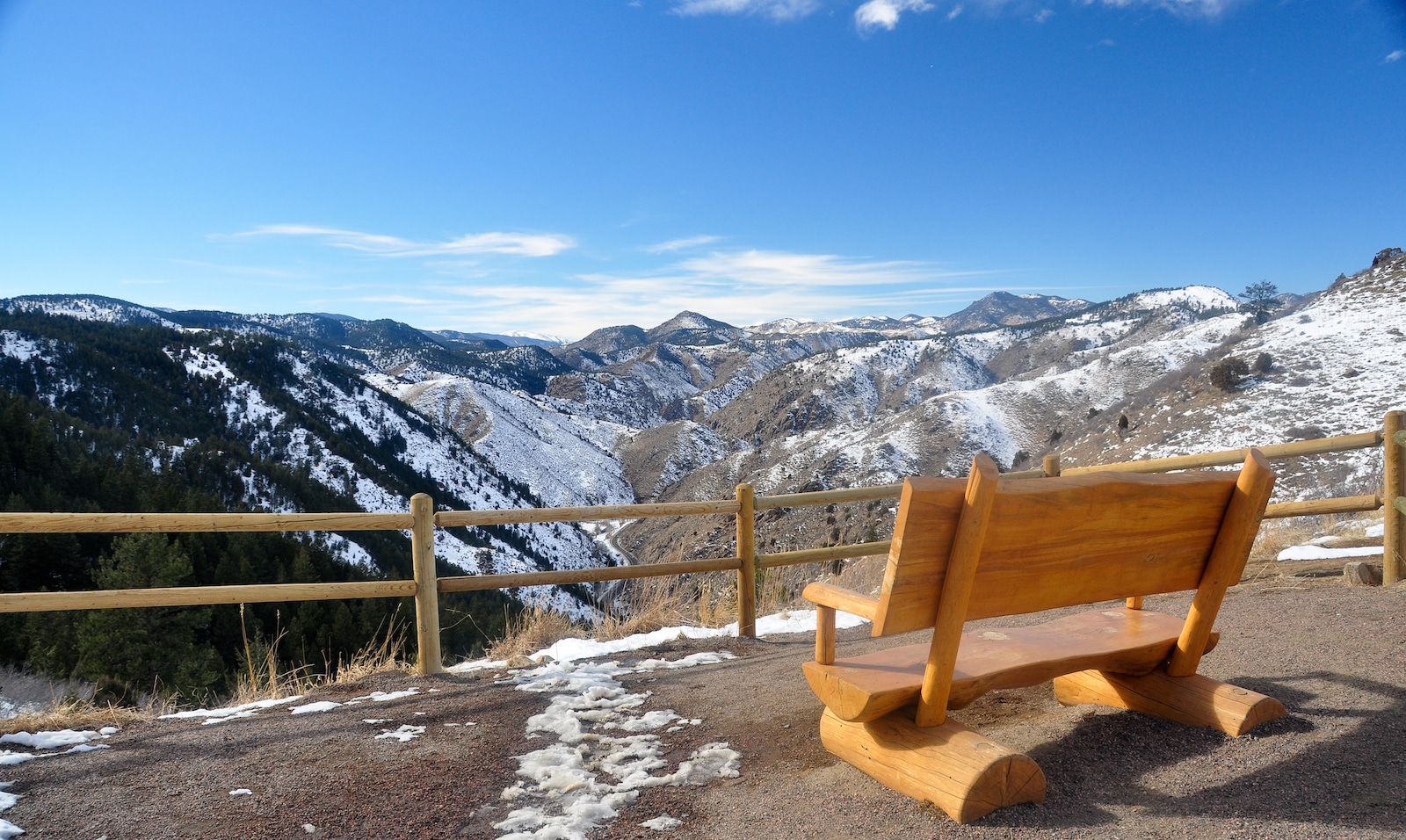 Connecting the towns of Evergreen, Morrison, and Golden, the Lariat Loop is a scenic drive that winds through the foothills for forty miles. Designated one of Colorado's 13 National Scenic Byways, this is a drive that should be on every visitor's itinerary. One highlight of the route is the five-mile Lariat Trail, an especially striking section of the road that crosses Lookout Mountain, the famous resting place of Buffalo Bill.
Other highlights include Red Rocks Amphitheatre, Dinosaur Ridge, and the fun towns of Golden and Morrison. Visitors should plan to spend at least two hours traversing the loop, but an entire day could easily be spent exploring the sights on the route.
Buffalo Overlook in Genesee Park
Part of Denver's Mountain Park system, Genesee Park is situated along I-70 north of Evergreen. A popular destination due to its proximity to Denver, Genesee Park boasts miles of trails, a campground, sports fields, and picnic areas. Additionally, many visitors flock to Genesee Park for the Buffalo Overlook. Located on the north side of I-70 off Exit 254, this overlook offers visitors a great chance to see real, wild bison.
Hiwan Heritage Park & Museum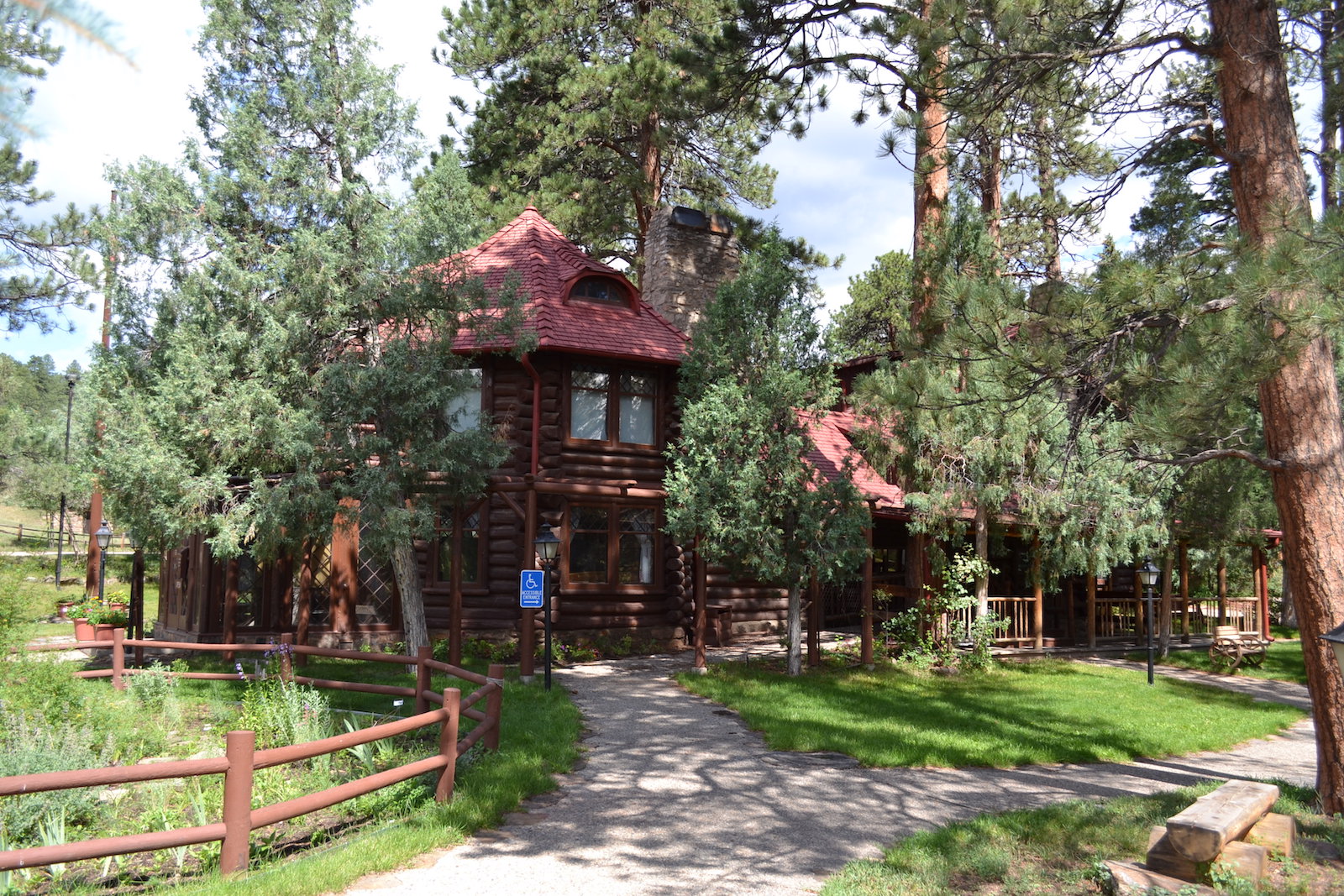 With construction on the main building beginning in the late nineteenth century, Hiwan Heritage Park and Museum is a site full of history. Visitors are free to explore the grounds on a self-guided tour every day, and indoor guided tours are available by online reservation. Inside the house, visitors are guided through the various bedrooms, dining rooms, and towers while getting a chance to see historic furniture and original artifacts from the families that once called the building home.
Summer
Summertime in Colorado's front range mountains is the place to be. It's the best way to beat the heat, and retreat from the hustle and bustle of city life. Evergreen makes a terrific day trip or basecamp for exploring the surrounding wilderness.
Mount Evans Byway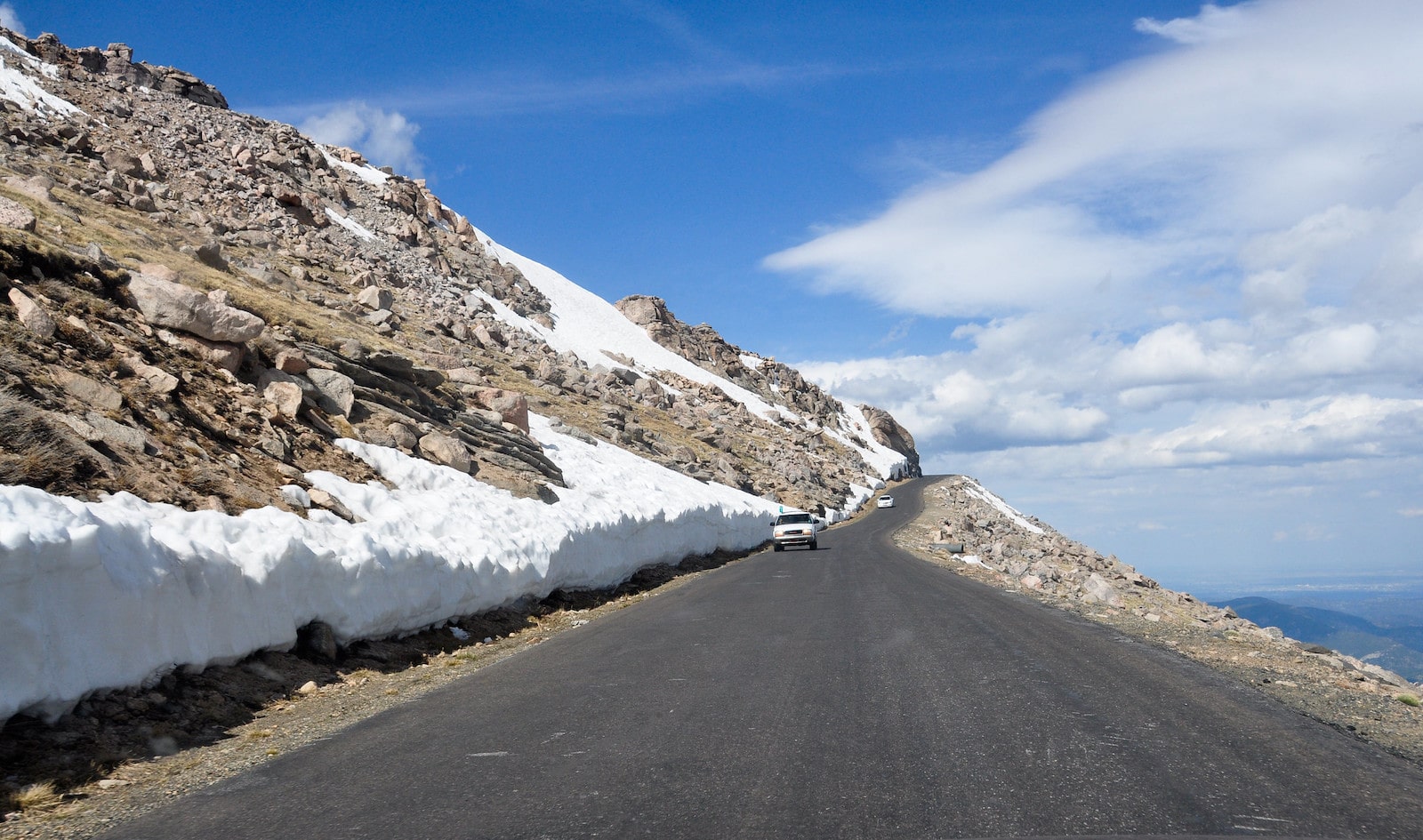 Generally accessed from nearby Idaho Springs, the Mount Evans Byway brings visitors within easy walking distance of the 14,265-foot summit. Known as the highest paved road in North America, the route gains over 6,000 feet in elevation from its start in Idaho Springs. When traveling from Evergreen, consider accessing the route from the east by crossing Mestaa'Ėhehe Pass on scenic Highway 103 before joining up with the traditional route at Echo Lake.
On the way up, be sure to stop at Echo Lake Park, which is located at 10,600 feet above sea level and features a campground and lodge. Access to the byway is free to the public and generally open from Memorial Day to Labor Day, but visitors should keep in mind that there is a fee to park near the summit. After a short walk to the summit, enjoy jaw-dropping views that stretch for miles.
Echo Lake Mountain Park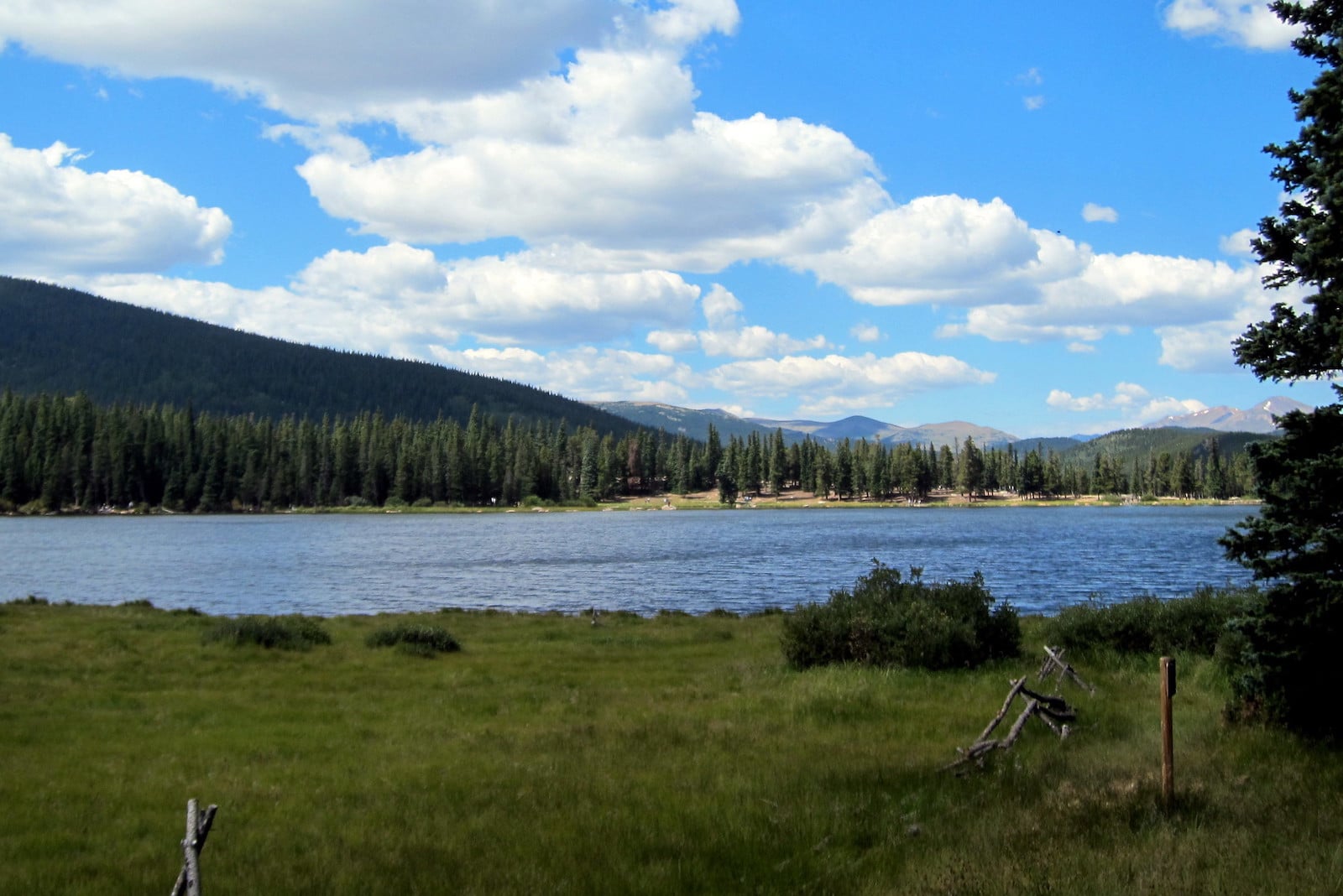 Like Genesee Park, Echo Lake is part of Denver's expansive Mountain Park system. Boasting a beautiful lake situated above 10,000 feet, this park offers fishing, hiking, and the unique Echo Lake Lodge, a former hotel converted into a general store, gift shop, and full restaurant with a diverse menu.
Hikers can enjoy a scenic walk around the perimeter via Echo Lake Trail. Additionally, the park has restrooms and picnic tables.
The park's campground is operated by the U.S. Forest Service, and it features ten sites for RVs and seven for tents. Each site has picnic tables and a fire ring. There are no hookups, but potable water and trash disposal are available. Reservations can be made online.
Evergreen Golf Course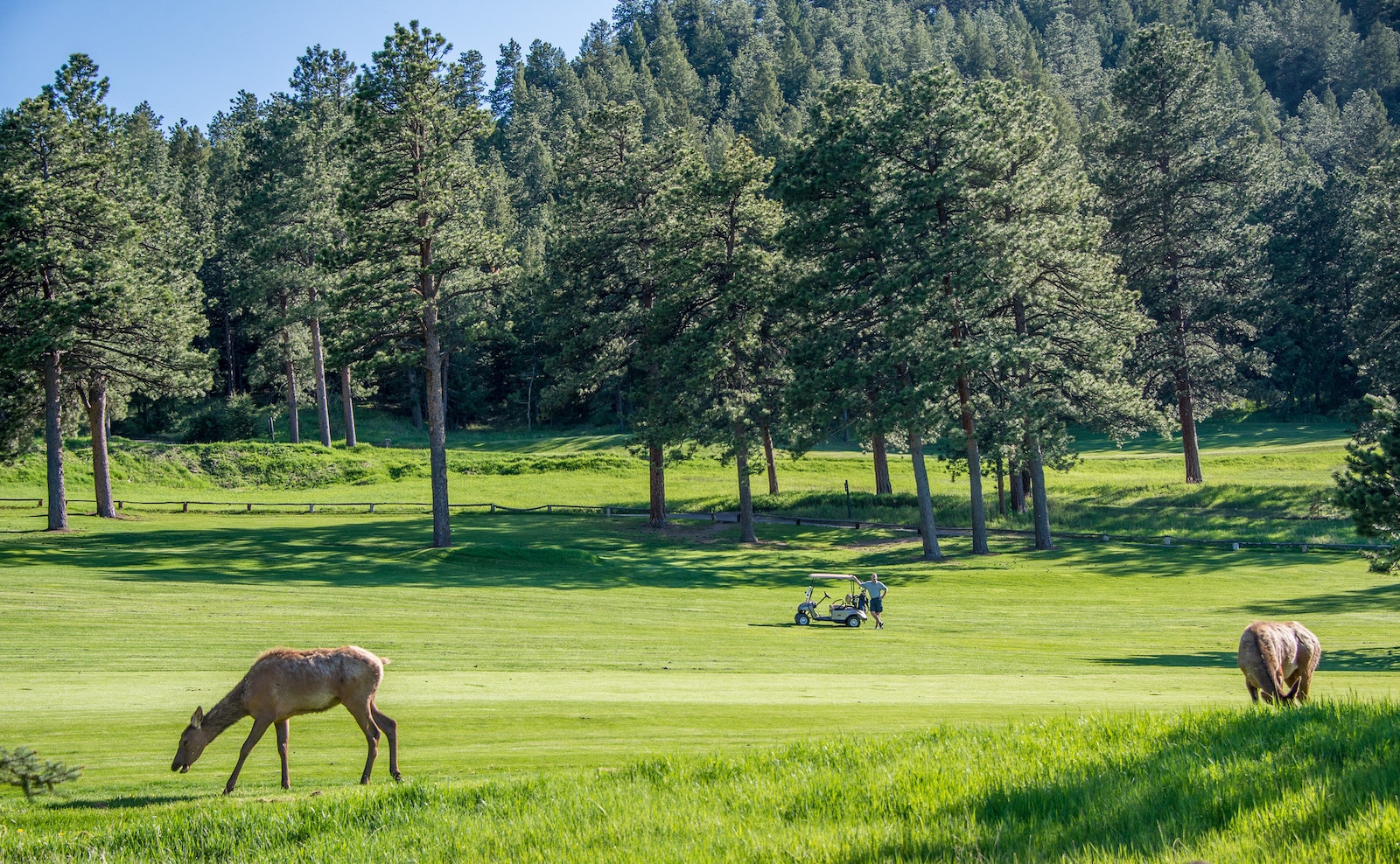 Located above 7,000 feet, Evergreen Golf Course is a beautiful 18-hole course adjacent to Evergreen Lake. Besides the course that features rolling hills and pine trees, the facility is also home to a putting green and full-service pro shop.
After enjoying a game, stop by Keys on The Green Restaurant for lunch or dinner. Tee times can be booked online starting at 7:00 PM seven days in advance, but loyalty members can book up to 14 days in advance.
Airtime Above Hang Gliding
Perfect for absolute beginners as well as seasoned gliders, Airtime Above Hang Gliding offers visitors the chance to experience the joy of sailing through the air on a hang glider. Long-term visitors who hope to reach official Novice Rating should spring for the Unlimited Lessons package, while those who want to get a feel for the sport should try the 2-day introductory package.
Intro lessons include learning how to handle the glider on the ground, foot launches, and even a few short, low flights. Most lessons are conducted in groups, but private lessons can be arranged for an additional fee. Be sure to wear athletic shoes, long pants, and a hat, and consider bringing a light lunch and folding chair to use during downtime.
Hiking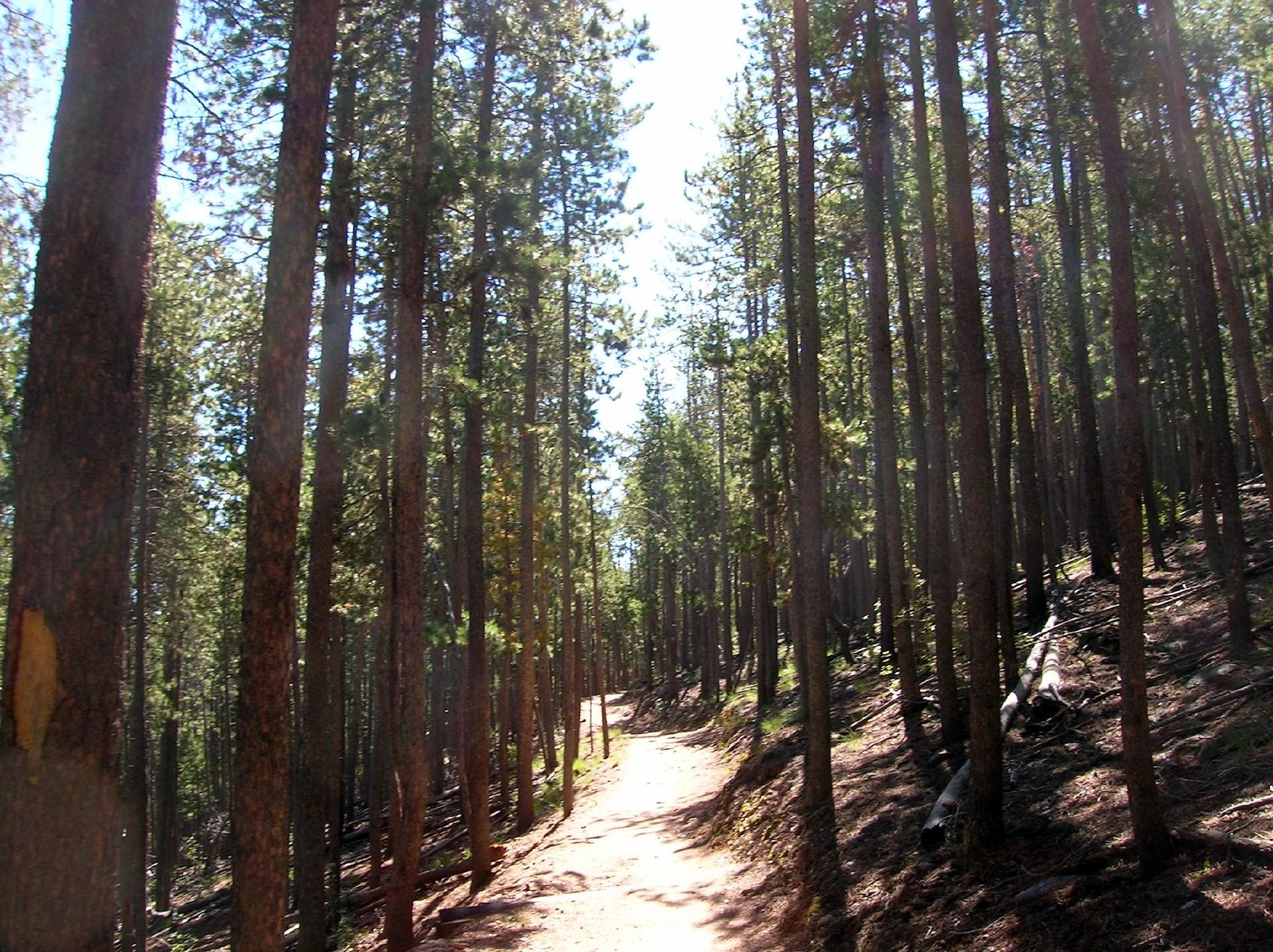 Top-tier hiking abounds in the parks and open spaces near Evergreen. One popular destination for hiking near town is Elk Meadow Park, which offers nearly fifteen miles of trails across two trailheads. Adventurous hikers can even walk to the park directly from Evergreen via the 3.5-mile Pioneer Trail. Picnic tables and restrooms are available at the trailheads, and lucky visitors may spot elk and other wildlife on the hikes.
If that's not enough, the Jefferson County Open Space system features 261 miles of trails varying in length and difficulty, many of which are located west of town in Alderfer/Three Sisters Park. Lots of trails wind through the park, so it's easy to create a loop or out and back hike. For a final option, take a seven-mile hike on the Bear Creek Trail at O'Fallon Park east of town.
Winter
Evergreen Lake is the highlight of this alpine destination come wintertime. The frozen-over lake attracts people from across the front range to skate, ice fish, and enjoy its unique ambiance. Downtown Evergreen's charming historic district is just a stroll away to warm up in all its colorful shops and restaurants.
Ice Skating at Evergreen Lake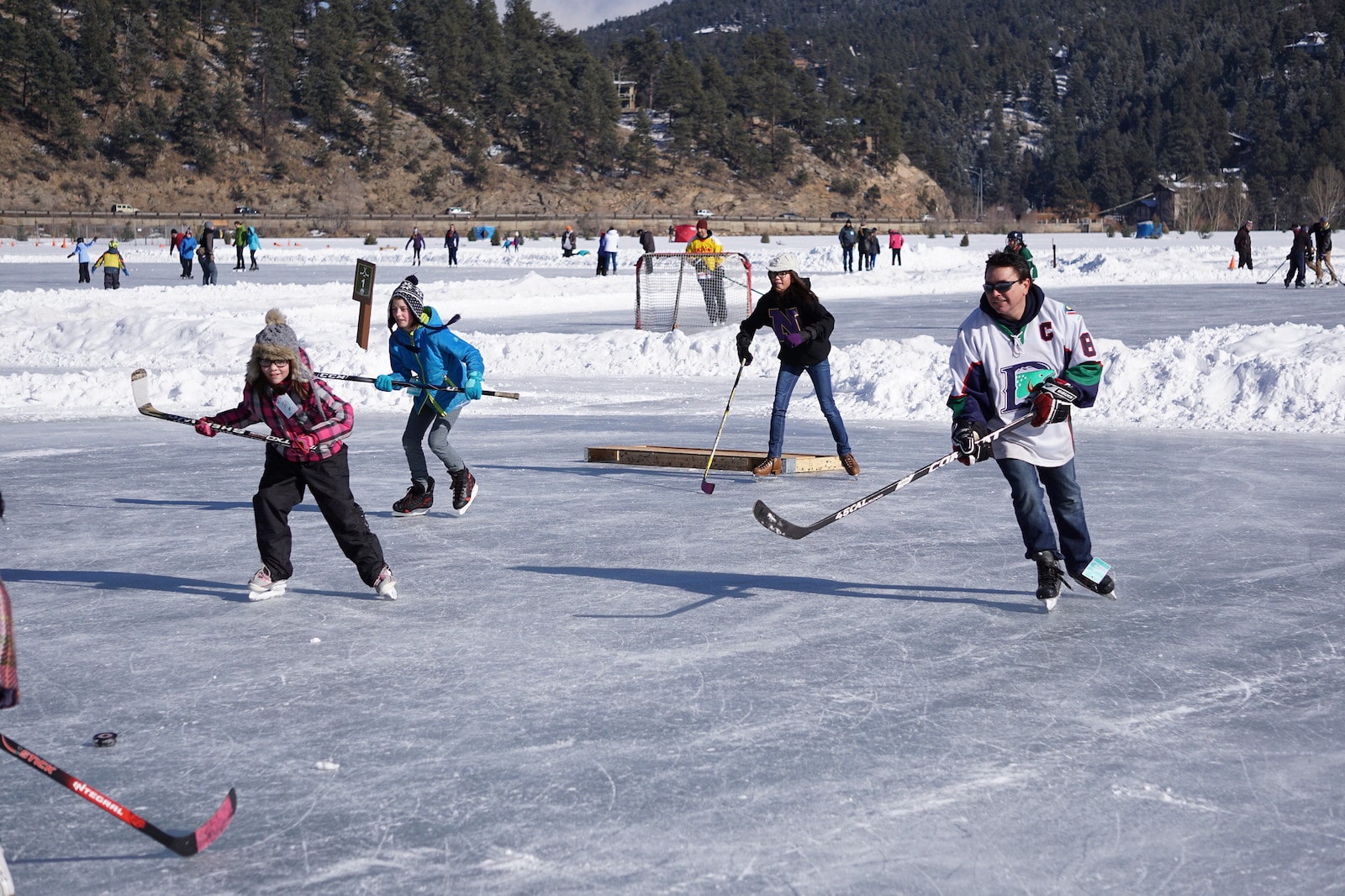 During the winter months, Evergreen Lake is open for ice skating seven days a week. Skate rentals are available for a fee but expect to wait in line during weekends and busy holidays. There is also a fee to skate on the lake, but visitors planning to skate multiple times during the season can save money by purchasing a 10-Punch Skate Card.
The rink offers group lessons for children learning to skate, but those older than nine should book private or semi-private sessions. Limited parking is available at the Evergreen Lake House, but a free shuttle is available between the lake and Stagecoach Park on weekends.
Echo Mountain Skiing and Tubing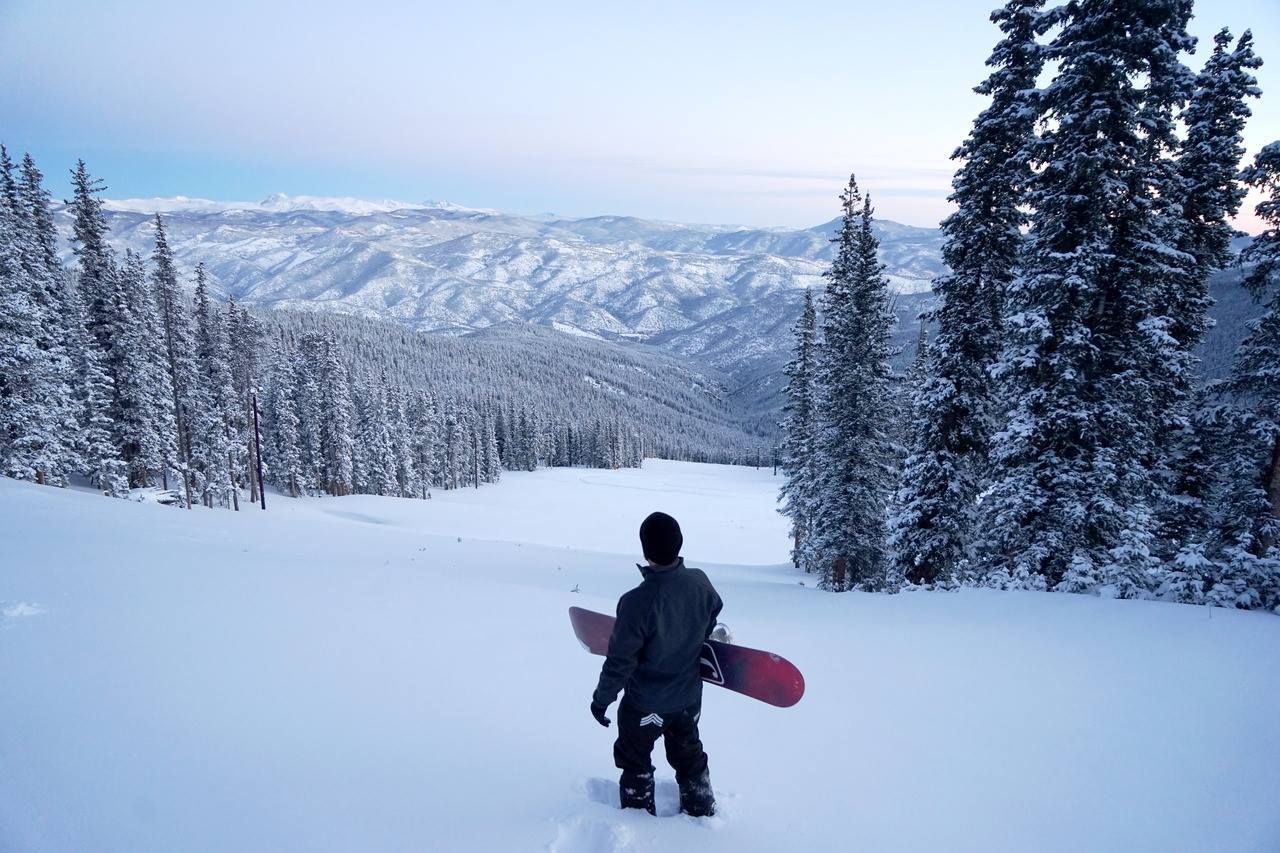 A smaller ski area dedicated to mostly intermediate terrain, Echo Mountain Resort features around a dozen runs and three lifts. Equipment rentals are available, but beginners should definitely stick to the beginner-friendly Yard Sale area until they're comfortable with the basics. Food options include Brothers' Grille, which has a menu full of soups, salads, burgers, and more, and 2 Mile Pie, a food truck specializing in pizza.
Echo Mountain is also home to six lanes of tubing. The minimum height to participate is 36", and each reservation includes equipment and 1 hour of tubing. Participants should plan to arrive approximately 30 minutes early to check-in, and be sure to dress in warm layers. Reservations for skiing and tubing can be made online.
Those are just some of the fun things to do around this part of Jefferson County. Enjoy your visit to Evergreen, Colorado!