Denver has no shortage of things to do. From dining at great restaurants and bars and visiting a variety of museums or art galleries to enjoying live entertainment and theatre, there is something for everyone.
Whether visiting on holiday or living locally in the Mile High City, there are always exciting activities going on. Each season brings something unique, with plenty of the best attractions in Denver available all year long.
With its world-class museums and professional sports teams, plus a slew of landmarks, parks, and events, Denver is loaded with things to do and see. The hub of the city is downtown from the Capital Building at Civic Center Park down the 16th street promenade to Union Station. There are many attractions to be found just within this walking distance, even some free activities.
Year-round
The living's easy at 5,280 ft. With all the sunny days, over 300 year-round, there's always a blue-sky day to enjoy a day of sightseeing. Denver has a wide array of tourist activities for all ages and interests, from wildlife attractions to attending a concert.
Museums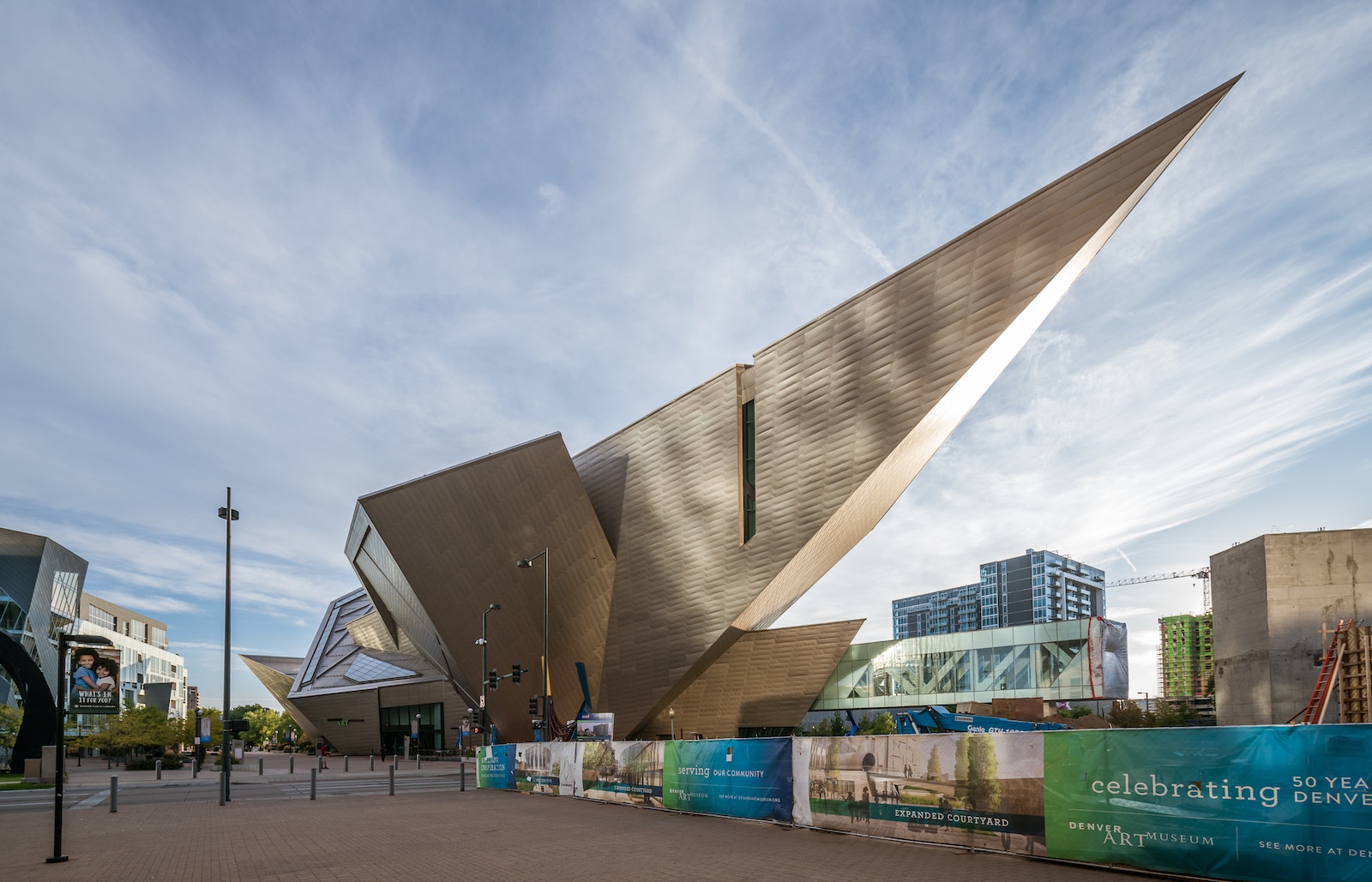 Although the mention of Denver usually brings up thoughts of hiking, skiing, and the beautiful Rocky Mountains, the city has a fantastic museum scene for those wanting a cerebral vacation. Fans of high art should put the Denver Art Museum and the Museum of Contemporary Art high on their list of things to do. The Denver Art Museum has a world-class collection featuring the works of artists such as Monet, Sargent, Degas, and many more, while the Museum of Contemporary Art has an equally impressive selection of modern art.
Another option for art fans is the Clyfford Still Museum. Located in close proximity to the Art Museum, this smaller museum is dedicated to Clyfford Still, a famous Abstract Expressionist.
For those more interested in history, consider the Denver Museum of Nature and Science or the History Colorado Center. Visitors traveling with children should be sure to check out the Children's Museum of Denver, a fun and educational museum offering a huge number of tactile and experiential exhibits.
Finally, for those visitors looking for more eclectic, lesser known spots, consider the Molly Brown House Museum, an interesting museum dedicated to Molly Brown, a philanthropist and activist who survived the sinking of the Titanic.
Meow Wolf
Opening September 17th, 2021, Meow Wolf Denver is a fully immersive art experience. The exhibit is four stories tall, and it contains more than seventy unique art installations and rooms that tell a comprehensive yet strangely surreal story. Meow Wolf Convergence Station features art from more than three hundred artists, many of which are Colorado locals, combining to form a psychedelic and surreal experience that will leave visitors transformed.
Open seven days a week late into the night, Meow Wolf Denver is a perfect way to escape the stress of vacation or the monotony of daily life. The Meow Wolf experience combines all the best components of art, architecture, storytelling, and music into one strangely unforgettable museum.
Music Venues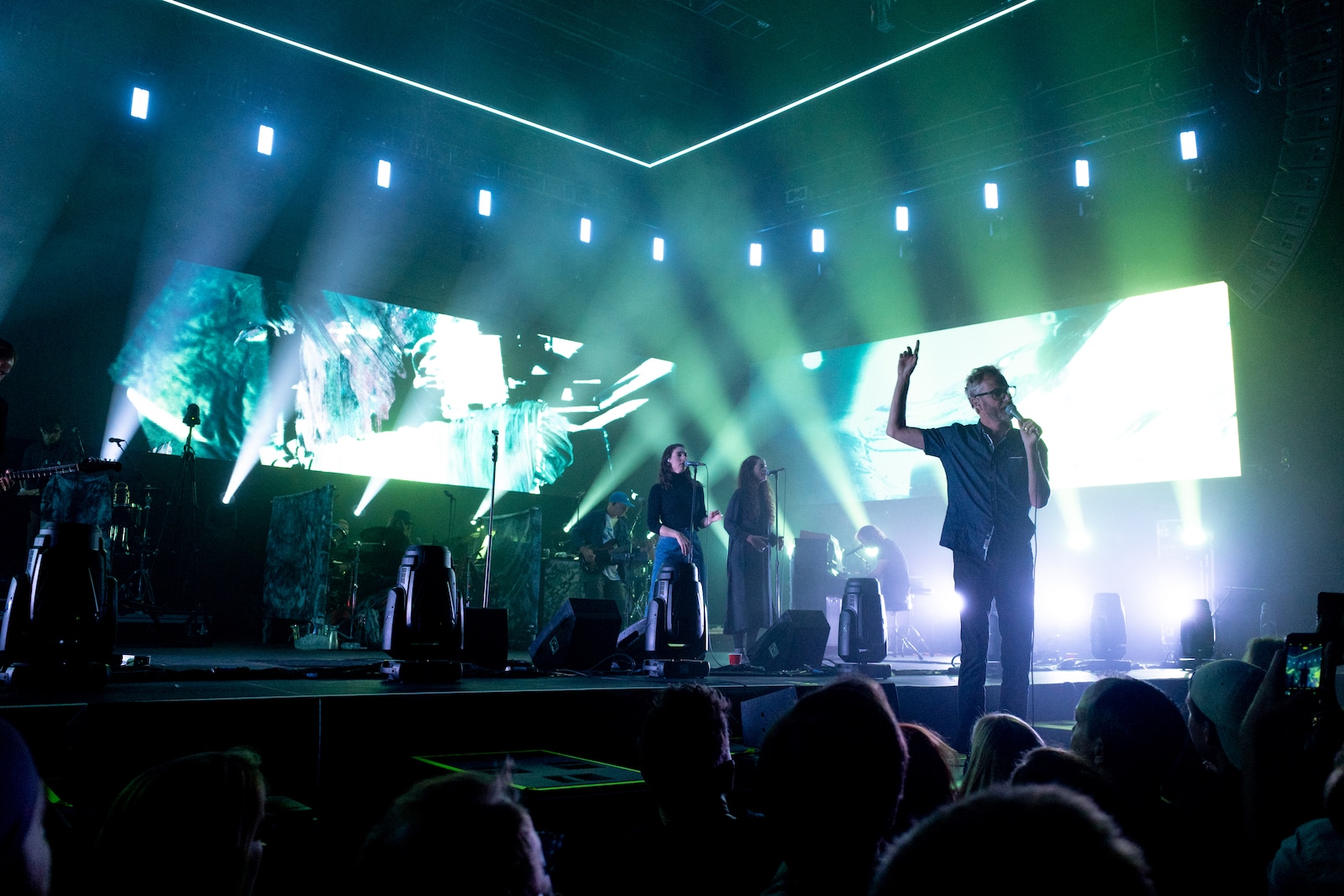 For any visitors more interested in music than art, the Mile High music scene rivals its art scene in scope and quality. From large, outdoor amphitheaters to small, intimate venues with room for only a few hundred people, Denver's assortment of music venues is sure to please any concertgoer. One of the most well known venues in the area is Fiddler's Green Amphitheatre. With an 18,000-person capacity, this large venue features bigger names in music, but it's only open during the summer months.
For medium-sized venues, consider the Fillmore Auditorium or the Mission Ballroom, both of which have a capacity right below 4,000 guests.
For smaller, more intimate shows, look towards the Ogden Theatre, a music venue located in a 1917 historic theater, Bluebird Theatre, a small, five hundred person venue, or the Oriental Theatre with a capacity of right around seven hundred. Like the Ogden, the Oriental Theatre is located in a historic theater, and it also features occasional film screenings and comedy shows.
The Colorado Convention Center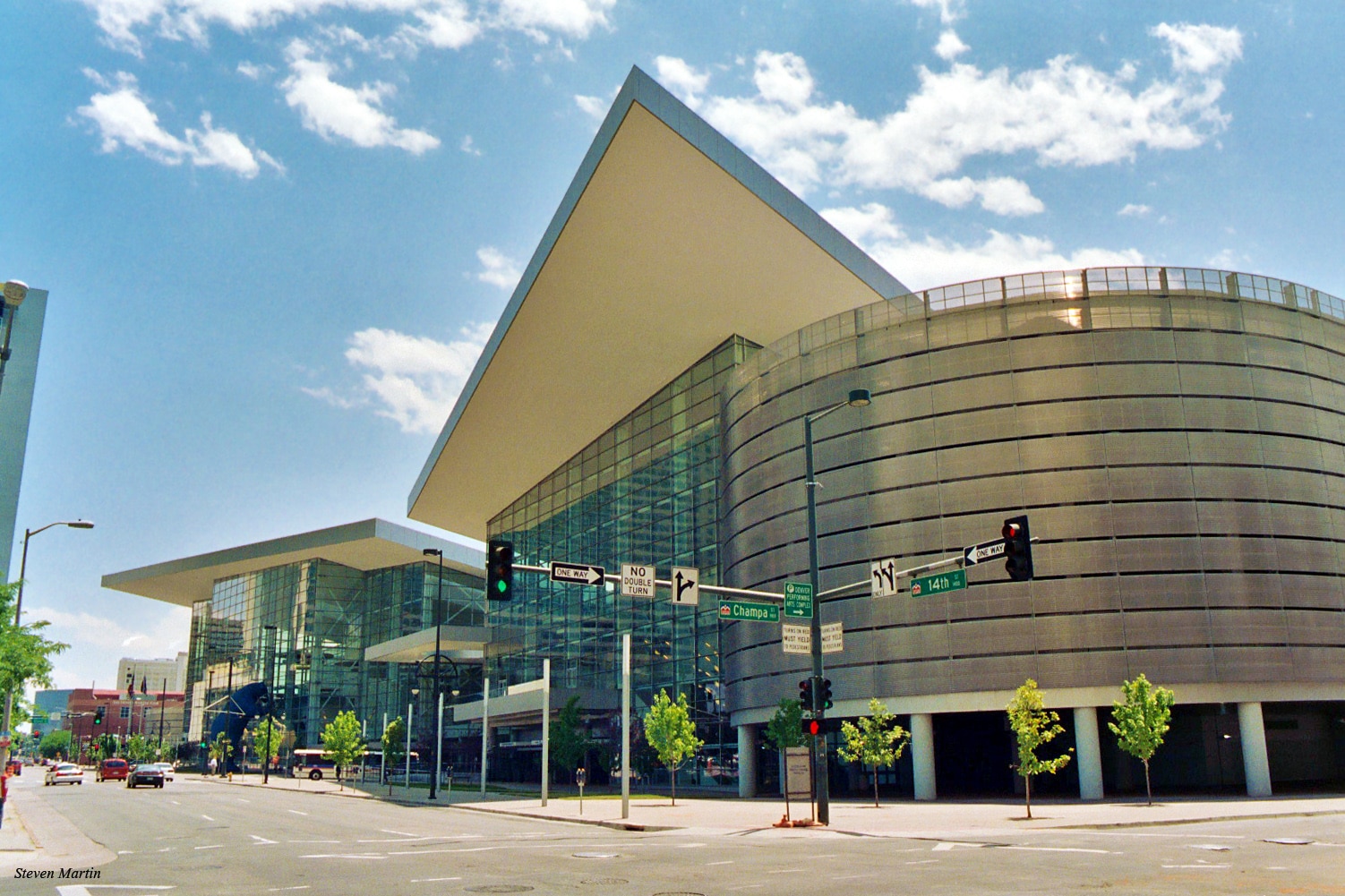 Located directly in Downtown Denver, the Colorado Convention Center is a huge event space that is home to countless varied events each year. Events range from conventions dedicated to sneakers to live shows of The Price is Right to the Craft Brewers Conference, so visitors of all background can find something to do at the Convention Center.
Besides conventions, the Colorado Convention Center also features a number of public art installations, among which the most famous is the Big Blue Bear. Created by Lawrence Argent and formally known as "I See What You Mean," the colloquially known Big Blue Bear is a forty-foot tall bright blue bear that is peering into the Colorado Convention Center. Visitors hoping to see the Big Blue Bear should head outside of the Convention Center onto Fourteenth Street.
Theatres/Opera Houses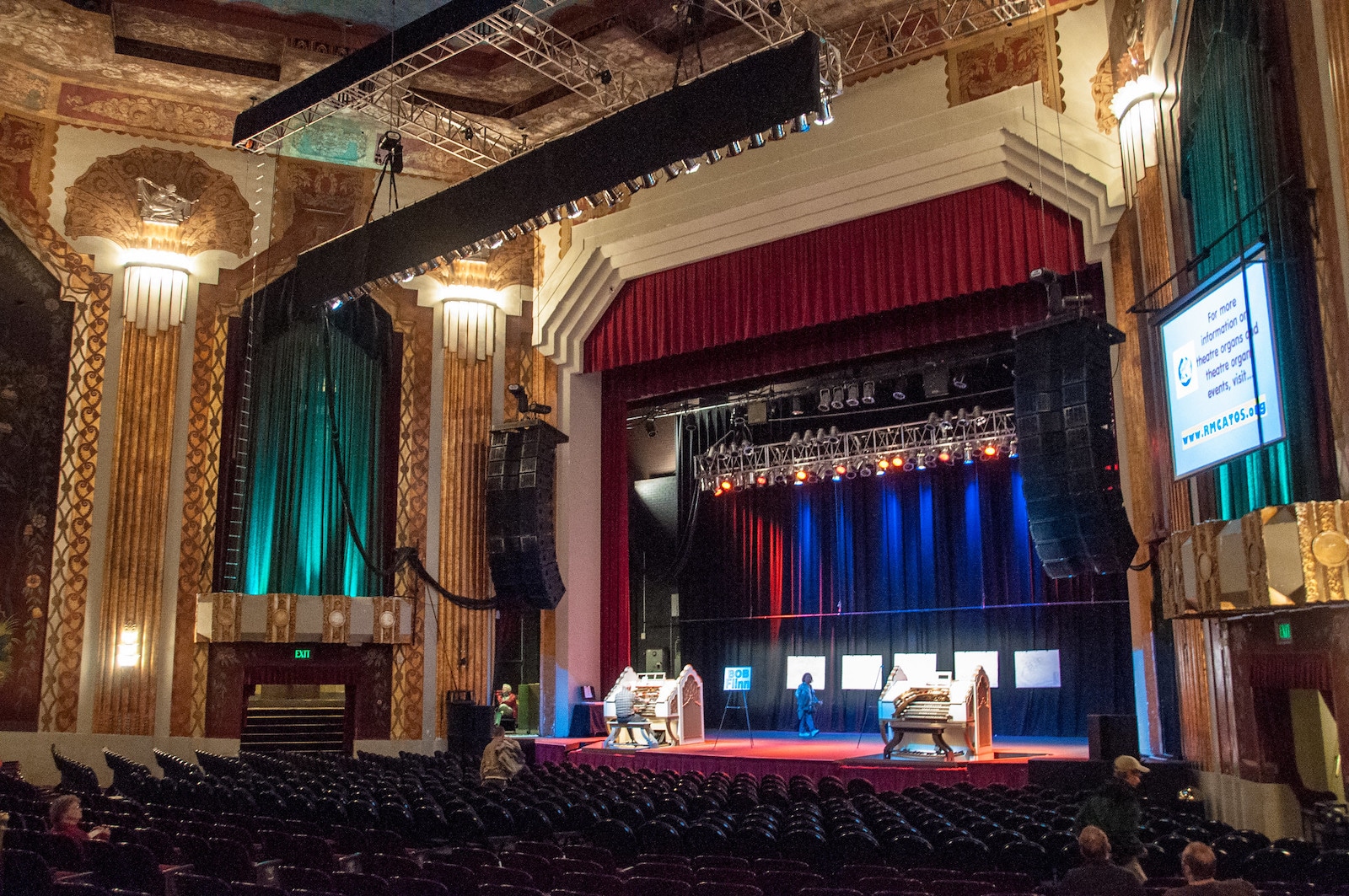 Denver's expansive art scene also includes a large number of theatres and opera houses. The Ellie Caulkins Opera House is the place to go for world-class opera in Colorado, and visitors hoping to experience the Colorado Symphony should head to Boettcher Concert Hall on Fourteenth Street.
Interestingly, Boettcher Concert Hall's unique design draws in fans of architecture as well. The concert hall is round, which brings the audience closer to the stage while ensuring the acoustics are top-tier.
Paramount Theatre is the premier place to go for live performances in downtown Denver. Located in a beautiful art deco building, the Paramount is home to plays, live music, comedy, and more.
Finally, another option for theatre is the Newman Center for the Performing Arts. Part of the University of Denver, the Newman Center features multiple venues and is home to dance, theatre, films, and more.
Denver Botanic Gardens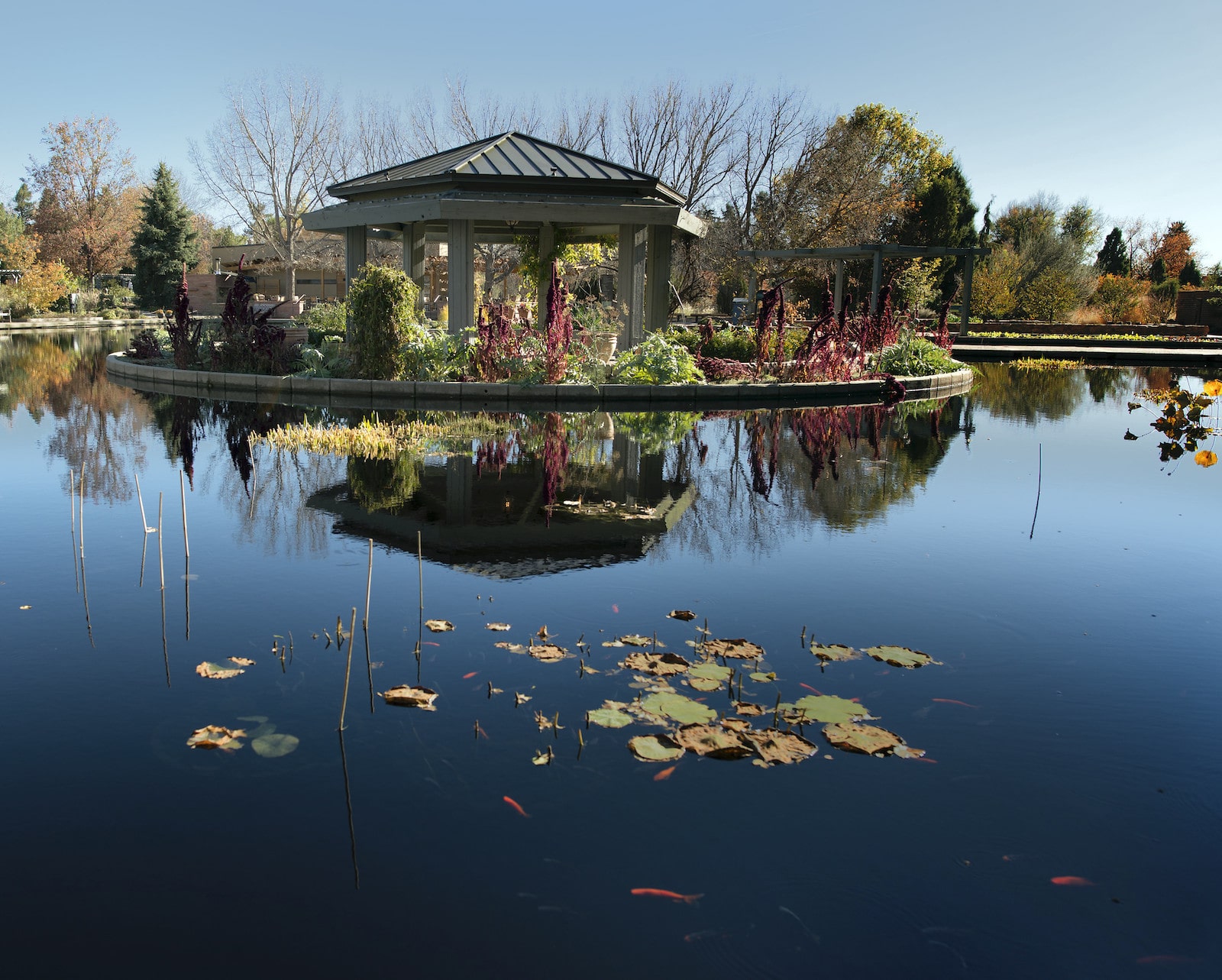 Located behind Cheesman Park, the Denver Botanic Gardens is one of the best ways to escape the hustle of Denver and experience the beauty of nature without straying far from the city. Spanning twenty-four acres, the gardens feature plants and greenery from all over the world.
They are separated into a few different sections, among which are the eighteen different Gardens of the West, the Internationally Inspired Gardens, the Ornamental Gardens, the Shady Gardens, and the Water Gardens. Visitors usually spend at least ninety minutes exploring the gardens, but it would be easy to spend more time.
For those traveling with children, be sure to check out the Mordecai Children's Garden before leaving. Part of the Gardens of the West, this garden is more conducive to hands-on play. Visitors should keep in mind that admission to the gardens also includes access to the Cactus and Succulent House as well as the Science Pyramid Exhibition.
Union Station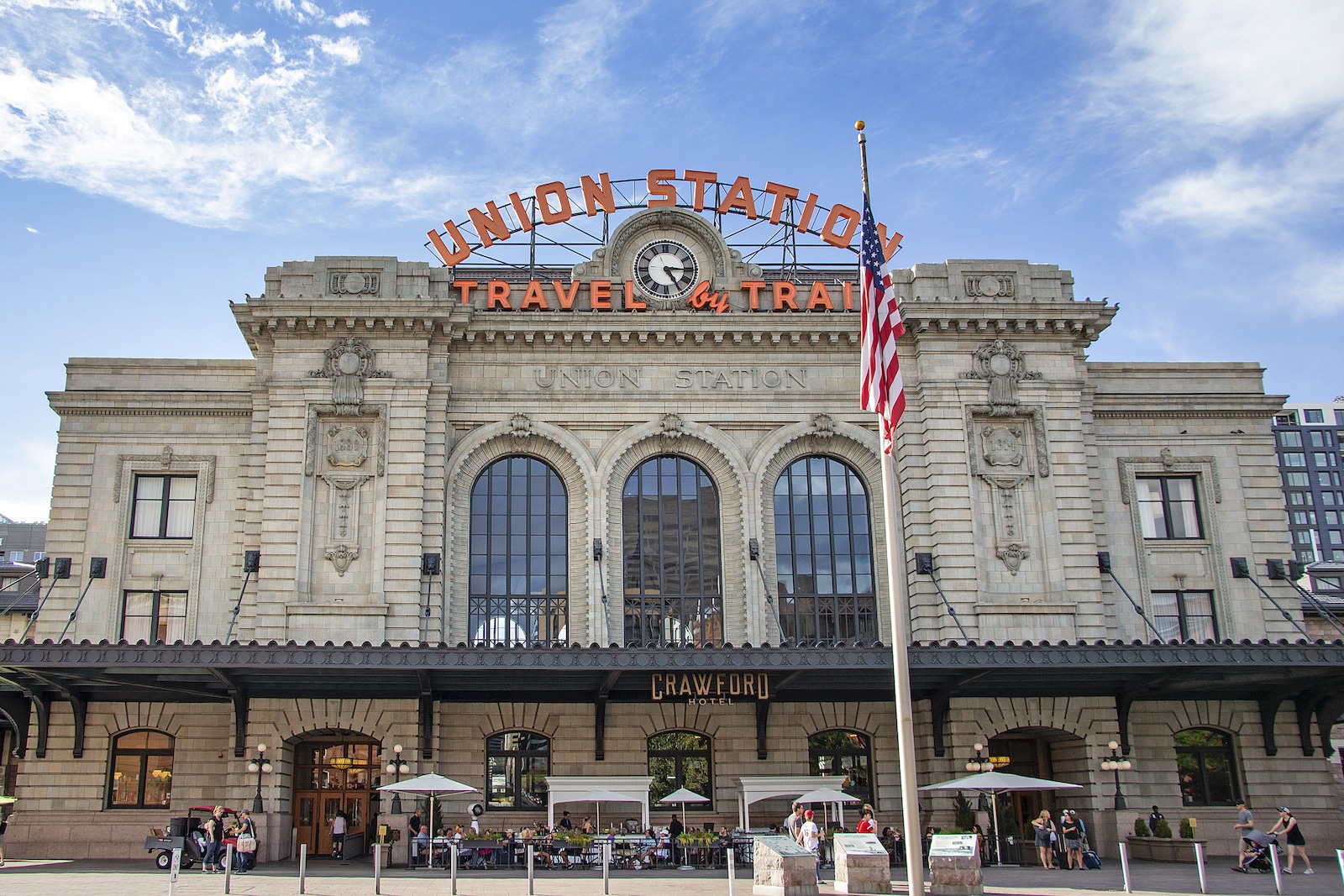 One of Denver's premier historical buildings, Union Station is home to the city's main transportation hub. From Union Station, visitors can hop on one of Denver's light rail trains, board an Amtrak train, take the free 16th Street Mall shuttle, or board any other number of buses and trains heading to the surrounding areas.
Besides acting as the main transportation hub for the city, Union Station is also home to a large number of events throughout the year. During the Holiday season, visit Union Station for the annual lighting of Denver's holiday lights, or go during the summer months on Saturdays for the ever-popular Farmer's market.
Another popular draw is the Crawford Hotel and the eight bars and restaurants located on-site. The Crawford Hotel offers tours of the station, and many visitors enjoy stopping at the Terminal Bar when in the area.
Wildlife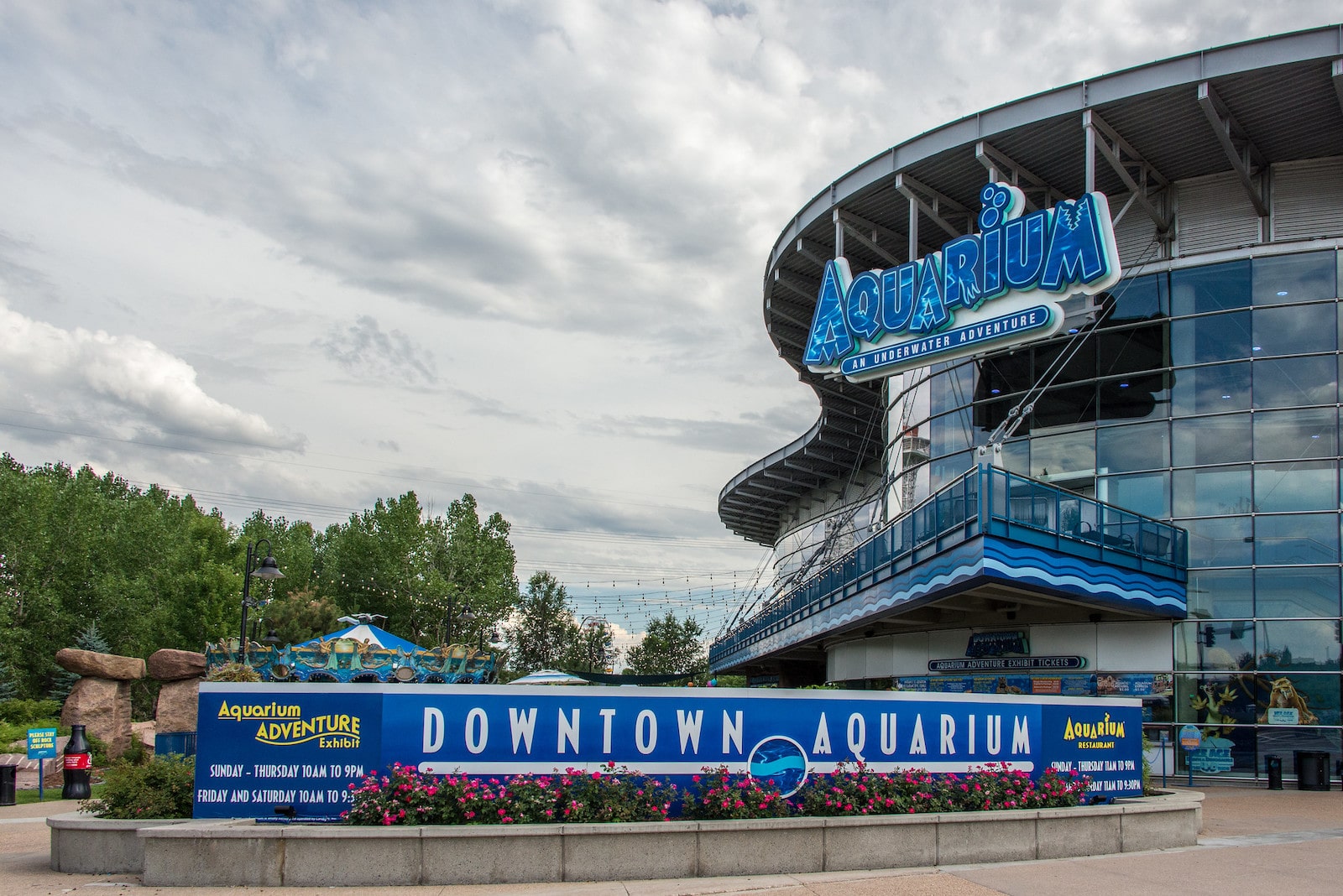 Located next to City Park, the Denver Zoo is a must-see stop for animal lovers and visitors traveling with kids. With animals ranging from penguins to lions to camels with nearly everything in between, the zoo is a g reat way to spend a fun and educational day in the Mile High City. Besides the animals, visitors also enjoy taking a ride on the Denver Zoo Railroad and catching an educational show at the 4D theater.
Another option for experiencing some great wildlife is the Downtown Aquarium. An interesting combination of restaurant, bar, and aquarium, the Downtown Aquarium is a kids and adult friendly place that showcases a huge number of underwater species. The Aquarium Restaurant offers a full-service menu, but the main appeal is the 50,000 gallon aquarium in the dining room.
16th Street Mall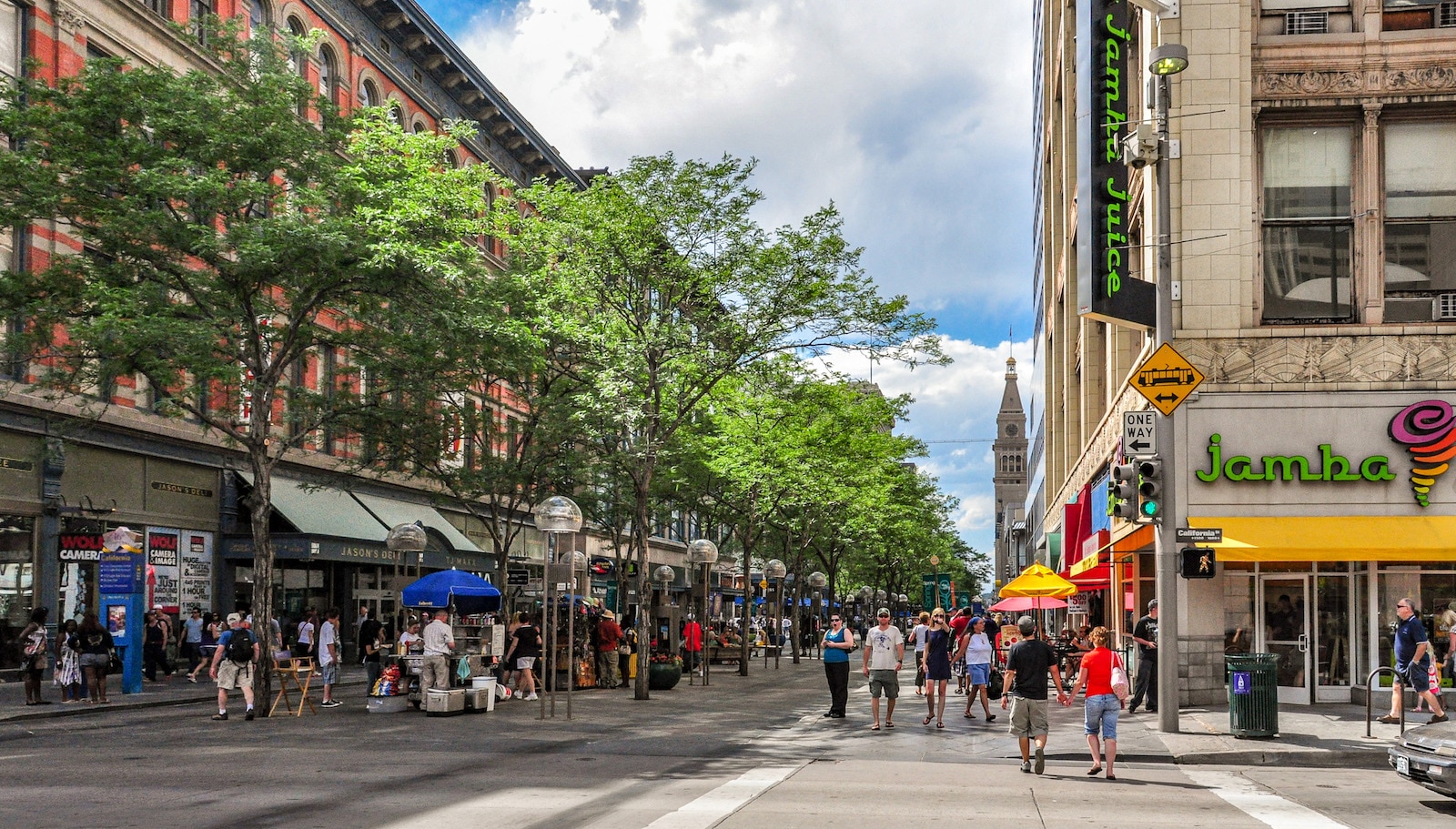 At over a mile in length and featuring hundreds of stores and restaurants, the 16th Street Mall is sure to be a highlight of any trip to Denver. It's is a pedestrian-friendly, tree-lined promenade located in the city center, and it contains a huge variety of shops and eateries. While primarily for pedestrians, there is a free mall shuttle that carries passengers along the promenade.
16th Street Mall is filled with a combination of recognizable name-brands and local Colorado companies. Visitors can find large clothing stores, small boutiques, local restaurants and breweries, bookstores, and much more along the length of the promenade. The street can be additionally crowded on weekends with nice weather, so visit during the week for a low key time.
Capitol Building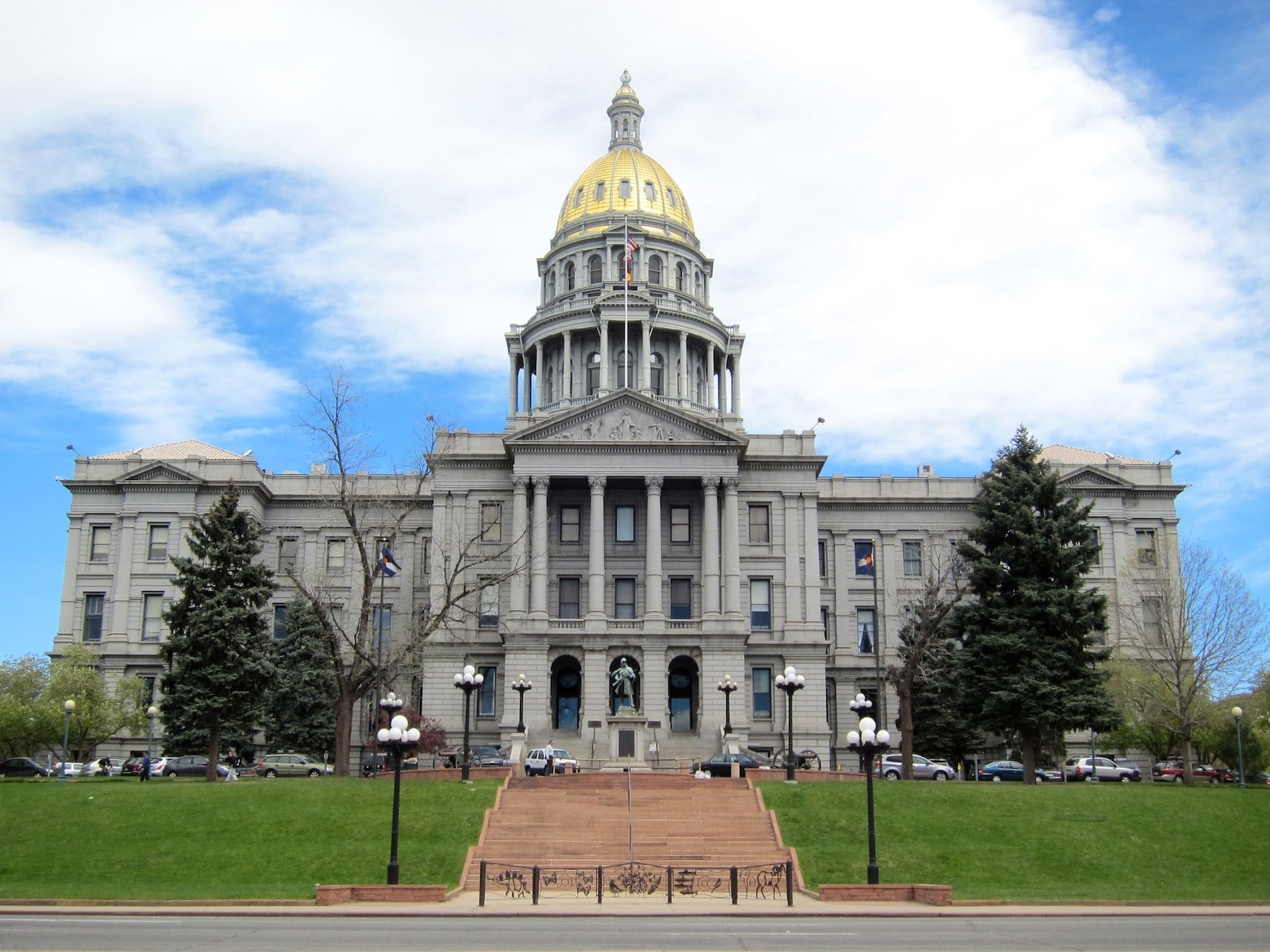 Home to the Colorado General Assembly as well as the offices of some of the state's highest ranking officials, the Colorado State Capitol Building is a great place to visit for those interested in government and history. Much of the building's material is locally sourced, including the rare Colorado Rose Onyx marble as well as White Yule Marble from Marble, Colorado.
Guided tours of the building are available, and they can be scheduled online in advance. Some of the highlights of the building include the large rotunda and dome, the original Colorado Supreme Court Chambers, the current House and Senate Chambers, and the small museum known as Mr. Brown's Attic
U.S. Mint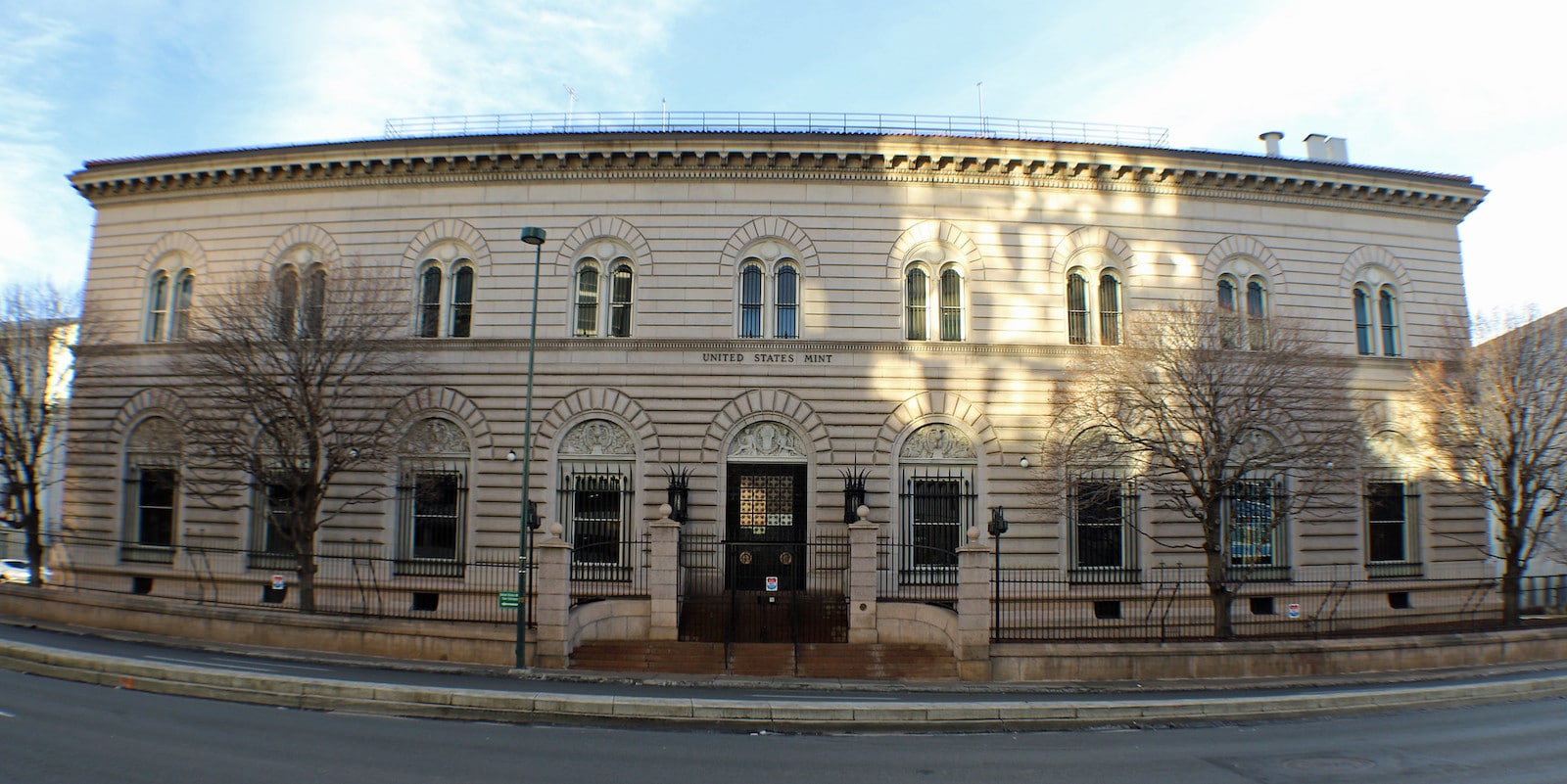 Note: As of 8/28/21, the Denver Mint remains closed due to the ongoing COVID-19 pandemic. While the Mint remains closed to the public, those interested in virtual tours should look towards the U.S. Mint Virtual Tours app.
One of only six major United States Mint Facilities, the Denver Mint is responsible for manufacturing coin dies, storing the government's reserves of silver bullion, and minting coins. Producing coins since 1906, the Denver Mint has a long and interesting history that even includes a major robbery in 1922 where a gangster stole $200,000.
Cherry Creek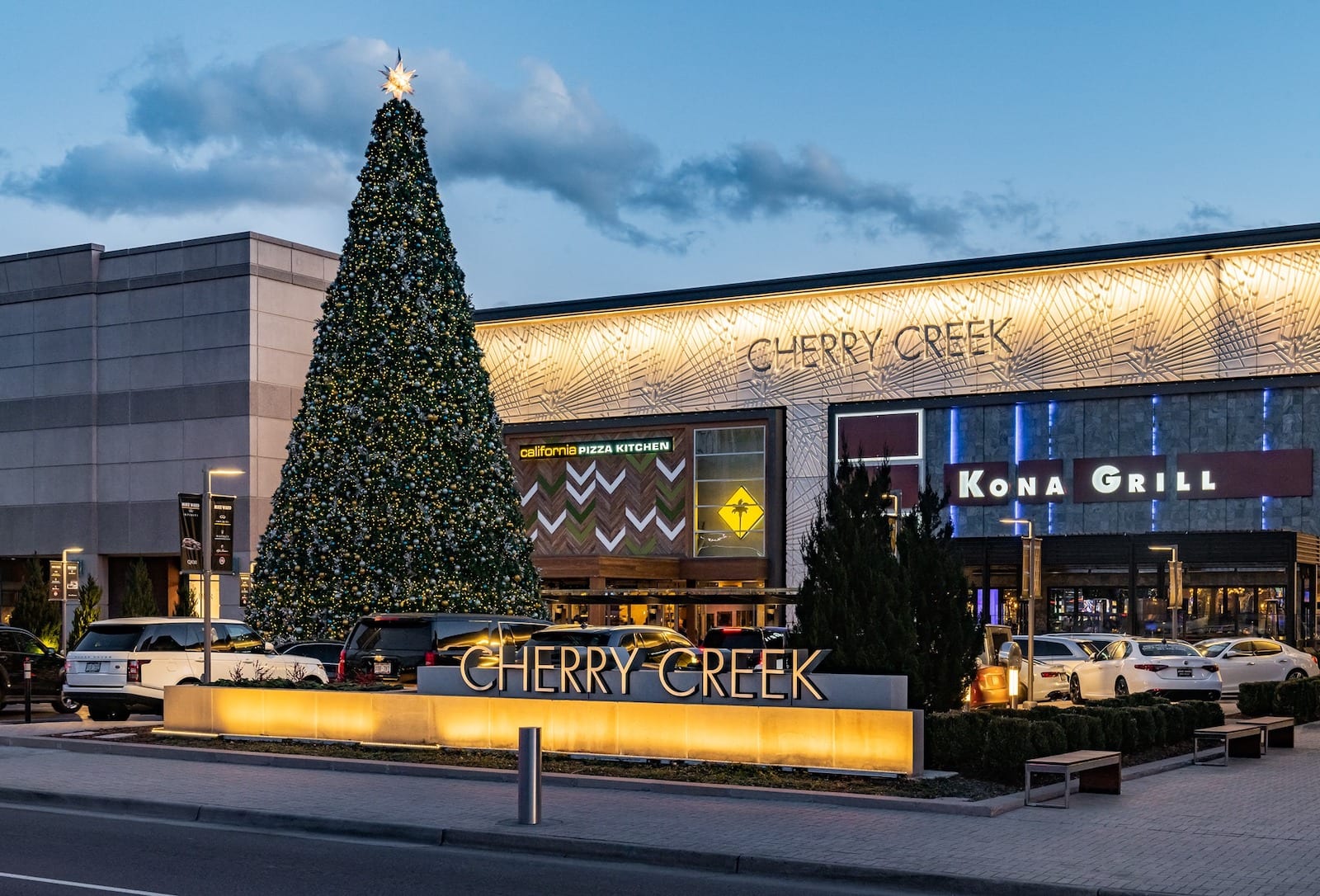 Cherry Creek is an upscale neighborhood of Denver that is one of the best locations for shopping and dining in the city. Cherry Creek North, a large outdoor shopping mall, contains Denver's largest selection of locally owned businesses. Spanning sixteen blocks, it features an abundance of shopping boutiques, upscale restaurants, local art galleries, and spas and salons.
Another nearby option is the Cherry Creek Shopping Center. Home to luxury brands like Louis Vuitton and Burberry, this shopping center is home to one hundred and sixty stores. After a day of shopping, take a stroll on the Cherry Creek Trail, a walking and cycling path that leads directly to downtown Denver.
Historic Larimer Square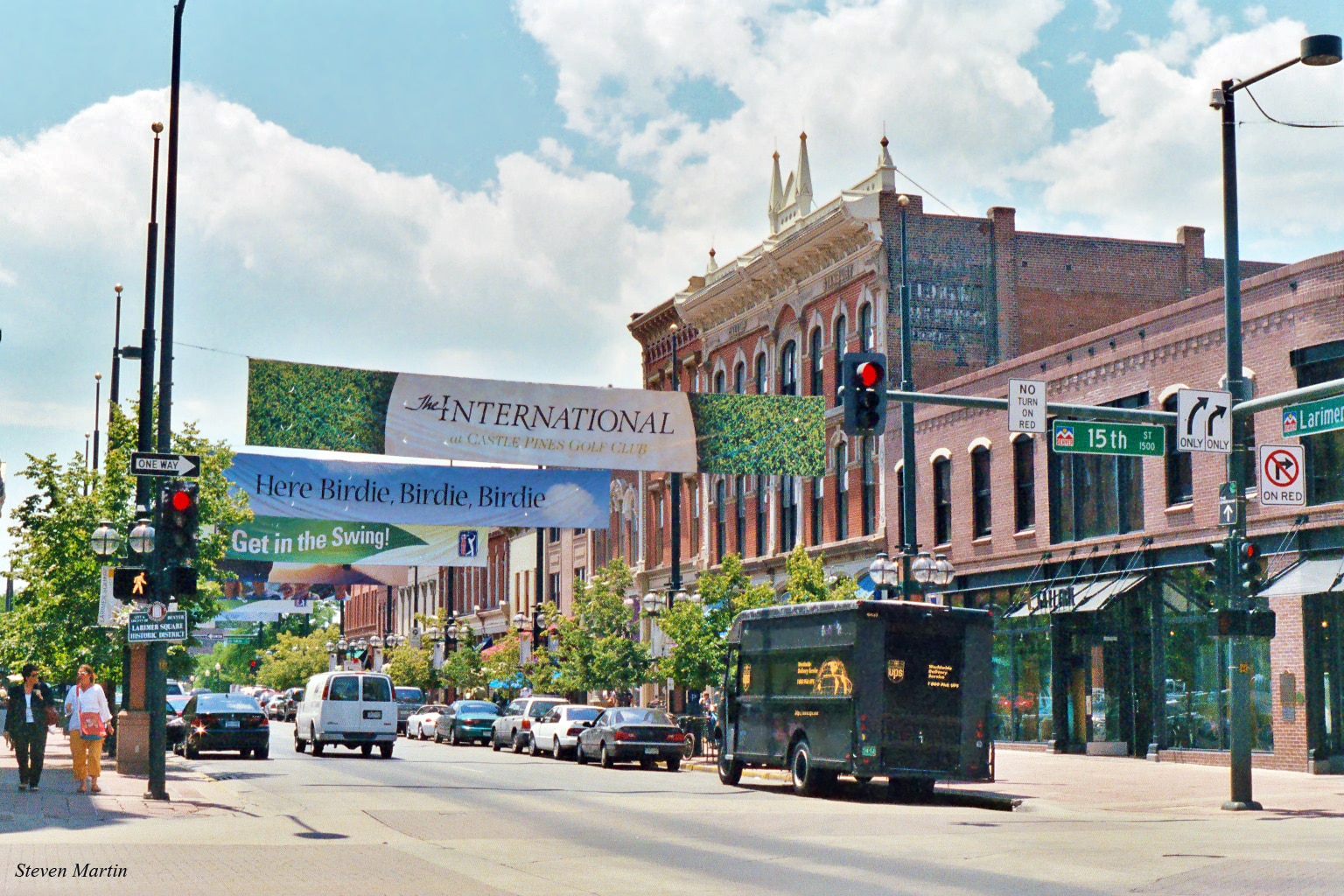 Larimer Square, known as Denver's oldest block, is the city's first designated historic district. Famous for its beautiful lights strung over the street, Larimer Square is another fantastic option for visitors searching for a place full to the brim with shopping and dining options. The hot spot has local shopping boutiques selling jewelry, clothing, hats, shoes, and more, and the district's selection of local restaurants is second to none.
Visit a State Park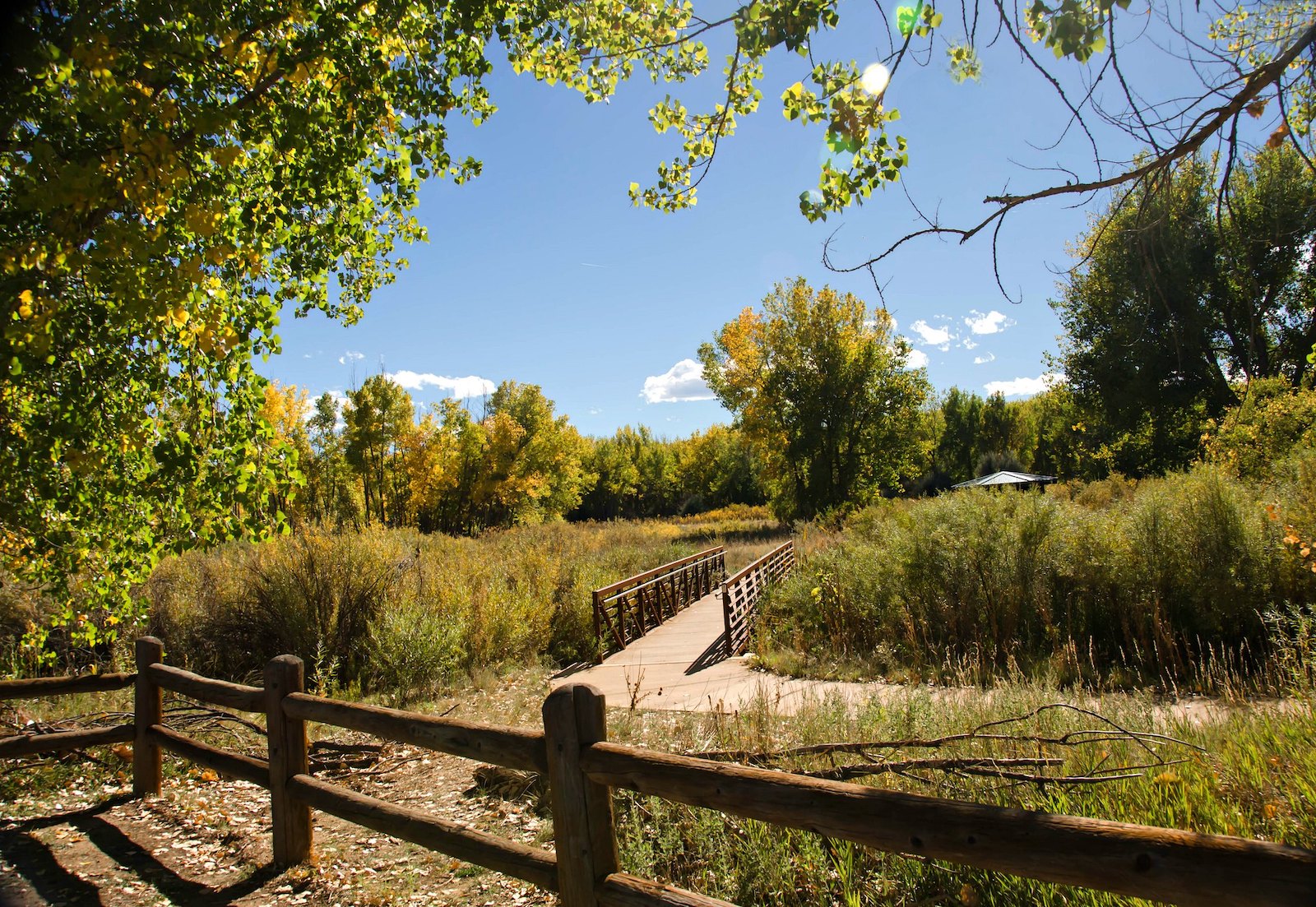 There are two popular state parks in close proximity to Denver: Cherry Creek and Chatfield. Cherry Creek State Park is located southeast of downtown Denver, and it is a popular spot for camping, hiking, biking, and boating on the park's lake. During the summer months, head to the park's sandy beach for swimming, but visitors should keep in mind that there are no lifeguards on duty.
Chatfield State Park is another popular option for exploring the outdoors near Denver. With 197 campsites, a large reservoir open to boating, and twenty-six miles of hiking and biking trails, there's no shortage of things to do at Chatfield State Park. Horseback riding is another popular activity available at the park.
Summer
Summertime on the front range is a time to get outside. With long days and plenty of sunlight, there's ample time to squeeze in a lot, like a hike at a local park, lunch downtown and evening at a Rockies game.
Denver Parks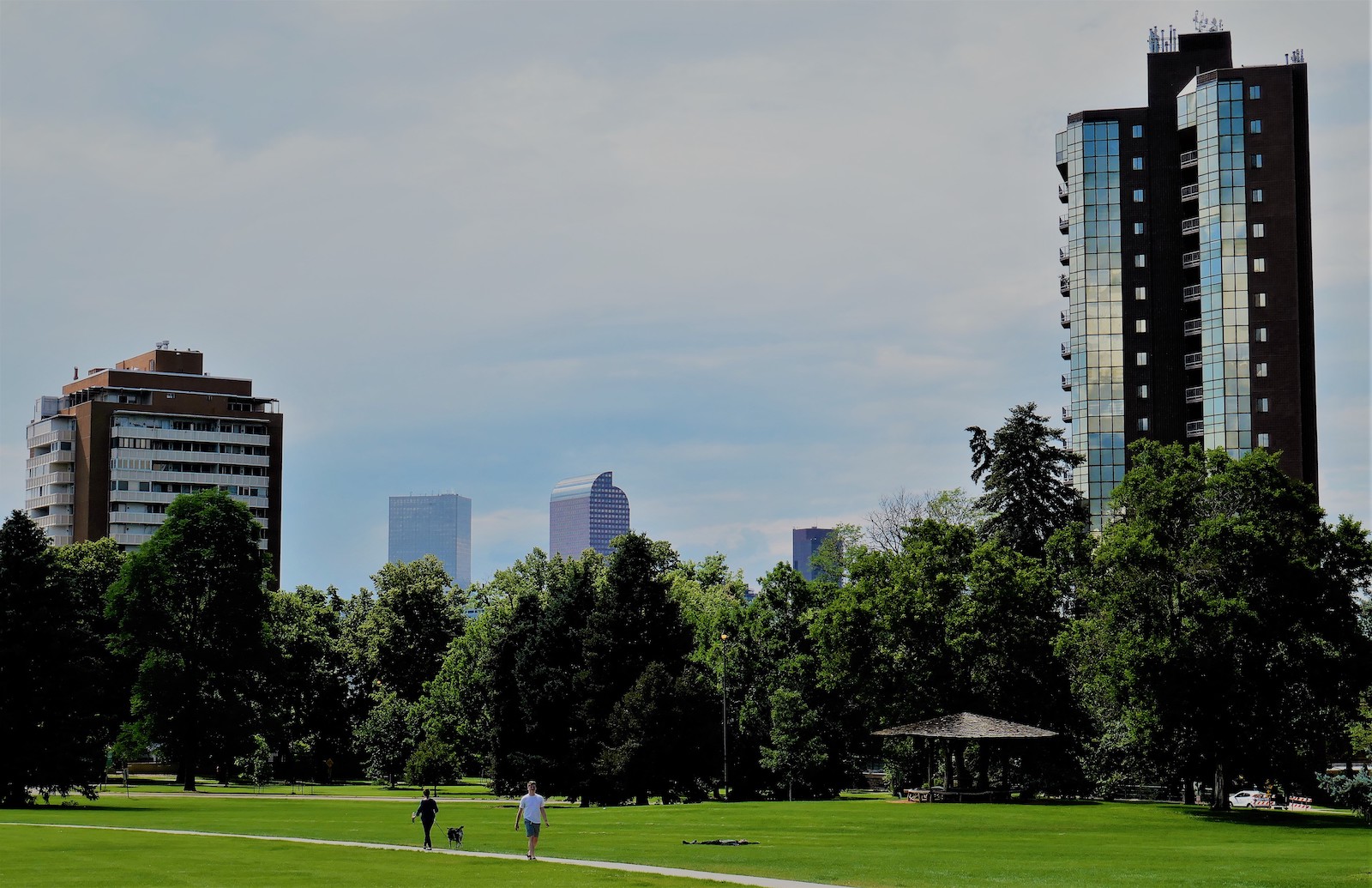 Besides the large number of state parks, greenways, and promenades located throughout the greater metro area, Denver is also home to a collection of beautiful public parks. The city's premier park is City Park, a three hundred thirty acre park located close to downtown. City Park is home to the Denver Zoo and the Denver Museum of Nature & Science, and the two lakes within the park bounds provide great opportunities for water recreation during the summer months. Additionally, there are playgrounds, sports fields, and picnic areas.
Cheesman Park is another good option. Home to the Denver Botanic Gardens, Cheesman Park is full of walking and jogging trails, a beautiful pavilion, and a playground.
For other options, look towards Sloan's Lake Park, a large park featuring Denver's largest lake, or Washington Park, a picturesque park with large, formal flower gardens. In Lower Downtown you can find Confluence Park, an urban park named for the confluence of Cherry Creek and the South Platte River.
Rockies Baseball Game or Rapids Soccer Game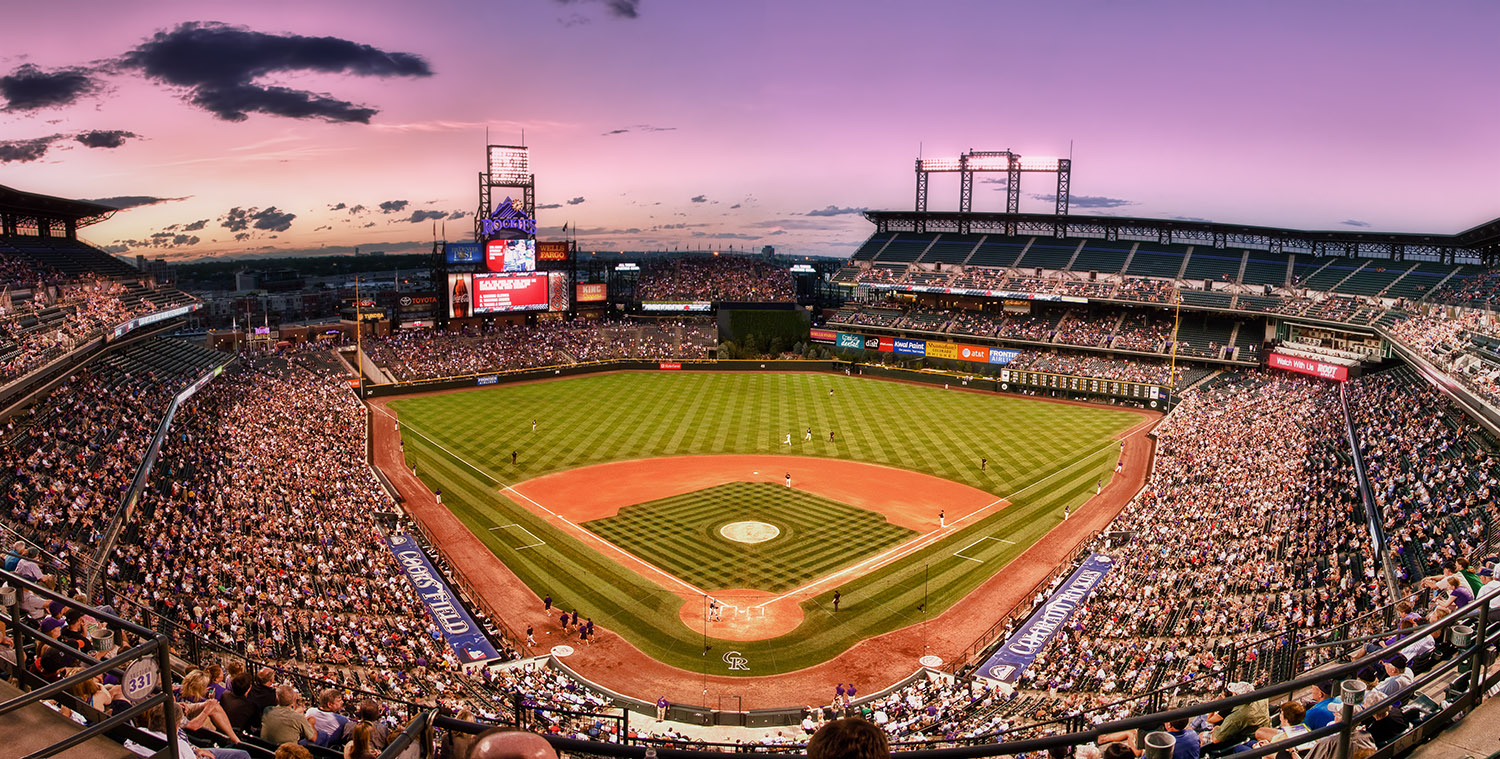 Denver is also home to a few major league sports teams that are perfect to visit during Colorado's warm summers. Baseball fans should consider catching a Colorado Rockies game at Coors Field. The field is located just a few blocks from Union Station, so it's easily accessible by Denver's public transportation.
For those less interested in baseball, head to Dick's Sporting Goods Park to see the Colorado Rapids play in a Major League Soccer game. The park is located outside of Denver proper, but it's still close enough to be worth a visit.
Elitch Gardens Theme and Water Park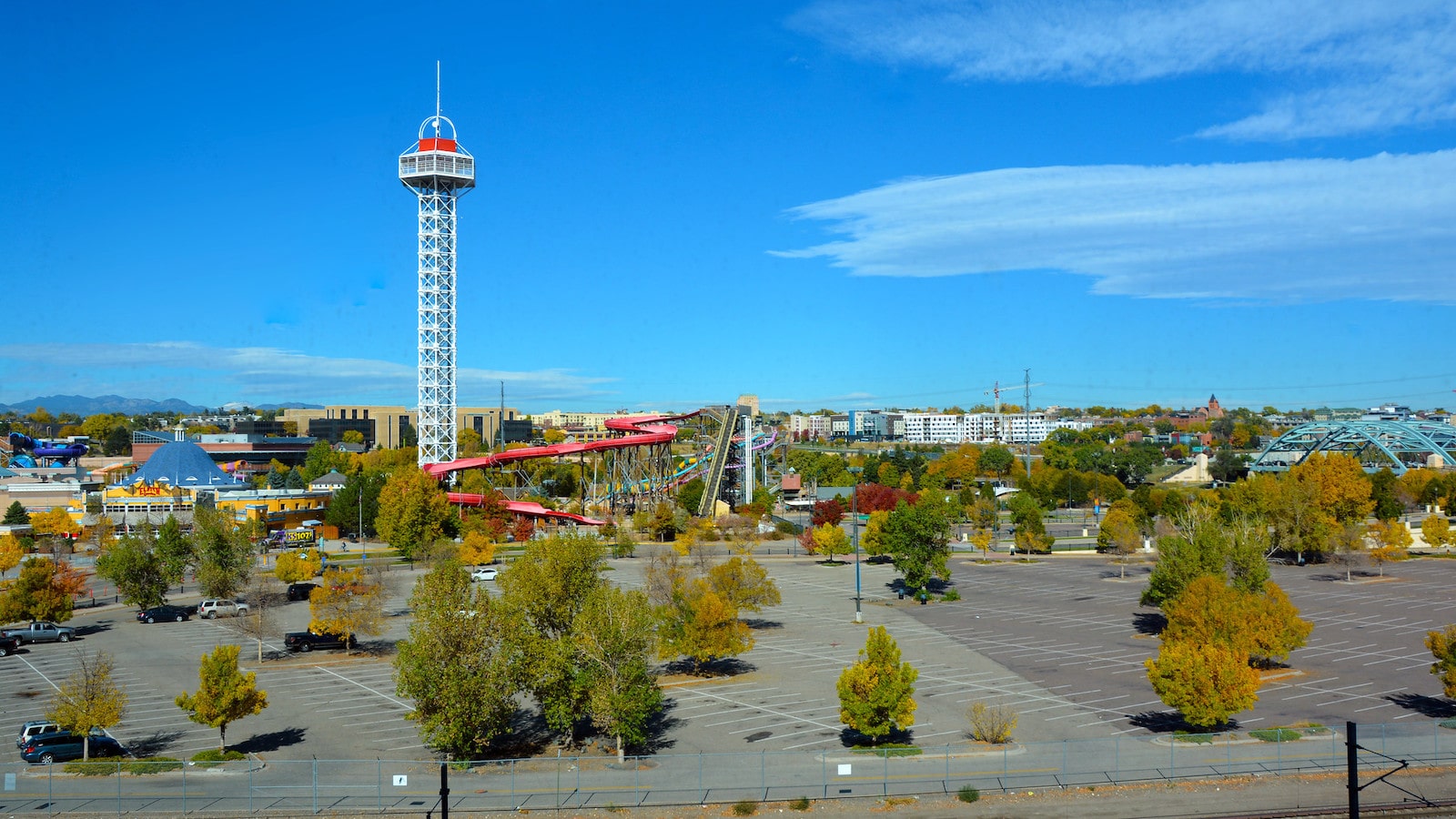 For thrill-seeking travelers and for those with children, Elitch Gardens Theme and Water Park is one of the best sites to see in Denver. The theme park section of Elitch Gardens has a huge number of rides including multiple world-class roller coasters. A popular ride is the Brain Drain, a 7-story looping ride that provides intense thrills with scenic views of the Denver skyline as a backdrop.
Elitch Gardens Water Park is open Memorial Day through Labor Day, and admission is included with entrance to the main theme park. One of the best ways to cool off on a hot summer day, the water park features a large number of rides including adrenaline-pumping rides as well as more family-friendly attractions. Visitors should be sure to try the Mega Wedgie, a sixty-five foot tall slide.
Biking Trails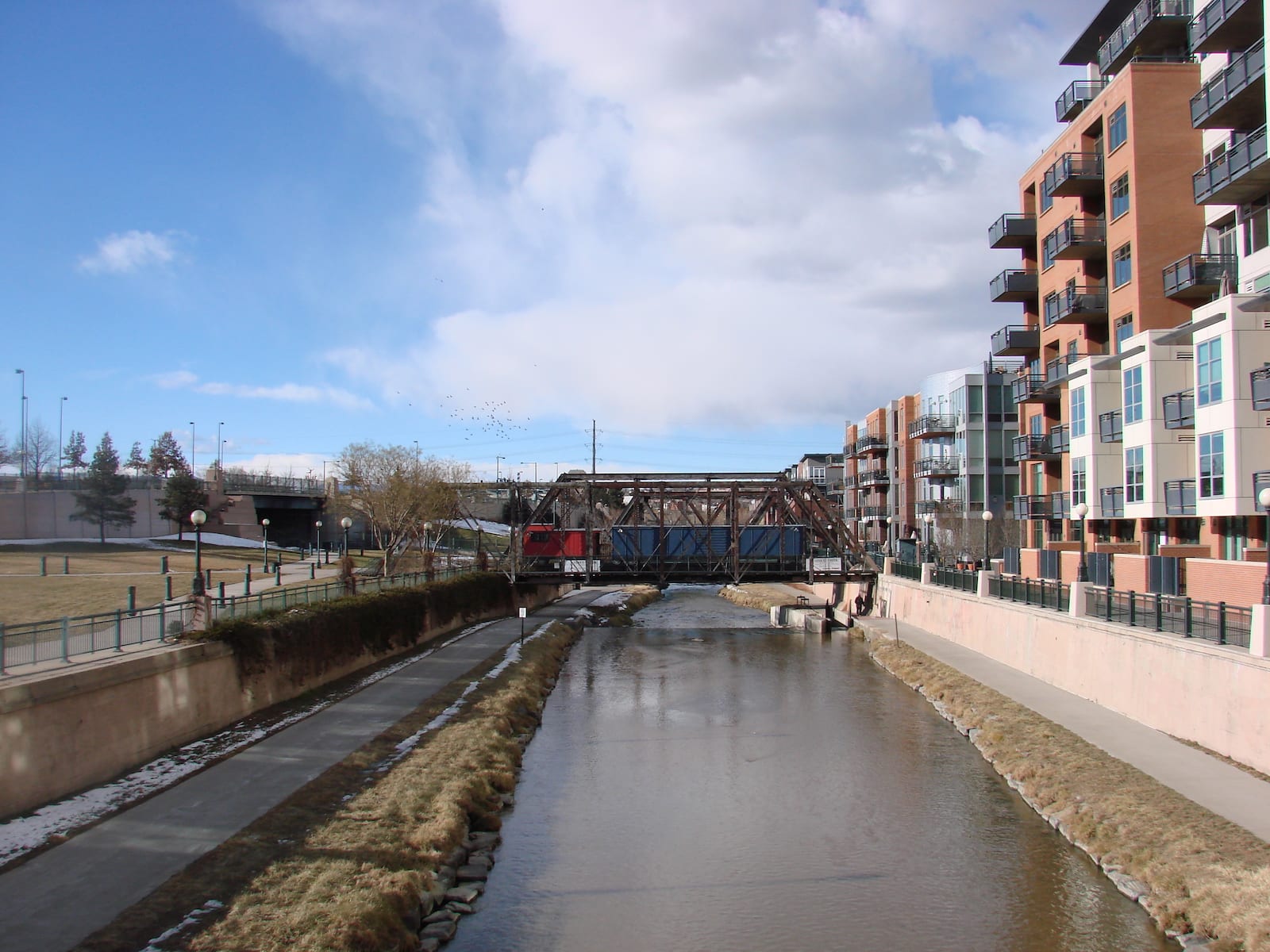 Denver is becoming a terrific city for biking, and its large number of multi-use trails make both commuting and exploring much more simple and enjoyable. Cyclists hoping should be sure to check out a portion of the Cherry Creek Regional Trail, a forty mile route that winds from the suburbs to downtown along the picturesque Cherry Creek.
The South Platte River Trail is another option. Following the path of the South Platte River to Confluence Park, making it a scenic and rewarding ride.
For a longer ride, look towards the High Line Canal Trail, a seventy-one mile trail that follows the High Line Canal through the Denver metro area. Clear Creek Trail, which winds between Denver and the nearby town of Golden, is twenty miles in length and well worth the ride. Finally, for one more option look toward Bear Creek Trail, a nine mile bike trail in south Denver.
Hiking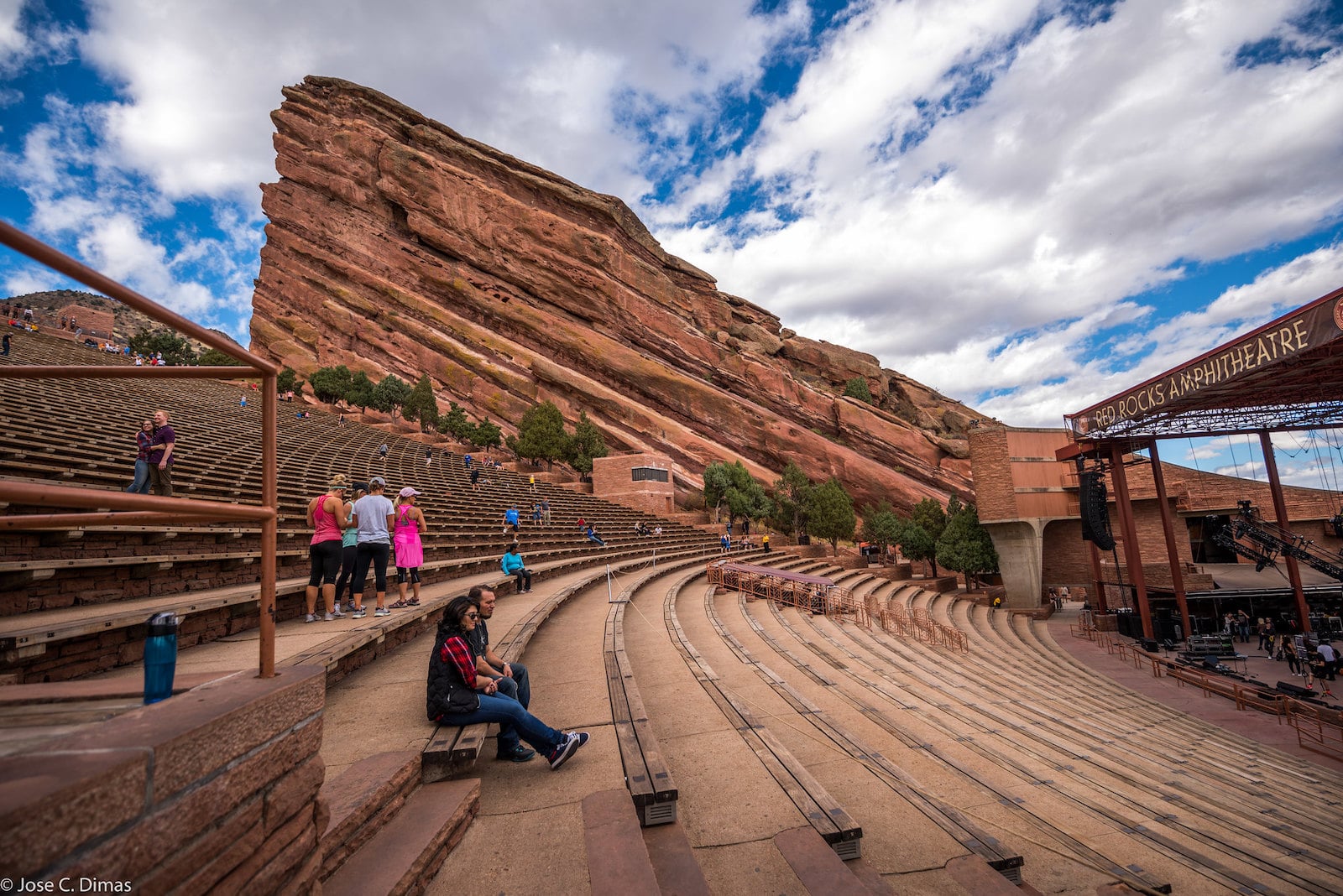 From nearly anywhere in Denver, world-class hiking is a short drive away in the Front Range. A great place for hiking close to town is to the top of Green Mountain. Green Mountain Trail, a three mile trail that features around eight hundred feet of elevation gain, is one way to the top, but there are plenty of others.
A visit to Bear Creek Lake Park straddling Lakewood/Morrison is another popular way to get a hike in near Denver. At over two thousand acres, there are lots of options for hiking, but a popular hike is the nine mile Bear Creek Lake Trail Loop.
Visitors could also consider a trip to the famous Red Rocks Park & Amphitheatre. After checking out the amphitheater, take a hike on the Red Rocks Trading Post Trail. At only a mile and a half in length, this is a relatively easy trail that offers great views with free parking.
Winter
While Denver gets plenty of snow, it never seems to stick around very long. The sunny days are still here come wintertime, so get and expereince the best of the season.
Sports at the Ball Arena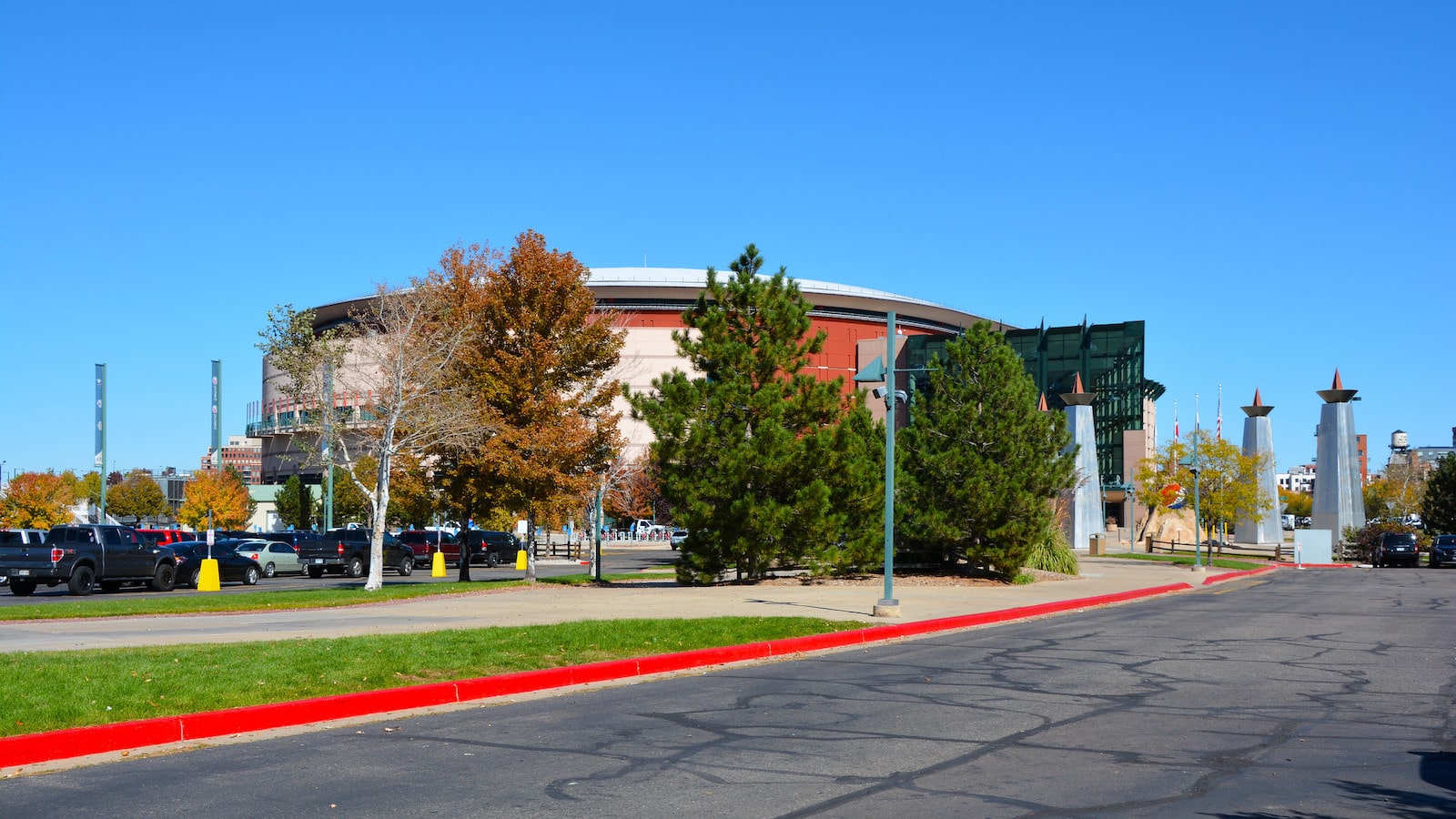 During Colorado's winter, the other side of Denver's major league sports teams shine. At the Ball Arena, formerly known as the Pepsi Center, located just a few blocks from the Coors Field, visitors should consider catching a hockey game played by Denver's own NHL team, the Colorado Avalanche.
Or, for those more interested in basketball than hockey, the Denver Nuggets play in the same place. A final option for major league sports at the Ball Arena is the Colorado Mammoth lacrosse team.
Holiday Events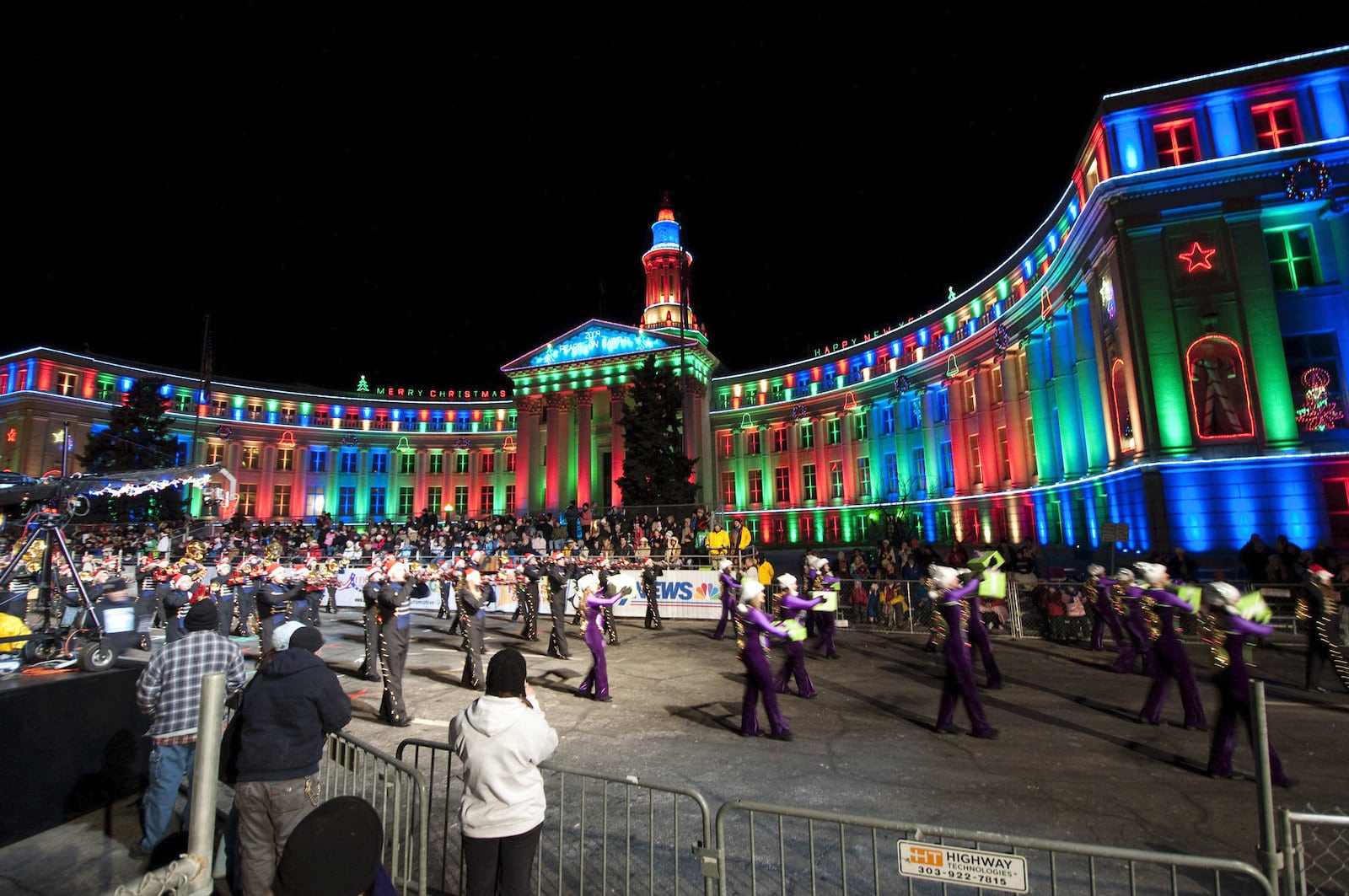 Although Denver's winters may be cold, the city puts on a holiday show that visitors will not want to miss out on. The main event each year is the Denver Parade of Lights, a two-mile parade route through downtown that shows off a huge number of holiday-themed floats. Another fun holiday event is the lighting of the Colorado State Capitol Building.
For events that happen throughout the holiday season, consider visiting Denver's Christkindl Market, an authentic German Christmas market located in the Denver Civic Center Park. Christkindl Market features German cuisine, drinks, live music, and plenty of holiday cheer.
Finally, a fun activity to do around the holiday season in Denver is ice-skating. There are a number of different rinks throughout the city, but Downtown Denver Rink at Skyline Park is probably the best options. An open-air rink, Downtown Denver Rink offers free skating lessons, skate rentals, and even free lockers.
These are some of most popular and best things to do in Denver throughout the year. Enjoy your visit to the Mile High City!