If you don't want to drive far from the city, Clear Creek Trail is the way to go! Clear Creek Trail is the highlight of the famous Wheat Ridge Greenbelt, a 300-acre open space within the metro area. It's part of the larger Clear Creek Regional Trail, which connects with Golden.
It winds through a small portion of the Greenbelt alongside Clear Creek and features four beautiful lakes. The trail has become a popular destination for out-of-towners and an integral go-to place for local hikers, runners, skaters, equestrians, and cyclists. It also offers opportunities for birding and wildlife viewing in the Wheat Ridge Riparian Area.
Hiking and Biking
In 2007, the trail was designated as a National Recreation Trail. Clear Creek National Recreation Trail is a paved multi-use trail that is suited for all skill levels and ages. This moderately trafficked greenway, the urban-type trail is 6.5 miles long and traverses between Youngfield and Harlan Street through scenic natural areas that are somehow bizarre for an urban setting.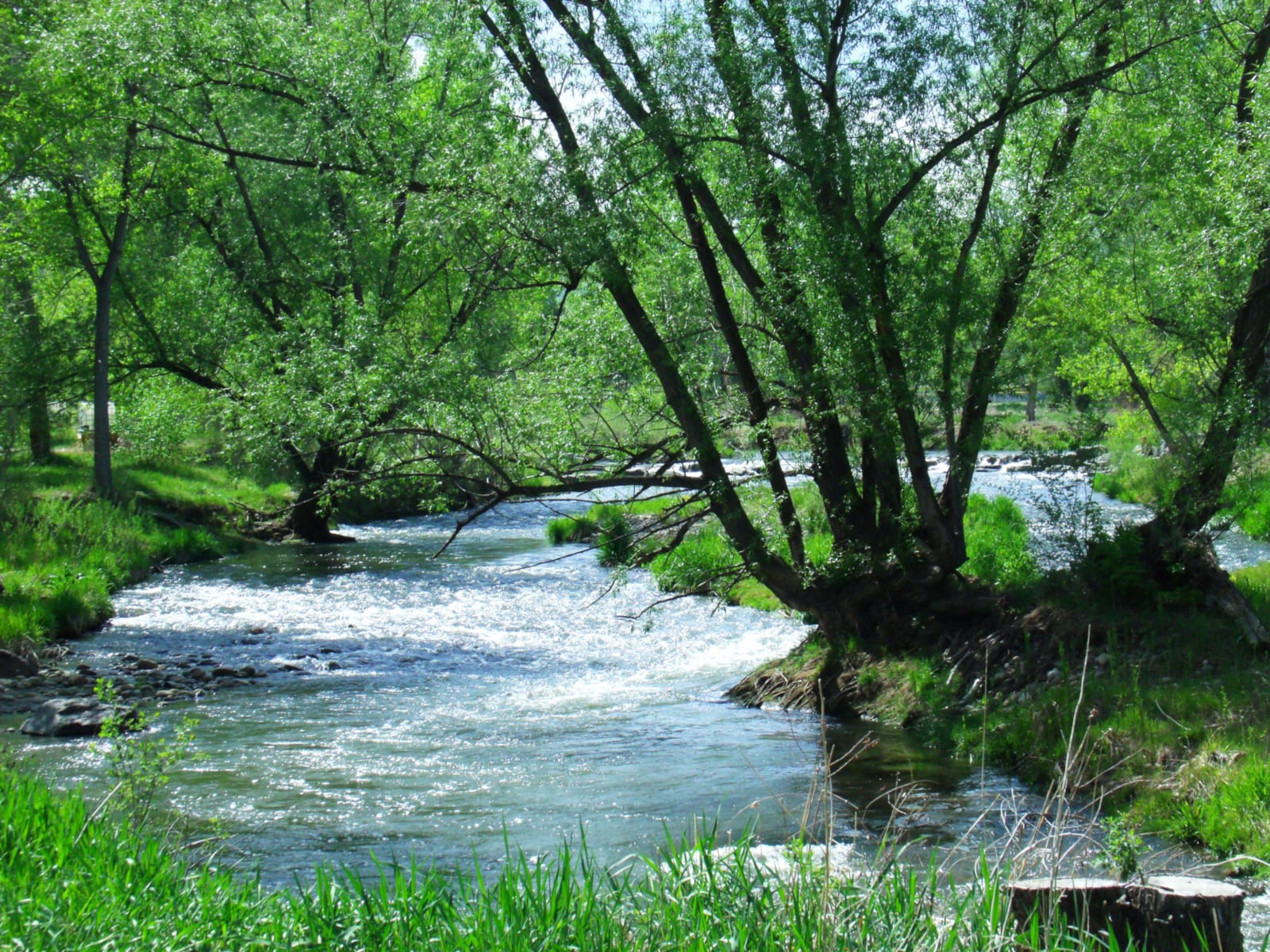 Clear Creek National Recreation Trail starts at the Youngfield Trailhead South of W. 42nd Avenue & Clear Creek on Youngfield Street. The beginning of the hike goes past four beautiful lakes immediately: Prospect, Tabor, Bass, and West Lakes.
Just past West Lake, there is a narrow side trail, with a wonderful boardwalk (for hikers use only), which goes to the right passing on the side of Bass Lake. It forms a loop that merges with Clear Creek NRT at Miller Trailhead. From the side trail junction, stay left to stay on the main trail. The trail then winds along Tabor Lake and onwards to Prospect Lake and Prospect Park Trailhead.
As the trail then enters Miller Trailhead, turn left to stay on the trail (to the right is the loop side trail mentioned earlier).
Onwards is Kipling West Trailhead. From the trailhead, the trail turns to the right and crosses 41st Avenue to Wheat Ridge Recreation Center. Turn another right and cross Kipling Street. Continue to follow the trail until Anderson Park. Here, you will see the Blue Rock Formations, prehistoric formations of volcanic ash from millions of years ago.
After Anderson Park, the trail crosses 44th Avenue to Boyd's Crossing Park and moves forward to Johnson Park Trailhead at Wadsworth Boulevard. Ahead, the trail crosses Interstate 70 just before Otis Trailhead and continues until Creekside Park. The trail ends at the edge of the park at Harlan Street.
Tips for Hiking Clear Creek Trail
To make your hike completely satisfying and hassle-free, here are some things you must keep in mind. Clear Creek NRT is open year-round for free from sunrise to sunset. Motorized vehicles are prohibited, pets must be leashed, and never wander off the established trails.
Getting There
From Golden, drive on Washington Avenue and turn right to merge onto CO-58 East. Use the left lane to take the Interstate 70 E exit toward Denver and merge onto I-70 E. Use the right lane to take exit 266 for CO-72/West 44th Avenue toward Ward Road. Finally, follow W 44th Avenue to Youngfield Street.
Details
Address: Wheat Ridge, CO
Season: Year-round
Map: Clear Creek Trail Regional Map (PDF)
Cost: Free
Website: cityofgolden.net/…