Estes Park, Colorado is so much more than a typical mountain town. As the gateway to Rocky Mountain National Park, Estes Park is perfect for stoking your adventurous spirit.
Conveniently located just 1.5 hours from Downtown Denver, Estes Park stands apart with its notorious elk population, direct access to RMNP, and a charming downtown. Find your Rocky Mountain getaway with these things to do in Estes Park.
Year-Round Activities
No matter what time of year Estes Park provides a playground for outdoor adventures and cultural experiences. Visit anytime with these year-round activities in Estes Park.
Tour or stay at the Stanley Hotel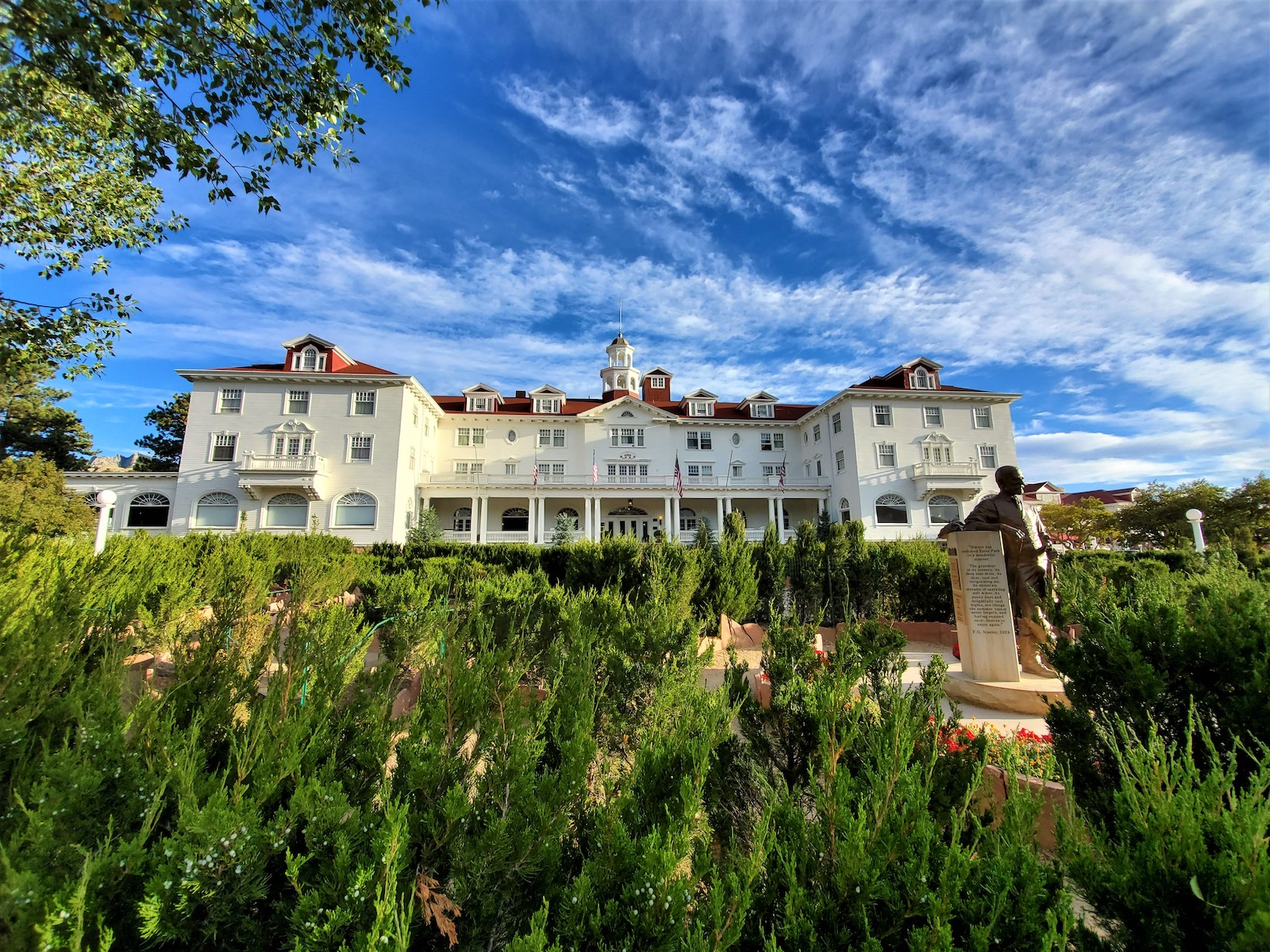 Just off in the distance, nestled amongst the mountains as you enter Estes Park, is the iconic red-roofed hotel, The Stanley, made popular by Stephen King's book and movie, The Shining. The grandeur of this old hotel is a formidable icon amongst the town's backdrop, making it impossible to miss.
The Stanley opened in 1909 and continues to be operational today as one of the top hotels in the state. Visitors can stay for the night, take a tour and search for ghosts or simply stop for a brief walk around the grounds and lobby. The Stanley Hotel is on the National Register of Historic Places and is a great way to take a quick indoor break from your outdoor Colorado adventures.
Stroll along the Riverwalk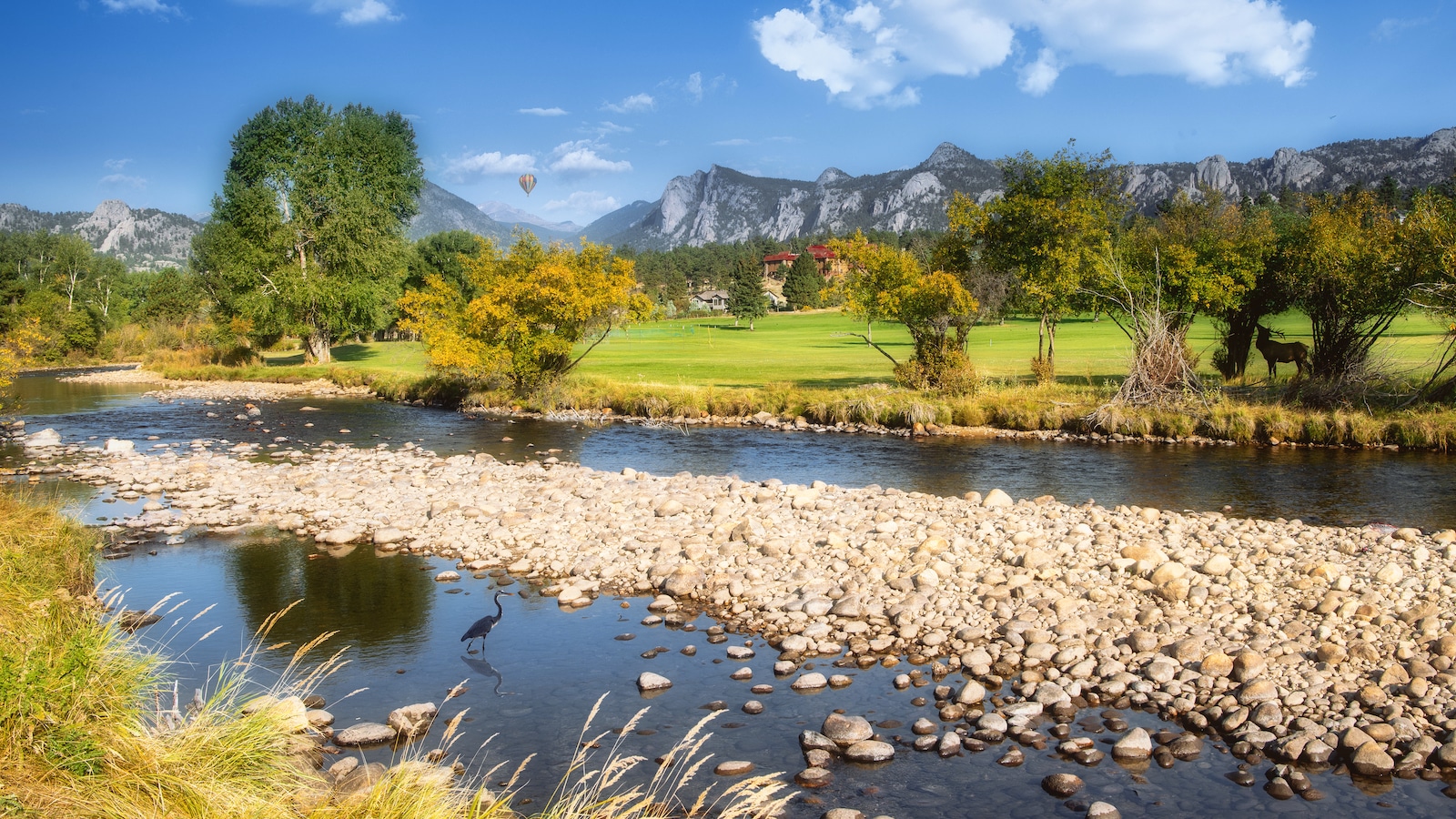 Not up for a long mountain hike? The Big Thompson River runs through downtown Estes Park and has created a lovely centerpiece for tourists and locals alike to hang out and enjoy the sounds of the rushing water. As the river meanders, partly along the backside of Estes' main shopping area, people are often seen allowing their dogs to take a dip or sitting alongside the waters, sipping a coffee or chatting with friends.
Strolling along the river is a perfect alternative to fighting the shoulder-to-shoulder crowds that fill the touristy, shopping streets during the summer months. It is also equally fun and peaceful to be outside near the water in the winter. Just don't jump in!
Visit the YMCA of the Rockies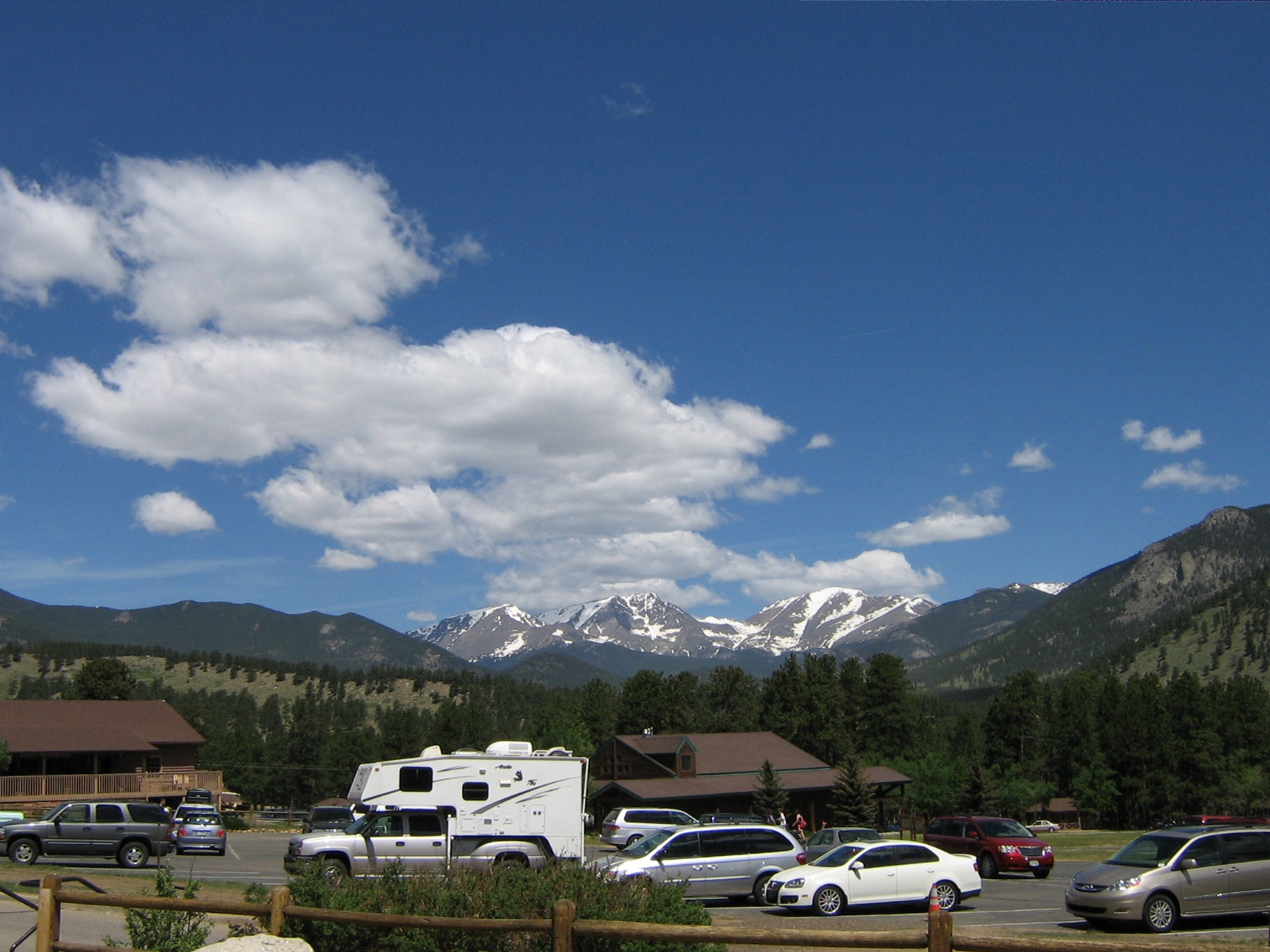 Located only 10 minutes outside of Estes Park, the YMCA of the Rockies has it all! From breathtaking views to cabins, lodges, cafes, horseback riding, swimming, mini-golf, a crafting center, and more, the YMCA is a perfect family place to spend a night or a week.
There are trails to hike in the summer sun and snowshoe in the soft, falling snow. Ice skating and roller skating take everyone back to their childhood. There is never a dull moment (unless you need one) at the YMCA. It is a perfect place for families and large groups to get away from it all.
Explore Rocky Mountain National Park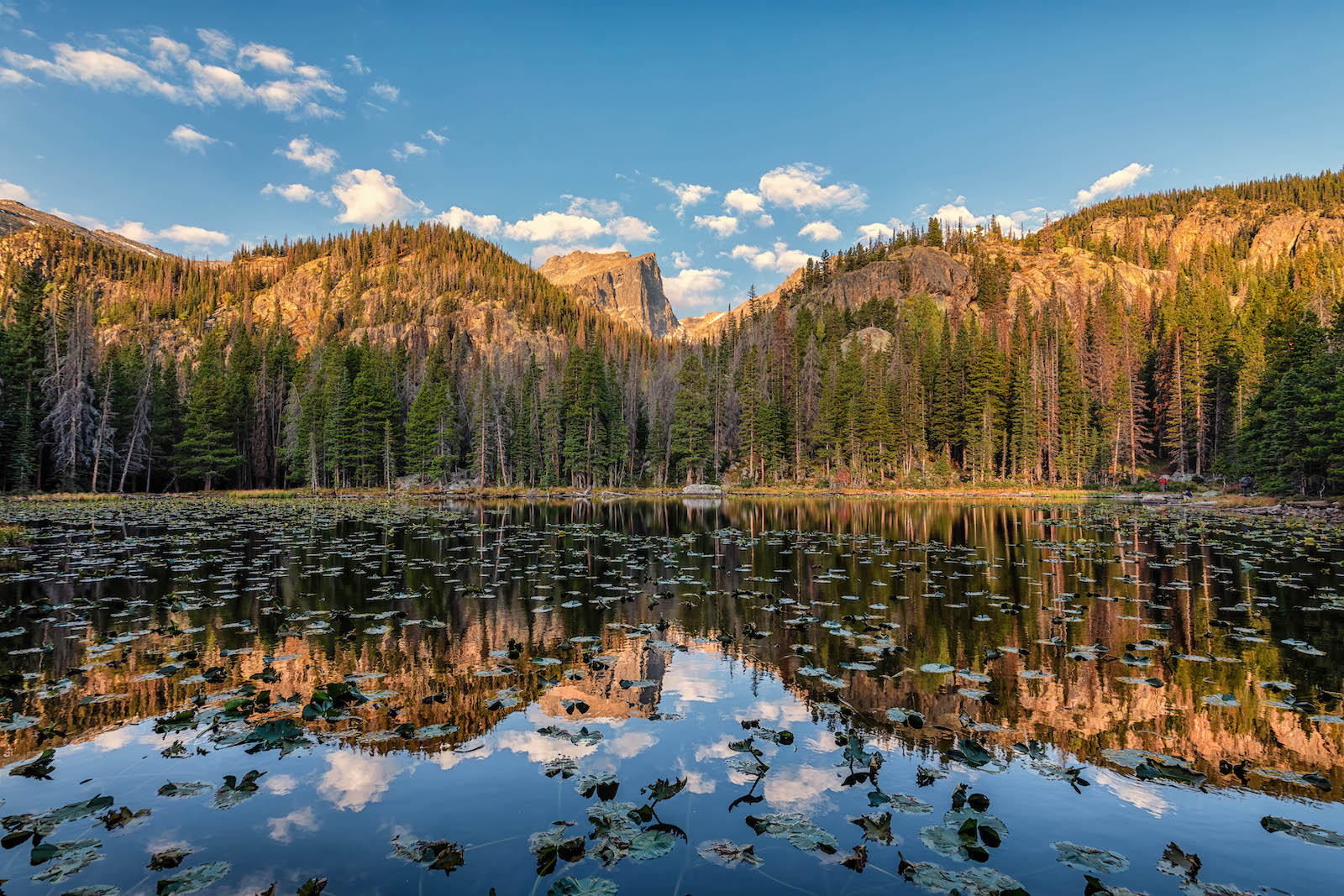 Look no further for the ultimate Colorado experience! The Rocky Mountain National Park offers visitors over 300 miles of trails and more picturesque meadows, meandering rivers, blue lakes, snow-covered peaks, and wildlife than one person could ever hope to savor.
Just a 10-minute drive from downtown Estes Park, this park is one of the most visited and enjoyed in all of America. No matter the season, pack your hiking shoes, mountain bike, or fishing gear and make Rocky Mountain National Park a part of your next Estes Park experience.
Consider hiking to these waterfalls in RMNP nearby Estes Park.
Go shopping!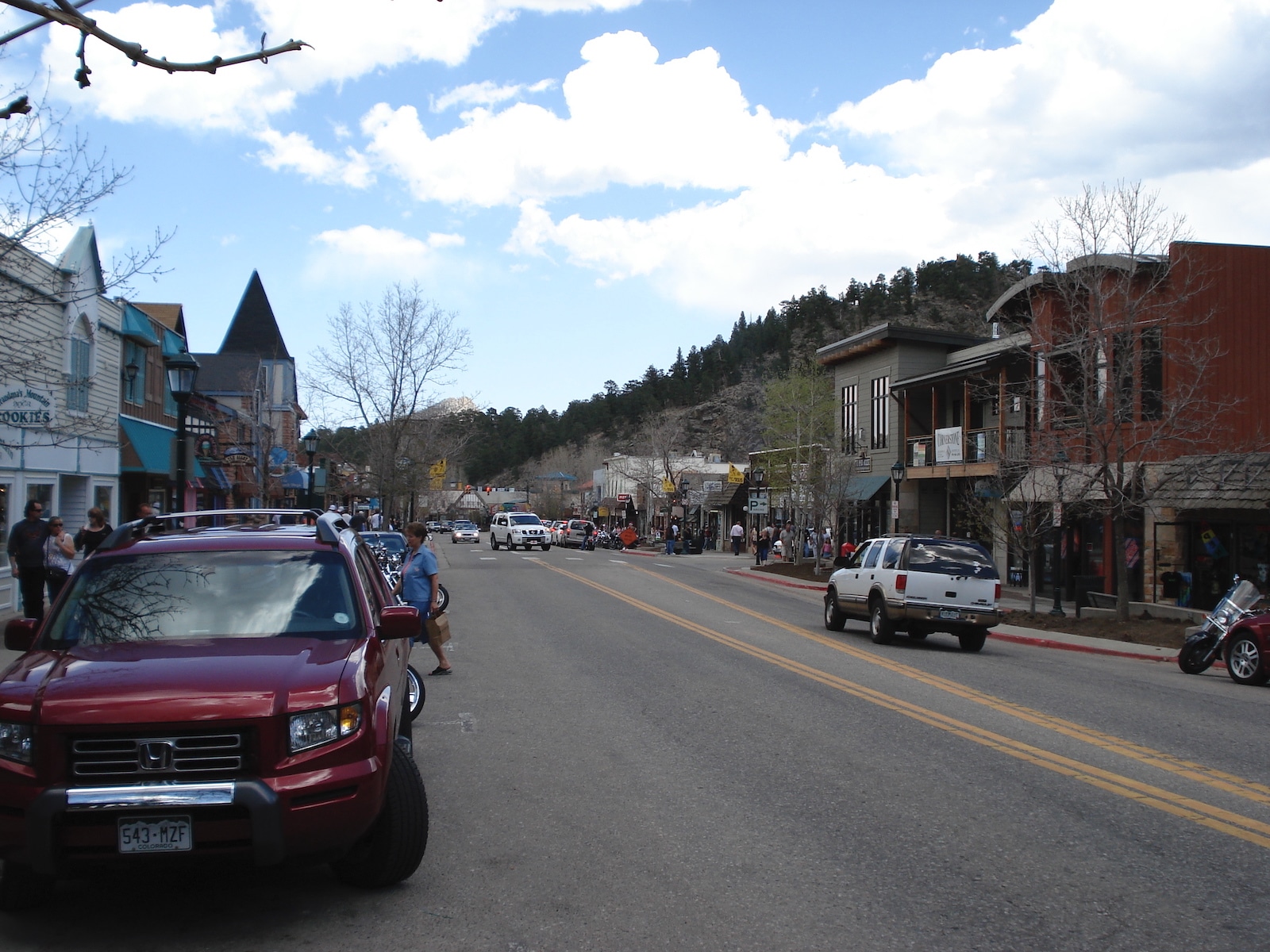 Downtown Estes Park is small but mighty. The old, wild-west style architecture of the buildings creates an atmosphere that screams for tourists to come and take a look. Discover taffy shops and trinket stores, as well as a few great local dive bars where you can refuel for your next hike.
Shopping downtown Estes is a tourist's dream. Beware! Crowds are intense in the summer months, but that just adds to the interest and excitement. In the fall, you will see herds of elk crossing the street. They are treated like locals, so just wave, take lots of photos and keep moving.
Enjoy local brews
The entire state of Colorado is widely known for its amazing microbreweries and Estes Parks no exception. After a day hiking or snowshoeing in Colorado, there is no better place to unwind than at one of the local breweries located inside of town.
Choose from a local favorite or seasonal variety at Estes Park Brewery or Rock Cut Brewing Company. Even grab a growler to-go and enjoy it back in the hotel before the day comes to an end. You will taste the pride of Colorado in every sip.
Eat local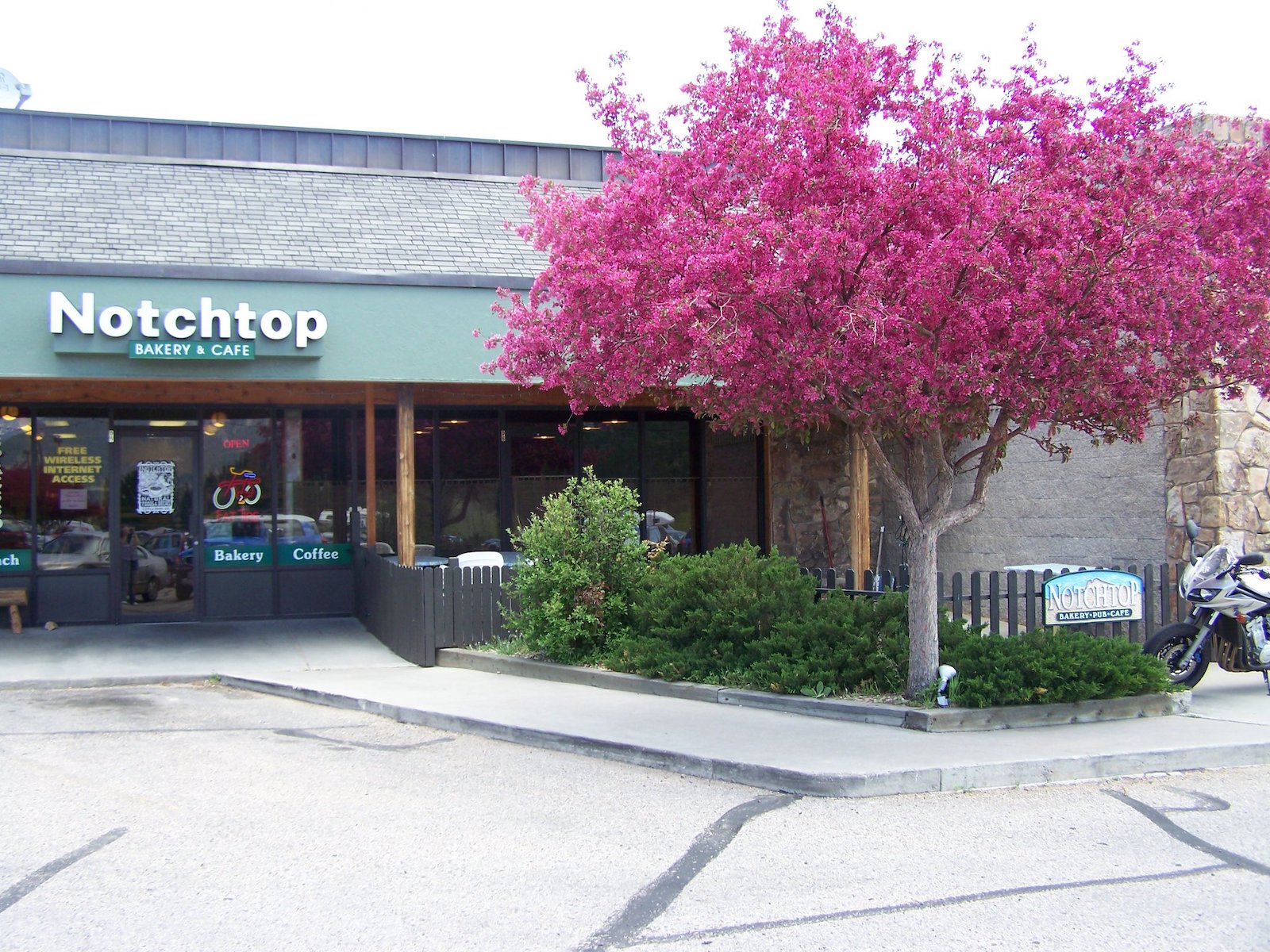 Few towns pride themselves on eating local more than Estes Park. With only a few chain restaurants to be found, Estes is full of local hot spots for every taste. A few local favorites include; Boss Burgers and Gyros, You Need Pie! Diner and Bakery and Notchtop Bakery and Cafe.
Start your day at Notchtop for a full breakfast or brunch menu. Take a hike. Grab an amazing burger or gyro at the drive-thru while on your way to the YMCA of the Rockies and then add a little sweetness to your day with a yummy slice of homemade pie.
Escape to Play
A newer addition to Estes Park is the Estes Park Premier Escape Rooms. Whether you need a team-building activity for your group or you're just celebrating a special occasion with friends and family, escape rooms are fun-filled and challenging experiences no matter the season.
Work together by using your imagination, reasoning skills, and innovation to work your way through a puzzle that depends on solving it to win your way out. With two different rooms to choose from you'll want to come back again as soon as your mission is complete. Estes Park Escape Rooms rivals all the big city escape rooms you have ever experienced.
Watch a movie at Park Theater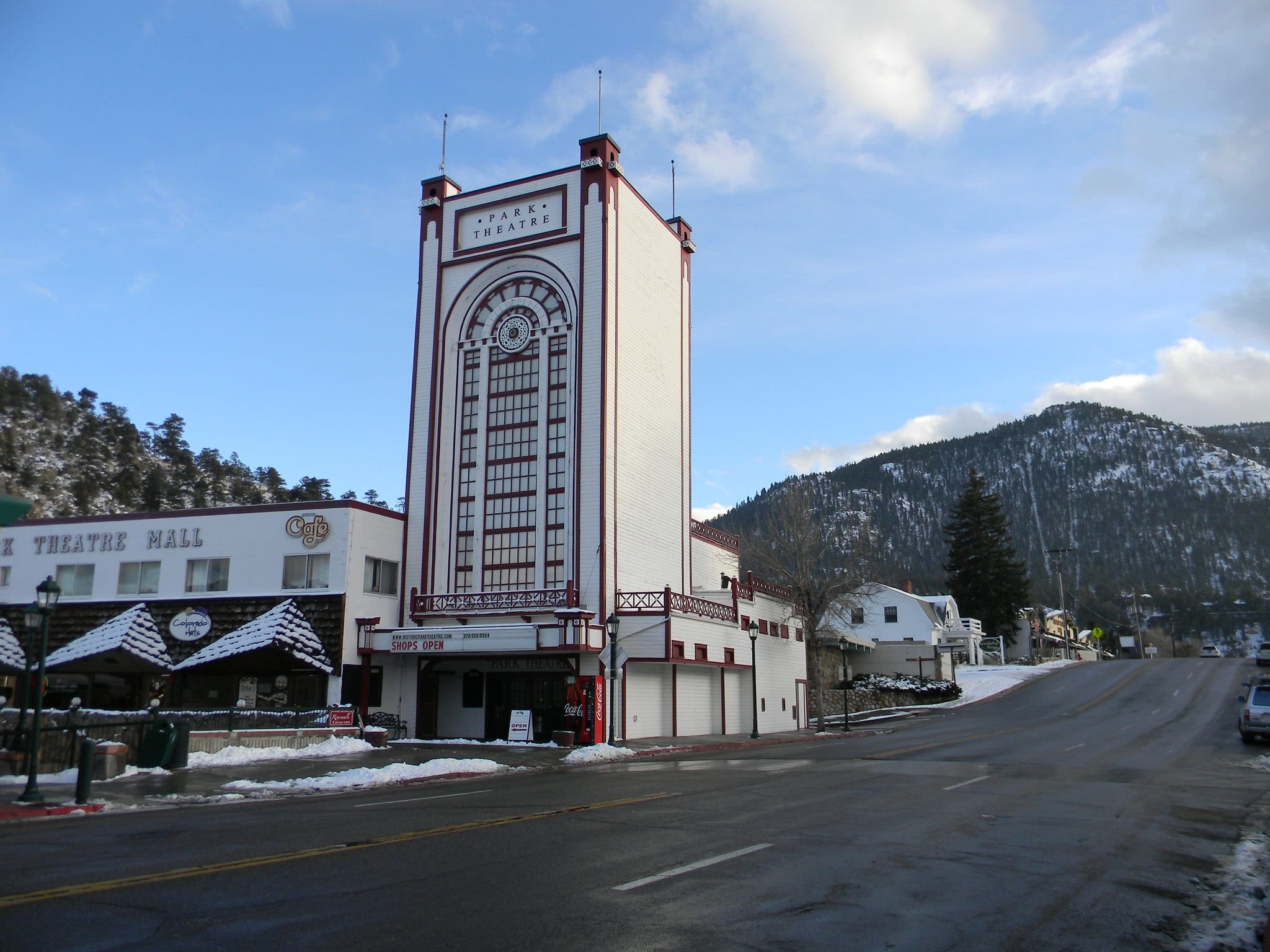 Park Theater is located in the heart of downtown Estes Park. It is the oldest operating motion picture theater in the western portion of the United States and remains an iconic stop for every Estes Park visitor.
Built in 1913, this remarkable vintage theater is listed in the National Register of Historic Places and is a perfect way to spend an evening on the town. The Park theater offers live performances as well as older and first-run cinema.
Fall Activities
From the sounds of the elk bugling to the color change of the golden aspens, you know you've arrived in Estes Park during the fall. What might be the best time to visit, discover these fall activities in Estes Park.
Attend the Estes Park Elk Fest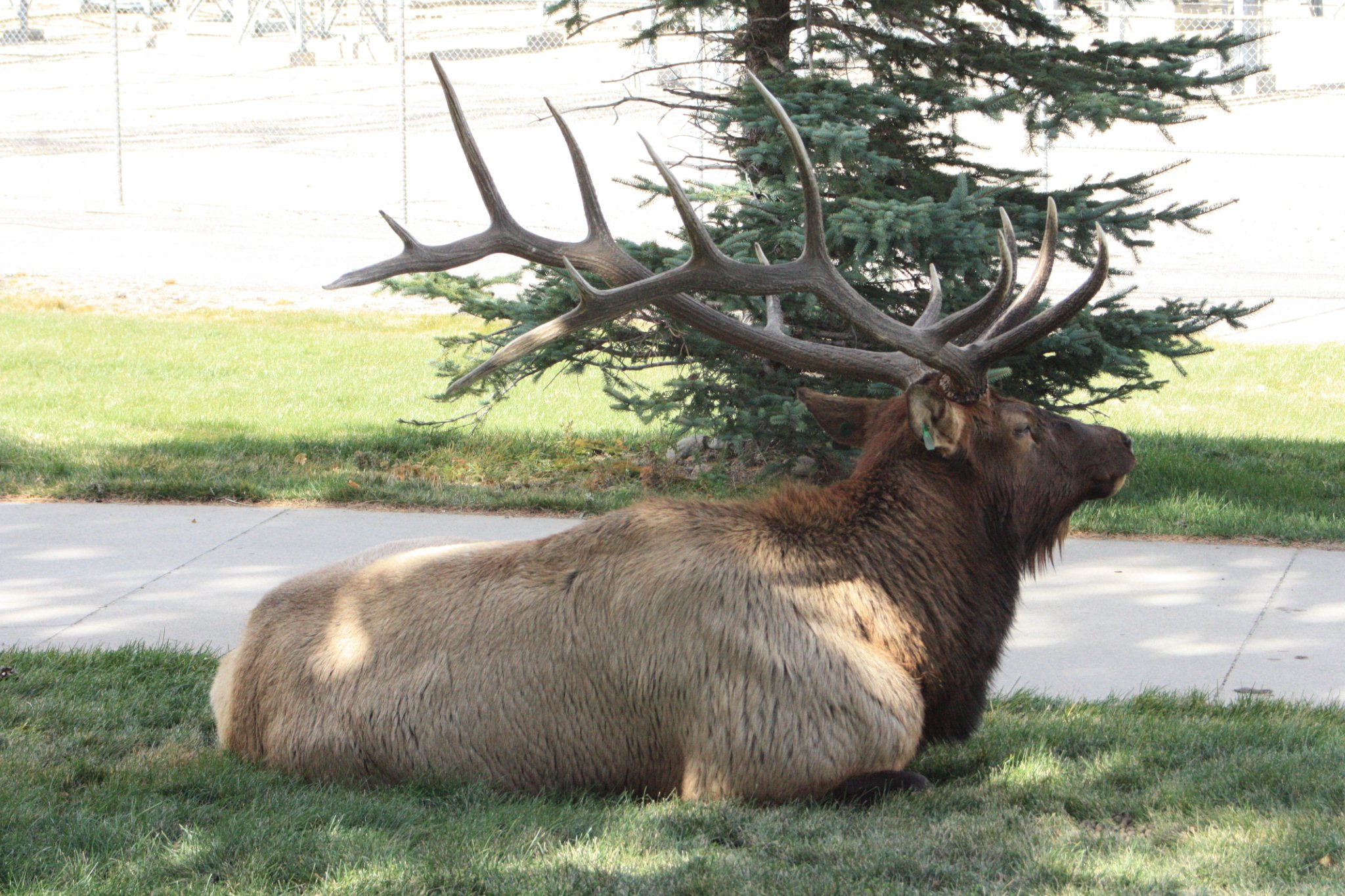 Estes Park is probably best known for its outrageous elk herds. Each fall the elks start bugling and the crowds converge. Elktober (October) marks the beginning of the long-adored elk season as visitors take part in Estes Park Elk Fest. Tourists pour in for live music, food, bugling contests, the beer garden, and most of all, elk viewing.
What is the elk rut? As the male elk gather each year near the Rocky Mountain National Park edges to show off for the ladies, the season gets underway. Herds are everywhere and so are the visitors! Come and see as the elk take over the city! Remember to book your hotel stays well in advance. This is Estes Park's busiest time of year.
Summer Activities
Summer in Estes Park invites every type of visitor. Those looking for a relaxing getaway and those looking for an adventure. Find yours with these summer activities in Estes Park.
Take a walk around Lake Estes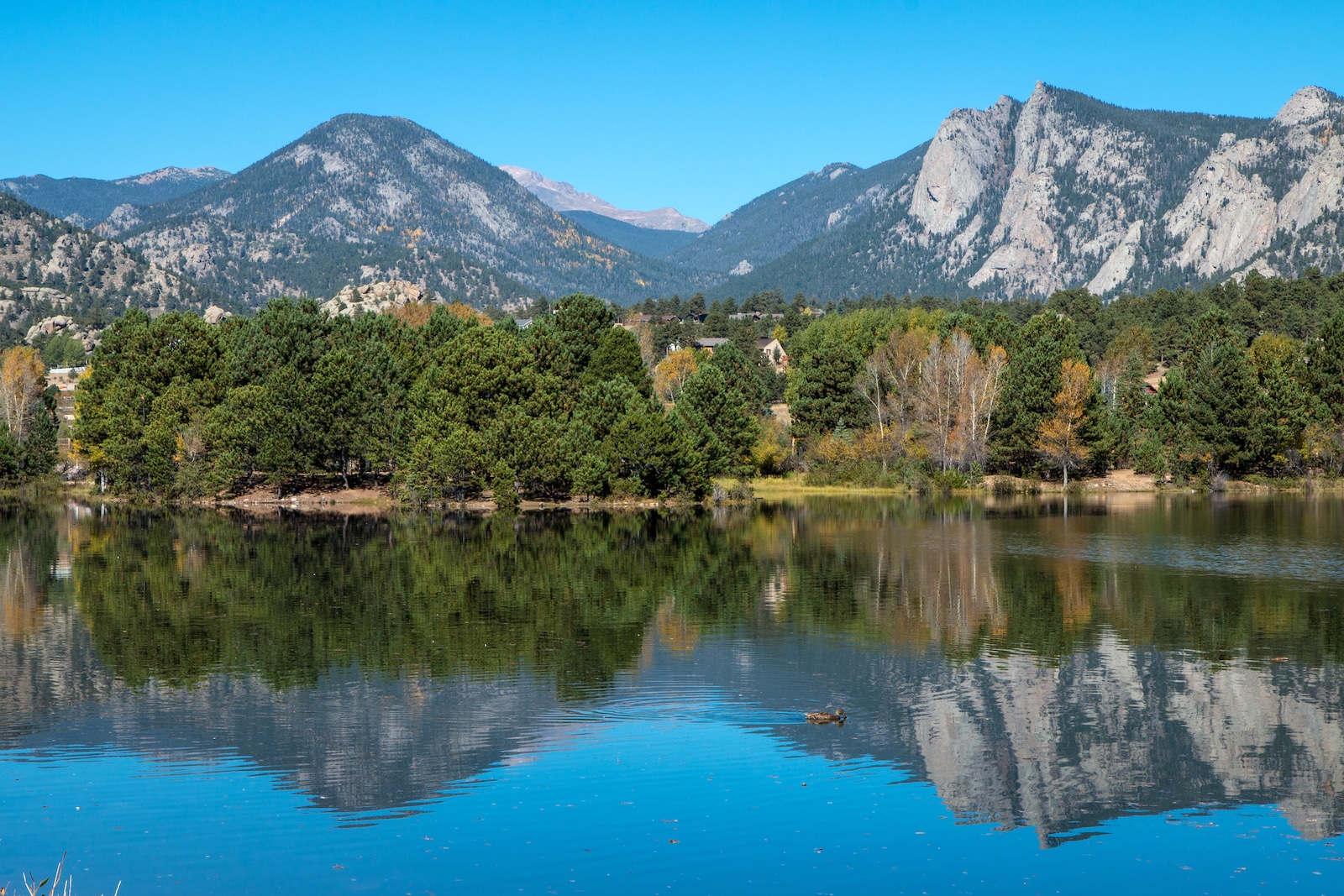 Upon entering Estes Park you will quickly see the grand Lake Estes. No matter the season, it is always a fun experience to park at the Estes Park Visitor's Center and take a stroll along the paved path that surrounds the lake. If you're lucky, the elk will be lingering inside of the golf course that surrounds the lake or maybe even taking a swim.
Lake Estes Marina is the perfect place to spend a lazy, summer day in the Rocky Mountains. The marina offers paddleboat, kayak, canoe, pontoon, and fishing boat rentals for visitors and locals.
Take a drive along Peak to Peak National Scenic Byway
A drive along the Peak to Peak Scenic Byway is the quintessential Colorado experience. This 55-mile stretch of road is the oldest and grandest scenic byway in Colorado. From Estes Park to Central City, you can escape the crowds and explore to your heart's content.
Late September and October offer the most glorious of views of the aspens changing colors. Just load up your car with all the outdoor gear you might need and hit the road. Trailheads abound and the drive will take you through small mountain towns and unbelievable Rocky Mountain scenery.
Estes Park Aerial Tramway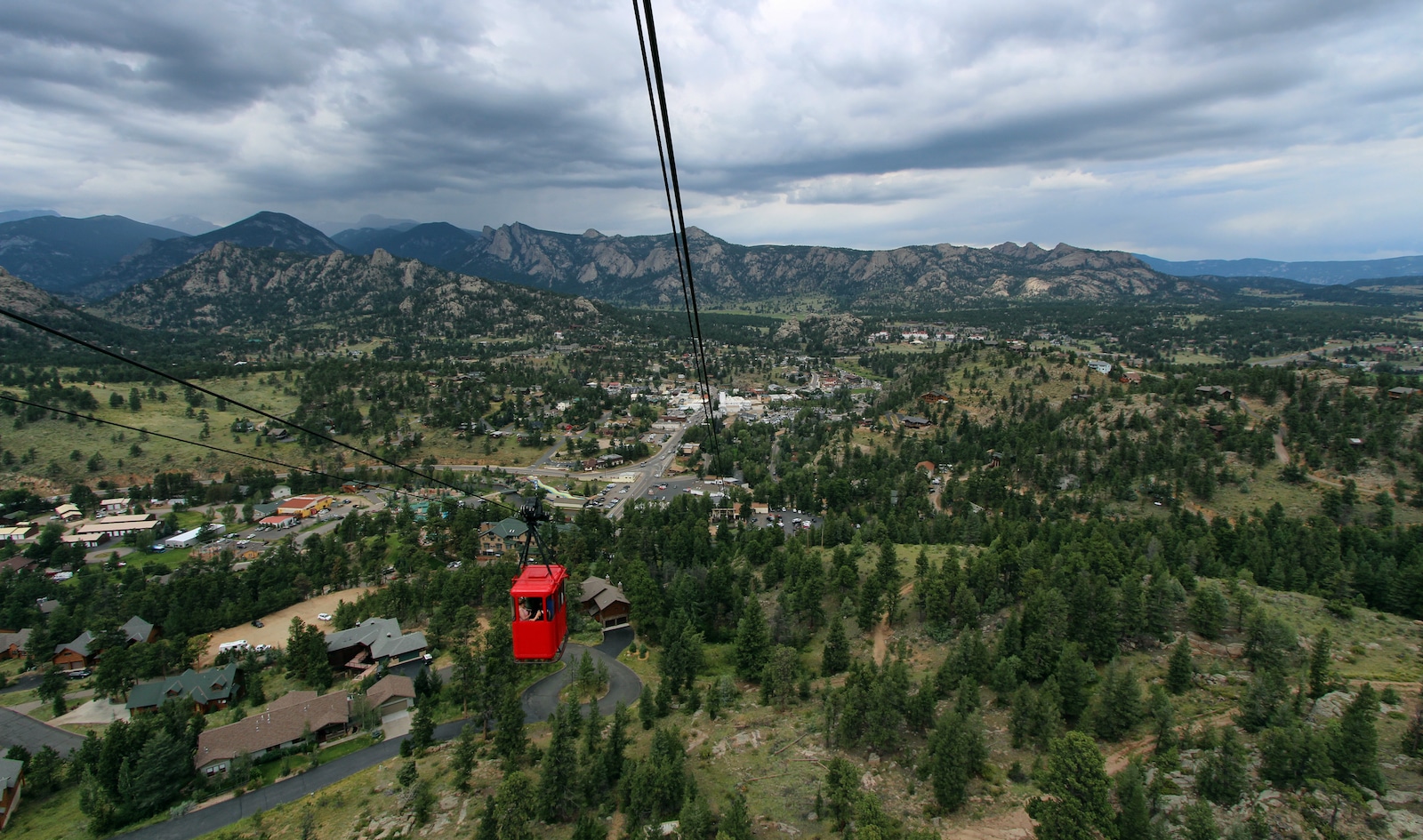 From Memorial Day through Labor Day, the Estes Park tram that takes visitors to the summit of Prospect Mountain runs at full steam capacity. This tramway was modeled after European aerial trams which ascend the entire cable length without supporting towers in between.
No doubt, the best views in Estes Park can be found on a journey along this aerial tramway. There is also a cafe at the top to grab a snack while enjoying the views. Remember that temperatures will drop as you ascend, so even on the hottest of summer days, bring a jacket.
Play a round at Meadow Mini Golf
Meadow Mini-Golf Course has been an Estes Park classic for over 60 years. Located just outside of town, the entire family can enjoy a cool, summer, mountain evening while seeking a hole-in-one. Many family activities can be quite expensive, but not Meadow Mini Golf. They are committed to providing a relaxing and fun family experience at a very fair price. Creating traditions is what they do best.
Open Air Adventure Park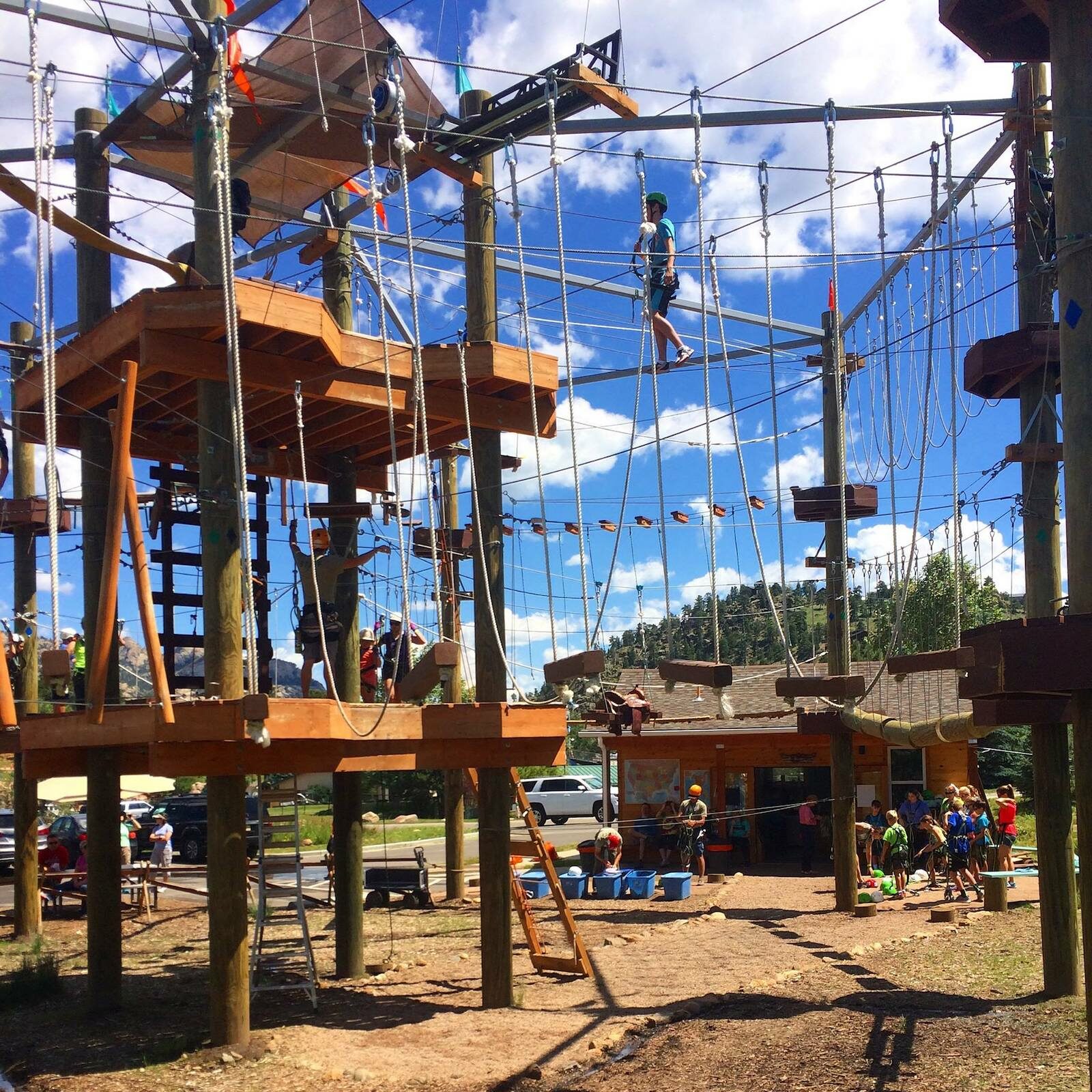 The Open Air Adventure Park is a perfect place for daredevils to spend the afternoon. This 32-element high-ropes course includes aerial tightropes, rope bridges, shifting platforms, and swinging logs. Anyone brave enough can dare to maneuver all of these challenges from 21 feet above the ground on a 90-minute exhilarating experience you won't soon forget.
Winter Activities
From sledding to sleigh rides, find your unique winter activity in Estes Park.
Take a Hidden Valley Sledding Tour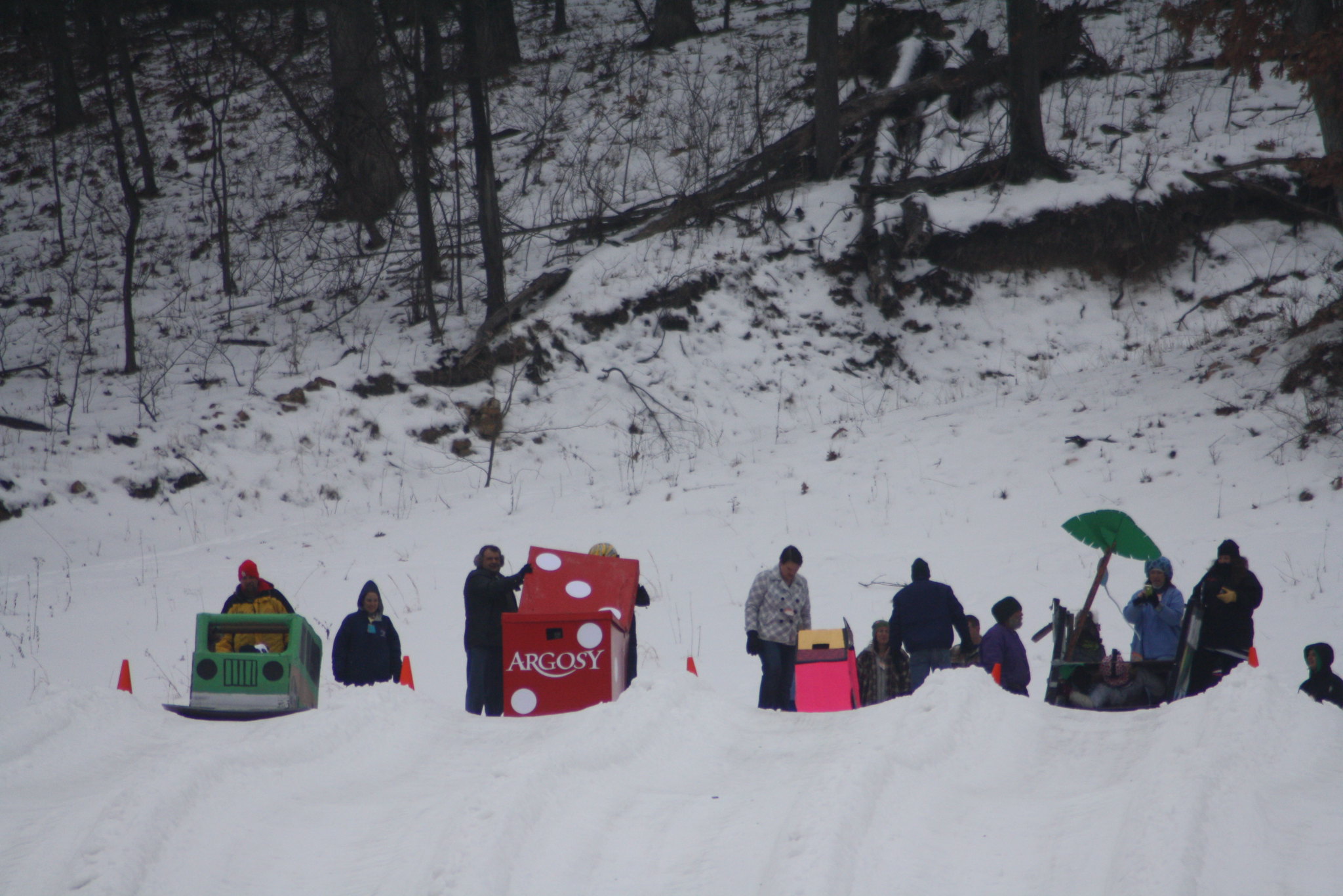 For an unforgettable winter wonderland experience that the whole family will love, take a sledding tour into the Rocky Mountain National Park with Hidden Valley Sledding. They make the adventure easy by providing sleds and everything you need. You just have to show up at the Estes Park Visitor Center, located in the center of town, and jump on the bus that will take you directly to the best sledding hills around.
Enjoy a sleigh ride
The Dao House Retreat Center, located just 7 miles from downtown Estes Park, offers sleigh rides, as well as rustic overnight accommodations. From campfire rides for the whole family to romantic rides just for you and your best friend, this center provides sleigh ride experiences in the Colorado mountains that you will always remember.
Whatever your pleasure, Estes Park has something just for you. If the mountains are calling your name, it's no doubt that Estes should be on the top of your list. The elk are waiting to say "hello," while you discover your mountain getaway with these things to do in Estes Park.