Copper Mountain is the largest resort in Summit County, and as such, there is plenty to do! With activities going on year-round, there is never an off-season.
Whether you want to take advantage of the mountain's diverse terrain for skiing and snowboarding, the numerous hiking and mountain biking paths, or the active nightlife and local community, discover these things to do in Copper Mountain for a great vacation destination.
Year-round activities
No matter what time of year you visit, Copper Mountain has something for everyone. With fun-filled activities for the kids and relaxation for adults, these year-round activities in Copper Mountain will keep everyone happy while on vacation.
Woodward Copper Barn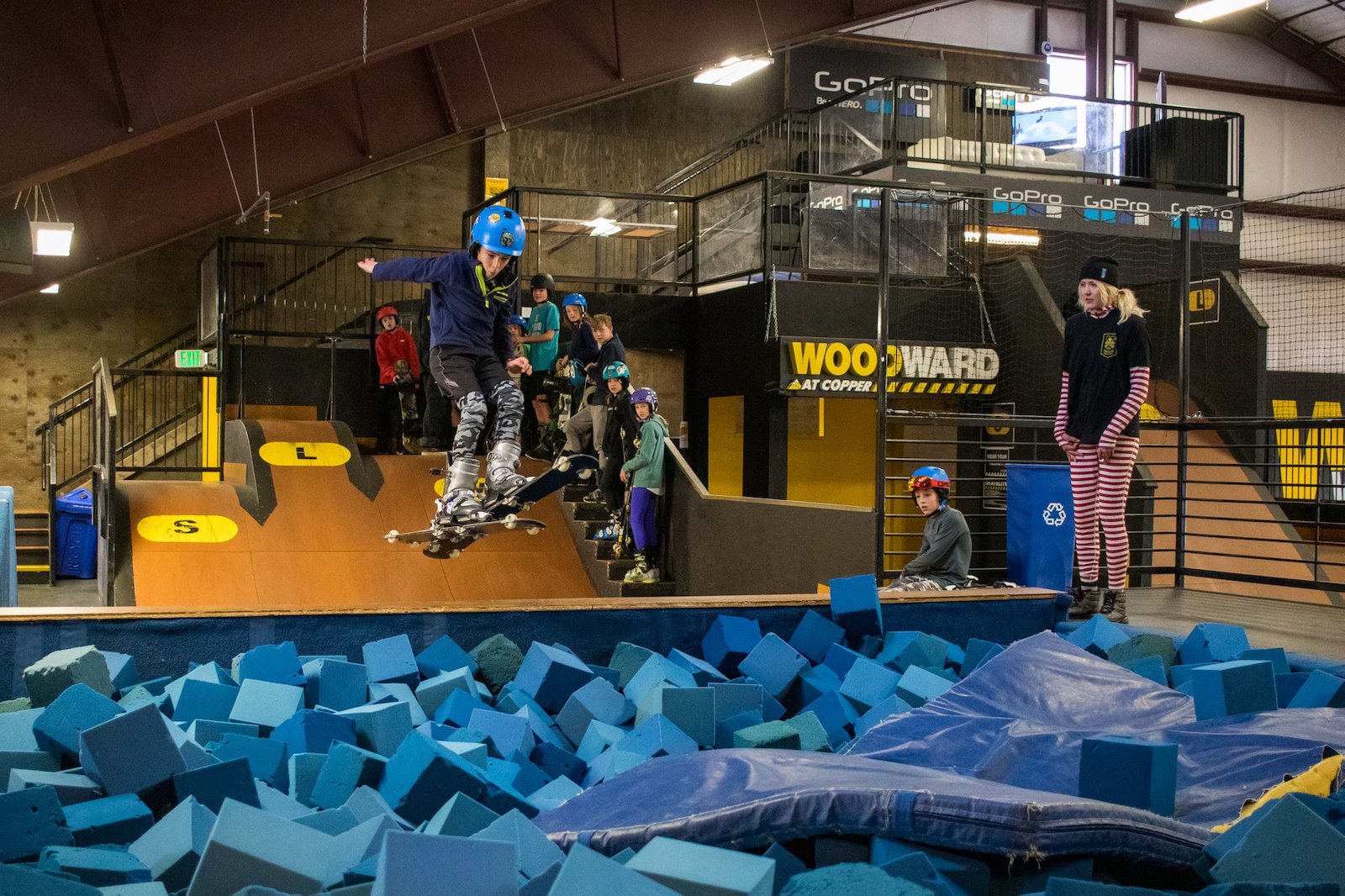 This fantastic spot is perfect for anyone interested in action sports. Inside a 19,500 square-foot indoor facility, there are skateparks, foam pit jumps, Olympic-size trampolines, and indoor ski and snowboard training.
Woodward Copper Barn has many programs that are aimed at improving skill levels and having fun. Skiers, snowboarders, BMX and mountain bikers, skateboarders, and cheer and tumble athletes will consider this the ultimate playground.
Inside this fully heated barn are:
Two mini-ramps
A full-size skateboard bowl
Large street Course
Pump track zone
Spring floor
Tumble track
5 Olympic-grade fly bed trampolines
12'x12' trampoline
An intro session is required for all first-time visitors. Ages 7+ are all welcome, and it is recommended to pre-book your visit 48 hours in advance.
Copper Mountain Athletic Club and Spa
This is the place to go if you want to feel pampered! At the Copper Mountain Spa, you can choose between a variety of massage modalities and facial packages. Swedish, deep tissue, and sports massage are the most popular.
Within the Athletic Club, you will find cardio and weight rooms, a one-lane lap pool, and racquetball and basketball courts. You can sign up for one-on-one training sessions or hop from activity to activity on your own.
Summer activities
Copper Mountain has a lot going on in the summertime and with the average temperature hitting a cool 70° during the summer, there's no worry about melting under the sun. Discover these fun summer activities in Copper Mountain!
Copper Creek Golf Course
The Copper Creek golf course is a fun and challenging afternoon for players of all skill levels. With picturesque views of the Ten Mile range, this high-altitude 18-hole course has quite a few notable features, such as the 14th green, which has the prestige of being the highest tee box at 9,800 feet.
Once you're finished up for the day, JJ's Tavern has an extensive menu full of delicious food. Cooking up their famous BBQ and wood-fire pizzas, they also have many draft beers and craft cocktails.
Ride the Scenic Chair Lifts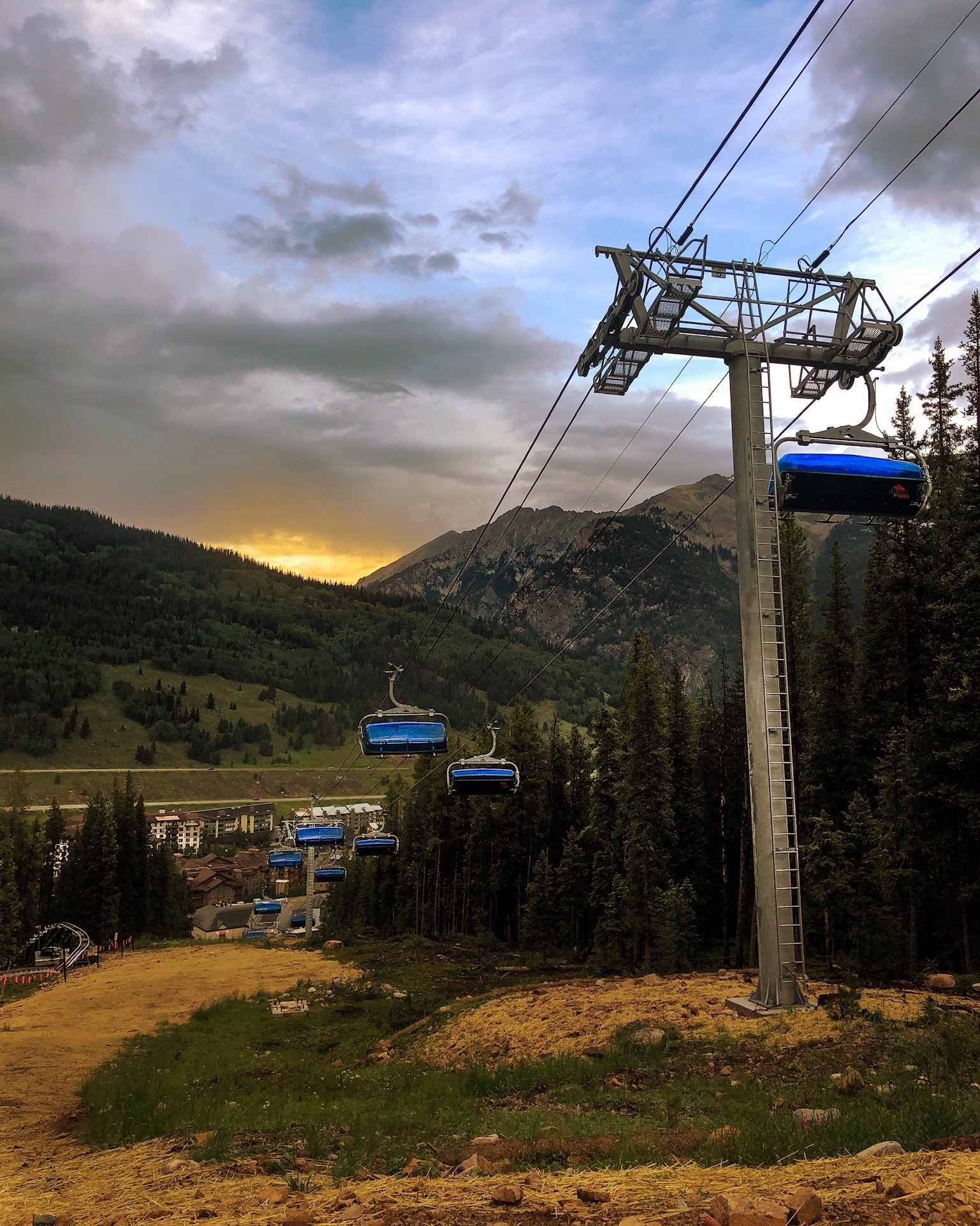 For those who want an aerial view of the beautiful mountain, Copper Mountain Resort offers scenic chairlift rides. There are two options to choose from, the Woodward Express and the American Eagle. Both lifts take you above the tree line, and you'll have fantastic views as far as the eye can see. Once you reach the top, you can ride back or take the long way, and hike down to West Village.
Rocky Mountain Coaster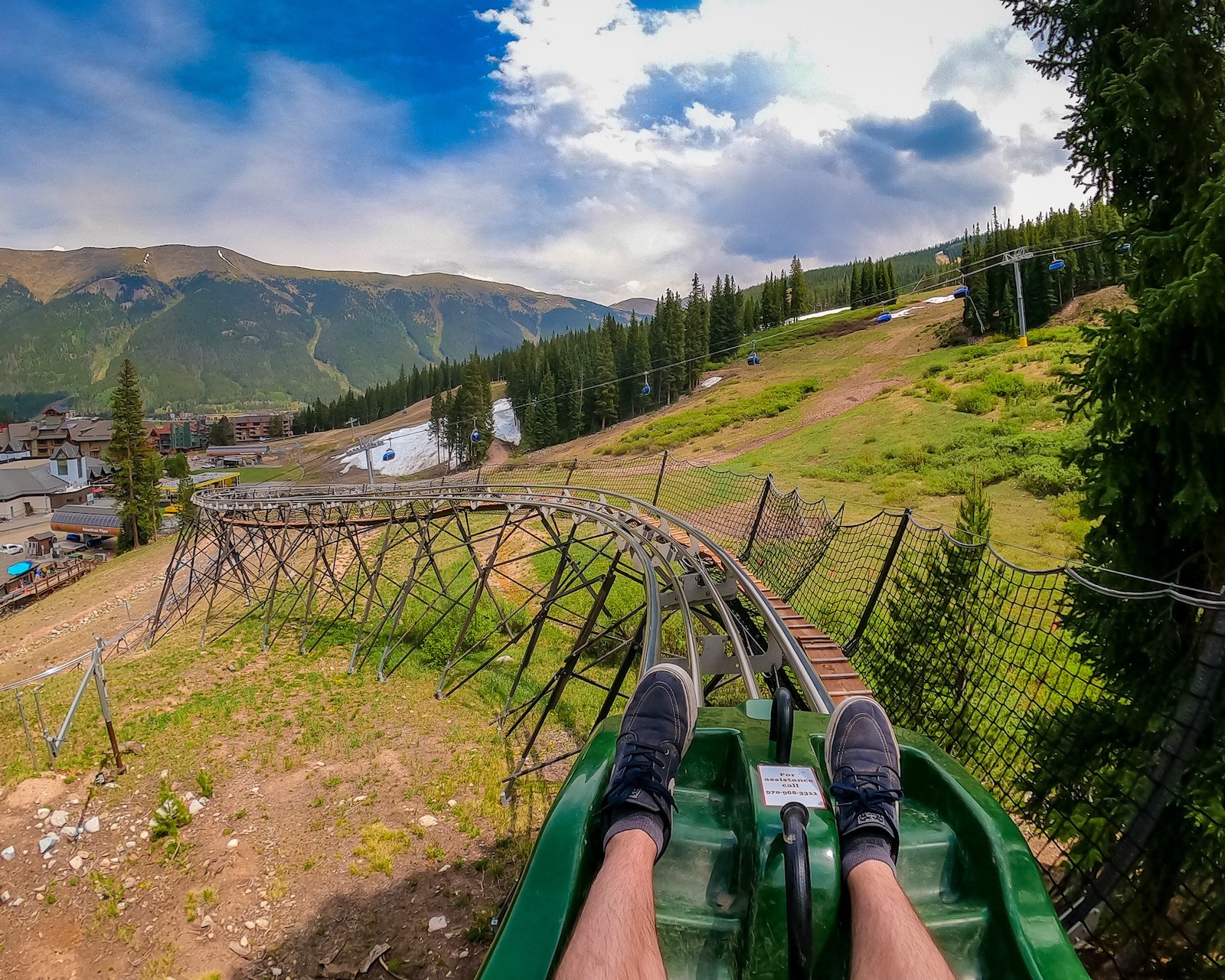 This alpine coaster runs on over 5,800 feet of track, taking you through the dense forest on a memorable adventure. As one of the longest coasters in North America, the Rocky Mountain Coaster can also travel up to 25 miles per hour, a speed that is controlled by the individual riders.
What makes this unique is that it is built into the natural pitch of the mountain, and since every rider is in their own cart, no two coasters will be the same. From your spot on the track, you will be able to take in the natural beauty of Copper Mountain and see the American Flyer lift.
Outdoor climbing wall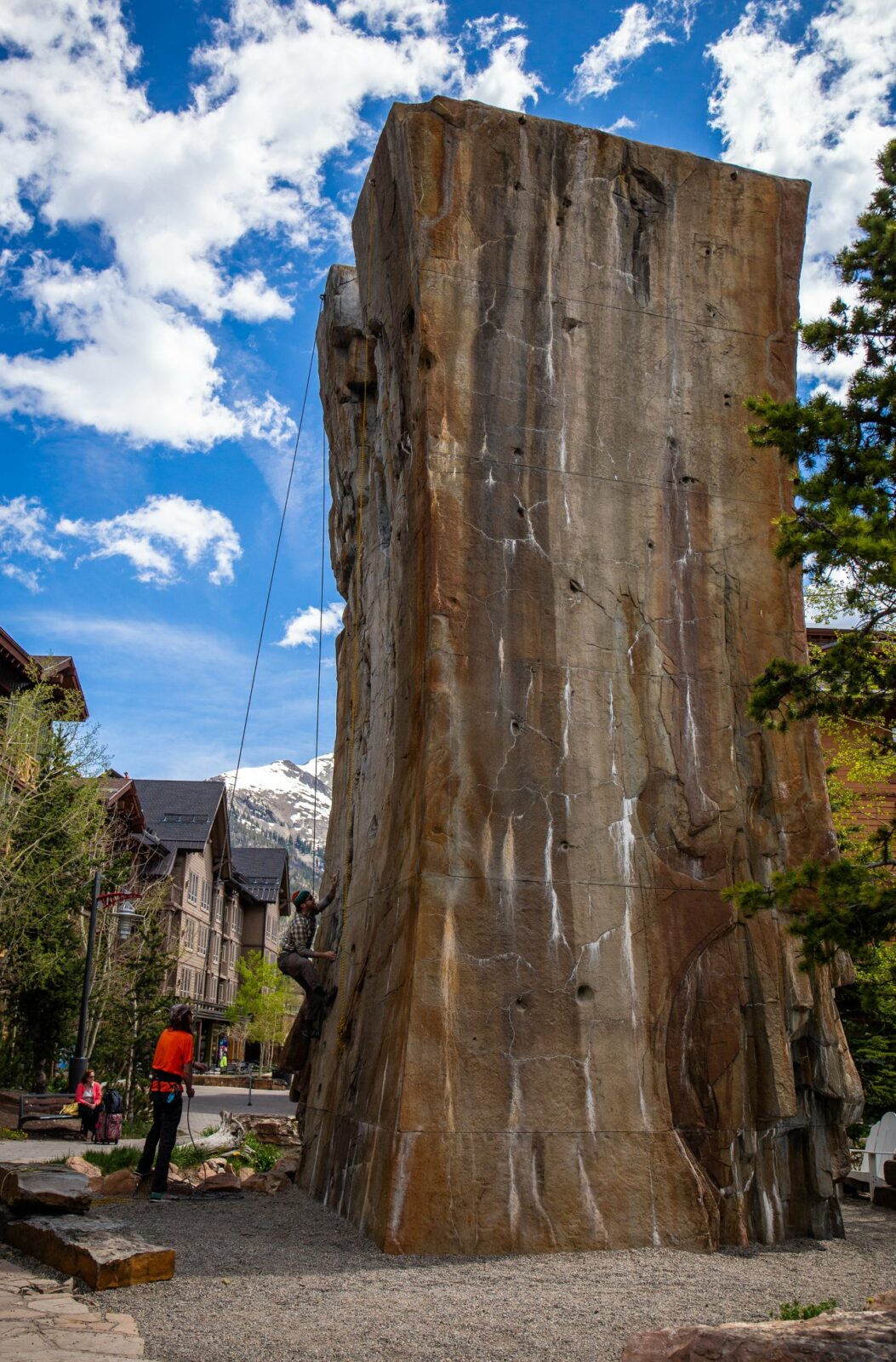 The Copper Mountain outdoor climbing wall is the largest in Colorado and can be found in Center Village, by West Lake. There are trained staff on-site to help with equipment and ropes, and each ticket is for one climb. The wall is 35 feet tall and has a 360-degree climbing radius. Great for kids and the more experienced, there are many routes to challenge you on your way to the top.
West Lake bumper boats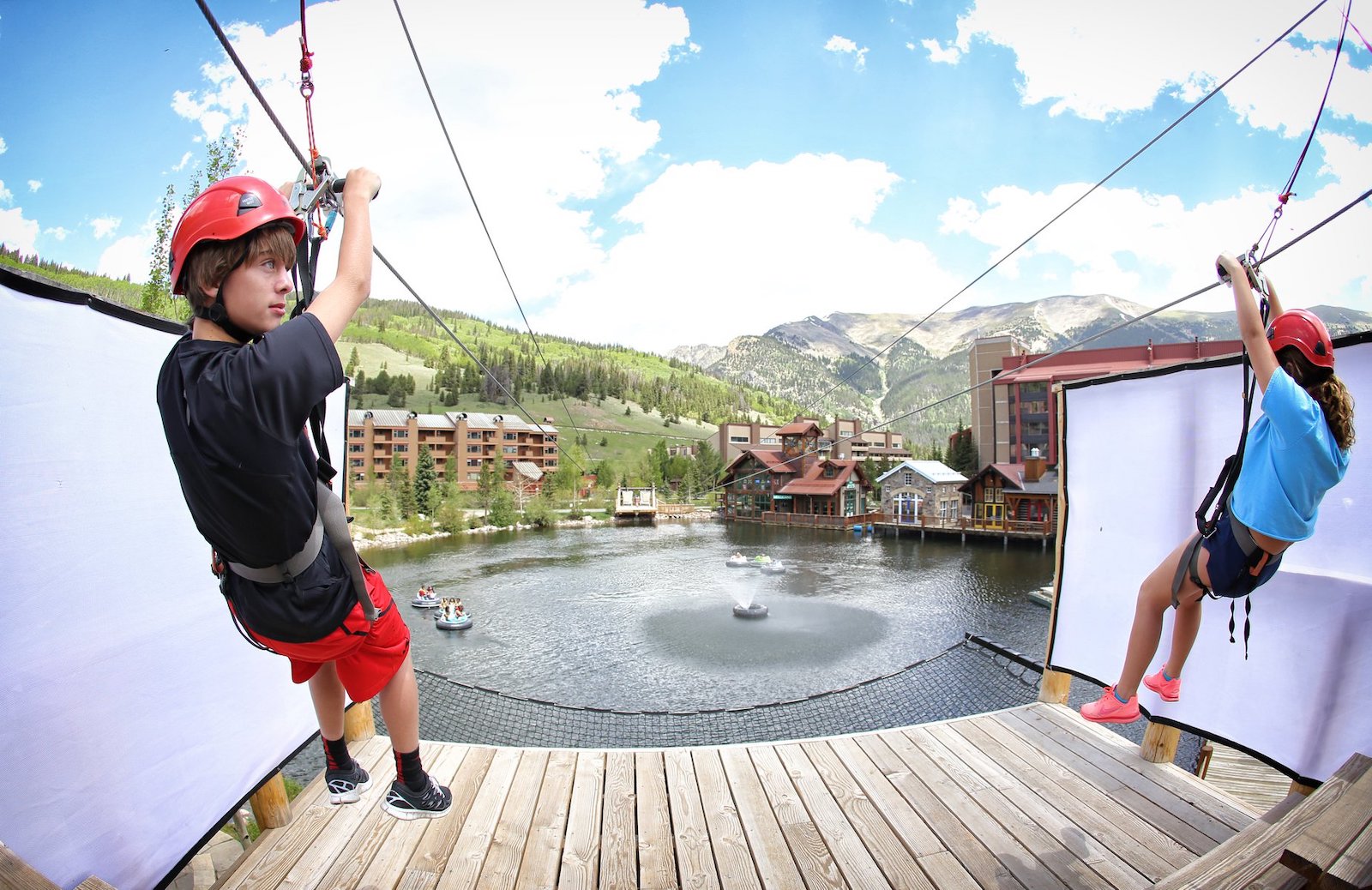 This large lake is a popular destination for both summer and winter activities. In the summer, you can find visitors skimming around on hydro-bikes and bumper boats. The bumper boats can be rented for kids and adults, and each one has a built-in squirt gun! Overhead you will see zipliners fly by, and there is a beautiful floating water fountain to race around.
Hiking trails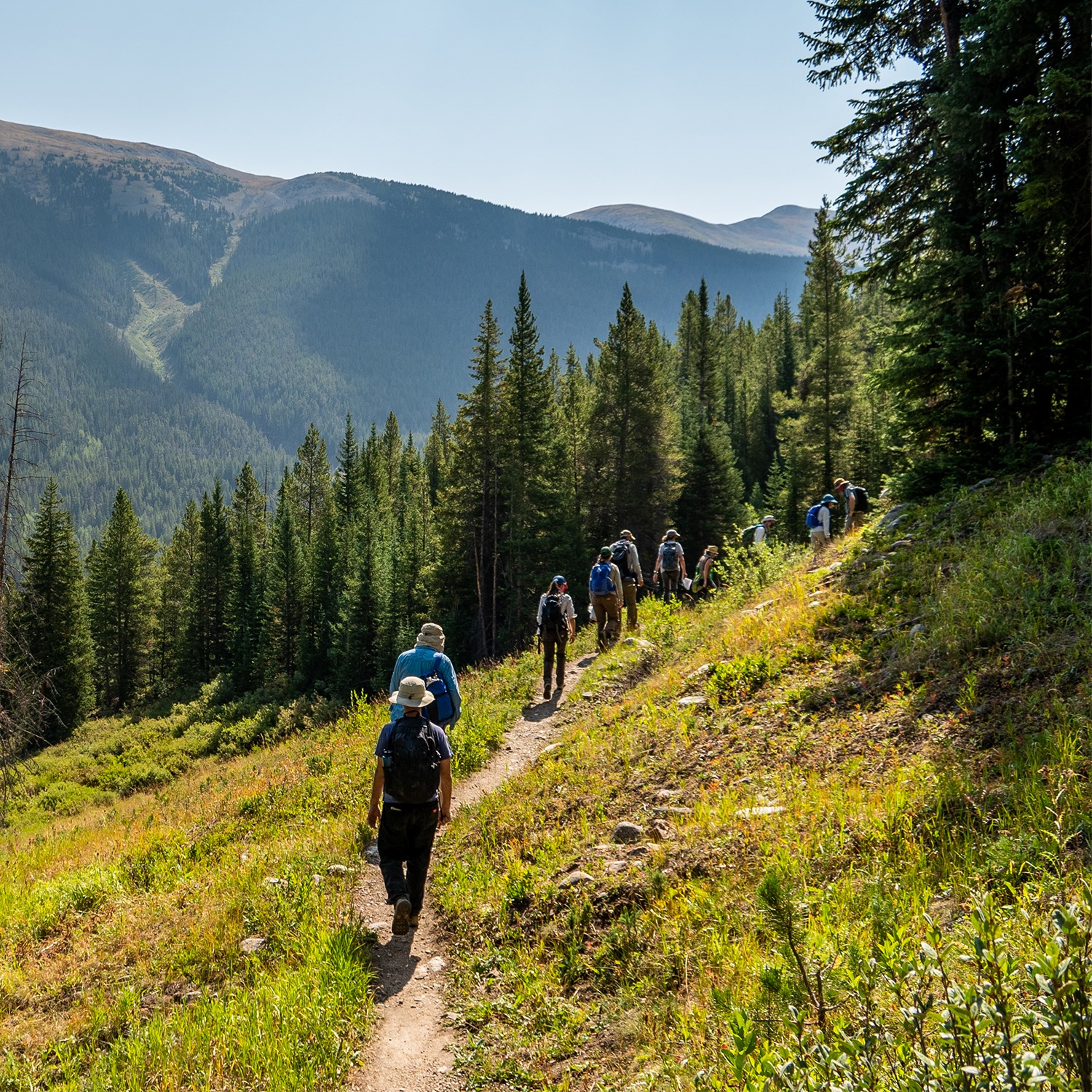 Known for all its winter activities, Copper Mountain also welcomes visitors in the summer to explore its beautiful forests on their maintained hiking paths. There are trails for all ages and abilities, so pack a lunch, grab your dog, and head for the hills!
The Hallelujah Nature Trail is a great starting point. This 2.3-mile hike has an elevation gain of 1,350 feet, and along the way, there are plenty of spots for photos of the majestic mountains and beautiful forests.
The Wilder Gulch Trail is a well-maintained 7.3 mile out and back hike that runs downhill from Vail Pass. The views are amazing, and you will pass large wildflower fields and small water crossings. As an easy hike, many visitors find the energy to continue to the weather station, which has spectacular 360° views.
The Wheeler Lakes Trails offer a moderate hike that passes several small lakes. If you like to fish, they are filled with rainbow trout! The path takes you past beautiful aspen groves and pine forests, flower-filled meadows, and snow-topped mountains. A great half-day hiking option.
Winter activities
Copper Mountain is best known for its ski resort and its family-friendly atmosphere. In addition to their ski runs, travelers will also find other winter activities in Copper Mountain to keep them busy!
Ski Copper Mountain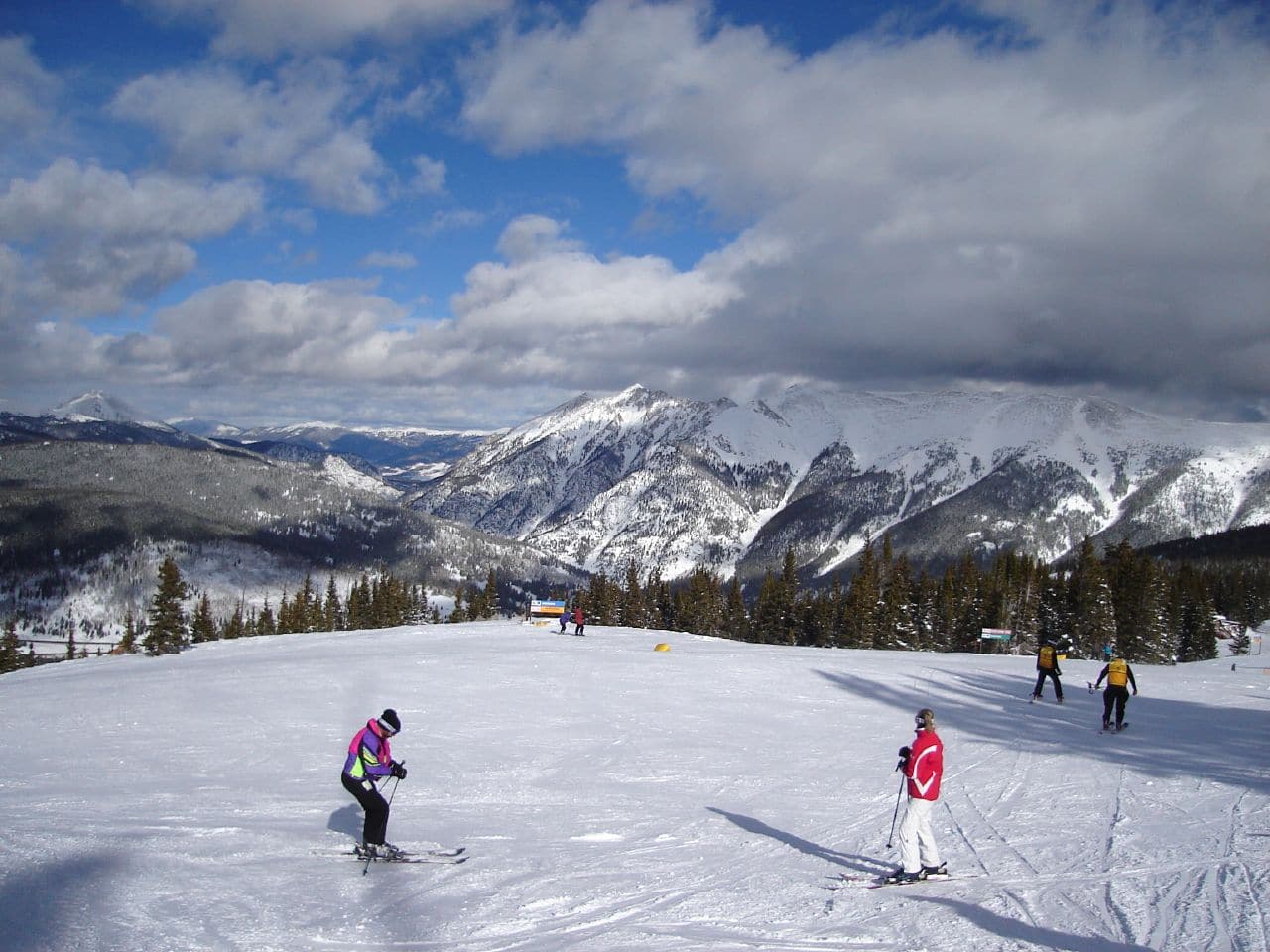 The biggest attraction to Copper Mountain is the world-class skiing. As one of the least crowded resorts in Summit County, it is also covered in diverse terrain. The mountain features steeps, bumps, cliffs, chutes, and tree-lined areas. With beginner sections and freestyle parks, there is a place on the mountain for visitors of all skill levels and styles.
In total, there are 126 runs to choose from! As one of the few ski areas in Summit County that offers 360-degree skiing, you have three peaks to choose from; Union Peak, Tucker Mountain, and Copper Mountain. Featuring plenty of expert and off-piste, above-treeline skiing options, you will also find a good mix between gentle, rolling terrain and steep, fast runs.
Liftlines move very fast, as Copper Mountain has high-speed, high-capacity lifts that take riders zooming to the top. The Super Bee is a 6-person lift in the East Village, the American Eagle lift is a combo of 6-person and 8-person gondola cabins, and the Excelerator lift is a 4-person chair lift.
Copper Mountain Tubing Hill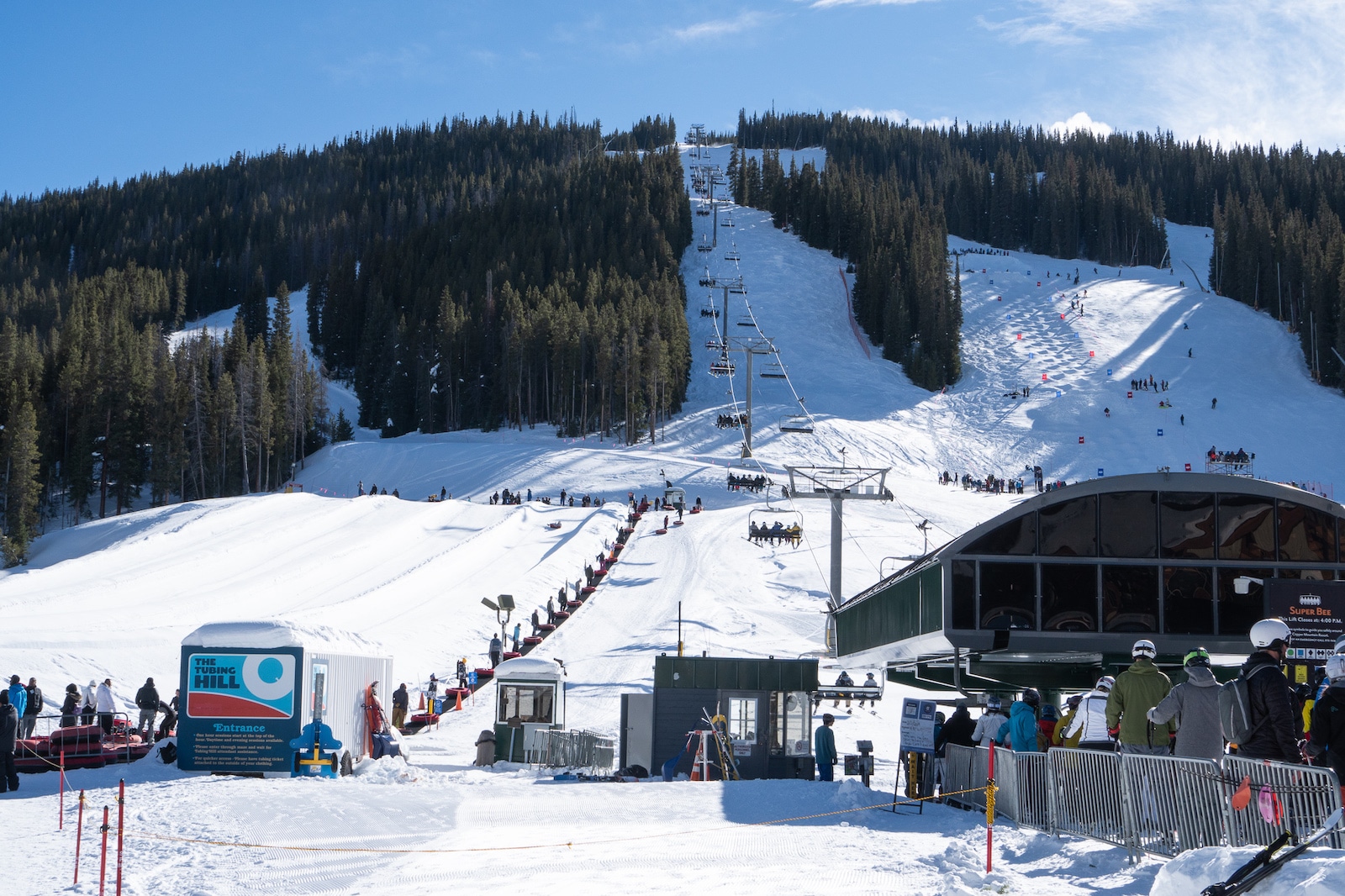 The Copper Mountain Tubing Hill is a great way to introduce children to the art of sliding down a snowy mountain. Fun for all ages, the tubing hill can be found in the East Village, and no equipment is required.
There are four lanes, each with a different slope and difficulty rating, and to get back up to the top, you take the magic-carpet lift system. Tubing sessions last 1 hour and often sells out, so booking in advance is recommended.
Ice Skating at West Lake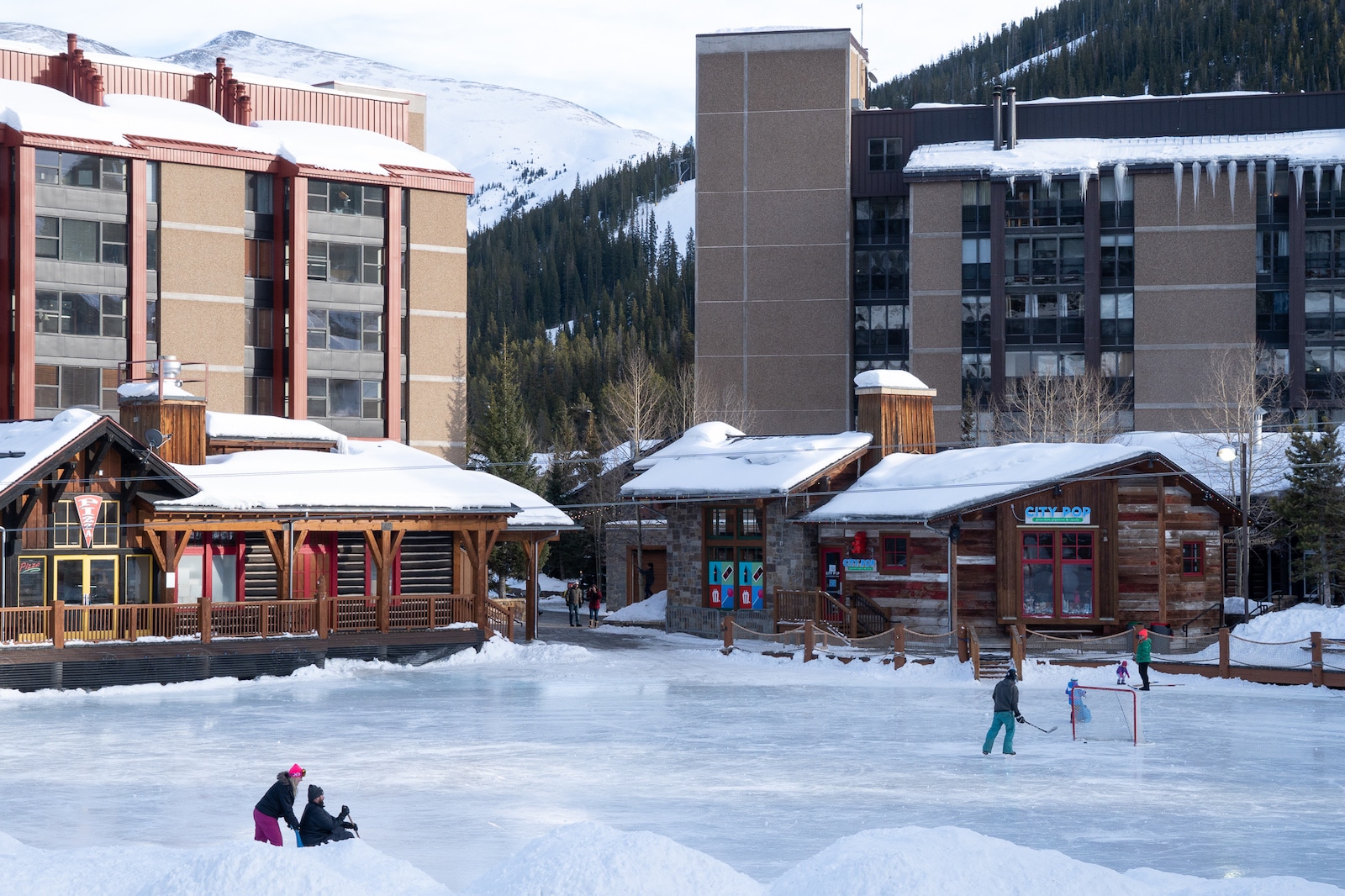 The Copper Mountain West Lake ice skating rink is located in Center Village and surrounded by restaurants, stores, and lodging. With plenty of room for ice skating, ice hockey, and broomball, there is also a firepit beside the rink for warming up in between games. Hockey nets and broomball equipment are available for free at the lake, and ice skates can be rented at City Pop.
Uphill Ski Tours
The Uphill Ski Tour is for intermediate skiers looking to learn the art of "skinning" (skiing up a hill or on a level surface). The modern version of uphill skis features a one-way carpet-like plush that allows for traction in one direction. This helps backcountry skiers to create a trail in deep snow and to climb steep slopes.
This tour starts in Center Village, and all participants will be given uphill touring skis or splitboards to try out. Then, as a group, you will move over to West Village and then into the forest along skin track (a man-made channel set deep in the snow).
Along the way, your tour guide will give you advice on using the equipment, uphill techniques, and information about Copper Mountain. This tour ends at Koko's in West Village, which has delicious drinks!
Snow Slide (children's ice slide)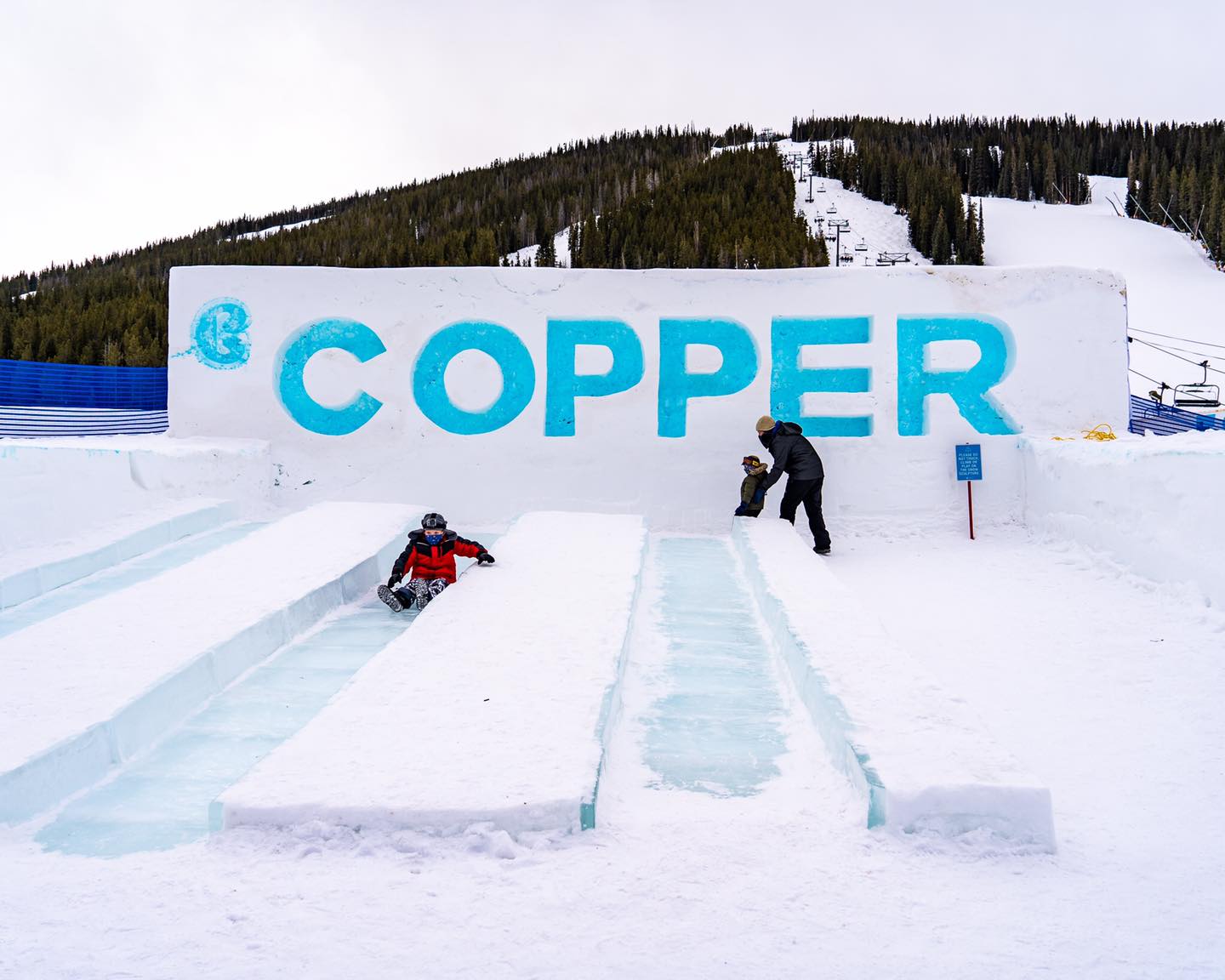 The Copper Mountain Snow Slide is a free, small ice slide designed for young kids between the ages of 3 and 8. Here, they can sit on smooth ice paths and go for an exciting ride, with short walls of snow on both sides.
Fat bike rentals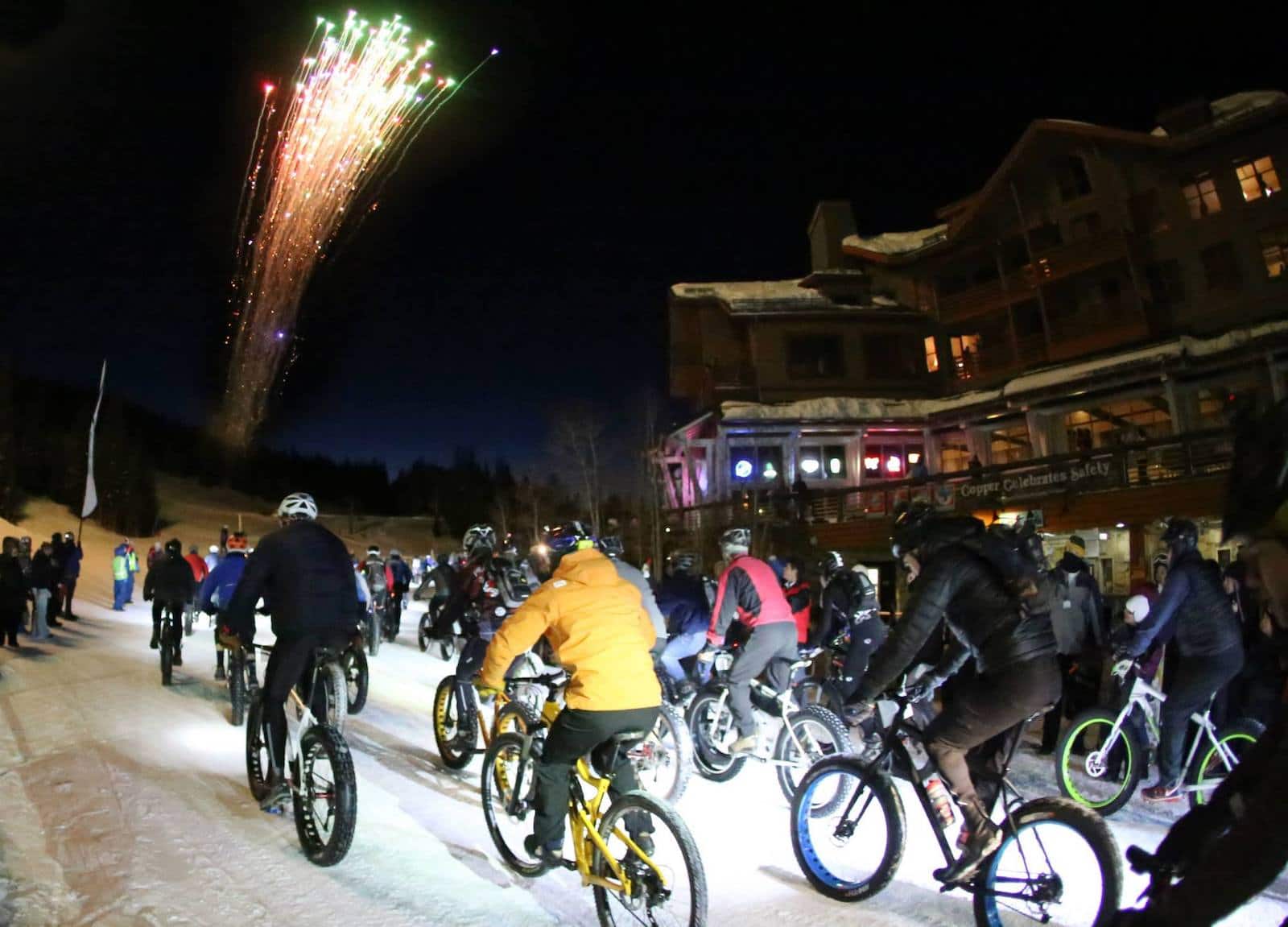 In Colorado, fat biking has quickly become a winter-sport favorite and Copper Mountain is no exception. Fat bikes are bicycles with massive tires that make gliding through snow feel no different than being on the road. At nearly 4" wide, these tires cover more surface area and are easy to ride. Fat Bikes can be rented at Rebel Sports and are a great way to engage in mountain biking during the winter season.
As you can see, no matter what the season, there are plenty of things to do in Copper Mountain for the entire family.