Known as the gateway to the San Juan Mountains, Ridgway is a somewhat hidden gem in Colorado that charms its visitors with the quintessential Colorado experience. Rediscover the spirit of the Old West and visit historic landmarks and museums.
Stay active with hiking, biking, and nordic skiing trails nearby. Soak in natural hot springs and explore the town's numerous art galleries. Uncover all this and more with these things to do in Ridgway.
Year-round activities
Ridgway is home to many activities that can be enjoyed in any season, both indoors and outdoors. From one-of-a-kind museums and art galleries to soaking in a natural hot spring, there is no shortage of year-round activities in Ridgway.
Ridgway Railroad Museum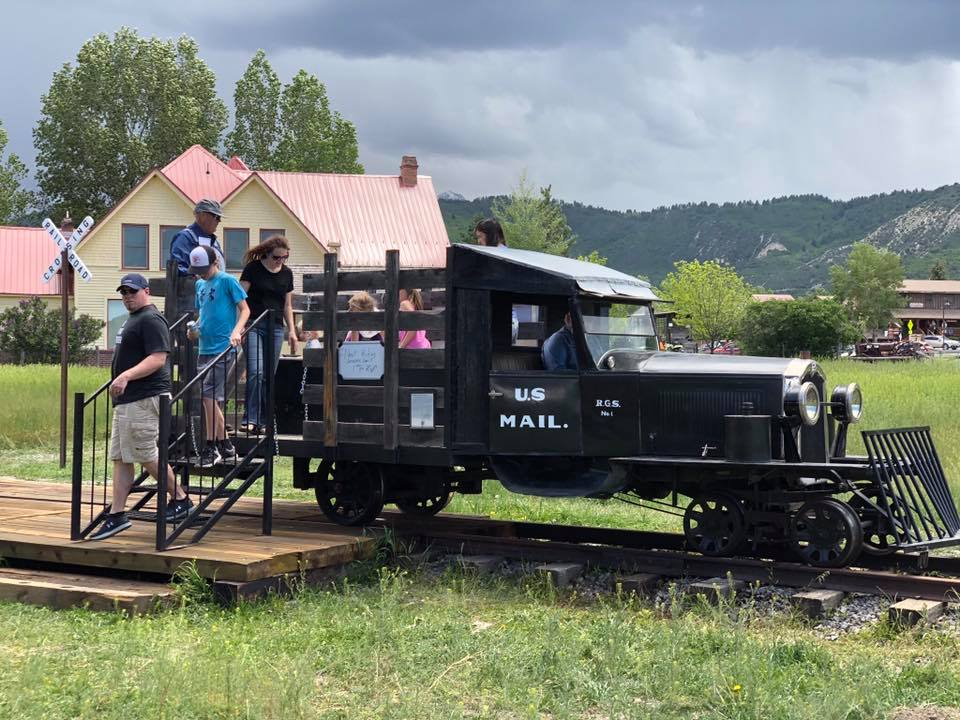 Featuring a large collection of railroad artifacts including ten antique train engines, cars, and cabooses, the Ridgway Railroad Museum is a great stop for history buffs hoping to learn about Colorado's' rich railroad history. One of the best pieces in the museum's collection is an original Galloping Goose railcar. One of only seven ever produced, this Galloping Goose is a unique piece of history preserved at the Ridgway Railroad Museum.
In the spring, summer, and fall, the museum operates some of its trains for a few hours, providing visitors with a realistic look at rail travel from years past. There is no cost to visit the museum (but donations are accepted), so there's no reason not to visit and experience this fantastic collection of historic railcars and artifacts.
Ouray County Ranch History Museum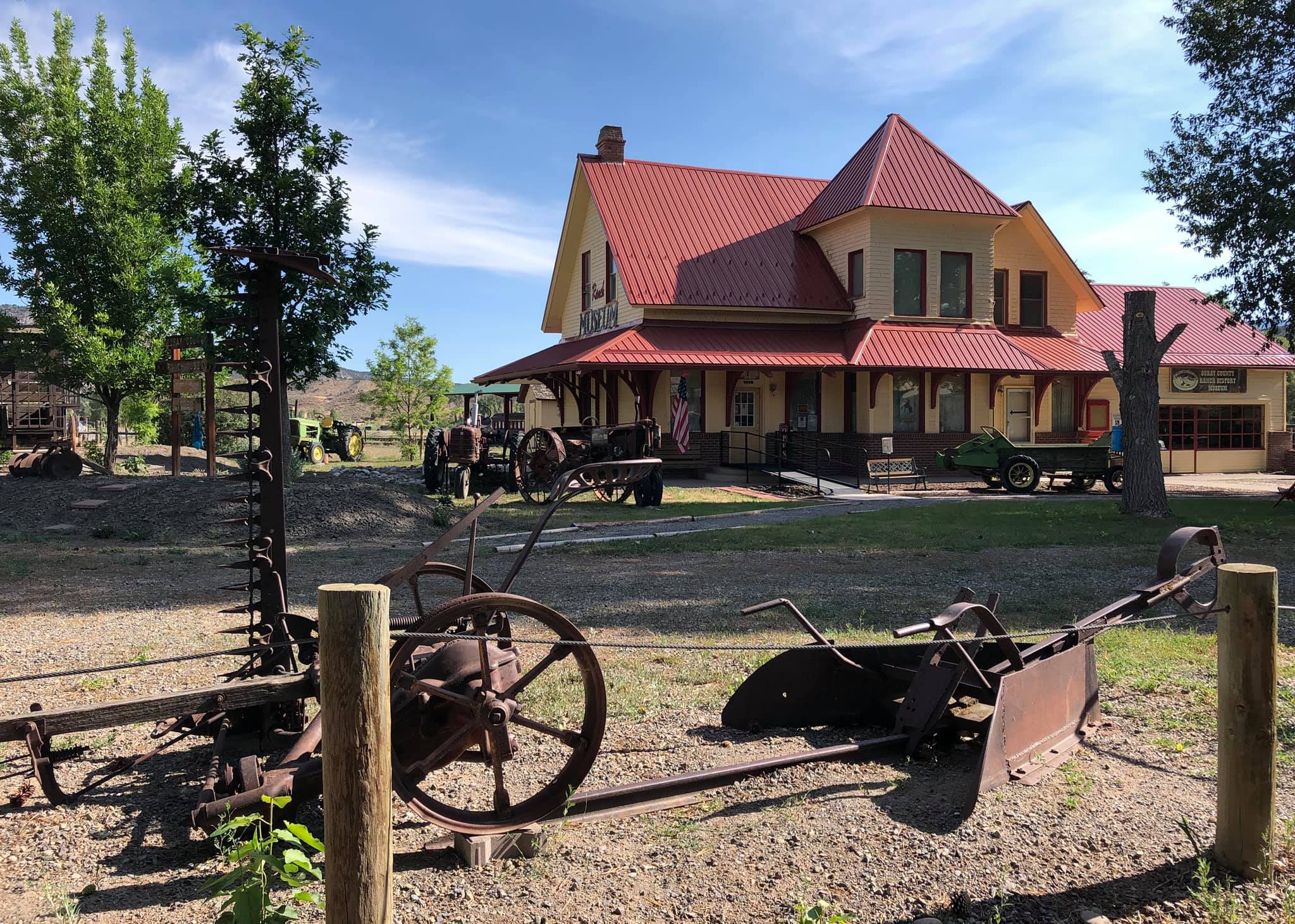 For those interested in the ranch and farm life in southwestern Colorado from the late 19th century to modern times, be sure to stop by the Ouray County Ranch History Museum. Composed of eleven rooms telling a unique story, this museum is a captivating journey through the history of Ouray County. Often featuring photographs and journals from real citizens of the area, this museum is a great peek inside the ranching history of the region.
Visit Ridgway's Art Galleries
Ridgway is a town of artists and home to the Ridgway Creative District. Explore the vibrant downtown filled with art galleries, historic landmarks, restaurants, and unique shops for a fun day out on the town.
Consider stopping by Mountain Girl Gallery, a small art gallery dedicated to showcasing the impressive art of local women artists. Other local options include Ridgway Gallery on Moffat St. and 610 Arts Collective. Supporting local art is a great way to give back to the local communities, and Ridgway's abundance of galleries makes it easy to find the perfect piece of art to take home with you.
Relax at Orvis Hot Springs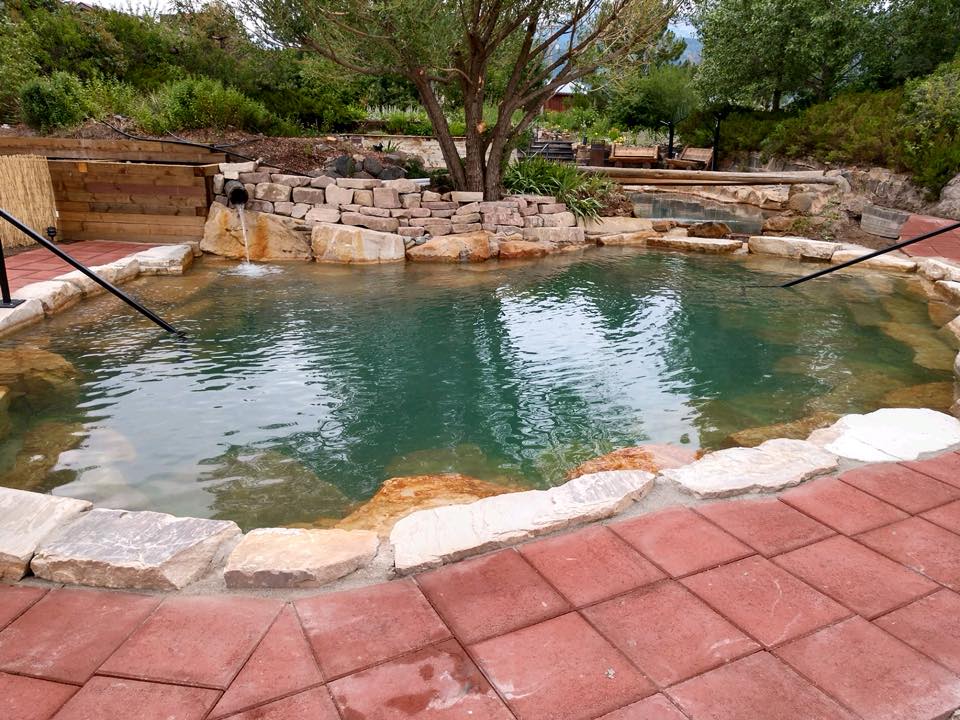 Orvis Hot Springs is a tranquil hot spring resort located just outside of downtown Ridgway. With water ranging from 65 to 112 degrees across ten unique pools, visitors are sure to have a relaxing, unforgettable experience soaking in geothermally heated mineral water amid beautiful San Juan views. Like many other similar resorts, Orvis Hot Springs is clothing-optional, and visitors should be sure to take advantage of the advanced massage program offered as well.
For those planning on extending their trip to Ridgway across multiple days, Orvis Hot Springs offers six tastefully appointed rooms as well as a sizeable campground. Staying overnight at Orvis provides the unique benefit of 24-hour access to the hot springs, allowing guests to soak overnight or catch the sunrise in a relaxing mineral water pool.
True Grit Walking Tour
Many scenes from the famous western movie, True Grit, were filmed in Ridgway. Take a self-guided tour or sign up for the one-hour tour via the Ridgway Chamber of Commerce. Either way, discover the famous filming locations throughout Ridgway and the nearby town of Ouray. A True Grit Tour brochure is available to download and use for your walking tour.
Dennis Weaver Memorial Park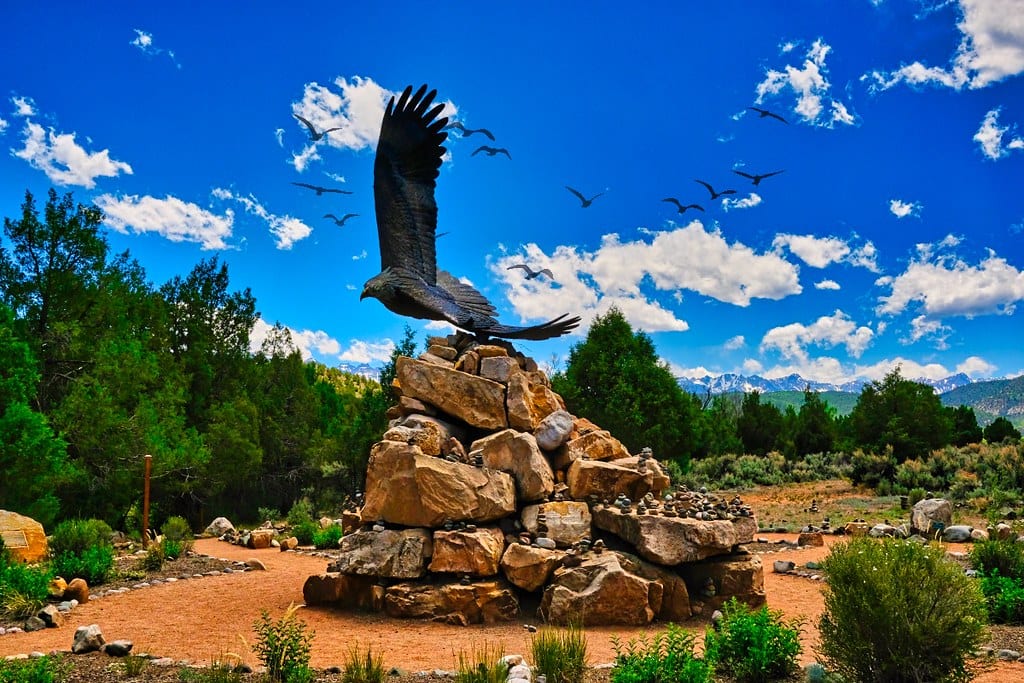 Dennis Weaver Memorial Park is an 80-acre public park located just north of Ridgway, Colorado. Dedicated to the memory of Dennis Weaver, a famed actor, and environmentalist, this park is a great stop for a short walk or picnic right outside downtown. Set right beside the Uncompahgre River, visitors are sure to be surrounded by stunning views and wildlife on their visit to this local park.
Dennis Weaver Memorial park is a natural wildlife preserve, with an abundance of wildlife including bears, elk, deer, marmots, and eagles that are found in the park. Perfect for the entire family, the Dennis Weaver Memorial Park is a great option for a local park offering beautiful views and relaxing hikes.
Fishing near Ridgway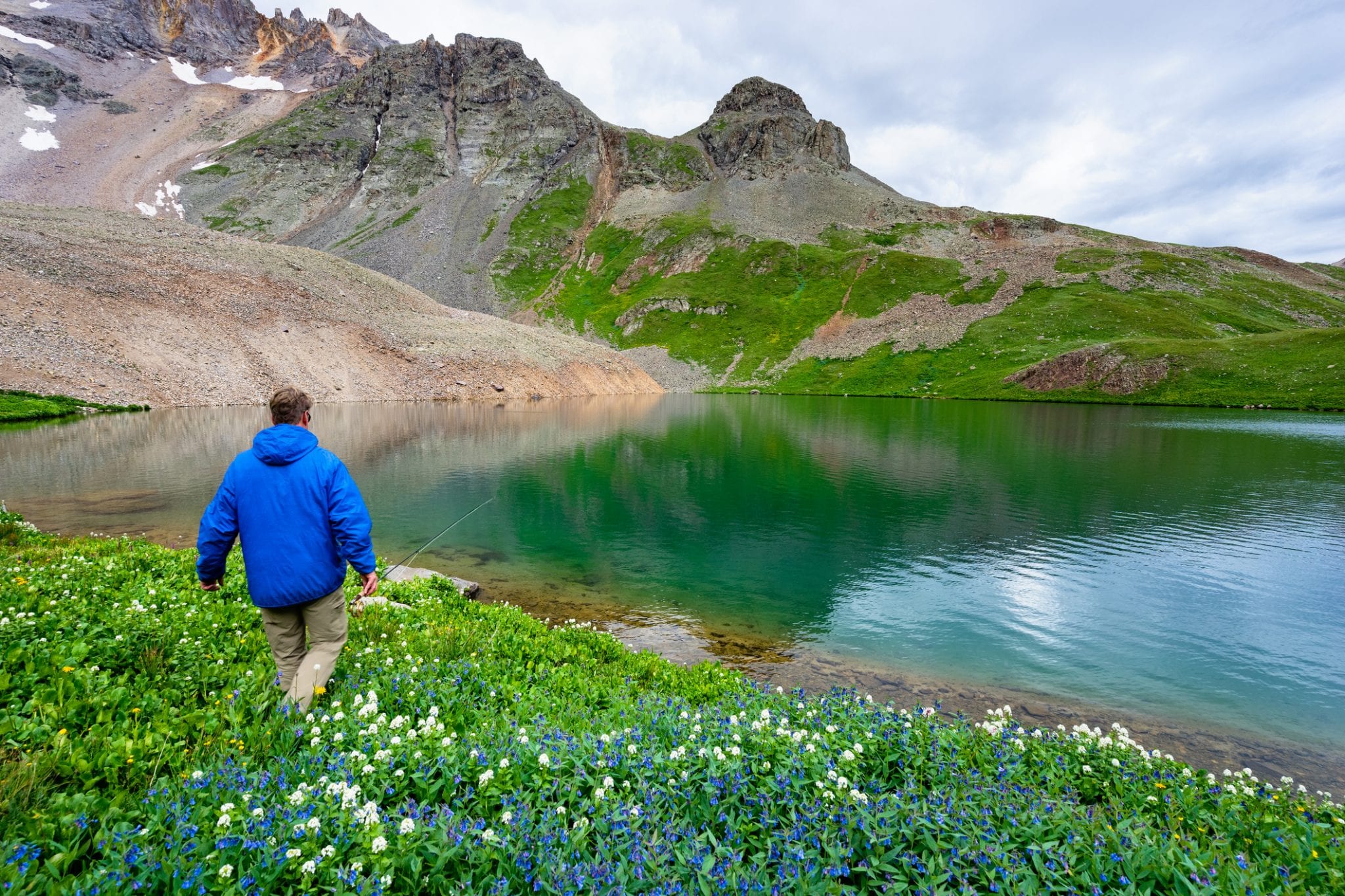 Located a short distance from plenty of great fishing spots, Ridgway is sure to please all types of fishermen. Whether fishing in serene alpine lakes or spending the day by one of Colorado's many trout streams, fishing is a great way to spend the day near Ridgway. In Ridgway State Park, fishing and wading in the Uncompahgre river for rainbow, brown, and cutthroat trout is a popular activity.
For those hoping for a more majestic fishing experience, one of Colorado's countless alpine lakes might be a better option. Surrounded by tall mountain peaks, these alpine lakes, such as Blue Lakes in the Mount Sneffels Wilderness, offer supreme fishing opportunities combined with awe-inspiring views of the San Juan mountains.
Ridgway State Park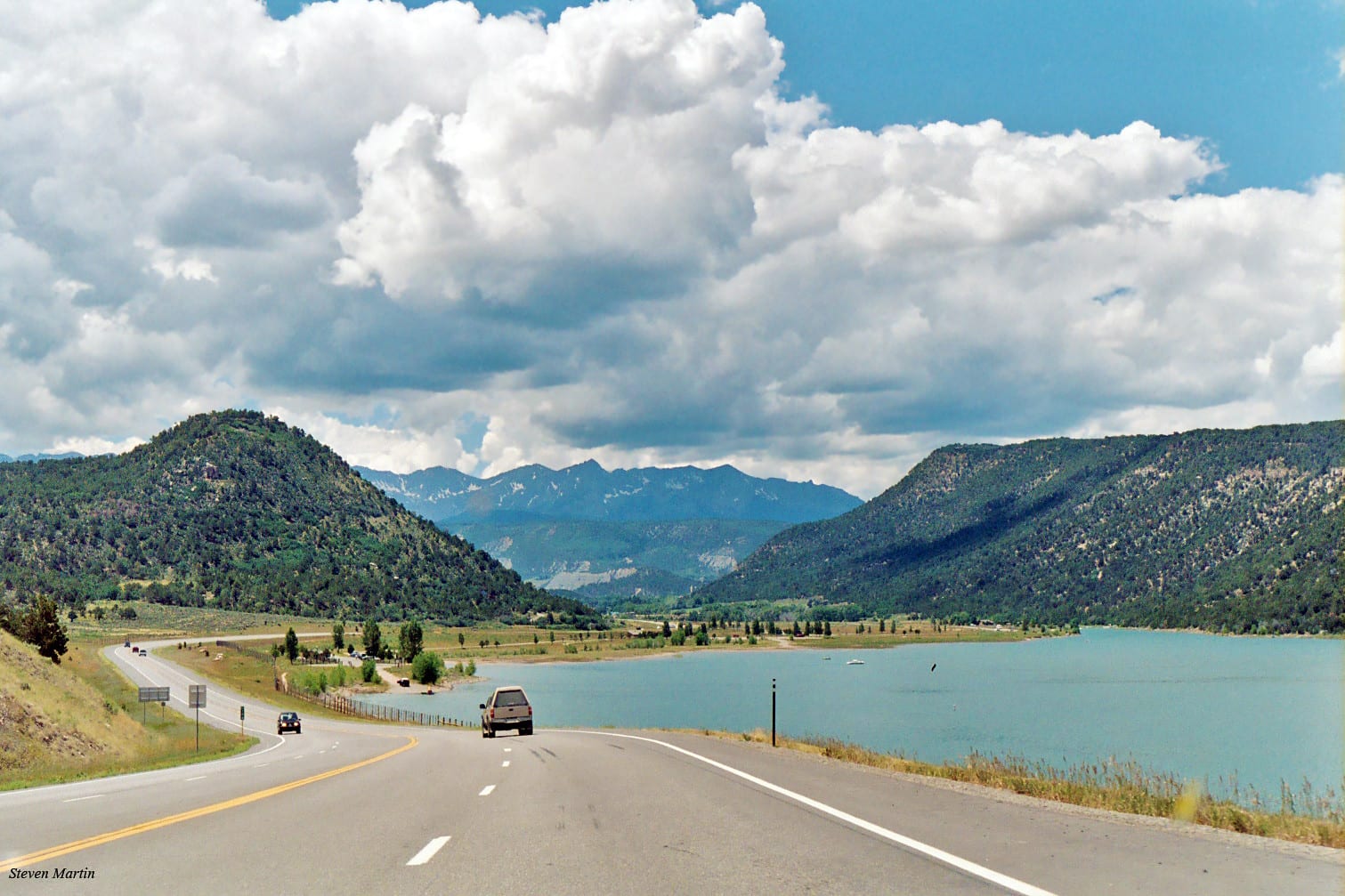 A stunning state park most famous for its large reservoir used for boating and water sports, Ridgway State Park is a beautiful retreat at the base of the San Juan mountains just north of Ridgway. Aside from on-the-water activities, visitors will also enjoy 14+ miles of trails and easy access to the Uncompahgre River.
Offering the potential for all types of outdoor activities including, hiking, picnicking, boating, and biking, all visitors are sure to find plenty of outdoor activities at the park.
For those looking to spend multiple days inside the park, there is plenty of camping, RV, and cabin rentals available. Featuring a total of 283 camping sites spread amongst three campgrounds, most of which are fit for full-size RVs, Ridgway State Park is a great stop for visitors traveling with an RV. For a more comfortable experience, the park also offers a few heated yurts and cabins for rent.
Summer activities
Summers in Ridgway are beaming with sunny days, majestic mountaintops, and an abundance of outdoor activities. Discover your getaway to the mountains with these summer activities in Ridgway. The San Juan National Forest sits just south of town, and the Uncompahgre and Gunnison national forests aren't far away.
Hiking near Ridgway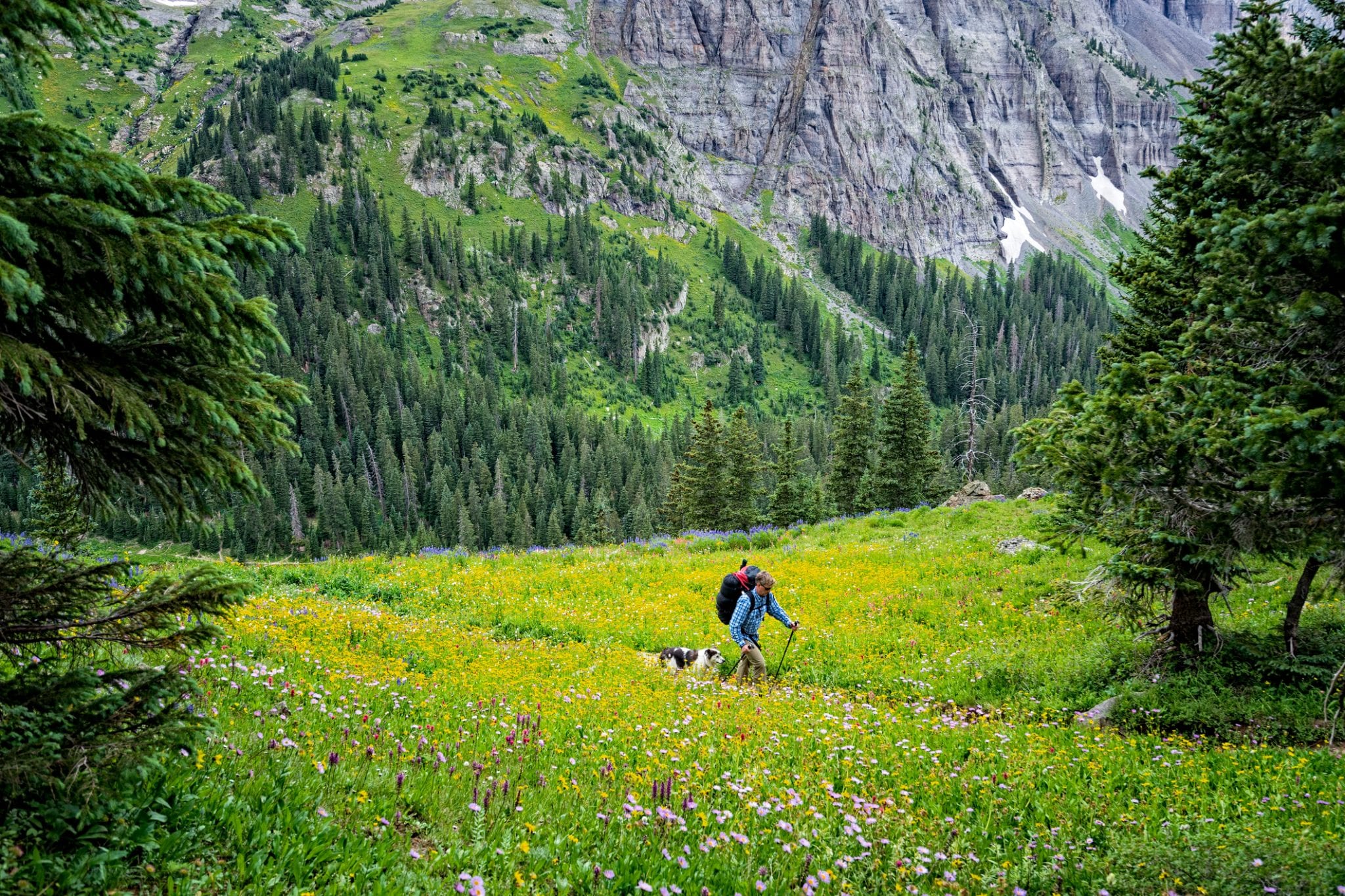 As is expected with most towns in the San Juan Mountains, Ridgway offers a number of fantastic hiking trails that show off the natural beauty of the surrounding area. From short, easy day hikes to multi-day backpacking adventures, Ridgway is the perfect base camp for exploring the San Juan mountains on foot.
Via the Ridgway Area Trails (RAT), there are more than 40 miles worth of interconnected trails in and around Ridgway. From the Ridgway Town Park, access the Weaver Trail System and the Angel Ridge Trails. Or head to the high country and test your skills on the Dallas Trail.
Another great hike is the Blaine Basin Trail, a beautiful six-mile trail situated just thirteen miles from the center of Ridgway. Gaining around 1,500 total feet in elevation, this is a moderately difficult trail with fantastic views. During summer, wildflowers abound throughout the trail, and hikers are rewarded with some of the best views of Mount Sneffels, one of Colorado's famous 14ers.
Biking the RAT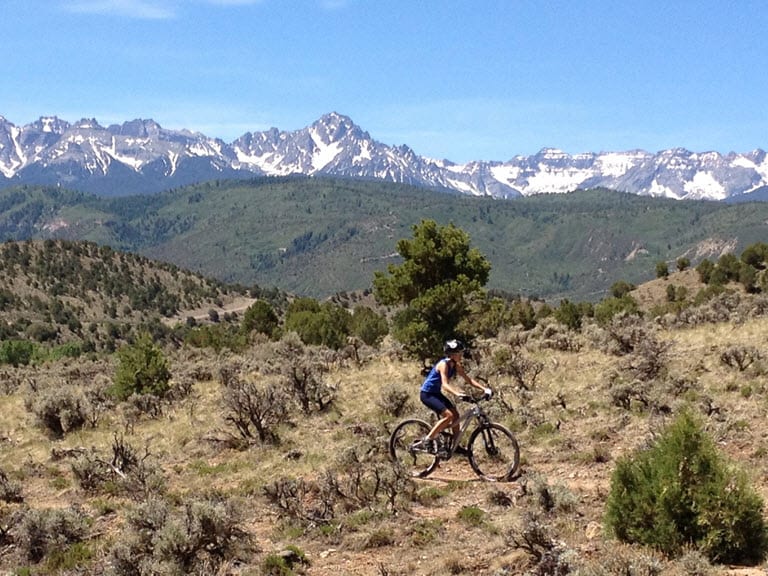 Using the RAT single-track trail system, bikers will find both approachable slopes and rugged mountain biking terrain for their cycling adventures. Start at the Ridgway Town Park or access via Ouray County Road 10 for direct access to begin your biking adventure on the RAT system. Discover various trails and loops of single-track and dirt roads, with new trails always being added.
Last Dollar Road Scenic Byway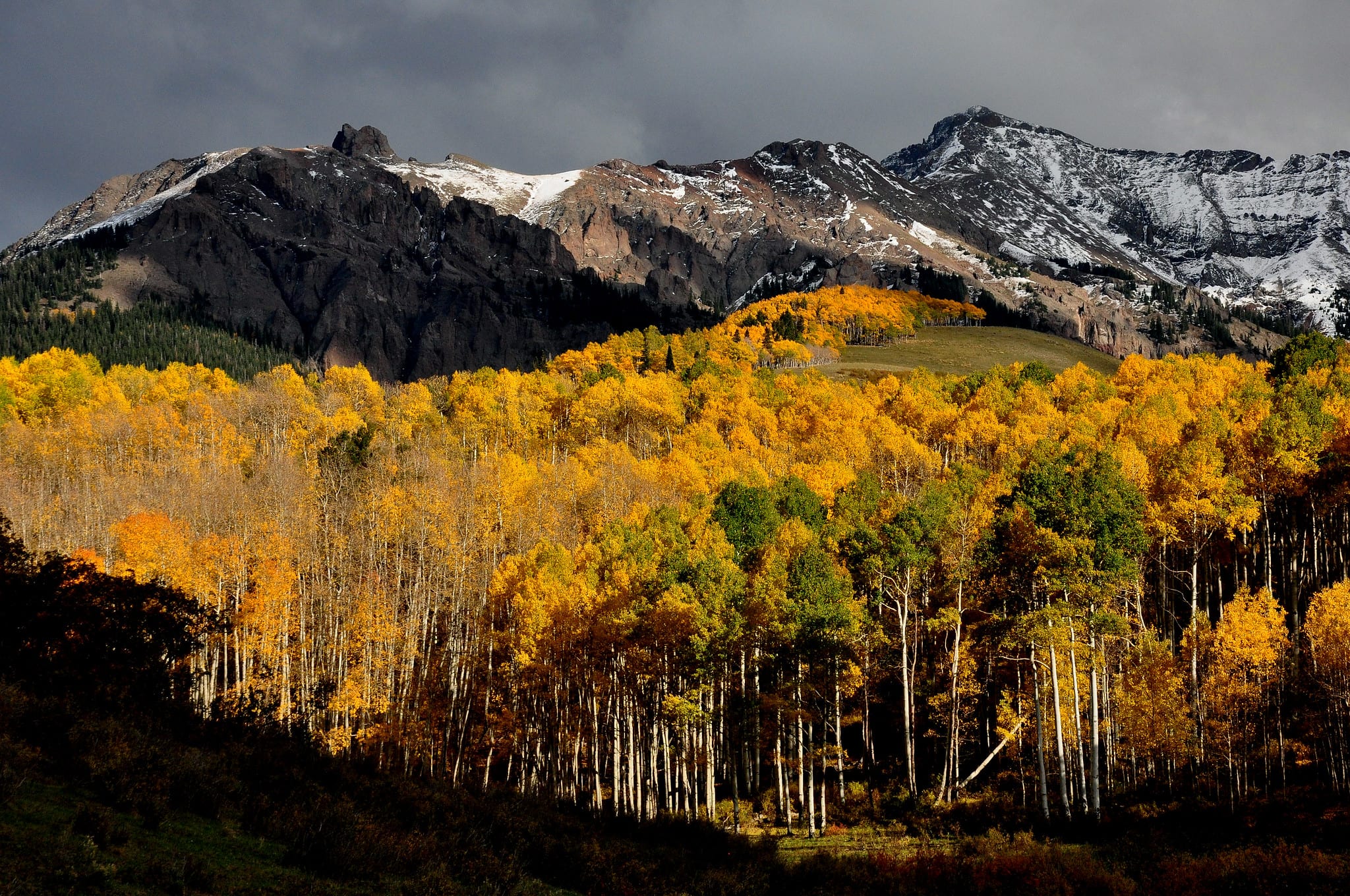 Connecting the towns of Telluride and Ridgway, the Last Dollar Road is an unpaved route for the adventurous traveler. Considered one of Colorado's most scenic drives, the Last Dollar Road opens up to stunning vistas, sprawling ranches, and majestic mountaintops. In the fall, enjoy the colorful display of yellows, oranges, and reds that blanket the forests. In the summer, discover green pastures and an abundance of wildflowers.
Spanning eighteen miles in length, the Last Dollar Road is entirely unpaved and requires a high-clearance vehicle to traverse. While 4WD is recommended, 2WD vehicles have traversed the road during dry conditions. The road is not plowed in the winter, so it is impassable after the first major snow. With stops along the way, plan for a two to three-hour trip.
San Juan Skyway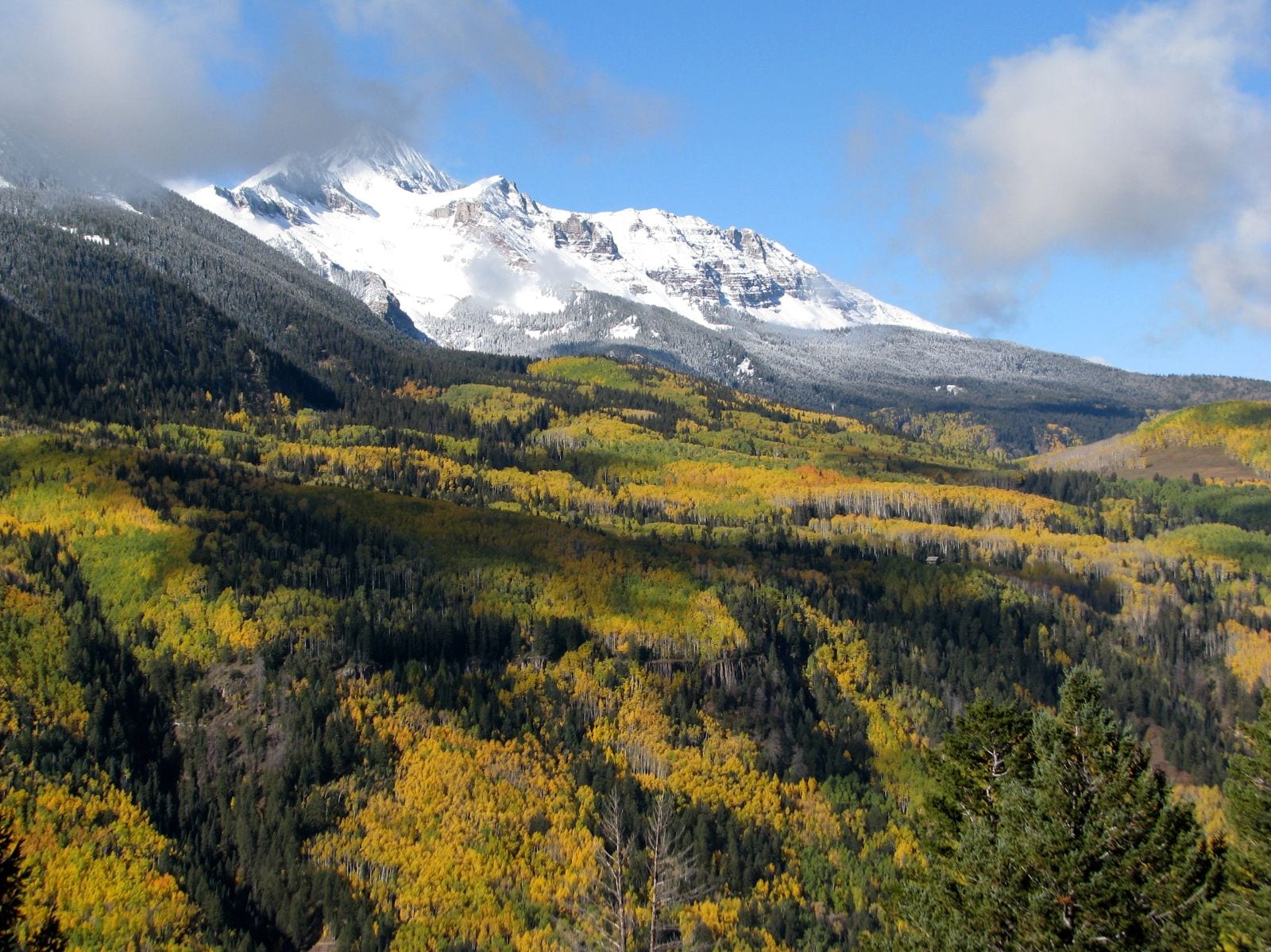 The San Juan Skyway is a 233-mile multi-highway that passes through Ridgway and several other towns including Telluride and Ouray. It is one of the most scenic drives in the state with a portion of the drive known as the Million Dollar Highway because of its million-dollar views. Take your time as you make your way along the byway, crossing over mountain passes such as the Dallas Divide and Red Mountain Pass for out-of-this-world views.Winter activities
For a truly unique experience, visit Ridgway in the winter. Discover snowshoeing, skiing, and hut trip adventures with these winter activities in Ridgway. Telluride Ski Resort is only forty minutes southwest of town, so Ridgway makes a great base for a ski holiday, and closer to hot springs.
Nordic Skiing at Top of the Pines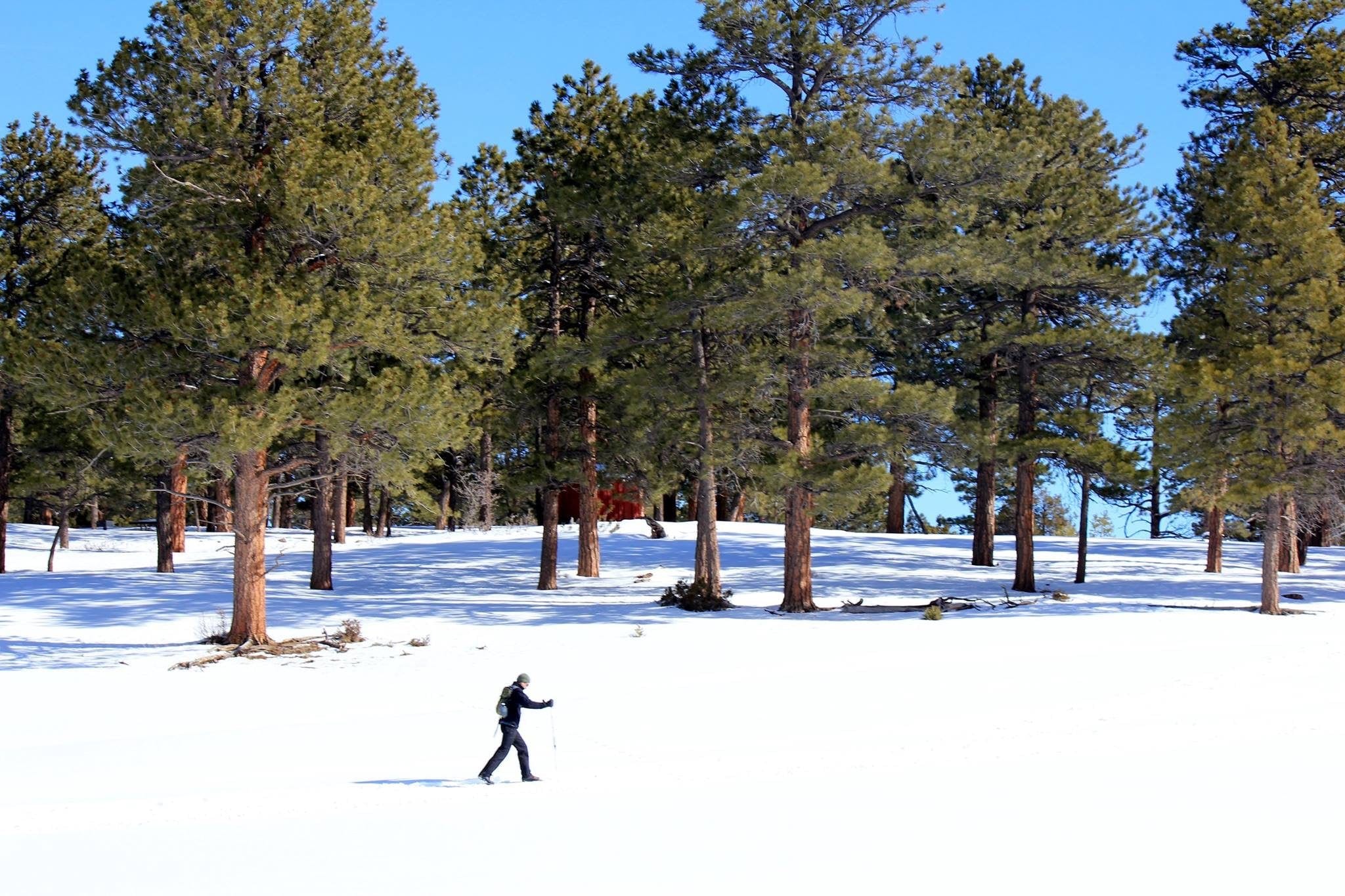 Top of the Pines is a 160-acre nature preserve located within easy driving distance of Ridgway, Colorado. During the summer and fall, Top of the Pines is a great place for hiking and biking, but the winter is when this nature preserve truly shines. With seven kilometers of trails groomed for Nordic skiing, this is a great spot to get outside during the winter and explore the mountains.
Featuring beautiful views of Mt. Sneffels throughout the preserve, Top of the Pines is a great spot for winter exploring near Ridgway. Dogs are permitted on the trails on Tuesdays, Thursdays, and Sundays. There is no water available at the preserve during the winter months, so visitors should be sure to come prepared.
San Juan Hut System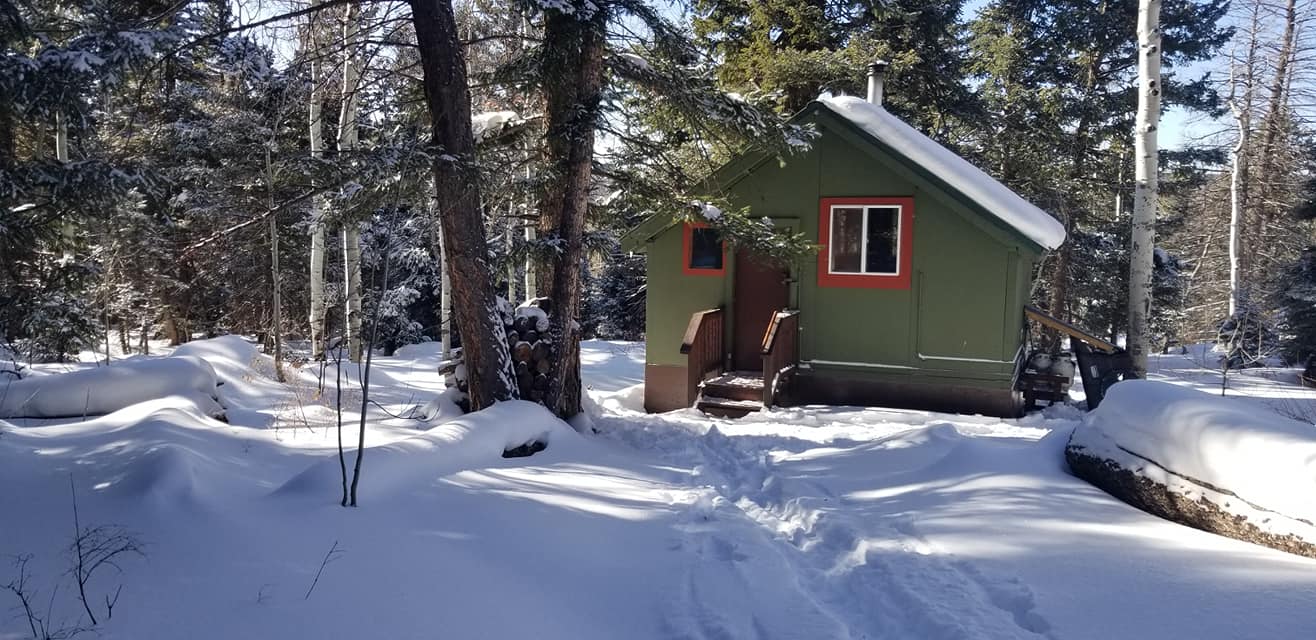 Plan a snowshoeing adventure within the San Juan Hut System. Offering 60 miles of scenic trails, expansive snowfields, and 16 isolated mountain huts, your hut-to-hut backcountry adventures await. Make your trip as long or as short as you would like but either way a hut trips through the San Juans is a great way to explore winter landscapes near Ridgway.
No matter your adventure type, find your mountain paradise in the heart of the San Juan Mountains with these things to do in Ridgway!