Finding hot springs near Pagosa Springs is not difficult, as the town is home to the world's deepest geothermal water source. Regardless of the season, this area's magical waters are sure to please even the most experienced soakers.
Most of these locations are within walking distance of the city center, making it convenient for visitors that want to hit them all on one trip. The resorts have been around for a long time, but before they were developed, they were used by local tribes for decades.
There are three developed resorts, as well as a primitive riverside pool, all downtown. In addition, there are another couple of Archuleta County undeveloped gems located about 25-30 miles away and each requires a hike to reach.
Starting in the heart of Pagosa Springs, here are the closest hot springs to that point.
Healing Waters Resort & Spa – 0.2 miles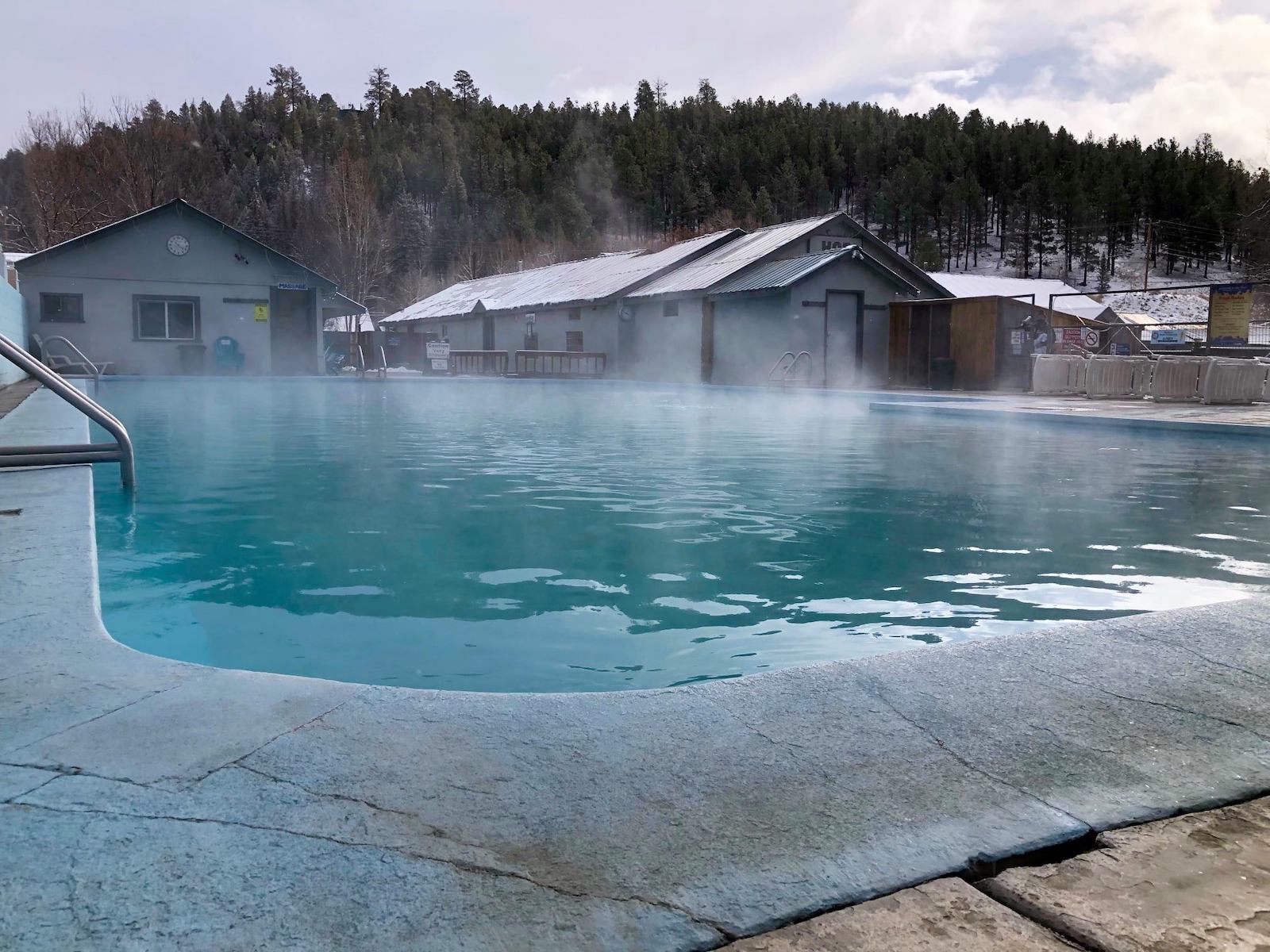 Located in downtown Pagoda Springs, Healing Waters Resort & Spa is a small, family-owned hot springs destination that has been open since 1950. The property is available for day use and overnight guests, providing lodging options (affiliate link) that include large hotel rooms, suites, and cabins.
People coming just for a few hours to soak don't need to make a reservation, and those opting to spend a night or two don't have to pay the pool entrance fee. The hot water that runs through the pool areas is entirely natural, with nothing extra added, so there's a high concentration of healing minerals present.
There's an outdoor pool, outdoor hot tub, and indoor bathtubs separated for men and women. Guests are welcome year-round, although the fall months are optimal soaking times when the crisp air is coupled with changing foliage.
After a day of exploring the town or taking on some skiing, boating, or hiking, book a massage treatment at Healing Waters for the ultimate wind down. Non-hotel guests that purchase a massage service will receive a complimentary soaking pass.
Overlook Hot Springs – 0.3 miles
One of Pagosa's top retreats is Overlook Hot Springs, a Victorian-themed hot mineral spa with indoor and outdoor tubs. The relaxing atmosphere and early 20th-century vibes around the facility make it easy to enjoy and focus on decompressing. Locker rooms with cubbies are available for storing your personal belongings, and swimsuits and towels are offered for rent if you don't bring your own.
Visitors are welcome to bring their own water, but no outside alcohol is allowed. Beer and wine are served on the property for those that would like a beverage.
There are three rooftop tubs along with a sauna and four indoor ones. Inside is also a cold plunge for users that like the stimulation of a quick cool-off. The tubs on top of the building offer stunning views of the river and city below and are popular for night soaking under the stars. Clothing is required at this facility, and water temperatures get up to 106°F.
This venue serves walk-ins, and it's first-come, first-served. However, anyone looking to throw a memorable event can book the property for private use.
Nathan's Hippy Dip Hot Spring – 0.4 miles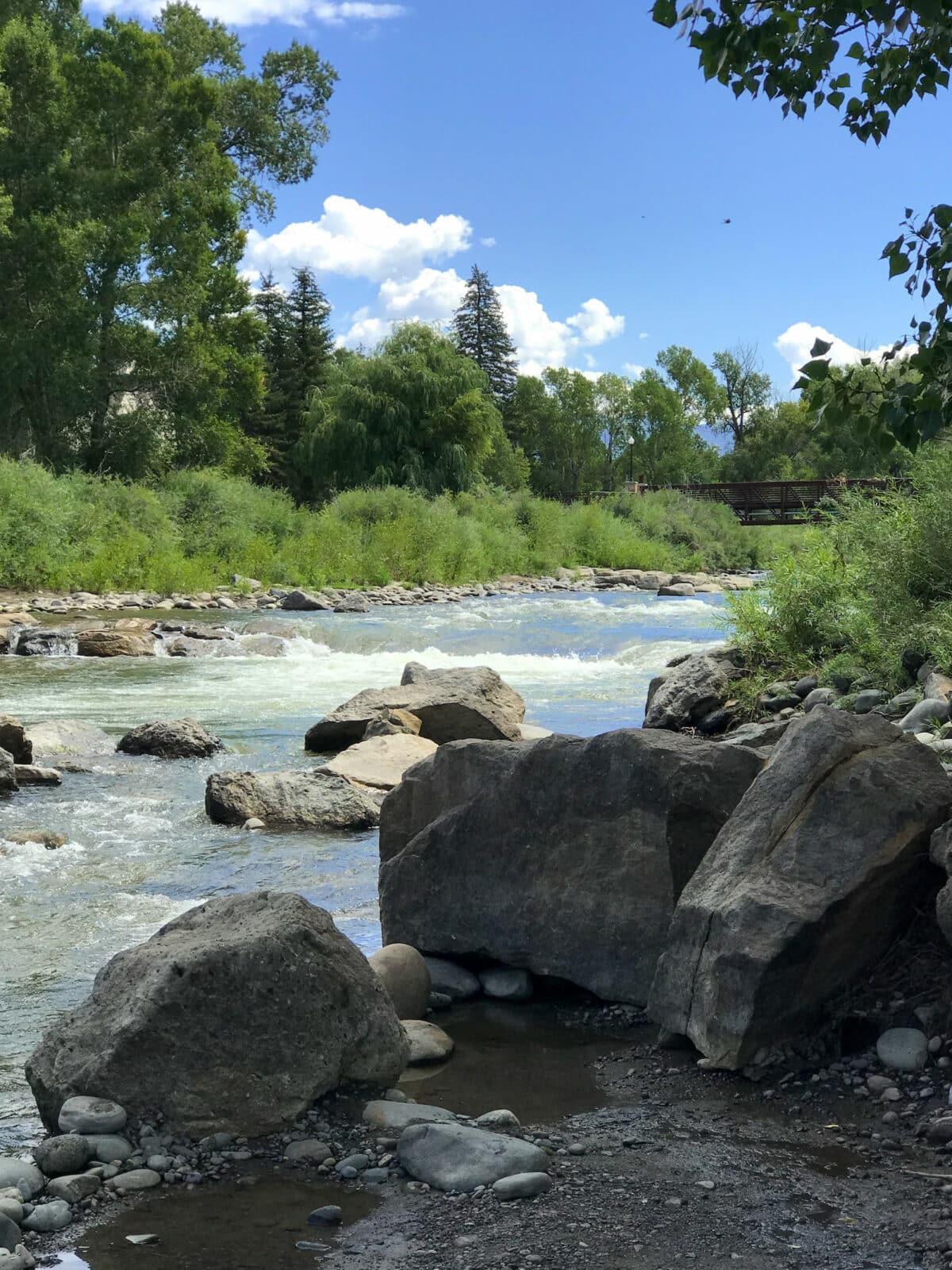 Nathan's Hippy Dip Hot Spring can be found right in Pagosa Springs and is a nice little hot pool place where you can soak for free. Getting to the water is relatively simple as a parking lot faces the San Juan River, making it a leisurely stroll down to the banks.
The water is right along the road, Hot Springs Boulevard, and has a nearby bridge too. There's also a small changing area in the park, so visitors don't have to drive in their wet suits after taking a dip.
The hot spring pool area isn't vast and encompassed by a natural rock wall set up by humans besides the river. There's a PVC pipe shooting water into it, and the bottom of the pool is sandy with pebbles. Since the bath is so close to resorts with hot springs water, the hot water likely comes down as runoff from those establishments.
The Springs Resort – 0.5 miles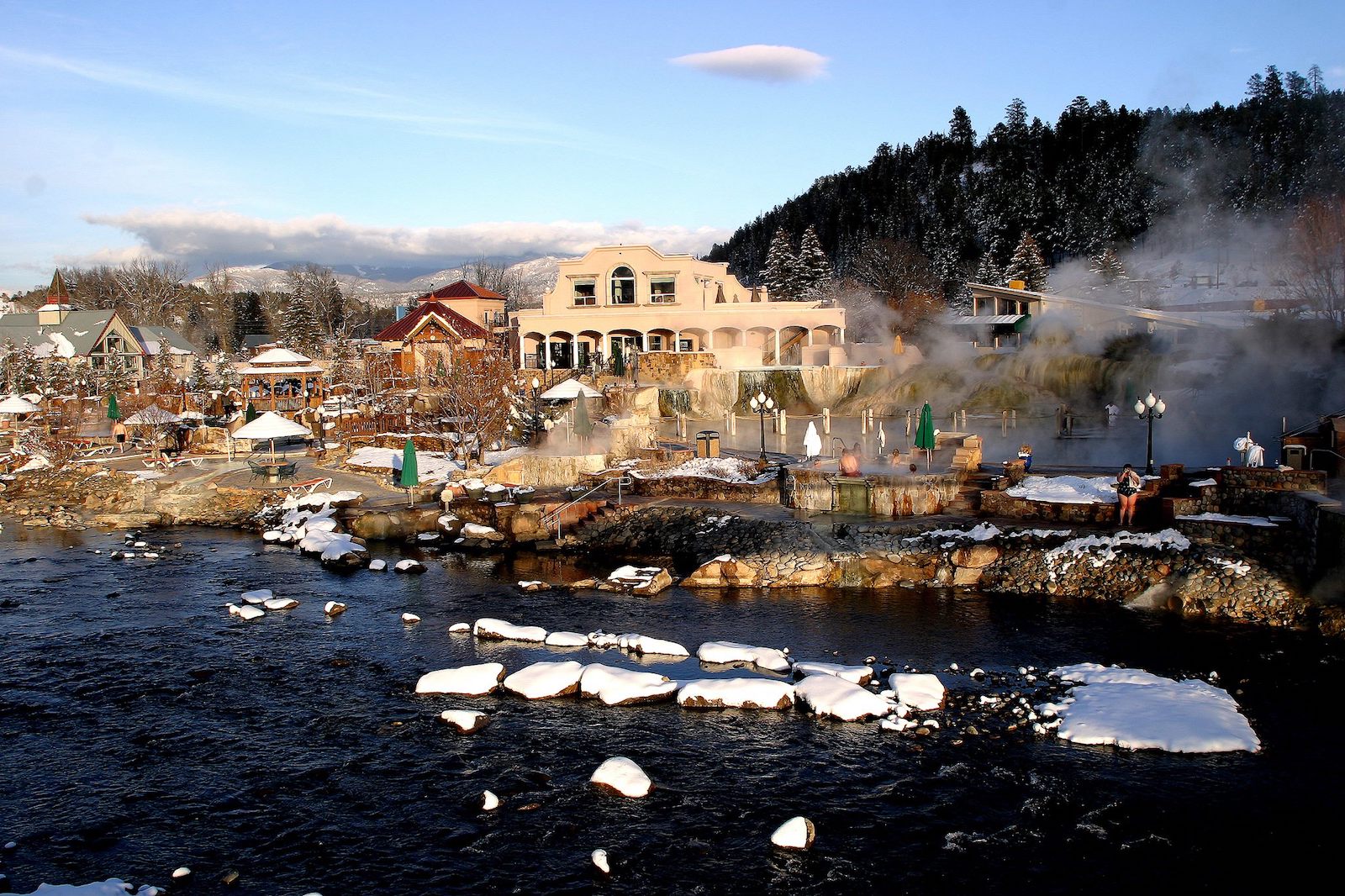 Set on the banks of the San Juan River, The Springs Resort is a four-star property with everything you could want on a wellness trip. Boasting 25 naturally heated mineral pools with temperatures from 87-114°F, guests have plenty of options for melting away their stresses.
Each pool has its personality and caters to whatever mood the soaker is in, whether swimming laps, peacefully floating, or jumping in the cold plunge. The source, Mother Spring, is said to be the world's deepest geothermal hot spring and is responsible for filling all of the pools.
Guests are welcome to come for the day or stay in the upscale accommodations (affiliate link), which have beautiful french doors and Egyptian linens to provide utmost comfort. The resort's area has year-round activities, including skiing, hiking, paddle boarding, and biking, all of which are great to cap off with total relaxation in the property's hot pools.
The wellness center offers various spa services, treatments, and classes, such as indoor and outdoor yoga. When it's time for a meal, The Springs Resort's four on-site eateries and poolside service can provide you with whatever you're craving.
Rainbow Hot Springs – 25 miles
Located about forty minutes' drive out of Pagosa Springs, these geothermal waters make for a great outing in nature. Reaching the primitive and peaceful Rainbow Hot Springs involves hiking a 4.5-mile trail through the Weminuche Wilderness Area.
The semi-challenging path takes effort, but the reward of stunning scenery and a nice natural pool make it worth it. Lush forests, river views, and beautiful rocks are just part of the gorgeous vistas along the way.
You'll know you reached the springs when you come across makeshift rock pools, with the 8′ x 4′ upper pool being warmer at around 105°F and closer to the source. The lower pool is more prominent with a size of about 20′ x 8′ and keeps a temperature hovering around 95°F.
Since this is a rural area, clothing is optional, but many people like to come through this area. Camping is permitted near the springs. Bear in mind that there isn't a lot of tree shade on the trail to the springs, so plan to bring some sun protection. The best months to visit are July and August before snow storms occur.
Piedra River Hot Springs – 29 miles
Set to the west of Pagosa Springs, Piedra River Hot Springs is a rural geothermal pool area in the beautiful San Juan National Forest. To reach the springs, visitors have to do a three-mile roundtrip hike along the river on the Sheep Creek Trail.
On the trek, expect to see amazing wild Colorado scenery and listen to the babble of the water flowing nearby. The best time of year to go is in the summer or early fall after all the snowmelt, and during the colder months, snow might be present.
The secluded atmosphere offers a quiet place to soak in the numerous thermal baths with about 100-degree water. Pools will vary in number and size depending on the weather and if visitors have helped with their upkeep. Sometimes, the warm pools can get buried under snow and colder water in winter.
The Piedra River Hot Springs pools are free to use and clothing optional. There's a chance that you'll run into other people, but it's a primarily primitive area. Animals like deer and beavers might be present, so it's wise to keep an eye on your surroundings.
Visitors interested in camping on their trip to see the hot springs can stay at the Lower Piedra Campground or Piedra Hunter Campground. RVs must fit in the parking spur at Lower Piedra Campground and the max length is 35 feet. Campsites here are first-come, first-serve.
Pagosa Springs is the place to be when planning your next Colorado soaking adventure. Stop by the town and see what hot springs lovers are so enthusiastic about, and use this list as your guide for planning your itinerary.