Rainbow Hot Springs is a primitive and isolated mineral hot spring, north of Pagosa Springs. It involves a long hike into the secluded Weminuche Wilderness Area.
But the soak is worth the 4.5-mile one-way hike. You'll be rewarded with exceptional views and a therapeutic, relaxing time.
Facility
Rainbow Springs is built along the side of the fast-flowing San Juan River. There are two separate pools, each constructed and maintained by previous visitors. You can adjust the rocks to keep out more of the cool river water and keep in the hot mineral water
(affiliate link).
Conditions can vary. Usually, there will be lots of hikers and campers in the area, while some report having the place to themselves.
The lower pool is the larger and cooler of the two. It's about 20 ft long by 8 ft wide. This pool lies directly on the shore of the river and averages around 95°F. There is room for about 6-10 people.
The upper pool is smaller and closer to the source of the hot springs. Its temperature reaches 105°F. About three people can soak in this pool comfortably.
Since this one requires a long hike and is located along a river, your best for going is summer to early fall. Many visitors stay overnight.
​Atmosphere
Secluded, natural, primitive setting; Clothing optional; Wildlife sightings; Lots of campers
Getting There
From Pagosa Springs – Head northeast on US 160 for about 16 miles to the sign for West Fork Campground. The sign is on the left (west) side of the highway and the southwest side of Wolf Creek Pass.
Take the West Fork Campground Road (CR 648), following signs for West Fork Campground and Born Lake. It is about 7 miles until you reach the West Fork Trail-head parking.
Depending on road closures, the hike-to Rainbow Hot Springs is between 4 and 5 miles. Sometimes the last mile or so of the West Fork Campground road is closed for construction. The hike gains about 1,000 feet in elevation, so expect a real workout. The way back will be easier though!
Began hiking up the trail past the Borns Lake community of cabins. While following the West Fork Trail in search of Rainbow Hot Springs, keep an eye for signs and clues. The trail is usually marked during the beginning of the hike but can be tough to follow towards the end.
The route involves old forest roads, bridges, streams, and narrow edges. The last mile is probably the toughest. Near the end look for camp sights, old fire rings, and signs of people.
For those looking to stay on the beaten path, Overlook and The Springs Resort are two hot springs resorts in the town of Pagosa Springs.
Please respect these public hot springs. Pack out all garbage and leave the place cleaner than when you came. Thank you!
Details
Address: Weminuche Wilderness Area, near Pagosa Springs, CO 81130
County: Archuleta County
GPS: 37.508483,-106.947490​
Season: Summer to fall
Type: Primitive; Hike Access
Price: Free
Clothing: Optional
Temp: 95°-105° F
Distance: 9.4 miles (round trip) 5-8 hours
Latest in Rainbow Hot Springs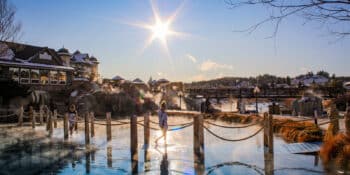 Finding hot springs near Pagosa Springs is not difficult, as the town is home to the…