Piedra River Hot Springs are naturally fed along the Piedra River south of Pagosa Springs. Depending on conditions there are usually several pools to soak in of varying sizes and temperatures.
This is a primitive hot springs destination that requires a short hike to reach. It's best visited after the winter snowfall has melted. If you try and go in spring, the 4×4 road may be covered in snow and the hot springs underneath cold water.
Primitive Hot Springs near Pagosa Springs
The amount and condition of pools to soak in depend upon the environment and individual upkeep. You will often find evidence of hot springs visitors digging new hot springs pools to soak in.
The pools are built by stacking stones to block out the cold river water and then feeding in the hot springs, full of restorative minerals (affiliate link)
. Most average around 100°F, while some report 107°F.
Since these springs are located in the Colorado wilderness, expect to see some wildlife along the way. People see deer, elk and the occasional river otter colony. The Piedra River is also a popular trout fishing destination so expect to see a few anglers out there.
The best time to go is summer through early fall. These hot springs are in the heart of the Rocky Mountains, so melting snow floods the rivers in the spring and into early summer, depending on that season's snow. Late July through early October is ideal.
Atmosphere
Secluded, natural, and primitive setting; Clothing optional. Wildlife viewing
Getting There
Take US-160 for about 20 miles south of Pagosa Springs. Just past the Chimney Rock turnoff on the left, make a right onto 1st Fork Rd/Co Rd 166/Usfs 622. (First Fork Road follows the Piedra River.)
Follow this dirt road for 6.7 miles to the intersection of Monument Park Road and a parking area. Take the Sheep Creek Trailhead.
It is a 3-mile roundtrip hike to the Piedra River Hot Springs. Follow the trail for about 1.5 miles until you reach the hot springs. A half mile into the downhill hike, you'll reach a fork in the road. To the left takes you over a bridge, and to the right continues to the hot springs. Go right.
The hot springs are located in the San Juan National Forest.
Please respect these public hot springs. Pack out all garbage and leave the place cleaner than when you came. Thank you!
Piedra River flows by the springs.

Looking down the Piedra River Valley.

Piedra-River-Hot-Springs-Pool-704x352

Details
Address: San Juan National Forest, Arboles, CO
Season: Summer to Fall
Type: Primitive, free, 1.5 mile hike access
Clothing: Optional
Temp: 100°-107° F
Latest in Piedra River Hot Springs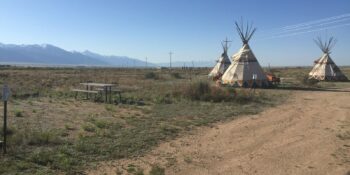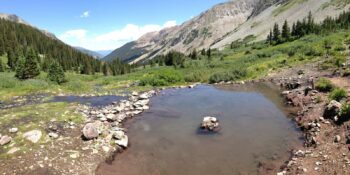 Who says you can't mix your adventures with a little rest and relaxation? To reach some…