While Colorado is known across the world for its incredible ski resorts, not everyone who visits ends up hitting the slopes. So rest assured, there are plenty of things to do each winter for non-skiers to choose from, or for your day(s) off the mountain.
Every season, friends, coworkers, and family members travel to Colorado's ski towns and sit on the sidelines while the rest of their groups shred. Whether it's an injury, a disinterest in snow, or even a lack of athleticism, it doesn't matter because Colorado's mountain towns have plenty of incredible non-skiing activities to offer.
If you're looking for things to do while your companions spend the day skiing, rest assured, there's a slew of winter activities to enjoy in Colorado that are not skiing. And if you aren't heading to a ski town, consider one of these unexpected Colorado winter experiences off the beaten path.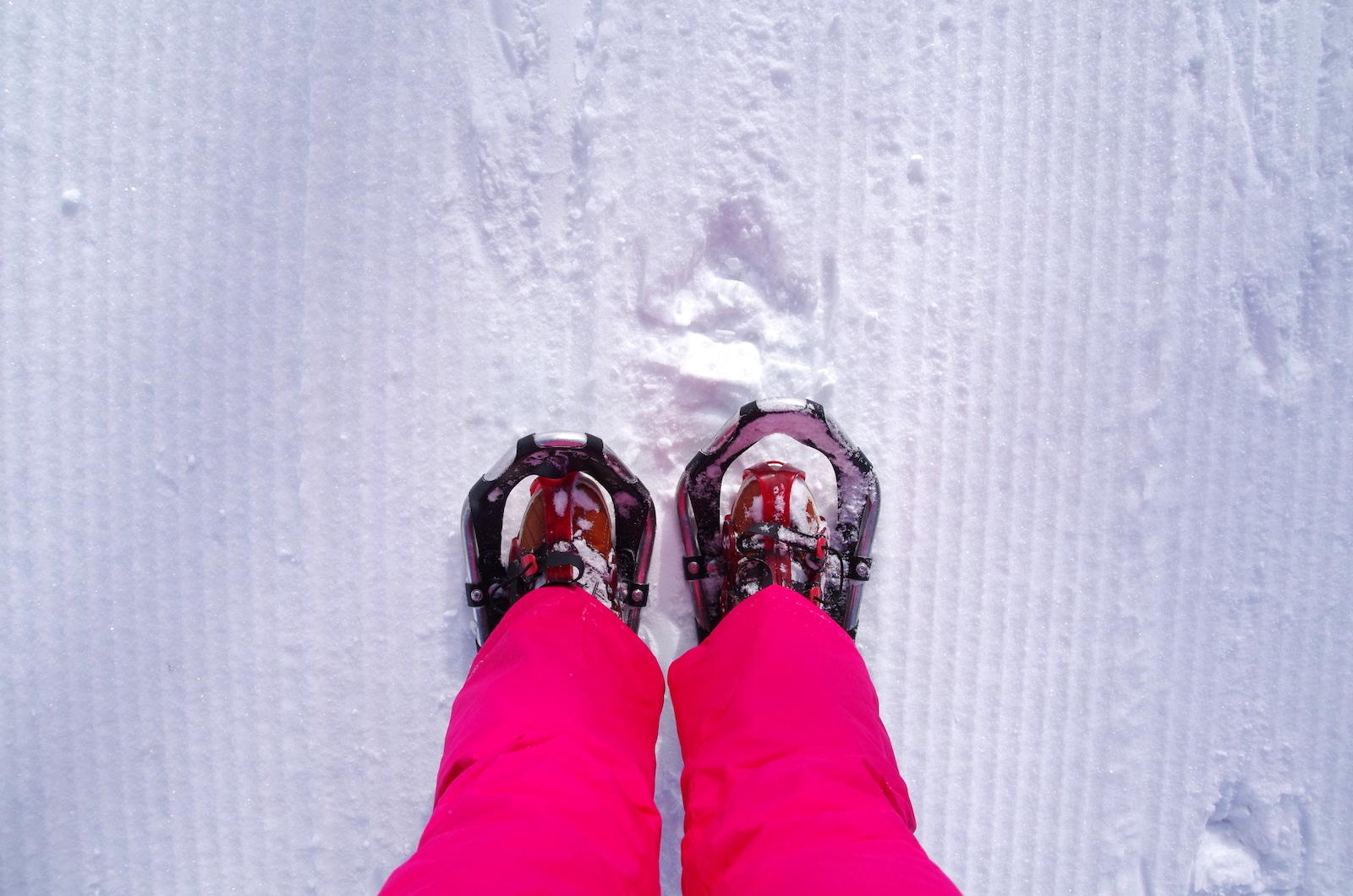 From stellar music venues and art galleries to historic saloons and terrific shopping, here's how to make the most of your time in Colorado's top ski towns.
Winter Activities in Colorado that are Not Skiing
Some of the most well-known ski towns also make the best vacation destinations for nonskiers. You'll find everything from frozen recreation like tubing and ice skating, to sporadic festivals, and year-round fun such as mesmerizing museums and restaurants.
Here are the best Colorado winter vacations for nonskiers:
Aspen
Aspen is a rewarding place to visit even if it didn't host internationally fawned-over skiing. This western Colorado mountain town is a place of great political and cultural importance.
It's home to the Aspen Institute, an international nonprofit think tank, the Aspen Music Festival & School, and the Aspen Art Museum, a 33,000-square-foot, the four-level building known for showcasing drawings, paintings, sculptures, multimedia installations, and electronic media from pioneering contemporary artists.
For beer-loving non-skiers, Aspen Brewery is a spot that shouldn't be missed. From delectable seasonal pours to unique barrel-aged selections, you'll love knocking a couple back at their tap house. After a drink or two, a massage can do wonders, which is great since Aspen is home to a couple of world-renowned spas.
History buffs will get a kick out of Aspen's Hotel Jerome, a charming and storied establishment that opened in 1889. Hotel Jerome is also home to J-Bar, which serves up a boozy milkshake with a bizarre and unappetizing name. The "Aspen Crud" was a favorite drink among the Tenth Mountain Division soldiers that trained in Aspen during WWII.
The Aspen Historical Society currently offers tours of the hotel Tuesdays and Thursdays at 1:30 pm.  And, though shows usually take place during the evening, Belly Up is a mandatory stop if you're a music fan. This sleek venue is relatively small but manages to bring in artists you'd normally see in a sold-out amphitheater.
Belly Up has hosted The Killers, Widespread Panic, The Chainsmokers, Jack White, Lil Wayne, The Avett Brothers, Snoop Dogg, B.B. King, Phoenix, Jimmy Buffet, and many other beloved musical acts since opening its doors back in 2005.
Discover other things to do in Aspen.
Breckenridge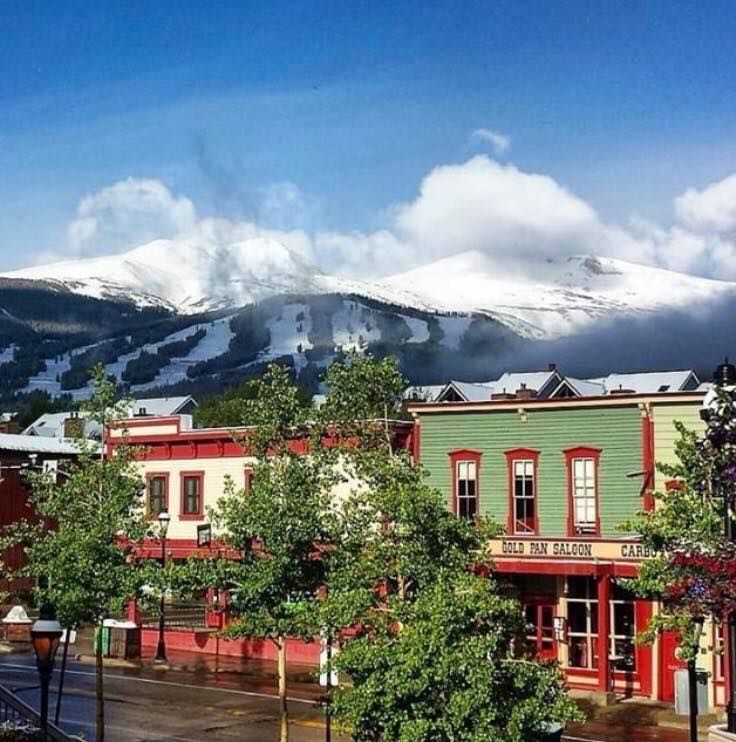 Coloradans and out-of-staters alike enjoy Breckenridge's fun, historical atmosphere, plentiful bars and restaurants, and rewarding cultural offerings. Breck has its own Arts District which hosts drop-in classes, musical performances, and events celebrating ceramics, drawing, printmaking, metal-smithing, textiles, and painting.
If you're looking to sip on something tasty in an iconic, historical Colorado setting, head over to the Gold Pan Restaurant & Bar. This charming spot was established in 1861, the same year America's Civil War broke out.
Holding the title for the Western Slope's oldest year-round theatre company, Backstage Theatre puts on shows like A Christmas Carol, The Great Gatsby, and The Beauty Queen of Leenane. Breckenridge's Historic District is one of the largest in Colorado, with great offerings like walking tours and fascinating museums, all within view of the astounding Tenmile Range of peaks.
For how small of a town Breckenridge is, it hosts an impressive amount of bars and restaurants, many of which feature live music. If you're dying to explore the gorgeous, snowy terrain surrounding Breckenridge but don't care for skiing, try snowshoeing on one of the many scenic winter trails surrounding the town.
And if you're lucky enough to be in town during the annual Breckenridge International Snow Sculpture Championships, it's an event you absolutely have to see. Teams of skilled snow sculptors travel to Breckenridge from around the world every year to create delicate and massive works of art out of snow that will ignite your imagination.
If you're too early for that event, check out Ullr Fest, Breckenridge's winter festival, and one of the rowdiest parties you'll find in the Rocky Mountains all winter.
Discover other things to do in Breckenridge.
Crested Butte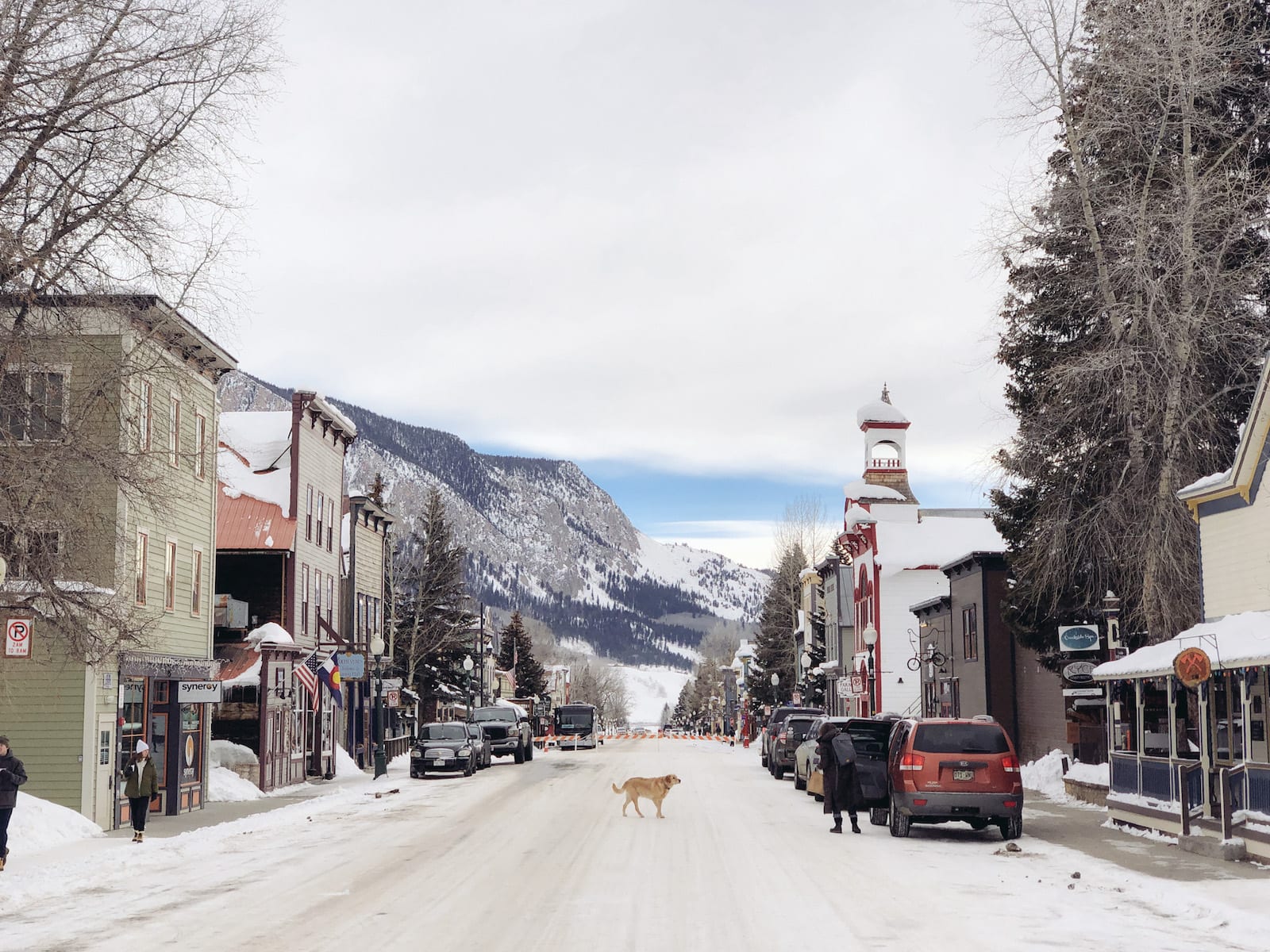 Crested Butte is one of the most scenic spots not only in Colorado but also in all of America's mountain west region. Exuding a quaint mountain vibe, this town is great for spending time with family. Start your trip by being pulled around Crested Butte on a horse-drawn sleigh.
Afterward, head to Secret Stash for a bite to eat. Earning a cult following since it opened in 2002, Stash's pizza is an absolute favorite on the menu. However, if pizza isn't your thing, you'll have lots of other restaurants to choose from.
The Crested Butte Mountain Heritage Museum gives visitors a captivating window into the past. If you're interested in the history of coal mining, the railroad, or how life in Colorado's mountain west, this is a can't-miss destination.
Elk Avenue, Crested Butte's colorful main street, is a charming place to shop, check out an art gallery, or take a quiet stroll. It's also one of 17 Creative Arts Districts in the state that have been designated by the state of Colorado. The Center for the Arts offers an impressive plethora of art classes ranging from culinary instruction to writing to visual arts.
If you're a voracious reader, Townie Books would love to meet you. This Elk Avenue staple has a deep passion for sharing its love of literature. And if you're into high-quality outdoor gear, Chopwood Mercantile's plentiful offerings will keep you busy for a while. Have an early drink while you're waiting for your group to wrap skiing up for the day, we won't judge you.
The female-founded Montanya Distillers dishes out sophisticated rum cocktails and fine food that people have been raving about. Beauty, culture, rum, adventure, and lots of snow. Crested Butte has a lot to offer non-skiing folk.
Discover other things to do in Crested Butte.
Durango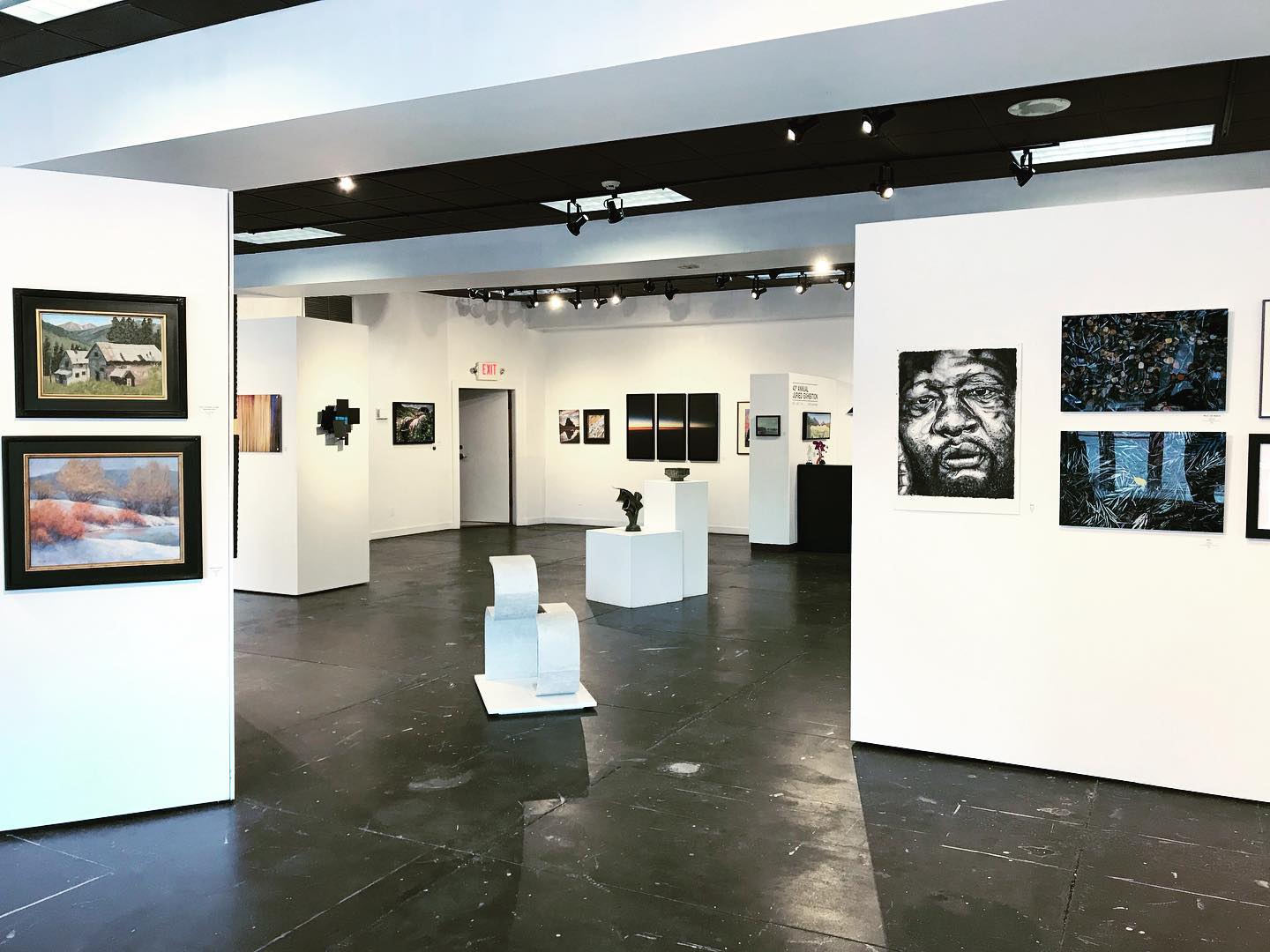 Durango is a 30-minute drive from Purgatory Ski Resort and is a great place to spend time if your friends and family. Home of Fort Lewis College, Durango is a college town. Boasting plenty of bars and restaurants, beer lovers from all over flock to Durango to visit Ska Brewing, an internationally beloved brewery that routinely cleans up at the Great American Beer Festival.
If you're a fan of trains and western history, the Durango & Silverton Narrow Gauge Railroad offers stunning excursions through the San Juan Forest. The Southern Ute Museum celebrates the history and modern culture of the Southern Ute people through engaging exhibits.
Meanwhile, Durango's historic downtown is home to award-winning restaurants, spas, authentic western boutique hotels, and bars. Despite being relatively small, the town is home to 30 art galleries, and if you like contemporary art, the Durango Arts Center should be on your centenary.
Whether you're in the mood for a cup of tea while you read a book or a fine dining experience, Durango can accommodate you. B*tchin Cookies is a local favorite that lives up to its namesake, while East By Southwest serves delicious, intricate Japanese dishes that look so ethereal and surreal that they look like they came straight out of a dream.
Hailing from Main Street, Diamond Belle Saloon is considerably less ethereal than one of East By Southwest's dishes, but its gritty, wild west trappings are every bit as surreal. And if you're in town during Snowdown, a wild winter party filled with costumes, booze, and copious shenanigans awaits you.
Discover other things to do in Durango.
Keystone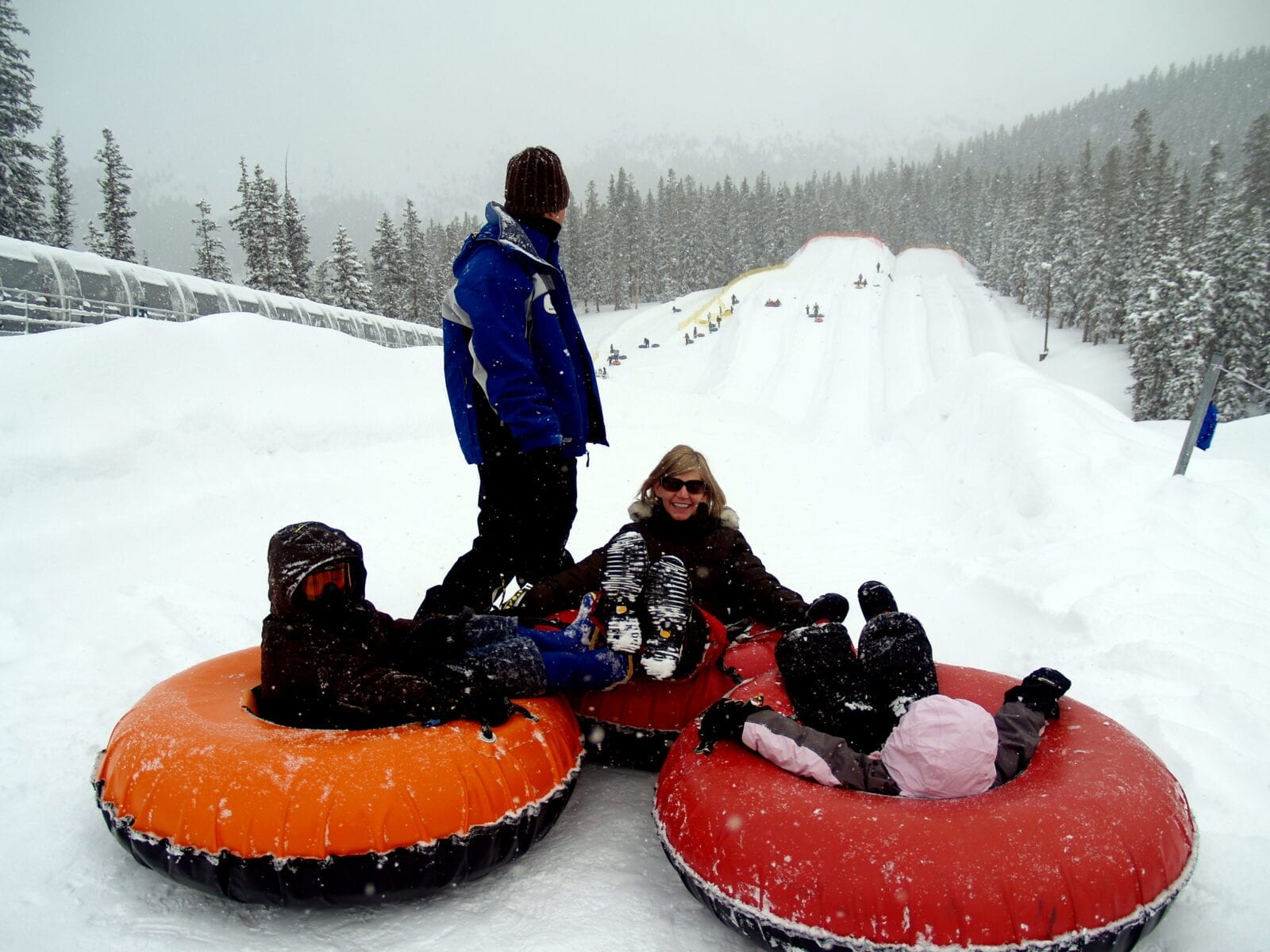 Keystone is definitely a place focused on skiing and snowboarding, however, it's in close proximity to many other exciting activities. Located at Keystone Resort, the Dercum Ice Skating Rink will make for a fun-filled day. Local yoga studios also offer a variety of excellent classes designed to help practitioners meditate, stretch, and strengthen.
If you want to reward yourself after a session, check out the Keystone Spa & Salon. You'll find all the luxurious basics here, including detoxifying scrubs, massages, micro-treatments, and more. For those willing to take a short drive outside of Keystone, Frisco is an excellent town to check out.
The Frisco Adventure Park is opened up to snow tubers every winter, and the town has an excellent brewery, sushi restaurant, and plenty of stores to shop in. If eating at Keystone sounds like a better plan, you'll have much to choose from, including a fondue restaurant, soup bistro, and a AAA, Four-Diamond fine dining restaurant called the Alpenglow Stube.
After lunch, take a scenic sleigh ride through the majestic Soda Creek Valley. Just because you're not skiing doesn't mean you don't deserve to check out one of the best mountain views in Colorado. Keystone offers scenic gondola rides that will transport you to heights of 11,640 feet.
If you're traveling with kids, they'll love the snow fort atop Dercum Mountain, and you can enjoy drinks and lunch at the multiple elevated restaurants the area has to offer. And while you're at it, check out the Family Adventure Tour. You'll ride in a heated snowcat to the Erickson and Bergman bowls that sit high atop Keystone.
Discover other things to do in Keystone.
Pagosa Springs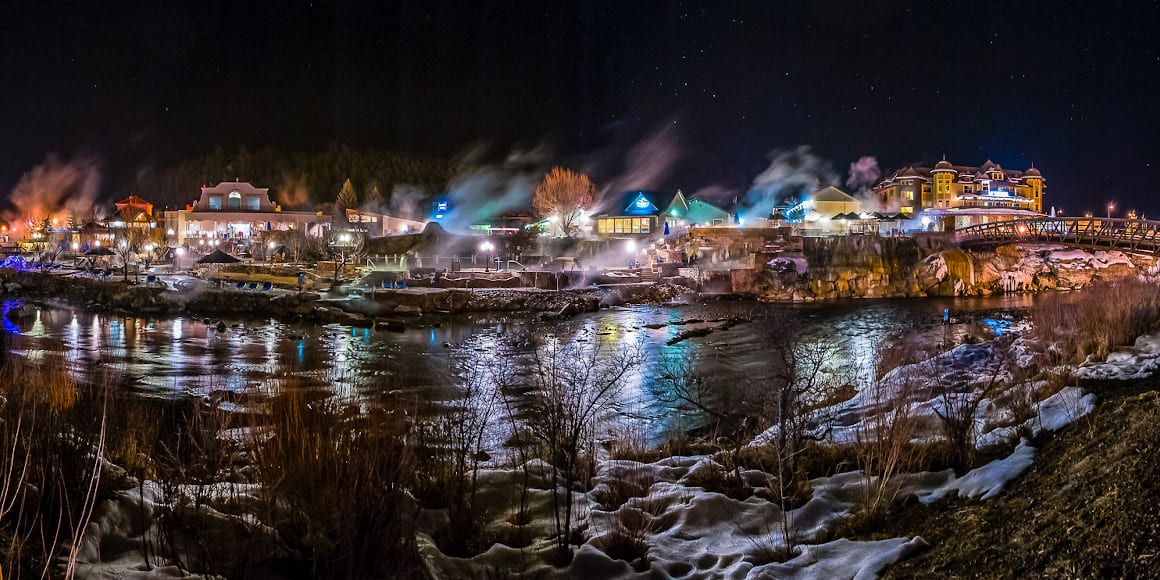 Pagosa Springs is a southern Colorado gem and a fantastic place to be holed up while your group hits the slopes. The town is home to the world's deepest geothermal hot spring, which extends over 1002 feet. That's a fun fact, but you'll undoubtedly get much more satisfaction from the hot spring's warm, relaxing pools and the multiple spa facilities the area offers.
You'll soon discover that Pagosa Springs locals are enthusiastic about the unique geothermal conditions that exist in their town. The Riff Raff Brewing Company prides itself on being the world's first brewery that's exclusively powered by natural geothermal heating.
This town offers loads of fun year-round activities, from sleigh rides to ice skating to local theatre. If you're the angling type, you'll love ice fishing on the frozen lakes around Pagosa. If you don't have the requisite gear, there are multiple outdoor shops in town to rent or buy from. Winter fly fishing on the San Juan River is also a blast if ice fishing is too much trouble.
Pagosa Springs is surrounded by mile after mile of gorgeous hiking trails and pristine Rocky Mountain scenery. Snowshoeing is the only way to access these trails during the winter, but once you get out there, you'll have a vast winter wilderness all to yourself.
The town is also home to excellent art spaces ranging from hip modern studios to eclectic woodworking galleries. The free Pagosa Springs History Museum gives visitors a broad historical context about the town's history, Colorado railroads, and local wildlife. And if you're hungry, Pagosa Springs is ready for you with food trucks, Mexican restaurants, delis, and brunch joints.
Discover other things to do in Pagosa Springs.
Steamboat Springs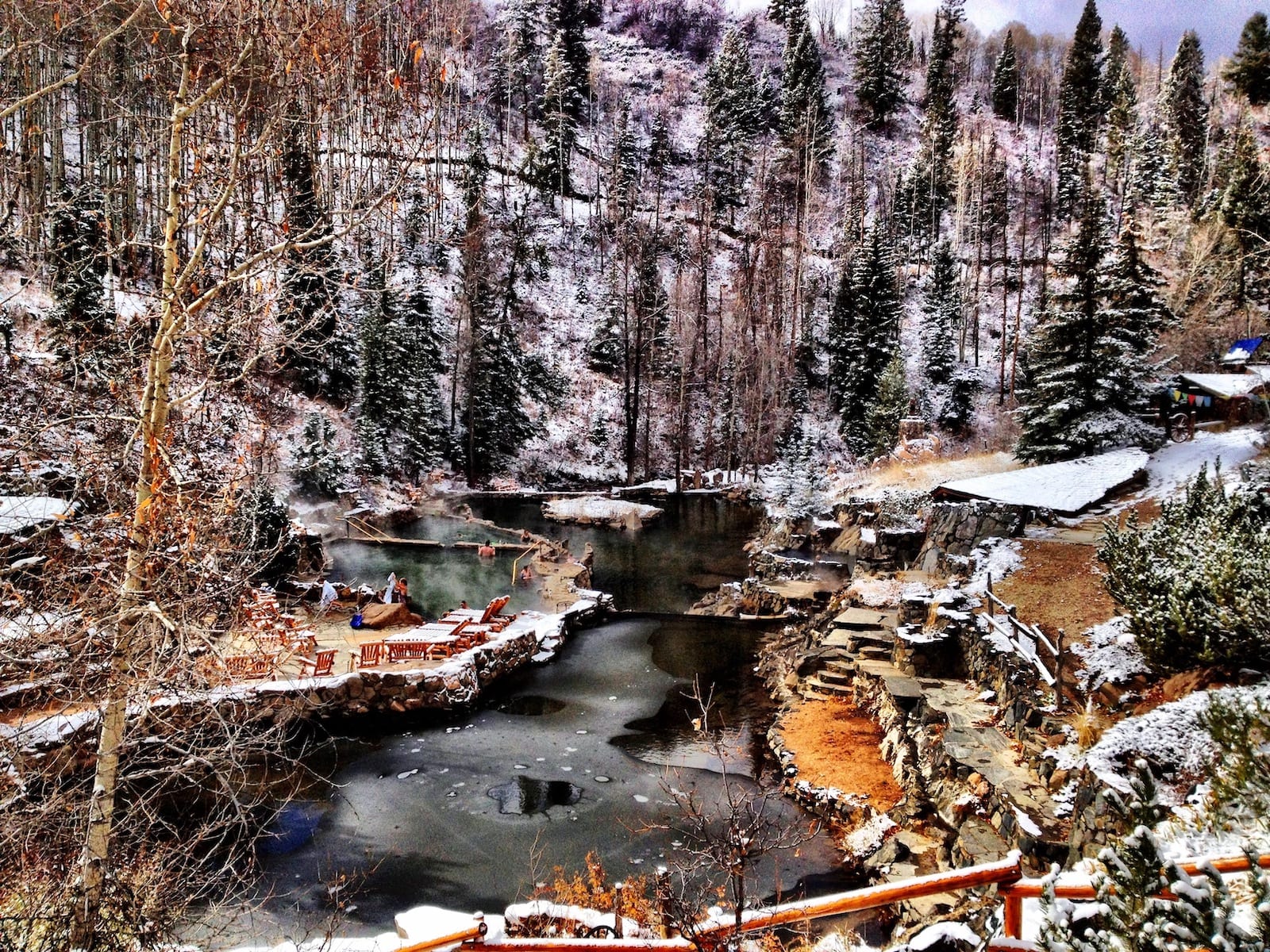 Steamboat Springs might call itself "Ski Town USA," but it offers plenty of memorable things to do aside from skiing. While some perceive Colorado's ski towns are pretentious, Steamboat Springs prides itself on being welcoming and open. Case in point, Steamboat Springs has its own bowling alley, an establishment usually associated with working-class folks than wealthy jet setters.
At a quick 20-minute drive up the mountains from Steamboat Springs, Strawberry Park Hot Springs will give you a unique hot springs experience that you'll probably never forget. While Colorado has a lot of hot springs to choose from, Strawberry Park is special being nestled in the forest surrounded by trees.
When you're finished taking in the natural wonders of Strawberry Park, check out Storm Peak Brewing Company. Locals and tourists alike love Stormpeak's beers, which are served in two locations, one west of downtown and the other by the resort village. Additionally, the town has its own Restaurant Week, which offers special deals at the best restaurants in Steamboat.
If you're looking for a once-in-a-lifetime experience and don't mind getting out in the cold, consider giving dogsledding a try. Grizzle-T is a company that gives people genuine dogsledding experiences and will teach you to "Mush your own team" of Alaskan Huskies.
For those interested in seeing Steamboat Springs and northern Colorado's pristine, snow-capped peaks, Wild West Balloon Adventures will give you a thrilling, unforgettable experience. Their prices include continental breakfast, a champagne toast, and flight certificates.
And if you're lucky enough to be in Steamboat Springs during their annual Winter Carnival, you'll be treated to fireworks, a parade, and "people on shovels being pulled down the main street behind horses and skiers jumping through fiery hoops," according to Steamboat Springs' website.
The event was founded over a century ago as a way for locals to cope with cabin fever during the winter months.
Discover other things to do in Steamboat Springs.
Telluride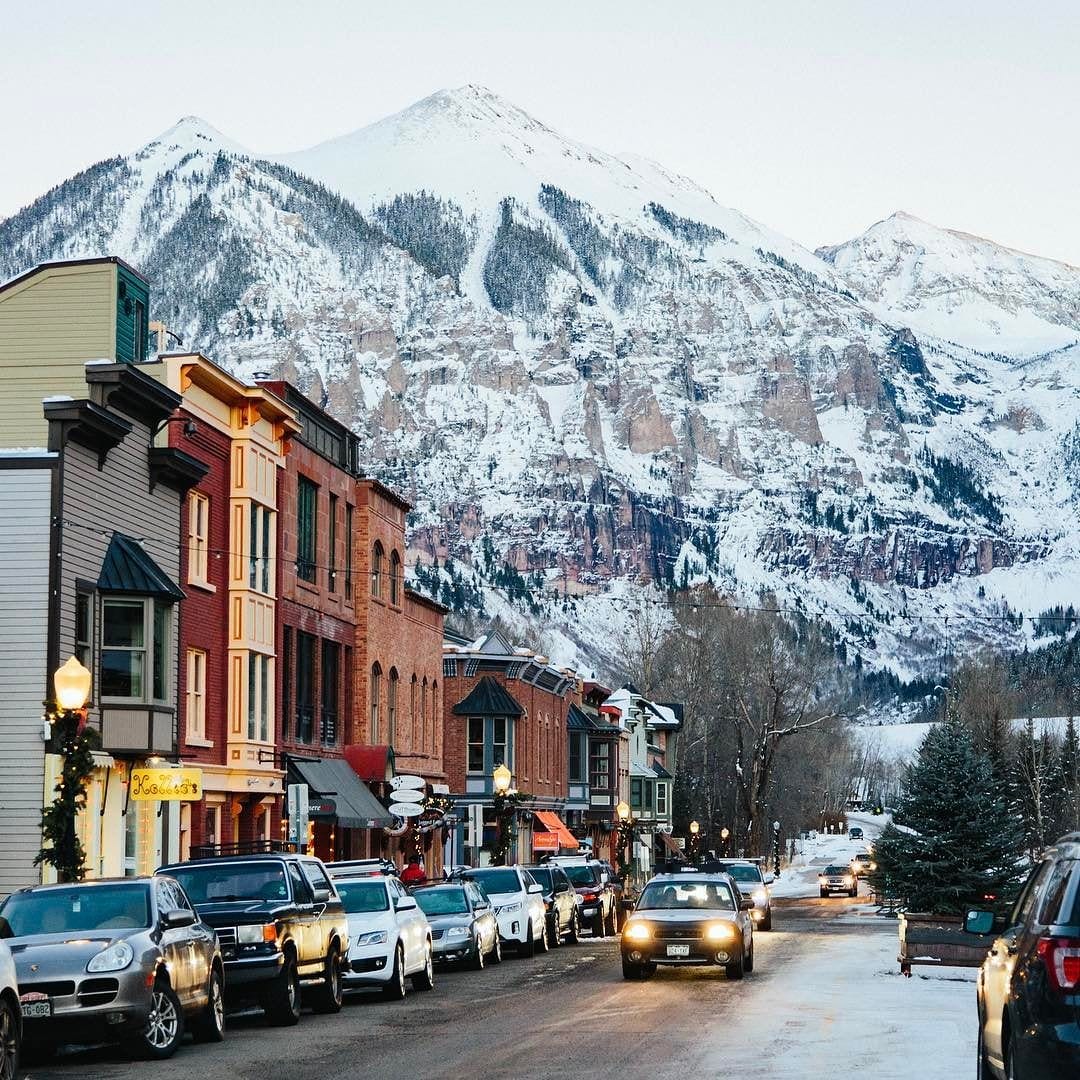 To many, Telluride is the ideal mountain town. It's a gorgeous, charming place with loads to offer, but you won't spend as much here as you would at a place like Aspen. With stately wood and brick historic buildings lining its streets, Telluride looks and feels authentic.
The town has fancy amenities like spas, a thriving nightlife, excellent restaurants, and great places to shop, so you'll never get bored.
Looking for a bright, fun place to hang out? Consider Black Iron Kitchen and Bar. With a stylish wooden interior in a warm, open setting, this is a solid place to eat a snack and grab a beer.
Anyone willing to make the 1-hour drive outside of town should head to the Orvis Hot Springs. Orvis' pools reach temperatures of 112°, and they offer access both in and outdoors.
If you're itching to explore your creative side, check out Telluride's Ah Haa School of the Arts. Offering an array of classes ranging from writing and cooking to ceramics, Ah Haa can teach you something special. Meanwhile, for those interested in viewing art, Gallery 81435 is definitely worth a visit. It showcases work from contemporary artists living in the region.
Telluride also has amazing outdoor winter recreation options, including sleigh rides, horseback riding, winter fly fishing, ice skating, snowmobiling, and fat bike riding.
If you're feeling adventurous or are in the mood to stand in awe of someone who is, ice climbing at the nearby Bridal Veil Falls will be worth checking out. At 365 feet tall, Bridal Veil Falls is Colorado's highest free-falling waterfall and one of the most challenging ice climbing routes in all of the US.
Discover other things to do in Telluride.
Vail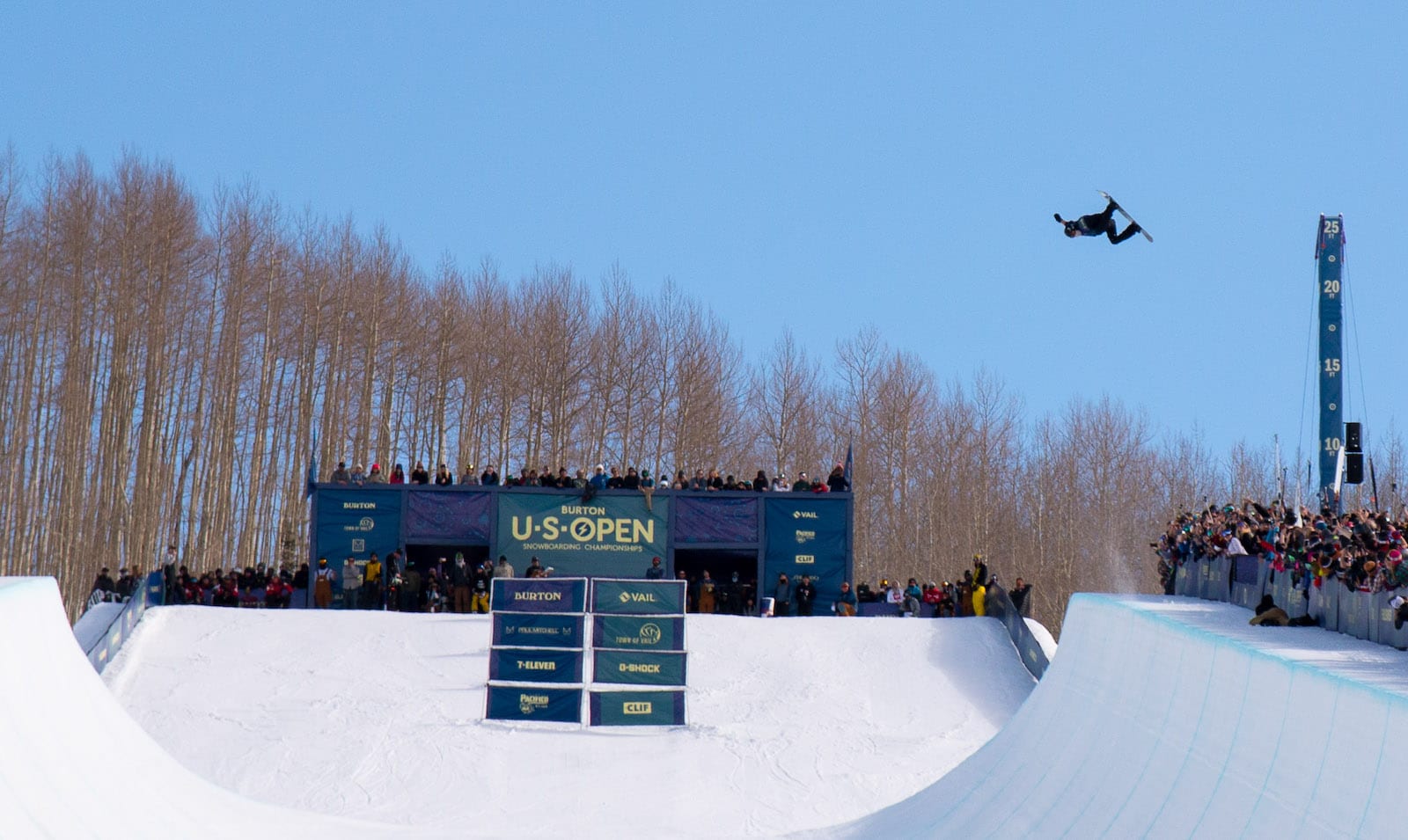 If you're looking for fun and aren't afraid of the cold, Vail offers outdoor activities that are great for kids and adult thrill-seekers. Try one of the scenic gondola rides.
Located atop the Eagle Bahn Gondola, Bistro Fourteen gives diners incredible views of Mount of the Holy Cross, a full bar, and both casual and fine dining options. For visitors searching for less crowded adventures, snowshoeing through the wilderness might do the trick.
From cooking classes to huge live concerts, Vail hosts numerous exciting events throughout the season. Revely Vail welcomes winter with ice skating celebrations, a gingerbread contest, and tree lighting. Meanwhile, Snow Days brings in huge free outdoor concerts from large music artists and a wild party.
And if you're not into snowboarding but love watching it, the Burton US Open will give you a front-row seat to watch the best snowboarders in the world compete.
Avid shoppers love Vail's three villages, hundreds of stores, boutiques, and galleries. And if pampering yourself sounds nice, you'll have loads of spas to choose from. Art enthusiasts have multiple galleries in Vail to check out, with art ranging from paintings and sculptures to contemporary works.
If sipping a beer in a cozy spot sounds nice, you'll probably dig 7 Hermits Brewing Company.
Discover other things to do in Vail.
Winter Park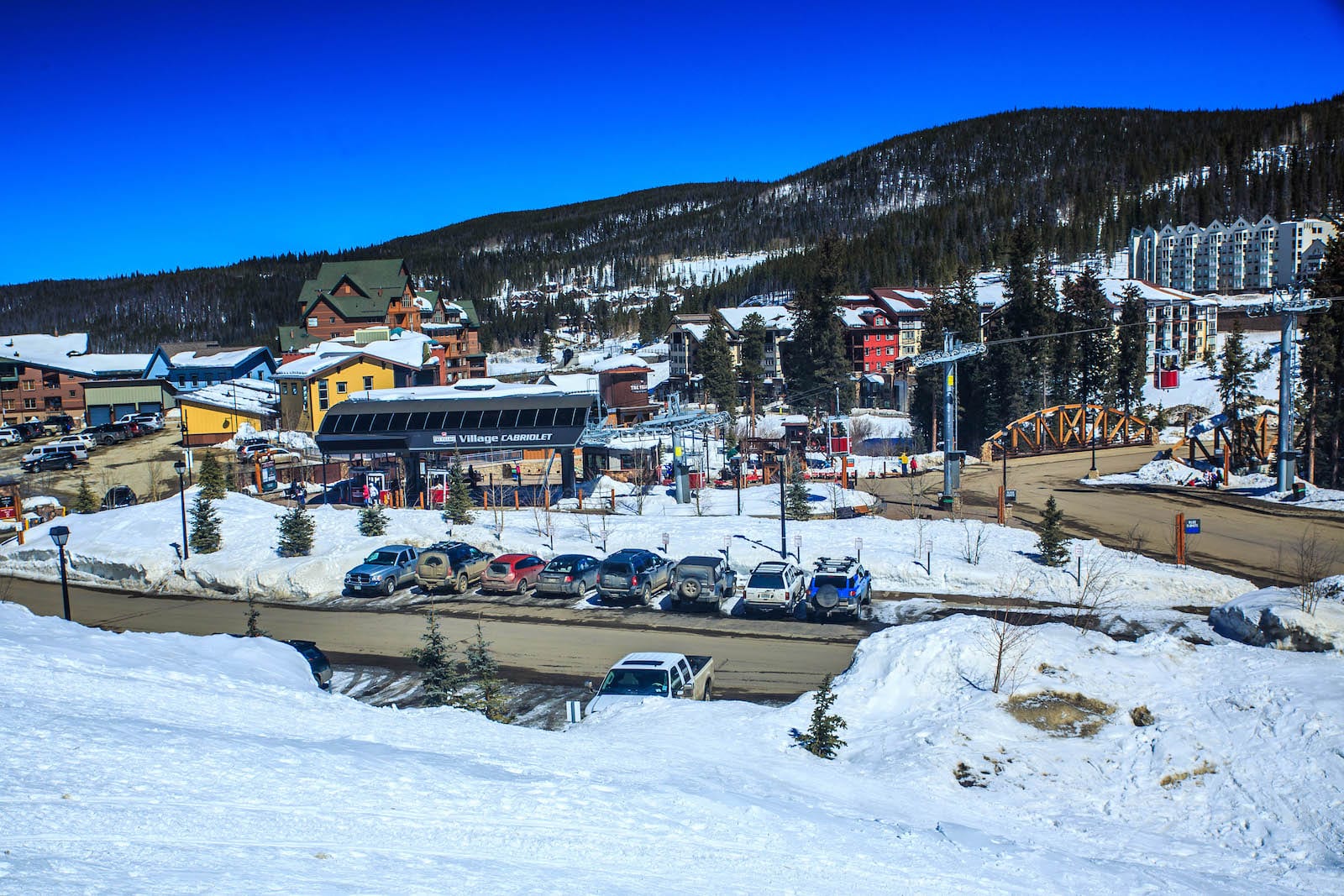 USA Today readers have voted Winter Park America's Best Ski Resort two years in a row, but you can have plenty of fun here without strapping on a snowboard. If you're the non-skier adventuring type, scenic snowcat tours through the Arapaho National Forest will deliver a unique winter mountain experience. Snowshoeing tours through the area can also be quite a bit of fun.
After you're through adventuring, take a gondola ride up Winter Park Mountain for lunch, afternoon drinks, and live music. The Sunspot Mountaintop Lounge boasts an elevation of 10,700 ft and stunning panoramic views of the Continental Divide. Hideaway Park Brewery has a taproom you'll enjoy camping out in if you love thoughtfully crafted beer and cozy spaces.
If you happen to be in Winter Park during Venture Out Fest, they'll be plenty of live music, ax throwing, dogsledding, and fireworks to enjoy. For folks with a penchant for bizarre, free activities, SNOWga will pique your interest. This free event, which is essentially outdoor yoga with snow gear, takes place every Friday during winter.
A short trip up the road will lead you to the Cozens Ranch Museum, a spot that explores what pioneer life was like for early homesteaders living in Colorado in the late 1800s.
Native Winter Parkers and visitors are big fans of Fraser Valley Hot Dog, a local staple specializing in gourmet hot dogs and other meaty delights. If you're craving something a bit fancier, try Volario's, a swanky Italian spot with a large fireplace. And for those interested in making their Winter Park experience as fun as possible, a snowmobiling tour through the area will do just that.
Discover other things to do in Winter Park.
Thanks for checking out our favorite destinations for a Colorado winter without skiing. Drive safe and enjoy your time off the slopes!