Known for star-studded appearances, extravagant ski culture, and beautiful location, Aspen is surrounded by the world's most impressive ski resorts and insulated by the unparalleled beauty that is the Rocky Mountains.
Whether it's among the pallet of autumn color, under the cover of fresh winter snow, among the reemergence of life in an alpine spring, or soaking in the high elevation summers, there are plenty of things to do in Aspen.
Year-round activities
From world-class dining to Visit anytime and experience these year-round activities in Aspen that know no seasonal restrictions.
Tuck in your napkin and enjoy world-class dining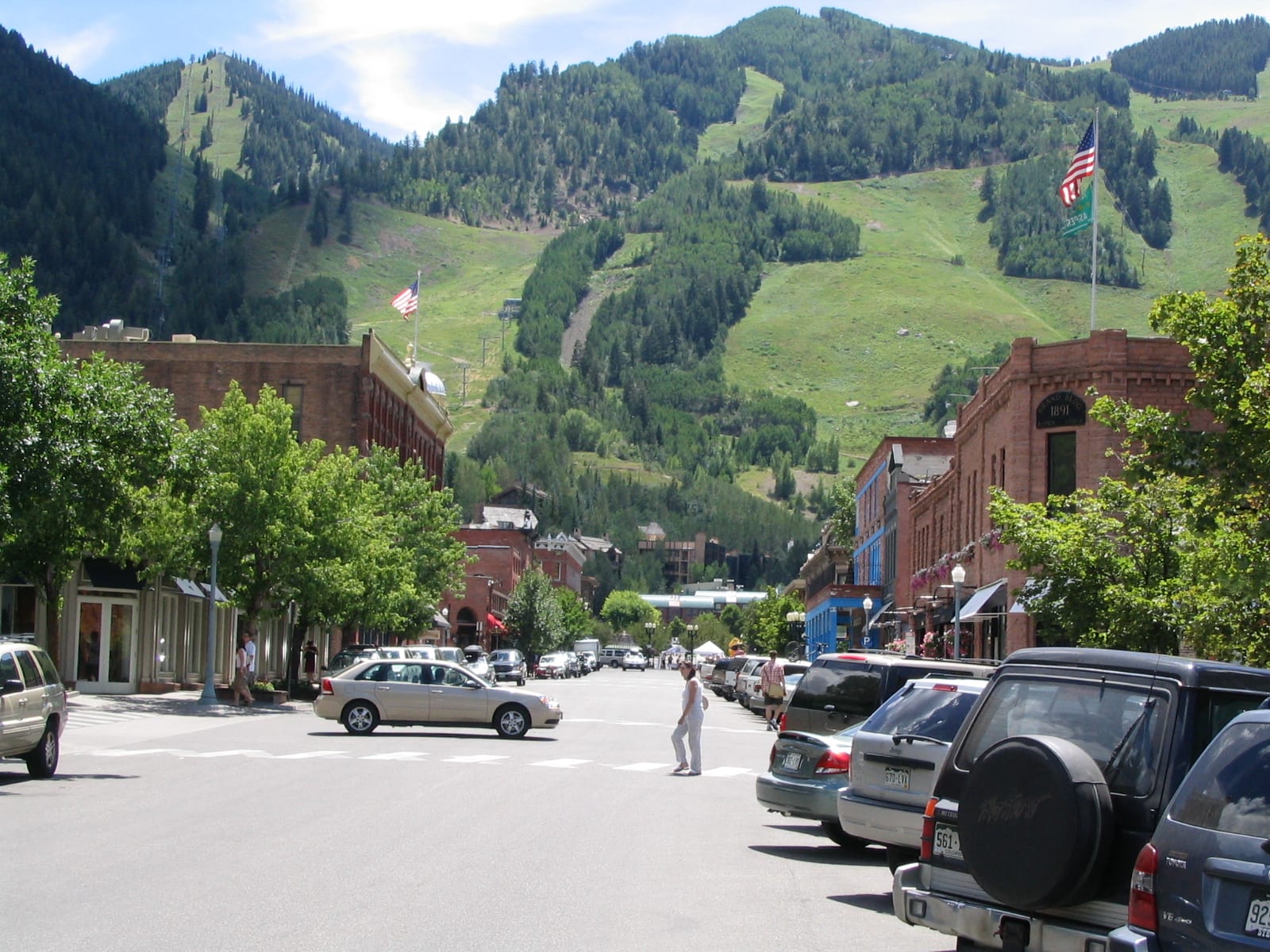 Aspen's frequent visitation by those who have an extra buck or two to spend has inspired it to become a haven for world-class cuisine. Aspen's thriving after-hours culture and celebratory mindset have produced a town with enough high-class dining to attract those used to the offerings of major dining destinations.
Colorado's surrounding agricultural industry also provides Aspen's restaurants with an ever-rotating menu of seasonal dishes. This welcomes you with an exciting new taste each and every time you come to town.
Discover the history of Aspen
The Aspen Historical Society maintains, preserves, and runs several fantastic locations, exhibits, and properties throughout the Aspen, which tell the stories of days past in the alpine mining town that is now a glitzy ski destination. You can enjoy guided downtown walking tours, a tour of the Victorian west-end of town.
During the ski season, you can sign up for a ski-history tour, and finally, you can enjoy a few hours perusing the Wheeler/Stallard Museum or Holden/Marolt Mining ranch museum.
Wheeler Opera House and Hotel Jerome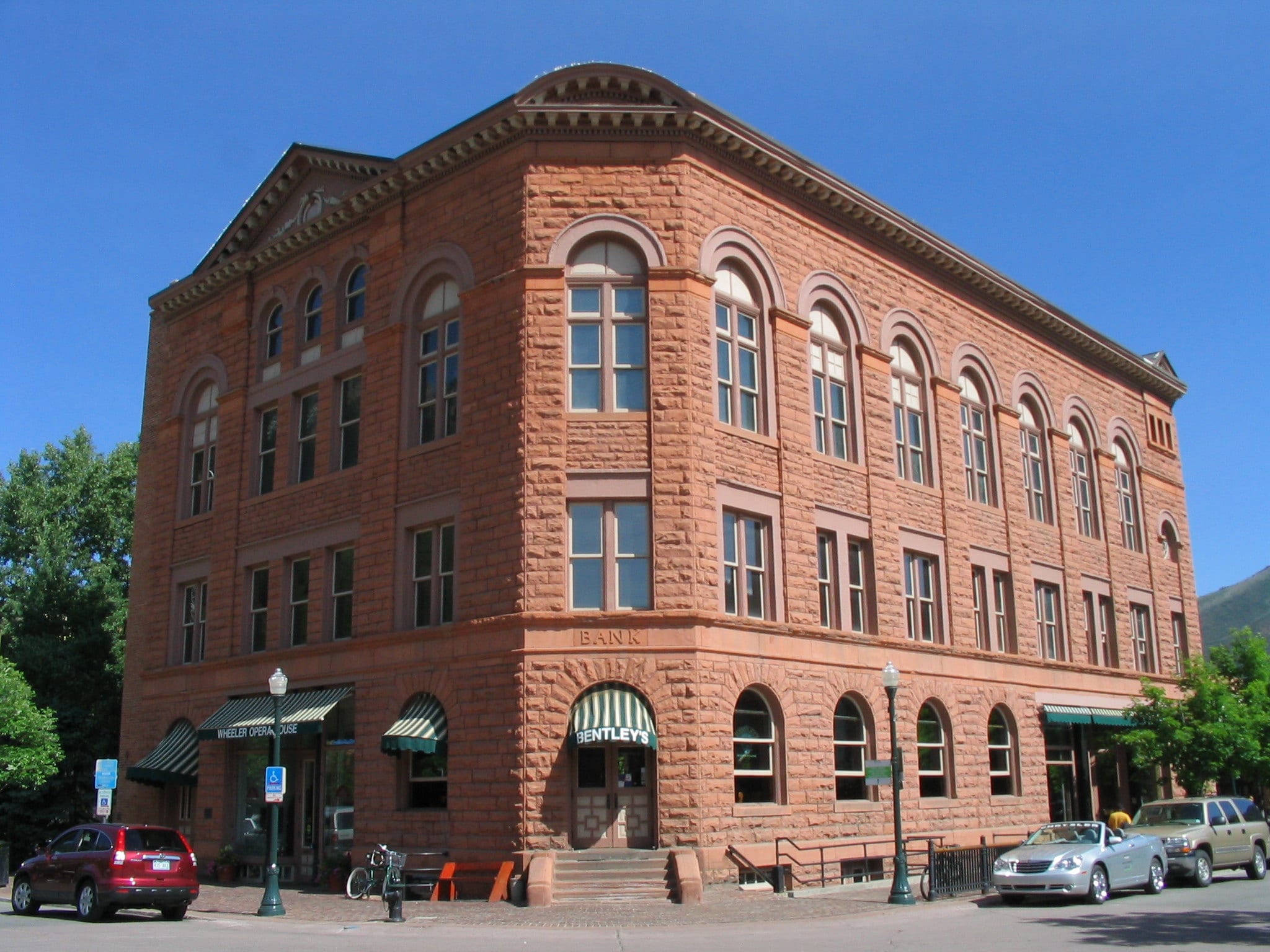 Two of Aspen's showstoppers are the Wheeler Opera House, Aspen's premier landmark and reigning best tourist sight, and the Hotel Jerome, built by the same architect that designed the opera house. The Wheeler Opera House puts together yearly performance schedules ranging from traditional opera and classical performances to pop culture icons like Dave Chappelle and of course, the late great Aspen hero John Denver.
If there's a show while you're in town, whether you like the performer or not, it's worth getting tickets to feel for what it's like inside one of the wild west's most notable landmarks.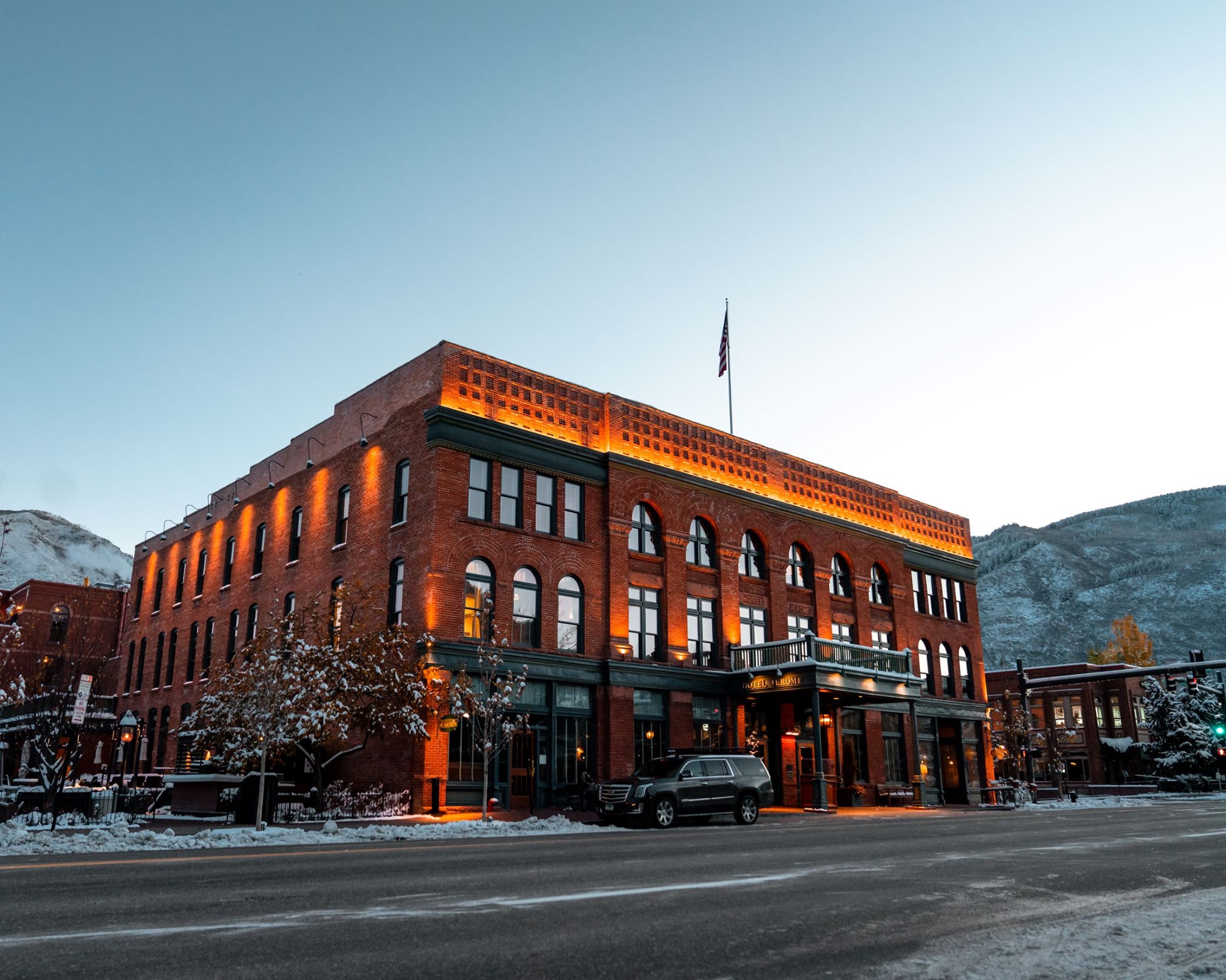 If you want to add some flare to your stay think about getting a room at Hotel Jerome. A social hub in Aspen since 1889, the Hotel Jerome is Aspen's most authentic experience of what life was like in the 1800s with lots of class and modern comforts, of course. Sit in the room where Hunter S. Thompson once sat and designed his chaotic plan for a new life in Aspen. The hotel is all class and will even help you design a one-of-a-kind vacation with help from their concierge.
Belly Up Aspen
Last but not least because Aspen draws such a large out-of-state visitor population, major performers have started making Aspen a routine stop on their tours. Aspen's famous Belly Up Aspen is the place to catch a live performance in its intimate venue. It may be small, but it attracts big talent, for example, deadmau5 and The Beach Boys are on tap to take the stage in 2021 already.
Winter activities
Ahh, wintertime in Aspen. Covered by a blanket of fresh snow, surrounded by some of the world's premier skiing resorts, and among one of the liveliest post-ski atmospheres around, Aspen in the depth of winter is like nothing else.
Of course, we'd be remiss if we didn't explicitly say that spending time on the slopes is an absolute must. But even if skiing or snowboarding isn't your thing, there's plenty to see and do with these winter activities in Aspen.
Take advantage of world-class skiing and snowboarding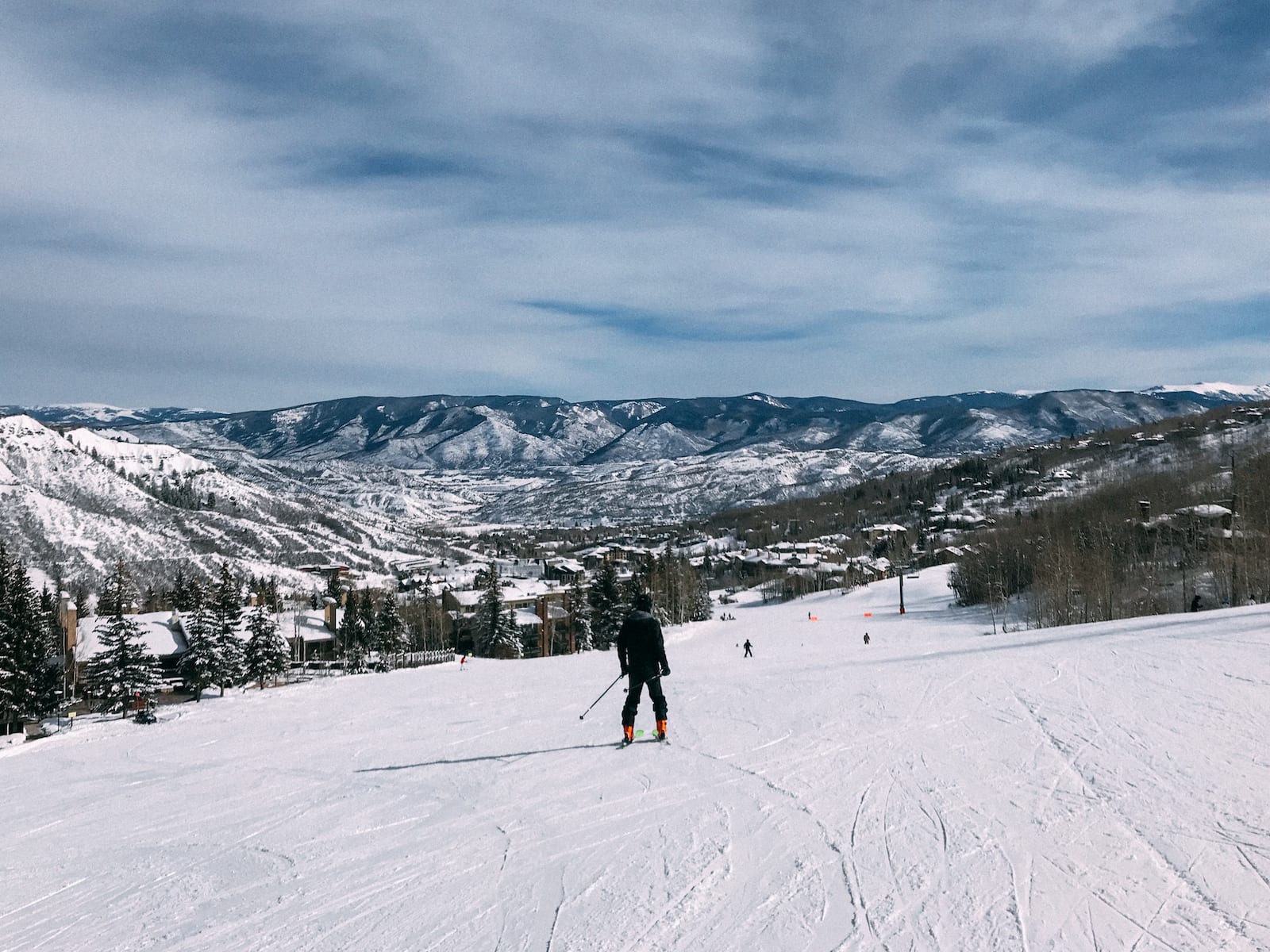 Believe it or not, within a stone's throw of Aspen's main drag there are four world-renowned ski resorts just waiting for you to shred some fresh powder. Between Aspen Highlands, Aspen Mountain, Snowmass, and Buttermilk you have access to just about 5,500 acres of skiing and 332 distinctly different runs. No wonder Aspen is one of the world's most frequented skiing getaways. The high elevation and a central location in the Colorado Rocky mountains provide skiers pristine skiing conditions.
Let loose with a legendary Apres-ski scene
Now that you're done shredding for the day what more could you want than a wild night of post-slope celebrations and festivities? Not much. Whether you're taking in the day's festivities from the sundeck atop Aspen Mountain or down in town at the Limelight Lounge, there's a party to be had, drinks to be consumed and stories among skiers and boarders to be exchanged.
Aspen is the mountain town that never sleeps … well, not really, we all need rest before another day under the winter sun and cutting through fresh powder … but when the day is done on the mountain, there's still plenty of life left in town.
Snowshoe or Cross Country Ski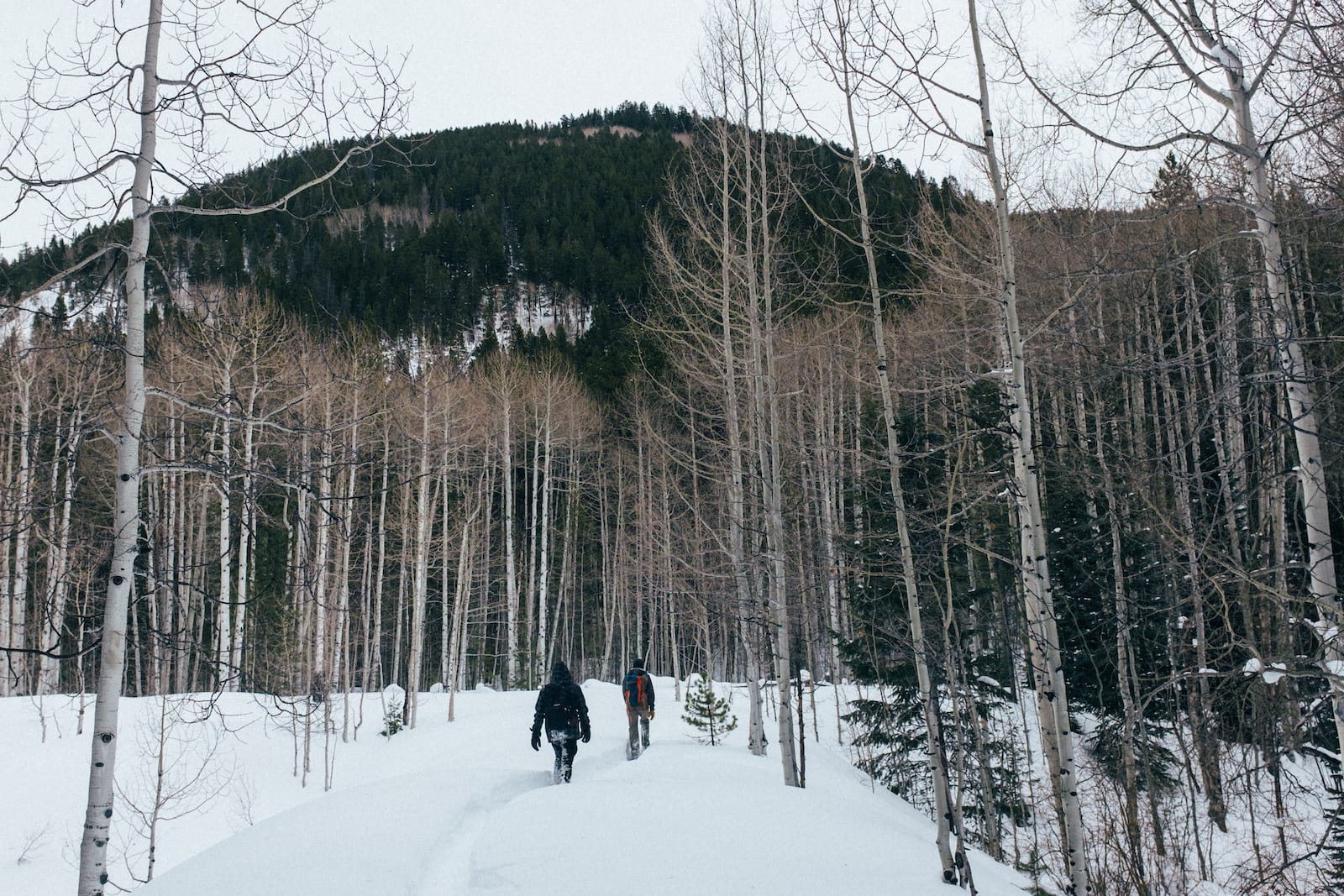 Not a skier? Not a snowboarder? Not a problem. If you haven't gotten the point yet, Aspen sits tightly within an area of incredible natural beauty and there is more to be done in the winter months than just skiing or snowboarding. For a different way to experience the snow, try snowshoeing or cross-country skiing.
Aspen provides a winter wonderland playground for Nordic skiers and snowshoers with 55 miles of trails between Aspen, Snowmass, and Basalt. In Aspen, there are several groomed trails to start with including the Aspen Golf Course, Moore Trail, Marolt Open Space, and more. Visit the Aspen Cross Country Center for more information on open trails, rentals, and how-tos for both your cross-country ski and snowshoe adventures.
Fall activities
Is there a more beautiful expression of mother nature than catching the changing of the color guard in the cradle of a mountain range? Aspen in the fall is simply gorgeous. Witnessing the seasonal shift from summer to fall to winter is a special moment highlighted by the strokes of nature's paintbrush, and Aspen is just one of those places where that paintbrush creates a masterpiece. Here are just a few of the fall activities in Aspen to enjoy during the season.
Hiking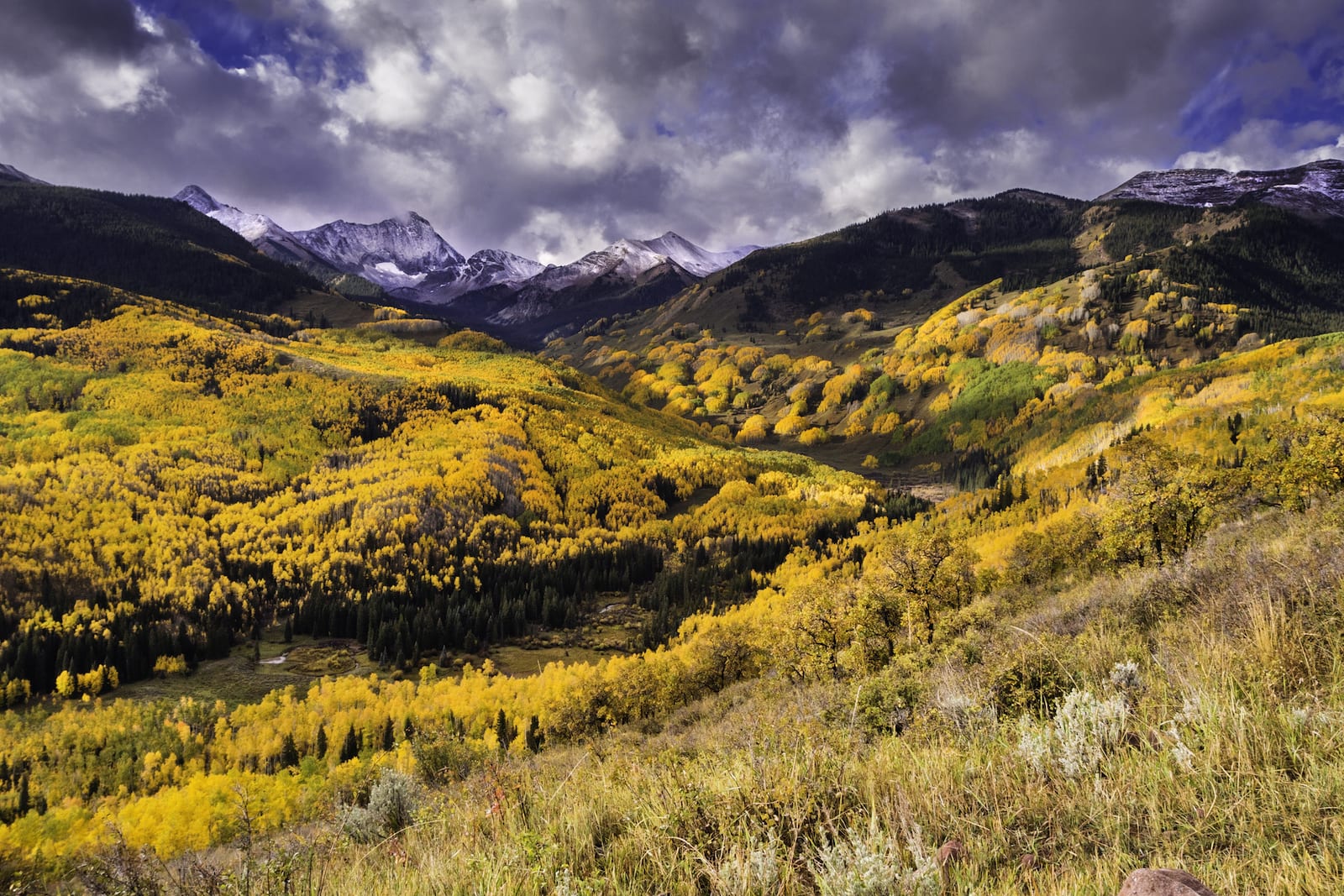 There's not a bad time of year to get outside in Aspen but the fall season is especially special. Feel encapsulated by fall colors as you wind your way through trails of gold and amber for unforgettable scenery. Resting at around 8,000 feet in elevation you should be prepared for varying weather conditions while on your hike. And if you are lucky enough, you might get to witness the clash of the seasons when the first snowfall lands on the colorful foliage.
While it is hard to predict the peak of the season, generally the third week of September is the best time to visit for fall foliage. The iconic peaks of the Maroon Bells are always a safe bet for beautiful fall scenery. Other popular hikes include Cathedral Lake, Hunter Creek, American Lake, and Crater Lake.
Aspen Mountain Gondola
Ascend to 11,212 feet of elevation while comfortably seated in a car on the Aspen Mountain Gondola. Take in views of the Roaring Fork River, the town of Aspen, and across the way at the imposing peaks of the Elk Mountains. Once you've reached the peak enjoy a quick walk around, perhaps a tour with the Aspen Center for Environmental Studies, or enjoy a round at the world's highest disc-golf course.
Aspen Paragliding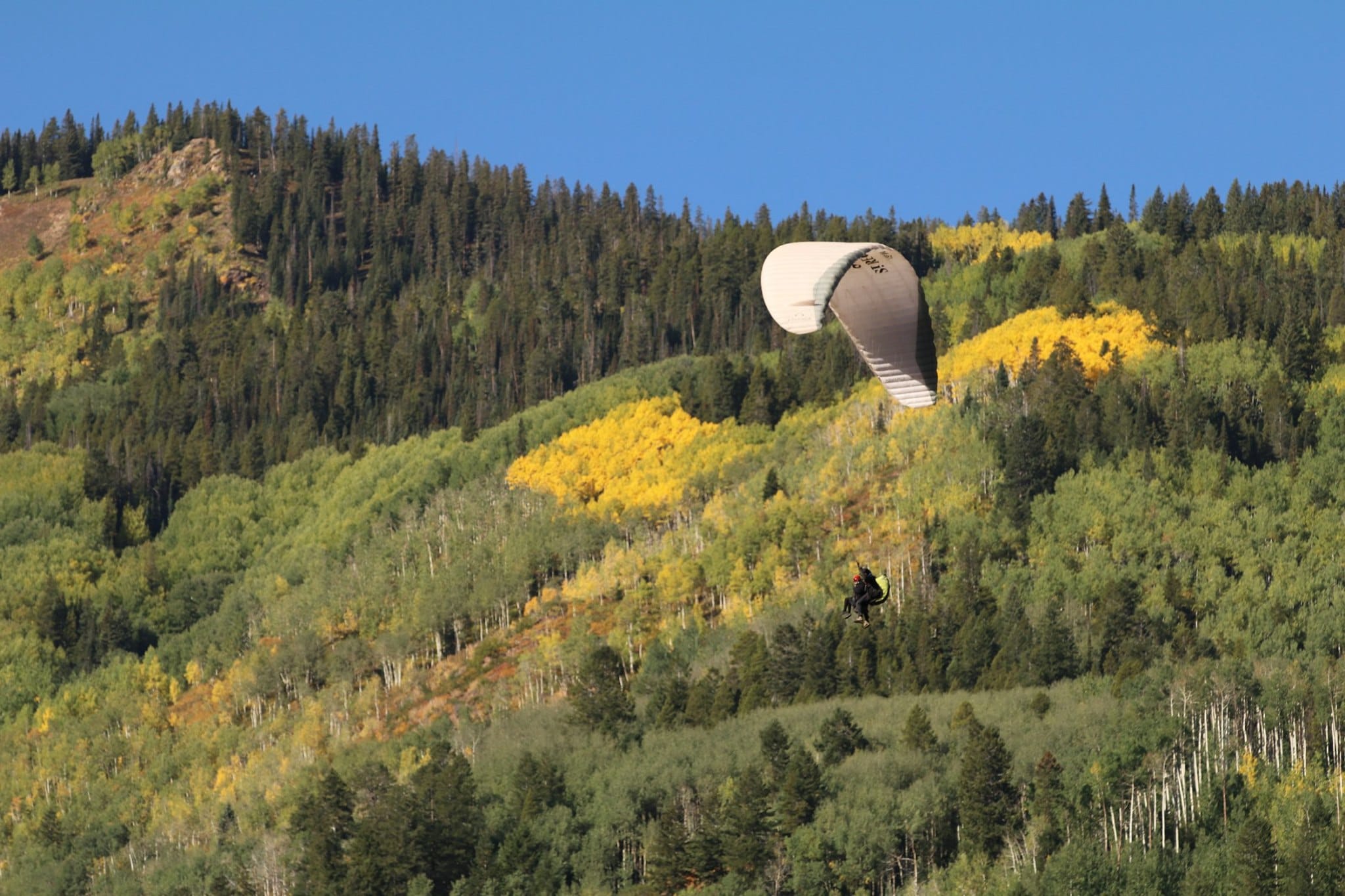 Not everyone will see the excitement or joy of floating above the town of Aspen strapped to a canvas glider and metal frame. But for those up for an adventure and interested in getting a birds' eye view of the fall foliage, then Aspen Paragliding is for you. The fall can be a productive time for thermal conditions and guides commonly take their clients up to almost 18,000 feet of altitude.
Aspen FilmFest
Usually falling in the third week of October, the Aspen FilmFest is a top quality film festival showcasing a myriad of arthouse, independent and foreign films culminating in a coveted awards show. In 2020 the FilmFest began showing a single film in a drive-in setting at the Snowmass Town Park which turned out to be a very popular event.
Spring activities
Blooming wildflowers, trees regaining their color and life, wildlife surfacing from their winter dormancy, spring in Aspen is truly beautiful. Imagine spring skiing and snowboarding under blue skies and comfortable temperatures followed by longer spring nights celebrating with the apres-ski scene. Discover a wild mixture of winter and summer with these spring activities in Aspen.
Spring skiing under the blue skies
Skiing remains viable in Aspen through the end of April, depending on snowfall. While spring skiing often doesn't present the most pristine slope conditions, getting in a day or two under the sunshine and the guarantee of a great after-party is more than enough to sell the lift ticket.
Each resort features spring skiing and offers some kind of spring lift ticket deals. In fact, if you can plan on being in Aspen (and on the slopes) during one of the closing days, the atmosphere will be unlike anything you've ever witnessed.
Supreme fly-fishing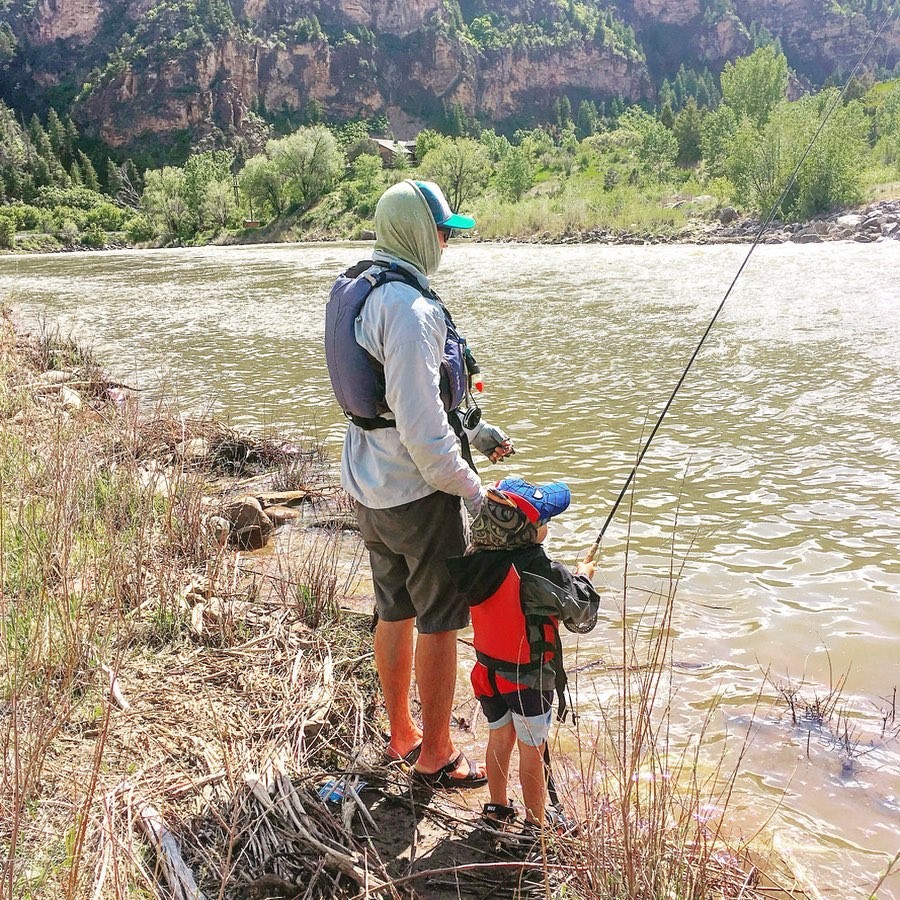 Cast in a line in the world-class fishing waters of the Roaring Fork River or find some solitude with a fishing experience at a high alpine lake.  But why fly-fishing in spring? During the spring season, the bugs have come out to play and it marks the beginning of the dry-fly fishing season. The fish are active and hungry as well, making spring the perfect time to learn how to fly fish!
Summer activities
And what would Aspen be without the summertime? Long days, short nights and an endless list of outdoor recreation lead Aspen to the top of many lists as the best outdoor destination for summer. Cycling, mountain biking, paragliding, hot-air ballooning, hiking, walking, rafting, kayaking, camping, shopping, eating, and historical explorations are just some of the many summer activities in Aspen.
Hiking around Aspen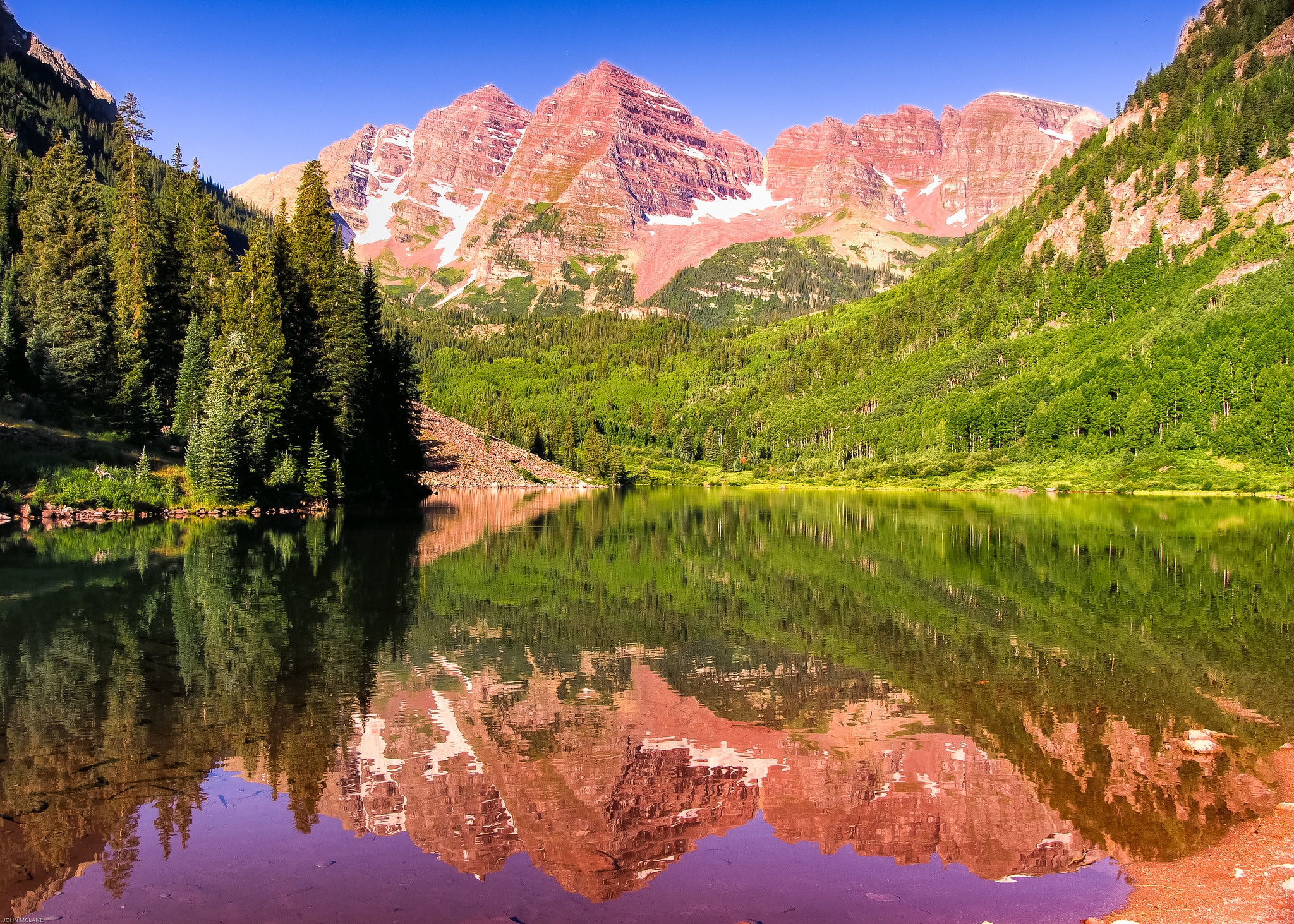 There are trails for all levels of experience around Aspen, from short distance trails to longer and more challenging terrain. You can mosey casually along the Roaring Fork River, take a short hike to the Grottos Ice Cave and explore the carvings of glacial ancestors.
Or you can push your limits and climb Capitol Peak and hike through Maroon Bells – Snowmass Wildnerness. In mid-July, enjoy the burst of colors from the emerging wildflowers. Trails such as Cathedral Lake, American Lake, and the Maroon Lake Scenic Trail all provide hikers with quite a colorful show.
Mountain Biking Trails
The summer and fall season in Aspen still allows for the use of both mountain biking and road biking opportunities. For the export mountain biker, the legendary Government Trail should not be missed. Popular routes for beginners and intermediate mountain bikers include Sky Mountain Park, Snowmass Cross-country trails, Snowmass Bike Park, or the Smuggler-Hunter Creek loop.
Kayaking, rafting, or stand-up-paddle boarding the Roaring Fork River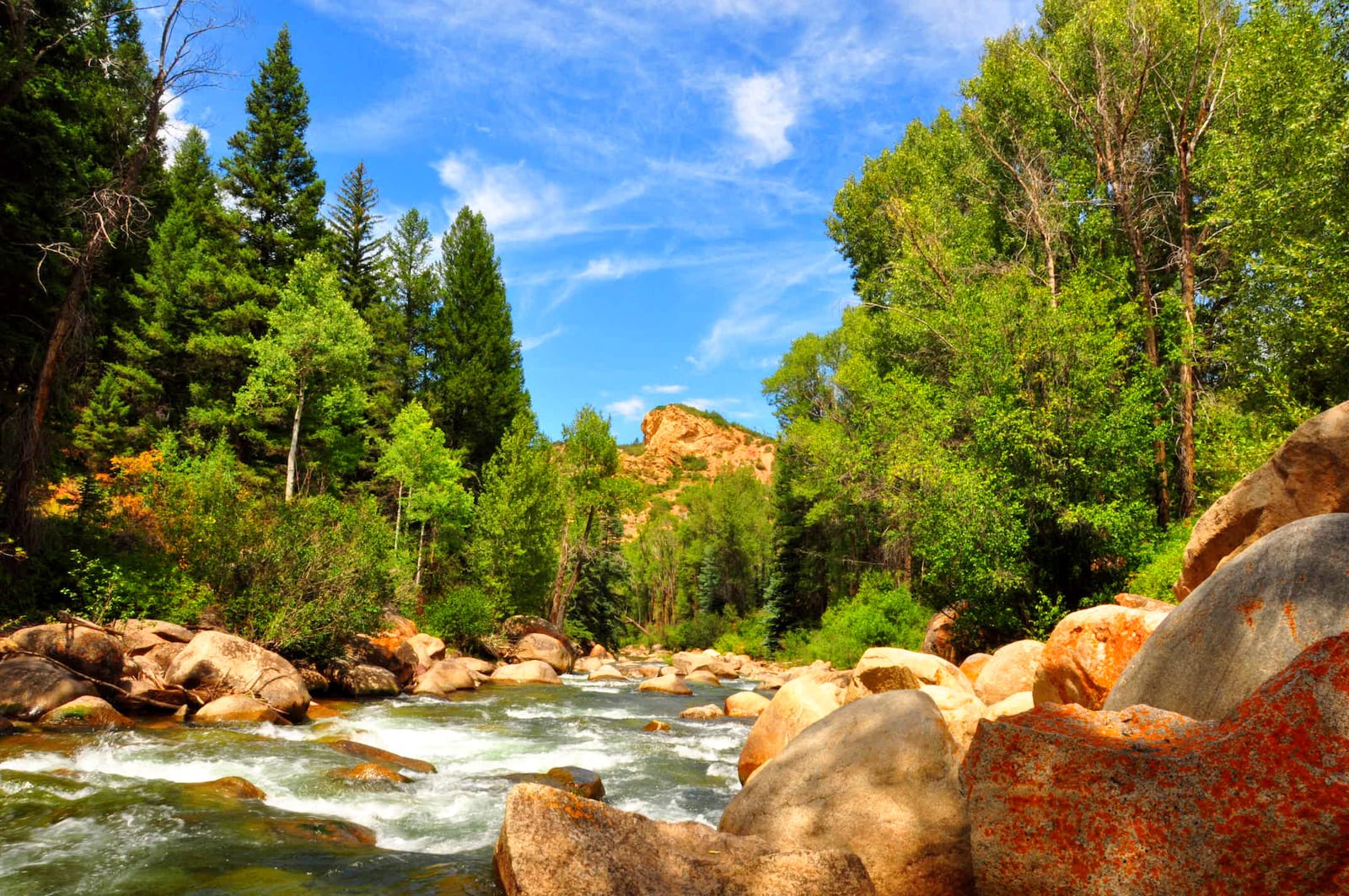 Winding its way through the center of Aspen and cutting through the peaks of the Elk Mountains is the Roaring Fork River. In the early summer months, when snowmelt and glacial runoff are peaking, the rapids run free and if you're a water person, there's nothing more exciting than navigating your way through a river on a kayak, raft, or canoe.
Depending on your experience (and willingness to adventure) local guides will set up trips for you along various portions of the river akin to the challenge you're willing to take on. If you're just not into the rapids at all, there are some wetland tributaries around town that provide calmer waters for stand-up paddleboarding or canoeing.
Whitewater rafting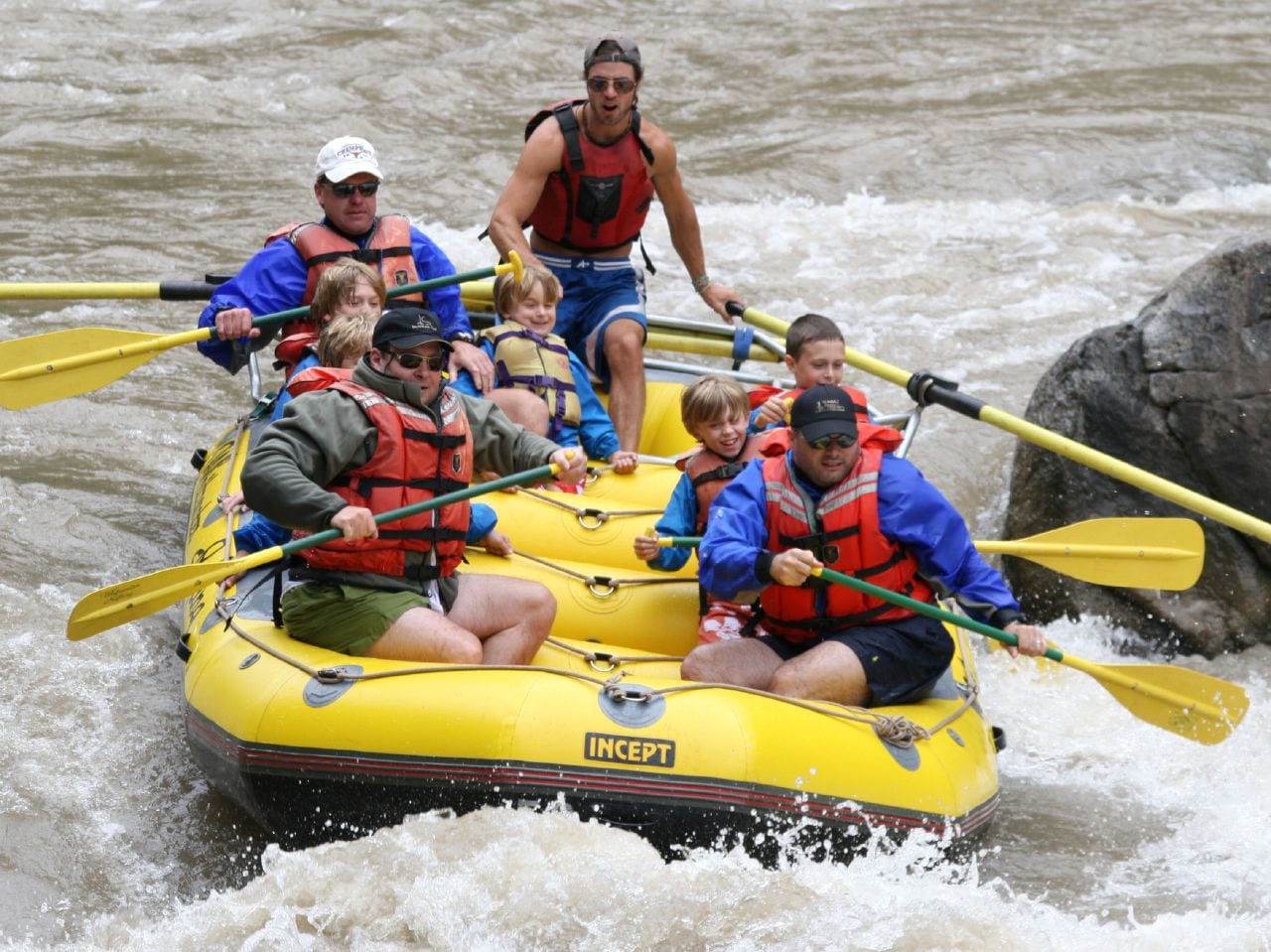 Closing out spring and coming into summer, whitewater rafting is at its peak season. The snowmelt creates rushing rapids and high water levels, perfect for some epic whitewater rafting down the Roaring Fork River. Hop into a raft with an expert guide and experience the beginning of the summer season by winding through channels carved by glacial runoff, all with scenic views surrounding you.
Enjoy Fall produce at the Aspen Farmers Market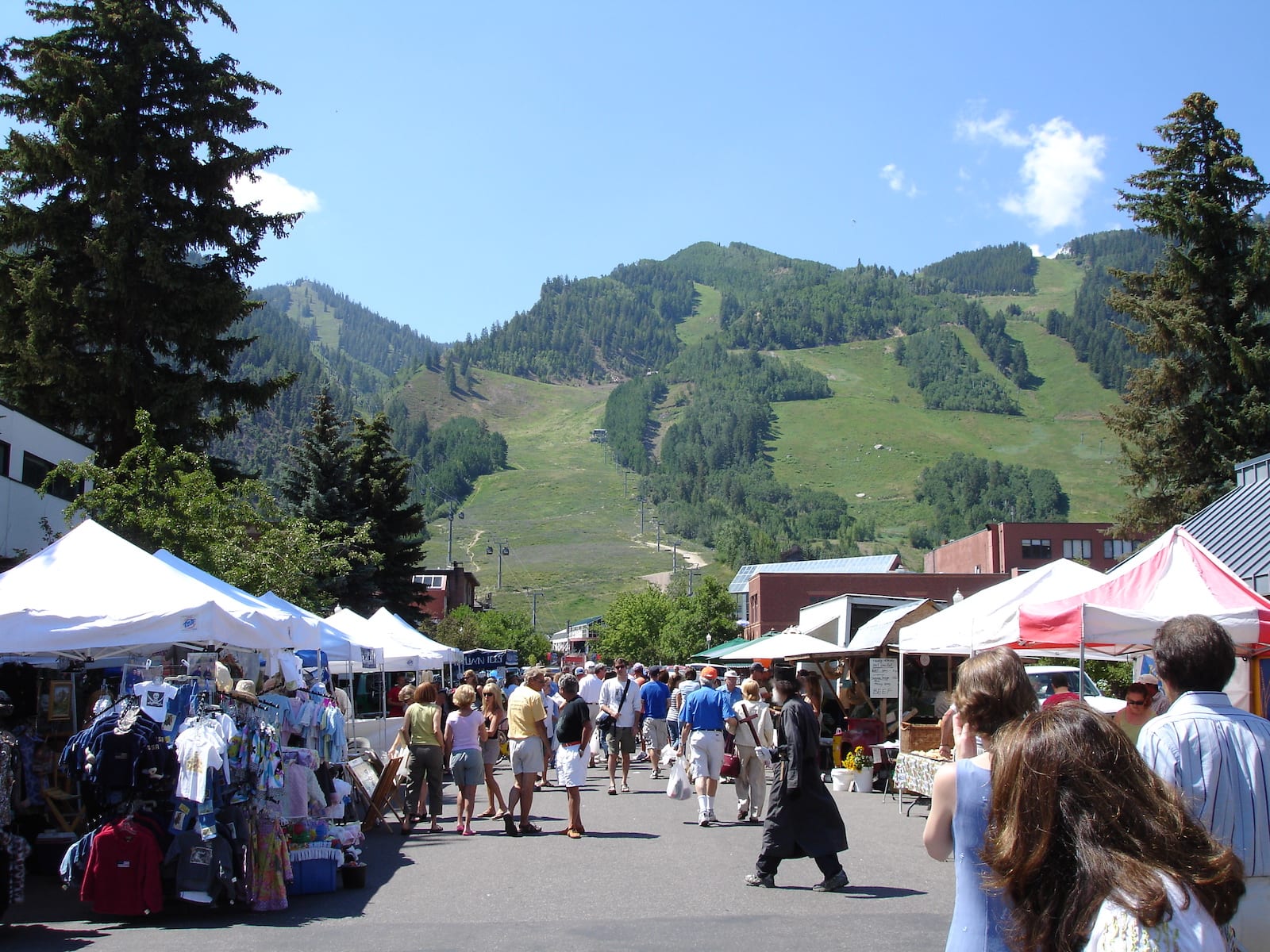 Mid-June through mid-October, you can peruse the Aspen Farmer's Market on Saturdays. There's always vibrant live music, diverse food cart options, plenty of shopping, and of course, fresh produce on display from neighboring Colorado farming regions. It's a great place to hang out and support local Colorado vendors, both artisan and agricultural.
John Denver Sanctuary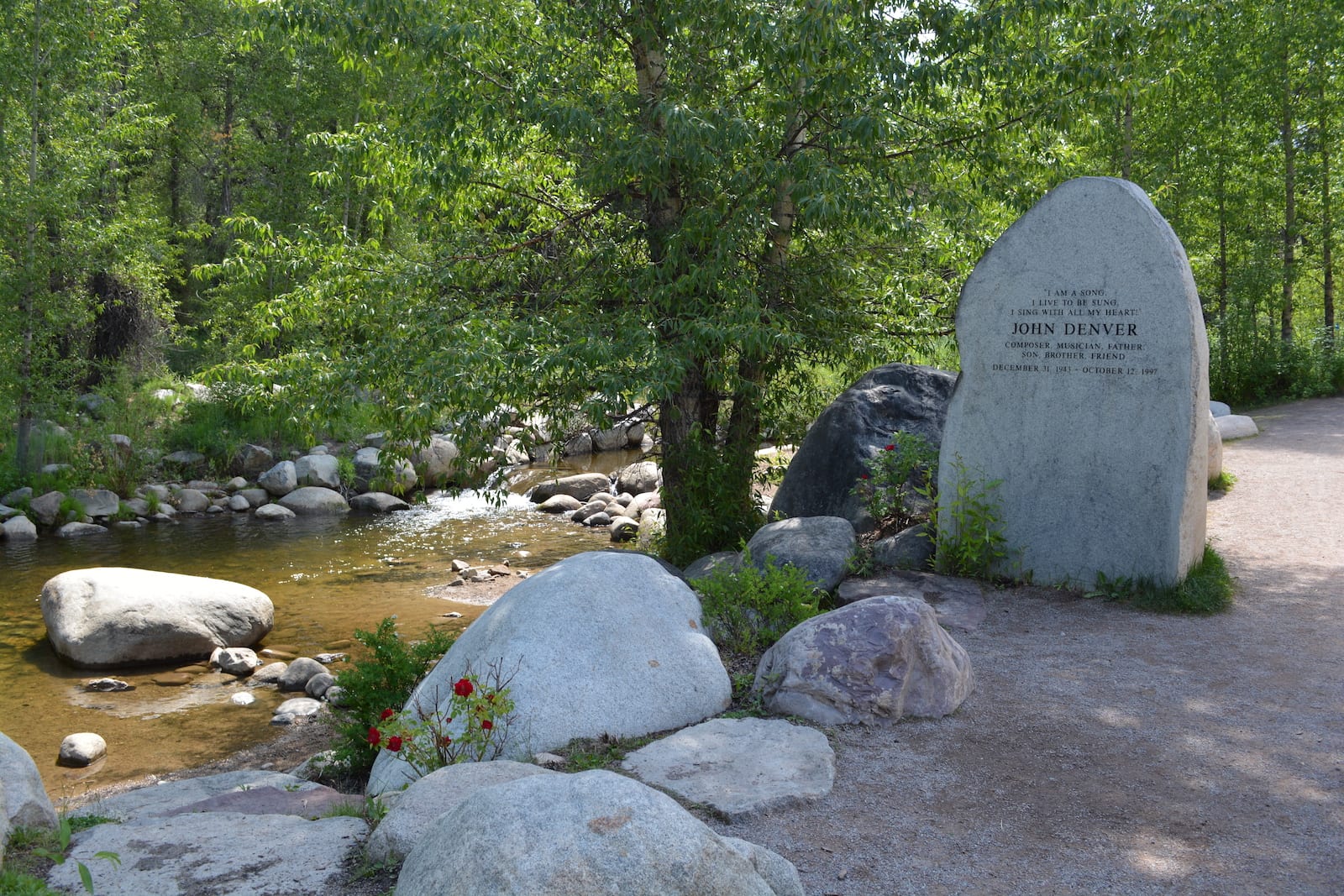 Aspen's golden boy John Denver called the town home for many years before his sudden passing in 1997. The town has been prevalent in both his lyrics and his life and thus, Aspen moved quickly after his death to begin work on the John Denver Sanctuary to pay homage to the singer, his philosophies on life, and his love for Aspen.
For inspiration, visit the Song Garden, a shrine with various stones that feature engraved lyrics of some of his most famous songs. Visitors can access the John Denver Sanctuary near the Rio Grande Park, along the Roaring Fork River.
Take the plunge at Devil's Punchbowl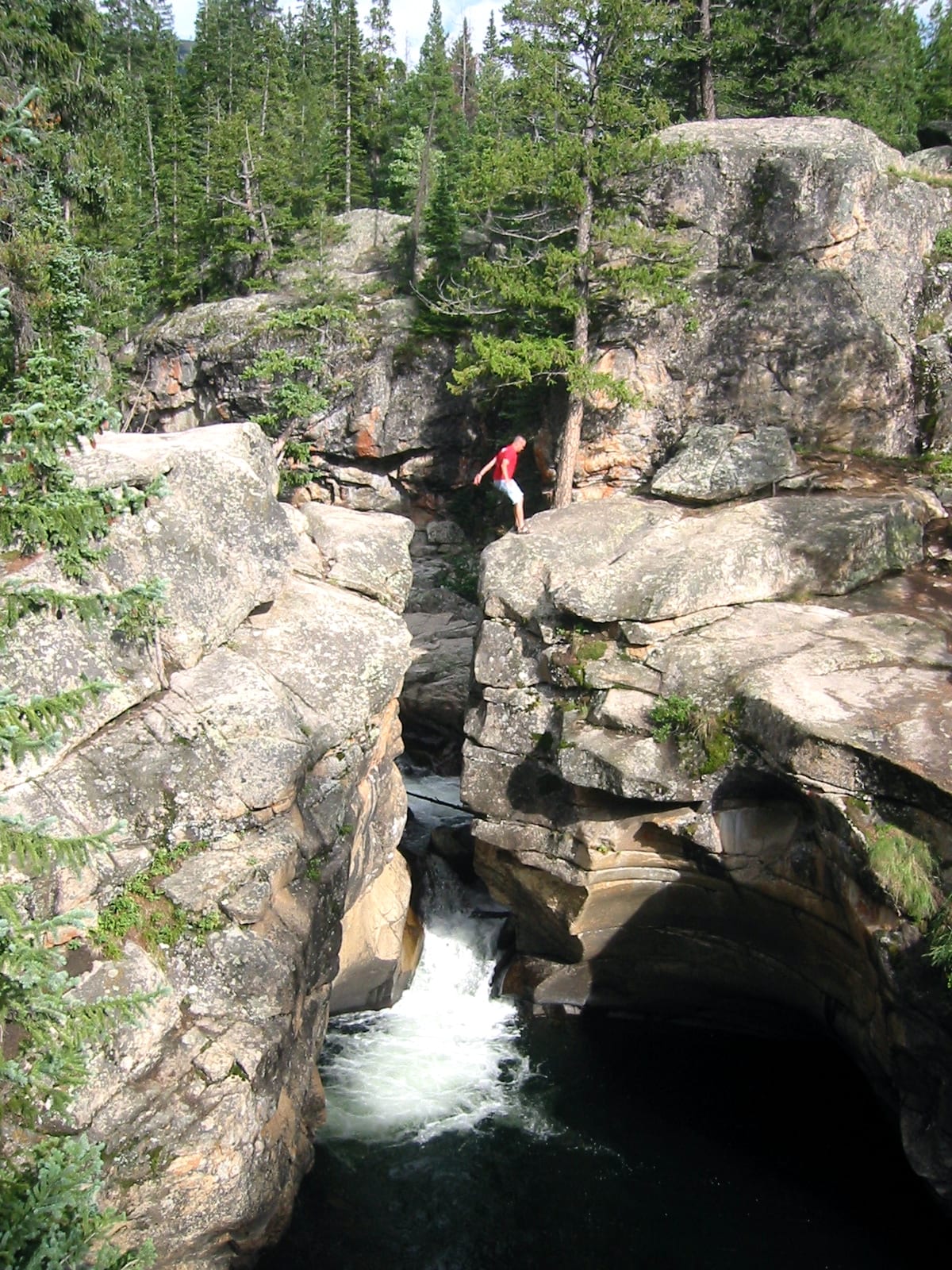 Calling all adrenaline junkies and cliff divers, the Devil's Punchbowl might be one of America's most famous wild cliff-jumping sites. Located just outside of town, this natural formation of small waterfalls from the Roaring Fork River converges and spills into one large pool. It's about 20 feet down from the cliff's edge into the ice-cold waters.
Cliff jumping isn't exactly advised, as there is no lifeguard on duty. So, jump at your own risk. If you're more interested in observing others test their fate, there's plenty of space around the area along the river to observe or take some photos.
Explore Independence Pass and ghost towns around Aspen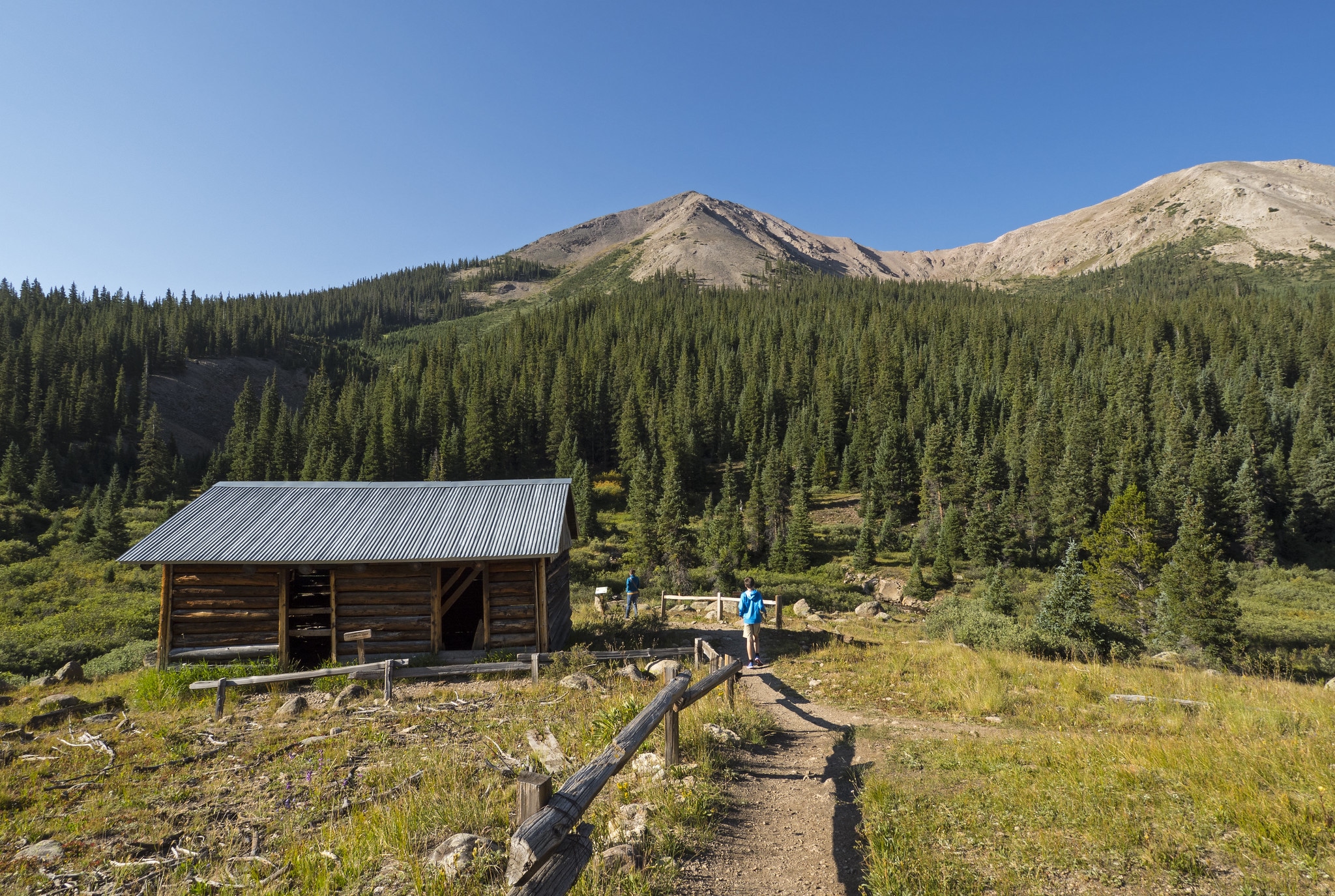 At over 12,000 feet in elevation, Independence Pass cuts through the imposing peaks of the surrounding mountains and leads visitors to the deserted town of Independence. As the first mining site in the Roaring Fork Valley, Independence features remnants of a late 19th-century mining town with a few buildings still standing and protected to preserve the history of the area. Guided tours are offered or tour on your own to learn more about this historic town.
Another ghost town well worth the visit during the summer is the town of Ashcroft. You can still check out the remaining saloon buildings, jailhouses, and remnants of the town's once-thriving school.
Like most mountain towns in Colorado, Ashcroft fell victim to the mines running dry of gold and silver and quickly saw itself starved of the essentials of survival. Today, like other ghost towns, it acts as a reminder of those that once braved the harsh life of a mountain miner in Colorado.
If you couldn't tell, Aspen is exploding with options for visitors and although it's known to press your pocket a bit, it's worth a visit! Trust us, there won't be a single moment while you're in town that you won't find things to do in Aspen.