The Maroon Bells are a fascinating set of 14,000-foot peaks that reflect off of Maroon Lake. It's one of the most photographed alpine scenes in the country, and rightfully so. There are a lot of ways to enjoy this secluded, yet crowded slice of paradise.
Most people access Maroon Bells Scenic Area via bus from the Aspen Highlands Resort, only a few miles before the entrance station. The bus runs from 8 am to 5 pm during the summer months and it is the only way to access the area during the busy season unless you hike or bike in.
Fishing is common on Maroon Lake and makes a great activity to do while you camp in the area. Both day and multi-day hikes are also popular in the surrounding wilderness. Make sure you visit this Aspen bucket list destination.
Activities at Maroon Bells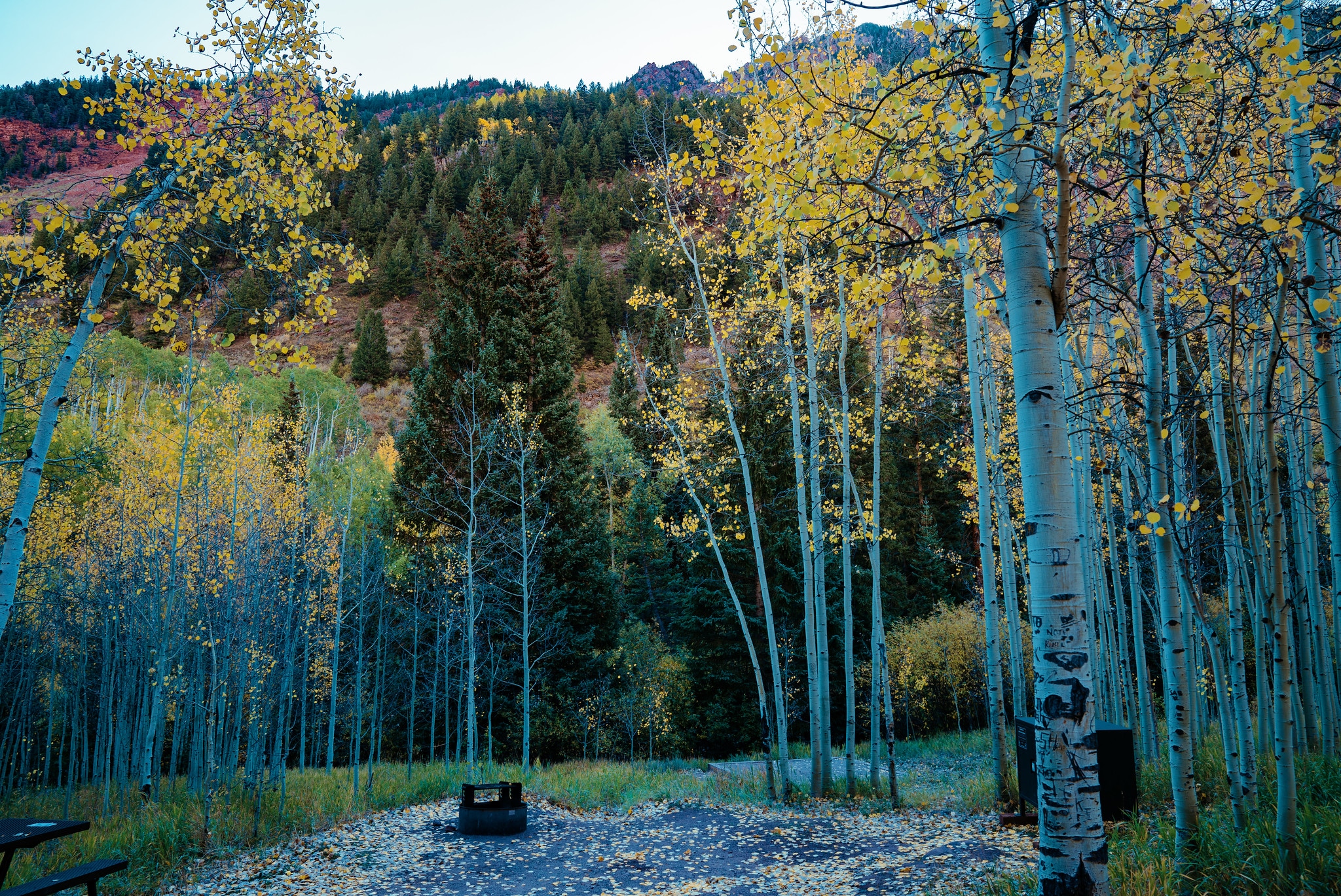 Camping – There are three campgrounds on Maroon Creek Road inside the gates to the scenic area. Reservations for campsites are available from Memorial Day weekend through early October. There are entrance fees for each car in addition to campsite fees.
Silver Bar – This small primitive campground is adjacent to the entrance station. It has 4 tent-only, walk-in sites, with one accessible site near the vault toilets. The grounds sit right next to a babbling stream.
Silver Bell – Each of the 14 sites includes a storage box, fire pit, picnic table, and vault toilet. There are 2 RV sites, 6 tent-only, and 6 walk-in tent sites available for reservation.
Silver Queen – This beautiful site has views of the nearby Pyramid Peak, and is an easy walk to Maroon Creek. There are 6 non-electrical sites that can accommodate RVs, tents, or trailers.
There is no dispersed camping at Maroon Bells. Backcountry camping is permitted in the Maroon Bells-Snowmass Wilderness.​
Fishing –
The high-elevation Maroon Lake is a prime spot for trout fishing, especially during sunrise and sunset. It is an easy walk from the parking lot. Shore fishing only though; swimming, wading, and watercraft are all prohibited.
Crater Lake also has good trout fishing, but it's a 4-mile round-trip hike into White River National Forest. The trail is rated as moderately difficult and winds through gorgeous aspen groves before arriving at the alpine lake.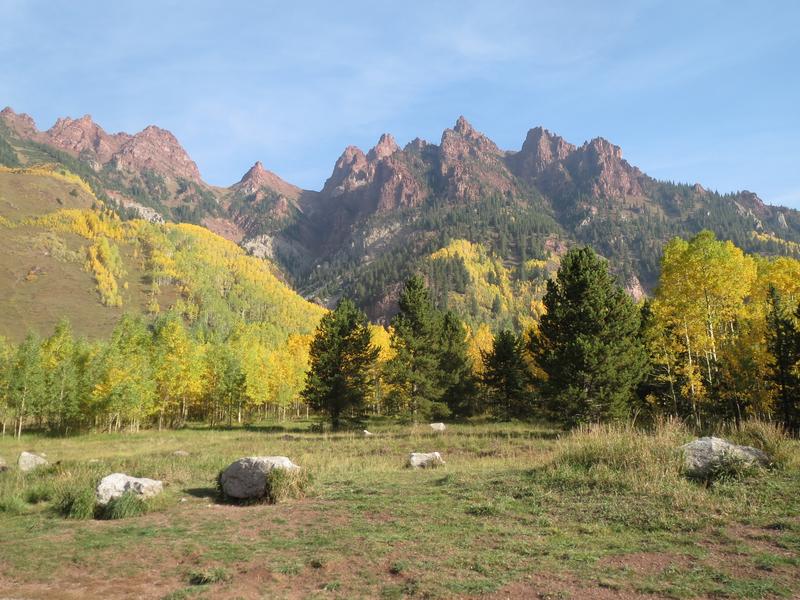 Hiking –
Four Pass Loop is a very popular backpacking route, totaling just under 26 miles. There are multiple river crossings, rocky areas, and some snow, so be sure to bring trekking poles and waterproof shoes.
The Scenic Loop trail is 1.9 miles and passes by the most popular spot for photographing the area. It is considered an easy hike. Dogs are not allowed in order to protect the habitat of local moose.
Maroon Creek trail is just under 7 miles out-and-back and winds through open valleys and past the clear waters of Maroon Creek. Visitors say it is not very crowded and is a peaceful place for hiking, trail running, and even horseback riding.
Crater Lake trail is 3.6 miles round-trip to a pristine alpine lake, popular with fishermen. Hike this trail in the autumn months to catch a glimpse of the beautiful yellow aspen groves.
Picnicking – Tables are available at Maroon Lake and the East Maroon Portal. There are also plenty of scenic places to set up a picnic if you don't mind laying a blanket out and sitting on the ground.
Winter Recreation – Maroon Creek Rd has limited access in the winter depending on snow. It does not get plowed past the T-Lazy-7 Ranch, but the ranch offers snowmobile tours if you still want to explore the area. Snowshoeing and cross-country skiing are also popular.
Find more nearby recreation in the White River National Forest. It's full of hidden treasures and places to enhance your Aspen vacation.
Tips for Visiting

If you want to skip the hassle of making a vehicle reservation or navigating the shuttle, consider renting an e-bike in Aspen Highlands. You'll have free access to cruise the scenic Maroon Creek Road for no fee and enjoy some fresh air.
Weather is prone to quickly changing at high altitudes, so be sure to pack warm layers and a waterproof jacket and expect the unexpected.
Maroon Bells has limited cell service. It's smart to download a map of the area and designate meeting spots with other members of your group should you become separated.
Pack plenty of water, as there are no fountains once you're in the scenic area. There are restrooms available.
Autumn is the best time for getting those golden hues in your photos due to the changing leaves.
Nearby Accommodations
Read about the best hotels in Aspen, about 25 minutes up the road from Maroon Bells Amphitheatre.
Getting There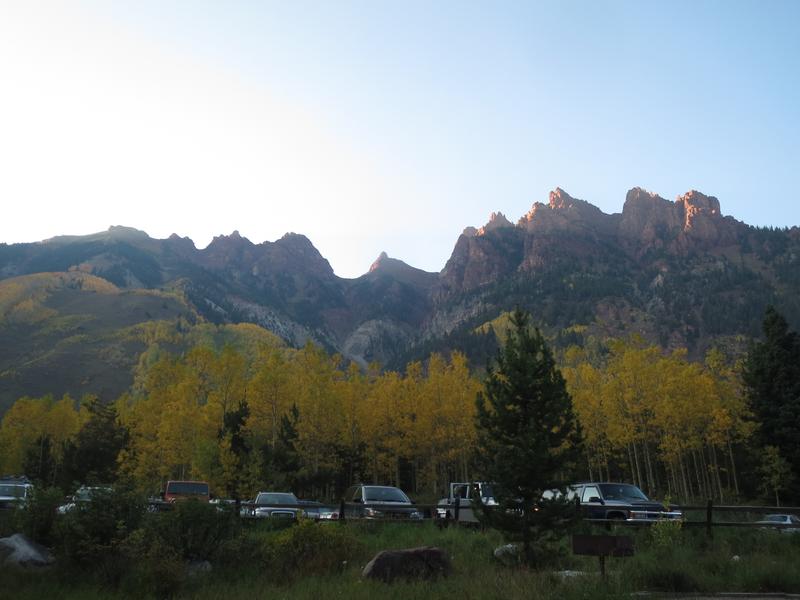 From Aspen, take Hwy 82 west to Maroon Creek Rd and follow it back about 10 minutes to the welcome station. From late May to early October between 8 am and 5 pm, a public bus is the only way to access the Maroon Bells Scenic Area. The bus station picks up at Aspen Highlands, two miles up Maroon Creek Rd on the left side. The bus requires a reservation, as does the parking lot at Aspen Highlands.
Private cars are welcome to access the road before 8 am and after 5 pm (a reservation is still needed), however, the limited parking at the lake is usually filled up by photographers and early morning hikers. Exceptions are made for valid handicap license plates, those towing horse trailers, or guests with campsite reservations.
The Aspen Chamber has parking and bus info if you have more questions about accessing the scenic area. The road is open to non-motorized vehicles at no charge, so you can bike up the road for free anytime you like. It's a 12-mile hike in the winter from the entrance station.
Details
Address: Maroon Creek Rd, Aspen, CO 81611
Phone: 970-945-2521
Season: Year-round
Hours: Maroon Creek Rd is open to motorized vehicles from May 15 through October 31, 24 hours a day for a fee. Driving is restricted from 8 am – 5 pm. The only way in is on a pet-friendly shuttle from Aspen Highlands, which operates from 8 am – 5 pm daily and requires an advance reservation.
Pets: Yes, on-leash
Fees: Yes, entrance fee during the summer as well as a shuttle fee
Elevation of Maroon Bells: 14,163 feet (4,317 meters)
Map: Maroon Bells Guide (PDF)
Campground Reservations:
Website: fs.usda.gov/…
Latest in Maroon Bells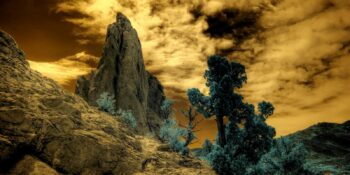 If you've never been to Colorado, you are missing out on some of the most gorgeous,…