Small waterfalls from the Roaring Fork River converge and pool in the Devil's Punchbowl, a naturally formed swimming hole hidden about 10 miles outside Aspen, CO. Popular with nature photographers and cliff jumpers, visitors experience serene beauty and exhilarating thrills while leaping from large rocks into blue-green waters.
Devil's Punchbowl Swimming Hole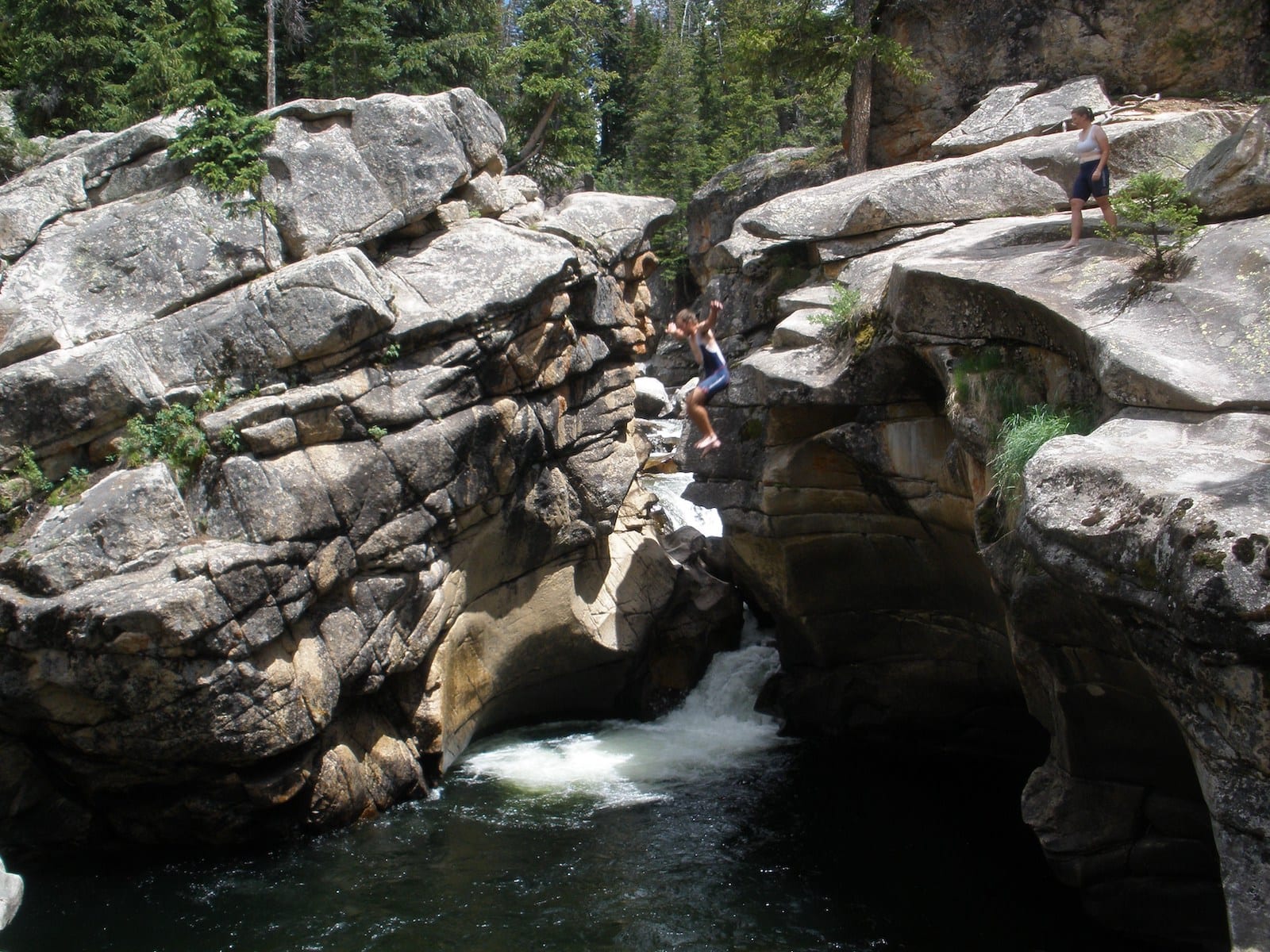 Whether you're looking for a day hike, afternoon picnic, or a swim, the Devil's Punchbowl offers outdoor lovers a range of activities. Situated near Independence Pass, there is no charge to enter or leave the area. Lifeguards are not on duty, and visitors who dip their toes into the emerald currents do so at their own risk.
While no official parking lot exists for the Devil's Punchbowl, there is a small, unmarked pull-off from Highway 82 (Independence Pass Highway). It fills up fast during the summer months, so arrive early if you expect to get a spot.
If the pull-off is full, visitors often park along the highway. The hike to the Punchbowl is short and relatively easy, even for less experienced hikers. You can hike at Grottos Day Use Area and hike along the trail. Or on the opposite side of Devil's Punchbowl, park for Weller Lake. There are no notable road signs for Devil's Punchbowl.
Cliff Jumping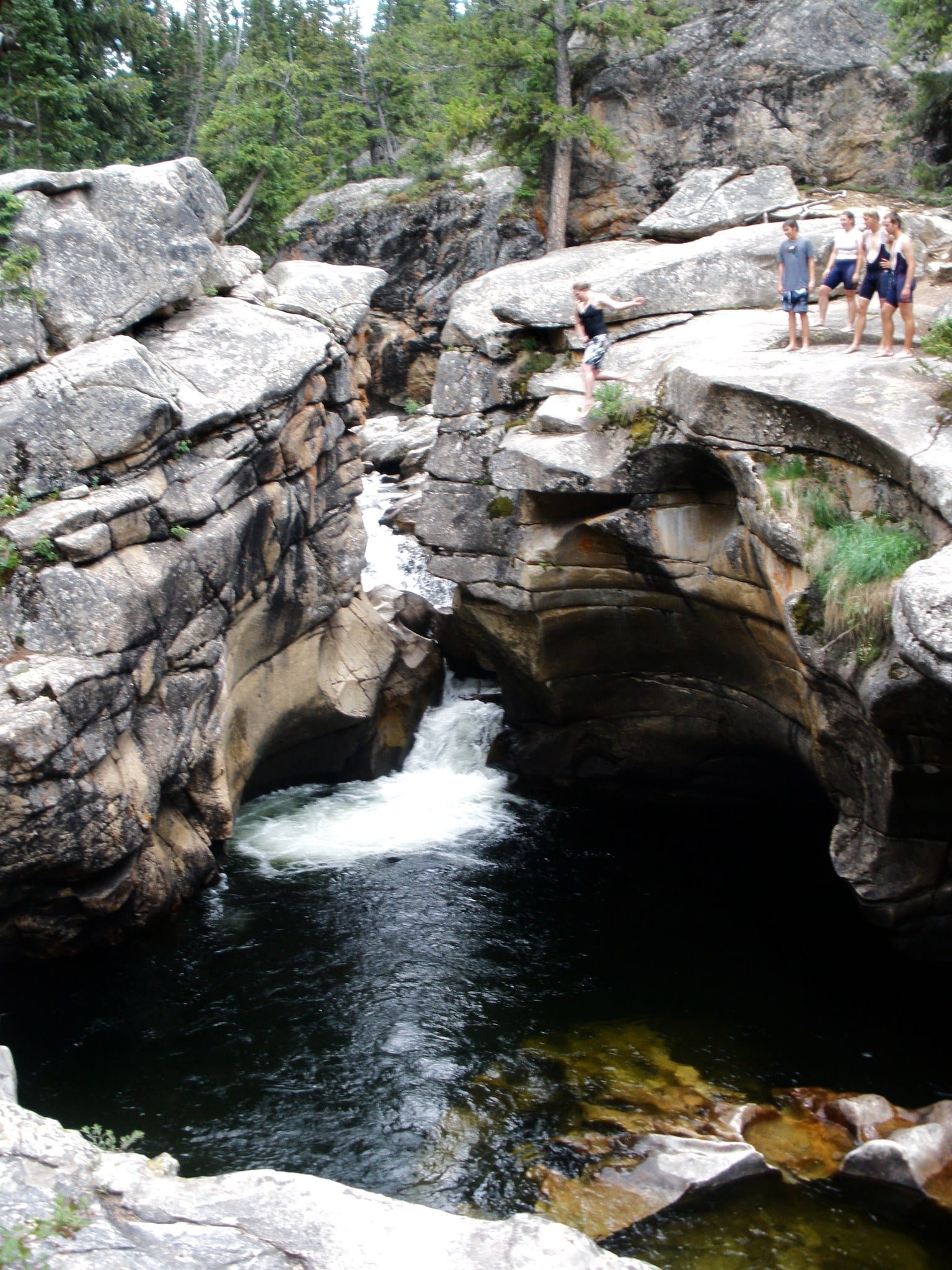 Cliff jumping is a popular pastime at the Devil's Punchbowl, though not condoned by either local law enforcement or the Forestry Service.
Warning: If you choose to cliff jump at Devil's Punchbowl, exercise extreme caution. Make sure the landing is clear of swimmers, do not belly flop or dive, feet first and tighten your body. Jump at your own risk.
The drop to the water from the cliff's edge is about 25 feet but can vary depending from which cliff you jump. For those not ready to make the big jumps, 18 to 10-foot drops and smaller are available. Inexperienced jumpers have been killed making big leaps, so always access your risk before jumping.
If you dare to take the plunge, ensure it's not during or immediately after a rainfall, when currents are at their strongest and can sweep even good swimmers out to the major river. The water temperature is frigid, even in summer, thanks to the snow melting off. So be prepared.
Water depth averages 12 feet but varies according to rain and snowfall, temperature, and time of year. During seasons with light rain or snowfall, the drop becomes even more dangerous, without enough water to cushion jumpers.
Check current and recent weather conditions before making any jump, no matter how high. And always look before you leap, making sure the area is clear of other jumpers, swimmers, and rocks.
When you do make the jump, ensure you're not alone. Have a friend or group of friends standing nearby ready to help, in case of emergency. It's dangerous and people get hurt.
Camping
There is no camping at the Devil's Punchbowl Swimming Hole. The closest are Weller Campground and Upper Grottos CG, both are within walking distance.
Read about Camping near Aspen, Snowmass Village, and Basalt.
Getting There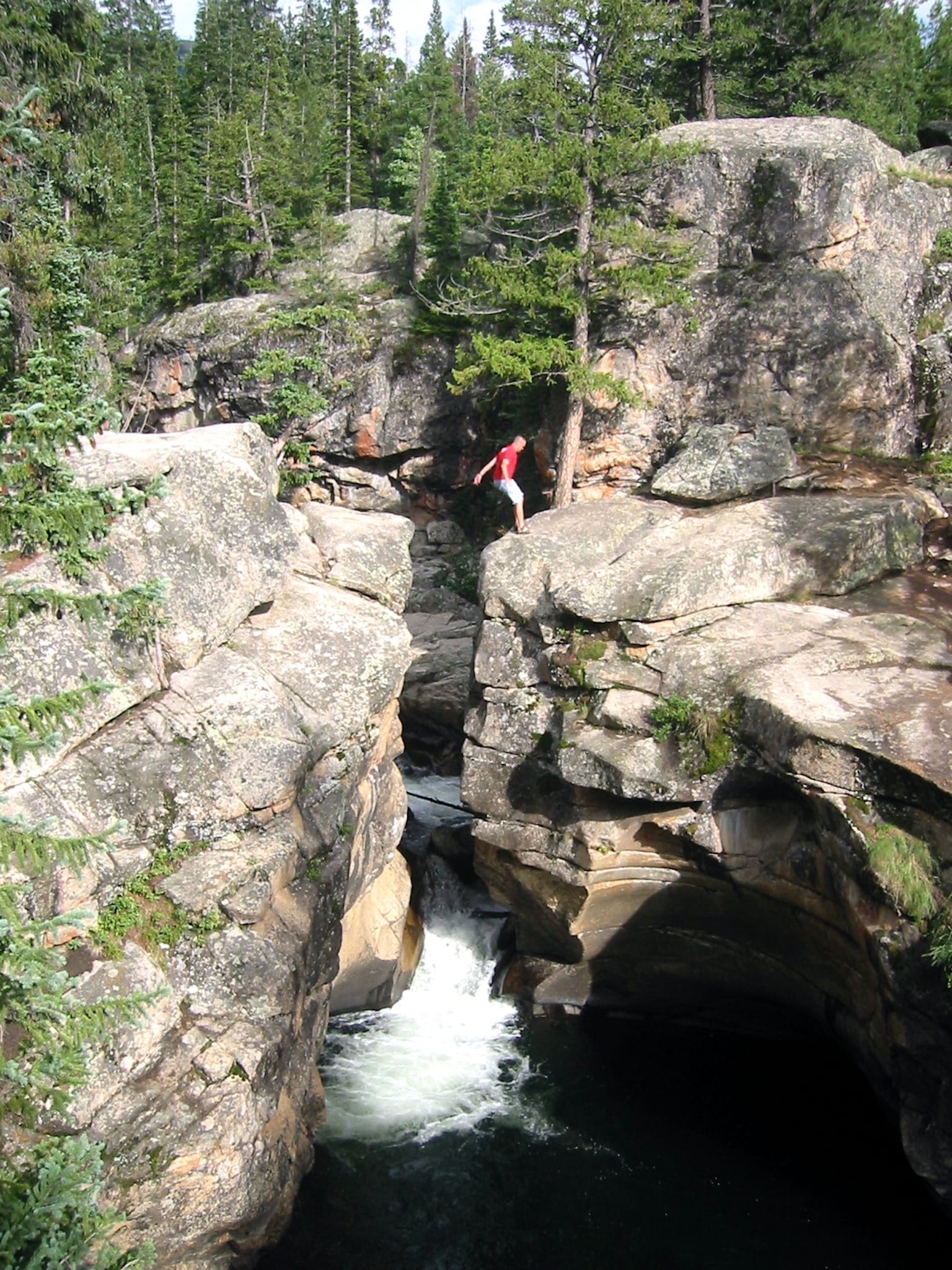 The Devil's Punchbowl is located off Independence Pass Road (HWY 82), shortly after passing Mile Marker 50. There are no signs marking the attraction. If you hit Mile Marker 51, you've gone too far and should turn around.
If driving to Aspen from Independence Pass, it will be on the left-hand side of the road. The Punchbowl is not visible from the road. You'll have to walk several meters to ensure you're in the right spot. Look for cars from other visitors, which frequently line the road during summer months.
Details
Address: Independence Pass Road, Aspen, CO
Season: Summer; Year round for hiking nearby