A whopping 1.5 miles (or 33-minute walk) from Black Hawk is Colorado's second casino capital, Central City. Considered twin-towns by some, Central City is technically bigger than Black Hawk yet surprisingly offers a slower pace of life and plenty of fun things to do besides casinos.
With six casinos, a rich Colorado mining history, and outdoor activities, there are plenty of fun activities in Central City. This unique mining community turned casino town offers one of the nicest historic districts to Denver and a perfect place to stroll year round. Soak in the Gilpin County Seat with these top things to do and see:
Year-round activities
There's something to do in town no matter the time of year and it's always worth a trip to explore Colorado's incredible gold rush history. Discover these year-round activities in Central City, plus its biggest attractions and when it's best to try them out.
Try your luck at these Central City Casinos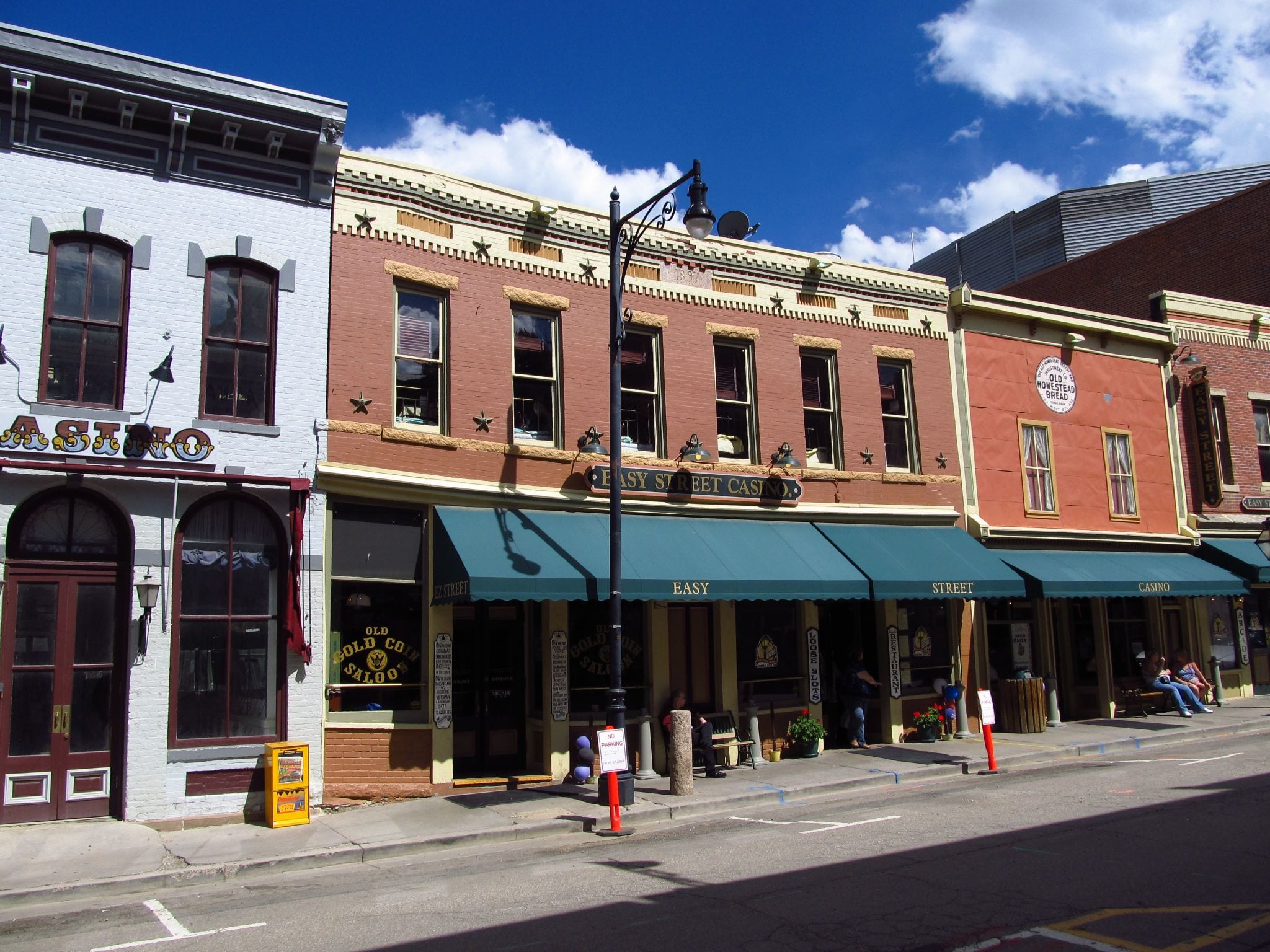 Six casinos dot Central City's tiny but quaint downtown. That's six different opportunities to hit it big – or just have a good drink and test your luck after a long week. Good food, an assortment of games, and plenty of delicious drinks are what define Central City's alpine gambling culture.
Plus, did we mention that you can put money down 7 days a week, 24 hours a day? Find your favorite Central City casino to get lucky at!
Central City Casino
Dostal Alley Casino & Brewpub
Famous Bonanza Casino
Grand Z Casino
Johnny Z's Casino
Easy Street Casino
Exploring historic Central City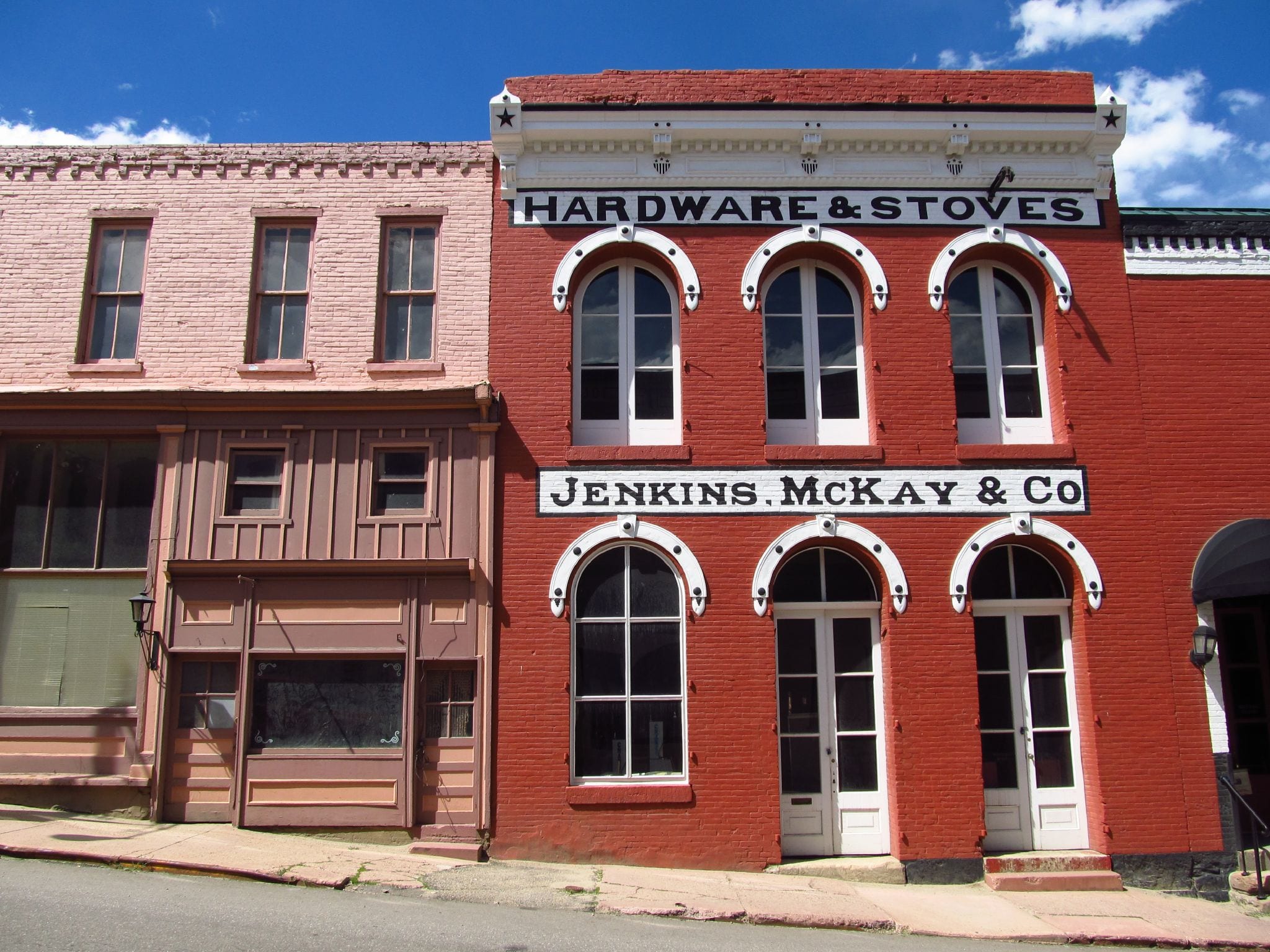 Remnants of a bygone era, the historic district of Central City's downtown section tells a story of the town's colorful past. Steeped in juicy gold rush stories, this town has a story to tell about each nook and cranny. You'll be amazed that a town this small played an important role in shaping Colorado you know today.
Before heading out on an exploratory walk to discover Central City's heritage, stop into the Central City Visitor Center and find out more about the self-guided walking tour available.
Nevadaville ghost town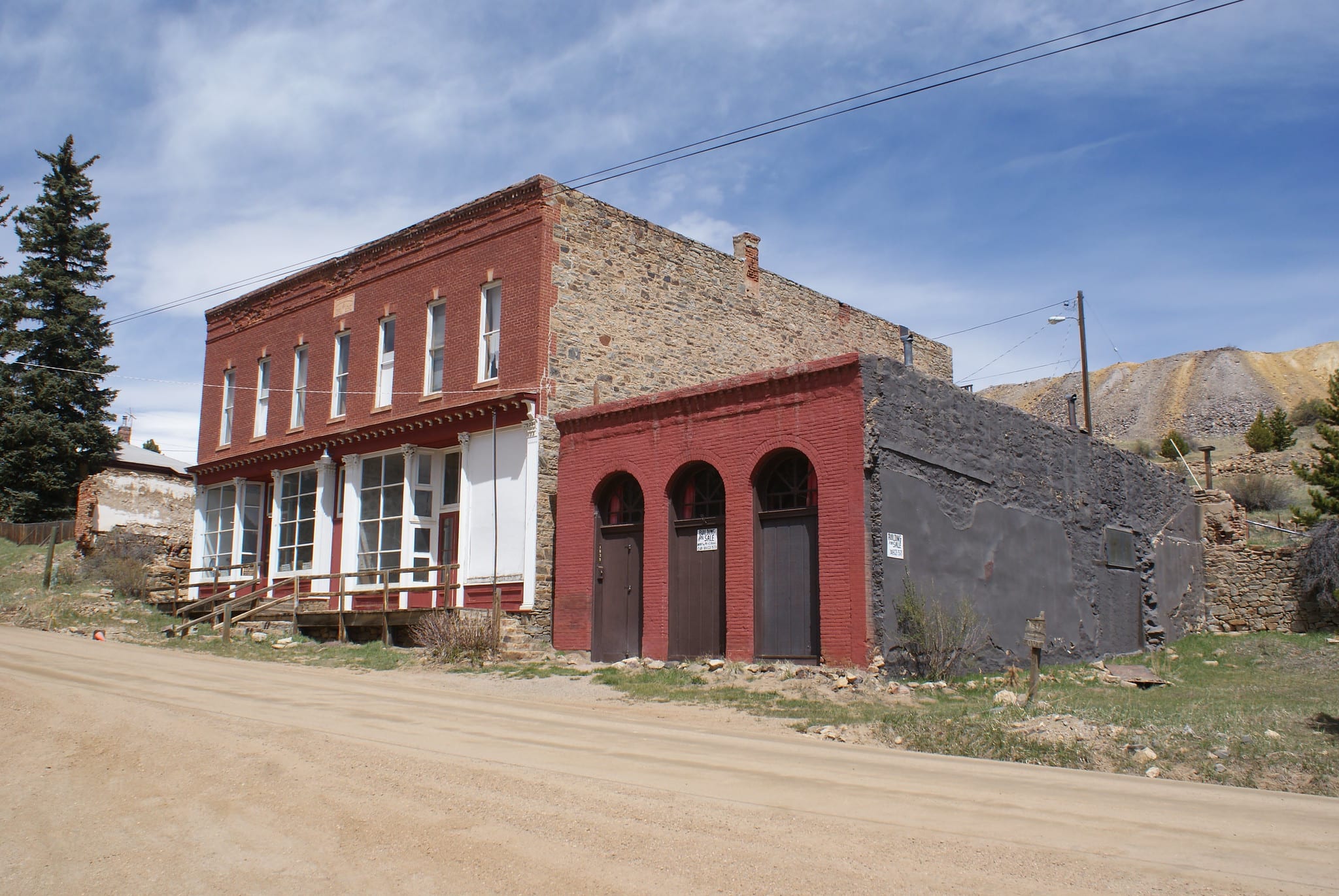 Have you ever wondered what it's like to walk the streets of a wild west town? Well, just a quick jaunt up the hill from Central City is the old abandoned town of Nevadaville. Once a bustling Front Range gold town, today Nevadaville acts as a reminder of what life in Colorado used to be.
Take some time to wander around the empty streets of Nevadaville and imagine yourself on the doorstep of the saloon after a long ride into town – we promise it will send some shivers up your spine.
Enjoy a craft brew at a microbrewery casino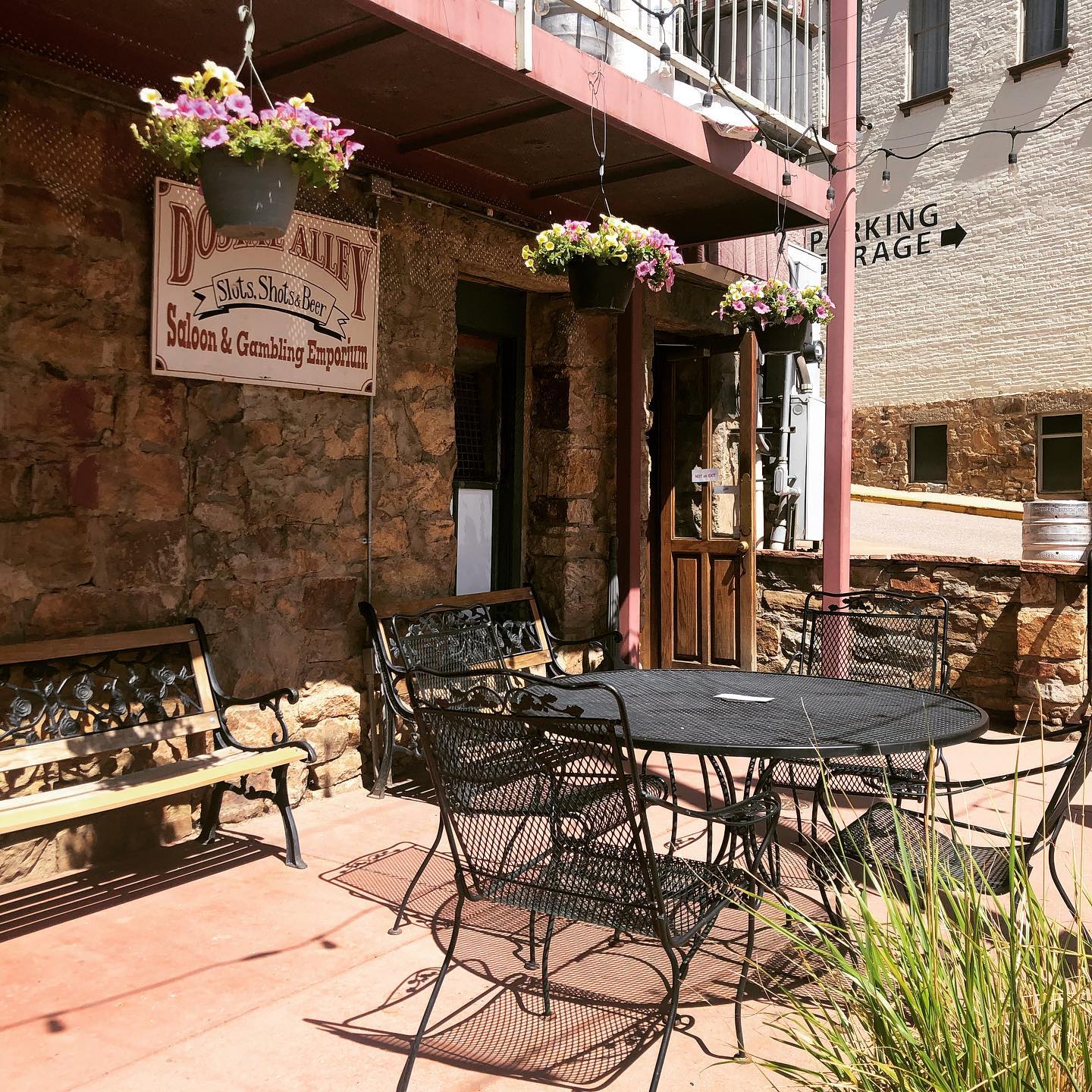 Colorado is the birthplace of one of America's most popular beers, Coors, brewed from pure Rocky Mountain spring water. But what Coors has done is turned Colorado into a brewing mecca with world-class craft breweries distributed all over the state.
In fact, Dostal Alley Casino has brewed its own beer since 1997 on the backs of Brew Masters Buddy Schmalz – the former Mayor of Central City – and Dave Thomas whose expertise runs deep after a long tenure with none other than, you guessed it, Coors. Stop in for a taste of the latest brewing concoction and hit the slots at a family-owned and operated casino while you're at it.
Gold mining tour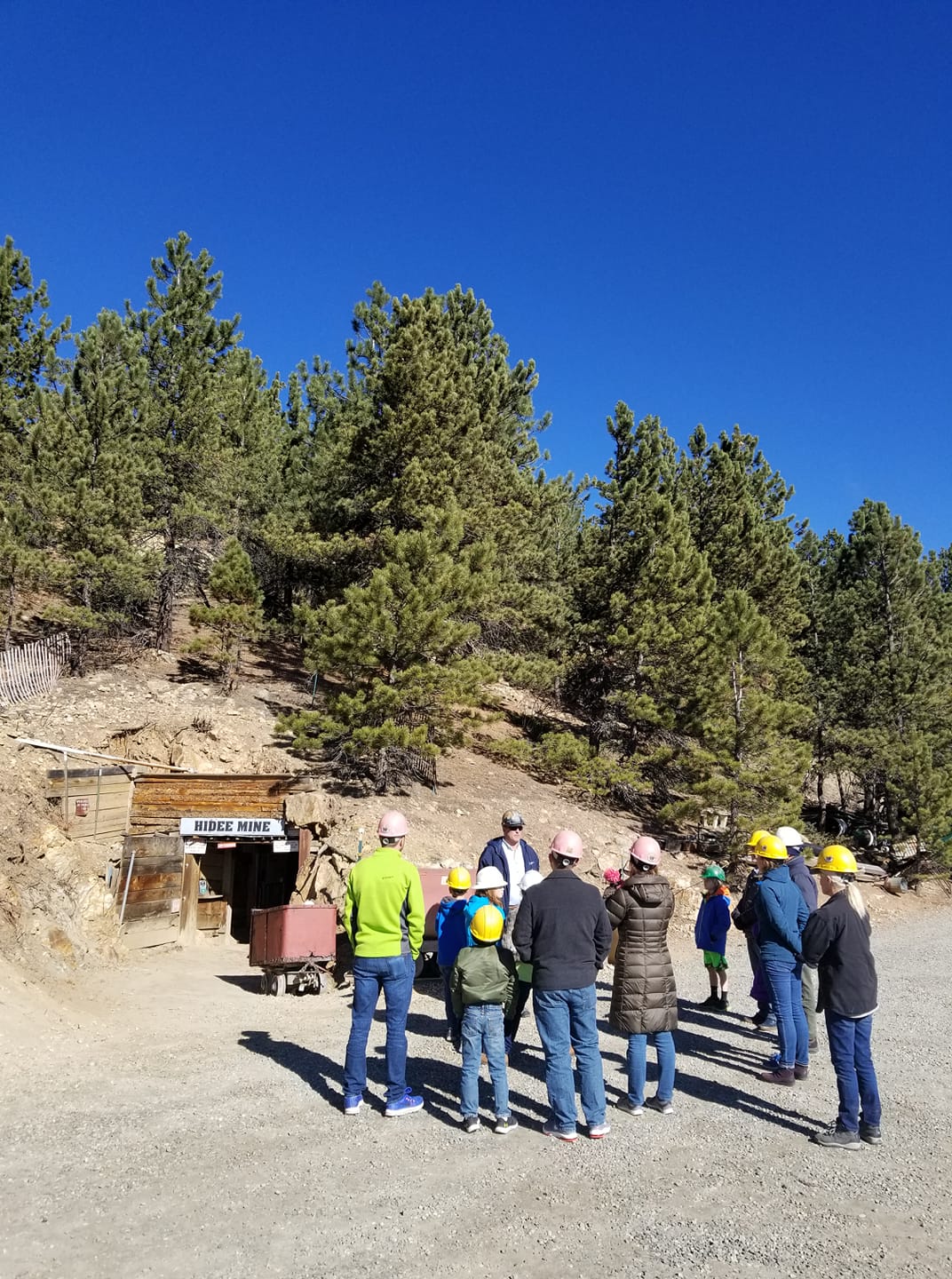 What would a trip to Central City be without learning a bit about the region's gold rush history? The Hidee Gold Mine tours are a popular tourist attraction in town … and for good reason. Nestled in the "richest square mile on Earth", the Hidee Gold Mine is the crown jewel of the Virginia Canyon-Glory Hole area just outside of Central City.
The mine was part of a collection of ore-producing mines that provided over $5b in gold since their opening in the mid 19th century. Feel the rush of adrenaline that the miners experienced as they descended into the tunnels of the mountainside in search of their fortune. Today, the mine isn't used for any commercial production but don't let that stop you, on the Hidee Gold Mine tours, you can pick up a hammer and chisel and try to knock off a piece of gold just for yourself.
Kids. No Kids. Young. Old. Doesn't matter. This is a fantastic place to learn about Central City's vibrant past.
Gilpin Historical Society Sites
Gilpin County has a special place in Colorado history. It's where Colorado dug out its fortune … and its fame. The Gilpin Historical Society (GHS) has carefully preserved a handful of locations and collections of art, artifacts, and records that help to tell the spirited story of Central City and the surrounding gold rush communities.
The Gilpin County Museum is the biggest and most comprehensive of the GHS's sites. And cooler than an icebox, it is located in what was once Central City's sparkling new two-story schoolhouse for the gold rush community in the mid-19th century. It now houses an impressive group of artifacts, stories, and photographs.
For any history and museum buffs out there, this is a must-see while in town. You'll leave having learned the ins and outs of Gilpin County's roller-coaster past. Do note that the Gilpin County Museum operates in the summer only.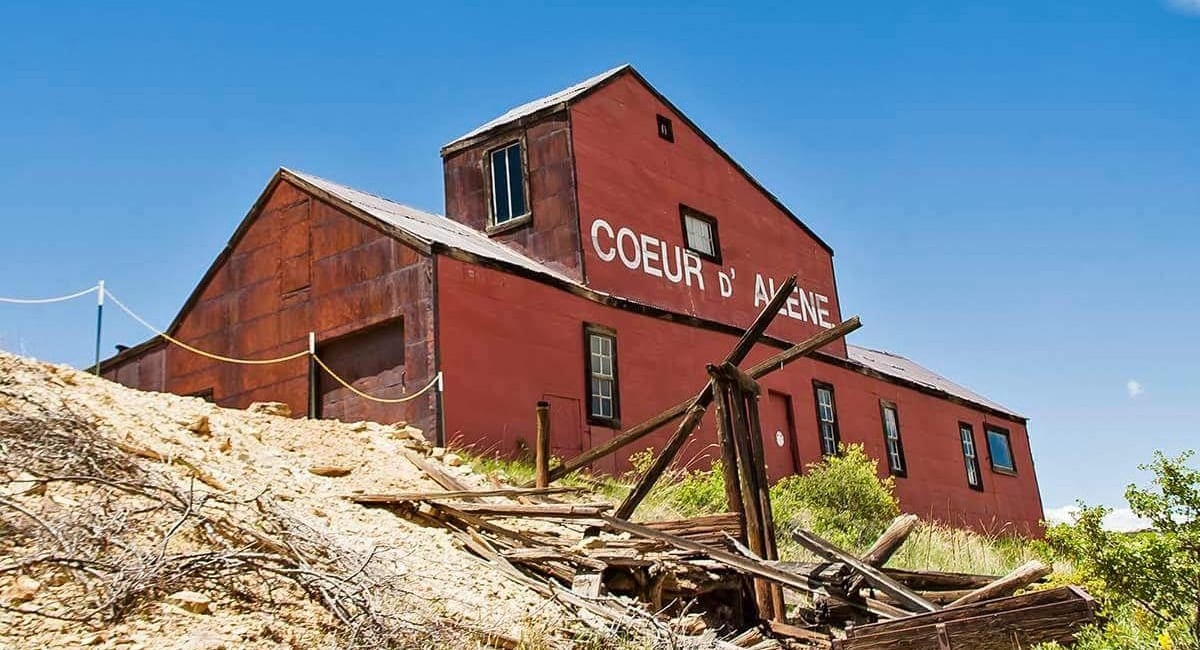 There's also:
The Thomas House – a pristine 1860's home dripping with rumors of a secret mine and displaying what life looked like inside a gold mining home in the 1860s.
The Coeur d'Alene Mine Shaft House – a museum quality remnant of the ore production process in Central City.
Washington Hall – the oldest continuously used public building in the state of Colorado. Once the Gilpin County jailhouse, it now serves as the headquarters for the Gilpin County Historical Society and the Gilpin County Arts Association Gallery.
Plan your trip around a Central City event
Goldrush towns are known for a few common denominators, one of which was brothels. In Central City, while there's no town Madam any longer, the people still like to have a little bit of artistic fun with their historical, erhm, brothels.
Once a year the town hosts the Madam Lou Bunch Day and famous bed race where contestants – two men and one woman – race a wheeled bed down the main drag of Central City. Live music throughout town, tons of delicious food and drinks, and a real authentic old-time ball to cap it all off. There might not be anything more Colorado than this.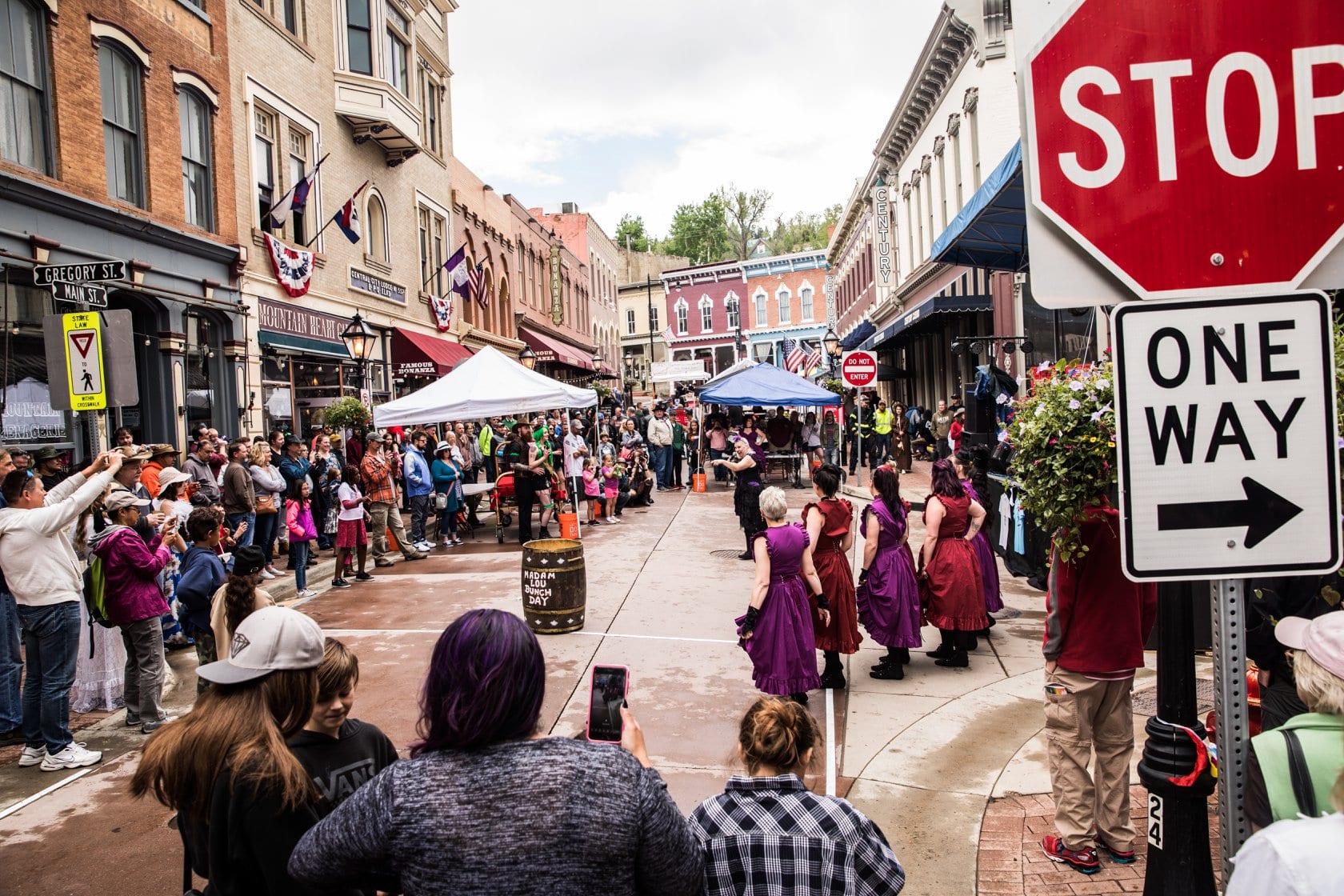 There's also:
The Hot Rod Hill Climb – where hot rod enthusiasts from all over the state and beyond coalesce for a weekend of showing off your latest car project.
The Central City Beerfest – where brewers from all over the state serve fresh brews on tap to eager drinkers awaiting creative new takes on different beers.
The Creepy Crawl – an extended October celebration and performance allowing visitors to experience some of Central City's coolest sites with a spooky twist often including costumed reenactments.
Stills in the Hills – if you're not much of a beer drinker but instead you prefer the finely acquired taste of craft spirits, this festival brings together some of Colorado's best distilleries.
The Central Jazz Festival – where since 1976 jazz artists from Colorado and beyond have taken over Central City's streets to put on a multi-day festival with food vendors, performances, and events galore.
Knights of Pythias Cemetery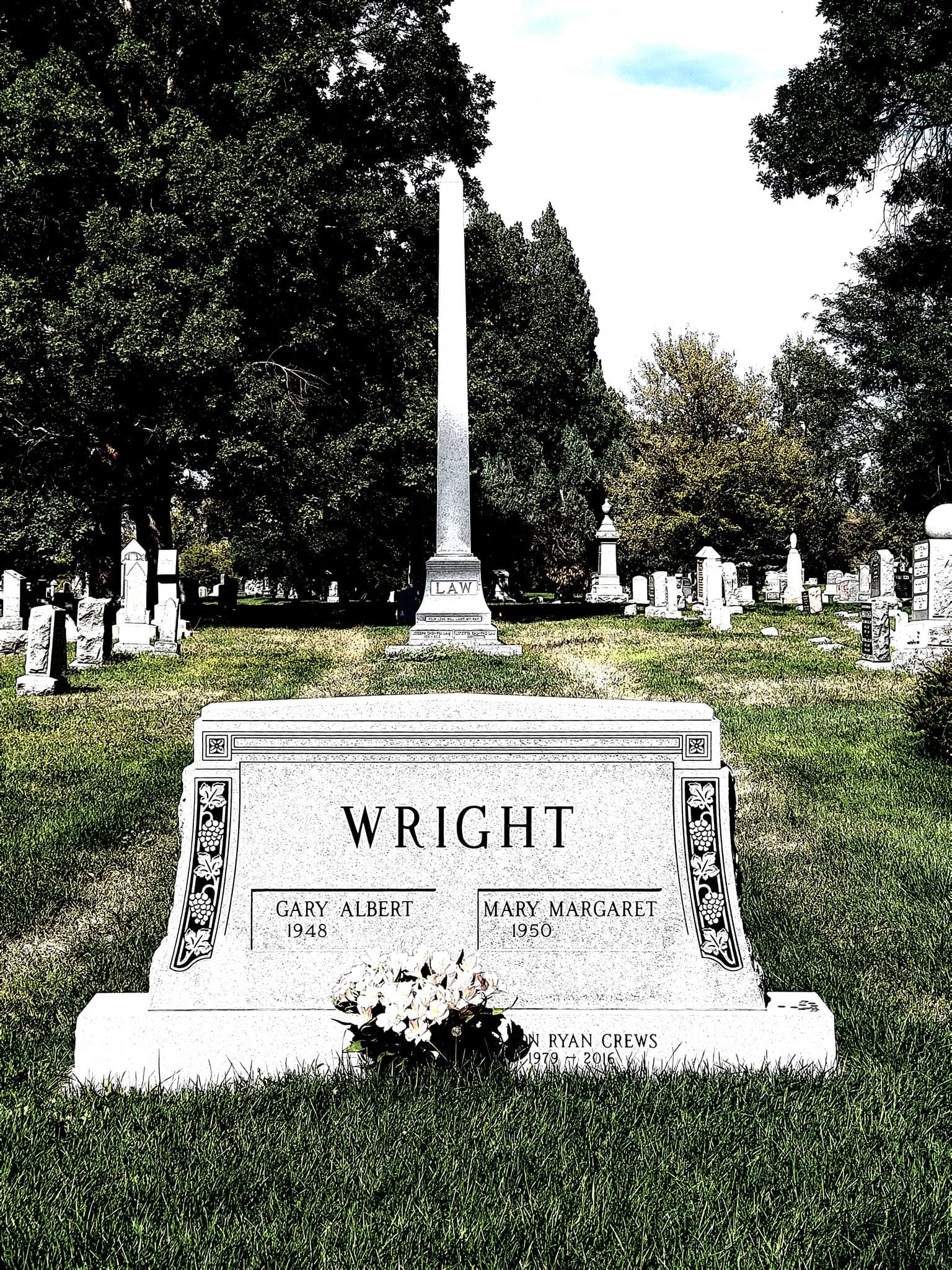 Advertised as "a cemetery for a secret society with a fence topped with fake Tesla balls" is about as intriguing a marketing pitch as one can imagine. This is a cool and quick little adventure if you want a break from the casinos or you're in Central City for a few extra days.
The Central City Cemetery honors the fraternal society The Knights of Pythias, which goes back to the 1860s and other sub-plots such as the Central City Mason Cemetery. Check out some of the headstones of members of this society that were apart of the westward expansion and paving the way for more to follow.
Peak to Peak Scenic Byway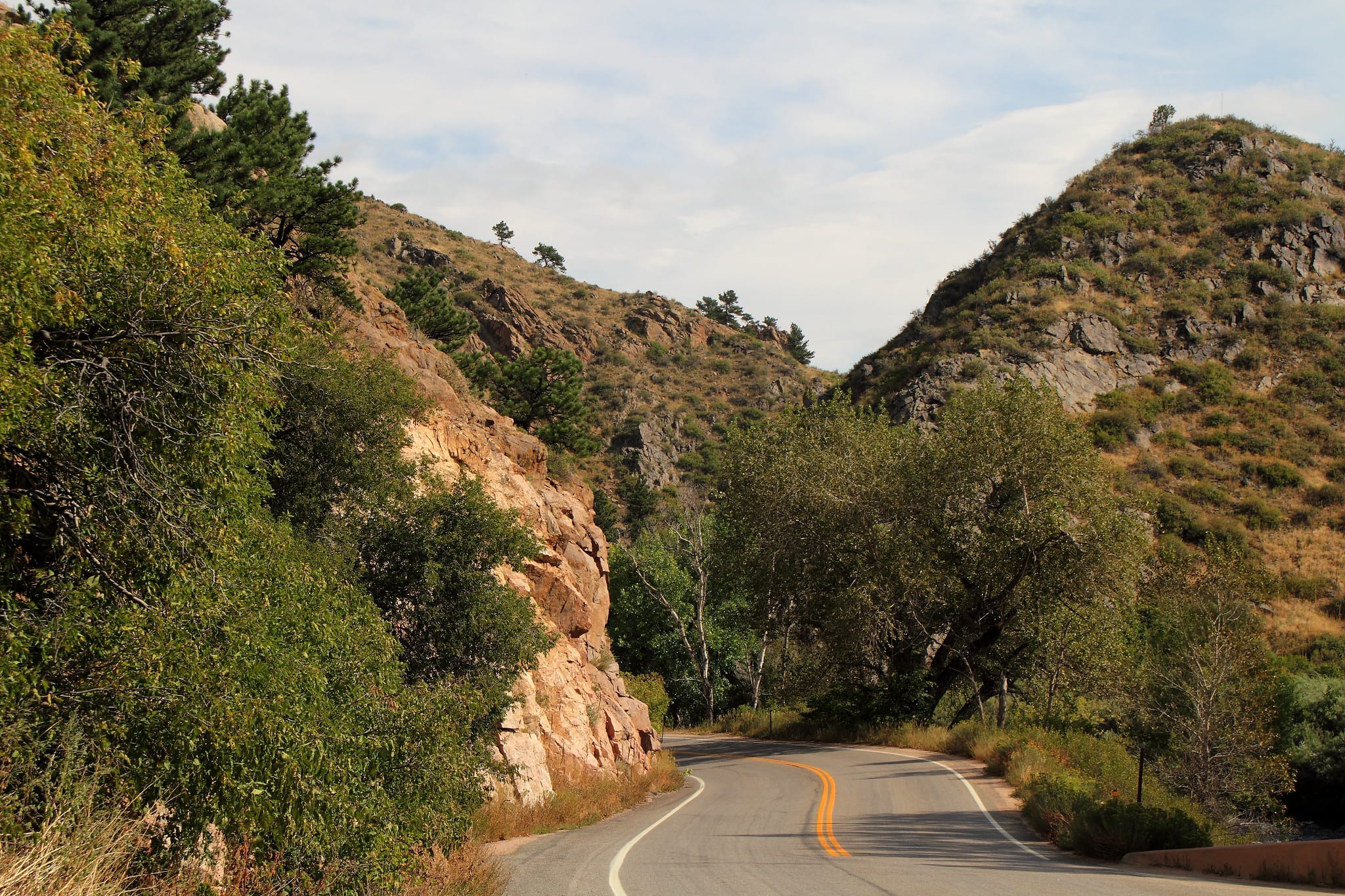 Central City sits right on the Peak to Peak Scenic Byway. A round trip of about 5-6 hours (with stops for photos and explorations) will have you winding your way through the curves and cliffs of the foothills of the Front Range. End up at Estes Park before heading back to Central City and be sure to take in the stunning views of the Front Range in the near distance.
Summer
Summertime in the mountains is a special window of time. Live emerges from the underpinning of winter snowfall and spring rains. Wildlife is abundant, fish are finding their way and the mountain speaks a soft whisper of mystery. Central City itself sits right in the foothills of the Front Range and thus provides access to an incredible array of outdoor activities among a few exciting township events.
Central City Opera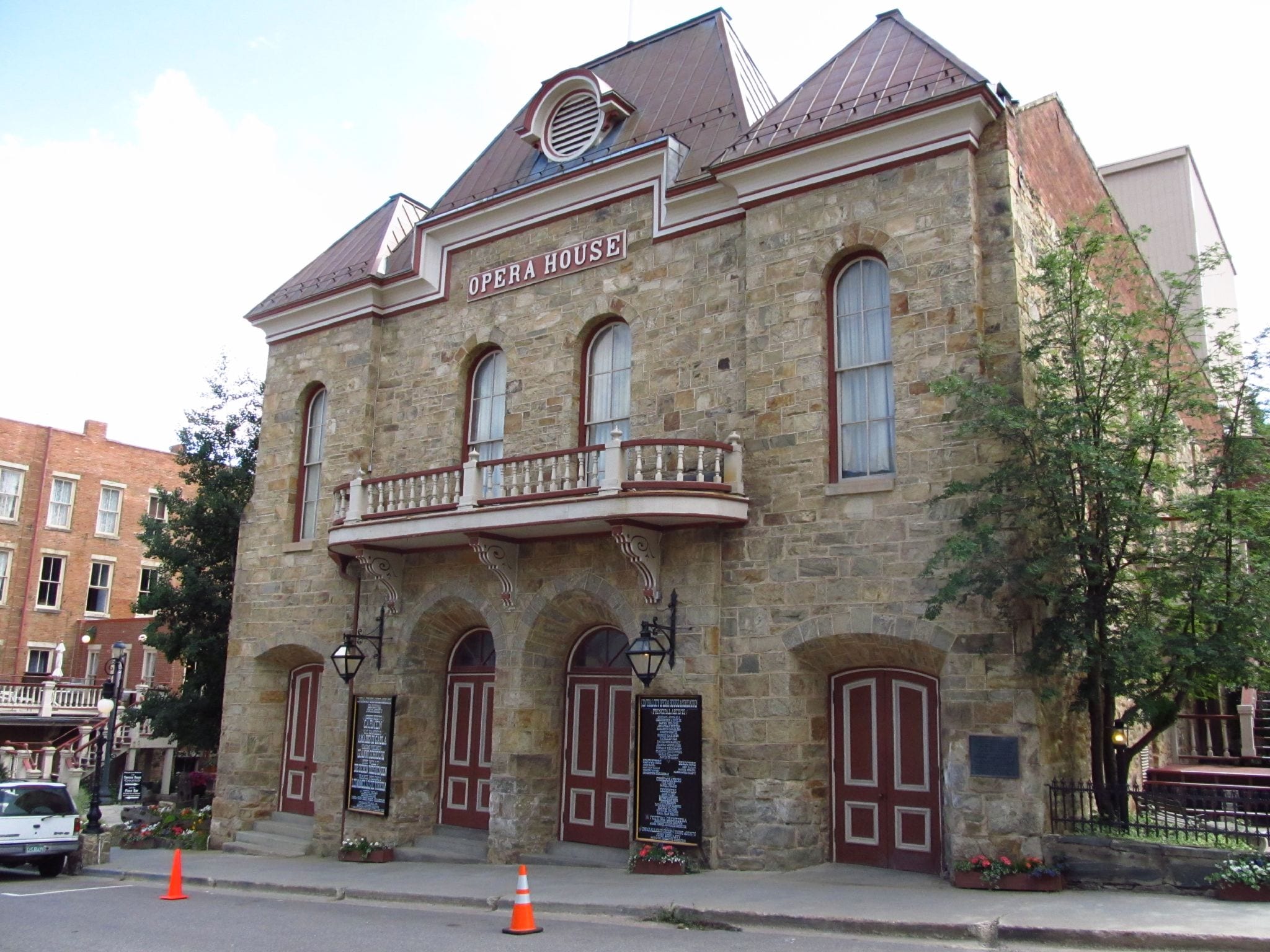 The fifth-oldest opera company in all of the U.S., the Central City Opera boasts an impressive summer season schedule in addition to year-round access to the opera house itself. The company doesn't just run a top-flight opera season though, they also own and maintain 27 historical Victorian-era homes and properties around Central City and welcome guest performances from poets to jazz artists.
Getting outside in Central City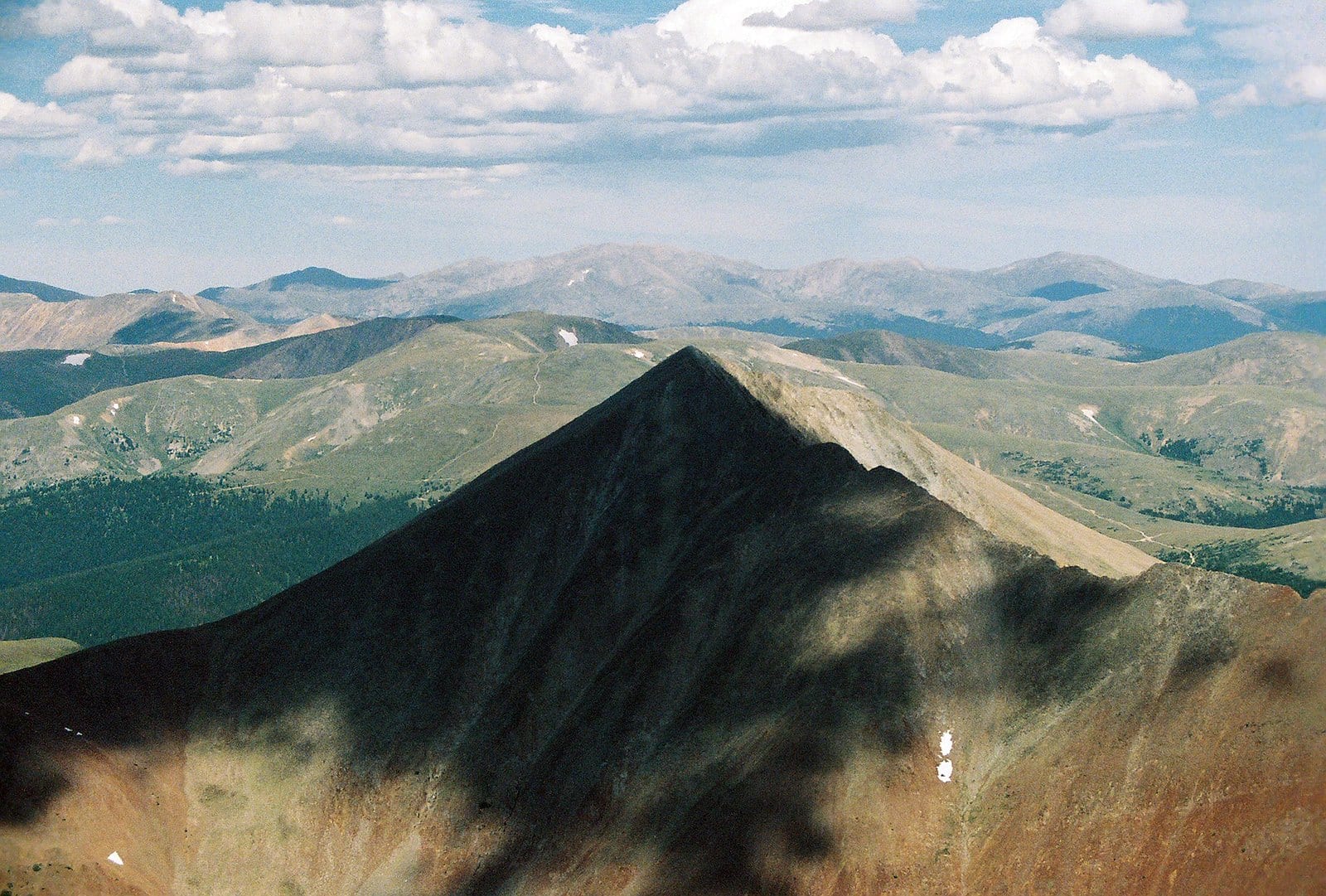 The foothills of the Front Range are home to the wild wilderness, impressive landscapes, and approachable mountaintops, making it a haven for outdoor activities. Hunting, fishing, and camping are accessible from Central City and the town acts as a great jumping-off point for plenty of outdoor adventuring. There's rafting on the Clear Creek, hiking in the Arapaho National Forest to notable peaks such as Bald Mountain and Mt. Pisgah, fly fishing at the Chase Gulch Reservoir, or camping at the Central City KOA.
Winter activities
Winter in the mountains, especially at almost 9,000 feet elevation, is pure magic. Central City averages about 145 inches of snowfall per year and is within striking distance of a few snowshoe and skiing spots. Plus, even if you're not a snow sports enthusiast just heading up into the mountains for a weekend of good food and games surrounded by snow adds an element of excitement.
Set-off on a ski or snowshoe adventure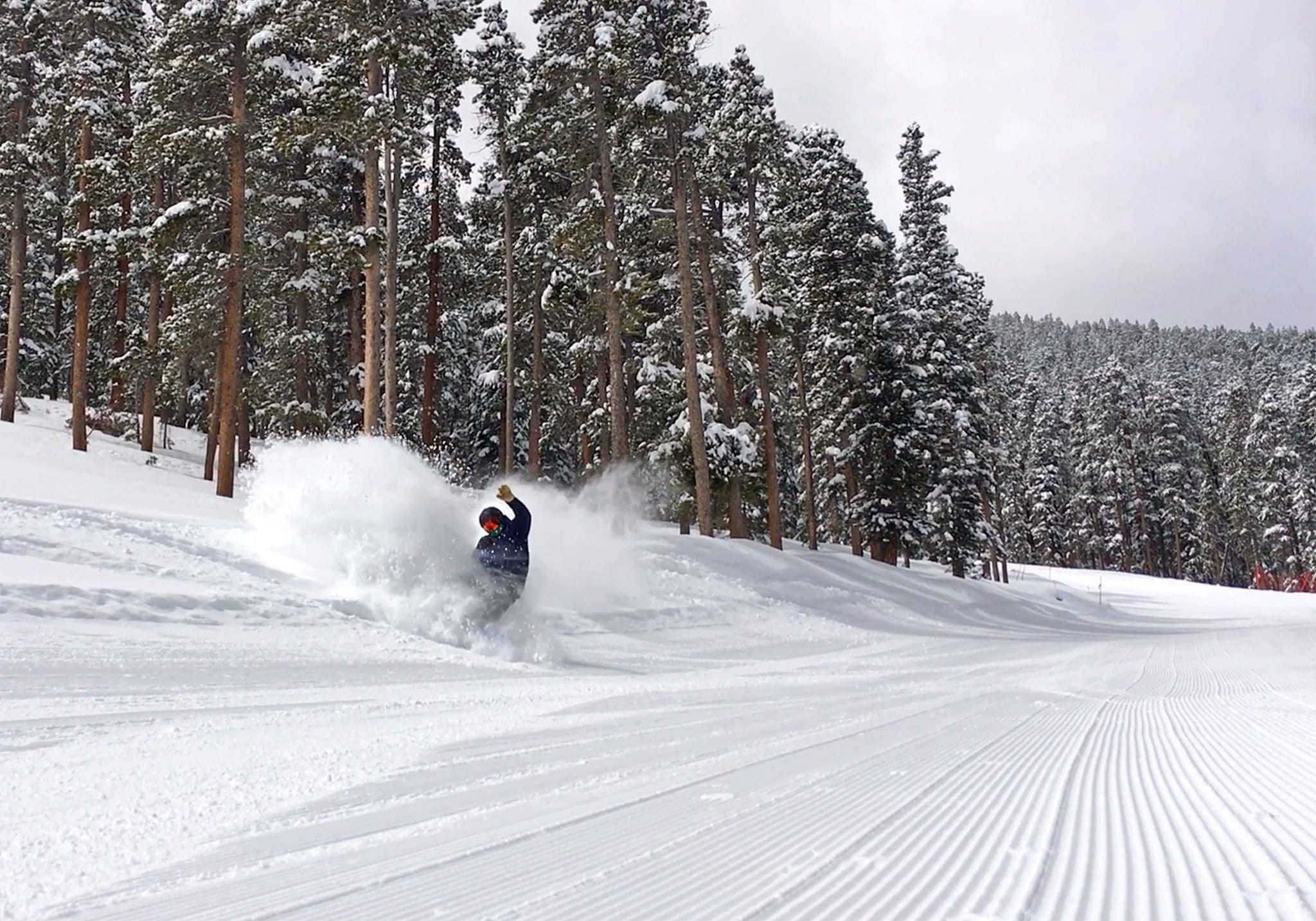 Set off on a snowshoeing adventure to explore Peak's Gulch or Squaw Mountain. There's no shortage of trails within a quick drive of Central City. There's no outfitter in town so you'll need to bring your own or rent from a shop in Denver before heading up.
If snowshoeing isn't your thing but you like skiing or snowboarding, check our Echo Mountain or Eldora Ski Resort. In under an hour to both, visitors will find affordable skiing for a day full of adventure.
No matter where your adventures take you, place your bet on these things to do in Central City!