Known to most as "Colorado's last great ski town," Crested Butte is a top destination for winter adventurers. But winter isn't the only time to visit this quaint mountain town. Year round there are amazing things to see and do in this part of Gunnison County.
Summers are filled with endless fields of colorful wildflowers. In the fall mountainsides and mountain passes light up with an array of colors, plus, a charming historic downtown to explore year-round. For the ultimate Colorado mountain town experience, discover these things to do in Crested Butte.
Year-round activities
Crested Butte is a year-round destination, offering plenty of things to do whether it's 70 and sunny or 20 and snowing. Discover these year-round activities in Crested Butte for fun any time of the year!
Historic Elk Avenue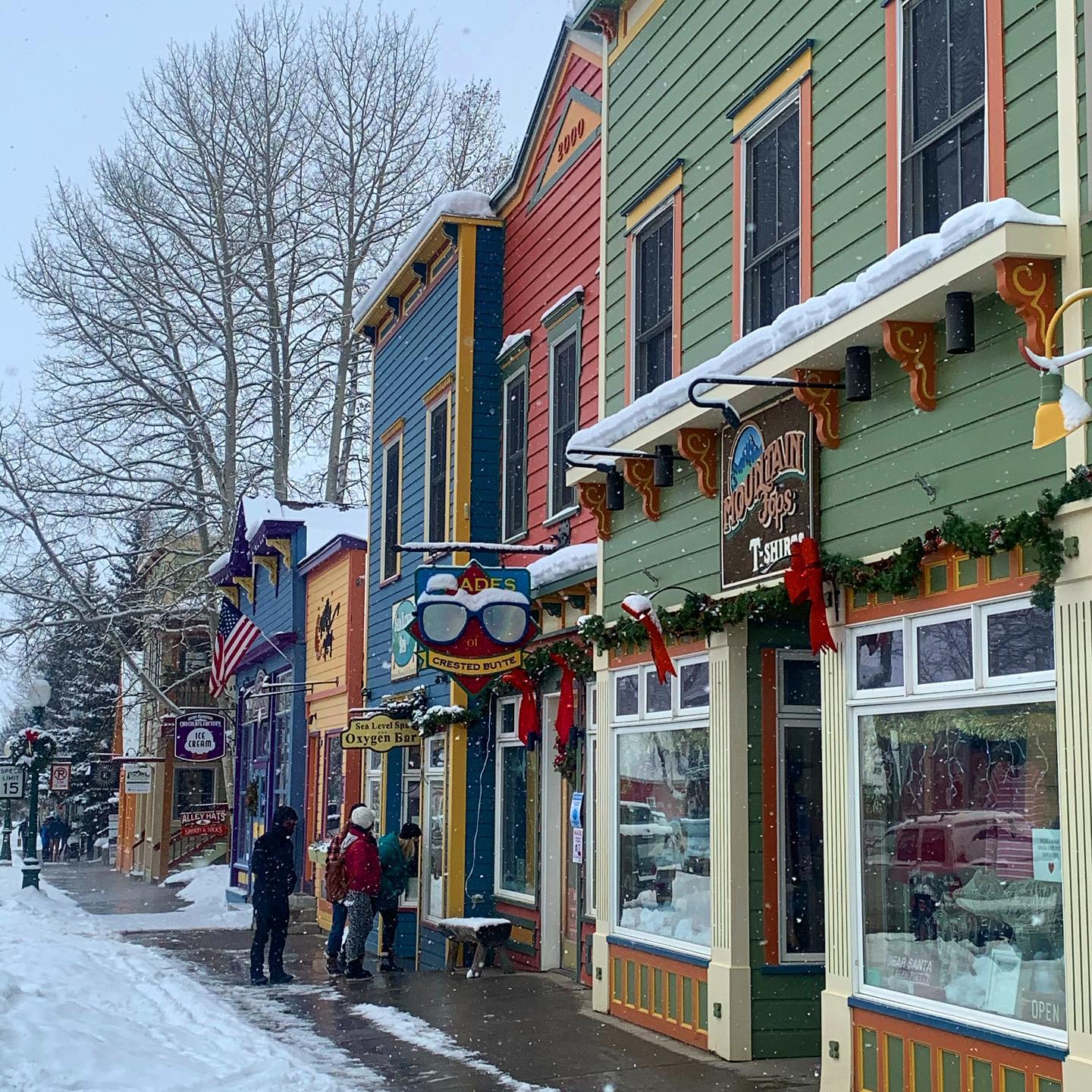 Downtown Crested Butte is one of Colorado's largest Historic Districts, so strolling along Elk Avenue is one of the most rewarding ways to experience this unique ski town. Part of its notable charm is the colorful Victorian storefronts that line the streets and are fun to admire all on their own. Plus, find a number of museums, art galleries, local shops, and restaurants to fill your time. No visit to Crested Butte is complete without a visit to Elk Avenue.
Crested Butte Mountain Heritage Museum
The Crested Butte Mountain Heritage Museum is a local museum showcasing the rich history of Crested Butte, Colorado. Featuring a variety of exhibits detailing life in Crested Butte throughout the centuries, visitors hoping to learn about the history of Colorado's mountain towns should be sure to check out this museum.
The most popular exhibit is the museum's model town and railroad. A painstaking recreation of Crested Butte as it was in the 1920s, this detailed diorama provides great insight into the history of the town. For a quarter, visitors can start up the model train that runs through the town. Attached to the Mountain Heritage Museum is a sizeable gift shop, selling jewelry, books, games, and more,
Stay in a local Bed & Breakfast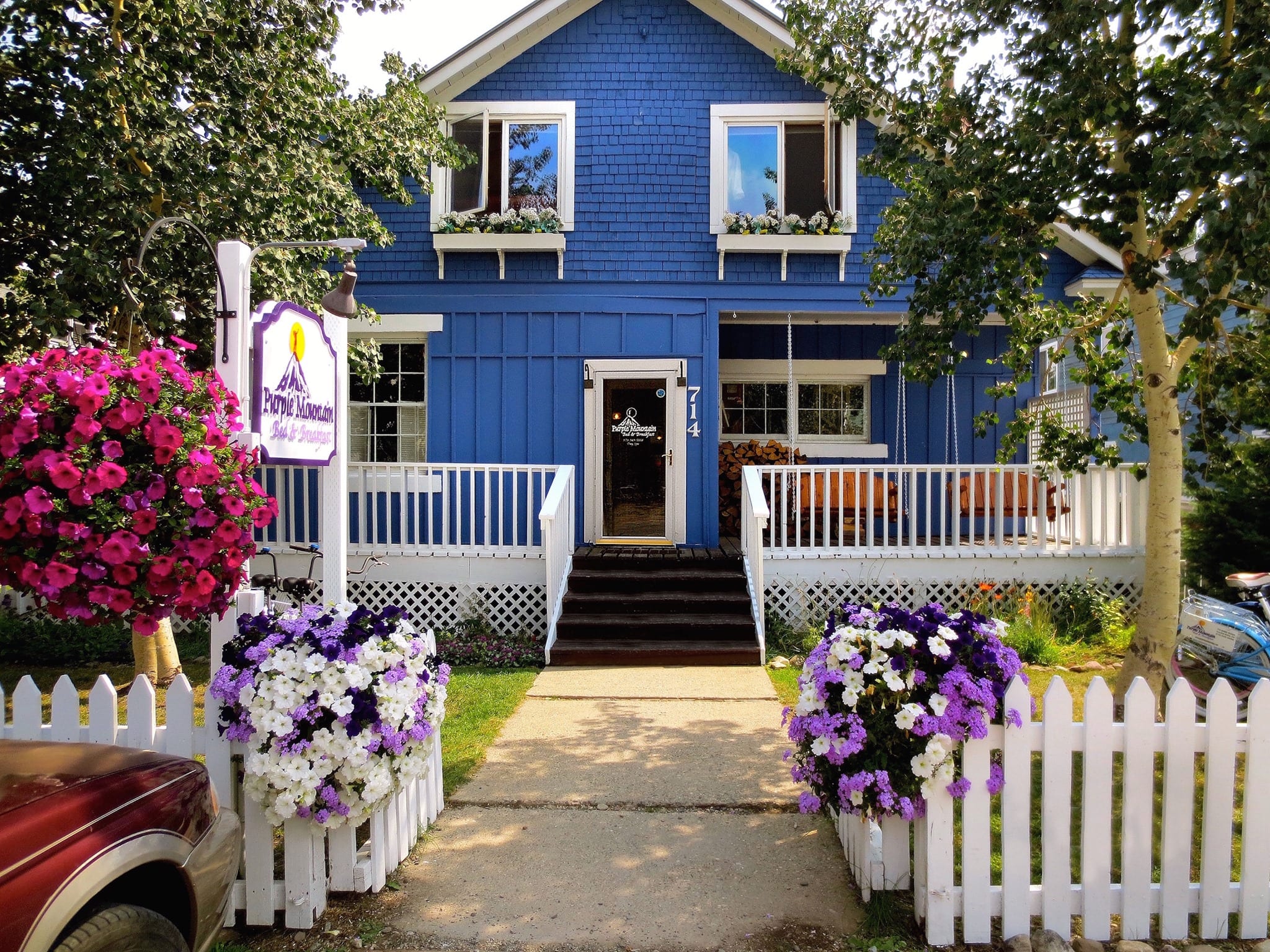 With a town as unique and charming as Crested Butte, visitors should be sure to stay at a local bed and breakfast to best get a sense of the town. One of the best options is Purple Mountain Bed & Breakfast, a luxury inn situated within walking distance from all the shops and amenities of downtown Crested Butte. With beautifully appointed rooms, gourmet breakfasts, daily beer tastings, and a spa, Purple Mountain B&B is the ultimate in luxurious lodging.
Other notable bed and breakfasts include The Ruby of Crested Butte, Scarp Ridge Lodge, and the Old Town Inn.
Visit an Art Gallery
Crested Butte features a lively creative district, and there are a number of local art galleries downtown that show off the town's artistic talent. One option is Crested Butte Fine Art Gallery, a small gallery located at the corner of Elk Avenue and 3rd Street in downtown Crested Butte. Representing the art of three local artists, this beautiful gallery is a great stop for visitors hoping to get a sense of the rich culture of Crested Butte.
Visit Local Breweries and Saloons
One of the most enjoyable ways to see Crested Butte is by checking out a few of the town's local breweries. Public House, located downtown, is one great option for visitors looking for a local saloon with craft beers. With a huge beer list as well as cocktails, wines, and a full-service menu, Public House is a fun choice for visitors looking for a local spot to eat and drink.
Wooden Nickel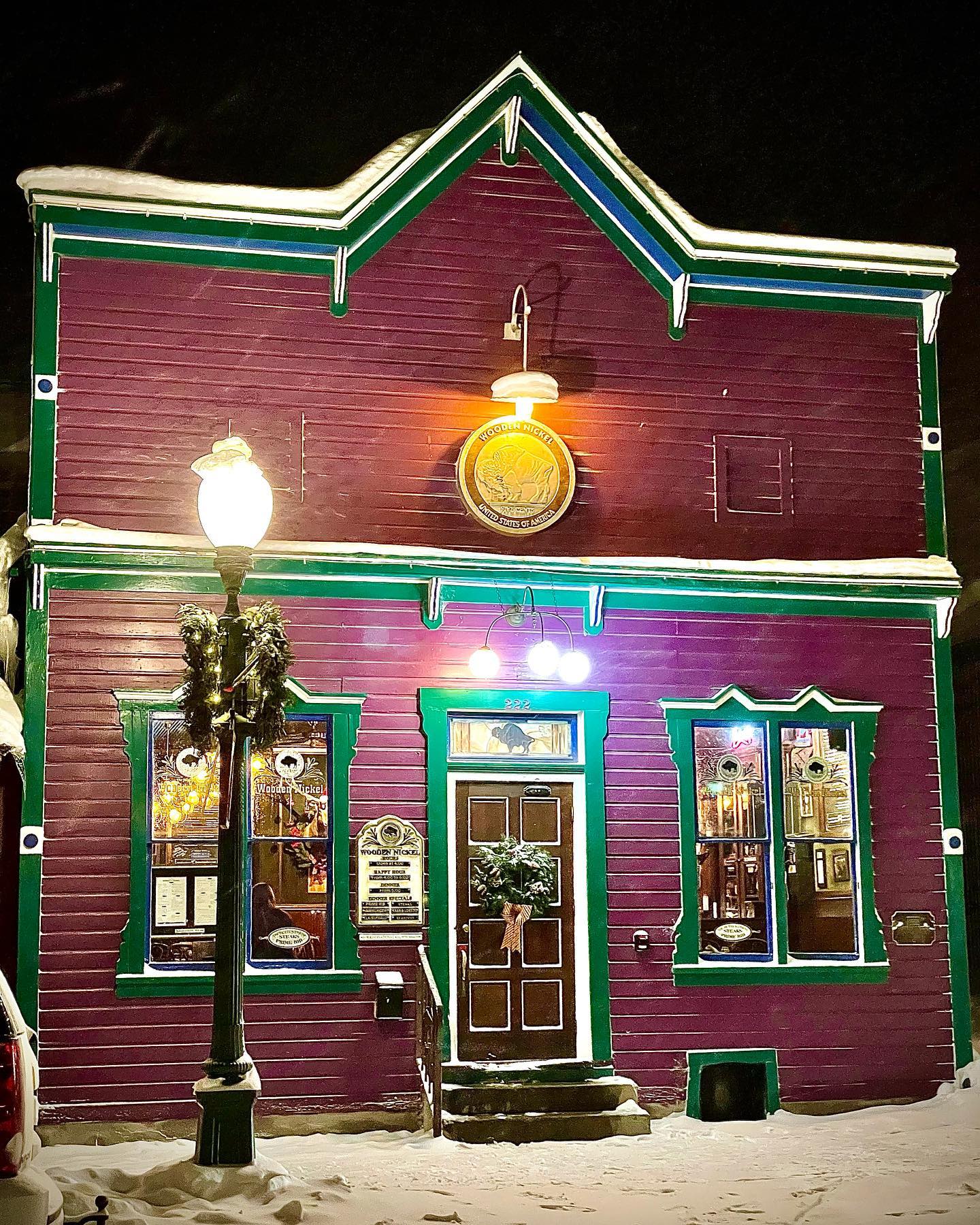 The Wooden Nickel is an old-fashioned saloon in Crested Butte that was first established in 1929. Since then, it has served the town with an expansive bar and delicious menu of steaks, lamb, fish, and more.
Set in a bright purple building in downtown Crested Butte, the Wooden Nickel is a must-see for any visit. With a rich history and a tasty menu, a visit to the Wooden Nickel for a drink or dinner is a great way to spend a night in Crested Butte.
Sea Level Spa
Sea Level Spa is a unique spa in Crested Butte offering a variety of healing and restorative services. Among these is the spa's Oxygen Bar. Since Crested Butte is situated high in the mountains, there's less oxygen in the air, so Sea Level Spa offers concentrated oxygen to reduce the side effects of altitude sickness. While this solution is not permanent, it's an effective way to ease symptoms as you acclimate.
Another treatment option is in one of Sea Level Spa's Altitude Adjustment Chambers. These pressurized chambers mimic lower elevation, so the brain and blood are able to get more oxygen. The spa offers a number of other services including Shamanic Energetic Healing as well as traditional massage and reflexology.
Summer activities
Summers in Crested Butte are filled with outdoor adventures, colorful wildflowers, and perfect temperatures. Find your favorite reason to visit with these Crested Butte summer activities.
Take a hike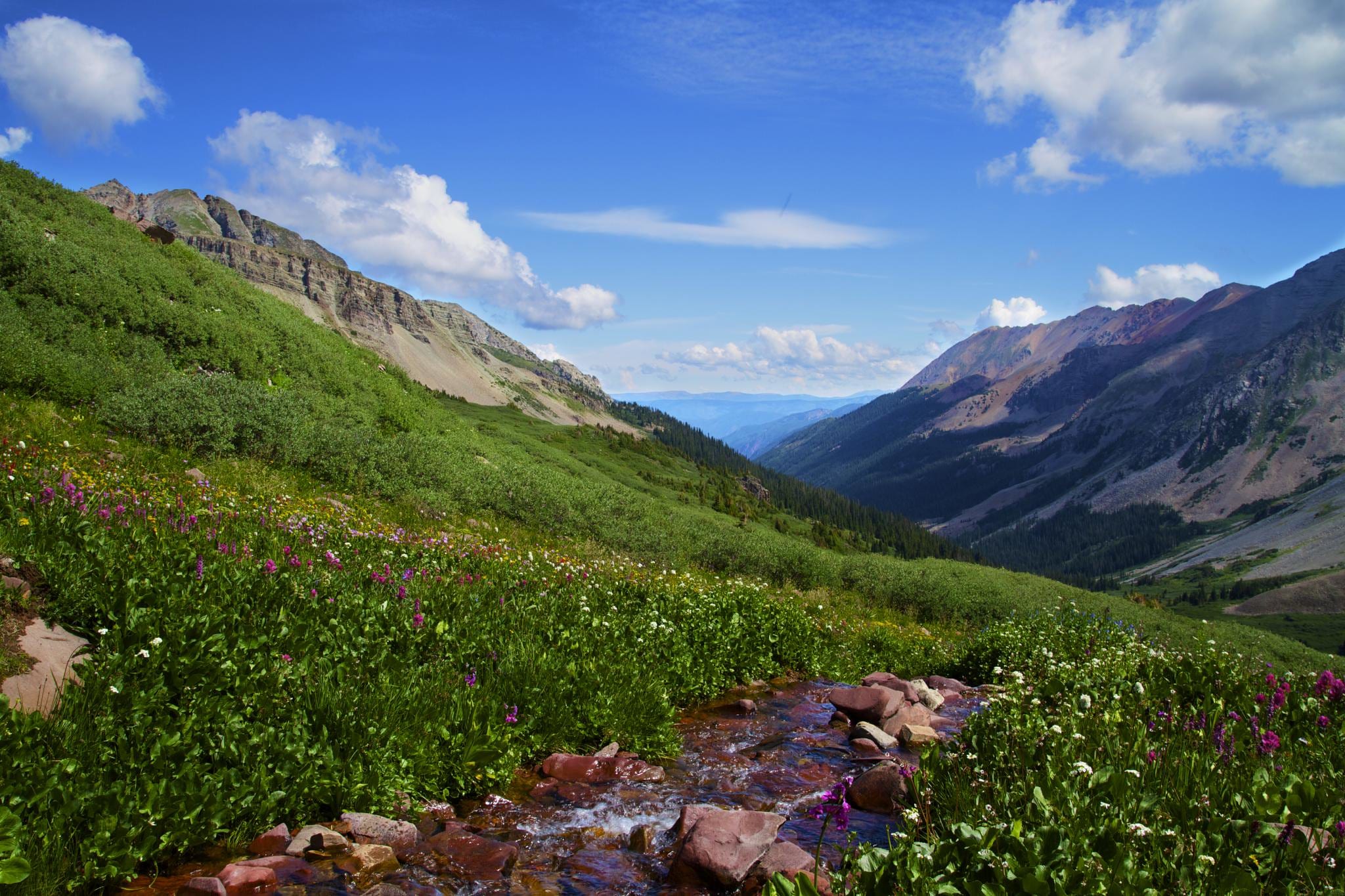 Crested Butte sits at almost 9,000 feet in elevation, so it's no surprise that there's no shortage of breathtaking hikes in close proximity to town. Whether visitors are looking for a short hike to stretch their legs or a long, multi-day backpacking excursion through the mountains, Crested Butte is a great place to start.
An exciting hiking option for adventurous visitors involves hiking from Crested Butte to Aspen. This 10.2-mile trip features 2,357 feet of elevation gain, and it maxes out at 12,490 feet at West Maroon Pass. For shorter and easier hikes closer to town, consider the Caves Trail in the Cement Creek Valley, the Snodgrass Trail, Judd Falls, and the Woods Walk.
Walk through fields of wildflowers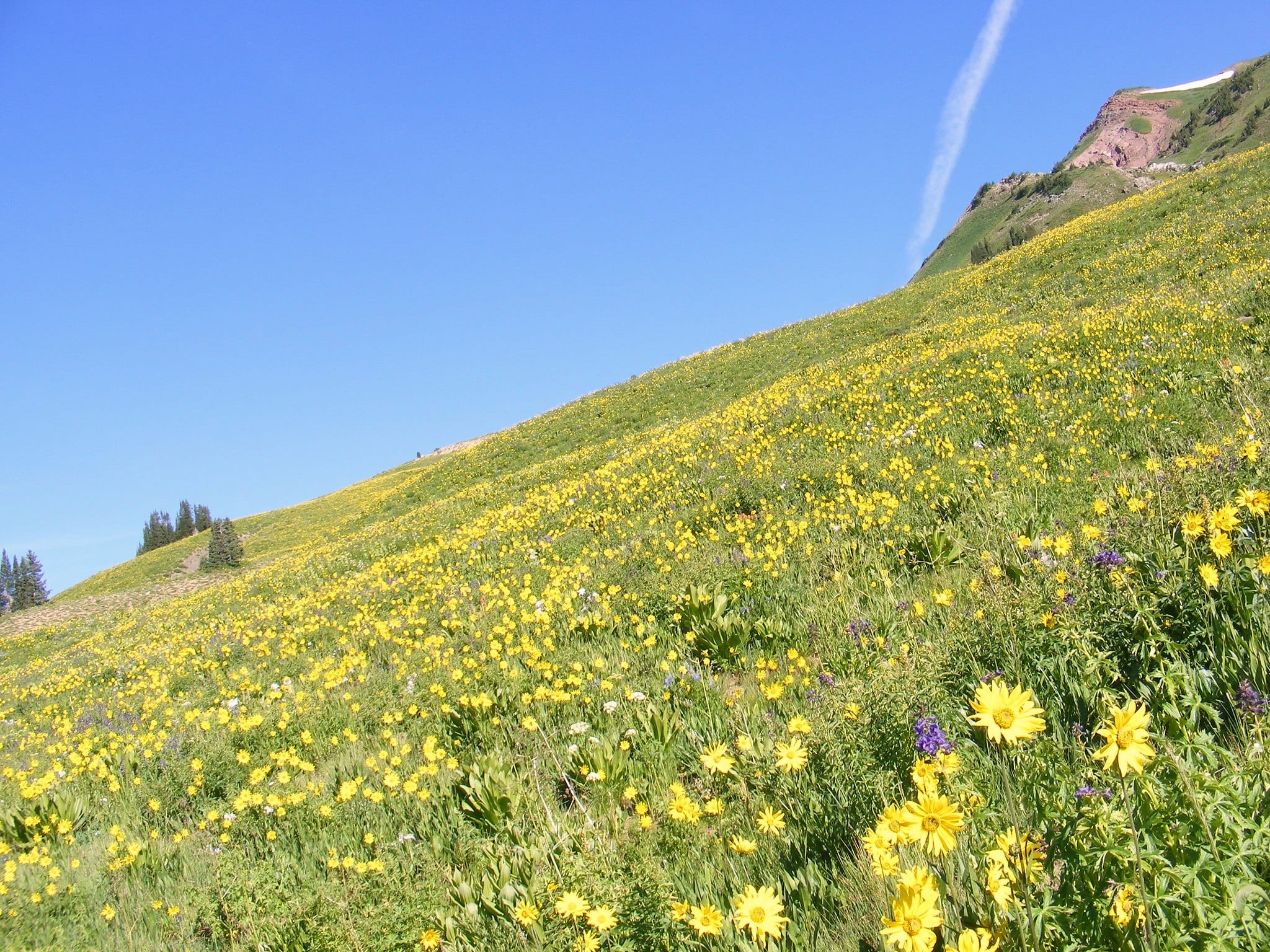 Known as the "wildflower capital of Colorado," Crested Butte is home to an abundance of wildflowers that dot the hillsides and mountaintops as far as the eye can see. Just about any trail in the area will lead you to a field of flowers where visitors will find everything from columbines and daisies to sunflowers and the purple fireweed. Popular trails include Warlord Gulch, Snodgrass Trail, Oh Be Joyful, and Meridian Lake Trail.
The best time for wildflower viewing is in early to mid-July, all dependent on the weather. July is also when the town hosts its annual Wildflower Festival.
Mountain biking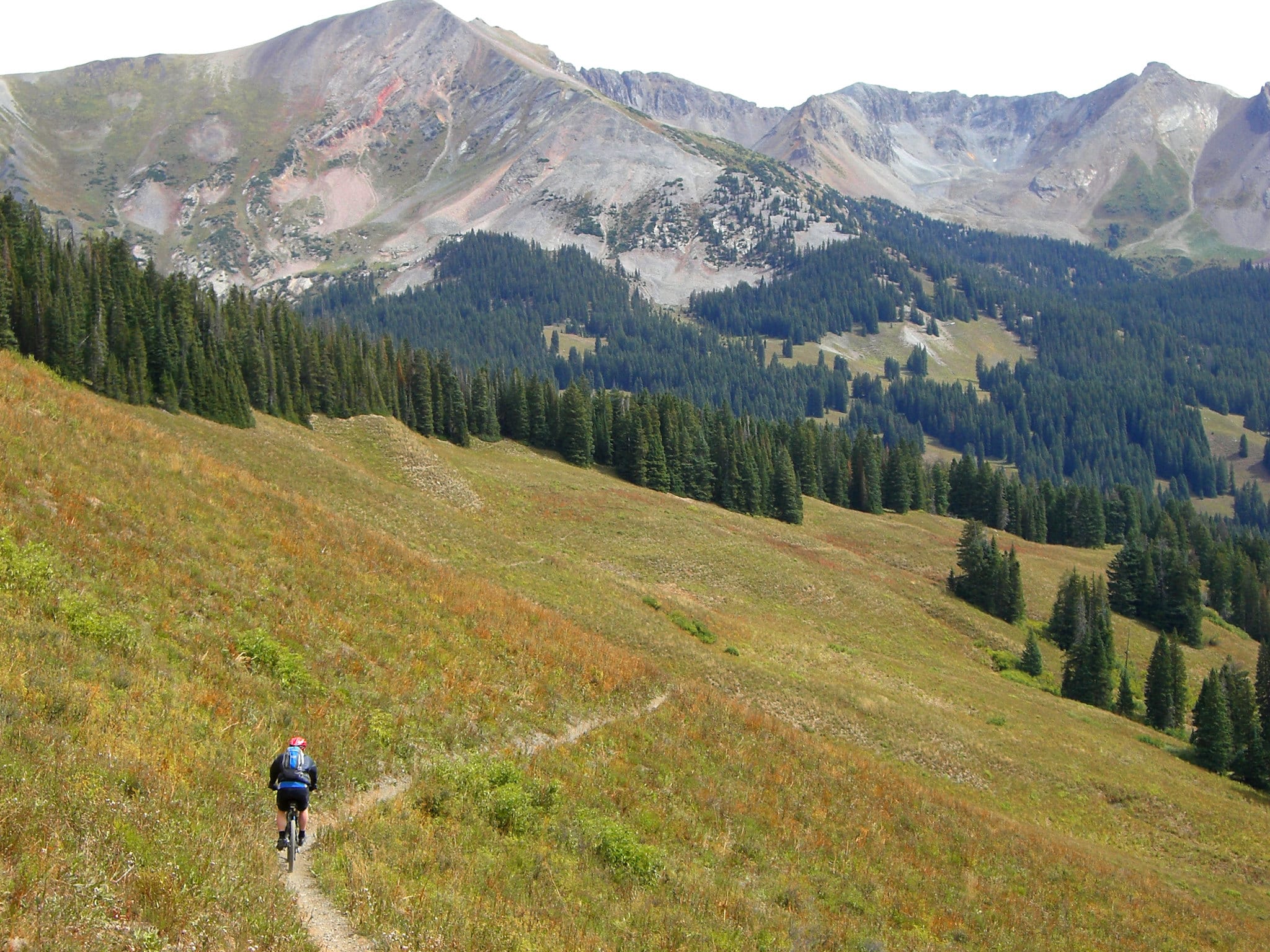 As one of the leading destinations for mountain bikers in the country, Crested Butte features countless mountain biking trails in and around town. With so many trails to choose from, bikers of all skill levels can easily find a ride to suit their expertise.
Crested Butte Mountain Bike Park, part of the local ski resort, operates and maintains over thirty miles of lift-served trails. With guides, tours, and rentals available, the park is a great choice for beginners.
For expert riders, consider trying the Psycho Rocks trail. Known as the park's most technical trail, riders must navigate around massive boulders and bridges. Intermediate mountain bikers should give Sharpshooter trail a try. This fun trail is short, but it features three exciting jumps.
Visit Gothic Ghost Town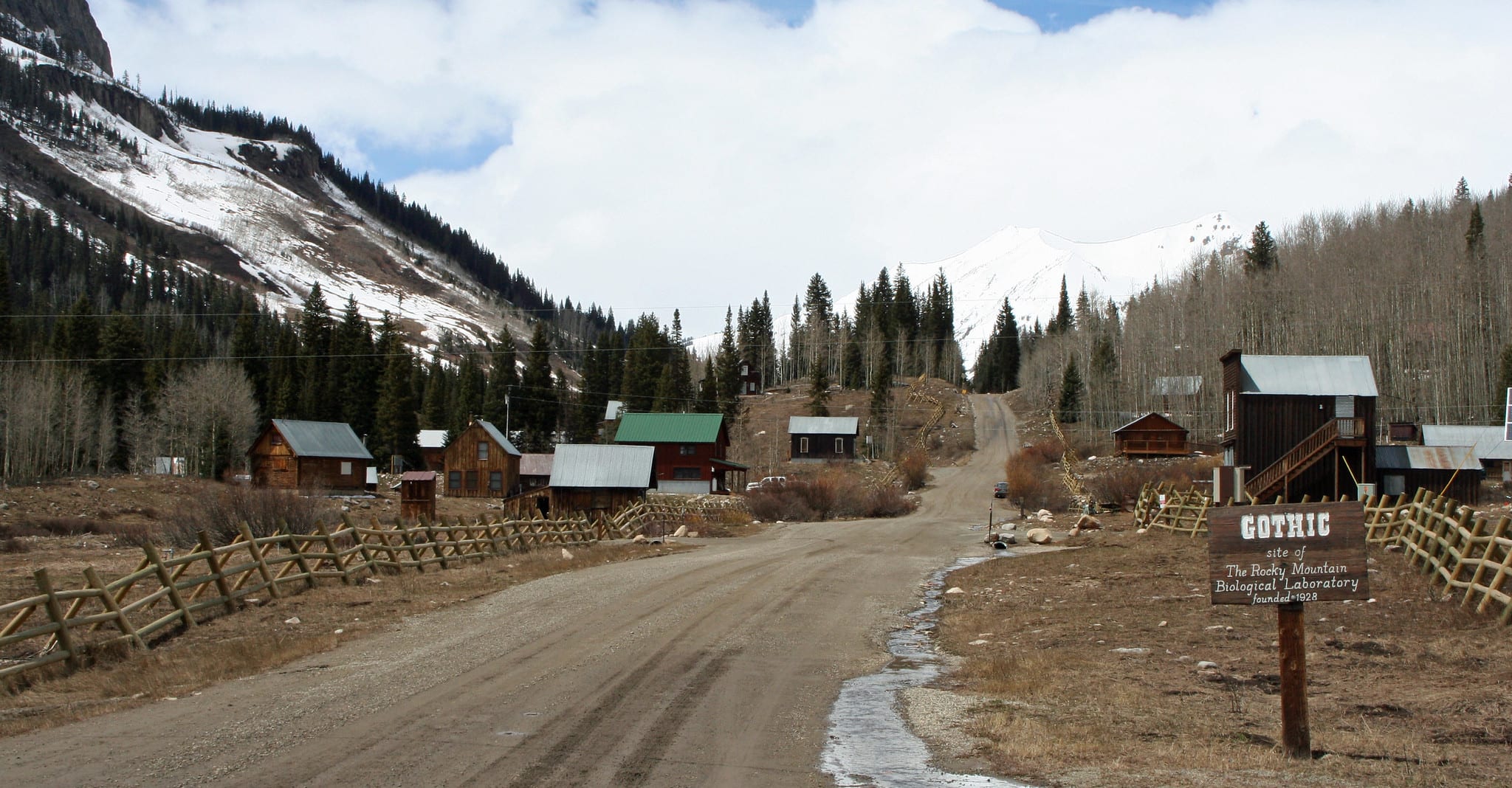 Gothic is a famous ghost town located just north of Crested Butte. Though it was a popular place in the late 1800s, Gothic was deserted by 1914 thanks to the crashing price of silver. Since 1928, researchers have set up and operated the Rocky Mountain Biological Lab in Gothic, and around 180 scientists and researchers call Gothic home each summer.
Today, Gothic is a popular tourist stop for visitors hoping to see a historic ghost town. Some original buildings remain, so visitors can get a sense of what the town was like at its peak in the late 19th century.
In the summer, access the town via a short drive beginning at the main street in town. In winter, most access the town cross-country skiing. Or for a challenge, bike the 401 trail that circles the ghost town for a fun full of adventure.
Crested Butte Adventure Park
Part of the Crested Butte Ski Resort, the Crested Butte Adventure Park is one of the best places for families visiting Crested Butte. Featuring tons of activities like a bungee jump trampoline and mini-golf, kids and adults of all ages can find a way to have fun. Pay for activities individually or purchase an Adventure Ticket that provides unlimited access all day.
One of the most fun activities is the Tin Cup Mining Co. Here, children get the chance to prospect for gems by panning. One bag of dirt to be panned is included with each Adventure Ticket, and additional bags are available for purchase at the park's Treasury Building. Other activities include the Gravity Bagjump, which involves jumping off a 32-foot platform onto a 50×50 foot inflated bag.
Fall activities
Boasting some of the best fall colors in the state, Crested Butte is a top destination for leaf peepers every season! Home to Colorado's largest aspen grove and mountain tops filled with vibrant hues of yellows and oranges, it's easy to see why Crested Butte is one of the best places to experience fall. Discover these fall activities in Crested Butte and see why so many fall in love!
Check out the Fall Colors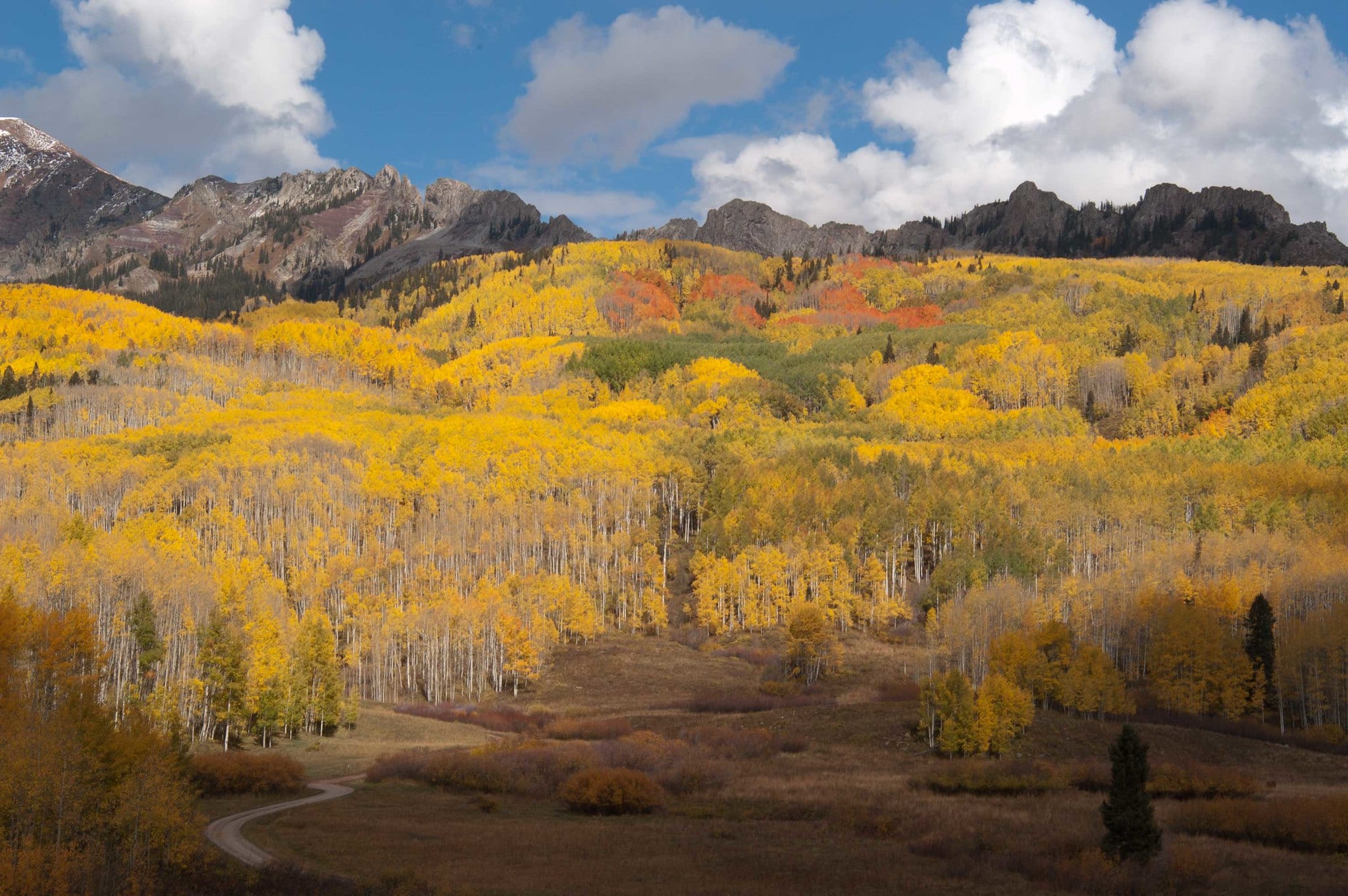 Offering some of the best fall foliage in Colorado, Crested Butte provides many opportunities for leaf-peeping and scenic wonderment. To experience the fall colors, visitors can go for a scenic drive, take a hike, or mountain biking.
One of the best spots to check out the fall colors is from the top of Kebler Pass. Home to Colorado's largest aspen grove, Kebler Pass provides premium front-row seats to some of the most spectacular fall colors. Instantly feel encapsulated with a sea of yellow and even red-colored aspens as you make your way across the pass. There are several camping sites, trails, and scenic pull-outs to enjoy the colors up close.
West Elk Loop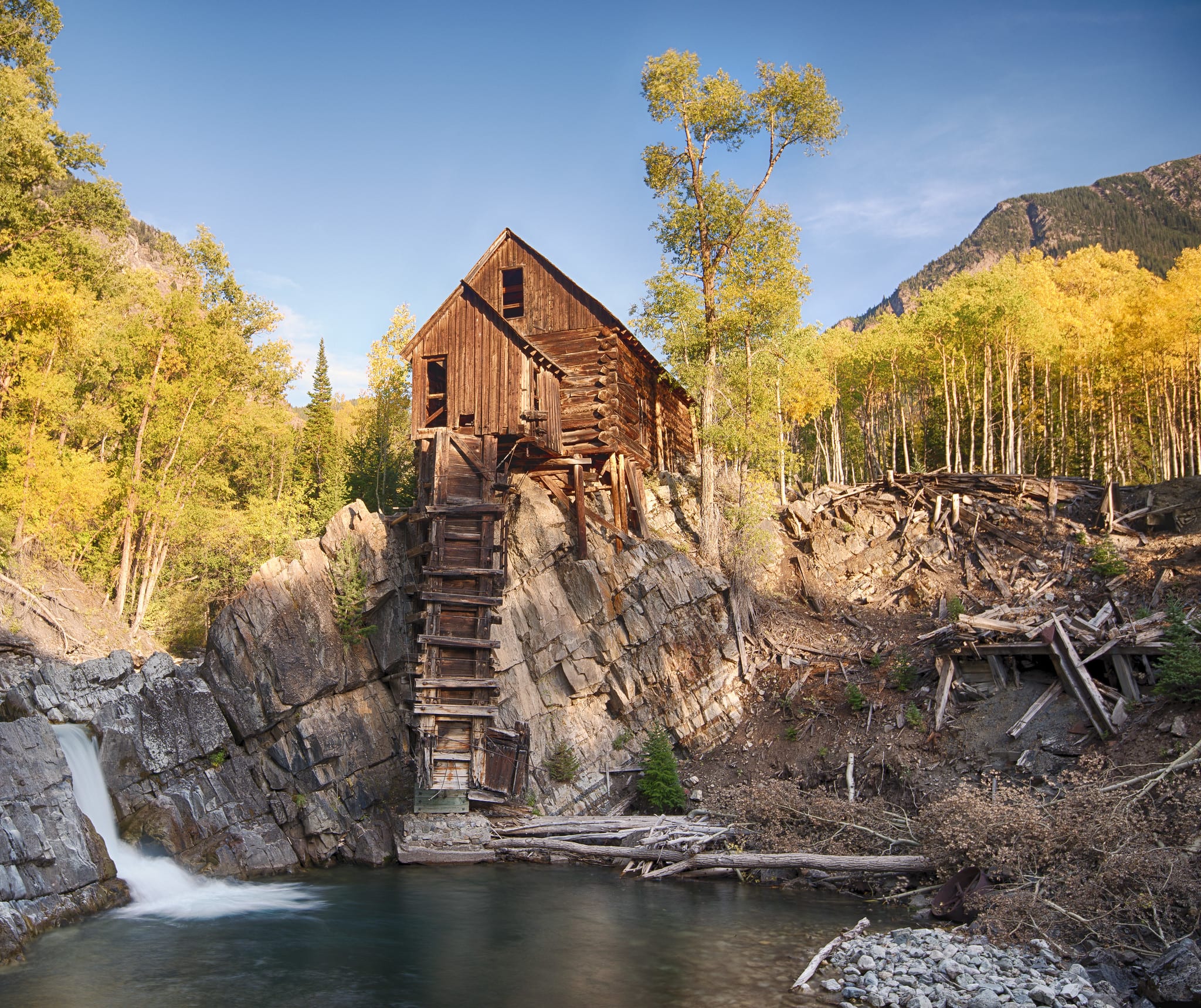 If you've made your way to the top of Kebler Pass, make a day of it and continue on with the West Elk Loop. This scenic byway cuts through Kebler Pass, wine-country in Paonia, the scenic West Elk Mountains, and the top of the rim at Black Canyon of the Gunnison National Park. While this is a popular route in the summer as well, fall is the best time to see it with its abundance of fall colors and wildlife.
Winter activities
Crested Butte is a top destination for skiers with its epic powder and lift-served extreme terrain, making winter the most popular time to visit. Discover skiing and more with these winter activities in Crested Butte.
Crested Butte Mountain Resort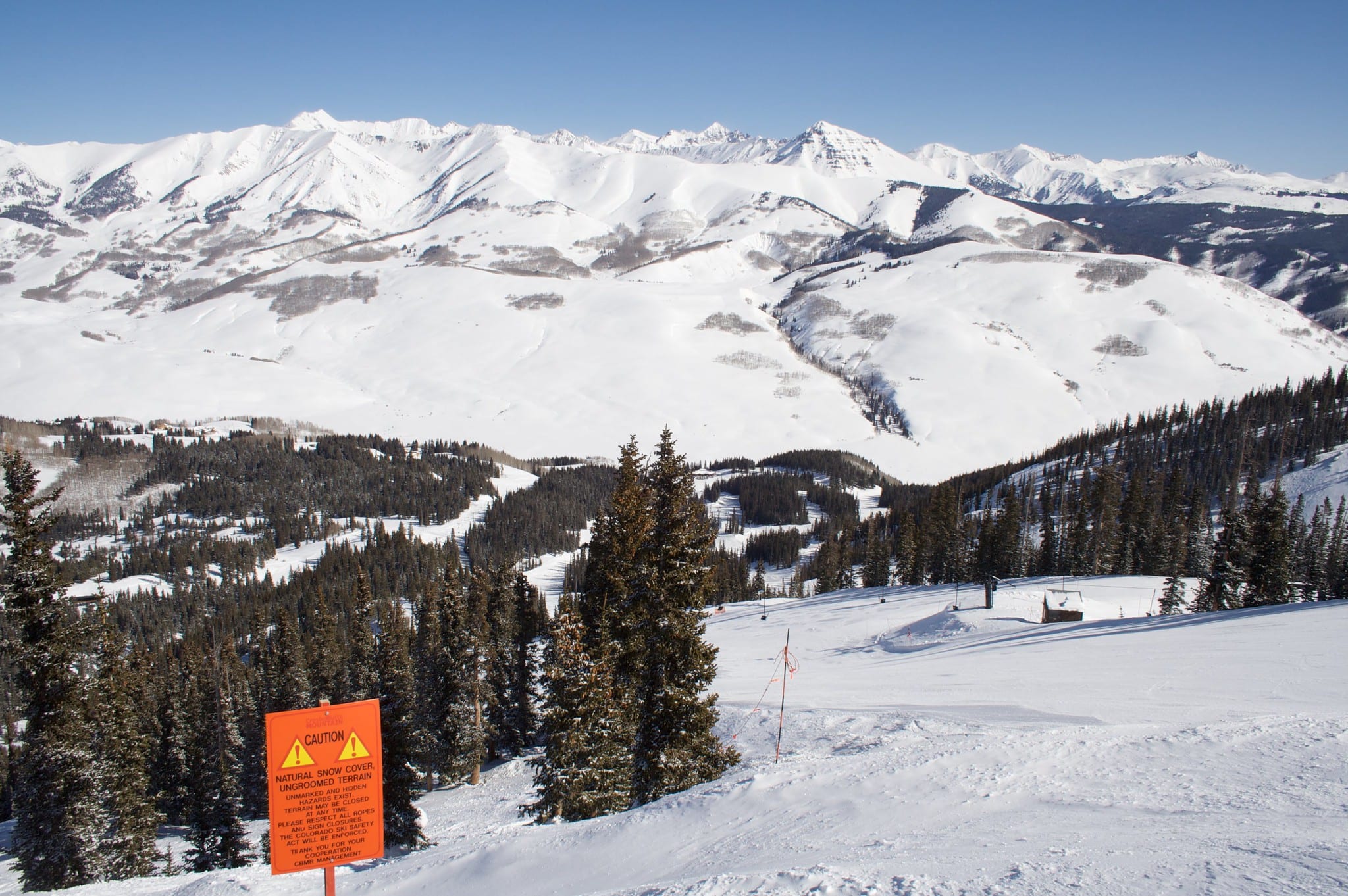 Crested Butte Mountain Resort is the primary winter attraction of the town. A full-service ski resort including a beautiful lodge, the CB Mountain Resort is a great place for novice and expert skiers alike. With 121 trails and 1,547 skiable acres, this huge resort offers world-class skiing from November through April each year.
The resort features two lodges and a number of condominiums, so visitors have no shortage of options when choosing overnight accommodations. Additionally, there are four restaurants at the base of the mountain as well as two on the mountain. For beginner skiers and snowboarders, the resort offers lessons and equipment rentals.
Nordic Skiing and Snowshoeing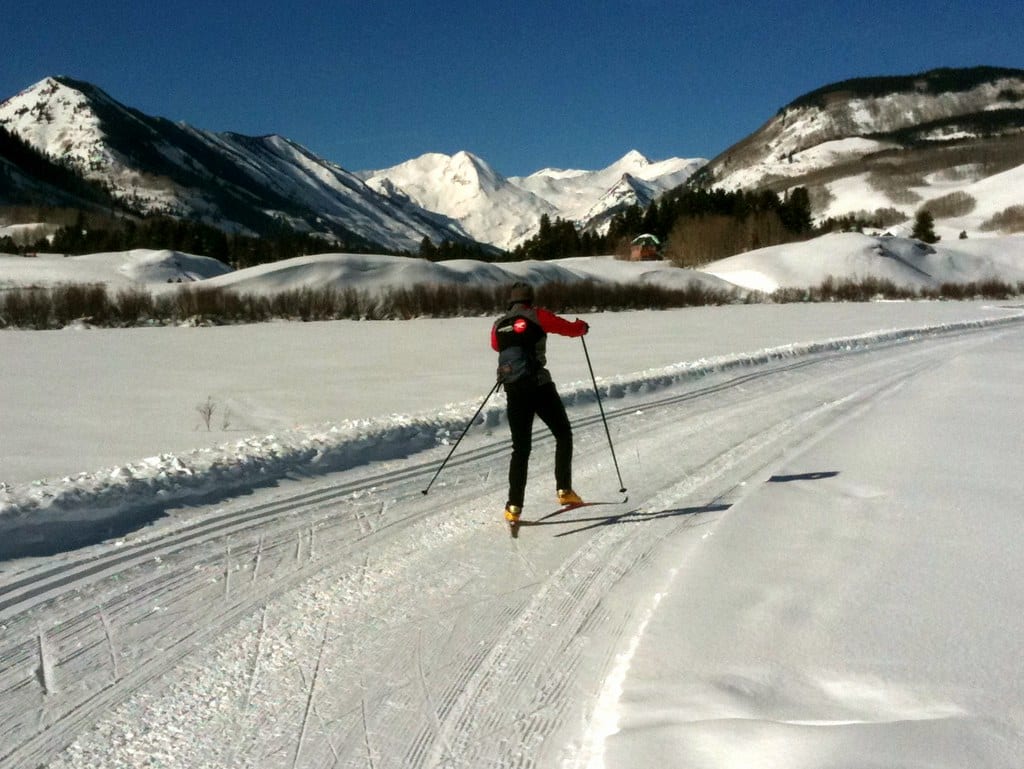 Known as the nordic ski capital of Colorado, trails abound in the surrounding area of Crested Butte during the winter months. The Crested Butte Nordic Center grooms 50 kilometers of trails each winter that are accessible from town without driving. So, visitors don't need to travel far to enjoy world-class nordic skiing and snowshoeing.
For those new to the sport, the Crested Butte Nordic Center offers daily equipment rentals as well as lessons and backcountry tours. Skiers and snowshoers must purchase a day pass, 10-punch pass, or a season pass to access the trails.
Fat Biking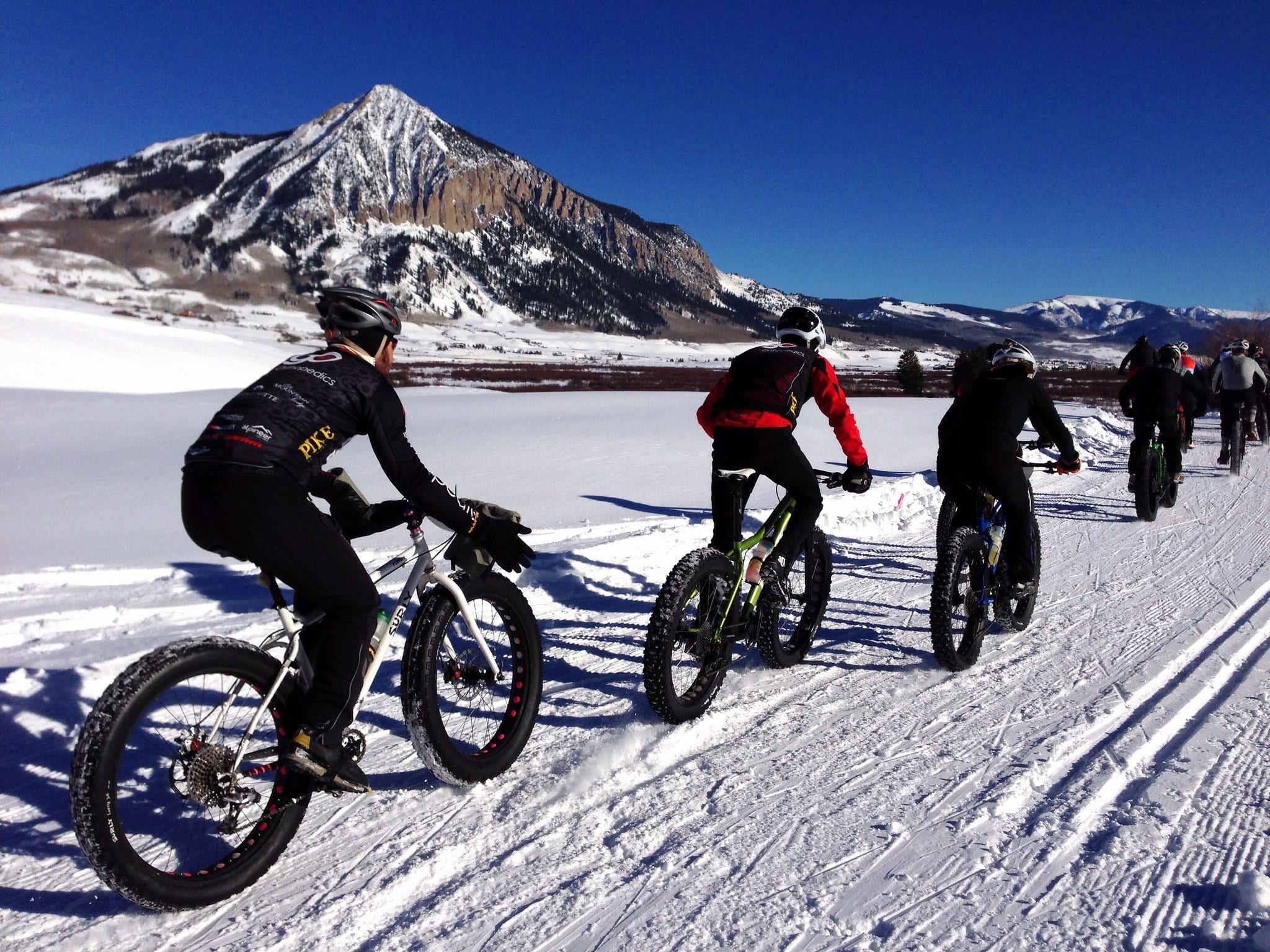 Fat biking is a great way to explore the trails and terrain in the winter months. Crested Butte features a number of trails suitable for winter biking. The Crested Butte Nordic Center grooms 10 kilometers of free, public access trails that are open to fat bikes.
The Crested Butte Mountain Bike Association also grooms some trails in the areas surrounding the town. Since most visitors don't travel with their own fat bike, a number of stores, including the local Crested Butte Sports, offer fat bike rentals during winter.
Grab your skis, mountain bike, hiking boots, and camera because no matter what time of year, there are plenty of things to do in Crested Butte!