The Colorado Rockies are an off-road driver's dream. There are so many trailheads to explore — it's a perfect mix of top-grade topography, well-kept trails and gorgeous Colorado scenery.
The state has long touted its backcountry trails
(affiliate link) for their challenging uphill drives and—better yet–plenty of places to park your Jeep for some incredible views to explore. Whether you're a 4Runner owner with plenty of miles under your belt or an outdoor enthusiast looking for a new sport, Colorado off-roading accommodates newbies and hardened trail riders alike.
Of course, before you hit the trail you'll want to make sure your Jeep is suited to the task, before you get too down and dirty. With a 4-wheel drive Jeep, you hit the real open road and start traversing Colorado's rugged trails and back roads. They're challenging, but for the adventurous Jeep drivers, you'll have an unbelievable experience.
Colorado's Best Off-Road Jeep Trails
Looking for the perfect thrill-seeking spots? Here are our suggestions for an afternoon of steep climbs, muddy rides, rugged roads and truly stunning panoramas of the mountainside. If you lack a 4×4 vehicle Colorado Jeep rentals can be found throughout the Rockies.
Here are among the top off-road 4×4 roads in Colorado, in no particular order:
1. Wagon Wheel Trail System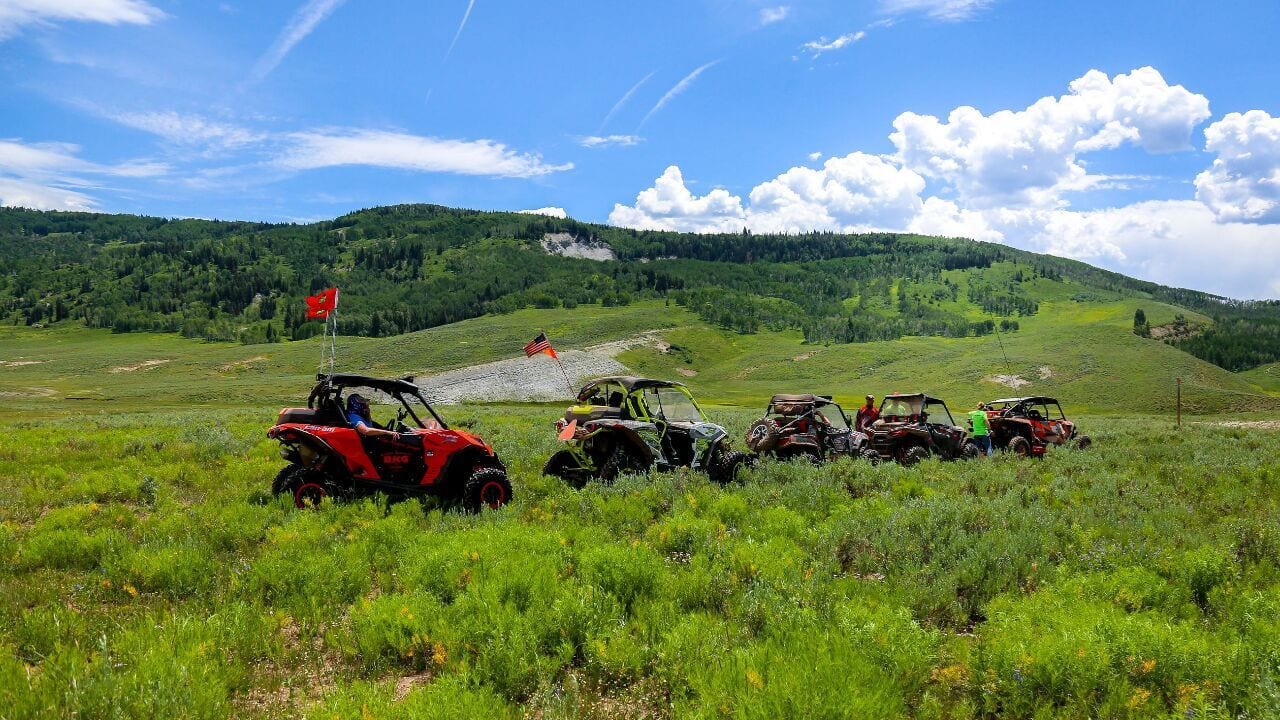 Spanning a whopping 250 miles, Wagon Wheel's 13 main interconnecting trails are right in the heart of Colorado's Rocky Mountains. If you're looking for a 4WD roughshod challenge, you can try riding Fawn Creek to Dead Horse Loop, a steep, rocky ride with narrower trails.
For those looking for a laidback afternoon with plenty of panoramic views, Wagon Wheel's got breathtaking views in spades. You can explore the trails for a quick day trip, or for a whole off-roading weekend. Just make sure you bring your Jeep along.
2. Central City/Saint Mary's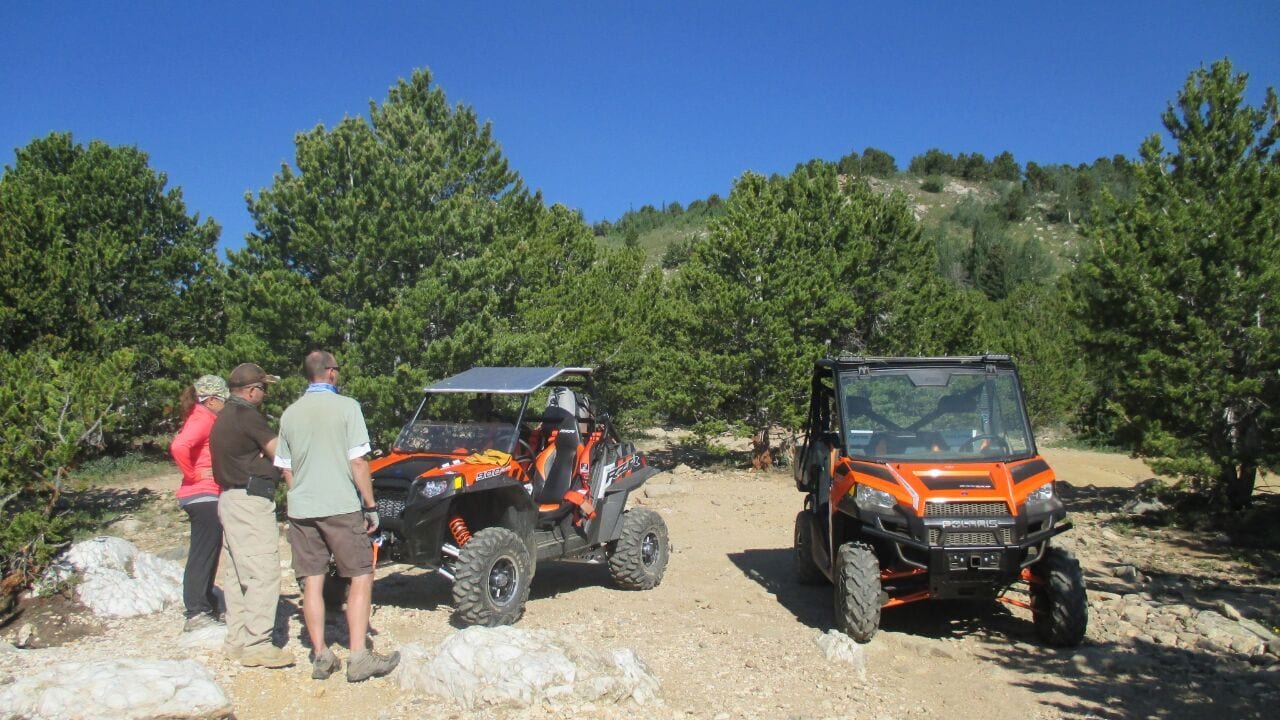 Be honest, you came to the Rockies for the mountain views. And that's exactly what you'll get on the Central City/Saint Mary's trail. A sprawling network of trails, you'll find plenty of adventure on any avenue you choose.
But if you're looking for a real mountain climb in your 4WD or Jeep, Yankee Hill is one of those few trails that almost require an off-road vehicle for its best views. It's a short, steep ascent, and totally worth the occasionally rocky terrain, for views of St. Mary's Glacier and nearby peaks.
Other trails around Central City/St. Mary's can take you up and around the glacier for even more spectacular views. The trails are just between Colorado Springs and Denver—easy access for a week-long trip or for city natives.
3. Colorado State Forest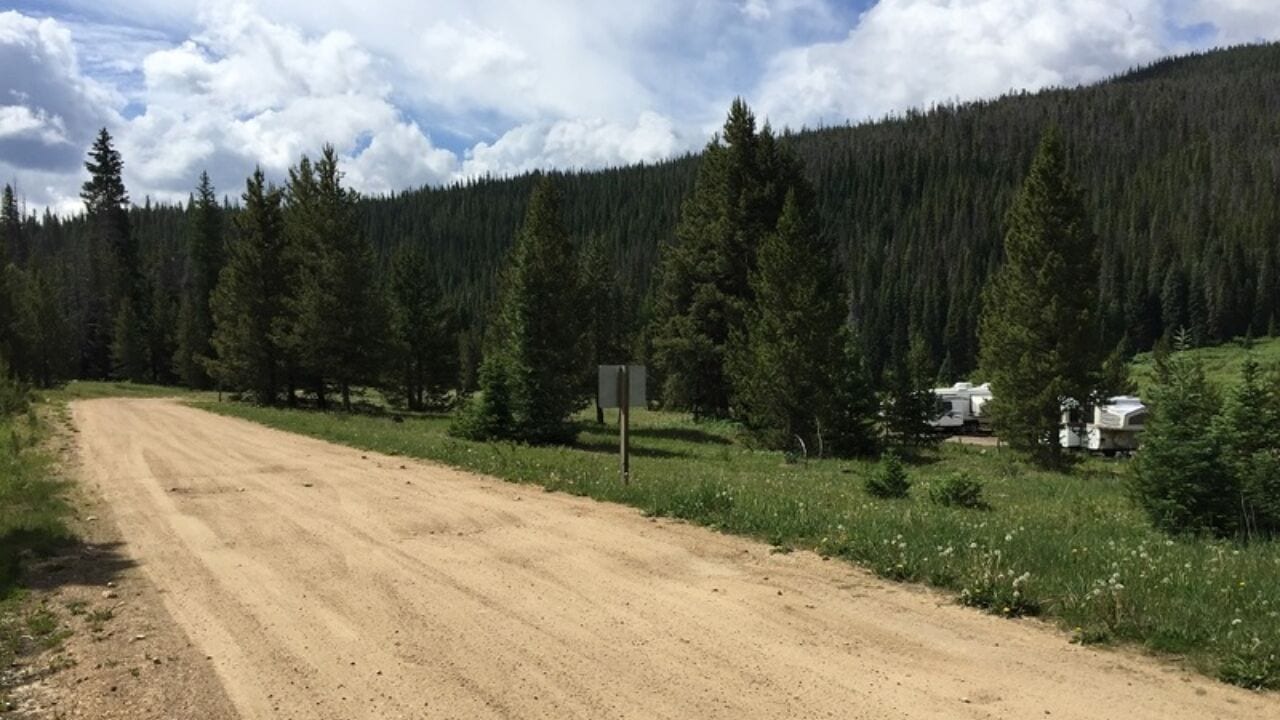 50 miles of off-road trails await Jeep and 4WD enthusiasts, with plenty in the way of Colorado scenery and wildlife. If you've ever wanted to spot moose in this gorgeous state, now is your chance—the Colorado Forest is known for its moose-viewing opportunities, as well as its numerous activities outside of its thrilling off-road trails.
The Colorado State Forest is just 3 hours northwest of Denver. It offers thousands of acres to explore.
4. Alpine Loop
This scenic byway is a classic Colorado trail. Parts of the trail don't require a 4×4, but if you're looking to tackle all 63 miles, you'll almost certainly need a real off-road vehicle to be able to handle the terrain. Rugged trails and rocky climbs are both on offer across the Alpine Loop, located south of Telluride.
And the loop even has a little history, for those looking for a few stops—there are multiple ghost towns and ruins along the trail (and only accessible off-road). There are plenty of passes in the Alpine Loop (and we'll name-check a few), but the area as a whole is worth a trip.
5. Grand Mesa Trails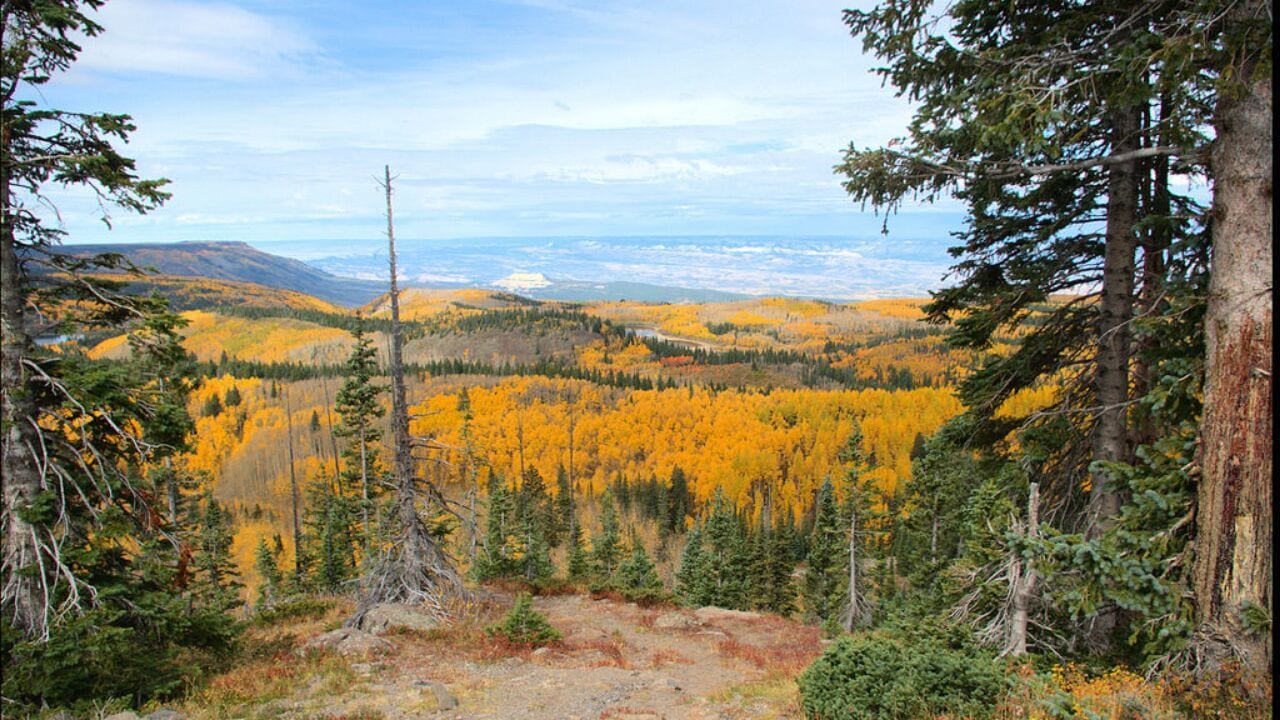 Just off of I-70 and about 5 hours from Denver, the ATV and 4-wheel drive trails in the Grand Mesa National Forest span about 150 miles. Grand Mesa's name is a little misleading—don't expect a flat, grassy plain—but you're sure to be met with adventure.
The park's networked trails feature multiple difficulty levels, with numerous lakes, grassy hills, deep mud holes and rocky climbs. The terrain and the expansive views ensure these trails live up to their rugged reputation. Many of the trails are located on flat-top mountains, making Grand Mesa a somewhat more moderate trail than Colorado's most challenging scrabbles.
6. Red Feather Lakes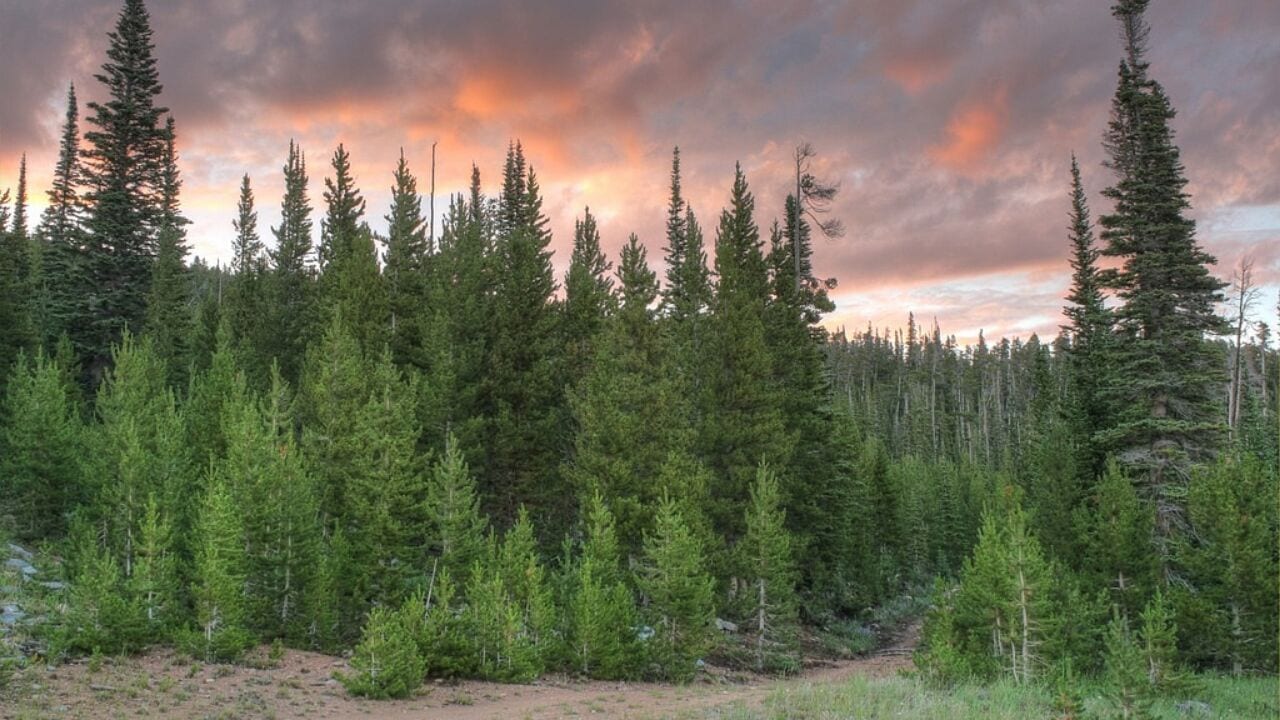 Some miles west of Fort Collins sits Red Feather Lakes in Roosevelt National Park. The park features valleys full of wildflowers and dirt trails perfect for a Jeep or ATV.
The area's most popular trail is by far Deadman's Road, a nearly 23-mile stretch of open dusty trail, with a few challenging rocky sections. Be sure to visit in the summer to curtail mud and rocky trails—and to get the most out of trails like Seven Mile Creek Road, which traverses a scenic valley, across a creek and uphill into a forest.
7. Mount Baldy
Southwest of Colorado Springs sits Mount Baldy to many residents due to its uncapped peak. The mountain overlooks one of the state's largest natural lakes and provides a stunning view of the city.
Although it's one of Colorado's more laidback trails, there are still plenty of rocky peaks that, depending on the trail you take, will require some careful driving (and a little traction). There's another Mount Baldy, aka Mount Craig west of Grand Lake, which does not allow motorized vehicles.
8. Imogene Pass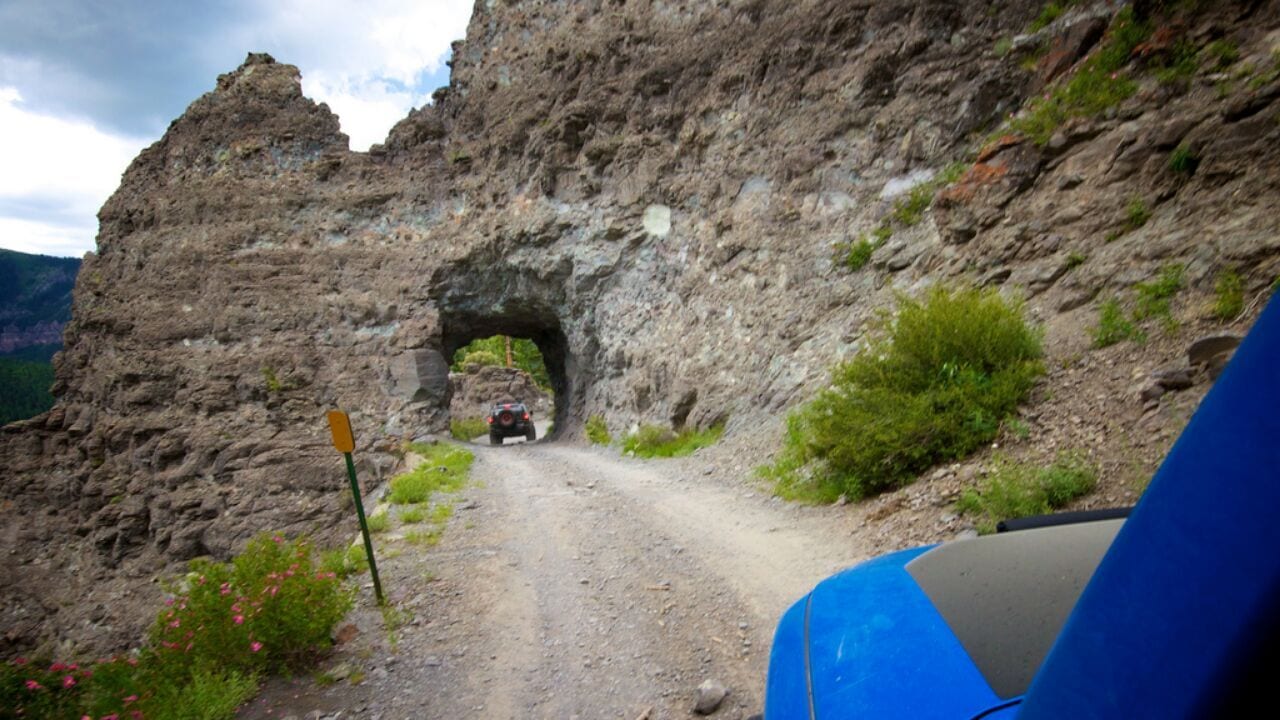 A rough-and-tough drive through steep slopes in the San Juan Mountains, Imogene Pass is no easy ride—but it's a joy ride. Head to the Pass during the mid-summer, and you'll be rewarded with views of wildflowers and sweeping panoramas at an elevation of roughly 13,000 feet.
9. Hardscrabble Park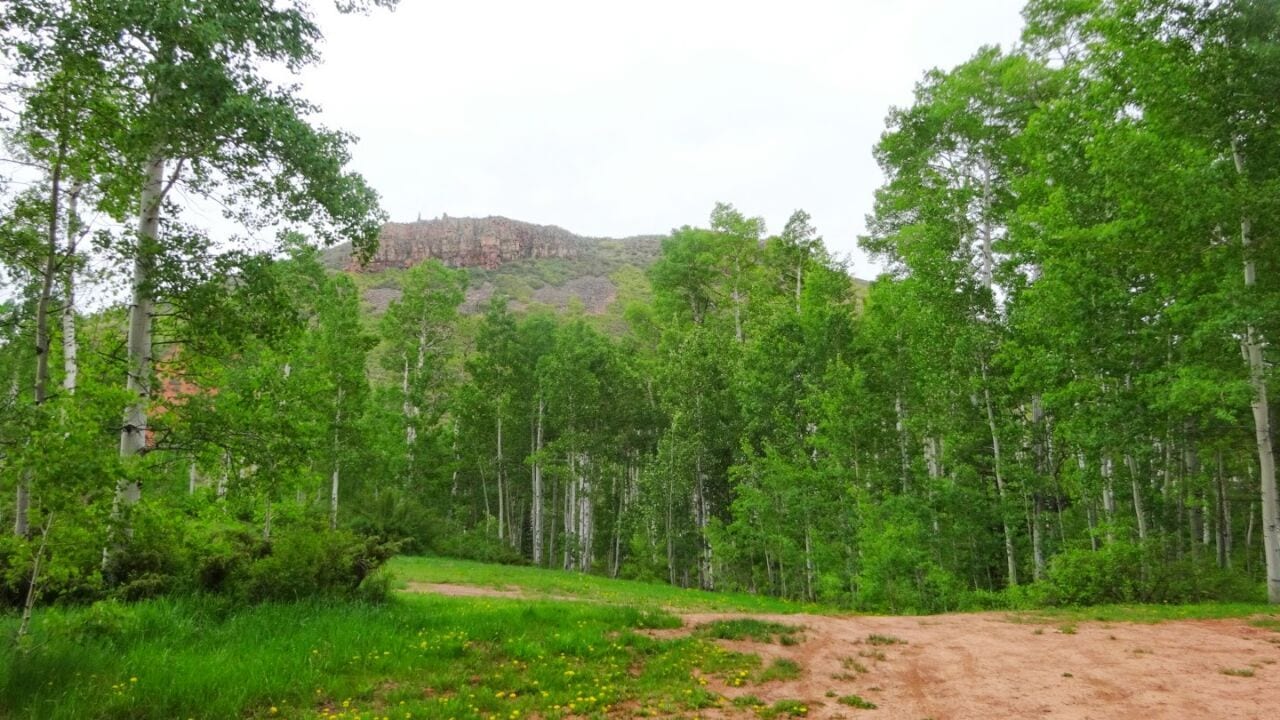 There's a reason it's called Hardscrabble Park (and it's not for the board game). Perfect for 4WD enthusiasts, Hardscrabble might as well be a 4WD and off-roading enthusiast's playground—just make sure you can keep your grip.
The landscape is a mix of classic West Coast high desert, with plenty of canyons, cliffs and juniper bushes. The trails are a challenging mix of double-track ATV paths and more technical single-track trails, and bonus, they're perfect for gunning the engine and going, without too much planning on the exact trail you'll be taking. Put your tires to the trail, and go!
10. Lizard Head Pass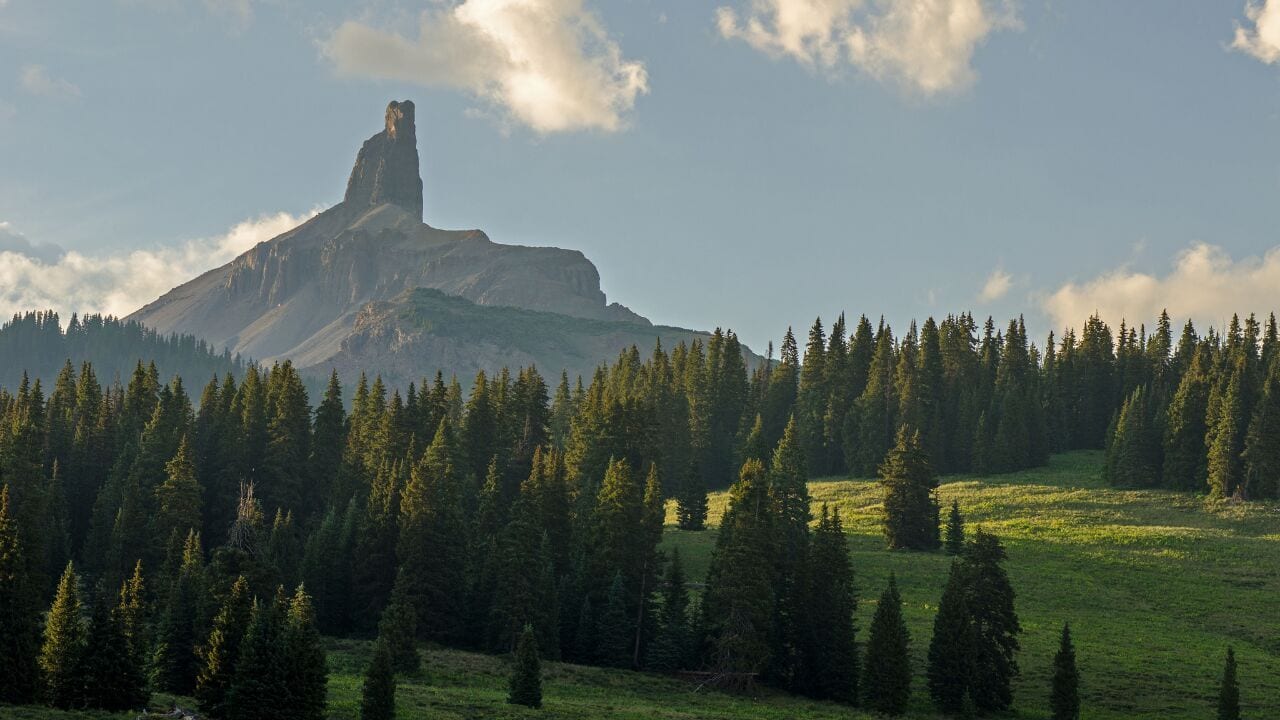 Snowcapped peaks on Purple Mountains Majesty? Yes, please. Named for the 13,113-foot tall Lizard Head Mountain, the pass is in the San Juan Mountains. Dense forests cover the trails, and you might even see a mountain goat or two, provided you're not caught up by the peak's snowy views.
Lizard Head Pass is a popular spot for off-roaders and campers alike, making it a great weekend stop (and hey, a more affordable Swiss Alps experience). Colorado's avid skiers might be drawn to Lizard Head for an off-road adventure—the pass's proximity to Telluride makes it an ideal spot for some off-season sports.
11. Ophir Pass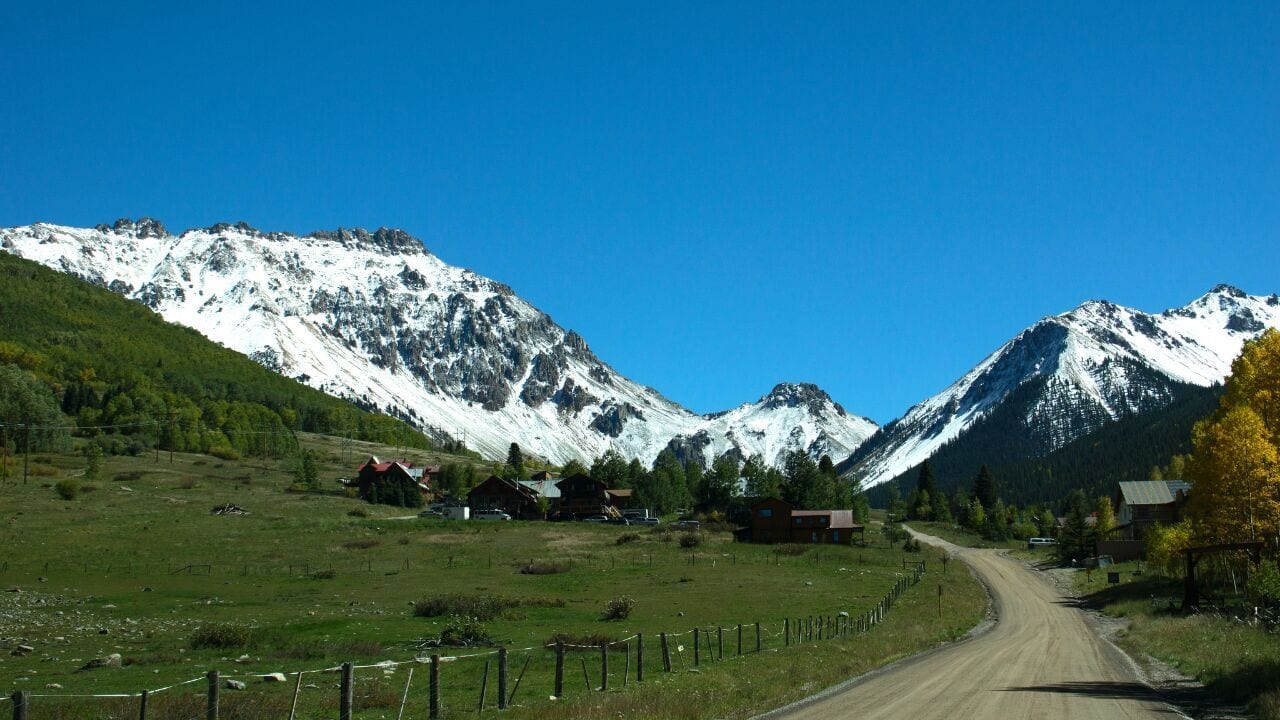 Part of the Alpine Loop, Ophir Pass is one of Colorado's easier roads. It's a great trail for off-road enthusiasts just starting their new sport, while still providing views of the state's steeper and more difficult trails.
Located in the San Juan Mountains, the pass provides a reasonable uphill climb to its summit. You'll still want to exercise caution—the pass has some rocky portions and switchbacks, and up to 20 feet of snow at the summit (even in June!) Trails are well maintained, however, and with two vehicles you and your friends are sure to have a thrilling (and safe) ride.
12. Yankee Boy Basin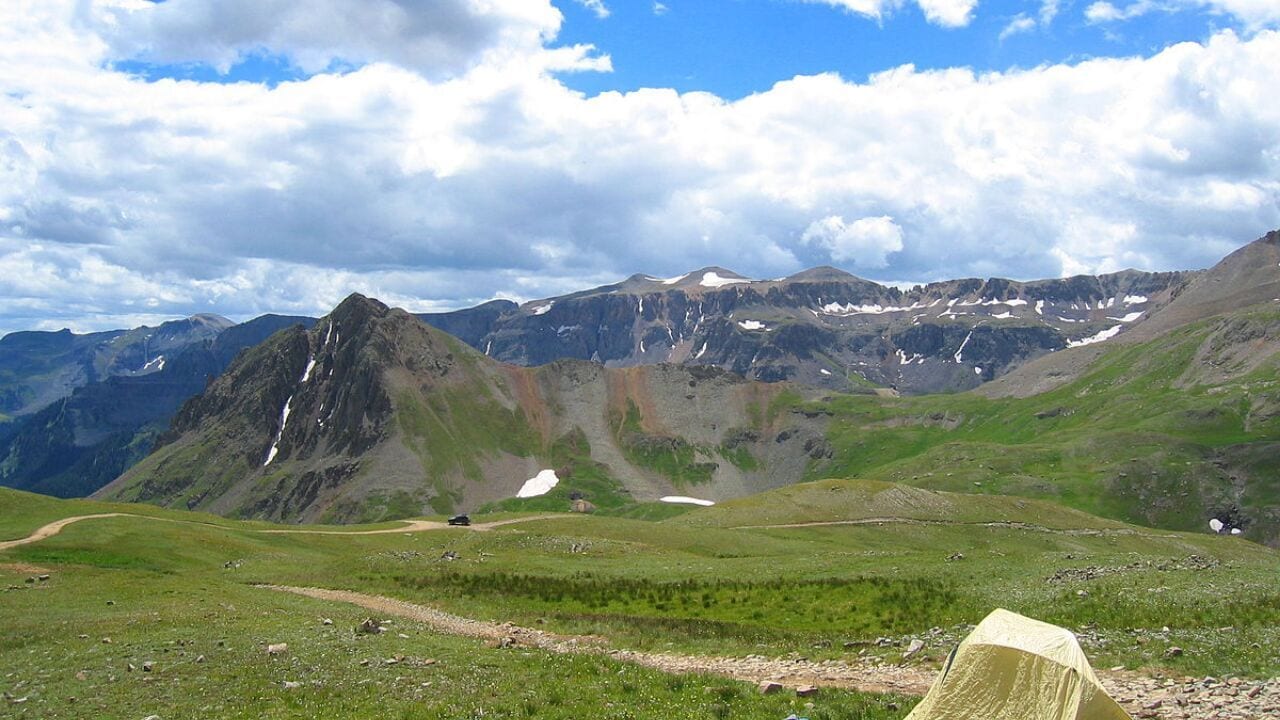 If you're looking for scenic views for your photo albums, you'll find picture-perfect natural scenes at Yankee Boy Basin. It's an easier trail for those just beginning their off-road adventures, but even for trail veterans, it's a worthwhile trip for its gorgeous waterfalls and summer wildflowers.
If you're completely new to off-roading, rent a Jeep, and catch a sunset at the base of Mount Sneffels on this trail—you won't be disappointed.
13. Kelly Flats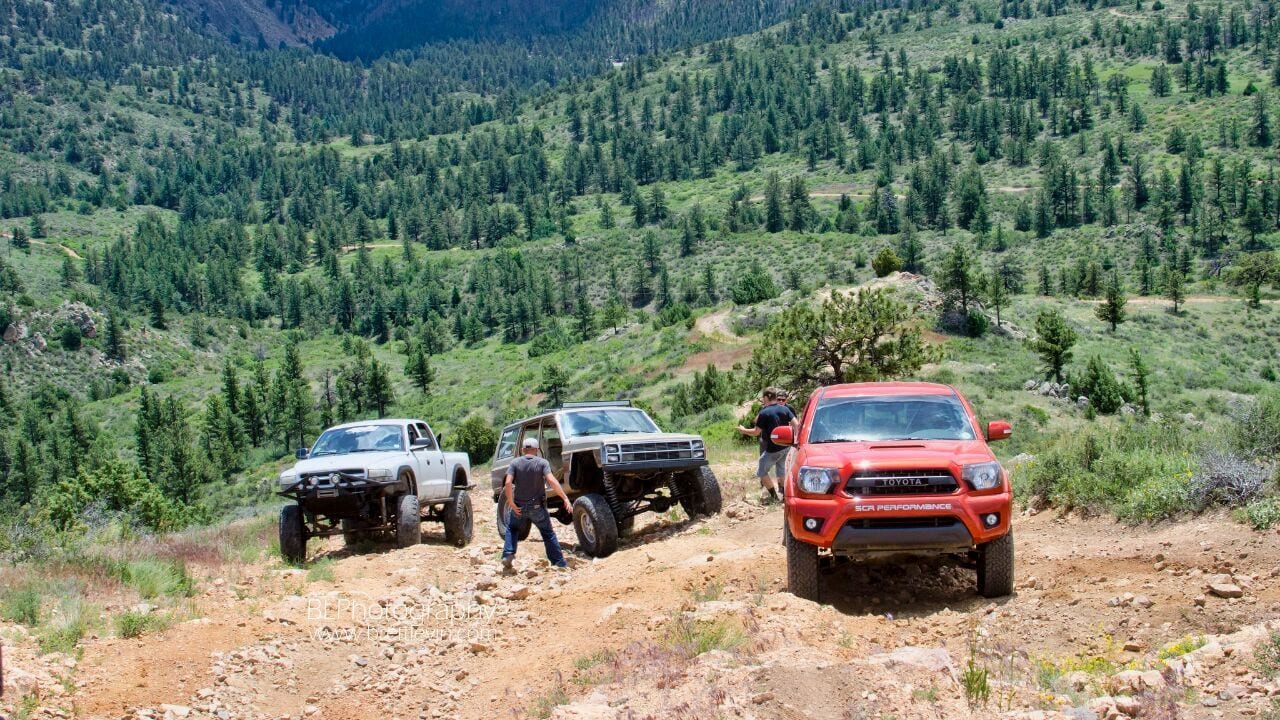 Get ready for a "Heart Attack." Kelly Flats' main claim to fame is its steep incline called Heart Attack Hill, right at the trail's beginning. It's a long drive up the ridge, and some vehicles may be prone to roll over.
Take care as you climb, and you'll be rewarded with the Chutes, a short but challenging ride through an outcrop of boulders, and plenty of sights between the trail's most treacherous hills.
As this is by far one of Colorado's more difficult routes, this is a trail for experienced road warriors and off-road junkies looking for a challenge. Regardless of your experience level, you'll want to go with more than one off-road vehicle and a few friends.
14. Engineer Pass
One of Colorado's more challenging off-road trails, you'll find Engineer Pass a feat of engineering not only for the grassy canyon view but for its technical 20.5-mile trail. You'll hit a few difficult switchbacks on this path, but overall you'll find it well worth the difficult turns (in fact, if you're looking to test yourself and your vehicle, you might find that to be the trail's best part).
The pass features several old mines and cabins dating back at least 100 years and a high elevation (with plenty of Rocky Mountain fresh air).