Embedded in the San Juan National Forest and Colorado history, Ophir Pass is a somewhat easily accessible mountain pass standing high at 11,789 feet. It's reached from the town of Ophir, about 13 miles south of Telluride, or from the east in Silverton.
Most high clearance vehicles can traverse Ophir Pass in the summer, although drivers must be confident and alert to safely pass others along the narrow sections of the road.
History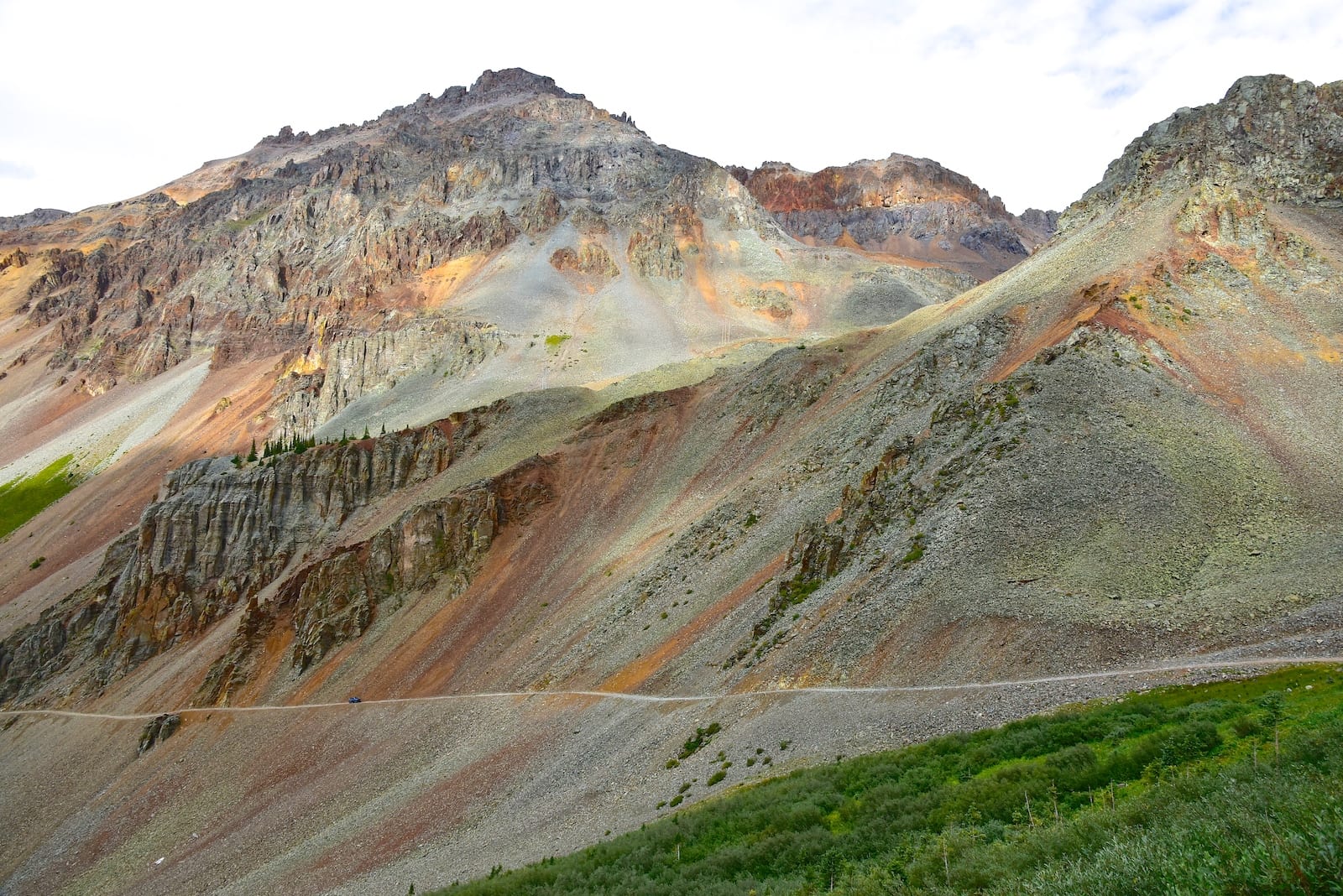 The earliest known human use of Ophir Pass dates back to Navajo hunting trips prior to 1870. The pass was then used by fur trappers and traders, originally known as Howard Pass after a local prospector.
The town of Ophir "officially" incorporated when a post office was built in 1878. The town, and the pass bear the name of a biblical mine said to have brought gold to King Solomon. Ophir Pass was traversed from Silverton by foot and later by wagon when the first toll road open in 1881. The toll road diminished in popularity when the railroad was laid across the nearby Lizard Head Pass.
In 1953, the modern Ophir Pass Road officially reopened, becoming accessible to high clearance 4×4 vehicles.
Ophir Pass Accessibility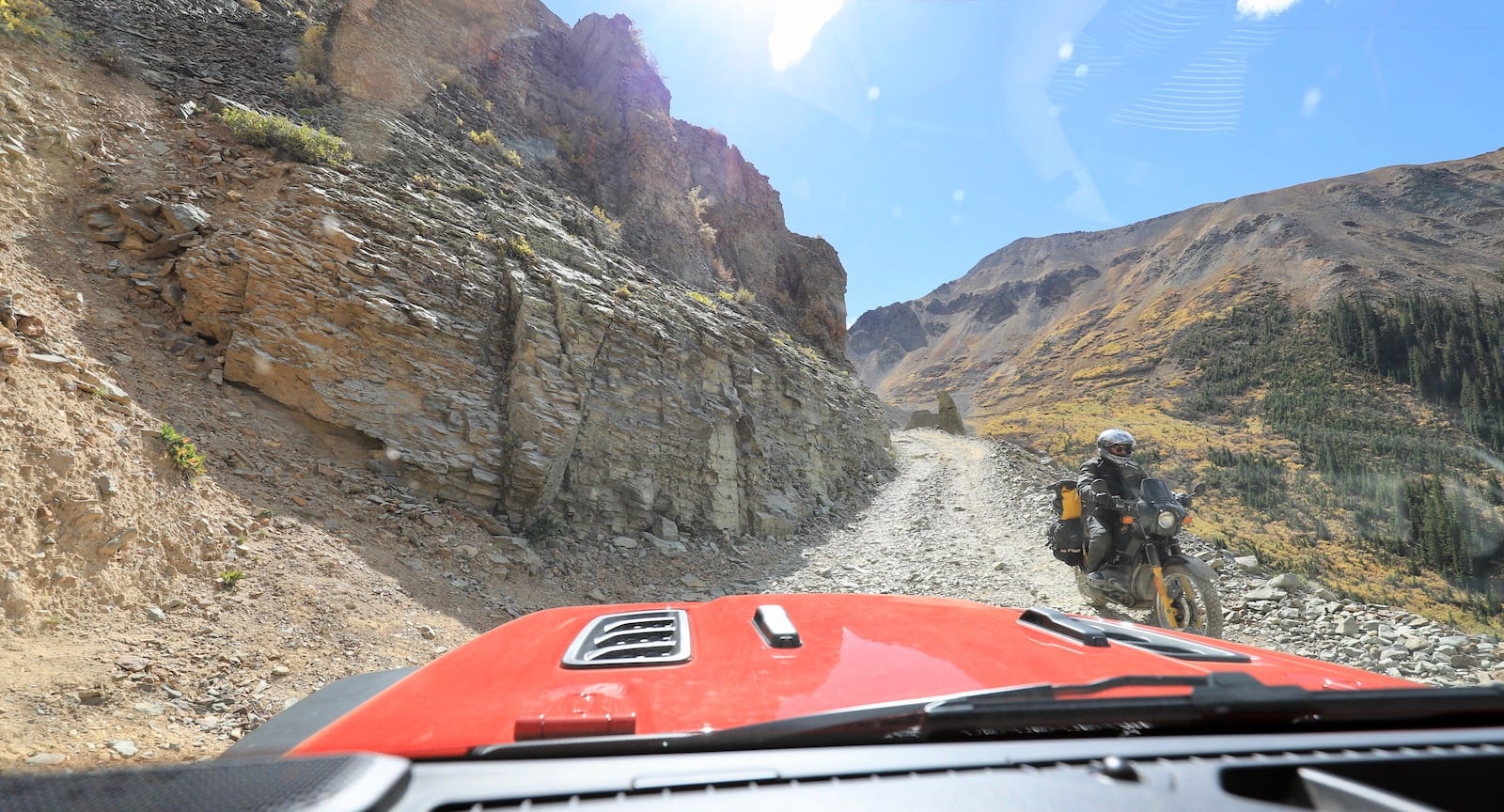 Ophir Pass Road is rated as a moderately difficult off-road trail. All in all, the roughly 10 miles of high clearance terrain is fairly smooth sailing, with one challenging section. On the west side of the pass, there is a very narrow and rocky shelf. Here, passing may be intimidating to inexperienced drivers. It's important to note that uphill drivers should generally yield to downhill traffic.
Seasonality – Ophir Pass can typically be summited starting in-mid June. When snow begins to fall in September, the pass is not maintained to be reachable by a passenger vehicle.
Vehicle Restrictions – Although a 4WD vehicle may not be required, it is strongly recommended. High clearance is also necessary to reach Ophir Pass. Unlicensed vehicles are also permitted to traverse Ophir Pass Road, however they are prohibited within or west of the town of Ophir.
Activities near Ophir Pass
Ophir Pass is found nestled in the San Juan Mountains, with the national forest of the same name. The area is well known for its breathtaking alpine scenery with mountain vistas, flowing rivers, wildflowers, and wildlife. The San Juan National Forest has ample opportunities for every kind of outdoor activity.
Ophir Pass Road is also embedded in Colorado's mining history. To the West, travelers can stop in the eponymous Ophir, Colorado. Today, the historic mining town is home to under 200 people and a cycling tour operator.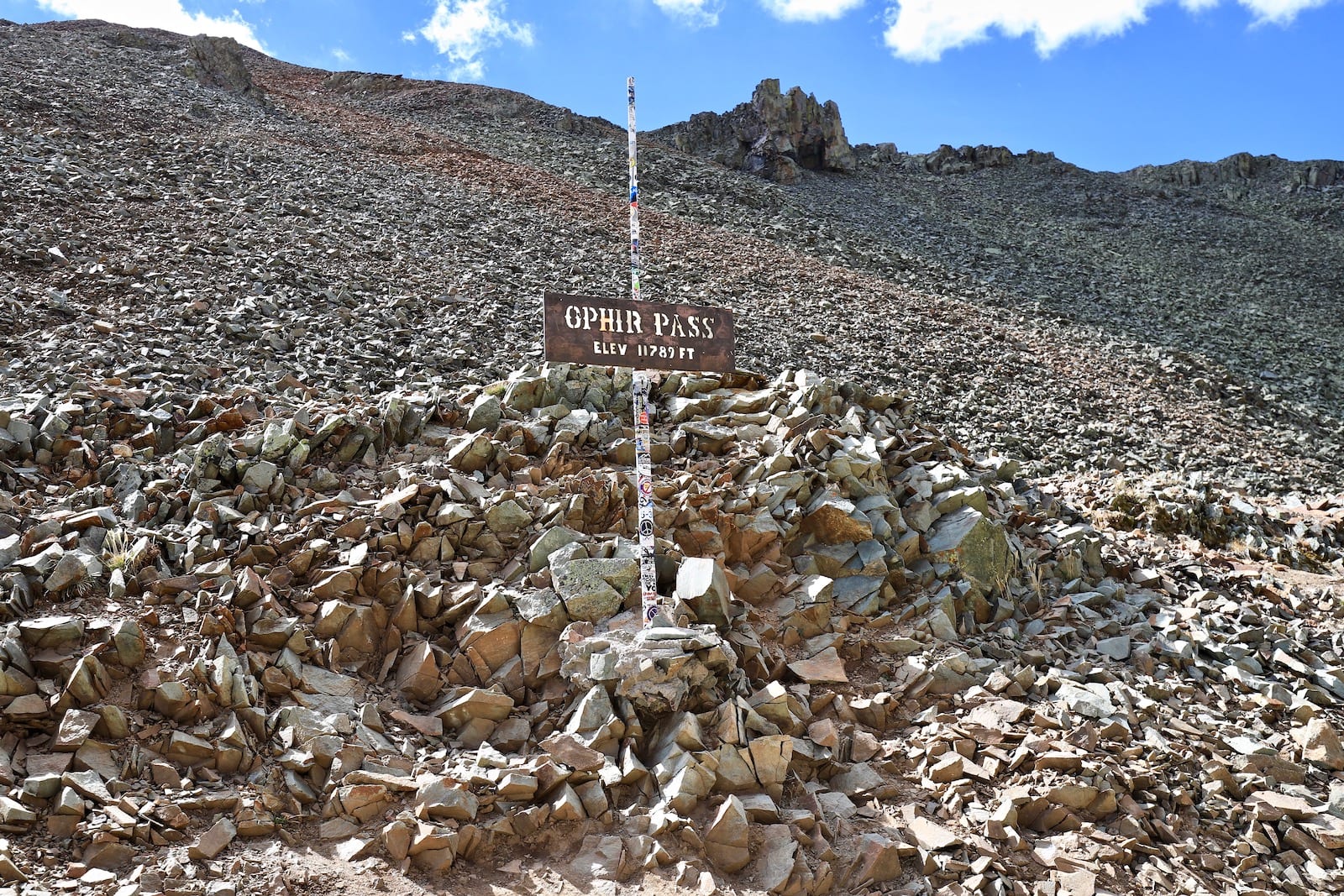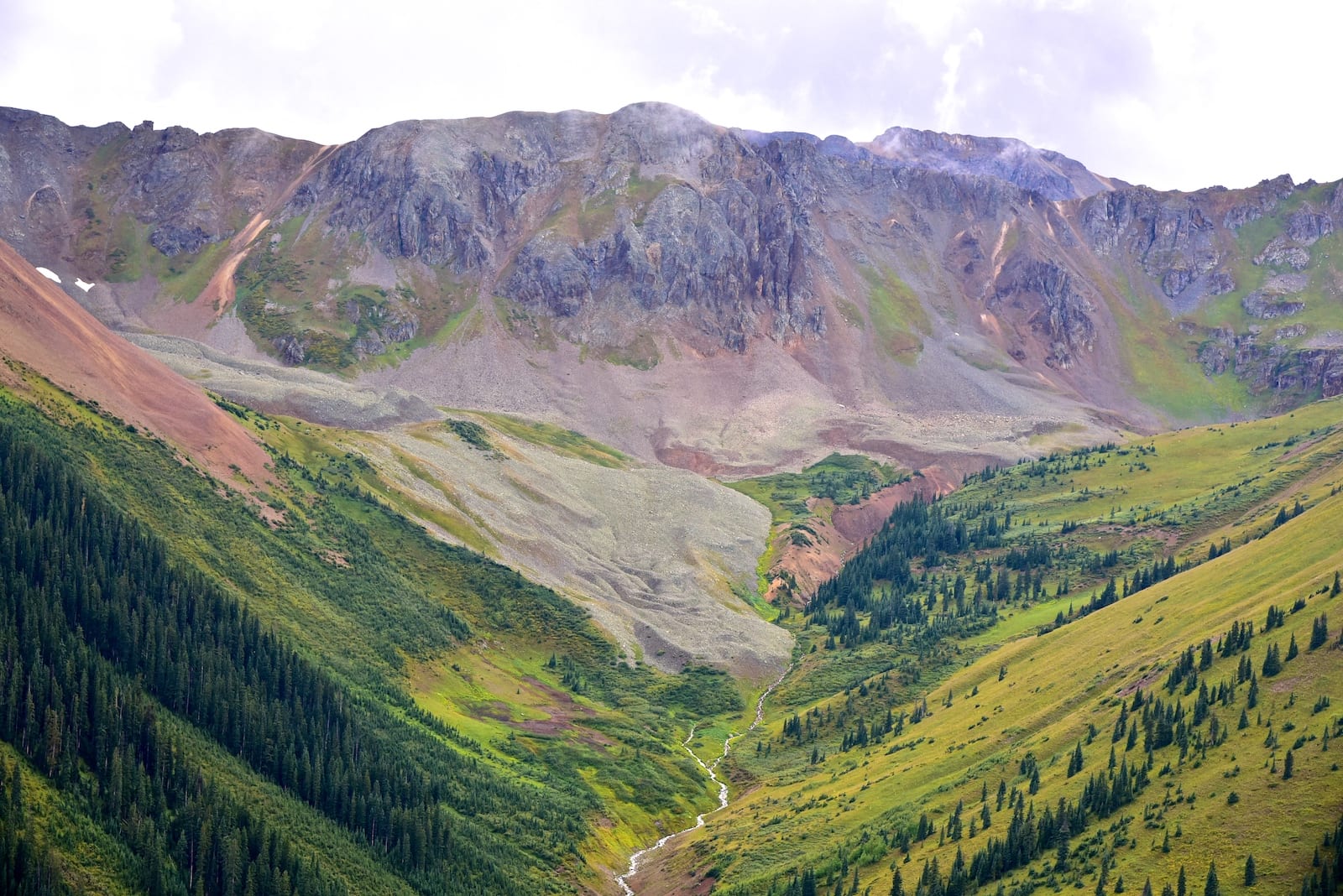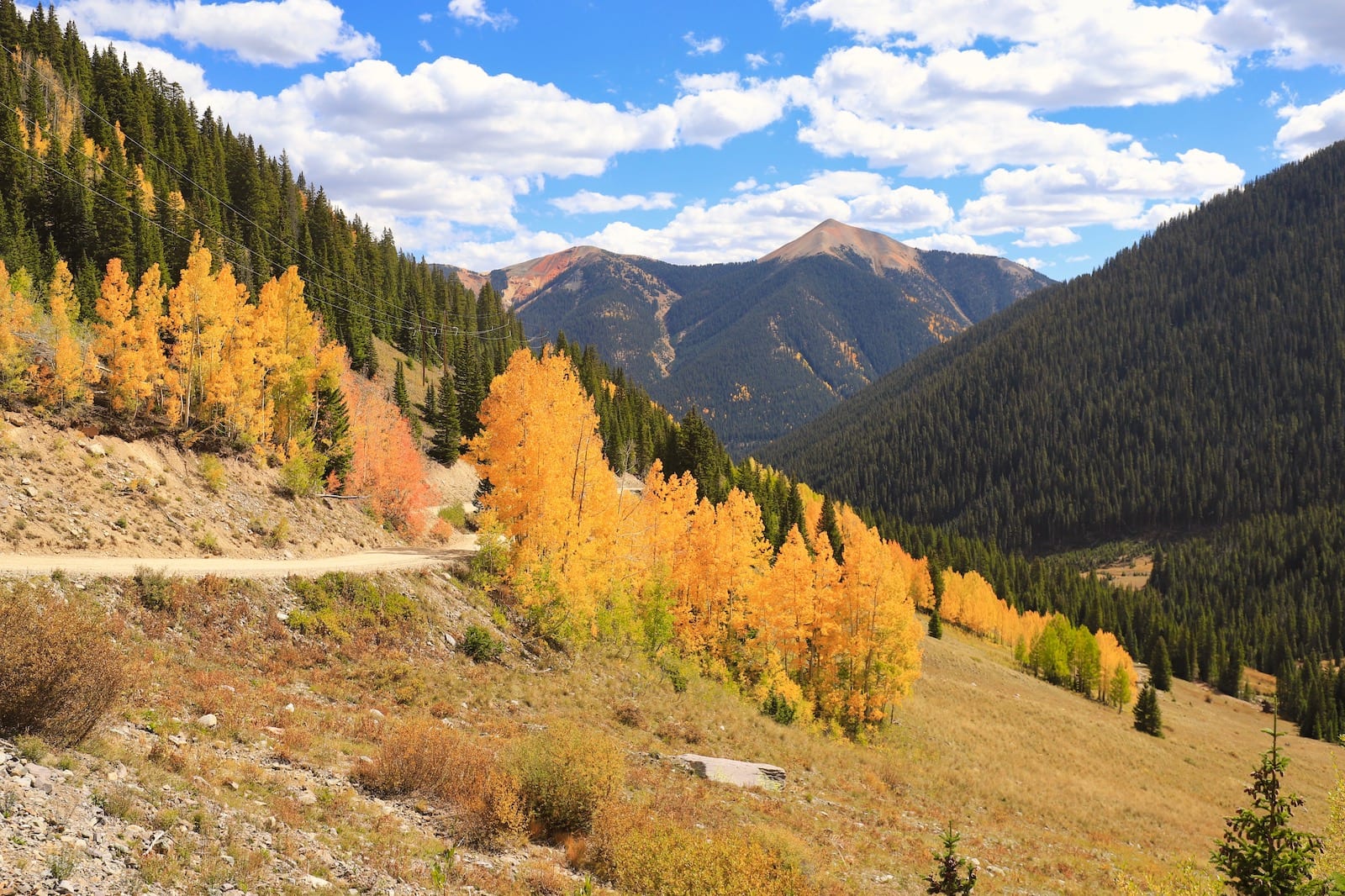 Details
Address: Ophir Pass Road (Forest Road 630), between Ophir and Silverton, CO
Season: June to September
Elevation: 11,789 ft (3,593 m)
County: San Miguel County
Mountain Range: San Juan Mountains
Coordinates: 37.850656° N, -107.779503° W
Access: Forest Road 630 (aka Ophir Pass Road)