Situated in North Park, Walden is the "Moose Viewing Capital of Colorado". There are a lot of fun outdoor things to do in this remote location, including camping, fishing, hunting and wildlife viewing.
It's a small town isolated about two hours west of Fort Collins on Highway 14.There are several places to eat and shop in the quaint, historic downtown.
Walden is located on a high glacial plain. You pass by the town when you head onto Steamboat Springs. Though it's smaller than neighboring towns, there are views that you can only see when you're in the humble town of Walden.
Also known as the "North Park," Walden is an ideal destination for leisure and recreational travel. From retirees, children, small families, to newly-wed couples, the North Park charm definitely captivates everyone.
Though a small town, it's a place that still has its old Americana roots, and the ruggedness is a part of its charm. You'd see cattlemen, cowgirls, rangers, and loggers all over town. Farming families are still dominant in these areas, too.
Main Attractions
State Forest State Park – Biggest state park in Colorado. There's great camping, fishing and 4×4 roads.
Wildlife – North Park's mix of landscapes including wetlands, forests and mountains are perfect for big game like moose. Arapaho National Wildlife Refuge is free to enter and a smart place to check for moose around sunset. One third of the moose in North Park reside in the State Forest State Park.
Hunting – Surrounded by national forests, Walden is a center for big game hunting throughout the season.
Day Trips: Walden Journeys – As part of the cultural heritage program, there are day trips here called "Walden Journeys" where you get to visit the town's museum, go over iconic buildings in the region, and see breathtaking landscapes.
Recreation
Camping:
State Forest State Park has camping of all kinds, from cabins and pull through RV sites to dispersed car campsites and back country camping.
Buffalo Pass is the back way to Steamboat Springs located just south of town. Camping is permitted along most of the pass within the Routt National Forest.
There is a campground and free car camping in Roosevelt National Forest, accessible from the town of Gould, south of Walden on Highway 14. Take County Road 21 in Gould.
Fishing:
Delaney Lakes, Lake John and Walden Reservoir all offer lake fishing close to town. Take County Road 15 west of town and follows signs to respective lake.
Cowdrey Reservoir to the north on Highway 125 features solitude and good fishing.
Hiking:
​State Forest State Park has hiking trails of all lengths.
Arapahoe National Wildlife Refuge features a beautiful half mile hike through the meadows and a riparian swamp land.
The Medicine Bow-Routt National Forest and Thunder Basin National Grassland are perfect hiking trails here in Walden, CO. There's also an opportunity to do winter sports in these regions.
Accommodations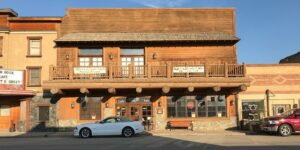 Top 3 Cool Hotels in Walden – Discover the magnificence of the North Park Valley! Walden's charming alpine location secluded in North Central Colorado boasts the Great Outdoors at your fingertips. There's an ample amount of cozy and comfortable hotels to…
Dining
Moose Creek Cookhouse & Saloon – First opened in 1996, Moose Creek offers all-day menu and accommodation. They are known for the restaurant's cowboy vibe. If you're dining here, make sure to check out their must-have "Burger Barn" menu. They also have a gift shop where you can get a variety of local memorabilia.
Things To Do near Walden, CO
Federal Lands:
Ghost Towns:
Museums:
Scenic Drives:
State Parks:
Towns: