Grand Lake is a charming mountain town, neighboring several stunning lakes. Downtown has an inviting boardwalk lined with colorful shops and restaurants. Entertainment is easily found during its busy summer season.
It sits at the western entrance to Rocky Mountain National Park. Winter is quieter, but snowmobiling and ice fishing still draw people to town.
Main Attractions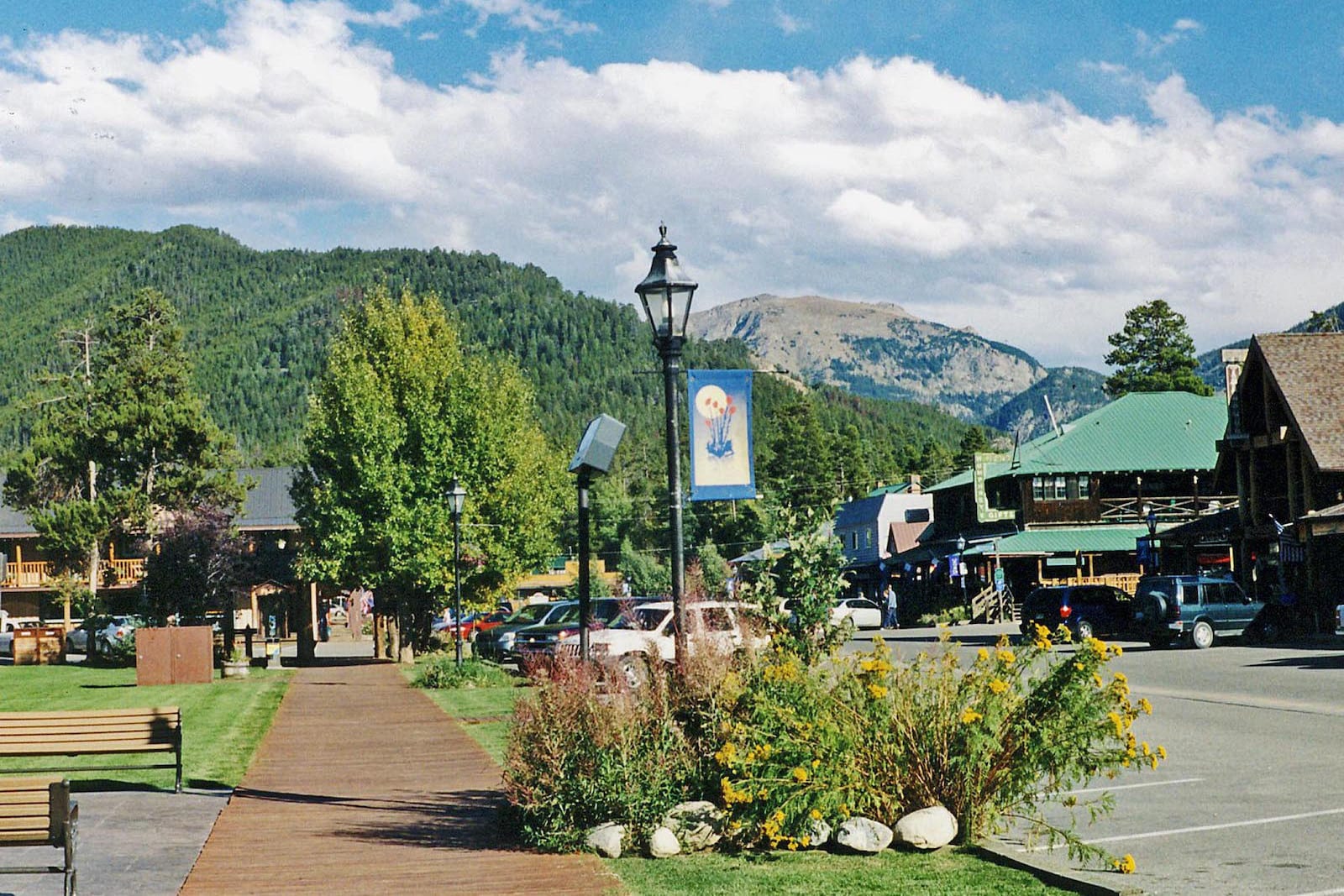 ​Grand Lake – Sits one block behind the main street and provides water sports galore. It's Colorado's largest and deepest natural lake at 265 feet deep. Boating and fishing are easy to find at Grand Lake or one of the many other lakes around. Boat rentals are available at the Grand Lake Marina.
Rocky Mountain National Park – Situated between Grand Lake (to the west) and Estes Park (to the east). Biking, camping, fishing, and hiking can be found within the park's limits only minutes from town.
Read about the top things to do in Grand Lake.
​Recreation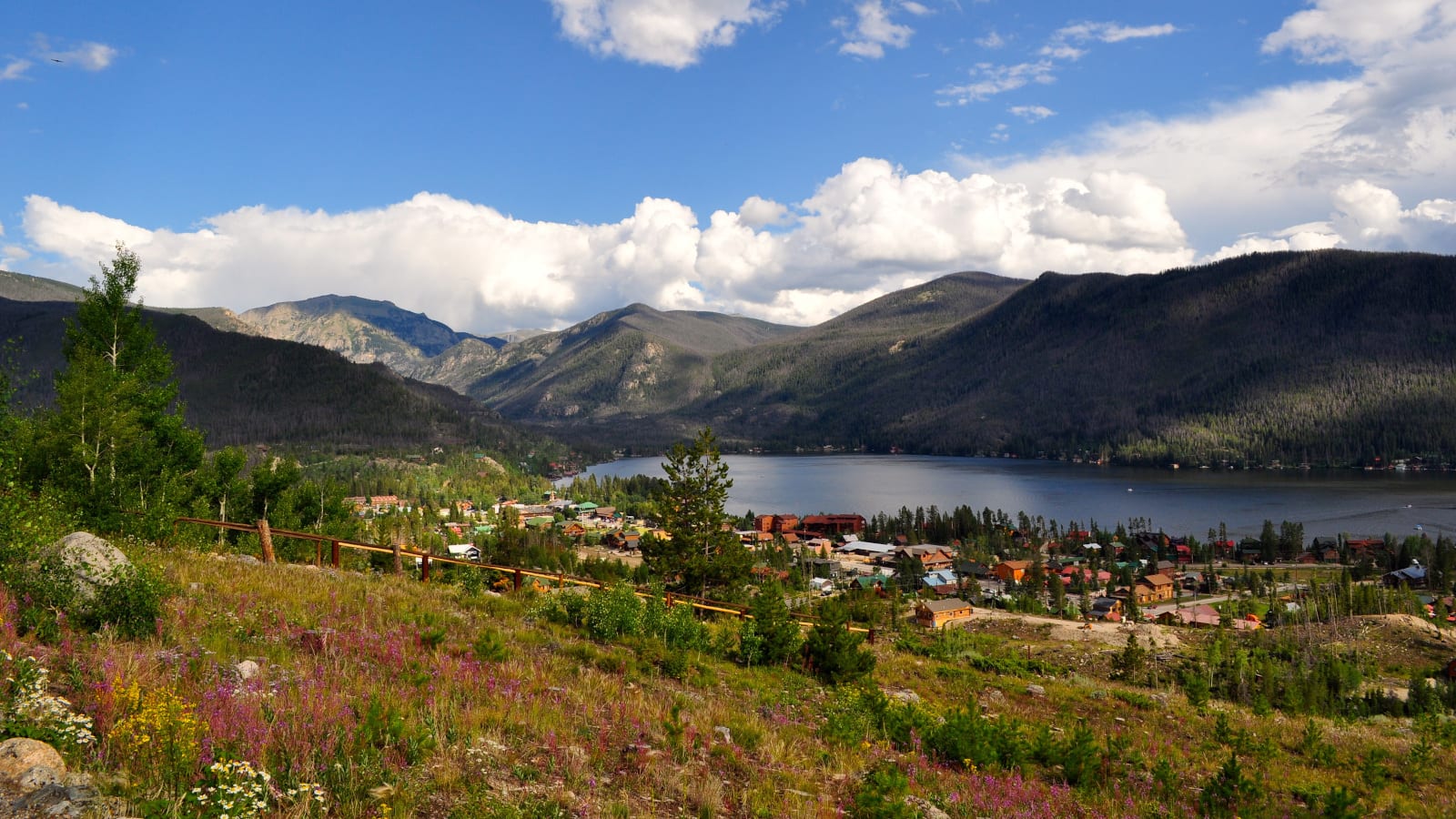 Biking:
Arapaho National Forest offers numerous dirt roads and trails for biking. Take County Road 4 south of downtown off Highway 40.
Rocky Mountain National Park to the north has lots of trails for the avid mountain biker.
Camping:​
Stillwater Campground is located right across Highway 34 from the Grand Lake Brewery, south of town on the way to Granby. The campsite charges money and is part of the Arapaho National Forest. It's very convenient and close to the lake.
Another Arapaho National Recreation Area campground is at Willow Creek Reservoir.
An easy, dispersed camping option is to take County Road 4 just south of the same Grand Lake Brewery and Stillwater Campground on Hwy 34. Heading south you'll take a right very shortly onto County Road 4. After a couple of miles, you'll reach the Arapaho NF and Stillwater Pass Area where camping is pretty much fair game at any of the pull-offs. Watch for private property signs, otherwise if no other campers at the campground, it's yours. County Road 4 continues for 21 miles to Highway 125.
Read about the camping near Granby, Grand Lake, and Western RMNP.
Fishing:
​There are three big lakes near town. Grand Lake borders town, to the south, is Shadow Mountain Lake and a bit further down is Grand Lake. Fishing is great in every one of them.
The Colorado River begins near town with various places to fish it.
Willow Creek Reservoir is just off Highway 34 enough to keep crowds low. It's part of the ANRA, so there is a daily fee, but you can also fish in Willow Creek before the reservoir for free with a license.
Hiking:
Rocky Mountain National Park is the best bet for loads of great trails. On the Grand Lake side of the Continental Divide is the Holzwarth Historic Site. This short trek visits the Holzwarth Trout Lodge from the 1920s. It's about an hour round trip with viewing.
Accommodations
Accommodations are perfect for those looking for a cozy retreat. Established in 1920 on a hillside above town, the Grand Lake Lodge features rustic cabins for seasonal summer rent. Rapids Lodge & Restaurant has a variety of accommodations, from single rooms in the lodge and cabins to cottages. Built in 1915, the lodge sits on the edge of the Tonahutu River, part of the headwaters of the Colorado River.
Hotels and lodging:
Special Events
Jul/Aug – High Country Stampede Rodeo (Fraser) – Every Saturday from early June to mid-August, Fraser hosts a wild evening of western rodeo performances.
Read about the top events in Grand Lake.
Activities near Grand Lake
Amusement:
ATV/Snowmobile Rentals:
Biking:
Cross Country Skiing:
​Federal Lands:
Hot Springs:
Ice Skating:
Performing Arts:
Public Parks:
Scenic Drives:
Ski Areas:
Sleigh Rides: 
Snow Tubing:
Snowmobiling:
State Wildlife Areas:
Towns:
Train Rides:
Visit the town's official website.
Latest in Grand Lake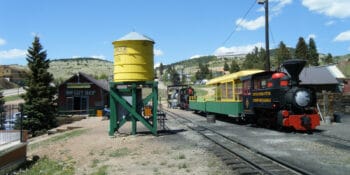 A myriad of epic weekend road trips are available to take in Colorado, easily accessible from…