Tucked away north of Granby in the clouds, Grand Lake is a picturesque alpine community residing at 8300 feet above sea level. Home to a massive natural lake and Rocky Mountain National Park, the town boasts a lot of fun things to see and do.
It sits in north-eastern Grand County, about fifteen miles from Granby on Highway 40. While summer is the peak season in this part of the county, the off-seasons each bring their own special charm and activities. From ice fishing to sailboating, here's a look at the best attractions around Grand Lake, Colorado.
Year-round
In addition to the great lakes nearby, the other year-round draw is, of course, Rocky Mountain National Park (RMNP). Seasonally, you can connect with Estes Park via Trail Ridge Road, which cross the continental divide.
Western Gateway to Rocky Mountain National Park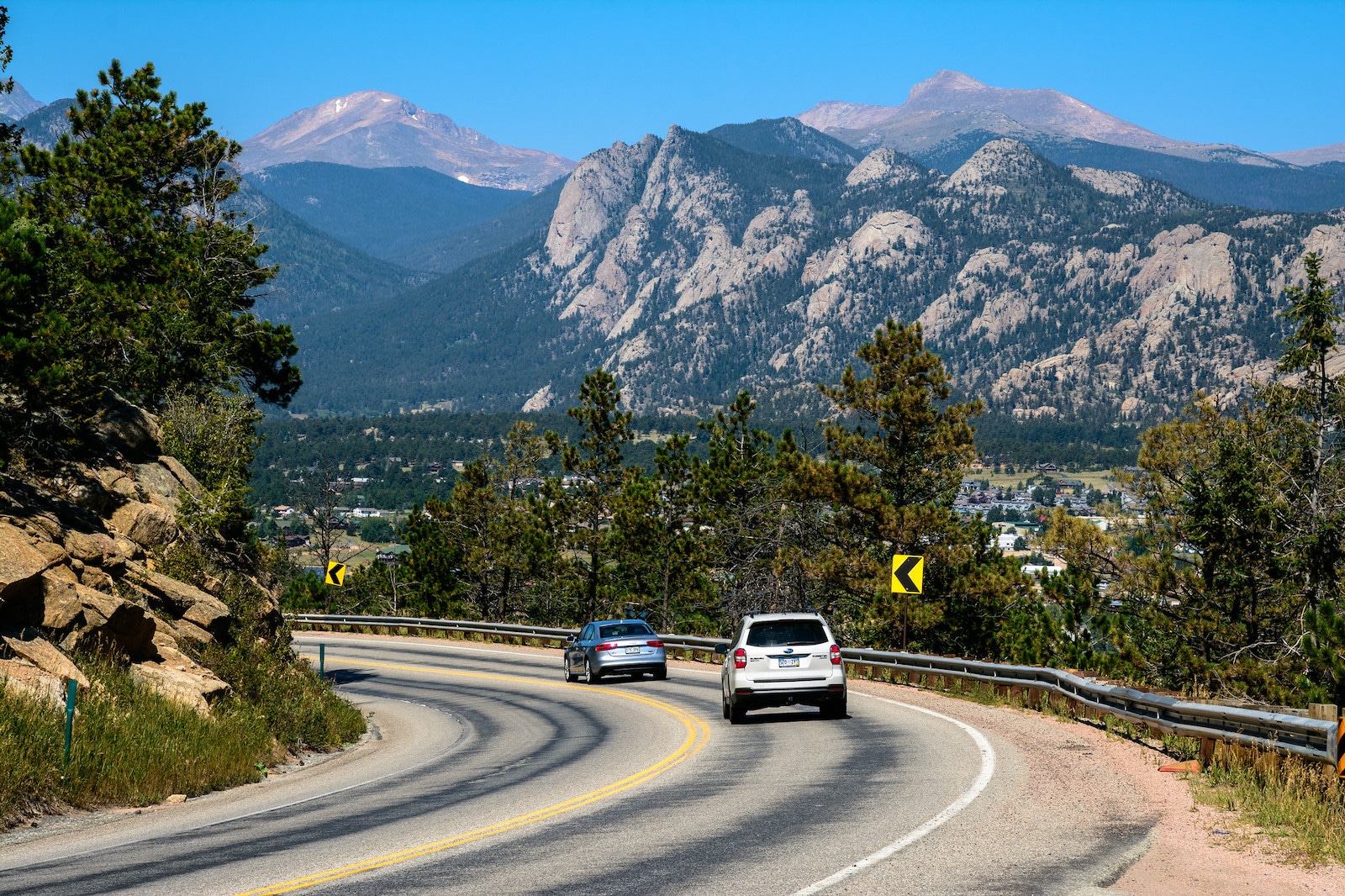 Grand Lake is located just a few minutes from the western entrance of Rocky Mountain National Park. Though not as popular as the park's main entrance near Estes Park, the western entrance still offers close access to hiking, camping, and sightseeing. After passing through the entrance station, be sure to stop at the Kawuneeche Visitor Center for maps, souvenirs, or to chat with a ranger.
With dozens of miles of trails accessible in the Kawuneeche Valley after entering the park, visitors have plenty of choices for day hikes. One option, clocking in at 4.5 miles one-way from the Colorado River Trailhead, is the hike to Little Yellowstone. The closest campsite to the western entrance of the park is Timber Creek Campground, which offers 100 sites for campers or tents.
Summer
Miles and miles of federal land exist all around town. The Arapaho National Forest offers the normal range of summer fun, including multi-use trails for ATVs, hikers, bikers and horseback riders, as well as camping, fishing, boating and other outdoor recreation.
Trail Ridge Road to Estes Park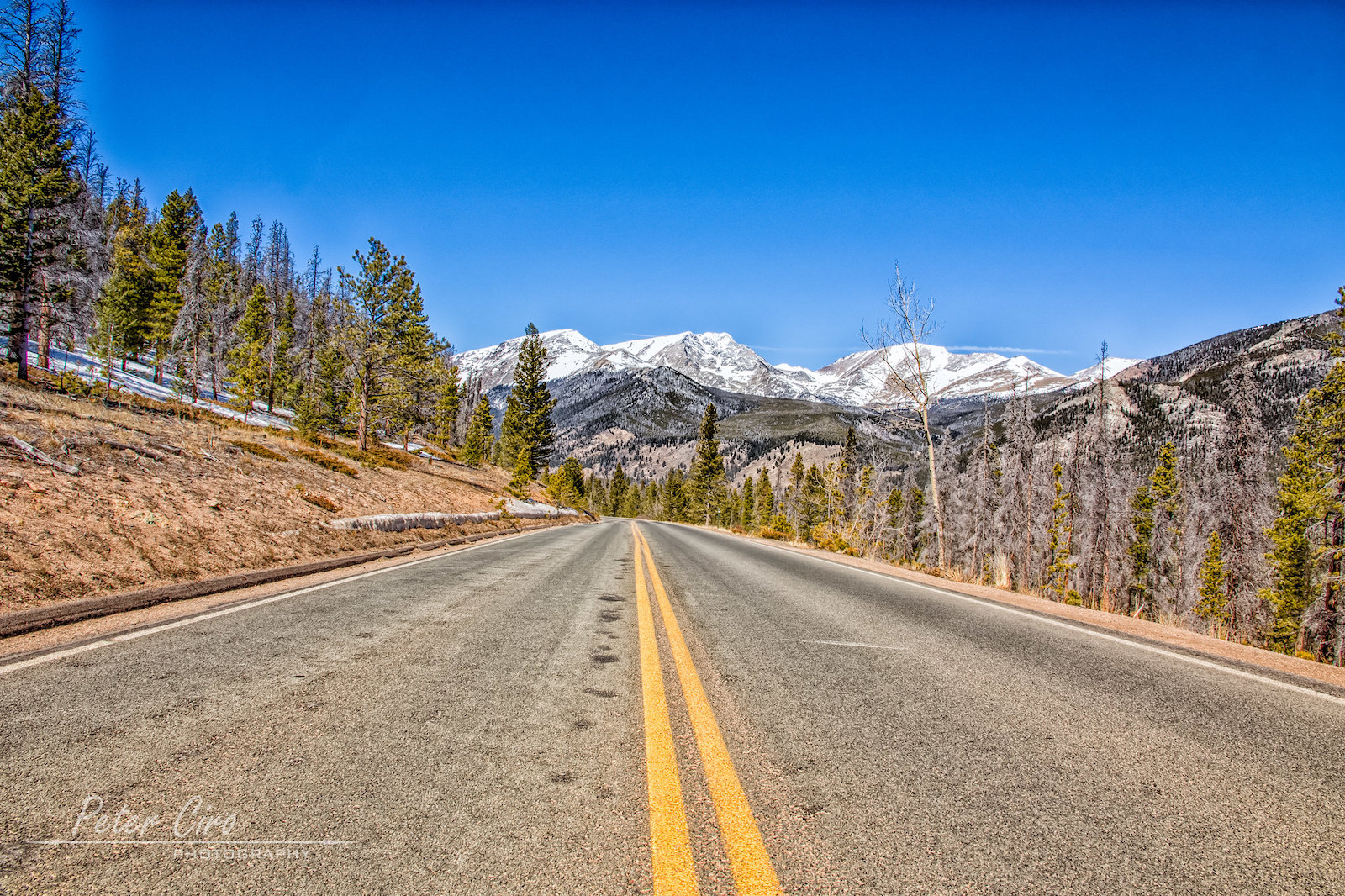 Designated as an All American Road, Trail Ridge Road is one of the most popular activities at Rocky Mountain National Park. Spanning 48 miles between Grand Lake and Estes Park, this road provides visitors with awe-inspiring views of alpine tundra and beautiful forests. With a high point of 12,183 feet above sea level, this is a beautiful ride that should not be missed.
Visitors should be sure to set aside at least half a day for a round-trip ride on Trail Ridge Road. The road features sharp curves, slow speeds, and dozens of pullouts, so don't be afraid to slow down and enjoy the ride. Lucky visitors can encounter elk, marmots, bighorn sheep, and hundreds of beautiful wildflowers along the way.
Boating, Fishing and Camping by nearby Lakes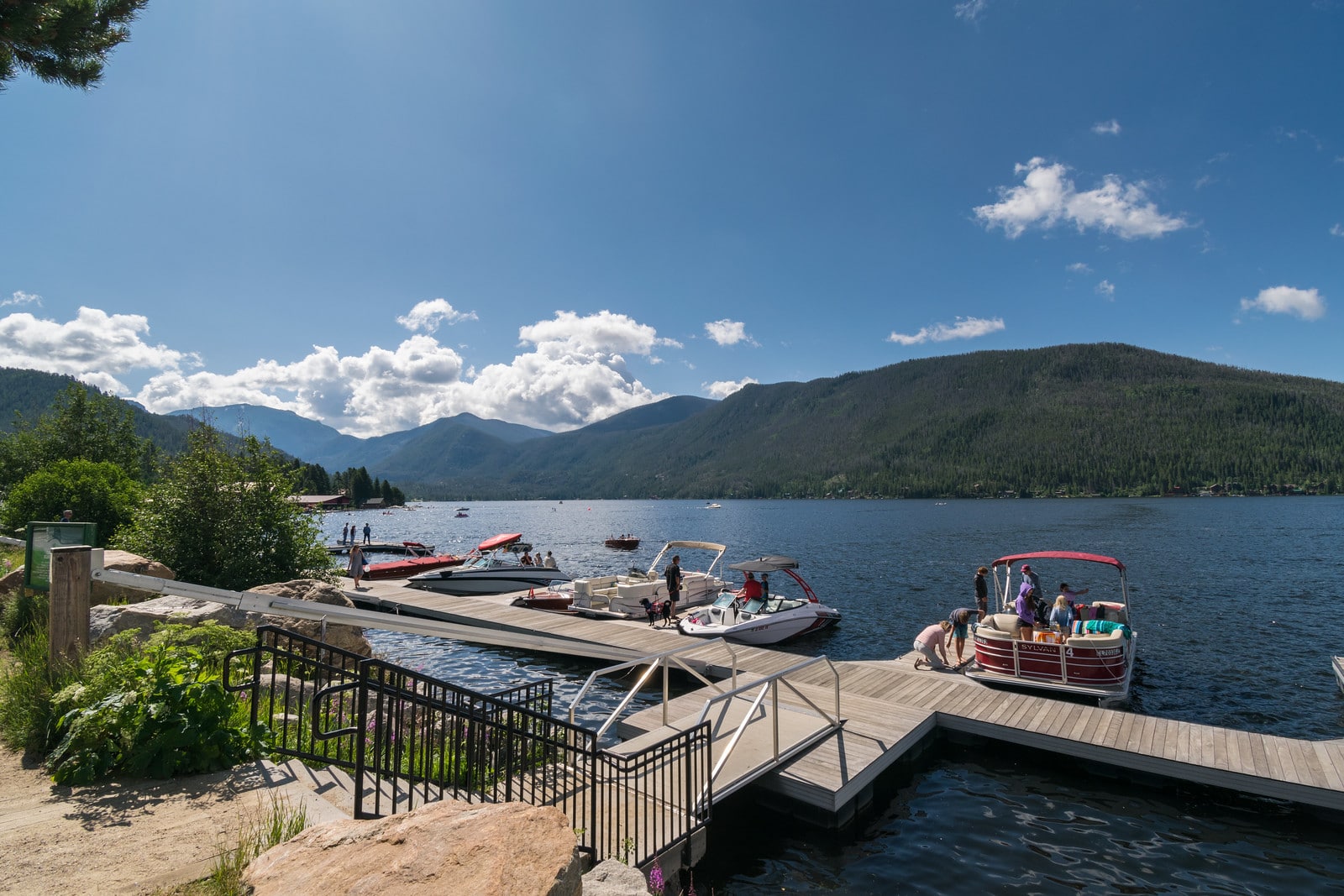 As the town's name suggests, there's no shortage of boating and fishing in and around Grand Lake. One of the most popular lakes in the area is Grand Lake itself. Boats can be put in at the Grand Lake Boat Ramp, and rentals are available at Headwaters Marina. For those looking to fish in Grand Lake, consider stopping by the town beach or Point Park.
Connected to Grand Lake by a canal, Shadow Mountain Lake is another popular spot for boating and fishing near town. Anglers can catch brown trout, rainbow trout, and salmon, and boaters can put in at Green Ridge Campground. Finally, one last option is nearby Lake Granby, which is one of Colorado's largest lakes. Stocked with trout and salmon, this is also a great choice for fishing in the area.
Read about the camping near Grand Lake and Western RMNP.
Winter
Grand Lake is far enough away from Winter Park to escape its crowds, yet close enough to enjoy a day trip to the slopes and evening on the town. Solitude surrounds most of the winter activities, from snowmobiling and snowshoeing in the wilderness to ice fishing on the frozen Grand Lake.
Local Snowmobile Trails
During the winter months, Grand Lake transforms into a paradise for snowmobilers that attracts visitors from all over Colorado. With miles of trails extending from town into the backcountry, snowmobilers of all skill and experience level can find a place to ride. One set of groomed trails are located west of town in Arapaho National Forest.
For beginner riders or for those traveling without their own snowmobiles, consider booking a guided tour with a local outfitter. One option is Grand Adventures, an outfitter located in nearby Winter Park that offers tours to the Continental Divide.
Ice Fishing Grand Lake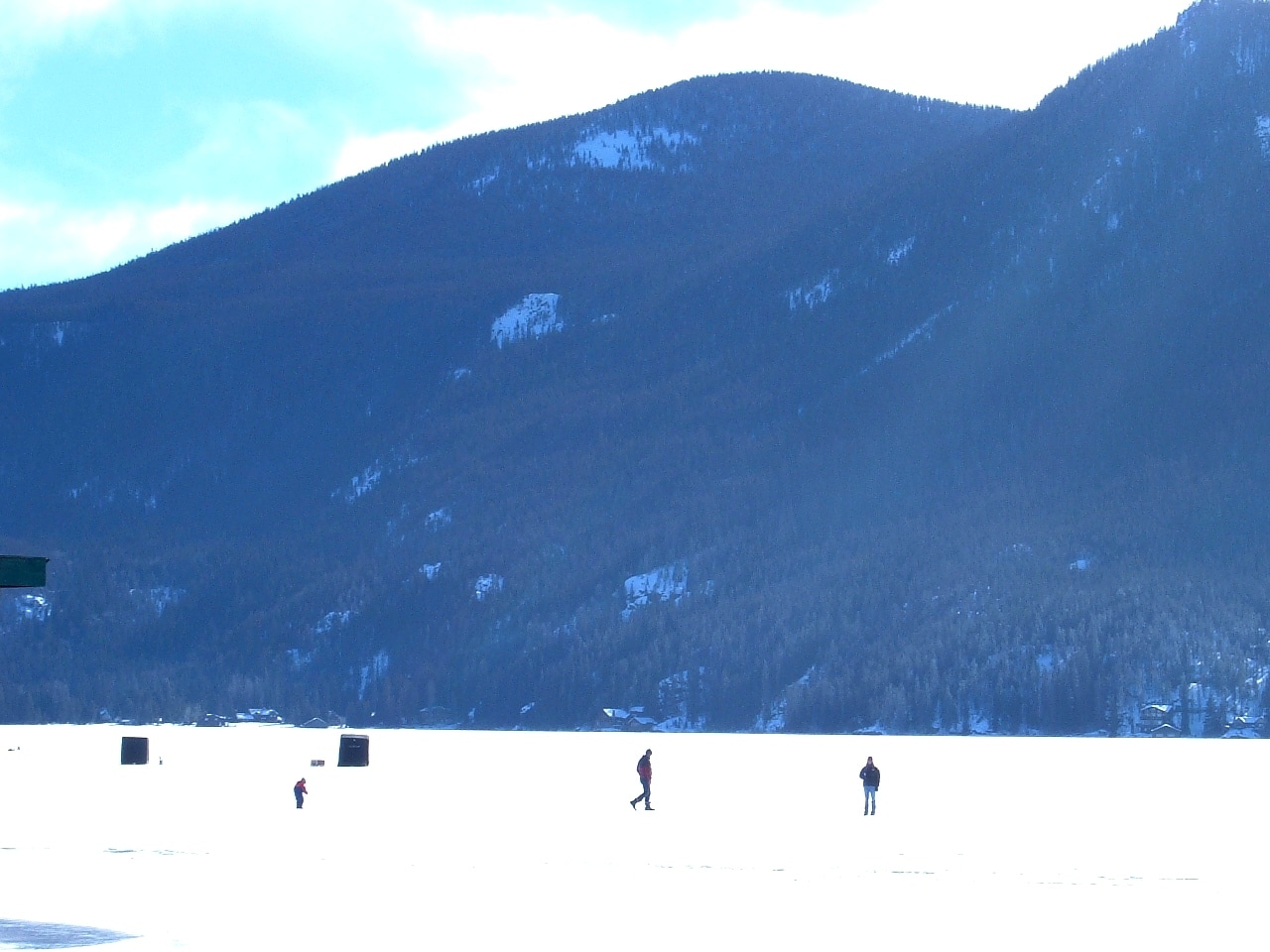 Ideal for catching rainbow, brown, and lake trout, Grand Lake is a premier spot for ice fishing during the winter months. Ice fishing gear, including augers, ice huts, and ice fishing rods, are available for rent at the various tackle shops located in town. Additionally, beginners could consider booking a guided ice fishing trip at an outfitter or tackle shop in the area.
Cross Country Skiing
The Grand Lake Nordic Center contains 35 kilometers of skiing trails as well as an area for dogs and a tubing area for children. With equipment rentals, lessons, and even a shop selling equipment, this is a good option for cross country skiing and snowshoeing near town. Visitors should keep in mind that there is a trail fee required to access the trails, but the tubing hill is free and open to the public.
These are some of the best things to do on a trip to beautiful Grand Lake. Enjoy your visit!