Arapaho National Recreation Area is comprised of five lakes and 36,000 alpine acres north of Granby. It's centered around Lake Granby, Grand Lake, and 3 others.
It's surrounded by Arapaho National Forest, so endless recreation exists. Lake Granby is the highlight of the park, in addition to Shadow Mountain Lake, both of which border Highway 34. Monarch Lake, Willow Creek Reservoir and Meadow Creek Reservoir are smaller gems off the beaten path.
Boating, Camping, Fishing, Hiking in Granby
Grand Lake lies the furthest to the north and is not part of ANRA. Together they are referred to as the "Great Lakes of Colorado".
Recreation Sites: (7)
Arapaho Bay – remote camping and fishing near Monarch Lake.
Cutthroat Bay – group campsite.
Stillwater – campsites overlooking Lake Granby, on Highway 34.
Sunset Point – campground on shores of Lake Granby
Willow Creek – located on west side of Hwy 34 from Lake Granby.
Hilltop – boat ramp.
Point Park – picnic area.
Activities
Boating: All 5 lakes permit boating, with Lake Granby the biggest.
Lake Granby is 7,256 acres when full, open to power and sail boating, water skiing, wind surfing.
Monarch Lake is 150 acres open to non-motorized boats.
Shadow Lake is 1400 acres connected by canal to Grand Lake.
Willow Creek Reservoir is 750 acres for non motorized watercraft.
Meadow Creek Reservoir is 50 acres open to non motorized craft.
Camping: 6 campgrounds, 474 campsites, 3 campgrounds are reservable. Dispersed camping can be found nearby at Stillwater Pass in the Arapaho National Forest.
Fishing: All 5 lakes permit fishing.
Hiking: There are many nice trails, including several from Monarch Lake.
Winter Recreation: Ice fishing is common on all the lakes, with some tournaments each year.
Details
Address: US-34, Granby
Phone: 970-887-4100 (Granby office)
Season: Year round
Vehicle Fee: $5/1day, $10/3day, $15/7day, $30/annual
Pets: Yes, on leash
Map: Sulphur North (PDF) – A motor vehicle use map containing forest service roads and where dispersed camping is permitted.
Website: fs.usda.gov/…
Popular Posts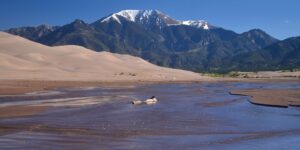 Colorado's Best Beaches – It's true, Colorado is what people call a land-locked state, but if you look inside its borders you will find many lakes and reservoirs with miles of shoreline to enjoy. So, cool off this summer and discover some of Colorado's best beaches…