Monarch Lake, also known as Monarch Reservoir, is a picturesque outdoor destination found east of Granby in Grand County. Located at 8,400 feet above sea level, it is one of Colorado's five "Great Lakes" within the Arapaho National Recreation Area.
Surrounded by rushing creeks, mountain views, seasonal wildflowers, and wildlife viewing opportunities, the lake is accessible at the ​​Monarch Lake Trailhead, which is located just upstream from Lake Granby.
Monarch Lake is found along the Continental Divide National Scenic Trail and is a popular point of entry for hiking trips into the adjacent Indian Peaks Wilderness Area.
History of Monarch Lake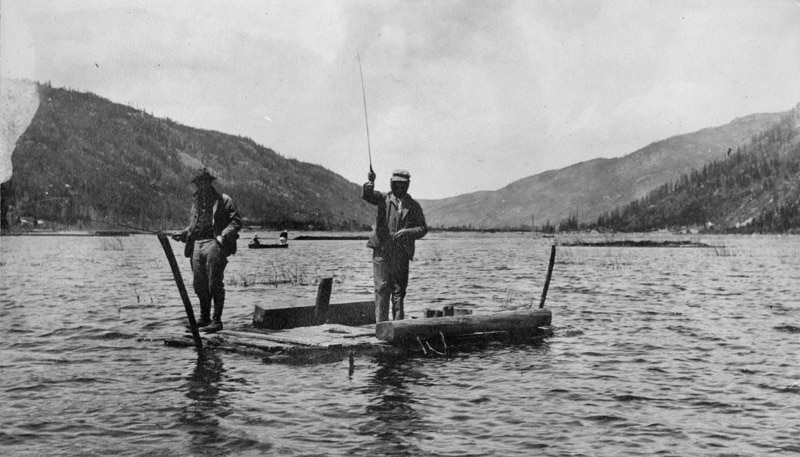 Developed to assist the local logging industry, Monarch Lake was built at the turn of the 20th century with a rock dam and hydroelectric power plant constructed on Roaring Fork Creek. The water was originally used to catch logs cascading down flumes, where they would settle and float into a canal.
The reservoir also provided a drinking water supply for the town of Monarch, where the Rocky Mountain Lumber Co. maintained operations until a box factory fire in 1908. Relics of the logging camp can still be found along the Monarch Lake Trail.
Monarch Lake Accessibility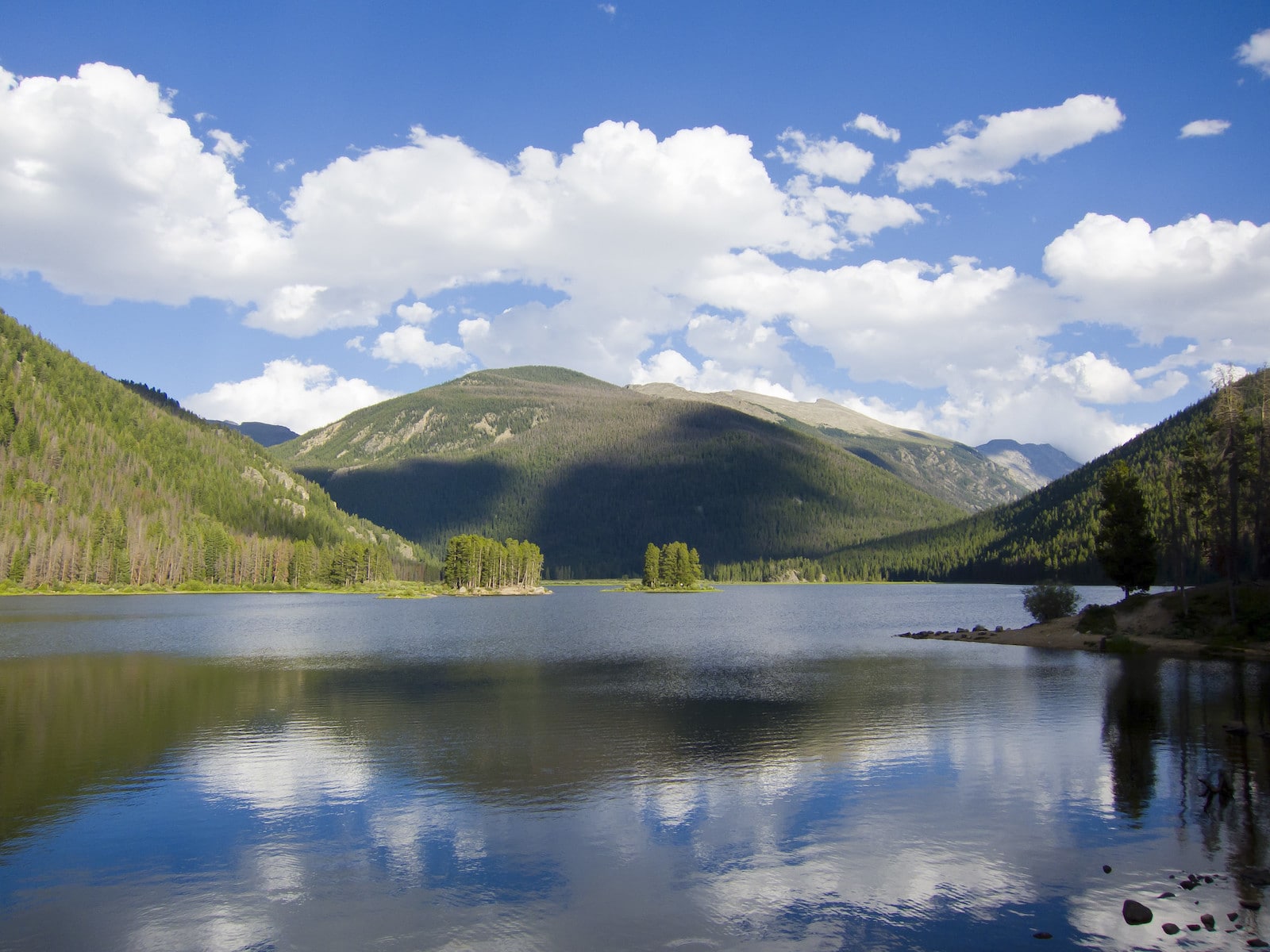 Monarch Lake is located just a few steps away from a large parking area at the end of Monarch Lake Rd, accessible by any passenger vehicle. When open to the public, the lot has about 40 parking spaces, restrooms, maps, seasonal rangers on-site, and information posted about the surrounding wilderness areas. It's part of the greater Arapaho National Recreation Area, which contains a handful of nearby lakes.
To get there, simply turn off US Highway 34 at the Rainbow Bay Picnic Site (about 10 minutes north of Granby) and stop to pay the fee at the Arapahoe Bay Pay Station. Then, continue west on County Rd 6 along the south shore of Lake Granby for about 9 miles.
Monarch Lake is at the end of the road. In the winter, vehicular access to the lot is typically closed about one mile north of the parking area, near the Arapaho Bay and Big Rock Campgrounds.
Activities at Monarch Lake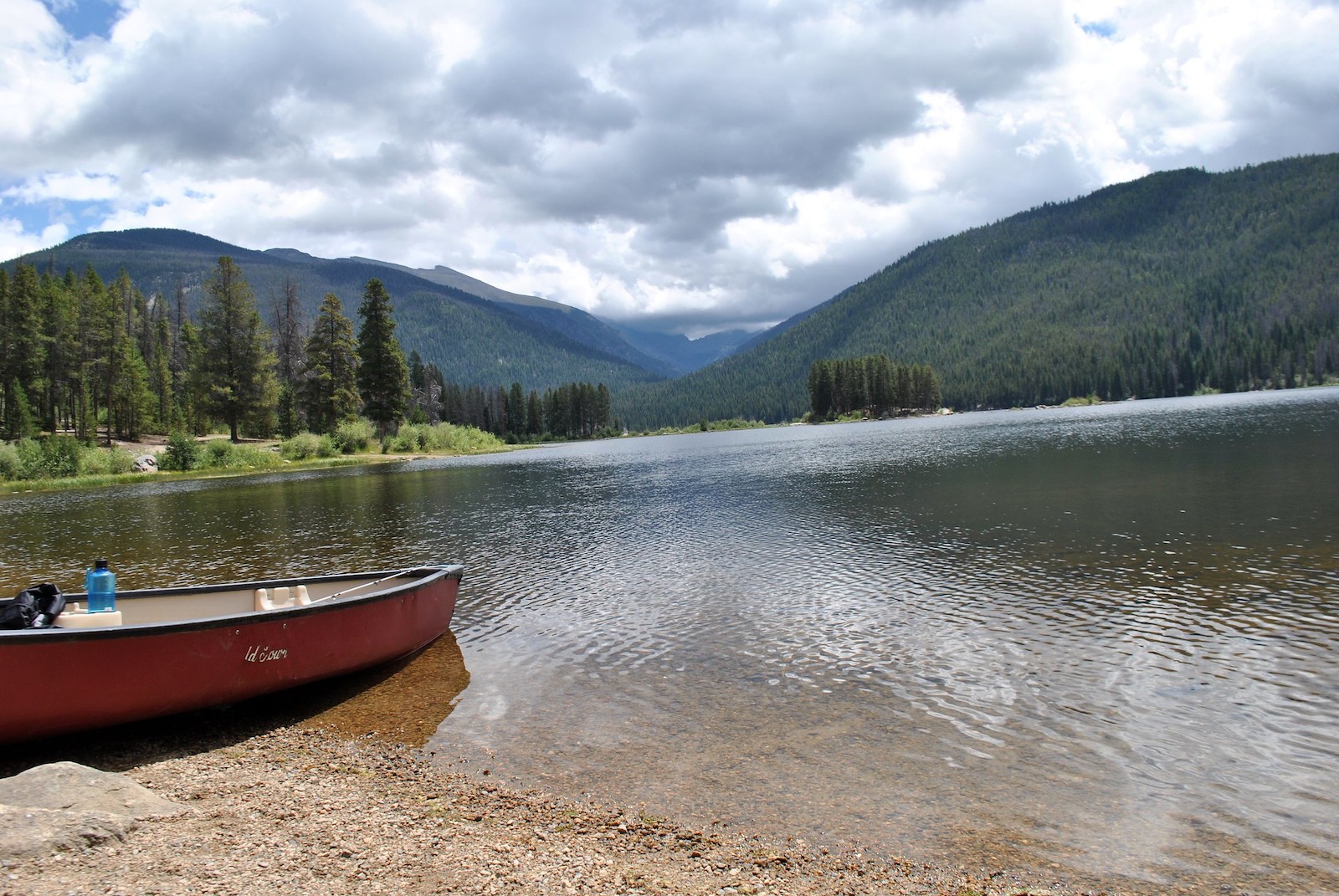 With easy access to remote and scenic wilderness, Monarch Lake can be a popular place on weekends and in the summer. Visitors should aim to arrive early in the day or prepare for crowds during peak seasons. There's are numerous activities within the surrounding Arapaho National Forest.
Birding and wildlife: While hanging out by the water or hiking along the trails, Monarch Lake visitors should be prepared to encounter wildlife any time of the year. The area's dense vegetation and abundant water sources make it a great place to safely view a variety of wildlife species such as moose, deer, black bears, and more.
On the surface of the lake, visitors are likely to see geese and other waterbirds, with hummingbird, woodpecker, and osprey sightings common in the surrounding areas.
Boating: Boating is permitted on Monarch Lake so long as it is non-motorized. With a large 140-acre surface area and a maximum depth of about 15 feet, the wide, shallow, and still water is popular for kayaks, float tubes, standup paddle boards, and canoes.
Camping: Although there are no developed campgrounds at Monarch Lake, there are a tremendous amount of camping opportunities in the area including many paid sites within the Arapaho National Recreation Area.
For backcountry camping, Monarch Lake is a popular access point to the Indian Peaks Wilderness Area, where permits are required for overnight stays between June 1st and September 15th.
Fishing: Semi-self-sustaining and stocked annually by Colorado Parks and Wildlife, Monarch Lake is a great place to catch suckers and graylings as well as rainbow, brown, cutthroat, and brook trout. While participating, all anglers aged 16 and older are required to carry a valid Colorado fishing license and abide by local bagging regulations.
Hiking: Monarch Lake is a great hiking area, with many trails and waypoints to create a perfect day or overnight trip. Along the Monarch Lake Trail, visitors can circumnavigate the water in a four-mile loop that connects with the Cascade Creek Trail to head back to the parking area.
Beyond the shores of the lake, visitors can continue along the Continental Divide Trail, hike on the Arapahoe Pass Trail, or follow the Cascade Trail west into the Indian Peaks Wilderness to reach the scenic Crater Lake and Mirror Lake near Lone Eagle Peak.
Horseback Riding: Each year, horseback riding is permitted on the Monarch Lake Trail from June 1st to November 15th. Northeast of Tabernash, Monarch Lake is a popular horseback destination via the High Lonesome Trail, where trailer parking can be found at the Junco Lake Trailhead near the Meadow Creek Reservoir.
Details
Address: Monarch Lake Trailhead, Granby, CO 80446
Phone: (970)-887-4100 (Sulphur Ranger District)
Season: Year-round, limited access in winter
Coordinates: 40°06'20.9″N 105°44'36.5″W
Hours: 24/7
Fees: Day-use fee area
Interactive map: trails.colorado.gov/trailheads/monarch-lake-988