Granby has been called a "huntsman's paradise" by locals. It sits in a wide, scenic valley with stunning landscapes in every direction. There's national forest access in most directions and also excellent fishing, thanks to Lake Granby to the north.
Cozy shelter, delicious cuisine, and wonderful shopping areas make it a convenient place to stay while exploring the Grand County region. Housed in Granby's first brick building, build in 1917, Brickhouse 40 features steak's, pasta, and Greek and Italian specialties.
The nearby town of Hot Sulphur Springs offers a relaxing, hot springs retreat only ten miles down Highway 40.
Main Attractions
Granby Ranch – Provides skiing in the winter, and golfing and biking in the summer. The resort is situated a few miles from downtown.
Lake Granby – Second largest body of water in Colorado. It offers water sports of all types, including boating, fishing and swimming.
Recreation
Biking:
Camping:
Arapaho National Forest offers many access points between Grand Lake and Winter Park, especially near Granby. Look for signs for national forest access and drive the couple miles back. Most offer great car camping opportunities.
Arapaho National Recrecreation Area has a number of campsites with breathtaking views of Lake Granby. Head north on Highway 34 from town and you'll reach the lake. Stillwater and Arapaho Bay are some of the most stunning campgrounds.
Fishing:​
Lake Granby lies about 8 miles to the north on Highway 34. Much of it is part of the Arapaho National Recreation Area, so there would be a $5 charge for vehicles to enter.
Hiking:
Arapaho National Forest offers many trails around Granby. ​Look for access points marked by signs along Highway 34 to the north near Grand Lake and also heading south on Highway 40 towards Winter Park.
Accommodations
Activities near Granby
Amusement:
Biking:
Cross Country Skiing:
Hot Springs:
Ice Skating:
National Lands:
Ski Areas:
Snow Tubing:
Towns:
Trending in Granby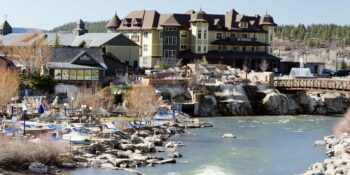 Whether you're shredding the local ski slopes, hiking the region's highest peaks, or even just strolling…