Diverting nearly 50,000 acre feet of water from the Colorado River to the front range every year, the Windy Gap Reservoir is a dammed reservoir near Granby, Colorado. Water in the Windy Gap Reservoir flows in and out on the Colorado River, however the water headed to the front range is pumped to Lake Granby, which is about six miles northeast.
The Northern Colorado Water Conservancy District owns and operates the Windy Gap Reservoir and its dam. It is located in Grand County and is easily accessible along US interstate 40. The Reservoir is found within the Windy Gap Watchable Wildlife Area (WWA).
Windy Gap Reservoir History
The Windy Gap Reservoir is a relatively new development, finishing construction in 1985. The environmental impact of the dam has been largely debated with many critics seeking better ways to use an already-controversial water way. When the dam was built, the Windy Gap Reservoir flooded an elk meadow and has since tested as one of the least healthy portions of the Colorado River ecosystem. In order to combat this, a dozen Colorado cities have come together to establish the Windy Gap Firming Project.
Activities at Windy Gap Reservoir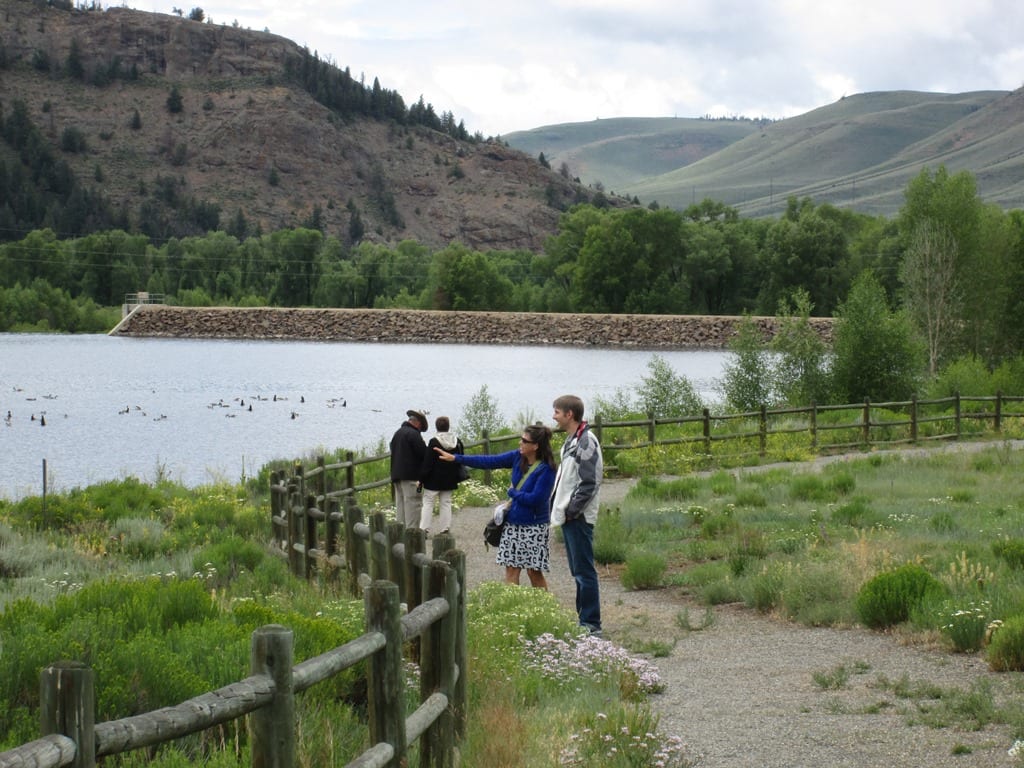 Despite its controversy, the Windy Gap Reservoir is still a nice scenic spot attracting many mountain visitors to stop and stretch their legs. Although hunting, camping, swimming, and fishing are strictly prohibited, the area manmade lake is still a very pleasant sight in the surrounding alpine landscape.
Birding: If you forgot your binoculars, there are a few viewing scopes available to help get a better look at the 445 acre foot reservoir. Birds are nearly guaranteed to be on the water most days, with many visitors spotting goose, gull, tern, osprey, pelican and duck.
Hiking: There is a short ¼ mile trail along the north shore of the Windy Gap Reservoir with informative kiosks along the way. Dogs are prohibited on the trail, which ends at a wildlife viewing area.
Picnicking: There are picnic tables and bathrooms located near the parking area at the Windy Gap Reservoir. Dogs are permitted here, but nowhere else in the WWA.
Wildlife Viewing: Beyond the birds, there is also a chance to spot wildlife beyond the reservoir. Squirrels, deer, elk, and even otters are known to frequent the Winding Gap WWA.

Details
Address: 57964 US-40, Granby, CO 80446
Phone: 800-369-7246
Season: Year Round
Hours: Open During Daylight Hours
Fees: None
Map: Windy Gap WWA (PDF)
Website: northernwater.org/what-we-do/deliver-water/windy-gap-project