Sunrise over Grand Lake. Photo: mclcbooks
Grand County is home to a wonderful blend of valleys, lakes and peaks. Although Winter Park is the most known, Granby is actually the largest town. The county seat is Hot Sulphur Springs.
It was named after the Grand River, which is now the Upper Colorado River, and Grand Lake. The headwaters of the Colorado River are in the county in Rocky Mountain National Park.
Visit the official website for Grand County.
County Towns
Adjacent Counties
Featured Grand County blog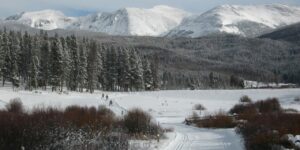 Cross Country Skiing in Grand County: A Vigorous Exercise in Serenity – The distinguishing feature of the boot bindings used for cross country skiing is that they allow for freedom of movement and lift of the heel. Likewise, enthusiasts of this classic winter sport thrive on the invigorating…
Read all our posts tagged Grand County.