Two of three cabins in Elbert County's oldest homestead. Photo: PAW
Elbert County was created in 1874 and named for Samuel Hitt Elbert, the Governor of the Territory of Colorado at that time. As of the 2013, the population was estimated to be 23,733. The county seat is Kiowa, and Elizabeth is the largest town.
Visit the Elbert County Government website.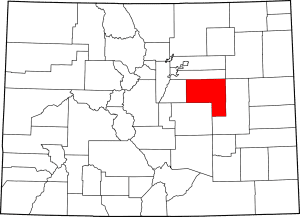 County Towns
Agate
Elbert
Elizabeth
Kiowa
Matheson
Ponderosa Park
Simla
Adjacent Counties