[Wetmore, Colorado. Photo: Jeffrey Beall] A population of just 4,255 in 2010 makes Custer County the tenth-least populous county in Colorado. It was formed in 1877 and named in honor of the recently deceased Lt. Colonel George Armstrong Custer. Westcliffe acts as the county seat, although Silver Cliff is the largest town.
A large percentage of the very rugged terrain in the county is national forest land, and the county is home to Crestone Peak, the seventh highest fourteener in Colorado at 14,294 feet. Cattle ranching is a dominant industry in Custer County.
Visit the Custer County Government website.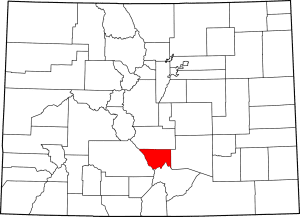 County Towns
Adjacent Counties
Special Events