Situated in the Wet Mountain Valley, Silver Cliff is a charming, former mining camp with stunning views of the Sangre de Cristo Mountains.
Its elevation is 7,982 feet. There were 587 people at the time of the 2010 census, making it the most populated town in Custer County.
History
The town was built in the 1870s in order to accomodate the nearby Silver Cliff mine workers. It was incorporated in 1879 and by 1880 had around 5,000 residents. At that time it was Colorado's third largest city, behind Denver and Leadville.
Silver Cliff was the Custer County seat from 1886 to 1928, when it moved to neighbor Westcliffe. View the offical town website.
Accommodations
Things to do near Silver Cliff
Ghost Towns:
National Lands:
Scenic Drives:
Towns:
Popular posts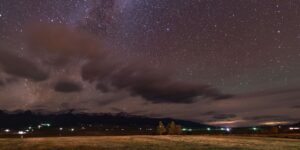 Starry Night | Colorado's Dark Sky Community – Just after the sun has dipped behind the mountains in the tiny town of Westcliffe, the world seems to go quiet. All may appear dark but there is an entire other world waiting to be discovered if you're willing to…