Colorado is full of passionate people building astonishing products. There have been many famous companies that got their start in Colorado, some of which have since moved out of state, while others still base here but make their products elsewhere, like overseas. Some companies produce here.
These companies were founded and/or currently are headquartered here. Some items are completely made in-state, while others are only partially made, assembled, or designed here. Other products are produced elsewhere. A listing here doesn't mean they come with a made-in Colorado tag. They could be made in Vietnam, like Osprey packs. Either way, Colorado helped shape and make the companies listed below.
Gifts and Products from Colorado Companies
It's a hotbed for innovation out here, with the Rocky Mountain range to fuel your creativity. Looking around you can notice an increasing number of made-in Colorado products, or at least Colorado companies that headquarter here. Items from local businesses make the perfect gift.
Body Care based in Colorado
Take care of yourself with locally inspired personal care products. Choose all-natural products for your face, body, and hair that are chemical-free and safe for the whole family. Treat your body right on the inside, by protecting it on the outside.
Clothing and Apparel based in Colorado
Wear your state pride on your sleeve. These local clothing brands were born in the Rockies and feature unquestionable quality and design. Companies like SOM Footwear and Melanzana manufacture their attire completely in the state.
Food and Drink based in Colorado
Taste the goodness with food inspired from Colorado. Whether the ingredients are imported and bagged here, like Celestial Seasonings tea and Made in Nature fruit mixes, or 100% handmade here like Hammond's Candies, local Coloradoans are behind the product.
Houseware based in Colorado
Decorate your beautiful home with functional houseware designed in the state. We have items to enhance your interior's feng shui, like Rocky Mountain-made Bluecorn beeswax candles, as well as entire living shelters, like a teepee from Colorado Yurt Co.
Sporting Goods based in Colorado
Coloradoans love playing outside and need great equipment to feed their appetite. From backpacks and tents, to fish hooks and snowboards, chances are high, you'll be able to find quality gear for your hobby made here.
Wine and Spirits based in Colorado
Beer and fermenting fine hooch has long been part of Colorado's tradition. Today it continues with the finest wines, liquors, beers, ciders and other exotic spirts around.
Craft Beer made in Colorado
It's probably what Colorado is best known for after skiing, cold craft beer. We brew a lot of here, with more than 300 hundred breweries in the state. Here are a few of the more well known brand to surprise your friends back east with.
Distilled Liquor made in Colorado
Settlers have been brewing their own alcohol for as long as they've been coming here. Beer is the most commonly made adult beverage, with over three breweries in the state. The Western Slope is notorious for its wine vineyards and the craft spirits scene is growing fast.
Fine Wine made in Colorado
With cool nights, warm days, and plenty of sunshine, the Western Slope is prime for growing grapes. Local vineyards produce world-class wine, centered around Palisade as the unofficial wine capital. Front Range wineries import their ingredients to make their high-quality vino.
Featured Colorado Brands
Guide to Products Made in Colorado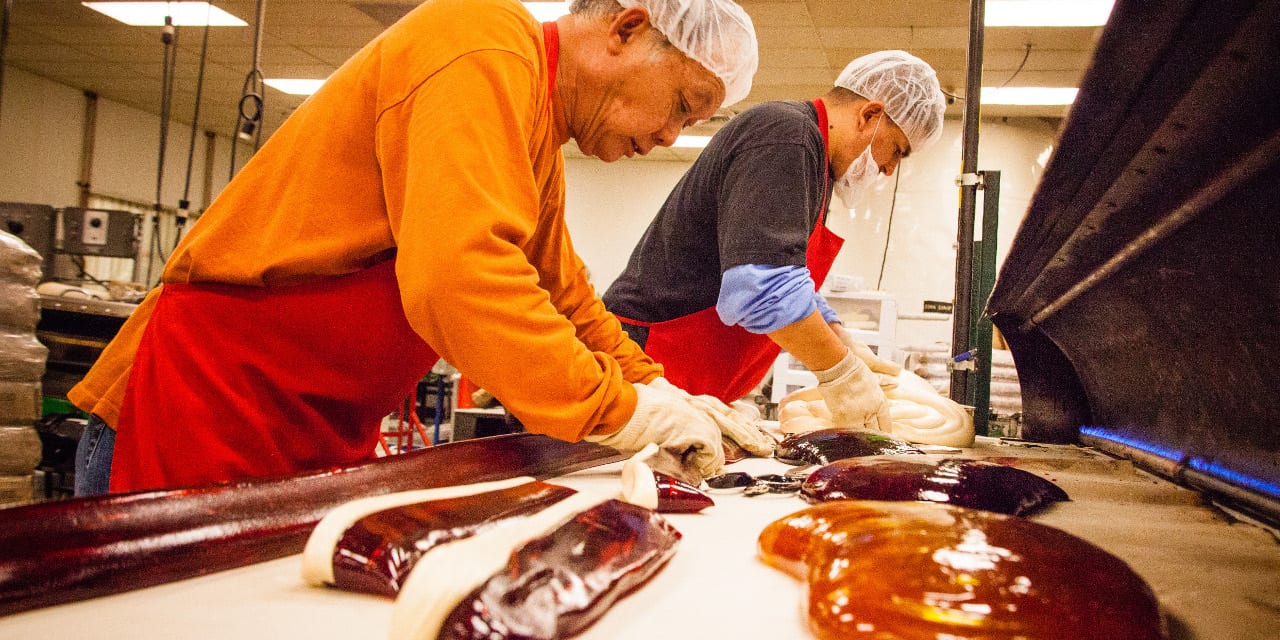 Support your favorite state by buying local. We have many wonderful homegrown products here, including everything from snowboard and fishing gear to cowboy hats and dog treats. You can wear Colorado head to toe and eat and drink local too.
Products made in Colorado range from 100% of the item is produced here, to only a portion of it is, to the company is only headquartered here. The product itself may be built outside Colorado, with materials and ingredients from around the world. The company just conducts business here, gaining its inspiration from the one-of-a-kind setting.
Brands, where all the ingredients are local, include Stranahan's Colorado Whiskey and Bluecorn Beeswax candles. Companies that are based and package their products here, but source their items globally, include Boulder's Made in Nature and Celestial Seasonings.
Colorado Brands and Iconic Products
Whether it's whiskey for your buzz or clothing for your body, brands from Colorado have a certain appeal to them. Without question, you know they stand for quality and passion. You can trust something made in Colorado.
With 300+ days of sunshine we have the right climate to grow delicious fruits and vegetables, and with that produce makes incredible drinks. From the Eastern Plains to the Western Slope, our best-known fare includes Rocky Ford Cantaloupe, Palisade Peaches, and Olathe Sweet Corn.
We've long been known as a beer capital, and have a fast-growing reputation for wine and spirits. The Palisade region of the Western Slope is the perfect environment for vineyards and with that comes dozens of wineries. Probably Colorado's most well-known liquor is Stranahan's Whiskey, made locally in Denver.
Pets are a cherished part of the family, especially the Colorado family. If you don't own a dog, your neighbor probably does. Treat that special companion (s) with tasty pet treats and fun gear made locally from Zuke's .
Latest in Made in Colorado
Related Activities