Tucked away in the foothills of Golden, Colorado, Genesee Candy Land provides a nostalgic candy experience that satisfies more than your sweet tooth. It's located inside the Genesee Country Store at Exit 254 on Interstate-70.
Genesee Candy Land is a fun experience for all ages. They have a full fudge factory, producing more than 20 varieties of fudge. You can also find all the vintage candy favorites from bubble gum cigars and wax lips, to Big Hunk and Razzles. It's open daily year round.
Genesee Candy Land is a trip back to your childhood!
Fudge and Chocolate Covered Bacon from Golden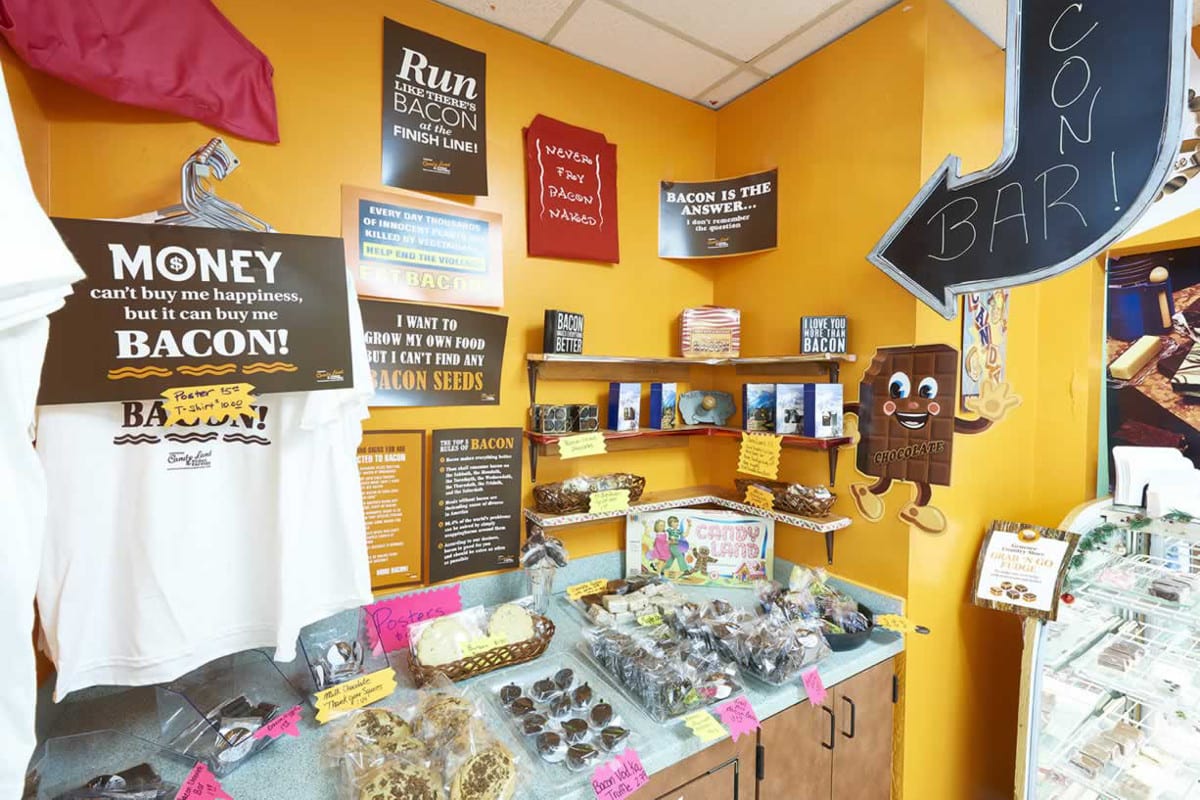 It's more than a candy shop, it's a candy land offering a sweet interactive tour. The adventure begins on the sidewalk outside with a life-size buffalo poster and large lollipops. Upon entry your sense of smell is delighted with freshly baked treats, including fudge, cookies and bacon!
Probably the most shocking candy is their Oinks-brand chocolate covered bacon. The salty-sweet combination catches unfamiliar tourists off guard, surprised to see it and anxious to try it. It's made with crispy Applewood-smoked bacon that's individually dipped into their homemade chocolate. After which is drizzled in white chocolate.

Purchase their fudge, chocolate, candies, and chocolate covered bacon in-store at the Genesee Candy Land, or online at their website store. On Amazon (affiliate link) you can buy Oinks Chocolate Covered Bacon
in a 6 pack or 16 pack box.
You can also pick the Oinks Bacon Chocolate Sampler
, which comes with Dark Chocolate Bacon Bites, Bacon Chocolate Fudge & Dark Chocolate Covered Bacon.
The native wildlife is represented as well in candy form. You can taste bear poop, buffalo patties, deer dropping and elk scat (made of candy). They make a great gag gift. They have chocolate lollipops that are buffalo-shaped too.
As mentioned above there are over 20 flavors of fudge to choose from at any one time at Genesee Candy Land. Specialties include piña colada, raspberry chocolate swirl and red velvet.
There are ten varying flavors of chocolate truffle all baked with Belgian chocolate. Other classics include chocolate bark, chocolate covered pretzels and fudge-dipped Twinkies.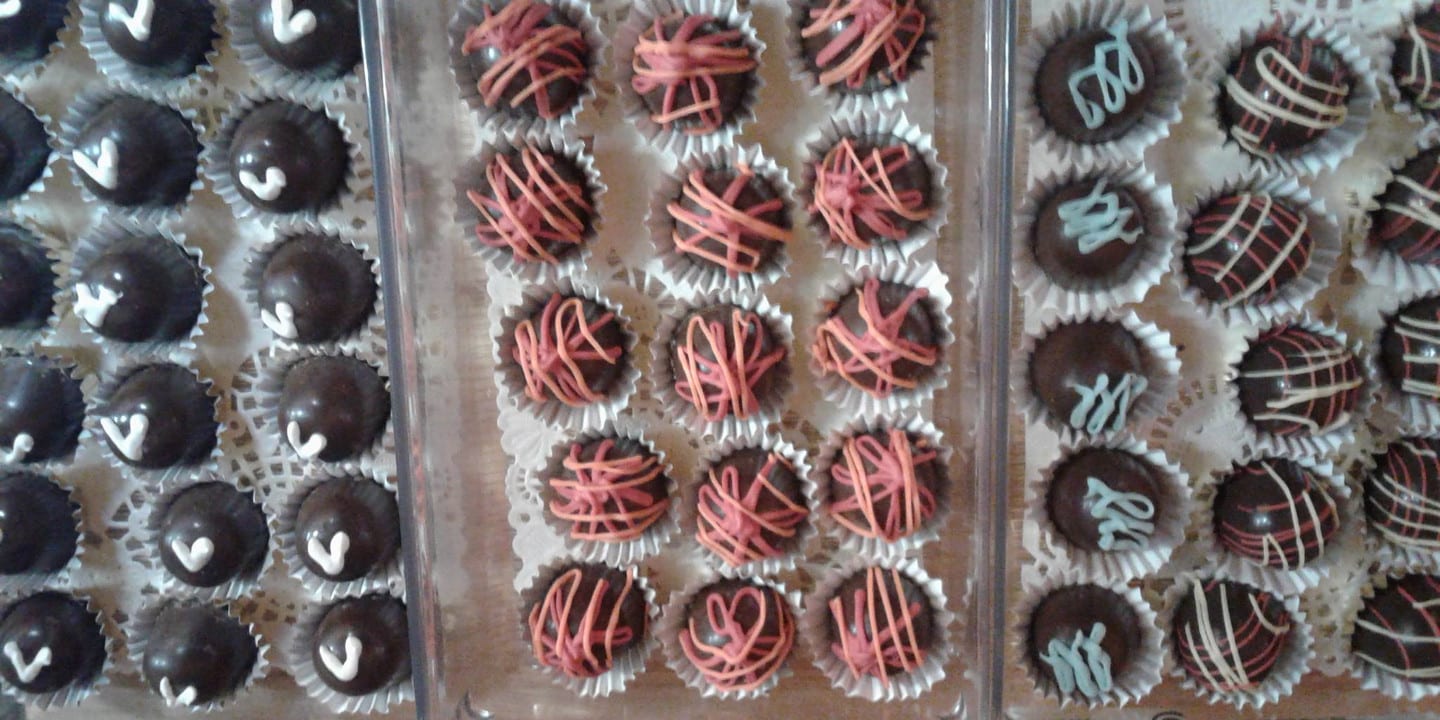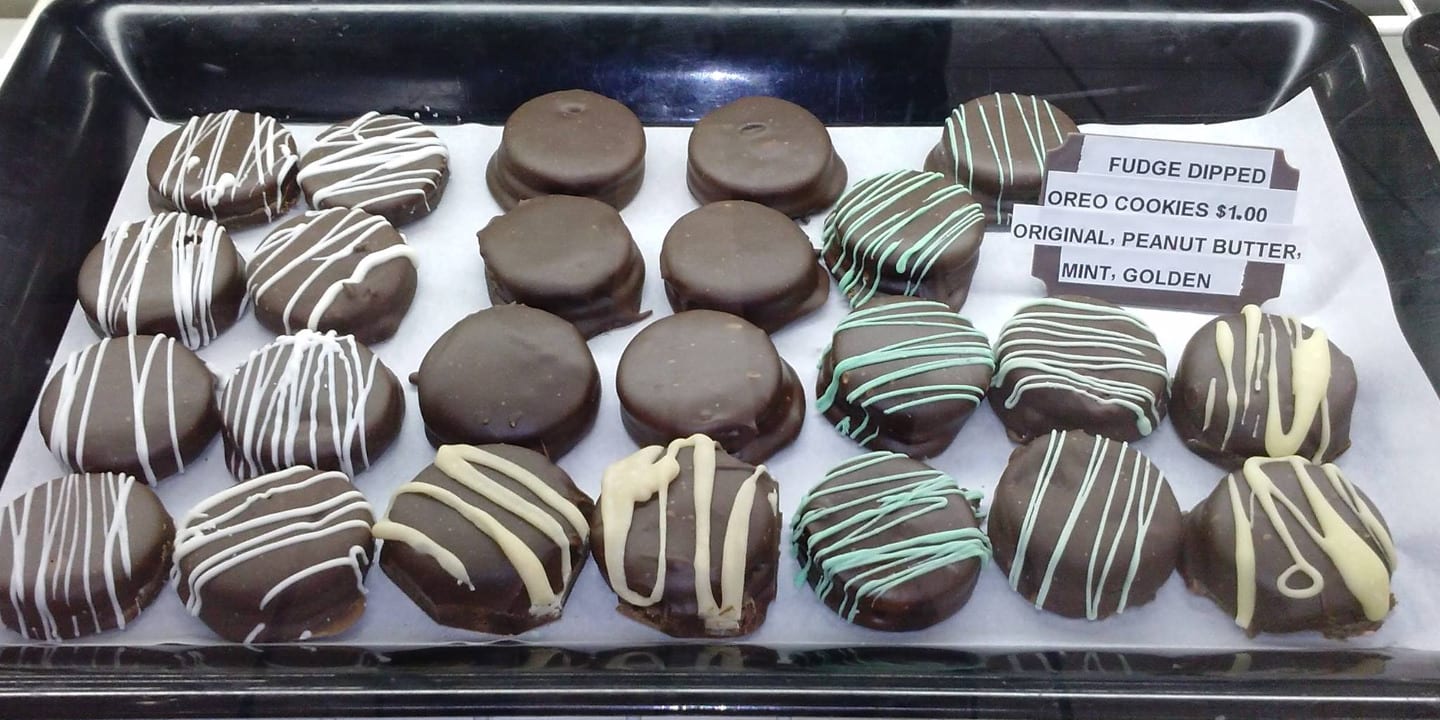 Onto the PB& J Bar where you can make your own peanut butter and jelly sandwich. You're provided with multiple kinds of peanut butter, jellies, Nutella and marshmallow cream. Spread any and all of it on a bagel or bread.
Before or after your visit, you can look for the bison at the Buffalo Herd Nature Preserve. It's located at the same exit on either side of the interstate, depending on where the bison roam today. There's a tunnel under the highway for them.

Details
Address: 25958 Genesee Trail Rd, Golden, CO 80401 (in Genesee)
Phone: 303-526-9751
Season: Year-round
Website: geneseecandyland.com