With products designed to bring the comforts of home to the great outdoors, Hiker Trailer is a Lafayette, Colorado-based camper manufacturer located roughly 20 miles north of Denver. The company creates high-quality, economically-driven trailers for luxurious camping experiences behind cars, minivans, SUVs, trucks, and more.
Outside of the Centennial State, Hiker Trailer also maintains a location in Columbus, Indiana. For our neighbors in the Sunbelt, Lead Dog Motorsports is also a certified Hiker Trailer dealer In Lake Havasu City, Arizona.
Hiker Trailer Rentals & Sales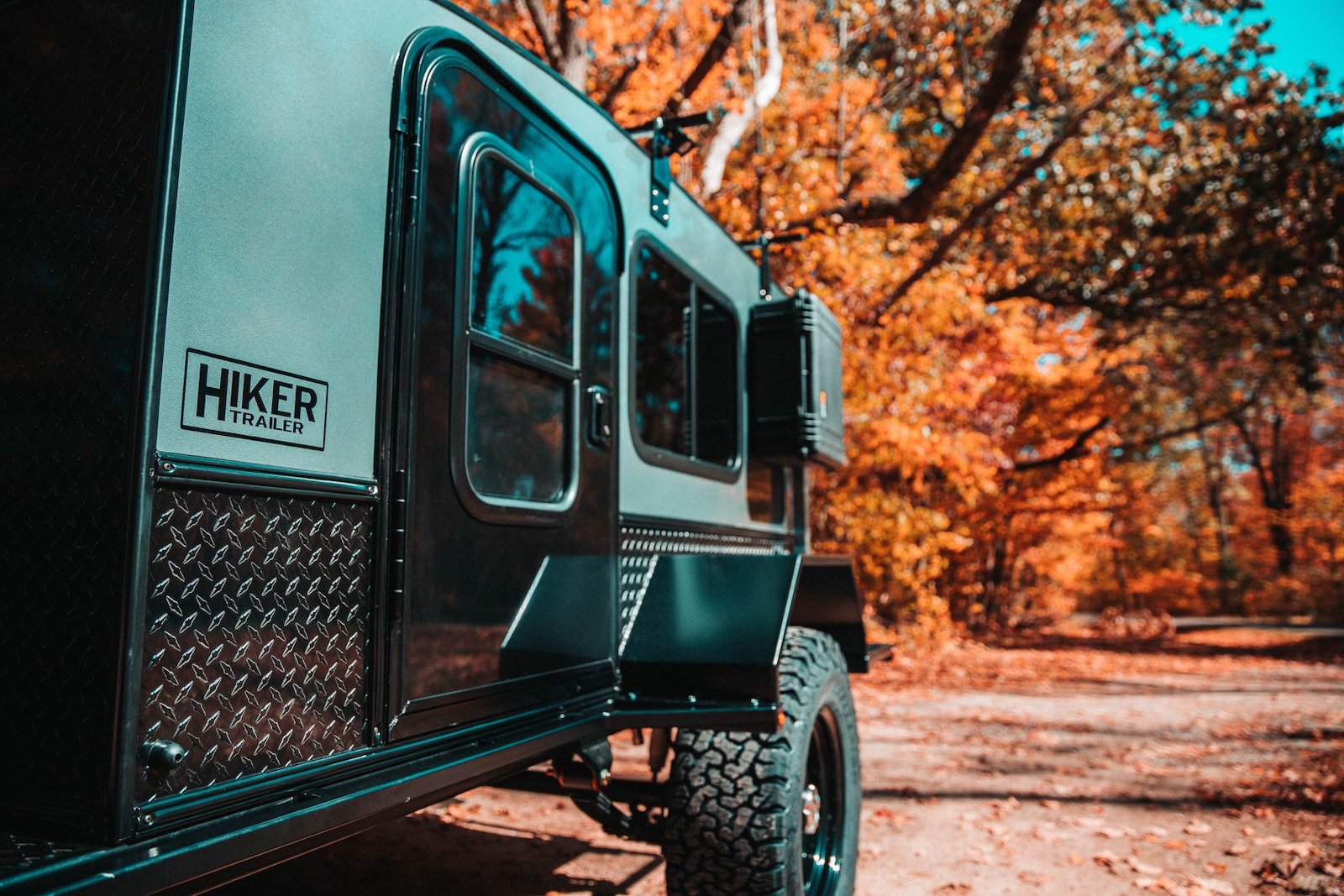 Hiker Trailer both rents and sells their adventure-ready camping trailers. For their location in Lafayette, reservations can be made on the Hiker Trailers' Colorado rental page. Unfortunately, if you are interested in purchasing a Hiker Trailer, then you may need to wait over a year at the Colorado location, depending on the current demand.
If you would like your trailer sooner, then it may be possible to pay a one-time fee to skip the line or purchase a pre-owned Hiker Trailer through a third party.
Hiker Trailer Models
In addition to fully customized build options, Hiker Trailer offers four core models to appeal to a wide range of campers and budgets:
The Highway Deluxe
The Mid-Range
The Mid-Range XL Off-Road
And The Extreme Off-Road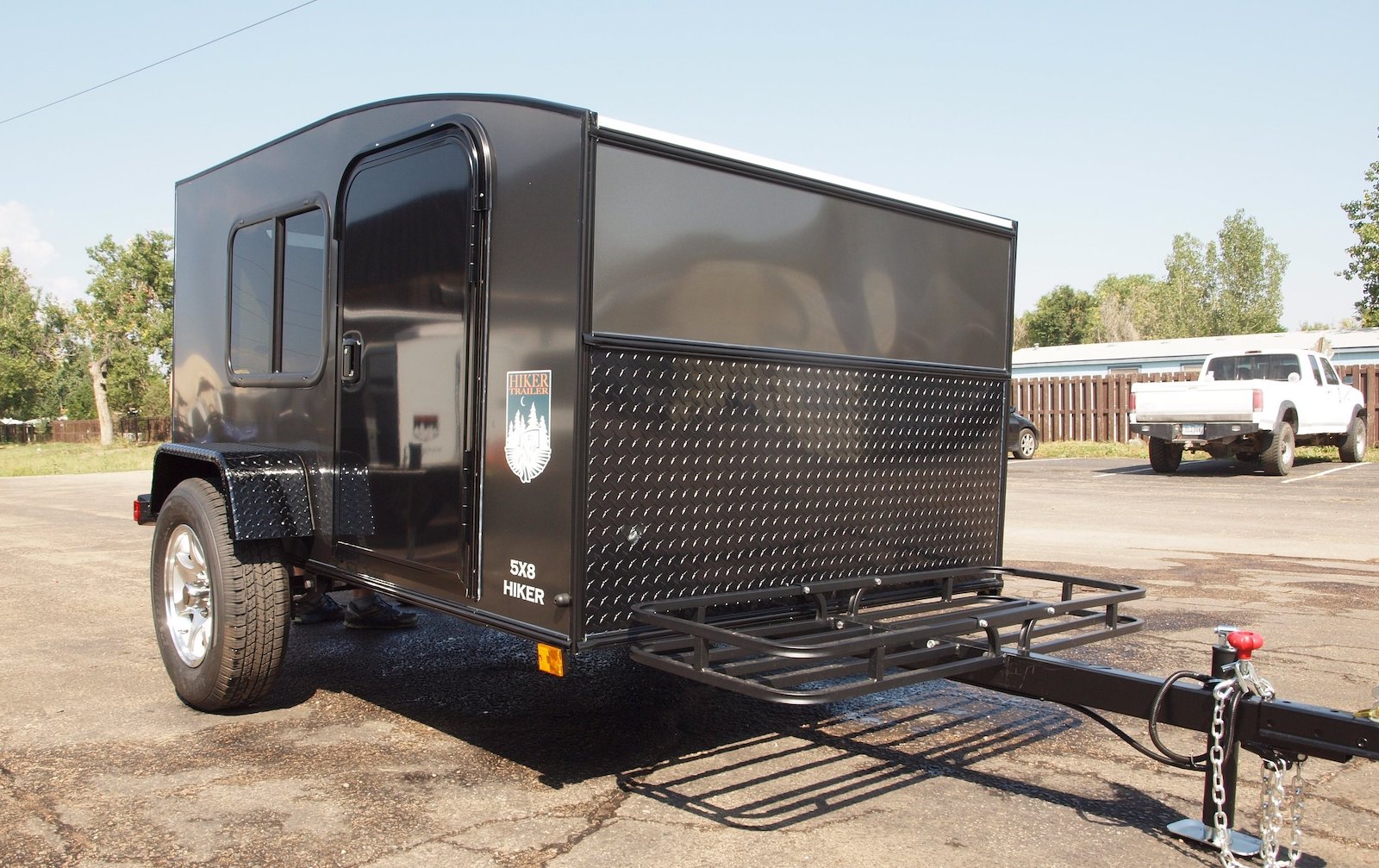 The Highway Deluxe trailer is the cheapest and lightest option, designed for long bouts on paved roads and occasional trips off of the beaten path. For those spending a bit more time on dirt and gravel, the Mid-Range and Mid-Range XL Off-Road models are a great way to reach your destination safely and in fashion.
As the largest and most extensive option, the Extreme Off-Road model will be able to follow your vehicle anywhere you choose to drive, with shocks equipped to handle extended off-road adventures. The Extreme also features a toolbox and multiple integrated storage racks to accommodate extra backcountry gear.
Key Features + Specs
Hiker Trailers towable campers feature a cozy interior with a folding bed/couch pad. Each trailer comes with an interior/exterior galley and an optional canopy to protect your outdoor kitchen from the elements. Most standard Hiker Trailer models have a white aluminum exterior with sturdy black trim.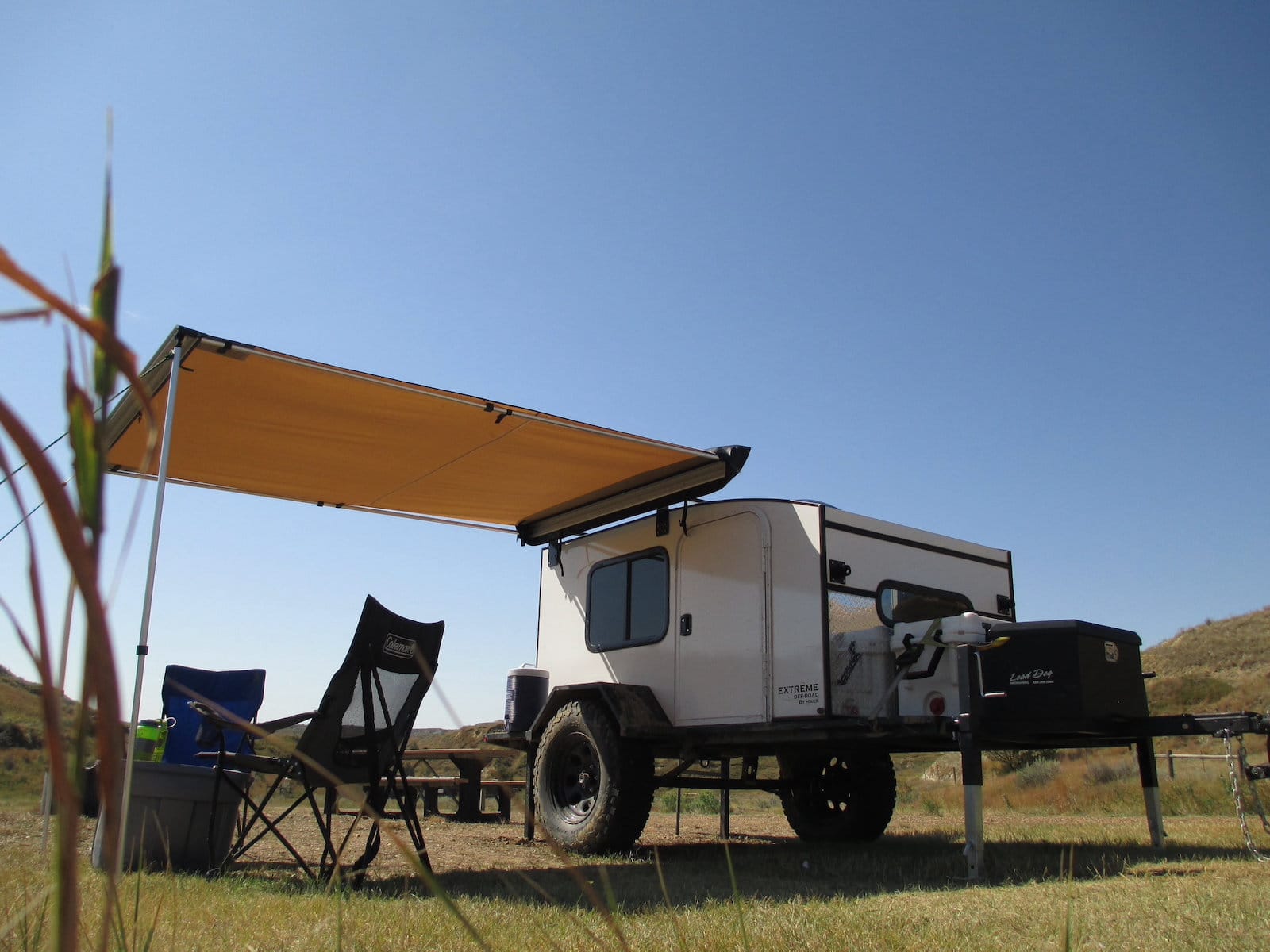 Interior features:
110V power strip in the galley + 12V electrical
2 cubbies on the top shelf to access the cabin
Doors between the galley and cabin
Varnished wood galley surfaces
Cabin + galley light fixture
3 galley shelves
Vinyl floors
1 USB port
Exterior features:
Black powder-coated frame with front jack (2 front jacks on Extreme)
Locking side-opening rear galley door
Roof vent (manual hand crank)
LED D.O.T. trailer frame lights
2 side windows with screens
Locking curbside entry door
110V shore power plug
Vehicle Requirements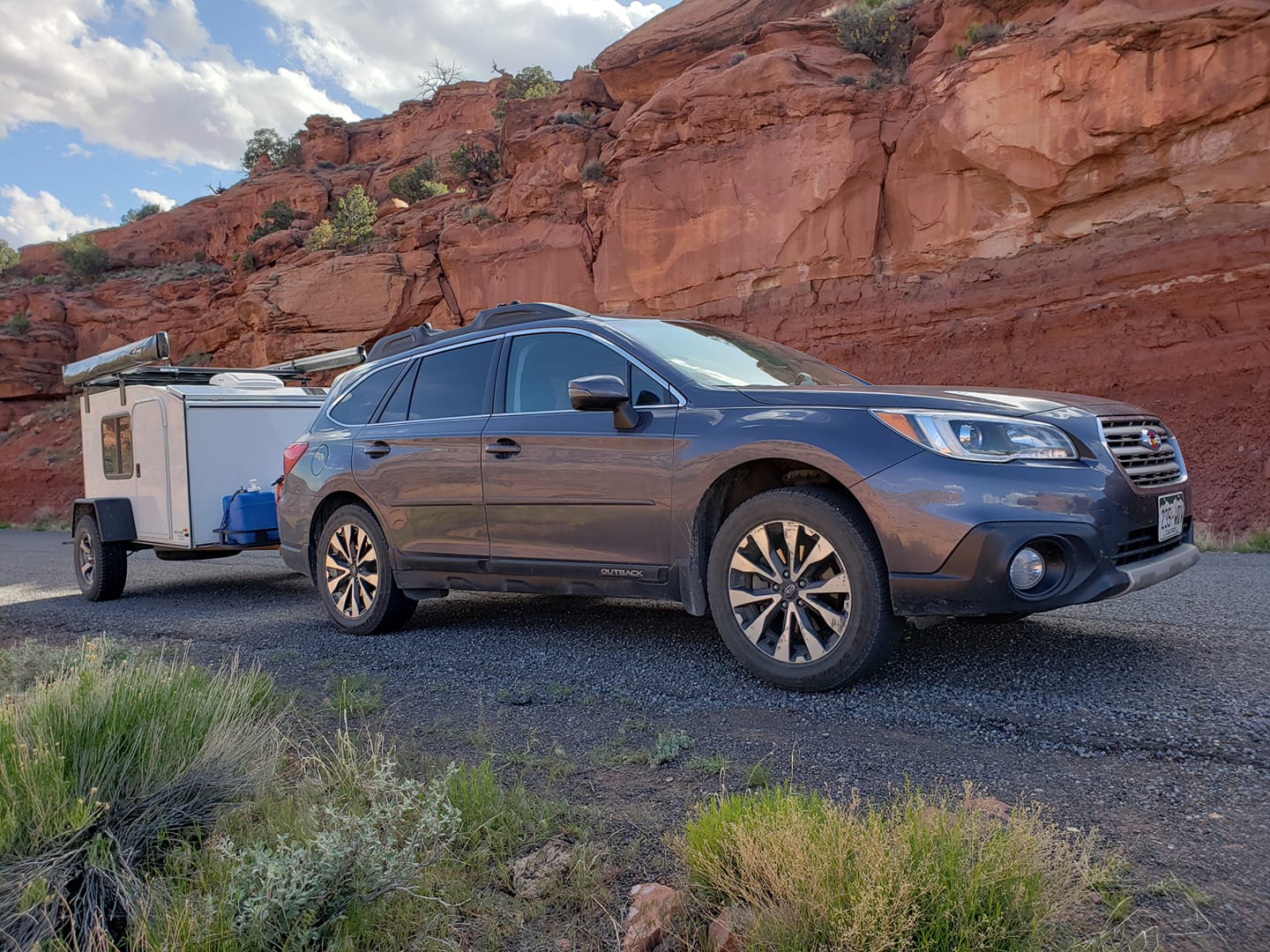 All Hiker Trailers purchases and rentals include a 2-inch ball hitch, with safety chains and a wire harness. When considering your vehicle's towing capacity, each of Hiker Trailers' models has its own unique shape, size, and weight to evaluate.
Highway Deluxe | Dry Weight: 800-1000 lbs

Axel: 2000 lbs
Wheels: 14" Aluminum
Hitch Height: 17"

Mid-Range | Dry Weight: 1000-1200 lbs

Axel: 3500 lbs
Wheels: 15" Aluminum
Hitch Height: 20"

Mid-Range XL Off-Road | Dry Weight: 1100-1300 lbs

Axel: 3500 lbs
Wheels: 16" Aluminum
Hitch Height: 24"

Extreme Off-Road | Dry Weight: 1250-1350 lbs

Axel: 4500 lbs
Wheels: 17" Aluminum
Hitch Height: 27.5"
Each Hiker Trailer, with the exception of the Highway Deluxe, also includes two rear stabilizing jacks. If your trailer's total weight will be approaching your vehicle's towing capacity (or you will be driving on a lot of challenging terrains), the company also offers a brake package and breakaway kit to help protect your investment against possible unhitching.
For those looking to explore the great outdoors without having to pitch a tent, Hiker Trailer makes spending time in the great outdoors comfortable and cozy.
Details
Address: 1199 Distel Drive, Lafayette, CO 80026
Phone: 303-906-0224
Website: hikertrailers.com