Snowmobiling in Colorado is an incredible way to spend a day. The Rocky Mountain landscape is breath-taking and a great compliment to this already action-packed and adrenaline-filled winter activity. Read our snowmobiling blog.
Snowmobile Rentals and Tours in Colorado
As soon as there is an adequate snow base, then Colorado snowmobile season begins. Most rentals and tours begin operating in mid November and run through March. Both guided and unguided rentals are available, depending on the outfitter.
Guide to Snowmobiling in Colorado
Snowmobiling is a sure way to crack a smile on your face during the snowy season. You can rip at incredible speeds through vast landscapes, whether you own your own snowmobile or not.
Colorado's national forests are loaded with free snowmobile trails. Places like Vail Pass and Rabbit Ears Pass are meccas for snowmobilers all winter long.
Where to rent a snowmobile
There are snowmobile rentals available throughout Colorado's Rockies. Prices and tours vary, usually around a couple hundred bucks for a few hours. Some rentals include guided tours, while others just give you the snowmobile and tell you where you could go.
Requirements vary, but usually driver's must be 18 years old and passengers at least 3. Usually single and double rider snowmobiles are available.
Types of snowmobile tours
Tours range in length from an hour to full day choices. Usually half and full day are the most popular. A few hours on a snowmobile is a good amount of time.
Guided – These tours wind all over Colorado's Rockies, some to ghost towns, others over alpine passes. Most tours will lead you through the national forests and mountainsides at limited speeds single file, until you get to open areas where you can really let loose. If there's trouble, your guide is there to help you out.
Unguided – Rent a snowmobile, get some advice and head out. It's always best to go with at least one person, if not a small group. Explore the wilderness on your own terms. By-the-hour, half-day, full-day and overnight rentals are all available. You probably will need to be at least 18+ years old to rent a snowmobile.
What to wear snowmobiling
Snow pants and jacket
Helmet, provided with rental
Waterproof ski gloves
Waterproof winter boots
Sunglasses or snow goggles
Multiple layers
Neck warmer
Sunscreen and chapstick
Popular posts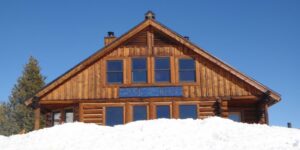 Planning Your First Colorado Ski Hut Trip – Now that you're in Colorado, how about taking your very first hut trip! Colorado is home to the best and most exciting backcountry huts, offering adventure enthusiasts excellent skiing and hiking opportunities. Because this isn't…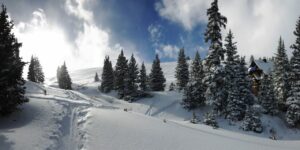 Adventure Year Round to a 10th Mountain Backcountry Hut – Plan your next mountain adventure with the 10th Mountain Division Hut Association. Choose from 34 backcountry huts connected by over 350 miles of trails accessible to hikers, mountain bikers, skiers…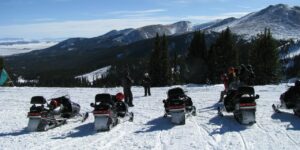 Let the Good Time Adventures Roll in Breck – For over 30 years, Good Times Adventures has given Breckenridge residents and visitors the exhilarating time of their lives, racing across 40 miles of trails in some of the most gorgeous terrain in the state…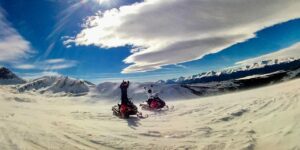 Colorado's Hidden Snowmobiling Gem: Summit County – Located in the heart of the Colorado Rockies, Summit County is the self-proclaimed "Playground of Colorado." Summit County encompasses the inviting towns of Keystone, Dillon, Frisco, Silverthorne…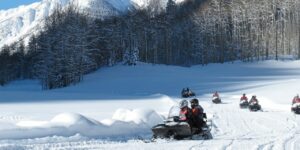 T-Lazy-7 Ranch Snowmobiling: Splendor in the Snow – T-Lazy-7 Ranch, Aspen's oldest working ranch, has exclusive snowmobile rights to the White River National Forest at Independence Pass and all the way up to the Maroon Bells, two majestic…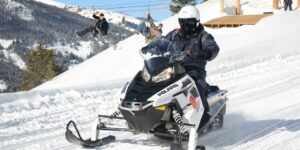 White Mountain Tours: Get Your Zip On! – White Mountain Tours has been guiding guests through thrilling, unique adventures since 1990 on their 2,500-acre piece of private heaven. Located seven miles north of Leadville and fifteen miles south of Copper…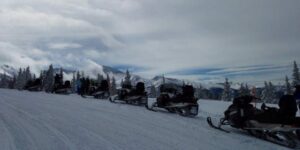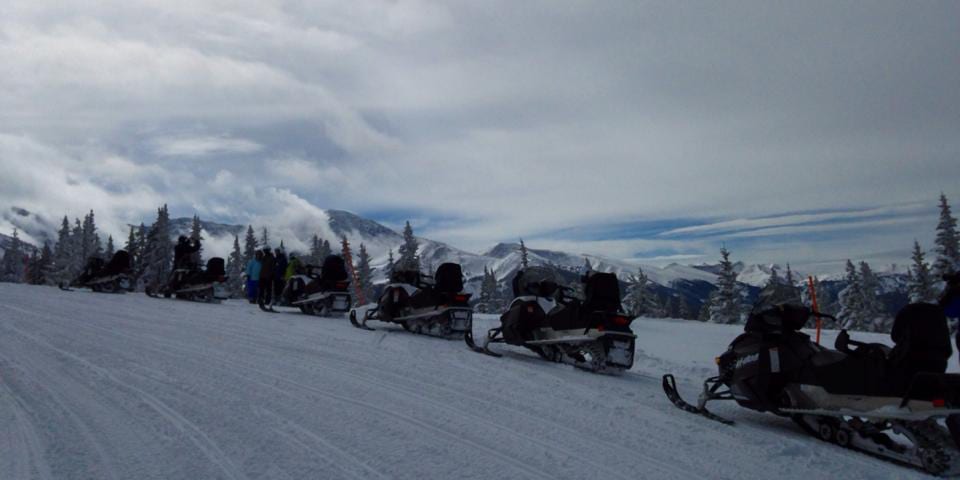 Grand Adventures: Divide and Conquer! – Grand Adventures has the only 12,000-foot snowmobile game in town when it comes to conquering the Continental Divide. You can truly see for miles from up there, surveying Winter Park Resort and Fraser…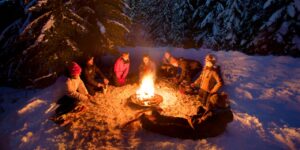 Best Practices for Exploring the Backcountry – Too often we as humans are surrounded by the signs of civilization such as roads, power lines and buildings. At least once in a while it's good to go where such things don't exist and you can feel more unified…
Related activities
Dog sledding is another fun way to explore the mountains on a winter day. Find areas to snowmobile in a local national forest. There's always fun to be had skiing down the mountain.