In Glenwood Springs, Sunlight Resort delivers you a full-speed adventure that everyone will enjoy. They have snowmobile tours for  everyone regardless of skill levels.
Sunlight Mountain Resort can be found just 12 miles south of Glenwood Springs. It's about 182 miles or 3 hours away from Denver by car, via Interstate 70.
Snowmobile Tours
Whether it's a large family or you're alone, there are a variety of snowmobile tours to accommodate.
Family Tour – Enjoy an hour of guided full-throttle powder adventure with your loved ones. The tour begins at the Sunlight Lodge Bed & Breakfast and breezes you through a 16-mile snow-covered adventure into the White River National Forest. Departure times are 10 AM and 1 PM, and minimum children age is 4 years old.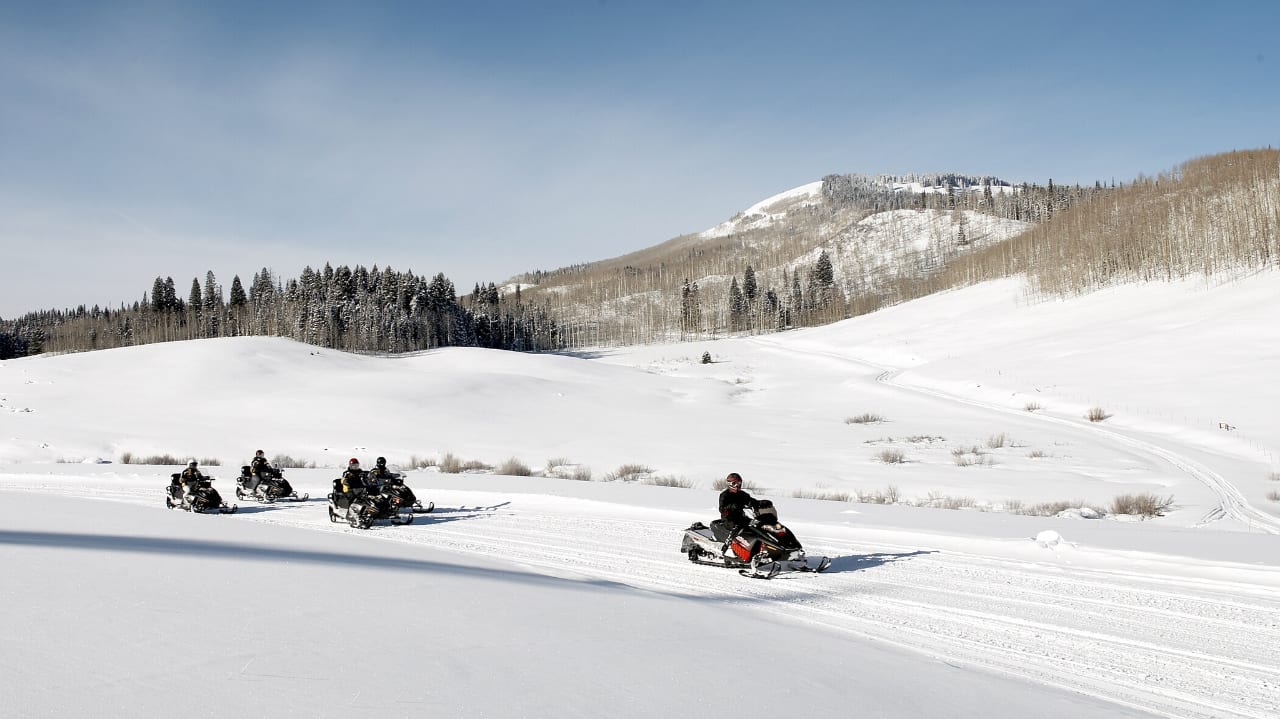 Adventure Ride Tour – Enjoy two and a half hours of guided powder adventure that provide a breathtaking vista of Mount Sopris, West Elk Mountains and the Flattops Wilderness area. Cover about 30 miles and continue your epic ride through Baylor Park, where you can take pleasure out of free riding along the fluctuating prairies. Departure times are 9 AM and 12:30 PM, and minimum child age is 7 years old.
Private Custom Tour – this is Sunlight's customizable tour, just make sure you call them in advance and they will arrange everything to your liking.
Everybody will be required to sign a release of liability before departing the base. Guides are certainly knowledgeable about snow safety and will make sure everyone will have a blast. All the snowmobiles are sure to be well maintained, fast with an opportunity to try its limits.
Other Activities at Sunlight
It provides fantastic views of known mountain ranges like the Elk Mountain and Mount Sopris. It has a very straightforward vibe with its 2,010 feet of vertical slope and average annual snowfall of 250 inches.
Sunlight got its name after a prosperous coal mining town in the area that disappeared in the early 1900s. Its summit is advantageously located on Compass Mountain, and as such provides a straightforward, undistracted view of the above-mentioned mountain ranges. It boasts about 470 acres of terrain for downhill skiers, 75 percent of which are suitable for beginner to intermediate adventurers.
This is the perfect place for newbies, as they teach snow activities for an affordable price. They also have Nordic skiing at the Sunlight Mountain Cross Country Ski Center. Everyone is guaranteed to have a whole day of fun and adventure for less than the cost of most of other resorts.
Details
Address: 10901 County Road 117 Glenwood Springs, CO 81601
Phone: 970-945-7491
Season: Dec-Mar
Website: sunlightmtn.com/mountain/winter-fun/snowmobile-tours-full-throttle-adventures