Colorado's dramatic scenery makes an ideal setting for skydiving. A number of skydive centers operate around the Rockies. There's also indoor skydiving if you're looking to work up to the real thing.
Indoor and Outdoor Skydiving: Tandem Flights & Lessons
Most guides will take you skydiving all year long. There's no experience necessary for a tandem flight, and certified guides will give you all the instructions necessary for a safe jump. Experienced skydivers may take solo flights at skydive centers.
Guide to Skydiving in Colorado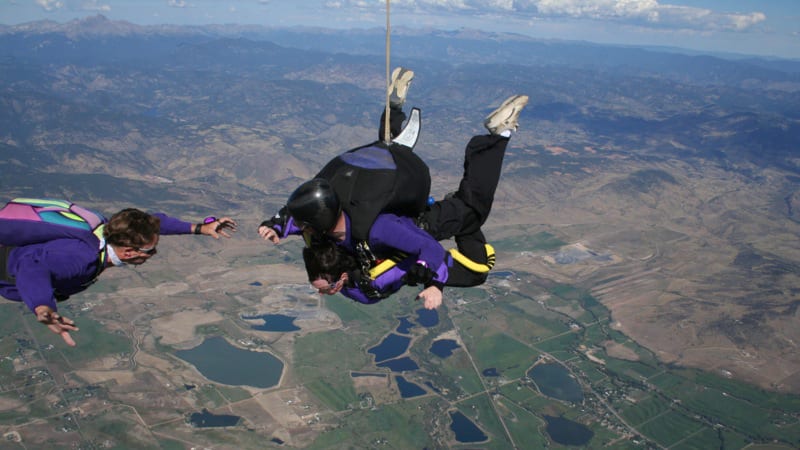 The thought of skydiving strikes both fear and excitement in most folks. It's on many a person's bucket list and something that's a lot safer than it sounds.
You're about to jump out a perfectly good airplane Johnny, how do you feel about that? – Point Break
Like many outdoor activities, one can enjoy here, Colorado makes a perfect playground for skydiving as well. The jagged Rocky Mountains and rolling alpine valleys make an exceptional backdrop for free falling to the earth. And despite the cold winter temperatures and snow, most skydive centers are open year-round.
Skydiving exists up and down the Front Range, from Canon City north to Longmont, as well as west to Glenwood Springs. Beginners and first-timers will enjoy the plethora of tandem flight companies to choose from, and advanced solo skydivers will also appreciate the number of skydive centers around the state.
Companies will train you in everything you need to know for a safe tandem flight, prior to take-off of course. Often you'll have the opportunity to hire photographers and videographers to jump beside you to record your journey, either that or your tandem guide will snap a few keepsake photos. The U.S. Parachute Association boasts more than 40,000 members promoting safe skydiving.
Skydiving courses are also available at most skydive centers. Learn from knowledgeable, certified guides with thousands of jumps under their belt. It's common for those who try skydiving to get hooked on the thrilling feeling and soon partake in a journey to become certified and capable of solo flights. Solo flights are naturally cheaper too, though the journey there can be expensive.
Related Activities