For those looking for a luxurious abode with a more unique, personalized experience, boutique hotels are perfect. Colorado boasts a wide array of properties ranging in size, cost, and features. Some are 4 and 5-star accommodations with all the amenities one would need, while others are small boutique lodgings nestled away in their special paradises.
List of Boutique Hotels in CO
In most stretches of the state, you can find a local boutique hotel to suit your needs. They are most prevalent in the big cities and popular tourists spot, however, there are plenty of these one-of-a-kind lodgings well off the beaten path. Many of them are rightly sought-after, so once you determine your dream destination hotel, reserve your room early.
Map of Boutique Hotels in CO
Top Boutique Hotels by Town
Guide to Staying at Boutique Hotels in Colorado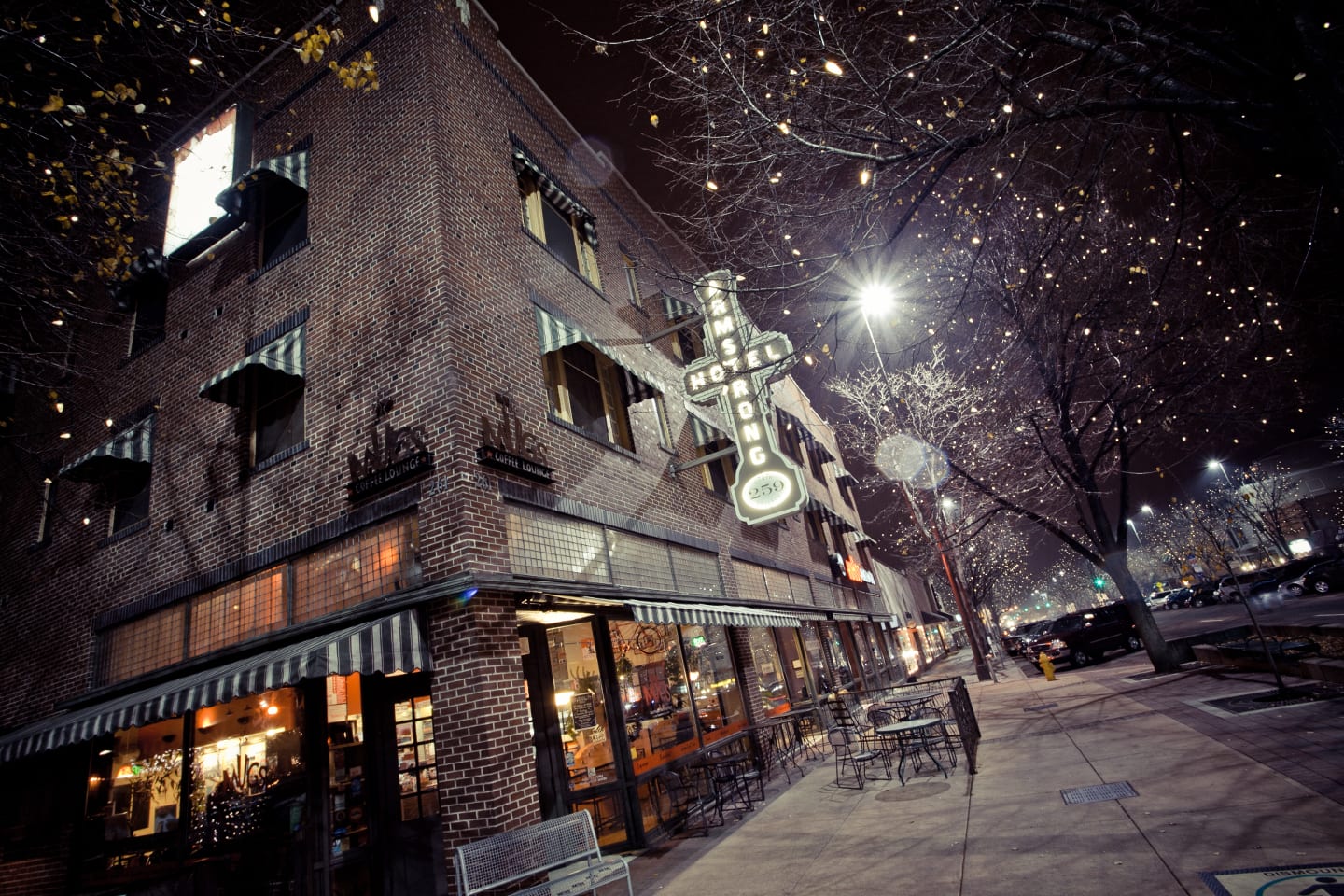 Boutique hotels are small-scale accommodations emphasizing design with a high-end but cozy feel. Most, but not all, of these properties have fewer than 100 rooms, making for a more personal stay than at a larger chain. There are no hard-fast rules on what makes a hotel a boutique one, so everything here is flexible.
In addition to knowing how to make the most of their surroundings, Colorado's boutique hotels are frequently found in the city's heart and retail zone, a hotspot neighborhood, or a beautiful natural area. These establishments are also good at creating communal spaces like stylish lounges for gathering and enhancing guests' stays.
Boutique lodgings can offer a more personalized visit than larger chains because they don't have to follow the same corporate rules. Whenever the owners see fit, they can make modifications to the interior or the facilities. Many offer breakfast, some complimentary and others for a fee. Some also set up special group activities for their guests, like yoga classes, walking tours, and guided hikes.
Depending on where they are and what services they offer, boutique inns may be up to 20% less expensive than chain hotels. Although this is only sometimes the case, guests of this sort of accommodation may receive more attentive care and a friendlier ambiance for their money.
A few of the top Colorado boutique hotels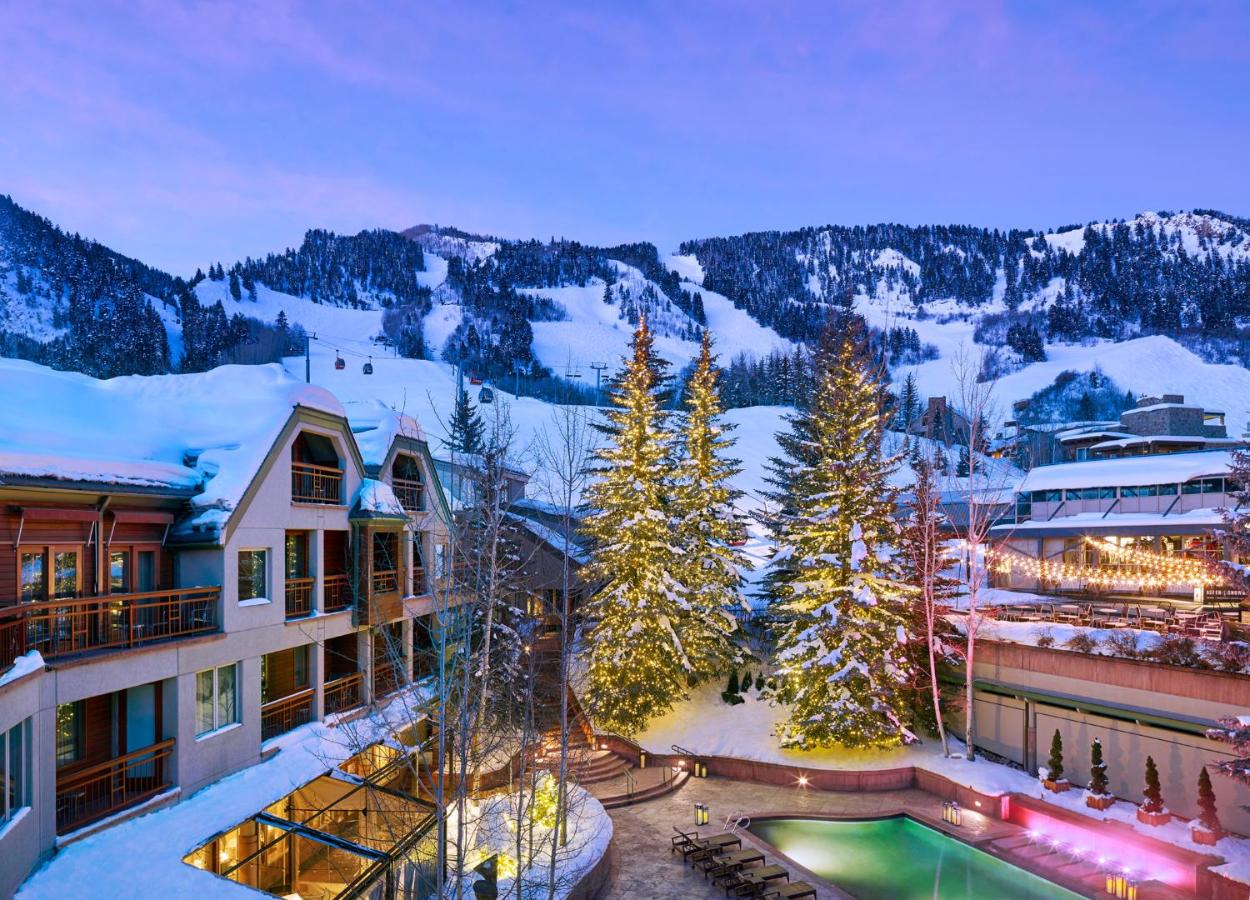 While boutique hotels are almost always considered luxury hotels, only some might carry 4 or 5 stars. However, this just typically means they might be lacking in a necessary facility like an on-site restaurant to acquire that ranking. Here's a look at some of the best boutique accommodations around the state.
The Little Nell, Aspen
The Little Nell is a luxurious getaway in Aspen with 92 rooms. This small hotel in the mountains has a spa and rooms with gas fireplaces that make it easy to relax and forget about the rest of the world. The property is also close to the ski lifts, providing a great winter base for a vacation.
The Oxford Hotel, Denver
The Oxford Hotel, established in 1891, is the oldest in Downtown Denver. This hideaway has 80 rooms, all of which have clawfoot tubs and furniture from the time period.
The rooms include a delightful mix of vintage furniture and up-to-date conveniences. Guests can explore the Mile High City and come back to soft couches, friendly staff, and genuine indulgence after going to some of the city's best restaurants and shops in LoDo.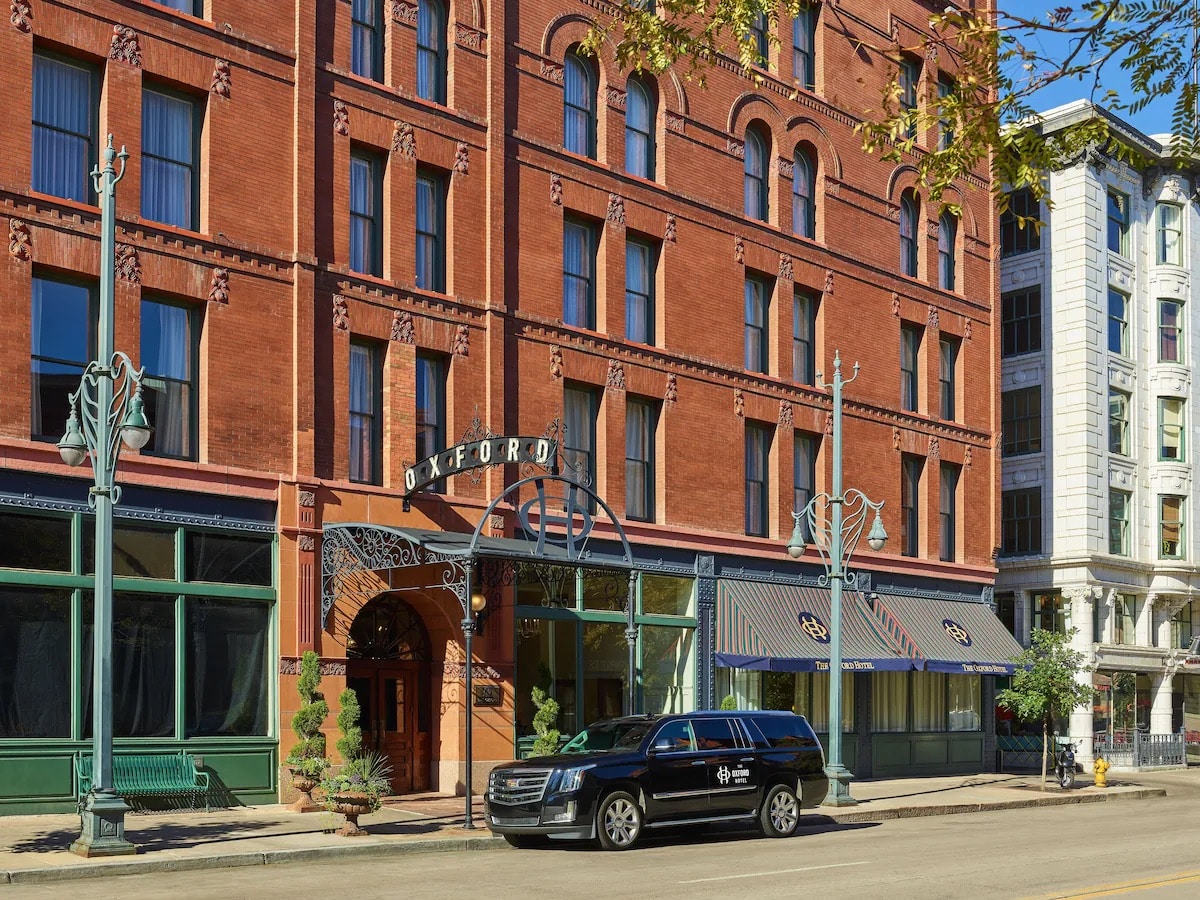 Lumière with Inspirato, Telluride
Telluride's Lumiere with Inspirato is a frill boutique property with just 18 rooms that provide guests with ski-in and ski-out convenience and a wide range of amenities. There's a fireplace and drinks (wine, cocktails, and beer) for the guests to enjoy. This boutique hotel is near the base of Telluride Ski Resort, which is convenient for snow sports enthusiasts in the winter and bikers in the summer.
Tivoli Lodge, Vail
The Tivoli Lodge in Vail is another excellent place to stay when craving some time in nature. This modern boutique-style ski lodge has welcomed guests since it opened in 1968 on the edge of Vail Village.
There are 65 large rooms and apartments to choose from, and guests can relish amenities like fireplaces and breathtaking views of the surrounding mountains or the quaint village. The rooms are charming and have polished wood furniture, flat-screen TVs, robes, and mini-refrigerators.
The Cliff House at Pikes Peak, Manitou Springs
The Cliff House at Pikes Peak is a historic landmark in the beautiful town of Manitou Springs, close to Colorado Springs. It is known for its grand architecture and high level of elegance. This lodging was built in 1873, but it has been updated a lot to become a lavish boutique hotel surrounded by beautiful scenery.
The property's guest rooms and suites have unique designs from the 1800s and many modern amenities, such as spa tubs, gas fireplaces, a flat-screen TV, towel warmers, room service, and steam showers.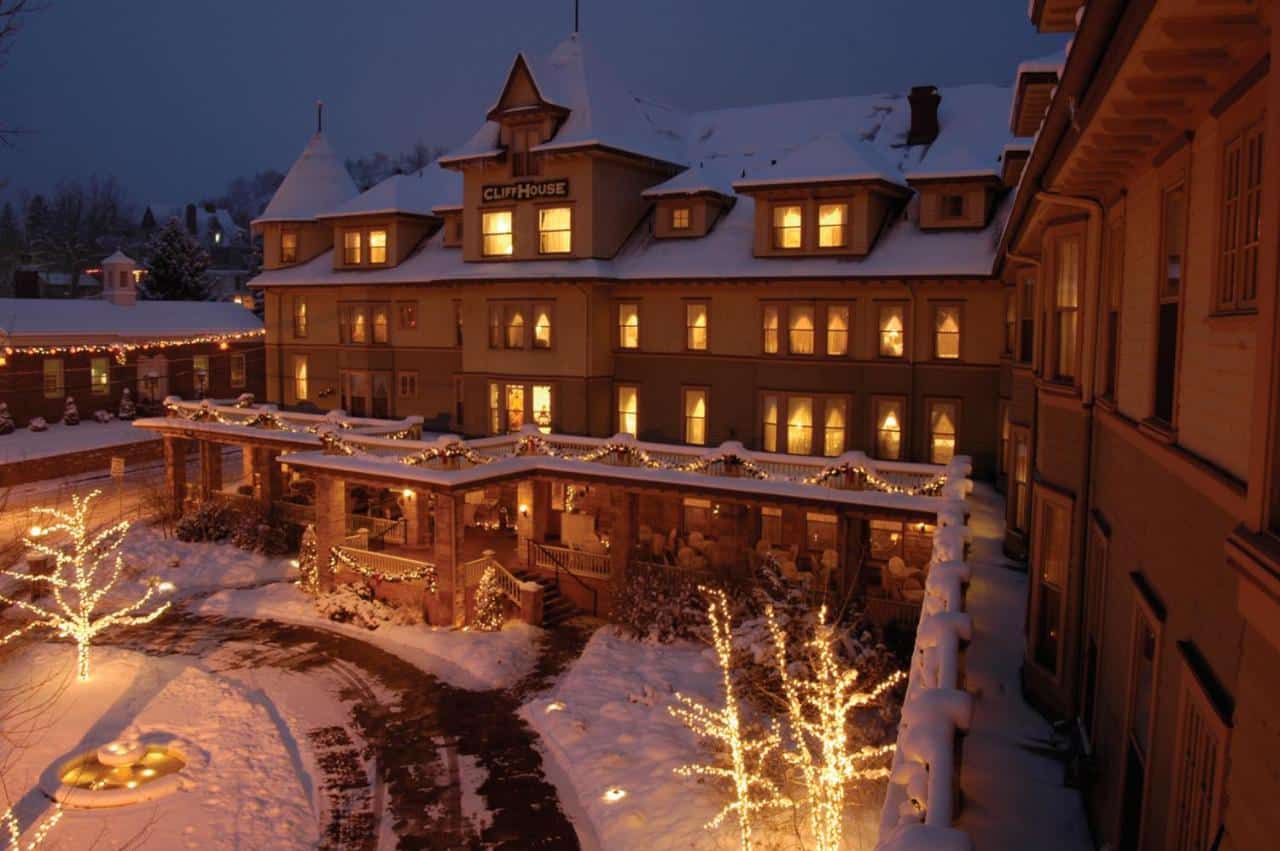 Hotel Chateau Chamonix, Georgetown
Georgetown's Historic District is home to the Hotel Chateau Chamonix, a favorite among travelers. This alpine-style hotel, which boasts a "touch of Europe" and affordable luxury rooms, is ideal for a restful getaway in the great outdoors. This 100% smoke-free hotel is a short drive (15 minutes) from Loveland Ski Area and features a shared hot tub and balconies with peak views.
The Surf Chateau, Buena Vista
The Surf Chateau in Buena Vista is a retreat from the stuffiness of corporate hotels, an oasis with boundless possibilities for recreation. Inspired by the simple elegance of European hotels and the stunning natural beauty of the Rockies, guests enjoy a real feeling of opulence.
Whether you are a solo traveler, a family, a business group, or a wedding party, their modern approach to hospitality can be changed to fit your way of having fun. Surf Chateau rooms have a flat-screen cable TV, free Wi-Fi, and a mini-fridge and many have patios with panoramic vistas.
Juniper Mountain House, Evergreen
Juniper Mountain House in Evergreen is a year-round property that provides lodging with stunning views of the surrounding foothills. This modern house has five private rooms to rent and several common spaces for guests to use.
Being built on 10 acres of forest land, there are many activities to do like hiking, biking, or soaking in the on-site hot tub. It's perfect for family reunions, vacations, business retreats, or get-togethers with friends.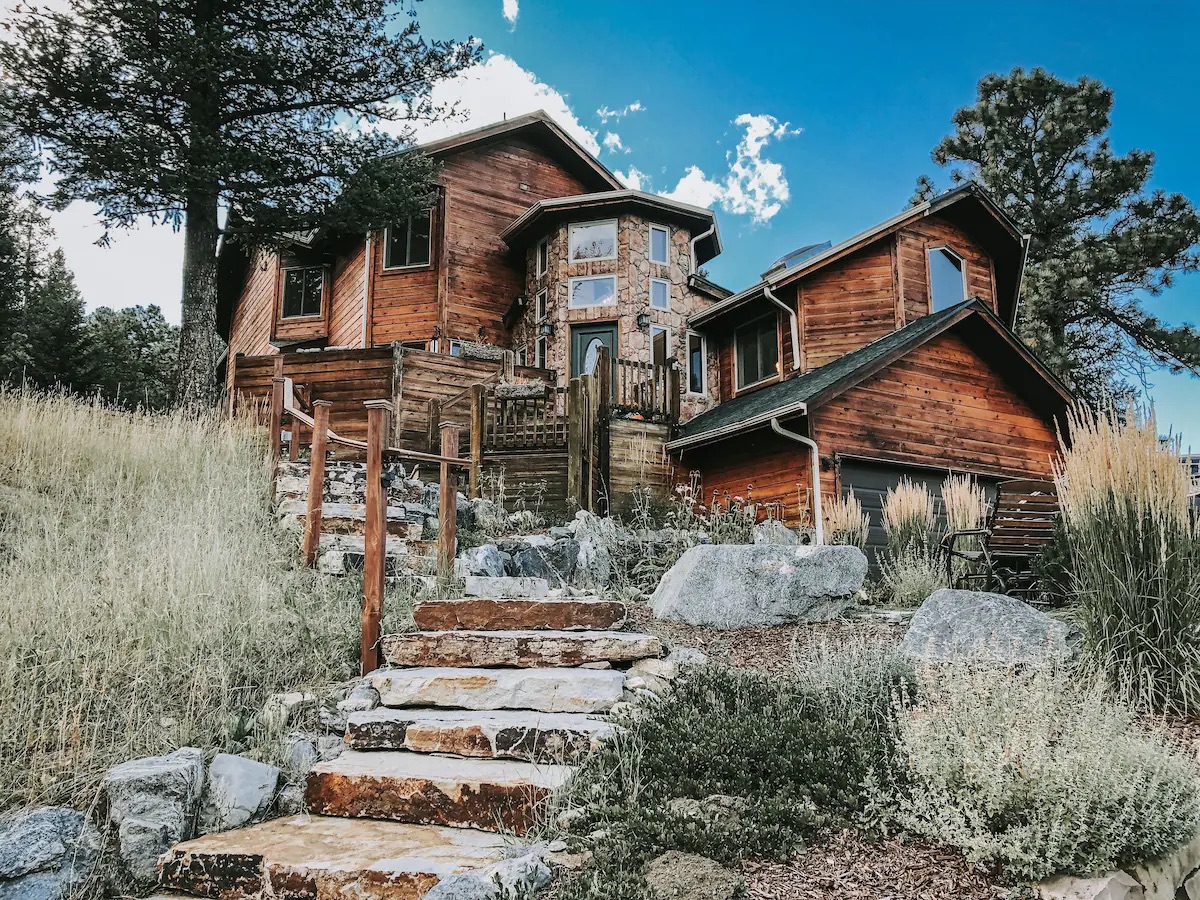 An unforgettable experience at a boutique hotel can accentuate any trip to the beautiful Centennial State. Put yourself in a mountain frame of mind and enjoy what Colorado's green forests and snowcapped peaks have to offer.
Related Lodging
Related Activities