Entering Saguache County on US-285. Photo: Jeffrey Beall
Saguache County covers a total area of 3,170 square miles with just two people per square mile. The population was 6,108 at the 2010 census. The largest town is Center, but the county seat is Saguache, derived from the Ute language term for "sand dune."
Great Sand Dunes National Park and Preserve and Gunnison National Forest are two of the numerous protected forests and wilderness areas Saguache County residents have access to.
Visit the Saguache County Government website.
County Towns
Adjacent Counties
Ghost Towns
Featured Saguache County blog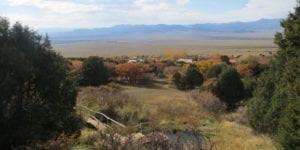 Autumn Bliss at Valley View Hot Springs – Valley View is a full hot springs resort secluded in the wilderness in the San Luis Valley. Situated 37 miles south of Salida, It's open to day use year round, except for December 1 to 28. There are seven or so ponds beautifully…
Read all our posts tagged Saguache County.