Yuma County was home to only 10,043 residents in 2010. The county seat is Wray. The "highest low point" of any U.S. state is found where the Arikaree River leaves Yuma County and enters Kansas. This is the lowest point in the state of Colorado at 3,315 feet elevation.
Bonny Lake was the easternmost state park in Colorado, but the lake was drained in 2011 and most services were discontinued. Now part of the South Republican River State Wildlife Area, over 300 different species of birds enjoy refuge at the park. Bald eagles, Canadian geese, snow geese, and sandhill cranes all can be found in residence during various seasons.
Visit the Yuma County Government website.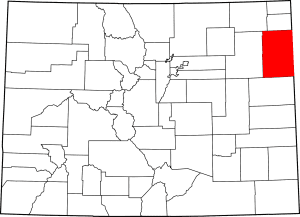 County Towns
Adjacent Counties